Etihad has a bunch of quirks in it's online redemption search system, as well as some not so obvious processes to get through if you're used to using more usable systems, for example compared to Qantas.
I thought it might be useful to look into some of the hurdles to redeem these miles, as they're actually pretty valuable once you've managed to accrue some. It seems that point booking surcharges are fairly low and there's a significant number of destinations in Europe available with one stop from Australia.

In Australia, accruing points is pretty much only feasible by flying Etihad on paid bookings, as there are no credit cards (AFAIK) that can either earn or transfer directly into Etihad. You can use transfers into and out of the Priority Club program as a bridge, and there may be other similar options available too. You'll generally suffer a large points devaluation though on the way, so this isn't recommended unless absolutely necessary for a specific booking.
It can be hard to actually calculate many miles you need to make a redemption – their mileage calculator only ever seems to be working for me intermittently. Here's the direct link. YMMV. Importantly, you can actually make a redemption of only 75% (or more) of the required mileage amount with a co-payment of cash.
So, a few examples – The furthest reward from Sydney is to New York – 115,000 miles one way in Business. European destinations are 100,000 miles; destinations in the Mediterranean at 85,000 miles and to Abu Dhabi 65,000 miles. I have 67,500 miles to burn at the minute, so I can get to the Med with a top up payment, or to Abu Dhabi for taxes only – awesome.
Business redemptions are double Economy, and First triple – good value for Business and First.
Then I start digging into availability. I can't find ANYTHING for main European destinations (e.g. London) when looking for a few months out, but it's hard to say just how tight award space in business is as every result has to be looked at day by day, which is very tiresome. Etihad also (un)helpfully show a higher miles price (called Open Seat) when a regular award seat isn't available. This is typically 4-7x the regular award price. No thanks. Make sure you look for 'Guest Seat' availability.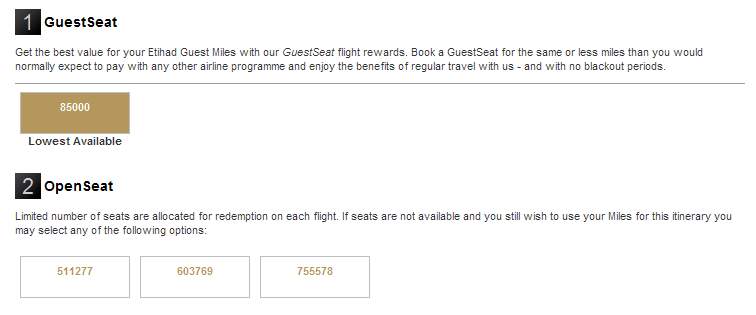 Flights at that points price point are then shown as available for selection. Bear in mind I only have 67,500 miles and am searching for a higher priced reward – the system still allows me to research and select flights due to the 75% redemption possibility I mentioned before. If you're not within the 75% threshold, then it's not possible to search for the reward.


After selecting that option, I'm taken to the summary page outlining the required miles and costs in Australian Dollars. You can also select seats from this page, but it looks like good seats are held back from awards at this point – maybe availability improves nearer departure.
At this point, you can then tweak the miles and cash ratio, bottoming out at 75% miles. It's a bit clunky- if you don't have enough miles the site doesn't preselect the amount you have in hand, and you must use pre-set amounts meaning it takes a few tweaks (and website errors) to get the right combination.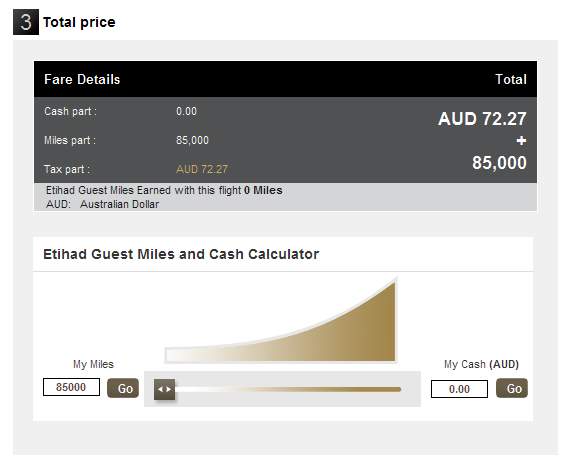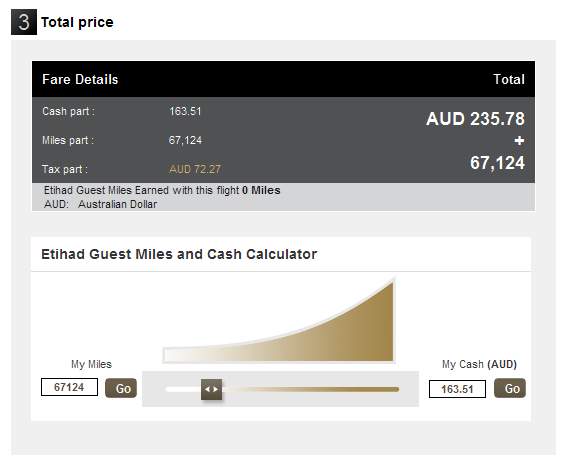 Finally you then get a total price to work with and book.
I also gave Etihad Guest a call to get some answers to some of the conditions of GuestSeat reward bookings.
The phone service was adequate. I started out by calling the local Australian number, +61 2 8223 9900. The department answering could help with searching for availability, but for any other redemption questions and bookings, they had to transfer me elsewhere. The details of my query didn't go with the transfer, unfortunately. Next time, I'd just ask for or contact the Etihad Guest department immediately.
In Australia, the Etihad Guest department can be found by directly dialing 1 800 107790 – then press option 1, 1 again, enter your account number and then (critically!) option 4.
The Guest department was pretty helpful with answers to my questions, and knowledgeable and helpful to not be a frustrating experience. The agent was happy enough to look through several weeks worth of availability (so much faster than using the website) for my example search, and priced up the 75% points and copayment quickly, before searching for availability.
In conclusion – if you have Etihad miles knocking around, using them up can be tricky. Head immediately to the call centre if you are flexible with dates or destinations, otherwise itineraries generally can't be flexible or complicated enough to warrant needing the phone, and you should book online. I hope to make a redemption on Etihad in Business later in the year – I'll be sure to bring you a full report!
This content contains affiliate links from which Point Hacks may earn commissions from transactions generated from new customers, bookings and general enquiries. Find out more here.
How to redeem Etihad Miles for Business Class
was last modified:
December 7th, 2021
by