Qantas Cash has been rebranded as Qantas Travel Money starting July this year and is a prepaid debit card that doubles as your Qantas Frequent Flyer membership card.
For many points collectors who rely solely on their credit cards for domestic and overseas spend, the Qantas Travel Money often doesn't get considered – but it could be a good card to have for those who can't get or who don't want a credit card or who really want to lock in foreign exchange rates before they travel, and are comfortable with the fx rates and points on offer.
Qantas Travel Money also has a lower age restriction than most credit cards (16 years vs 18 years), so high schoolers can start earning their own points from their own personal spend.
This card's attractiveness is not really in it's exchange rates or points earn rates (compared points earning credit cards), but rather its convenience.
Changes in July 2018
Qantas Cash, along with the name change to Qantas Travel Money also made a few changes to its features effective 1st July this year.
The load fee from bank debit cards were reduced to 0.5% from 1% (the one reload per 24 hours limit remains unchanged)
The number of transactions that are ineligible to earn Qantas Points have been expanded. This now includes BPAY payments to third parties, business transactions, bank fees and charges, and government transactions such as ATO payments.
The name for Qantas Cash officially changed to Qantas Travel Money.
---
Qantas Travel Money: the basics
Card Details
Card
Qantas Cash
Card type
Prepaid debit card
Loyalty Program
Qantas Frequent Flyer
Points earned on eligible transactions
0.25 point per $ on domestic spend
1.5 point per $ on overseas spend
Load fee
No load fee via bank transfer or BPAY; 1% load fee from bank debit card (to be reduced to 0.5% from 1st July 2018)
International ATM withdrawal fee
~$2.50 AUD equivalent (depends on local currency)
Currency conversion fee
No fee
Annual fee
$0 p.a.
Digging into the details of the Qantas Travel Money
Qantas Travel Money is a reloadable prepaid debit card, meaning that you are never spending the bank's money (credit), but rather need to load it up with your own money before it can be used.
It's also your Qantas Frequent Flyer membership card, so you can use it to fast-track check-in at the airport, for example.
The card can be loaded via BPAY or bank transfer, both of which can take a couple of days at worst. There's also a fairly recent option of loading up the card using a bank debit card, copping a 0.5% load fee on the way.
It is not possible to load up using credit cards and other card types. You can cash out any unspent money to your bank account.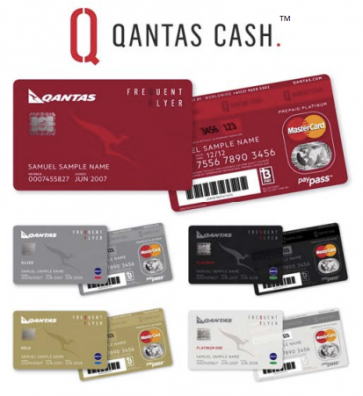 Qantas Travel Money bonus promotions
Qantas Travel Money often run bonus promotions where they reward you for spending or for loading up your card with foreign currency. For the more common load-up promotions, they do this either through temporarily better exchange rates or through tiered bonus Qantas Points.
Just to be clear (and as is usually the case with these sorts of promotions), loading the card with AUD won't earn you any points: it has to be converted into one of the 10 currencies available.
It's important to compare the exchange rates of other options and consider the trade-offs before jumping in and loading your Qantas Travel Money in order to earn points.
Offer history
June 2018: up to 50,000 bonus points for loading up to $20,000 AUD in foreign currency
May 2018: up to 15,000 bonus points for loading $20,000 AUD in foreign currency
April 2017: up to 20,000 bonus points for loading $20,000 AUD in foreign currency
November 2016: up to 40,000 bonus points for loading $20,000 AUD in foreign currency
October 2016: up to 5,000 bonus points for loading $2,500 AUD in foreign currency
September 2016: up to 40,000 bonus points for loading $20,000 AUD
September 2016: five-day special on foreign exchange rates
July 2016: up to 60,000 bonus points for loading $20,000 AUD
June 2016: 4-day special on foreign exchange rates
June 2016: up to 2,000 bonus points for loading $1,000 AUD
April 2016: 7-day special on foreign exchange rates
July 2015: earn 2 Qantas Points per $1 AUD in foreign currency on eligible purchases
May-June 2015: up to 10,000 bonus points for loading $5,000 AUD
April 2014: 2,500 bonus points for loading $250 AUD
---
Spend in Australia
Qantas Travel Money is set to earn 1 Qantas Frequent Flyer point for every $4 spent on eligible transactions, or an equivalent of 0.25 Qantas Points per $ spent.
From 1st July 2018, ineligible transactions have been expanded to include all types of government transactions including but not limited to the ATO in addition to cash-equivalent transactions, gambling and adult entertainment. Read the updated PDS here for the full details.
Spend outside Australia
On the flip-side, Qantas Travel Money earns you 1.5 Qantas Points spent on eligible foreign currency transactions.
The biggest aspect of the Qantas Travel Money product to take note of are it's exchange rates (specifically, the "padding" over and above the base Mastercard rate). This is a free card, and the foreign exchange rates are why they can offer the product for free.
Qantas Travel Money also often suggest you 'lock in' your exchange rate now by converting everything over to the foreign currency you need. It's worth being careful with this approach.
If our dollar falls, great – you've saved some money. But if the dollar goes up, you've just lost out. It depends how much certainty you prefer.
Summing up
I have observed over the years that the Qantas Travel Money seems to provoke some pretty extreme responses – some people love it, and others not so much. It is very convenient though, with every Qantas Frequent Flyer cardholder having access to the product through their membership card.
It may not be the best card to use for travel due to their foreign exchange rates, which are well worth comparing vs other foreign exchange providers before you decide to jump on. You also won't earn many Qantas Points when used in Australia, but, for many, it could be handy little points earner where the alternative is earning no points at all.
At least you can't argue with free – the fact that it's available to use with no-upfront fee means there is little risk in trying it out and seeing if it has some use to you.
Have you used Qantas Travel Money (Qantas Cash) before? What was your experience of it?
Qantas Travel Money guide
was last modified:
December 5th, 2018
by
Point Hacks Credit Card Information
Point Hacks is published by Point Hacks Australia Pty Ltd (ACN 622 987 160), a corporate authorised credit representative (Number: 504786) of MSC Advisory Pty Ltd ACN 607 459 441 (Australian Credit License: 480649). In some instances, Point Hacks Australia Pty Ltd receives a commission or benefit for referring you to the services of a credit provider. This commission or benefit is disclosed at the point of referral to the credit provider. This website does not provide credit, assist you in obtaining credit, or advise you to apply for any particular product from a provider.
We have not taken into consideration your personal circumstances or financial situation when providing the information on this website. It is important you read the relevant PDS from the product issuer and seek the independent advice of an appropriately qualified professional before making a decision on a product.
While we invest a great deal of time and energy into ensuring we provide with you with the most up to date and accurate information, we do not warrant the accuracy of statements or information contained on the Website relating to third party goods and services, including credit card information, loyalty schemes and rewards. You acknowledge that such information and materials may contain inaccuracies or errors and we expressly exclude liability arising from any person acting on those statements or information to the fullest extent permitted by law. Where conditions or warranties are implied by law and cannot be excluded, our liability will be limited to the re-supply of information. You should confirm the accuracy of information provided on this Website with the third party product provider before acting on it.