This guide takes a look at the NAB Traveller Card, which is a multi-currency prepaid travel card launched in 2012. It looks at the card's features along with how it compares to other travel cards on the market.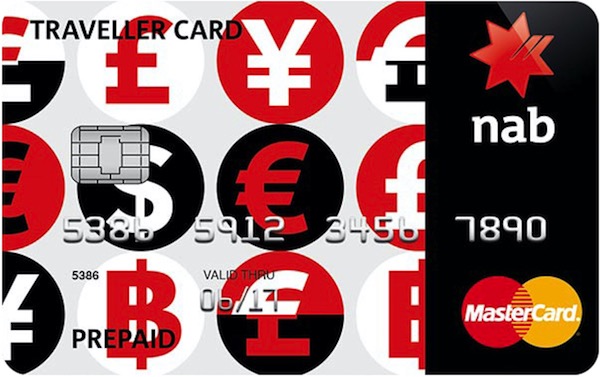 Features of the NAB Traveller Card
Card Details
| | |
| --- | --- |
| Card | NAB Traveller Card |
| Card Type | Prepaid debit card |
| Frequent Flyer Program | N/A |
| Points earn on spend | N/A |
| Load fee | No load and reload fees |
| International ATM withdrawal fee | No overseas ATM withdrawal fees charged by NAB |
| Currency conversion fee | 4% |
| Annual fee | Free |
The NAB Traveller card is widely accepted worldwide, given that it is backed by Mastercard. Funds can be loaded onto the card through NAB internet banking, the NAB app, at any NAB branch or via BPAY, however, only the first two methods allow for the loaded funds to be available immediately. BPAY requires a 2-3 day processing period.
NAB Traveller card does not charge any load or reload fees, nor any overseas ATM fees, with the exception of any fees that the ATM provider may charge. However, withdrawals made from Australian ATMs incur a fee of $3.75, again in addition to any fees that the ATM provider may charge.
There are 10 different currencies that can be loaded onto the NAB Traveller card, these are:
Australian Dollar
US Dollar
British Pound
Euro
Canadian Dollar
New Zealand Dollar
Japanese Yen
Singapore Dollar
Thai Baht
Hong Kong Dollar

Funds can be transferred from one currency to another on the card, however, currency conversion fees will apply. The applicable rate used for these conversions is NAB's currency-to-currency foreign exchange rates.
Like most travel cards on the market, the NAB Traveller card does not offer the ability to earn frequent flyer points for purchases made on the card.
Further information can be found in the NAB Traveller User Guide.
The card is both chip and PIN-protected, making it a safe method of carrying cash overseas.
Summing up
Like other travel cards, the NAB Traveller Card provides a safe method of carrying cash overseas and can represent good value when it comes to fee-free load, reload and overseas withdrawals from the card.
The card, however, does have some shortcomings, including not having the ability to earn frequent flyer points and a relatively high currency conversion fee if you make a transaction and the card does not hold the currency.
Overall, it is worth considering, especially if you simply use the card to load funds on and then use overseas, without the need to transfer currencies frequently.
NAB Traveller Card: a prepaid travel Mastercard with no overseas withdrawal fees
was last modified:
March 22nd, 2019
by
Point Hacks Credit Card Information
Point Hacks is published by Point Hacks Australia Pty Ltd (ACN 622 987 160), a corporate authorised credit representative (Number: 504786) of MSC Advisory Pty Ltd ACN 607 459 441 (Australian Credit License: 480649). In some instances, Point Hacks Australia Pty Ltd receives a commission or benefit for referring you to the services of a credit provider. This commission or benefit is disclosed at the point of referral to the credit provider. This website does not provide credit, assist you in obtaining credit, or advise you to apply for any particular product from a provider.
We have not taken into consideration your personal circumstances or financial situation when providing the information on this website. It is important you read the relevant PDS from the product issuer and seek the independent advice of an appropriately qualified professional before making a decision on a product.
While we invest a great deal of time and energy into ensuring we provide with you with the most up to date and accurate information, we do not warrant the accuracy of statements or information contained on the Website relating to third party goods and services, including credit card information, loyalty schemes and rewards. You acknowledge that such information and materials may contain inaccuracies or errors and we expressly exclude liability arising from any person acting on those statements or information to the fullest extent permitted by law. Where conditions or warranties are implied by law and cannot be excluded, our liability will be limited to the re-supply of information. You should confirm the accuracy of information provided on this Website with the third party product provider before acting on it.