Unfortunately, we can add Macquarie Bank to the list of Rewards Credit Card changes for 2016.
From May 11, Macquarie Rewards Points, Macquarie Honors and Macquarie Qantas Rewards Cards will reportedly have a tweak to their terms and conditions, and no, it's not great news for points earn.
Rather than devalue their points as some financial institutions have done, Macquarie have chosen to limit what spend will earn points, as well as imposing points caps on some of their products.
Points Caps
Following in the footsteps of Citi Rewards, HSBC and Virgin Money, Macquarie have added a monthly points cap to some of their products for new customers. Currently, Macquarie Qantas Cards earn 1 point per $, with no monthly cap. From June 20, the Qantas Platinum card will have a $2500 monthly cap, while the Black card will be capped at $4000. After the cap is reached, 0.5 points per $ will be earned.
The monthly cap for Platinum in particular, is pretty hefty. For those customers using their Macquarie Qantas card as an everyday points earner, you wouldn't blame them if they started to look elsewhere. Note that Macquarie Rewards cards do not have a monthly cap – only the Qantas Rewards Cards.
The Platinum card in both Macquarie and Qantas Rewards varieties also have an annual points cap on $200,000 spend.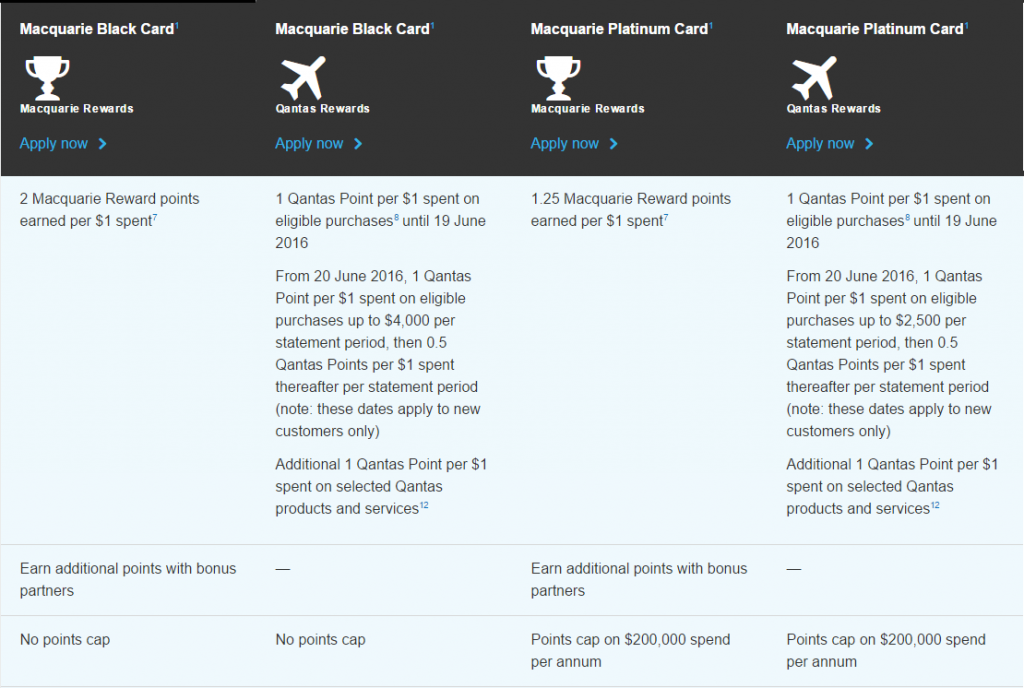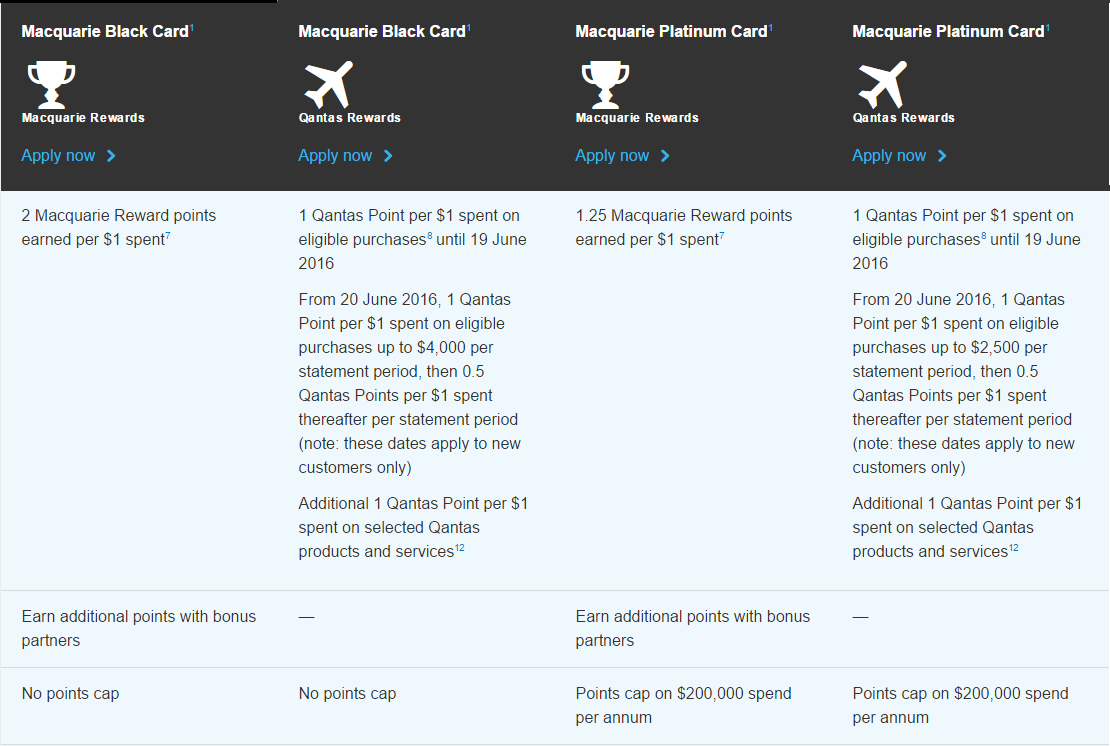 Ad – Scroll down to continue reading.Minimum spend, terms & conditions apply.
Points earn changes
As of publishing, the latest set of T&C's are yet to be updated online for both Macquarie Rewards and Macquarie Qantas Rewards (both last updated 20 Nov 2015), although we can provide a screenshot of the email communications from Macquarie: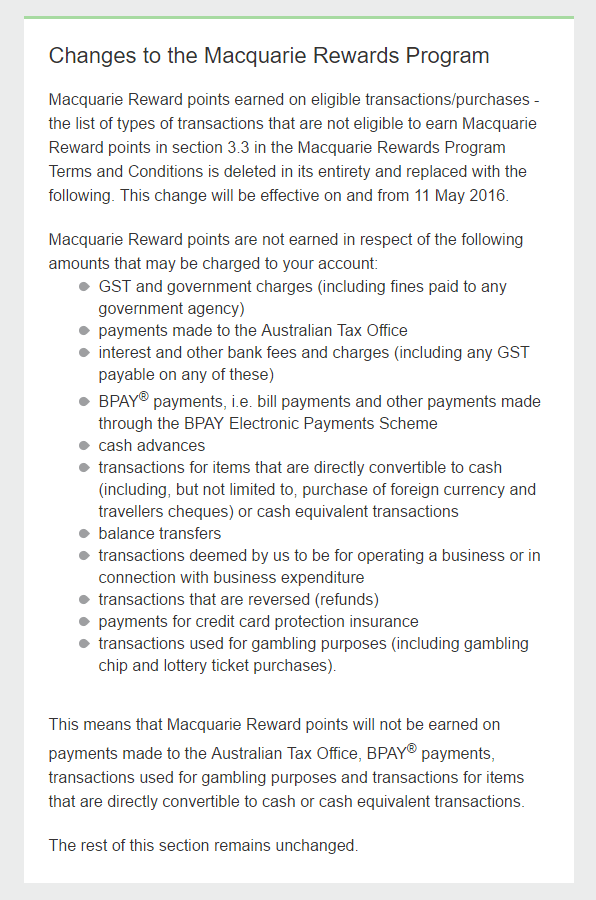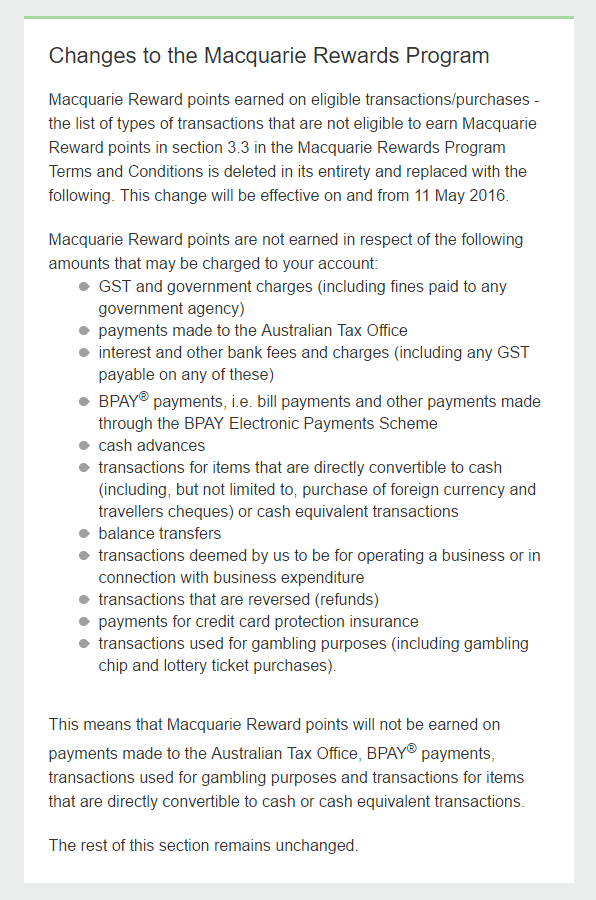 Although there's nothing as yet on the Macquarie site, these changes have also been reported by users of Australian Frequent Flyer and Australian Travel Points, and are reported to pertain to the HHonors Rewards and Qantas Rewards cards as well.
The noteworthy additions:
No more ATO payments
Although "GST and government charges" has always been in the terms, Macquarie has qualified this by adding "including any fines paid to any government agency".
The addition of "Payments made to the Australian Tax Office" is new, and will undoubtedly stir up controversy among some customers, as the Macquarie Card was one of the few that could earn points when paying quarterly BAS.
Gambling and Lotto purchases
"Transactions used for gambling purposes (including gambling chip and lottery ticket purchases)" has been added. I'm not sure how the lottery ticket purchases would be policed- if I buy a lotto ticket when I buy my Saturday paper, it's all just one transaction from my local convenience store.
No more points earn from BPAY
The biggest one in my mind is "BPAY® payments, i.e. bill payments and other payments made through the BPAY Electronic Payments Scheme".
This is a huge change. For many people, paying bills via BPAY is an easy way to boost the points balance. Note there's no mention of direct debit, so if you've been putting off filling in that direct debit form on your utilities, now's the time to get on it.
Where to from here?
This is a telling move from Macquarie, who also underwrite the Woolworths and Jetstar range of credit cards. It will be interesting to see if these changes follow down the line to these products as well.
Removing BPAY and adding a points cap will certainly alienate many customers, especially if they're using a Macquarie card for all household expenditure.
Is this enough to sway opinion when looking for a new card, or are the days of unlimited points caps with relatively small annual fees coming to a close, and this is the new normal?
Points caps + no more BPAY or ATO payments for Macquarie Cards
was last modified:
October 14th, 2020
by