Here's a round up of the various news and offers out there at the minute which I don't have the time or inclination to write a detailed post about, but which still deserve highlighting.
Malaysia Airlines joins oneworld – This was back on Feb 1. I will be following up soon with an analysis on good Enrich redemption options (as they are an Australian Membership Rewards partner, it's fairly easy to get points over to Enrich), and vice versa using Qantas Frequent Flyer points. Qantas updated their partner info page to include MAS, and the earn rates on flights are pretty restrictive on routes that Qantas compete with them on, i.e. to Kuala Lumpur and to Europe. Not complaining – I wouldn't expect anything less protectionary from QF.
There's more details in the AusBT coverage.

American Airlines are selling AAdvantage miles with a decent 50% bonus again, with a cost per mile of about 1.87 US cents if you get in before the end of February at the best bonus level. More here.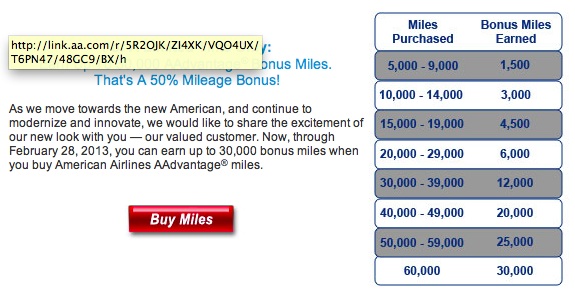 Iberia have released details and a video of their new A330 Business Class offering, which actually looks pretty nice. Their current service or cabin isn't particularly renowned. One Mile at a Time gives a decent breakdown of routes and details.
The American Express Platinum Charge Card signup offer has been put back up to 80,000 MR points – about as high as it usually ever goes. It's been languishing at a poor 60,000 points for the past 6 months, and this bonus actually makes the sign up fee fairly tenable.
And finally, the biggest news of the lot, **the details of the Qantas & Emirates tie up for Frequent Flyers have been announced.**** You can check out the Qantas partner page here, and AusBT's analysis of this is here. My take is that it's a level below what I'd hoped for – Qantas is not treating, or cannot treat, Emirates in the same way as their oneworld partners as critically you can't earn Qantas Status Credits on EK coded flight numbers. Travel with CX, BA, AA etc and you can earn Status Credits at usual levels even if actual points earned are at a low partner right. It's a strange one – I guess it keeps those who have to or want to book with EK directly tied to Skywards rather than being able to flip to QF, so maybe it was a necessity as part of the deal.
Link round up for mid February – Malaysia Airlines joining oneworld, bonus AAdvantage points & Qantas & Emirates frequent flyer tie up details
was last modified:
September 4th, 2018
by