The InterContinental Ambassador program is $200 USD paid membership with a number of benefits specific to InterContinental Hotels globally, and which requires nothing more than cash to procure, making it ideal if you have an upcoming InterContinental stay.
Here we dig into the benefits of the Ambassador program and cover some ways to maximise the value from it.

The basics of the InterContinental Ambassador program
IHG's Ambassador program is a paid membership which offers guaranteed room upgrades at InterContinental hotels, a complimentary weekend night certificate following a paid weekend night, 5,000 bonus IHG Rewards Club points and a luggage tag (!) each year upon renewal.
It can take a while to accumulate sufficient nights before you get to enjoy the benefits offered by the higher membership tiers of IHG Rewards.
If you're anything like me, instant gratification is a good thing and you can fast track your way to some of these benefits, and some other unique benefits, via IHG's paid membership Ambassador program for USD 200 or 32,000 Elite points – and a renewal fee of USD 150 annually thereafter.
IHG Rewards members get bumped up to Gold Elite status (usually only awarded after 10 qualifying nights in a single calendar year – Platinum and Spire Elite members retain their existing tier).
You also get the following benefits each stay – one free pay-TV film per stay, fresh fruit upon arrival, in-room water replenished daily and a welcome amenity.
Note that the benefits directly associated with the Ambassador program are valid only at the InterContinental Hotels and Resorts chain, so other IHG-run hotels such as Holiday Inn and Crowne Plaza are excluded. However, as the Ambassador program upgrades you to Elite status, Elite benefits are still recognised at all IHG hotels.
How best to use InterContinental Ambassador?
The benefit that stands out to me is the annual complimentary second weekend night stay. If you are planning a weekend at any of InterContinental Hotels and Resorts properties, this benefit can offset the majority of the annual fee.
Ambassador free weekend night certificate
There are some restrictions on the use of the free weekend night certificate – it can only be used when the paid night is on the Ambassador Weekend Rate (IHG-speak for flexible rate), which is usually dearer than more "restrictive" rates.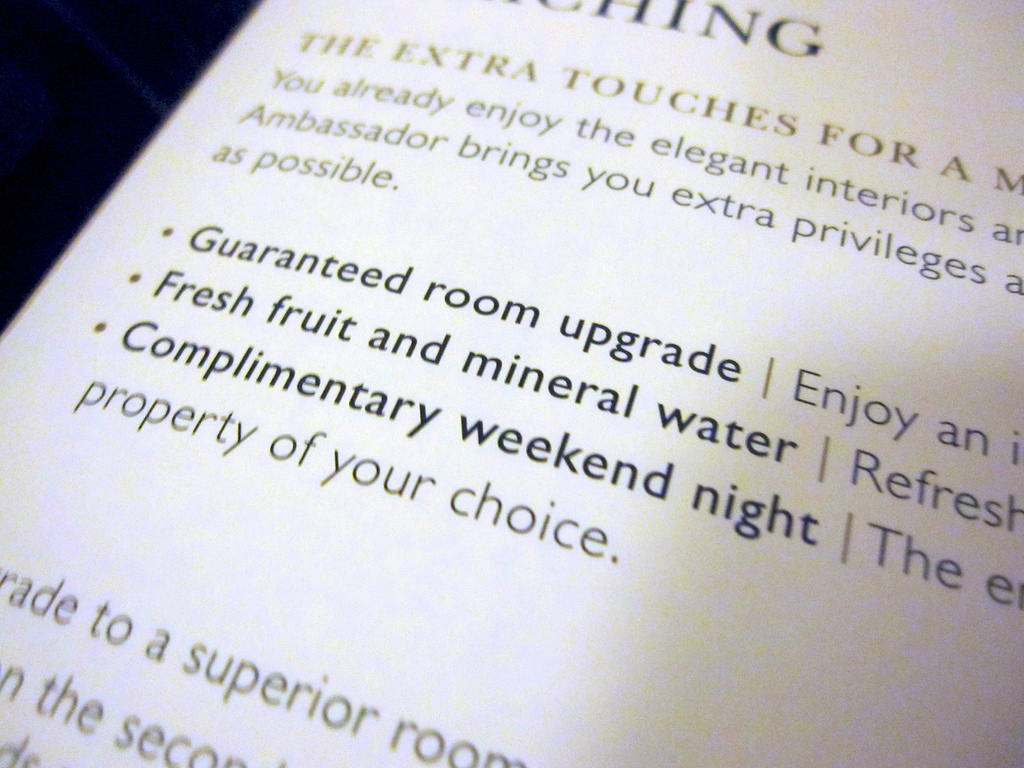 I checked for a random weekend in June – at the time of writing, the Advance Purchase rate for a King Deluxe Room is AUD 293 and the Best Flexible Rate with free cancellation until 6pm the evening before is AUD 325.
When you consider that you get a guaranteed free upgrade for each stay in addition to the second free weekend night, my take is that the Ambassador membership is worthwhile even if it's only put to use for that one weekend each year.
The certificate is delivered as part of your welcome kit – you make the reservation and hand the paper certificate over on checking in. Keith covered the IHG Ambassador welcome kit in a little detail some time ago here.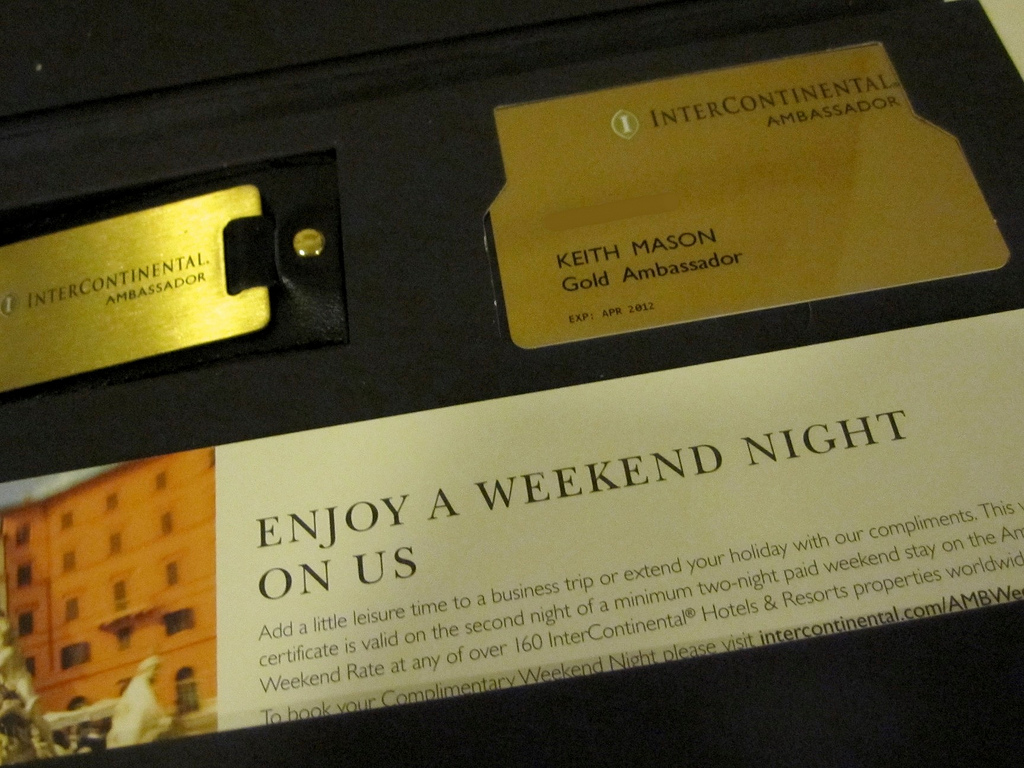 Ambassador room upgrades
Room upgrades are valid on any paid rate, and you'll get bumped up to the next category room from the rate you paid on. You can't get a room upgrade (usually) on any stays booked using IHG Rewards points.
The best way to use the room upgrade benefit is to carefully research the room types at the InterContinental you are looking to stay at – target the specific room category you want to stay in, and then email the hotel before booking to ensure you book the right room type to ensure you get upgraded into the room you want.
Once booked, you can then revalidate with the hotel (again by email) that they will be upgrading you into the room type you desire, and some InterContinental Hotels will upgrade your reservation category for you in advance so you can see it on your booking.
This can ensure you get bumped up to Club access, for example, when booking a regular room type, and might save you a substantial amount on drinks and snacks you might have otherwise paid for. You could also pick out rooms with more space or better views.
How the IC Ambassador program works alongside IHG Rewards
We've previously looked at several hotel loyalty programs, including the IHG Rewards from the InterContinental Hotels Group (IHG) which consists of InterContinental Hotels and Resorts, Holiday Inn, Holiday Inn Express, Kimpton, Crowne Plaza, Indigo, Hualuxe, Staybridge and Candlewood Suites hotel chains.
IHG Rewards Club loyalty program tiers start at the base Club tier, and you work your way up to Gold Elite, Platinum Elite and Spire Elite after meeting their respective prerequisites.
Ambassador is independent of IHG Rewards, with the exception that one of the benefits of paying for Ambassador is IHG Rewards Gold status, and that the Ambassador program uses IHG points as a welcome and renewal benefit.
Summing up – InterContinental Ambassador membership
In brief, for an initial USD 200 (or 32,000 Elite points) and an ongoing renewal fee of USD 150 annually, you get a complimentary weekend night stay and a host of other benefits at any InterContinental Hotels and Resorts property.
On top of that, you also get upgraded to Elite status on the IHG Rewards Club program, which is recognised at over 4,900 IHG hotels in nearly 100 countries. If you have a weekend trip where there is an InterContinental hotel, the Ambassador membership may be right for you.
A guide to the InterContinental Ambassador paid membership program – room upgrades, a free night and other benefits at InterContinental hotels worldwide
was last modified:
July 12th, 2017
by