Recently, I sat down with the ExtraVirgin team to talk points for beginners, credit card tricks and how to win the green card lottery.
Over the course of half an hour, you can learn the answers to the questions like:
Which are the best ways to use 100,000 Qantas Points?
How likely am I to get upgraded?
What's the best way to book a flight using points—online or over the phone?
Which programs can you transfer points between?
Is it worth buying points?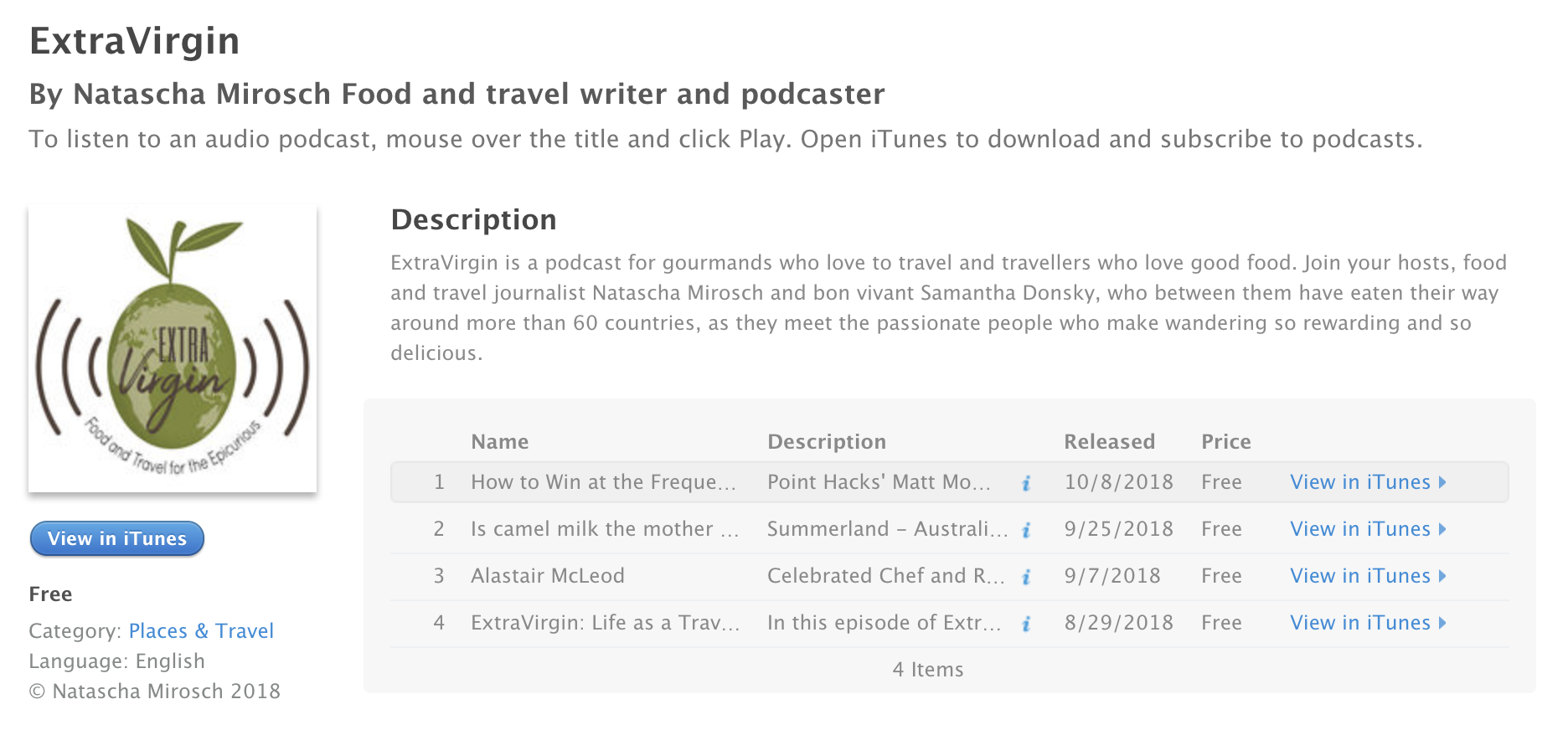 Here is the blurb for the podcast:
ExtraVirgin podcast hosts Natascha Mirosch and Sam Donsky have between them travelled and eaten their way around more than 50 countries. Join them as they talk to the movers, shakers, growers and gourmands in the world of travel and food.
Link: You can listen to the episode on iTunes or elsewhere.
---
Six ways to keep in touch
You can stay in-the-know with all Point Hacks news through the following channels:
Or you can just explore the Point Hacks website at your leisure.
If you are new to the points game, or just want a refresher, we'd suggest signing up to our free email course to get started!
Facebook
As part of a mid-2018 overhaul by Facebook, they have now gone back to prioritising your friends and family's posts over those of businesses, like us—which is how it probably should be on a 'social' network.
However, if you would like to follow Point Hacks a little more closely on Facebook, then you can do two things:
1. You can opt to see posts from us at the top of your feed by navigating to our page > click Following > click See first in your news feed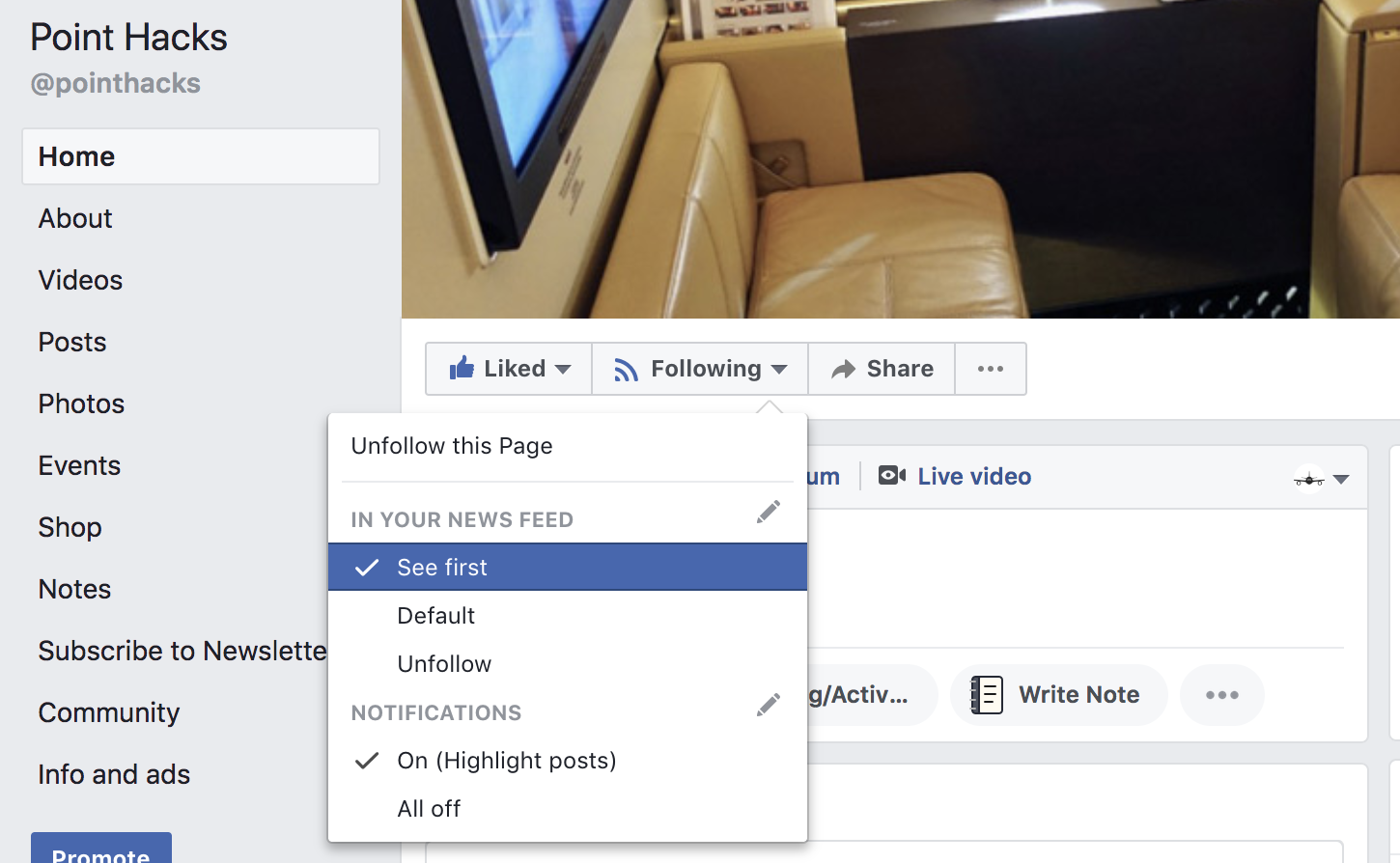 2. By clicking on the edit (pencil) button next to notifications and selecting Standard in the pop-up box, you will receive a notification when we post something, ensuring you are never missing out on the latest news, guide or deal!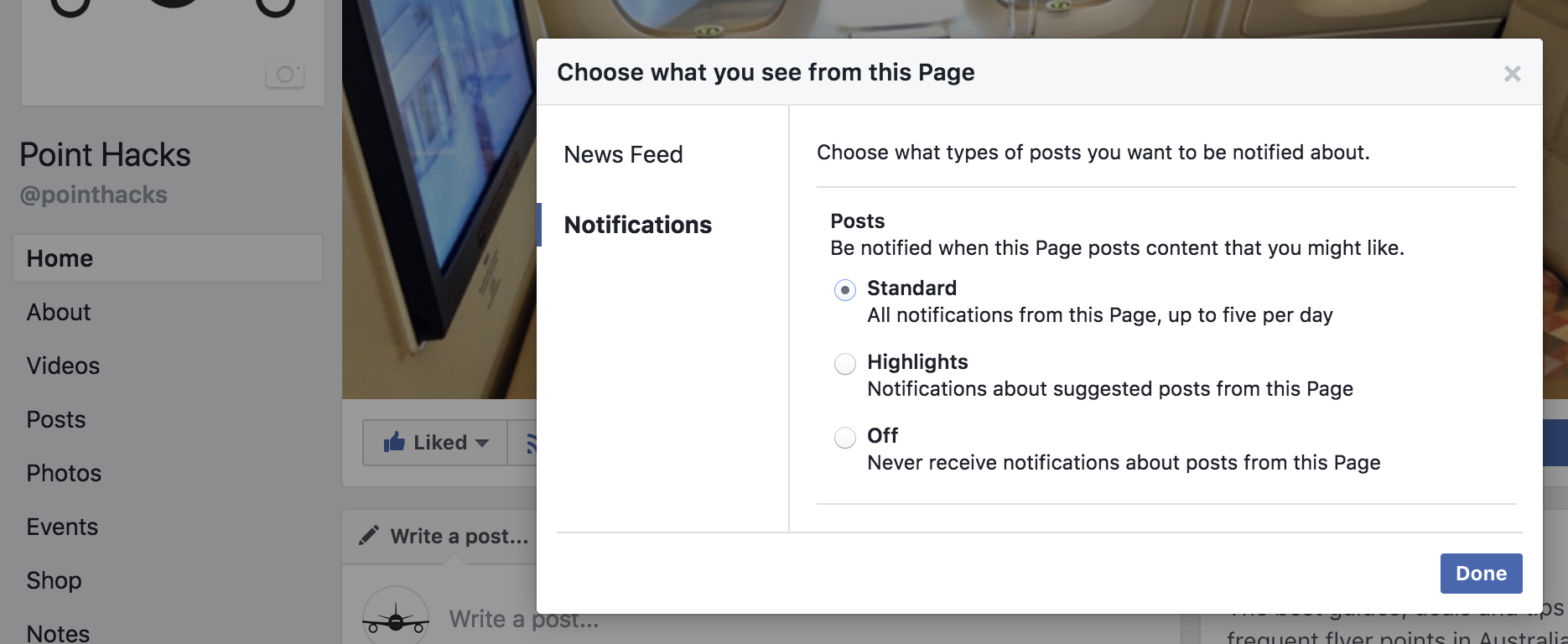 Instagram
You'll find photos and explanations of flights, lounges, hotels, deals and tips updated regularly on the Point Hacks Instagram feed, with links to guides and posts on our website.
Click the 'Follow' button in the top right-hand corner of the picture below. If you don't have the Instagram app, you can download it for iOS and Android.
How to use changelog notifications
We've also got a changelog, a small widget that summarises any new or updated posts in bite-sized pieces at the top of the Point Hacks website.
Step 1: Look for the red notification bubble right next to the Point Hacks plane at the top left-hand corner of any Point Hacks page. It will show how many change notifications there are (3 in this case):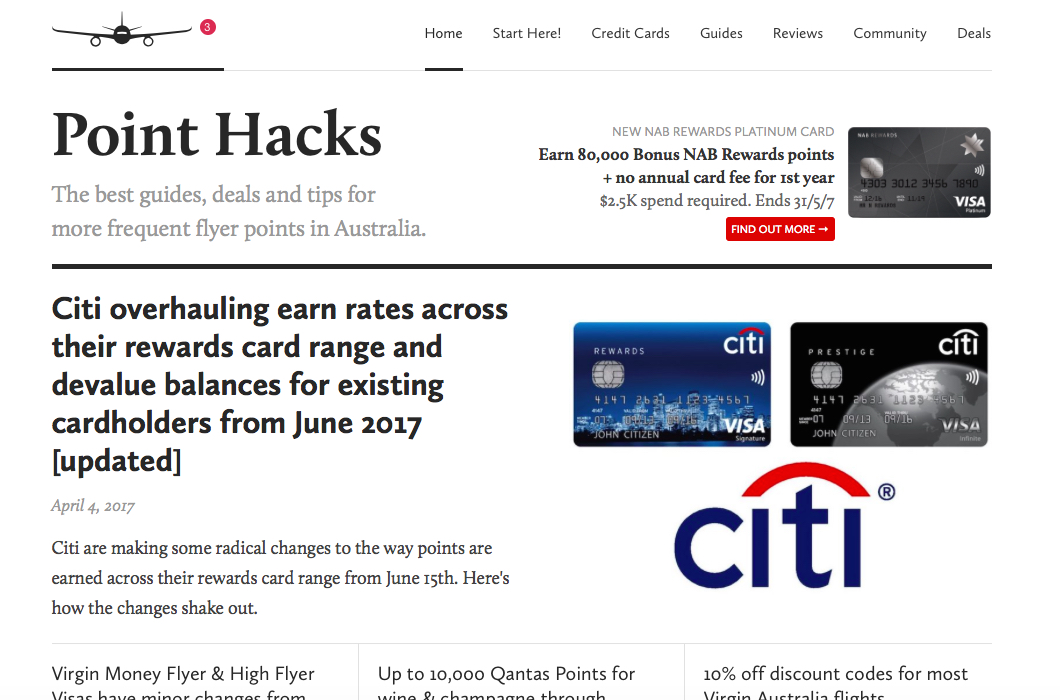 Step 2: Click on the red bubble to show a preview of the changes since you last visited the site: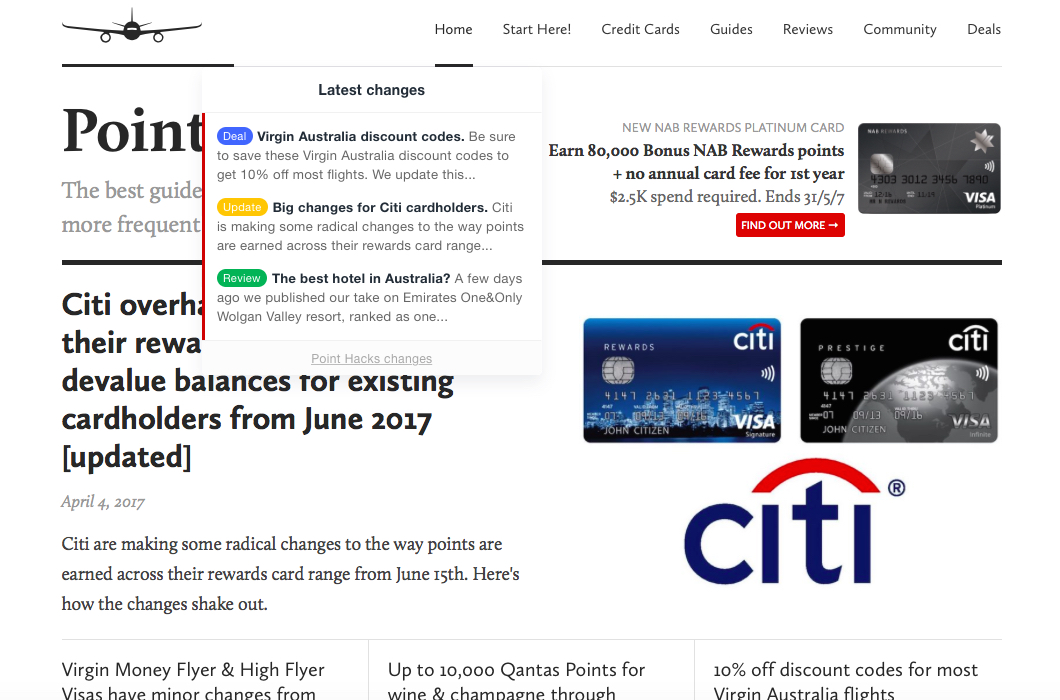 Step 3: Then click on the grey Point Hacks changes link at the bottom of the box to be taken to the Point Hacks updates page: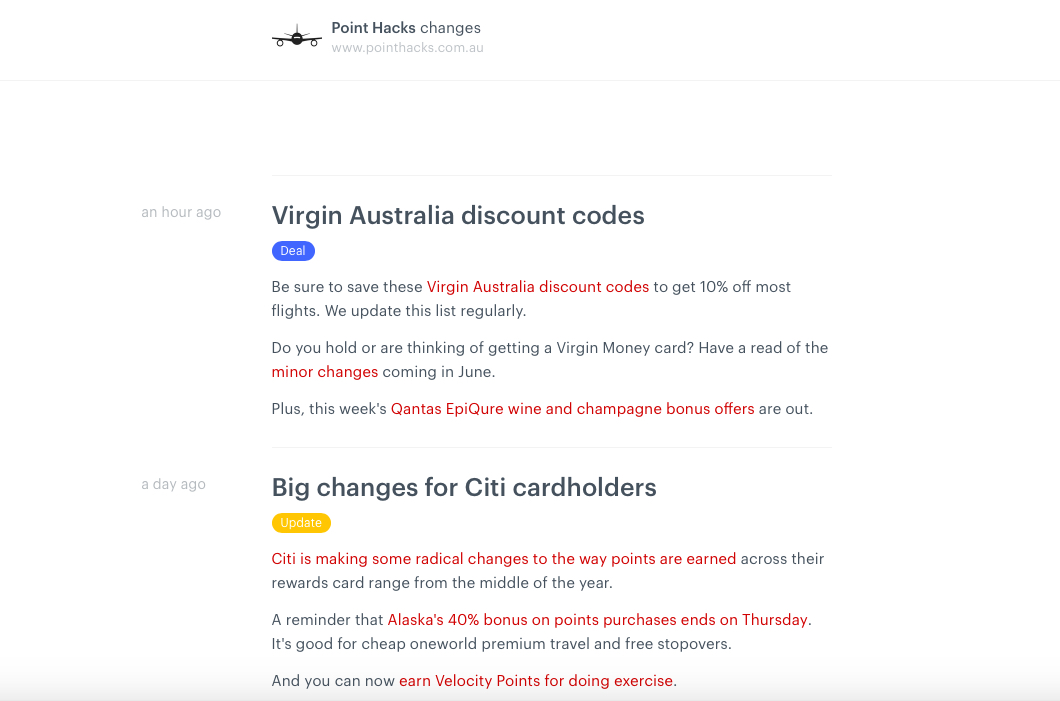 Then you can click through to any articles that interest you, including the latest deals, in-depth guides, and flight, hotel and lounge reviews.
This tool is also optimised for mobile devices: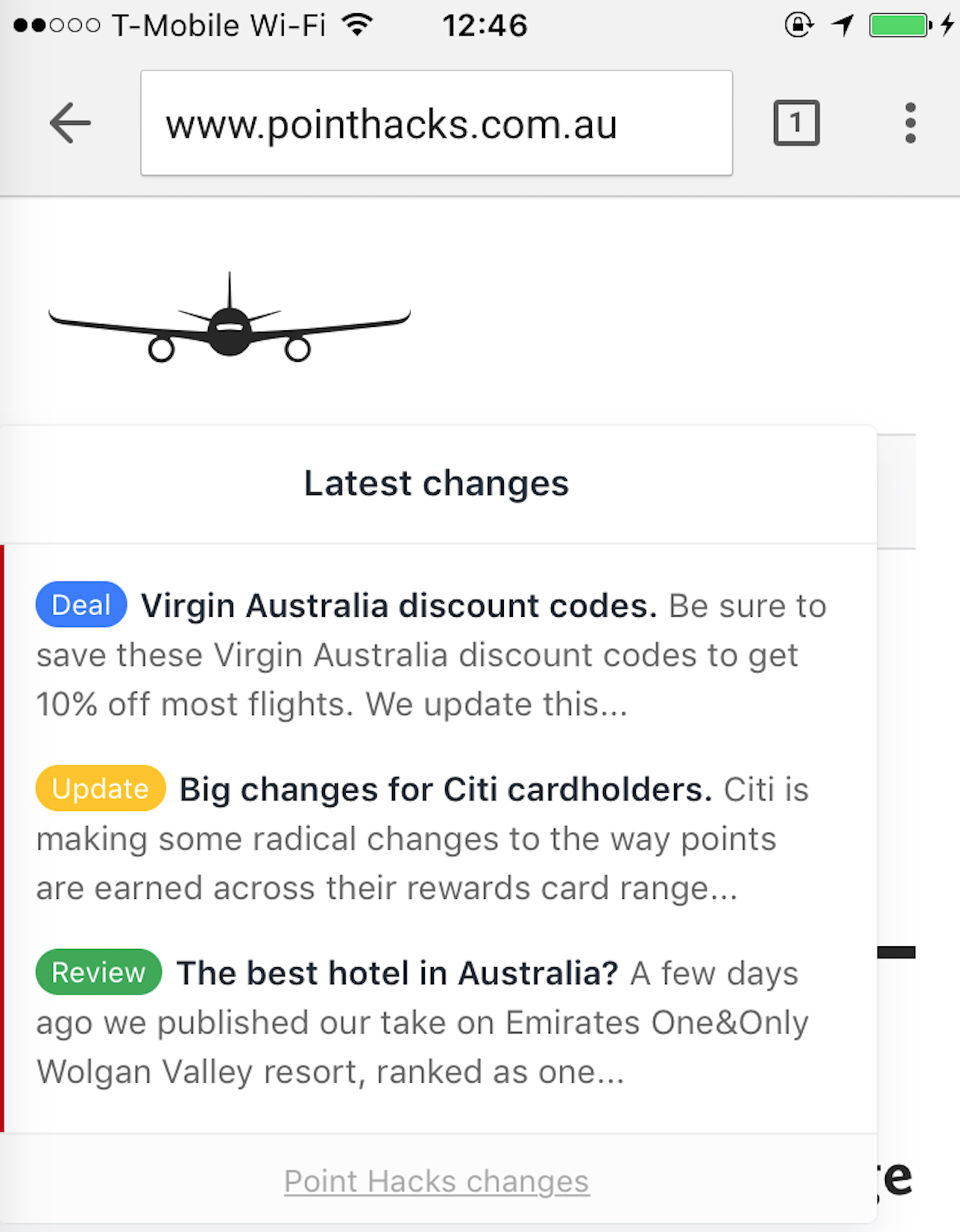 Is there another way you would like to access Point Hacks news? Please feel free to let us know in the comments below.
How to access Point Hacks news
was last modified:
November 21st, 2018
by