Japan's culinary landscape can only be described in one word: diverse. While food in Japan is often characterised by dishes like sushi, ramen or gyoza, there's far more to be discovered. No matter what your preferences may be, you're sure to find a dish in Japan that caters to your palate.
The food in Japan is unparalleled – so why not give it a go for yourself? Take off to Tokyo, Osaka or beyond with direct flights to Japan from Australia. And by putting your points to work, you can fly for less – and save to splurge on tantalising treats in Japan. Take advantage of credit card sign-up bonuses, like the Qantas American Express Ultimate or Qantas Premier Platinum cards that offer a generous side dish of points to kickstart your journey.
So if you're heading to Japan for the first time, add these must-try foods to your bucket list to take your tastebuds for a whirl.
What do people eat in Japan?
A traditional Japanese diet is rich in seasonal whole foods, often with little to minimal processing for optimal flavour. Rice, noodles and vegetables are common in many dishes, usually accompanied by egg, tofu, seafood or meat. Many regions also have their own variations of dishes, and it can be difficult to experience all of the food Japan has to offer in a single trip. We've narrowed down some top dishes to try when visiting Japan.
1. Sushi
Sushi is often top of mind when you think about food in Japan. It was one of the first dishes to be introduced to overseas palates and remains a firm favourite across the globe. And while there are many different varieties of sushi, the common feature is Japanese rice and rice vinegar. Even if you've had sushi before, there's something enticing about eating it when you visit Japan. The dish is often simpler than what you'll see in many Western restaurants, but the taste is just as delicious. And if you want to tuck into it as the locals do, dip the fish – not the rice – in a bit of soy sauce to enhance the flavour.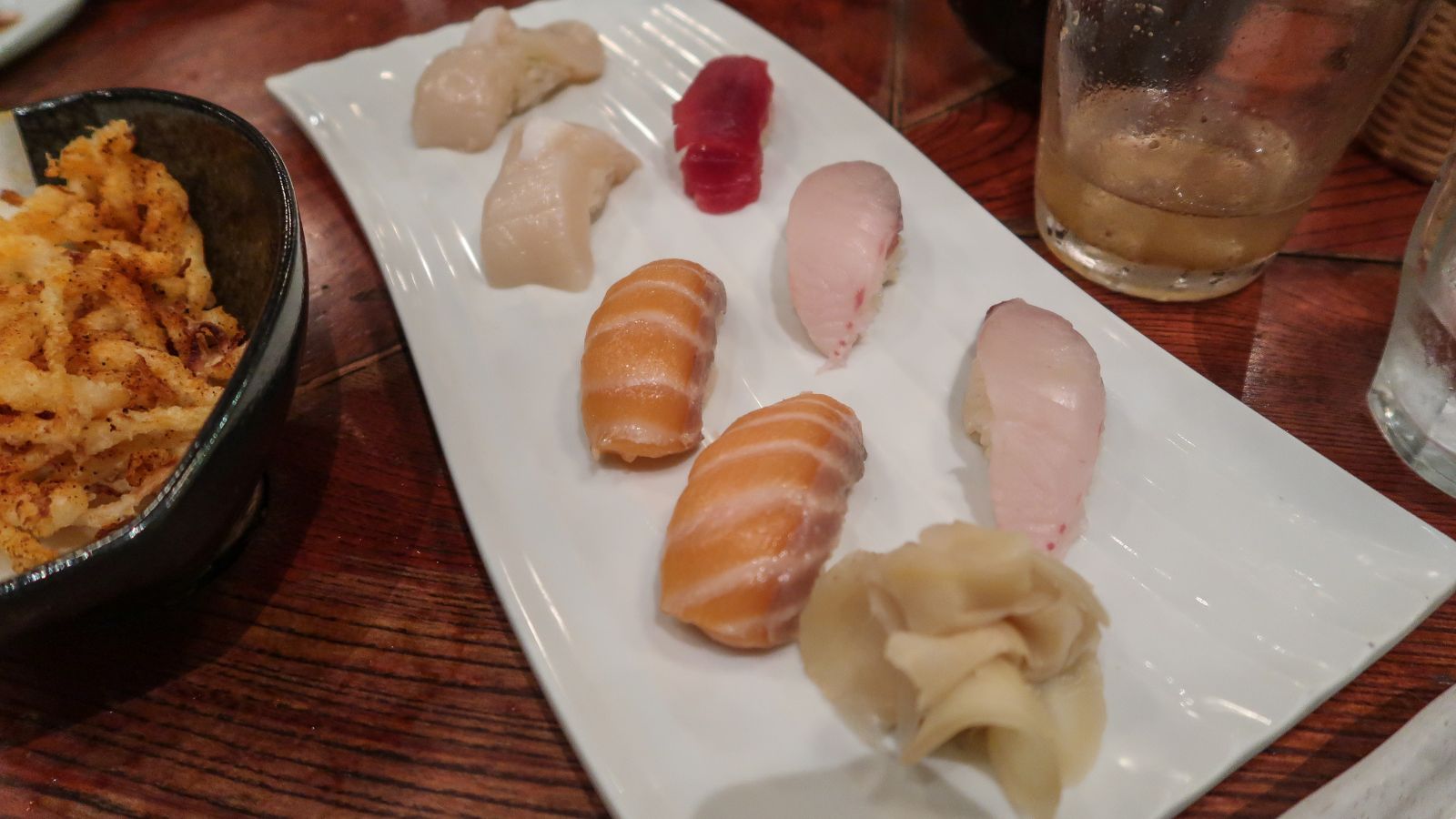 2. Sashimi
Sashimi is one of those dishes that divides audiences. While the idea of eating raw fish isn't appealing to some, the simplicity of this delicious dish makes it appealing to others. Japan's vast coastline allows easy access to seafood, and freshness is a key factor when it comes to tasty sashimi that's also safe to eat. The dish is expertly prepared by cutting the fish into thin slices and it's usually served with soy sauce, wasabi, pickled ginger and radish. The difference between sushi and sashimi is that the latter does not have rice. The city of Kanazawa, alongside the Sea of Japan, serves up delectable, high-quality sashimi and some of the best seafood in Japan.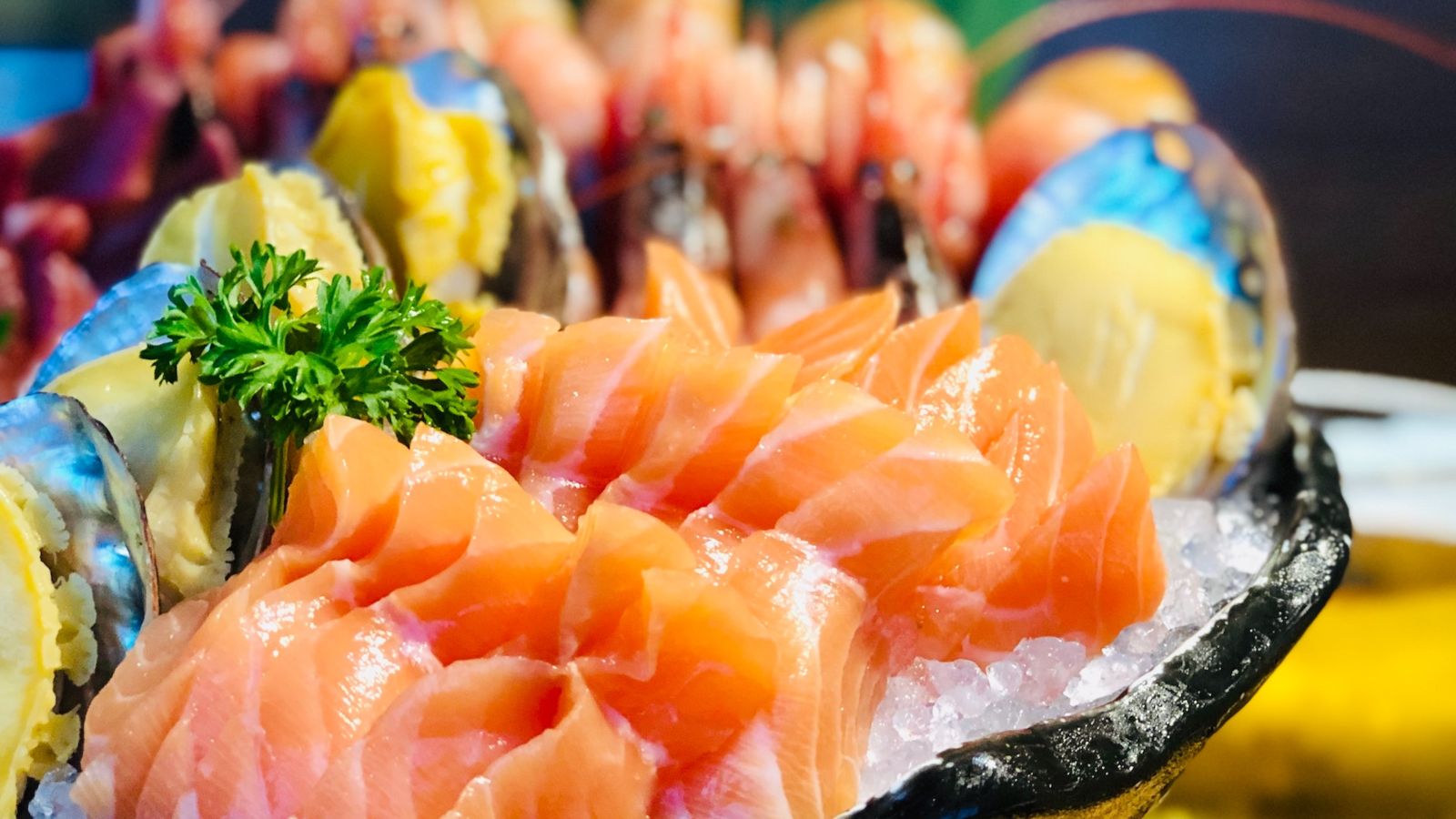 3. Ramen
Ramen is a staple dish in Japan. This hearty dish consists of wheat noodles, a savoury broth, meat, vegetables and other garnishes. And the great thing about it is there are so many ramen varieties. When travelling around Japan, you'll find that different regions have their own specialty ramen. The differences are in the broth types, the noodles' thickness, and the toppings. If you're doing Japan on a budget, ramen is inexpensive, filling, and readily available at ramen bars throughout the country. Die-hard ramen addicts can even visit the ramen theme park in Yokohama.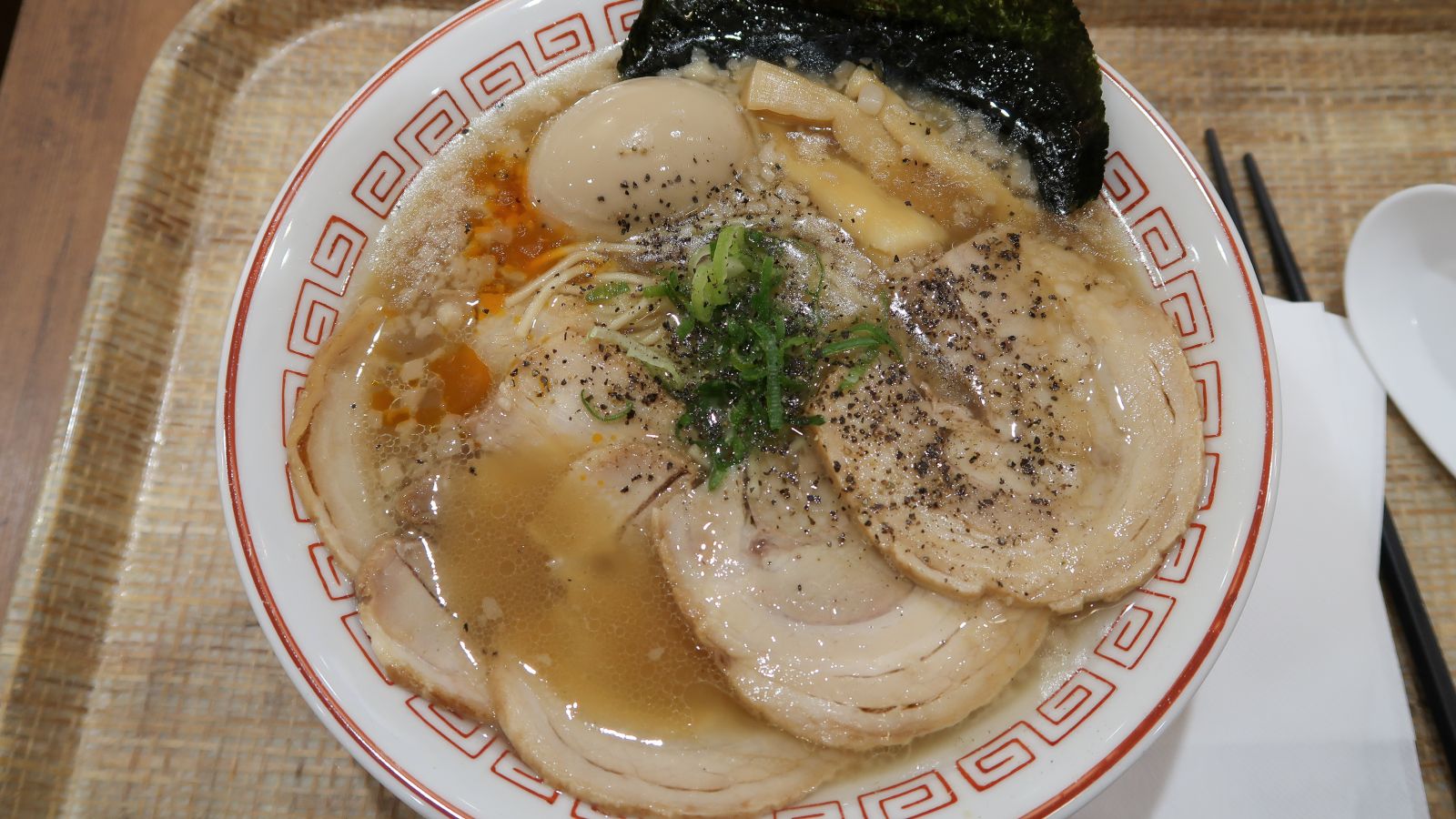 4. Takoyaki
Take a stroll through the streets of Japan and you'll meet street food vendors carefully flipping spherical delicacies on a hot plate. Takoyaki is one of Japan's top street food and an absolute must-try dish for first-time visitors. A savoury batter is poured into a moulded pan and filled with a small piece of octopus, then flipped until the batter forms a ball and is evenly cooked. A serve of takoyaki normally consists of six to ten balls served on a small tray with a toothpick and garnished with Japanese mayonnaise, a thick takoyaki sauce and bonito flakes. You'll likely eat it as an on-the-go snack or entree, but you can certainly devour more of this delicious dish.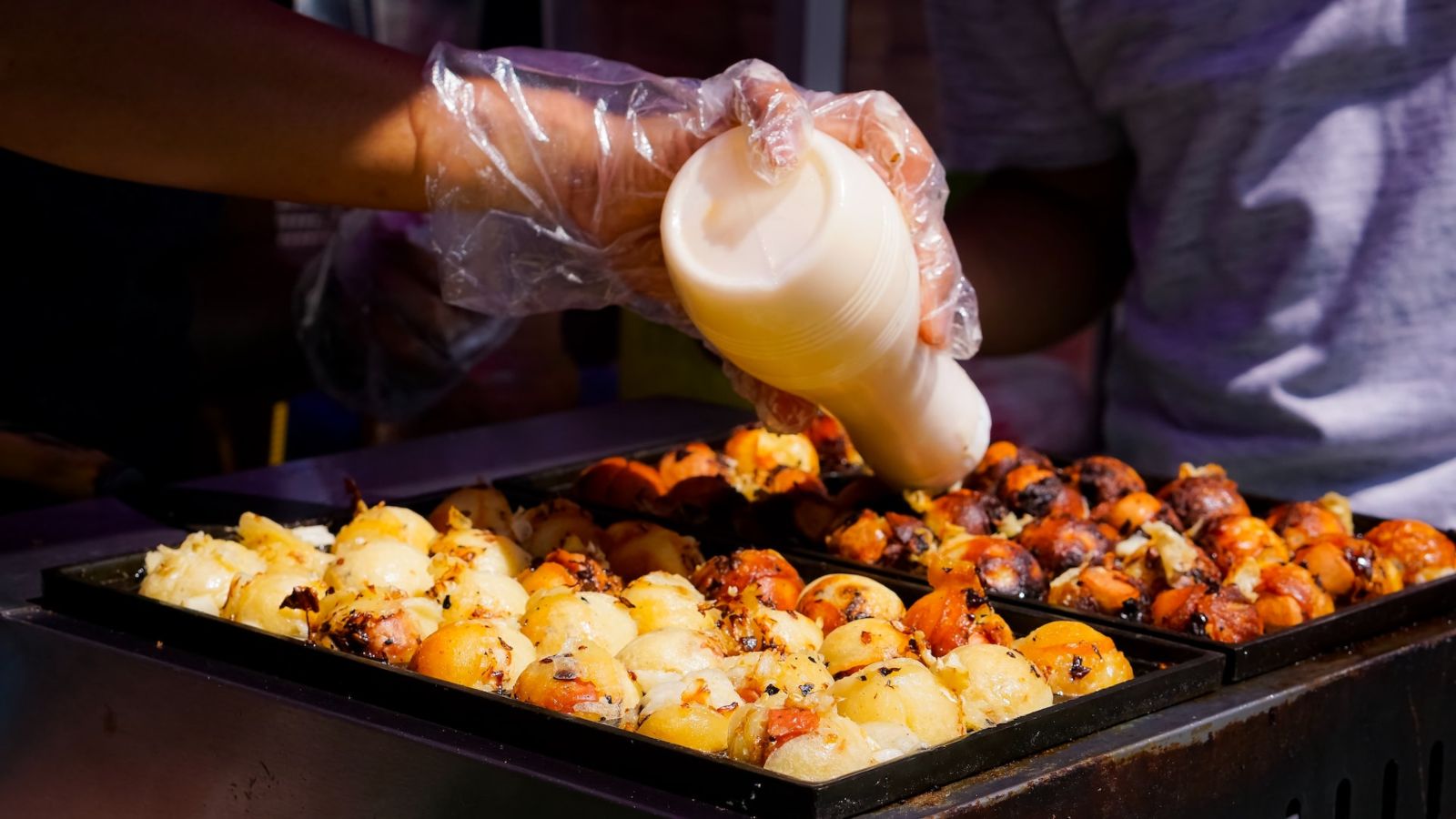 5. Okonomiyaki
Hailing from Hiroshima and the Kansai area of Japan, okonomiyaki is a popular grilled dish with regional variations. The dish's core is a batter mixed with sliced cabbage and various savoury ingredients. It's prepared like a pancake, where the batter is spooned onto a hot pan and cooked until perfection. Okonomiyaki is topped off with condiments similar to takoyaki, with a generous serving of Japanese mayonnaise and sauce and dried bonito flakes and green seaweed. First-time visitors to Japan can find this food served throughout the country, and some okonomiyaki restaurants even let you prepare your own.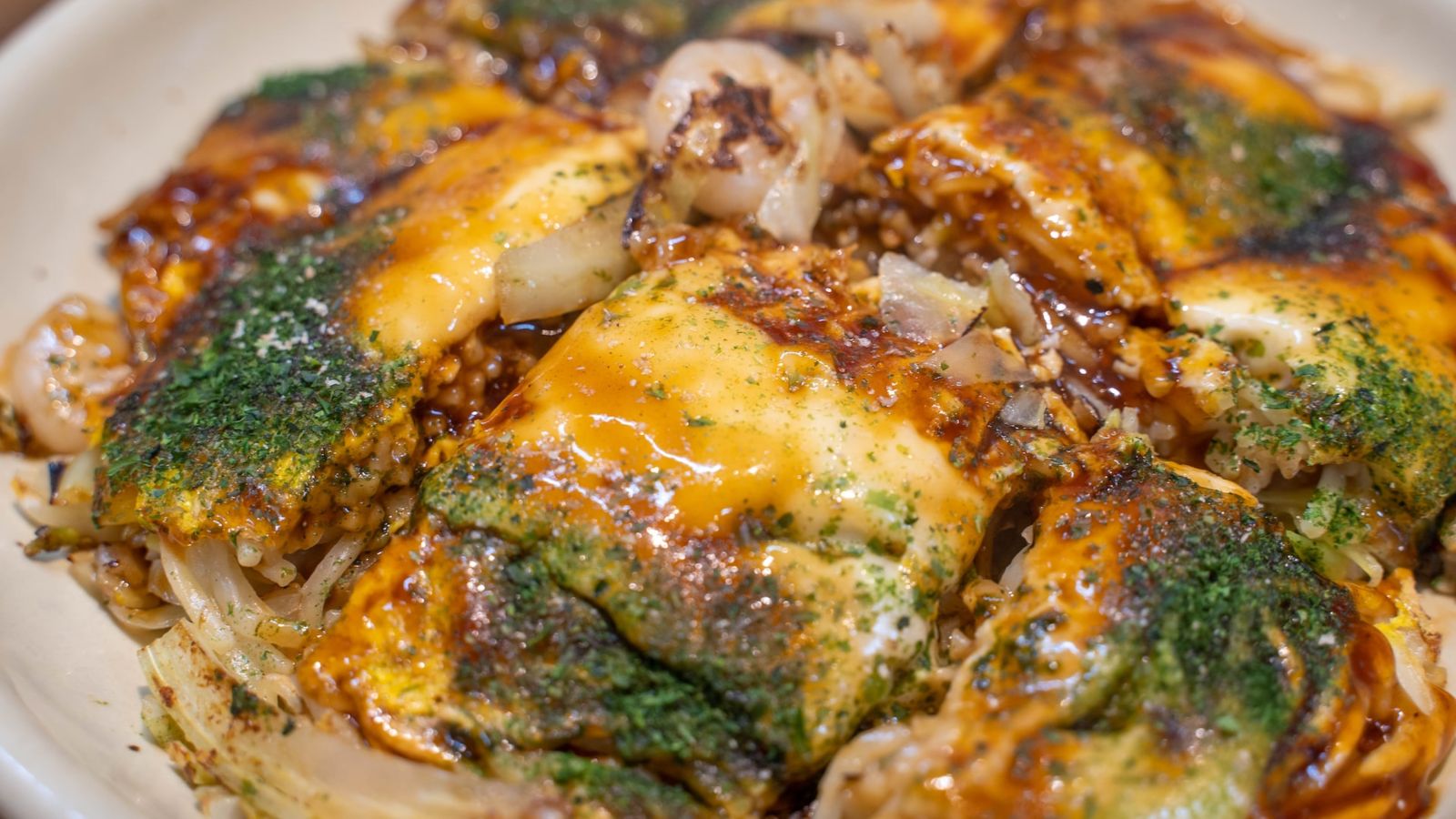 6. Onigiri
Rice balls, otherwise known as onigiri, are an easy on-the-go snack. They're abundant in convenience stores throughout Japan and are one of the cheapest food you can get, priced at around ¥100 to ¥200 per serving. The rice is wrapped around various savoury fillings like tuna, salmon or chicken and finished with a seaweed sheet. Despite their popularity as an affordable option, you can also eat onigiri at a dine-in restaurant – there's even a Michelin-star restaurant that serves this humble dish. If it's your first time trying onigiri from a convenience store in Japan, the wrapper provides simple steps to unwrap your rice ball so it remains intact.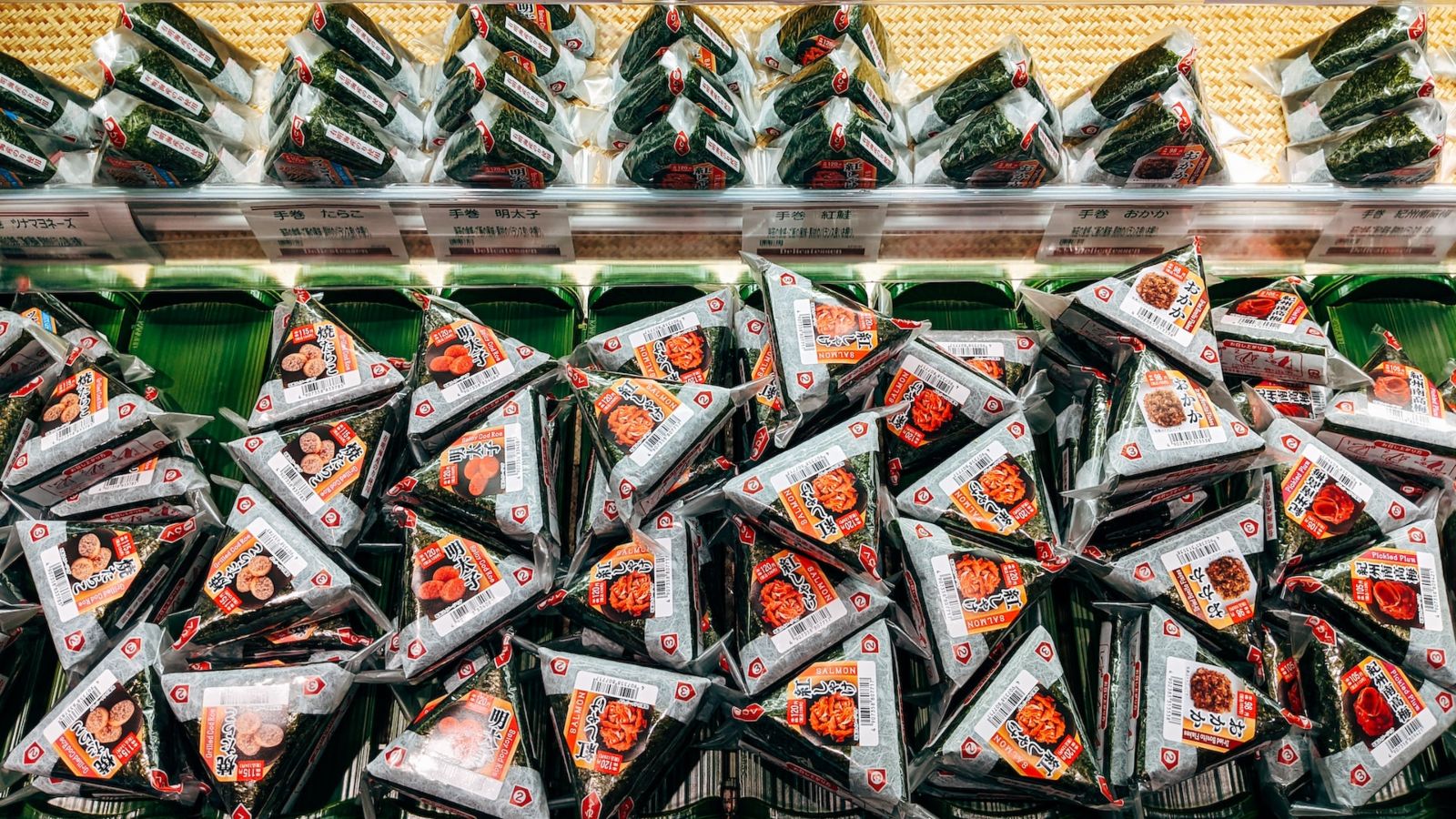 7. Tempura
As far as versatile Japanese food goes, there's no dish more fitting for the title than tempura. Vegetables, fish or meat are covered in a special batter and deep fried until they become crunchy and golden. The result is a tasty snack that can be eaten on its own, with dipping sauce, or added to rice or noodle dishes. And if you're looking for the perfect izakaya food, tempura is an excellent complement to sake or Japanese beer.
8. Yakitori
Various cuisines throughout the world have meat skewers, and yakitori is Japan's take on this simple dish. While the term refers to grilled chicken, it also encompasses various cuts of meat and vegetables. Small chicken pieces are skewed and cooked over a charcoal grill, then brushed with a special yakitori sauce. Yakitori is an excellent introduction to Japanese food if it's your first time visiting Japan. There are endless combinations to enjoy, and you can order them at a restaurant as a side dish or entree. It's also another popular drink accompaniment – so you can tuck into it alongside a cold glass of beer.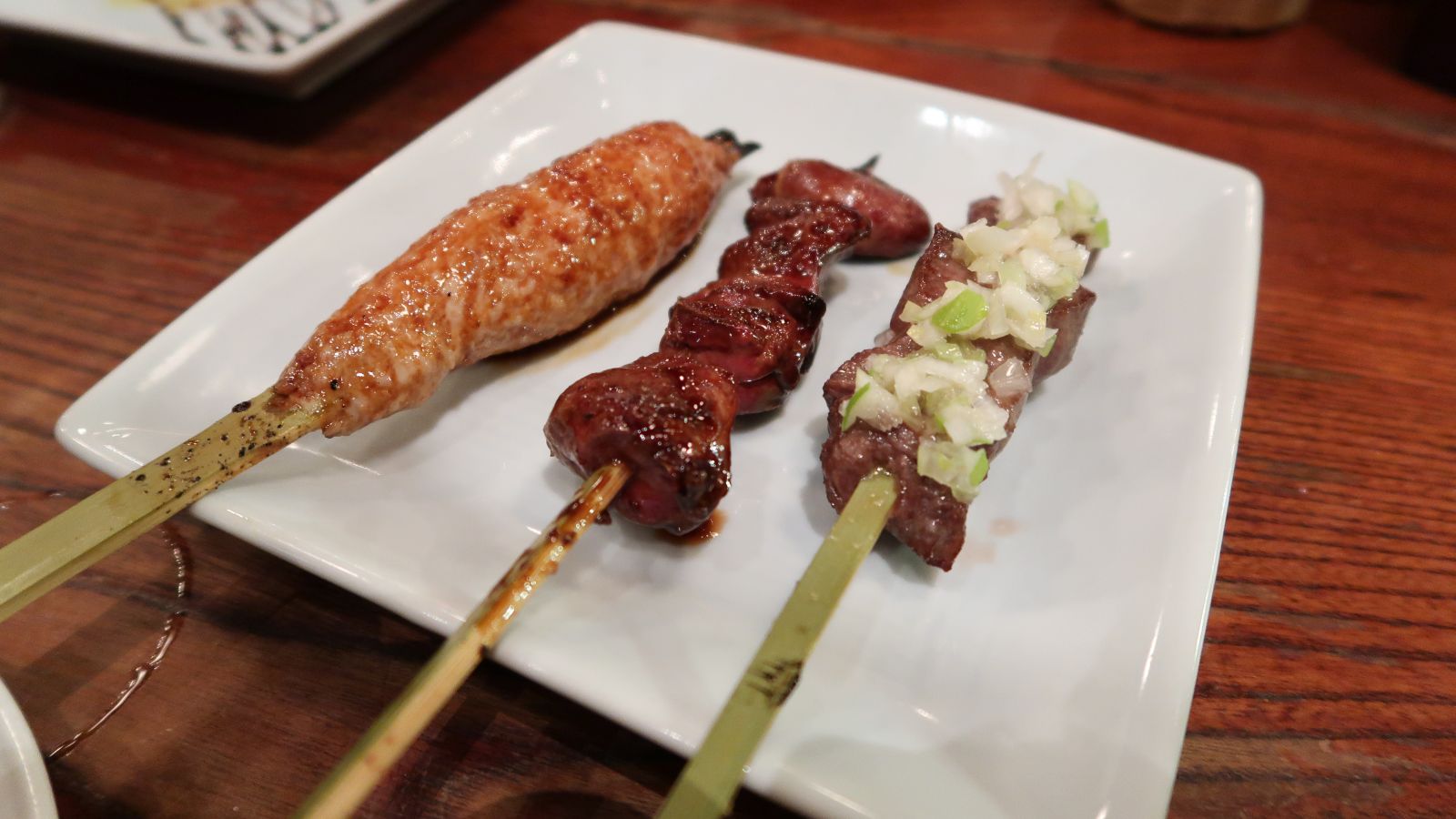 9. Udon
Japan has several popular noodle varieties – and udon is one of them. Unlike ramen, udon noodles have a thicker texture and do not contain eggs, making them suitable for vegans. The flavour of udon noodles is also far milder, so the emphasis is on the other ingredients of this dish. Udon is often served in a hot soup with meat and vegetable accompaniments, though it can also be served cold with a dipping sauce. First-timers to Japan can pick up this affordable food at any of the various udon restaurants throughout the country.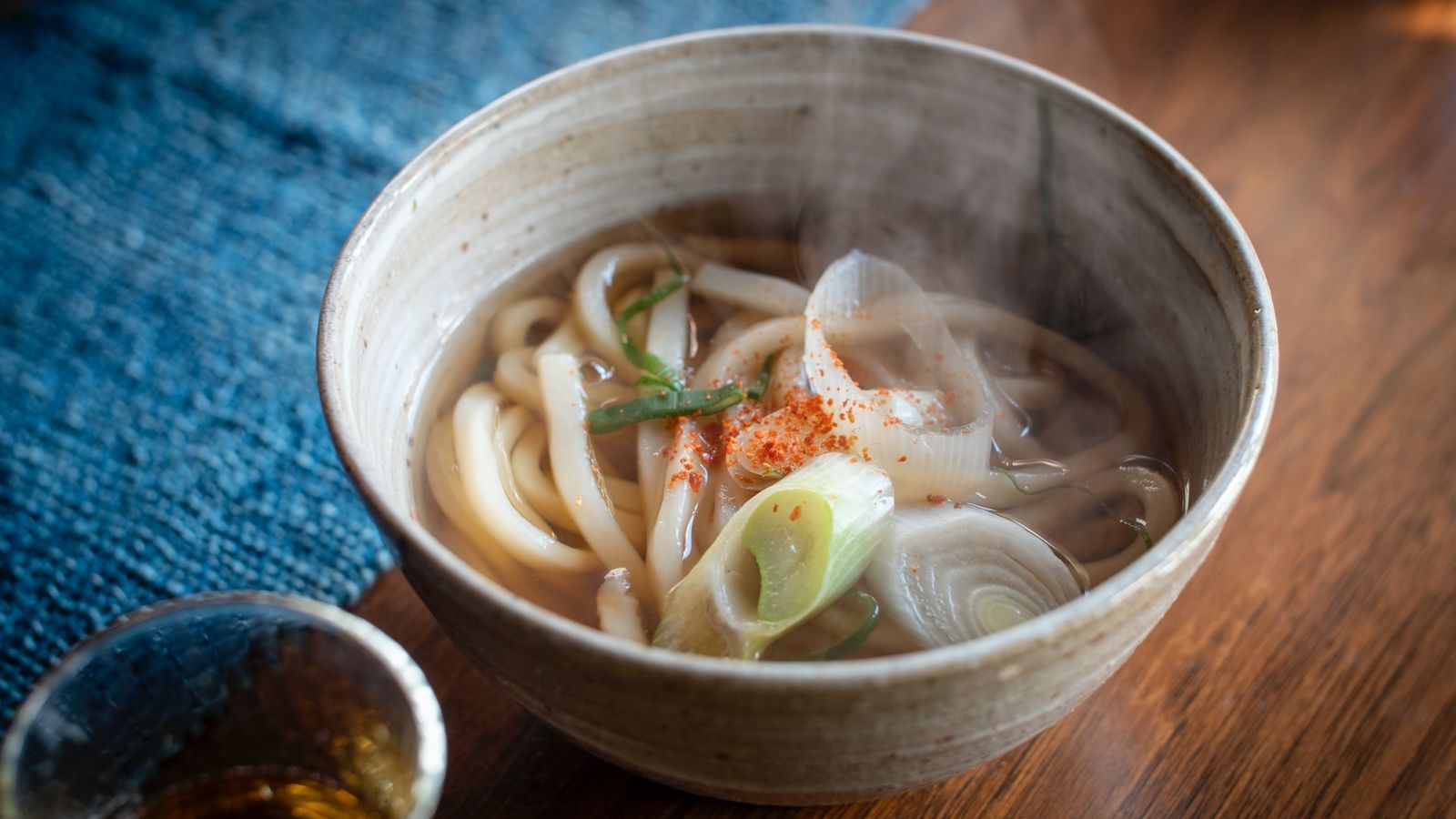 10. Soba
The third of Japan's noodle varieties, soba, consists mostly of buckwheat flour. This gives it a different flavour than ramen and udon – a more earthy taste, if you will. Enjoy it hot with broth, meat or vegetables. Or serve soba noodles cold with a dipping sauce for a refreshing summer dish. The versatility of soba noodles means you'll find it in other popular dishes, like the Hiroshima-style okonomiyaki, or stir-fried with meat and vegetables to create yakisoba.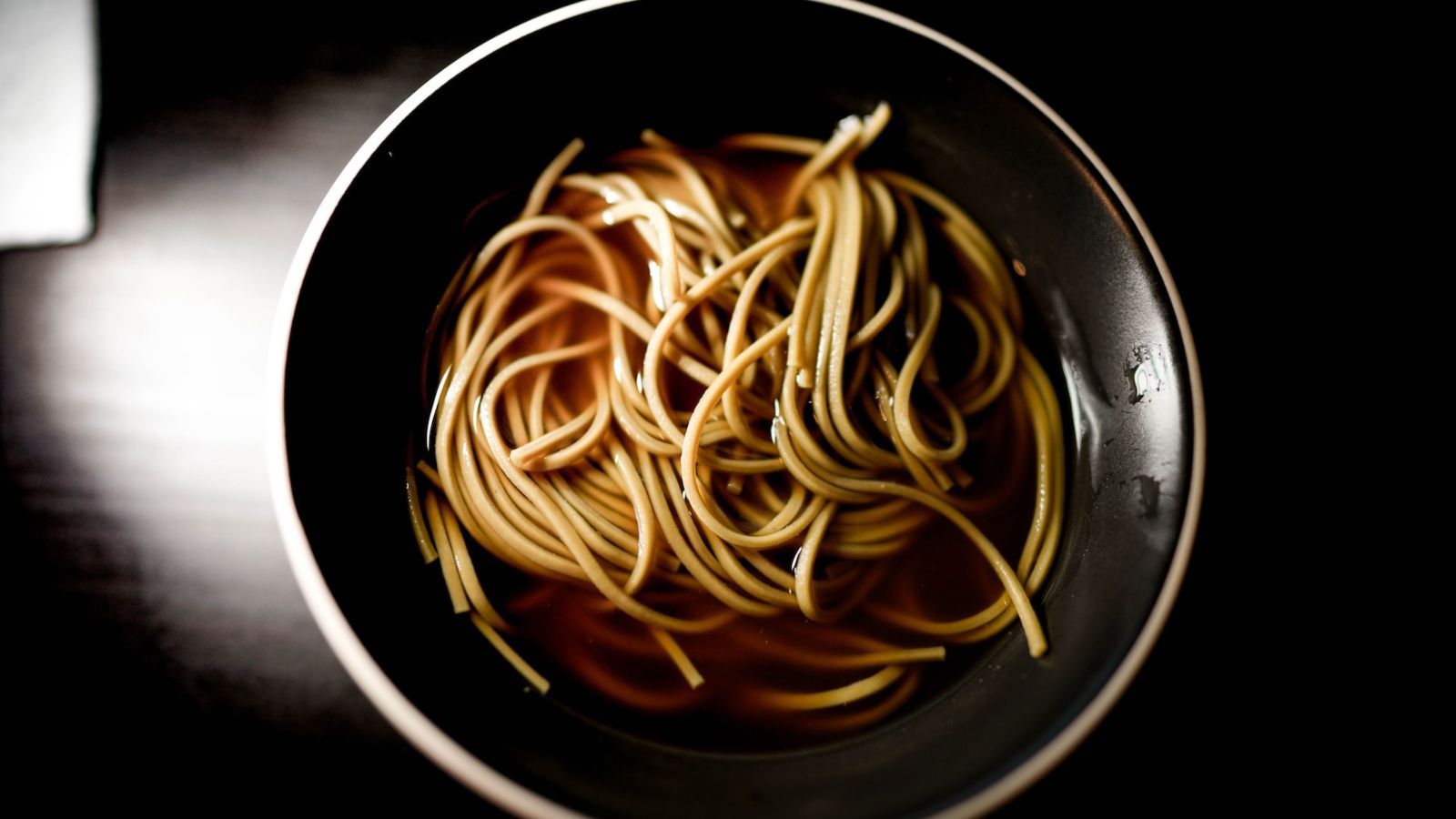 11. Japanese curry
Curry rice is a popular food in Japan, but it's vastly different to curries across other parts of Asia. Japanese curry is often thicker, sweeter and prepared with vegetables rather than separately. Like many other Japanese dishes, there are regional variations – meaning you'll find this dish across the country. It's normally an accompaniment to rice, and is a great food to warm you up if you're travelling to Japan during winter.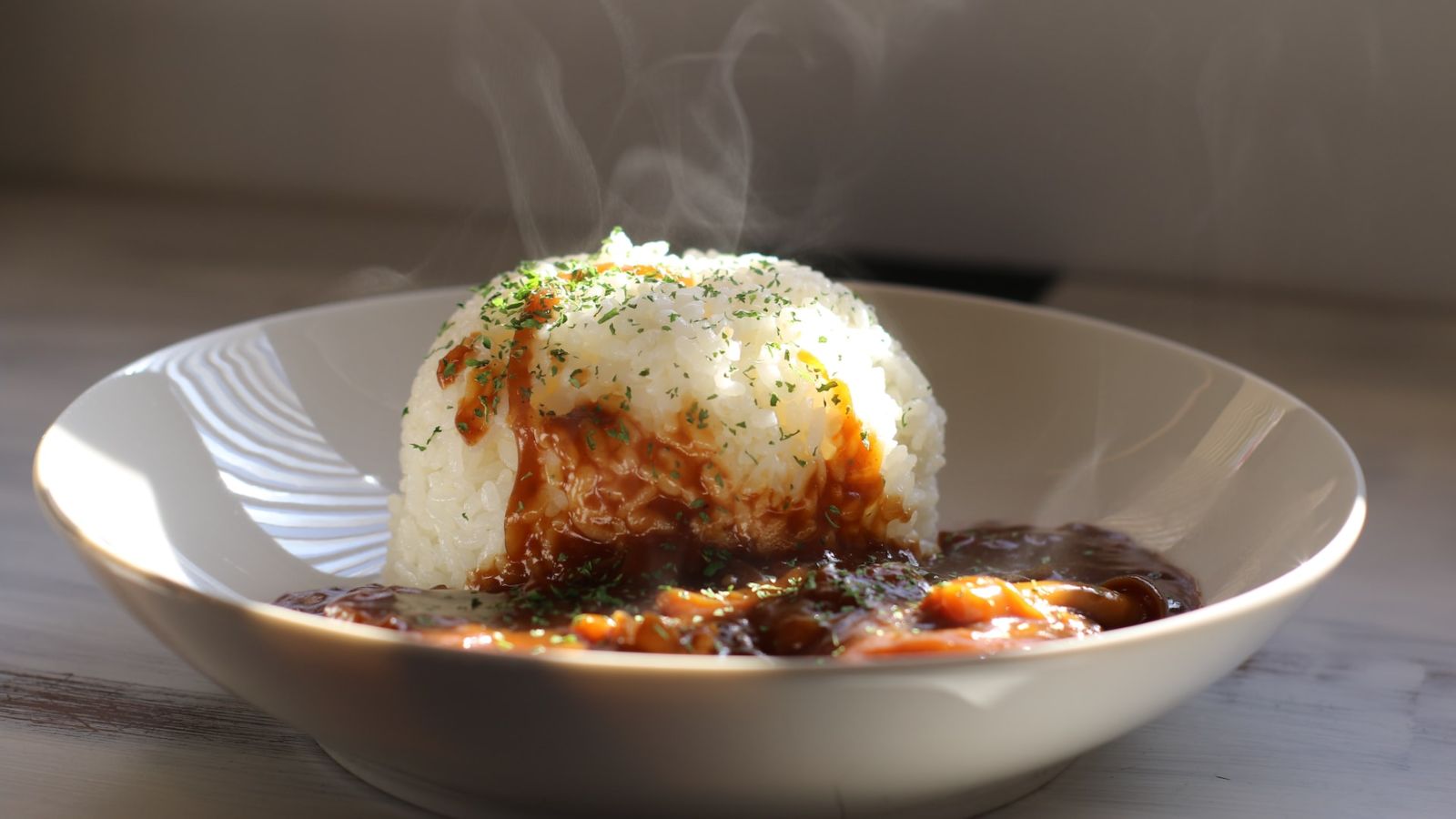 12. Gyoza
Japan's take on dumplings is quite different to the common Chinese-style dumplings. For starters, the wrapping on Japanese gyoza is thinner. They're also fried in a pan instead of steaming or boiling. The filling – often a combination of pork mince and vegetables – is finer, resulting in a much lighter, crispier texture. You'll find gyoza in several restaurants in Japan, often with a dipping sauce.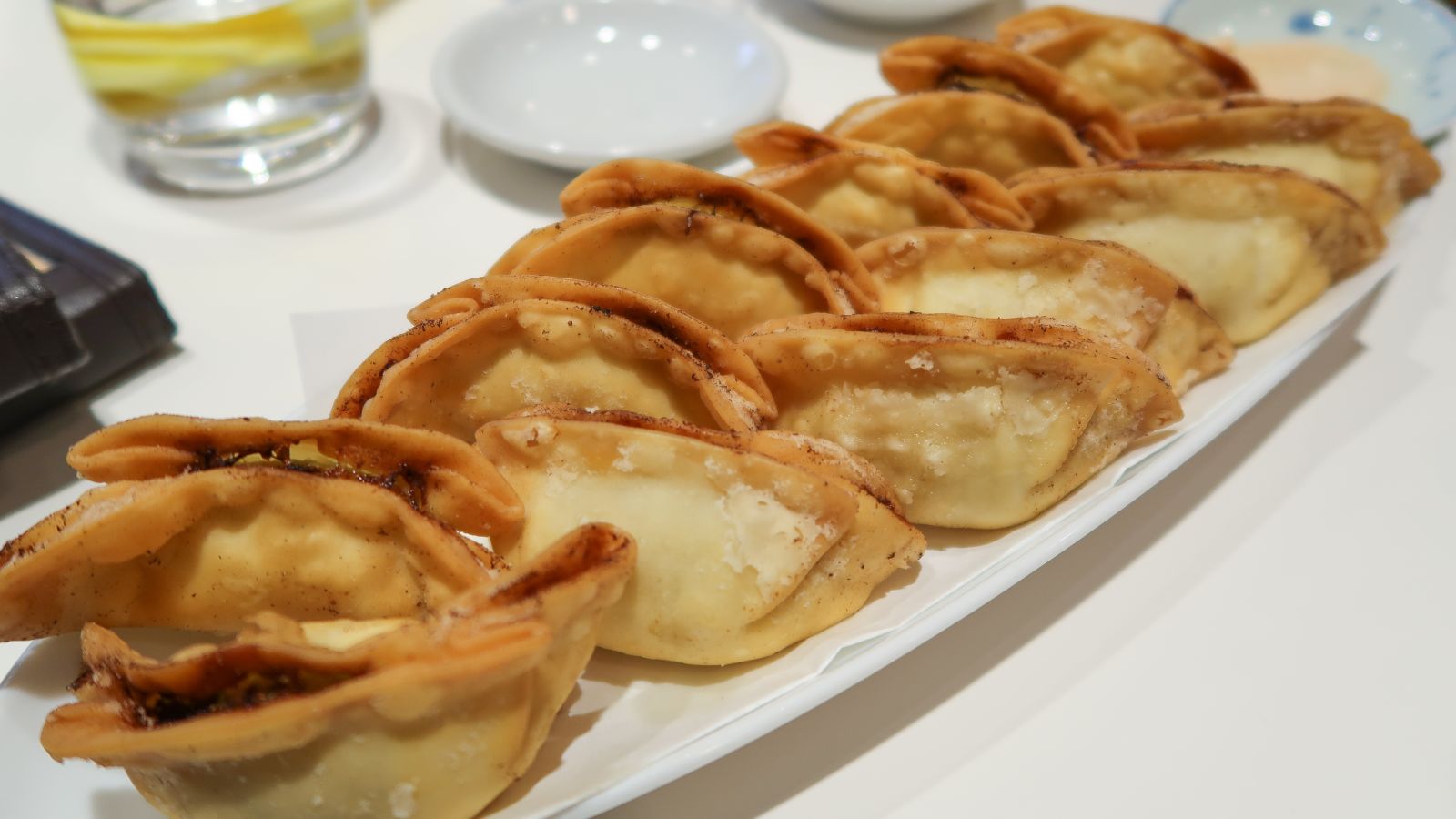 13. Parfait
A list of top food in Japan wouldn't be complete without some sweets. Japan is known for its selection of decadent desserts, and fresh fruit parfait is among the most popular. Japanese parfaits normally have a base of fruit, whipped cream and ice cream. These are mixed with any combination of other ingredients to give it texture, including sponge cake, cereal, granola, sliced almonds or jelly. And for the garnish, you'll enjoy a drizzle of chocolate sauce with a wafer stick or Pocky. Parfaits aren't hard to come by, and you can order one at most cafes and restaurants to finish off your meal with something sweet.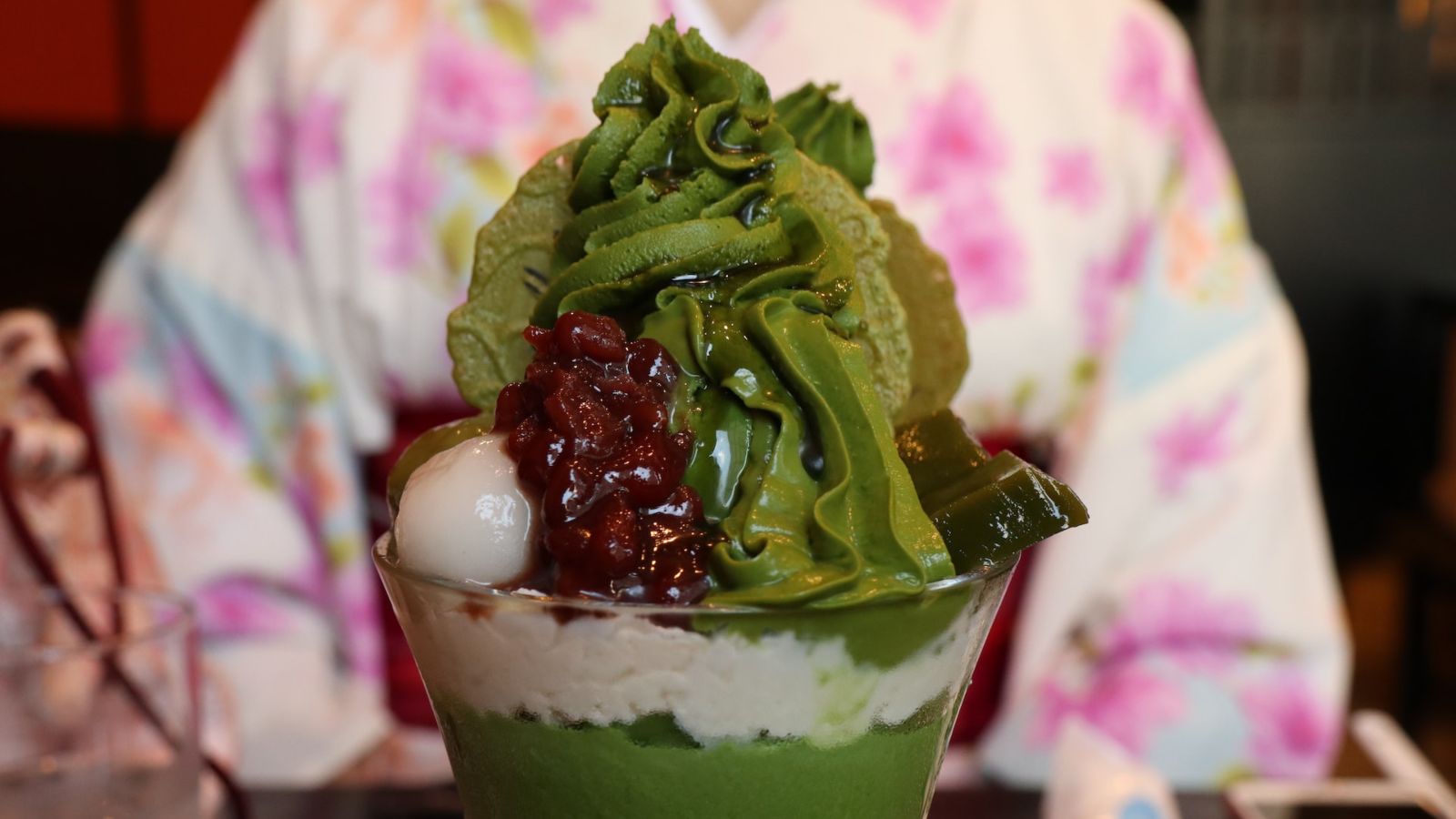 14. Taiyaki
Another one for the sweet tooths, taiyaki is a popular food sold in Japan by street vendors and at festivals. Its main characteristics are its fish shape – 'tai' being Japanese sea bream – and red bean filling. But if you're not game enough to try red bean, other fillings include custard, chocolate and sweet potato. Takiyaki is made by pouring batter into a special fish-shaped mould, which is then closed until the taiyaki has cooked on both sides. There are many different stories about the origins of taiyaki and how its iconic fish shape came to be. But one thing is for sure – it not only looks pleasing, but tastes delicious, too.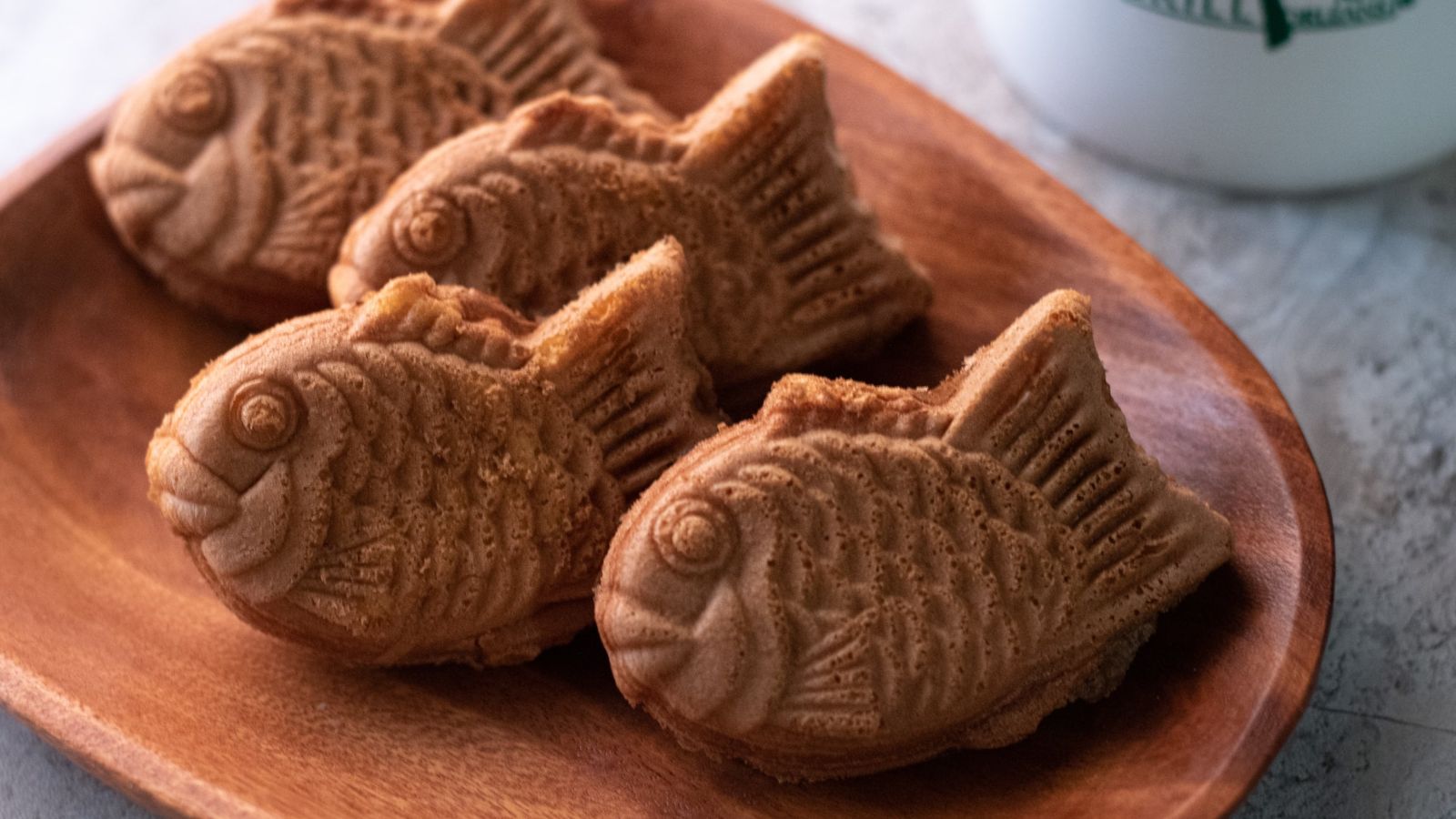 15. Natto
Natto is perhaps Japan's most divisive food, much like Vegemite in Australia. It's a traditional dish made from fermented soybeans and cooked in a type of bacteria that's said to provide exceptional nutritional value. The result is a slimy, strong-smelling dish that you can pair with rice for breakfast. You can even get creative by adding condiments like Japanese mayonnaise and wasabi, or serving it on toast or an omelette. Top off your first visit to Japan with this must-try dish – who knows, it may become your new favourite.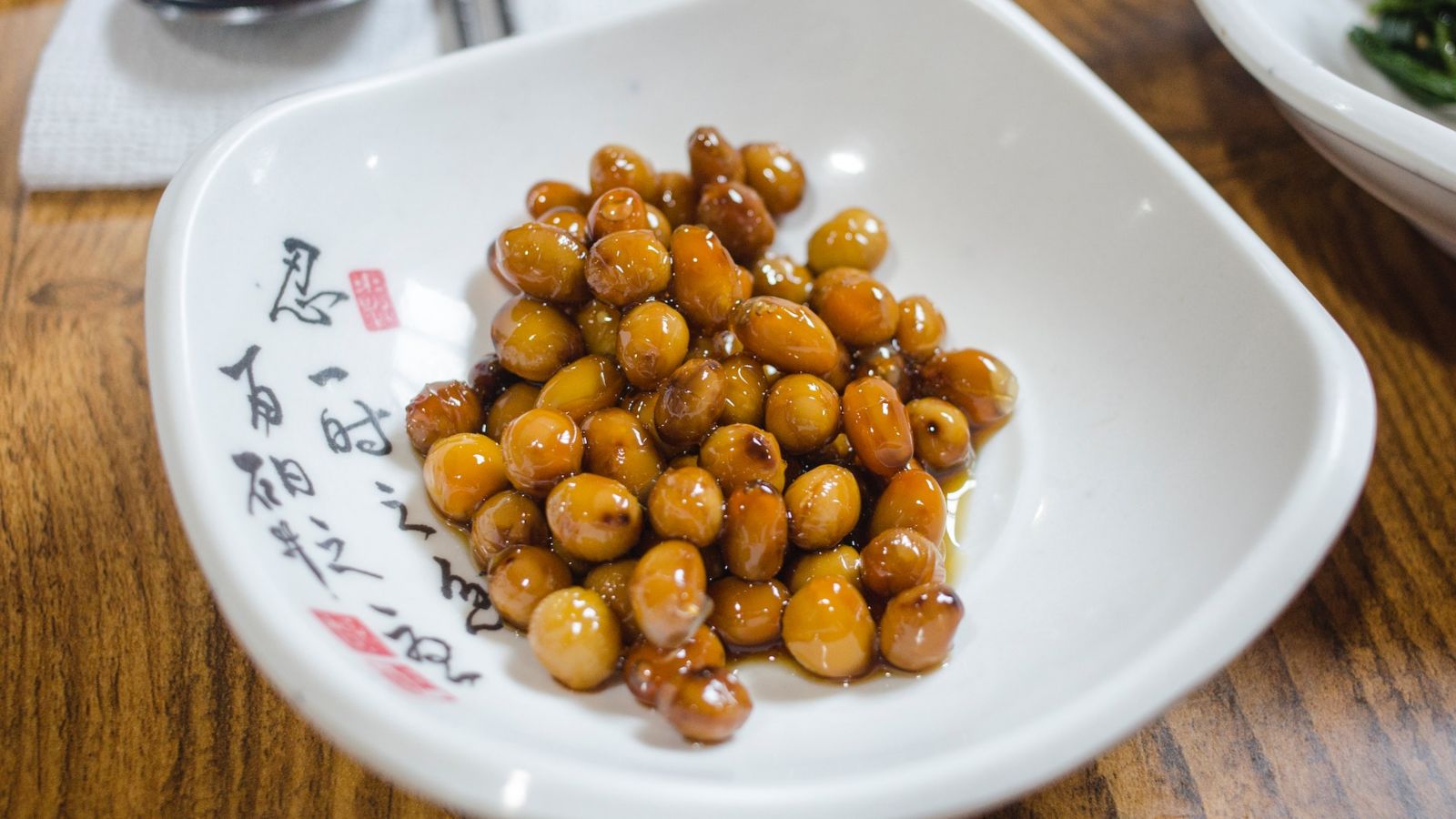 Take a taste tour of Japan today
Is the thought of fresh sushi making you salivate, or are you craving a hearty curry? We've just scratched the surface when it comes to the best food in Japan – so start planning your Japan holiday today to taste it all for yourself.
We've covered everything you need to know about travelling to Japan in our guides, including where to stay, how to get around, and the top experiences you should check out.
Let us know in the comments below – what top dish in Japan are you trying first?
15 must-try food in Japan for first-time visitors
was last modified:
November 10th, 2022
by