The Point Hacks team have collectively travelled to all corners of the globe – using frequent flyer points, of course! Whether it's for work or leisure, each team member has a travel style as unique as the destinations themselves. And when you're travelling often, having the right essentials can make the journey that much smoother.
Ever wonder what cabin bags our high-flying content team can't travel without? Meet the team below, and discover what cabin bags they're using to traverse the world in 2023.
Plus, make sure you read to the bottom of the article for our number one tip on shopping for cabin bags (spoiler alert – we'll show you how you can save money when buying online!)
1. Samsonite Cosmolite Spinner 55cm
Antonia: The luxe-lover
Antonia is an unabashed luxe-lover when it comes to travel, with a penchant for food and wine, cutting-edge fashion and inspired design. Naturally, she's also fond of flying up the pointy end – on points, of course. Antonia's in her element in a great Business Class lounge and a lie-flat window suite, with a glass of Champagne in hand.
Why I love my cabin bag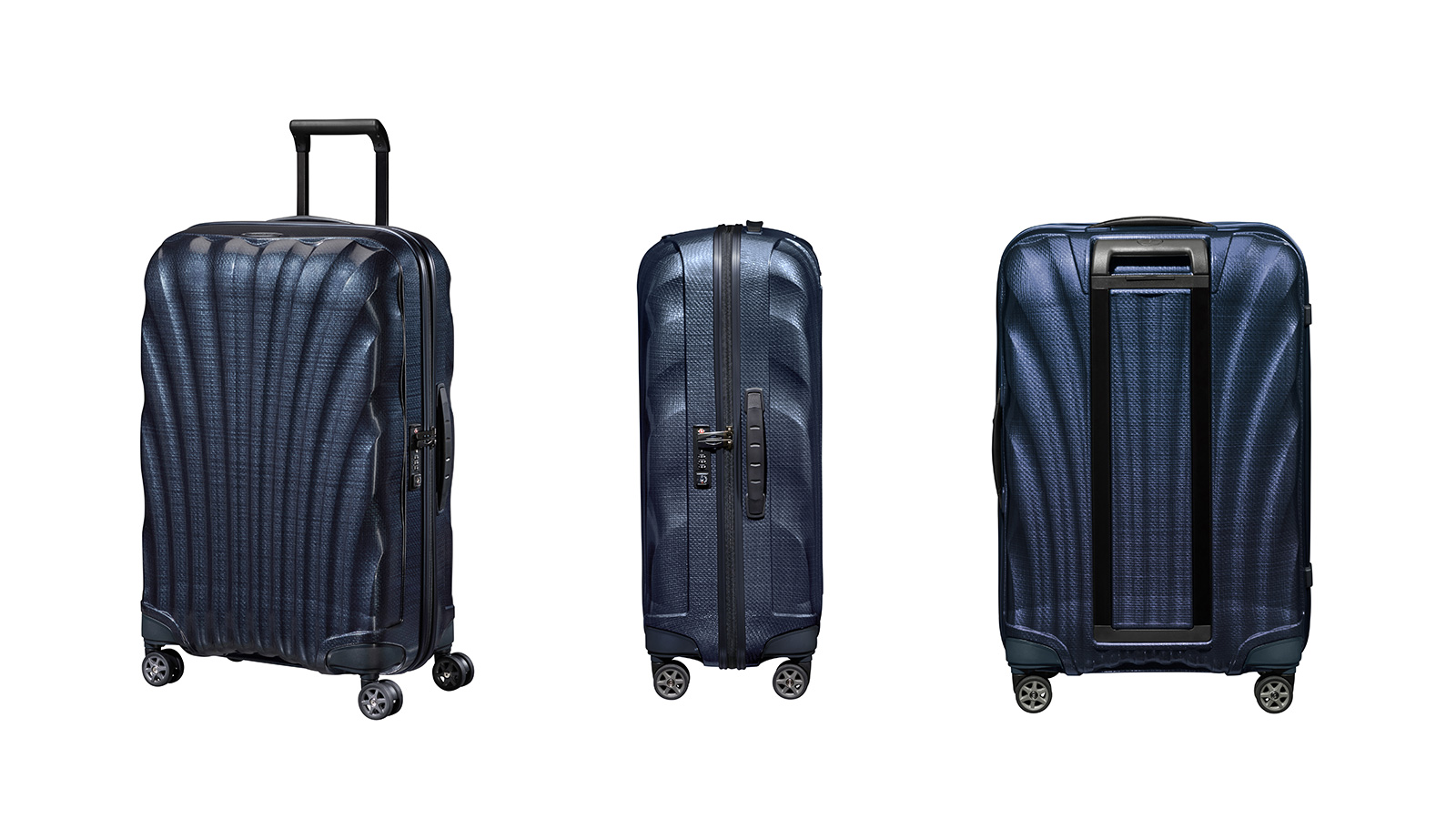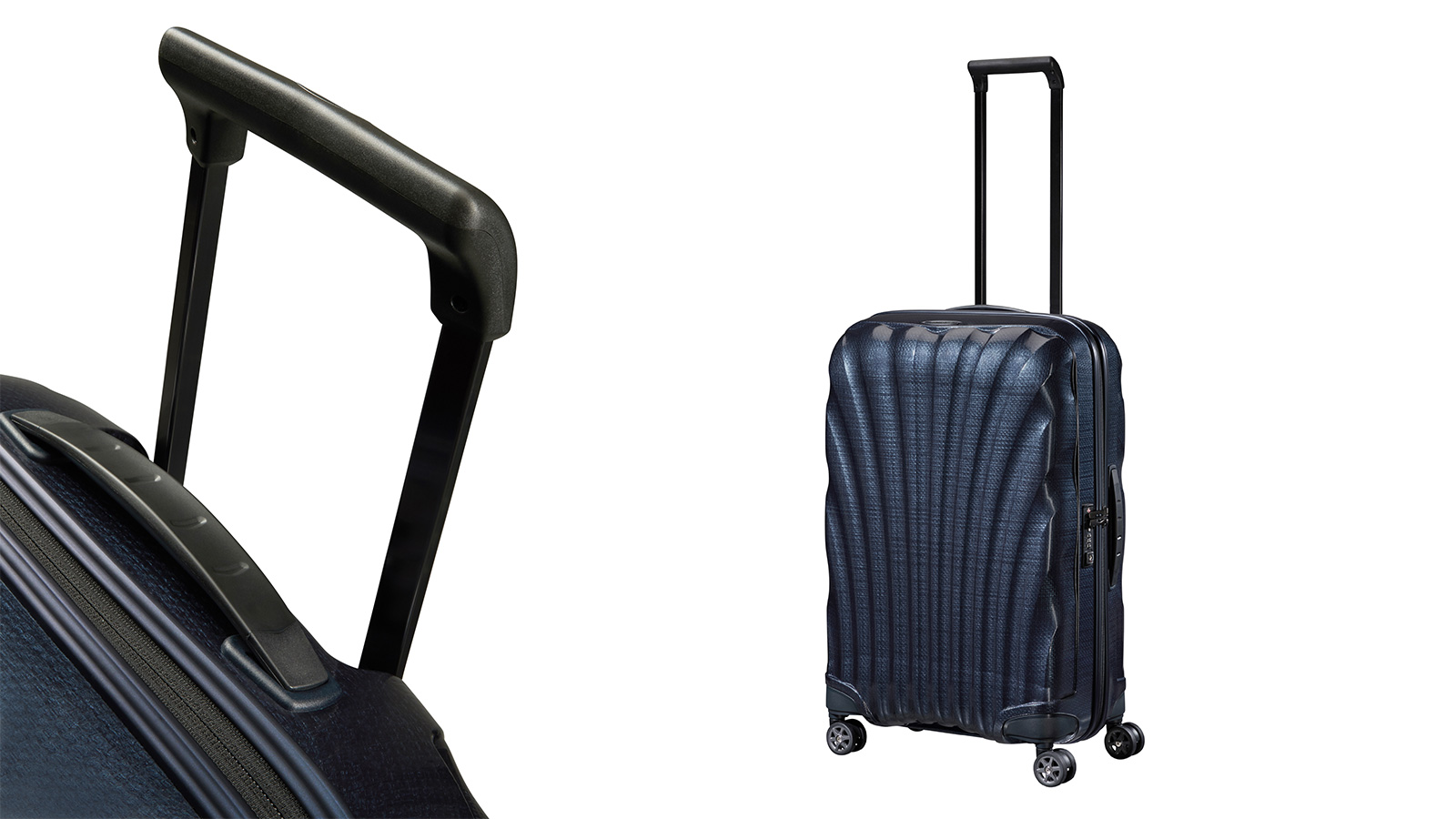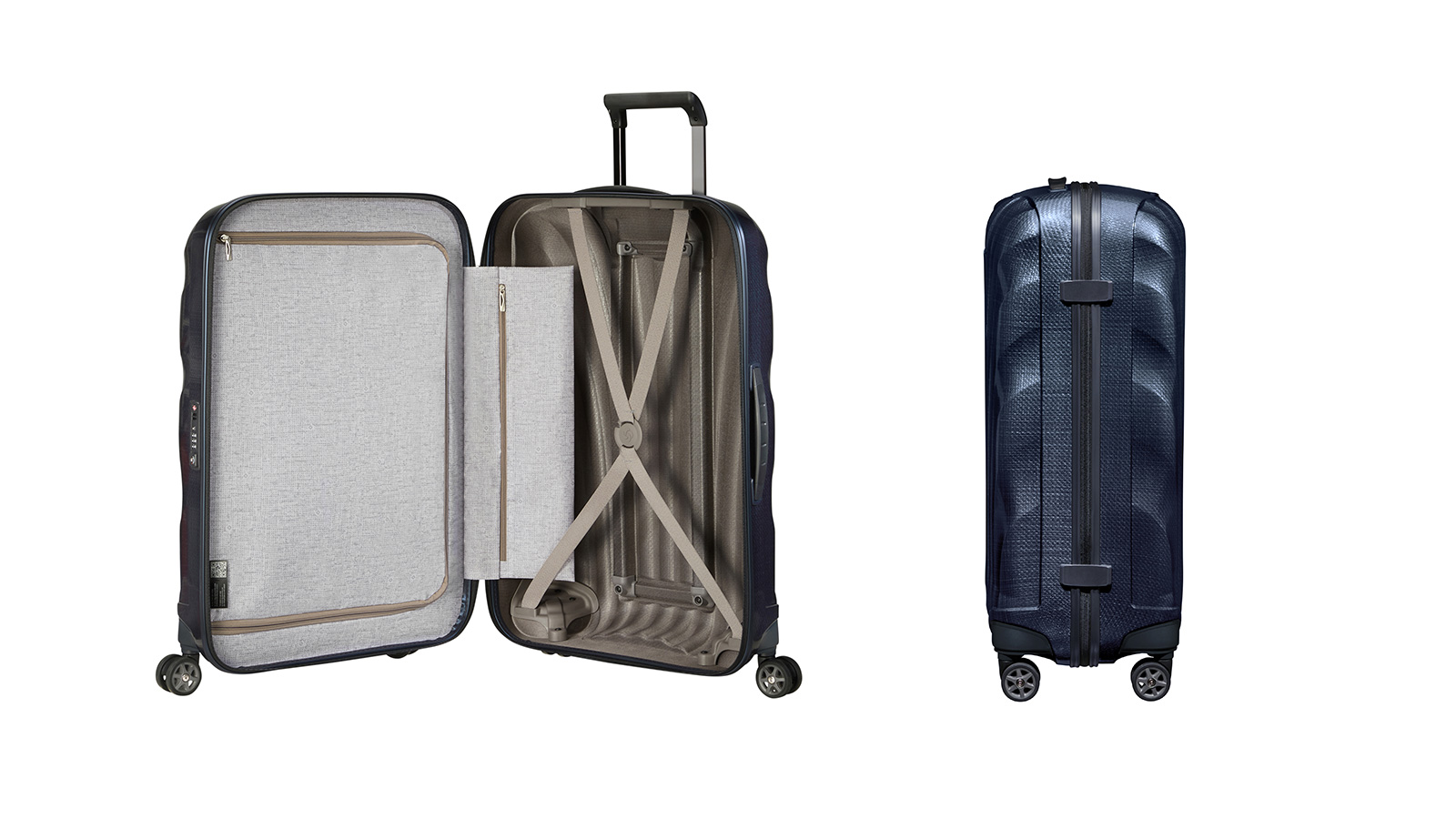 They ain't cheap, but Samsonite's Cosmolite 3.0 range of suitcases are an investment in effortless, stylish travel. With a 10-year warranty, impact-defying construction and ultra-lightweight, these suitcases have revolutionised my travelling life.
The 55cm Spinner is the ultimate cabin bag. First off, it weighs just 1.7kg. That's a huge boon when you're travelling with outfits for every occasion plus a pair of shoes to match. Every gram counts.
It also has 360-degree spinner wheels that turn on a dime. Meaning? I can whiz through the airport like a celebrity, unencumbered. My other favourite feature is the way a backpack or handbag slots easily over the pull handle. Inside, one side sports two fastening straps – great for bulkier items or blazers – while the other has a secure zip for containing precious items. The perfect travel companion for the chic jetsetter.
You can check out the updated version, the Samsonite C-Lite Spinner 55cm, below.
2. Ted Baker Josua Recycled PU Holdall
Chris: adventurous globetrotter
Chris enjoys making the most of frequent flyer points, which have taken him around the world – usually, at the front of the plane. Having flown over two million kilometres (and counting!), comfort and convenience are key, and he has a preference for quality over quantity.
Why I love my cabin bag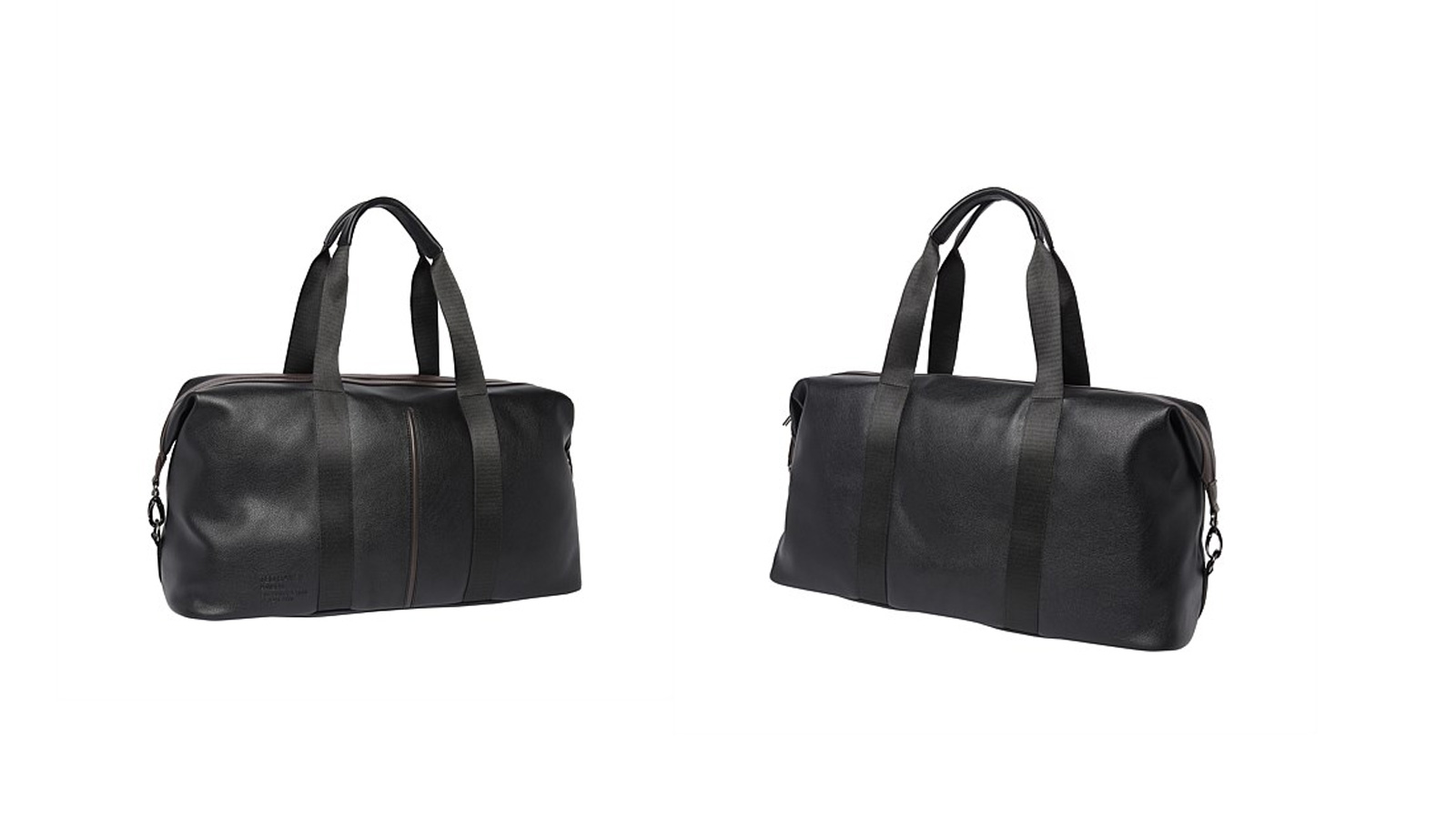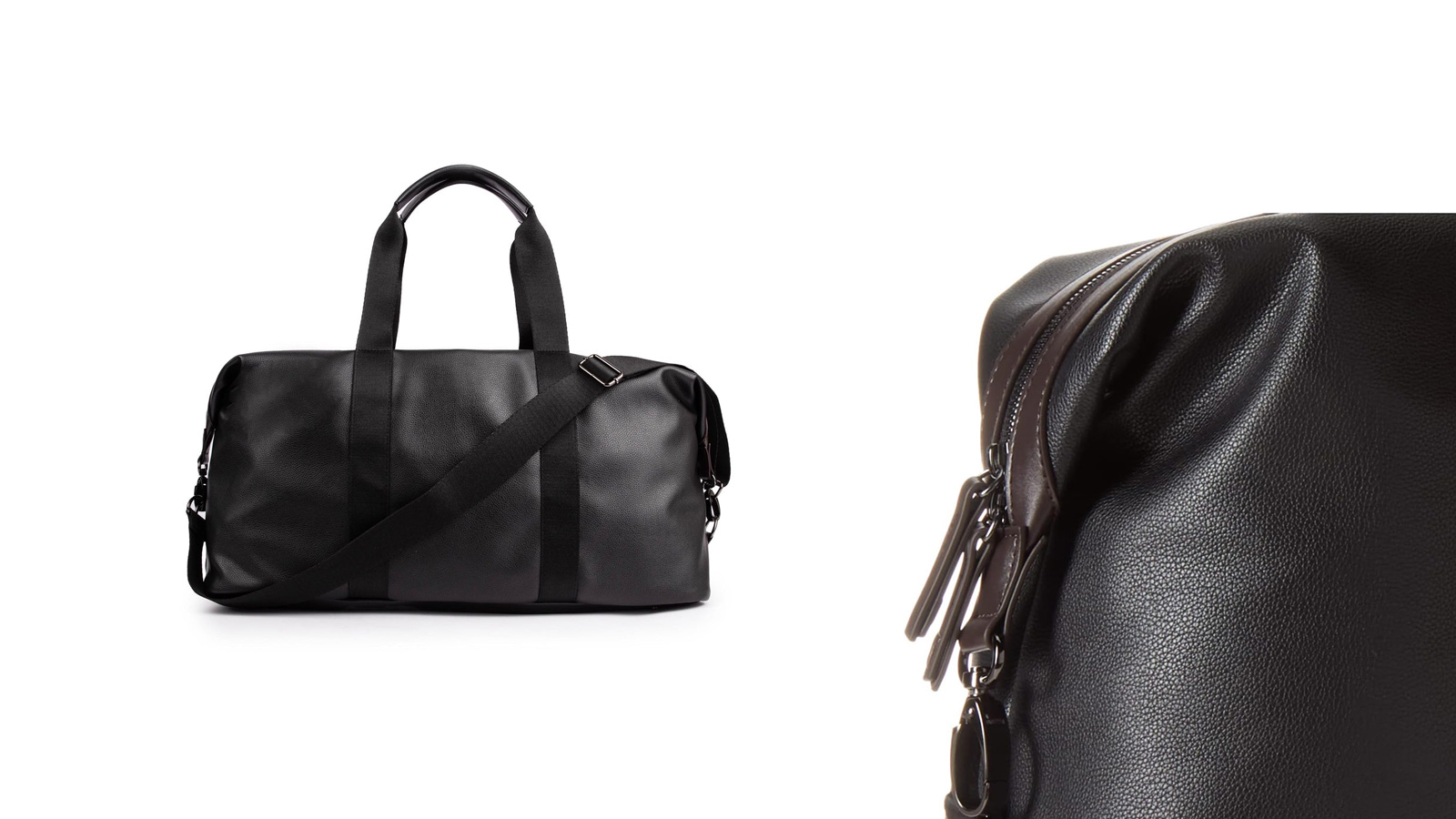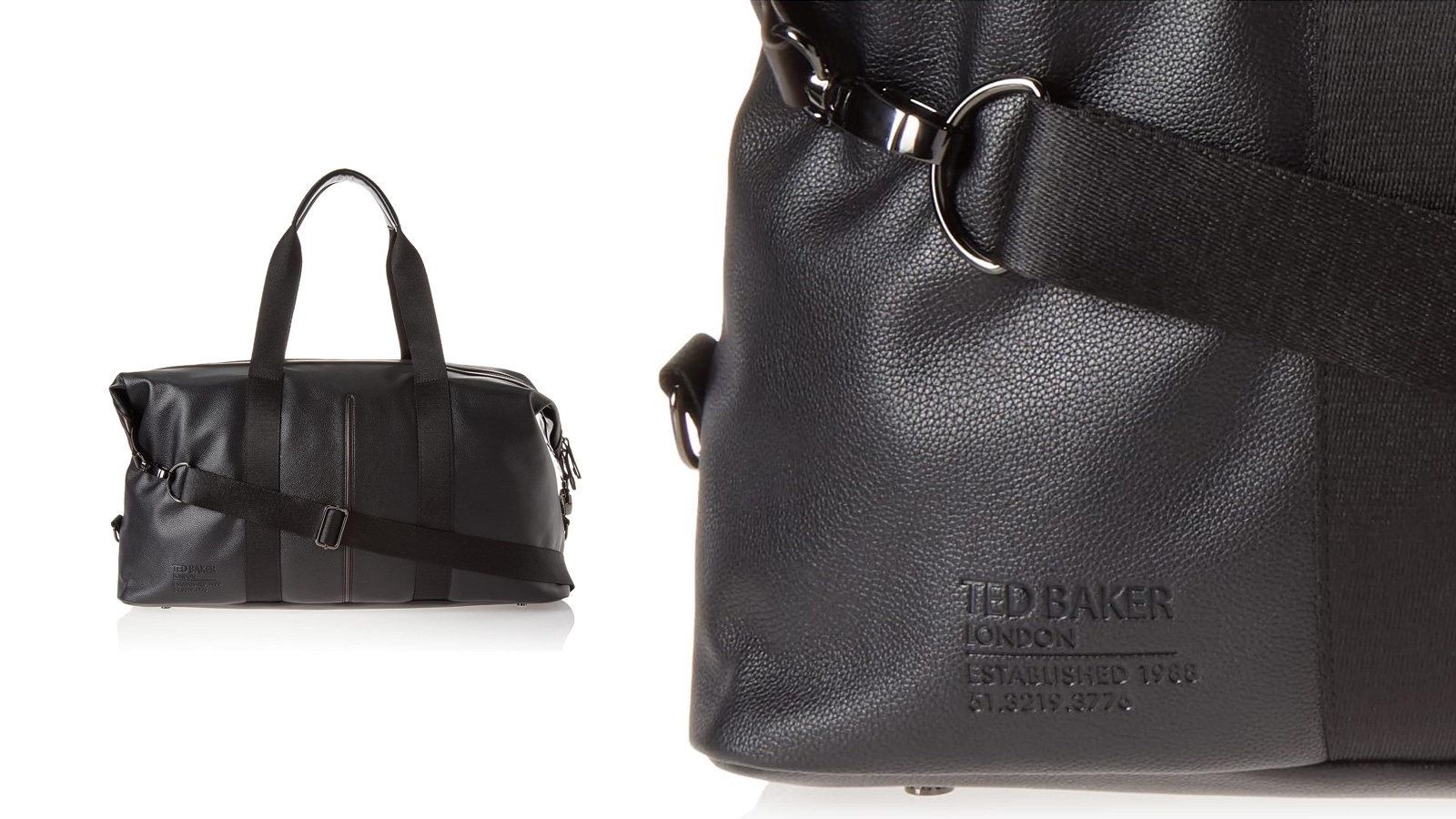 Aside from its stylish faux leather exterior, this Ted Baker bag packs a host of features to revolutionise your short stays. For starters, it's just the right size for overnighters or shorter visits from, say, Brisbane to Sydney. And if you're travelling light, then you'll be pleased to know that the bag's soft shell is lightweight – so there's ample wriggle room when it comes to packing your must-haves.
When the bag isn't full, the clever hooks on the side allow you to keep things condensed. That's right – you don't need to tote it around at its 'expanded size' if you don't need to! But if you do need more room, you can simply loosen the hooks to make the most of the available space – handy if you're returning home with a few extra goodies.
Versatility is at the forefront of its design, with handles for when you need to hold the bag, but also an adjustable shoulder strap for when you've got your hands full. Plus, it has little pockets inside for all of your smaller things – ideal if you're prone to misplacing your phone charger.
As an added bonus, this bag is made from 58% recycled polyurethane, meaning less waste and energy used in the manufacturing process. This bag really does offer it all.
3. Brevite Backpack
Tobias: photo fiend
Resident videographer Tobias loves capturing amazing photos or videos of places he's never ventured to before. The most important thing for him as a traveller is being able to easily move between places quickly and not have to spend too much time packing or unpacking stuff. Some of that comes down to organisation, but a lot also comes down to the bags he brings!
Why I love my cabin bag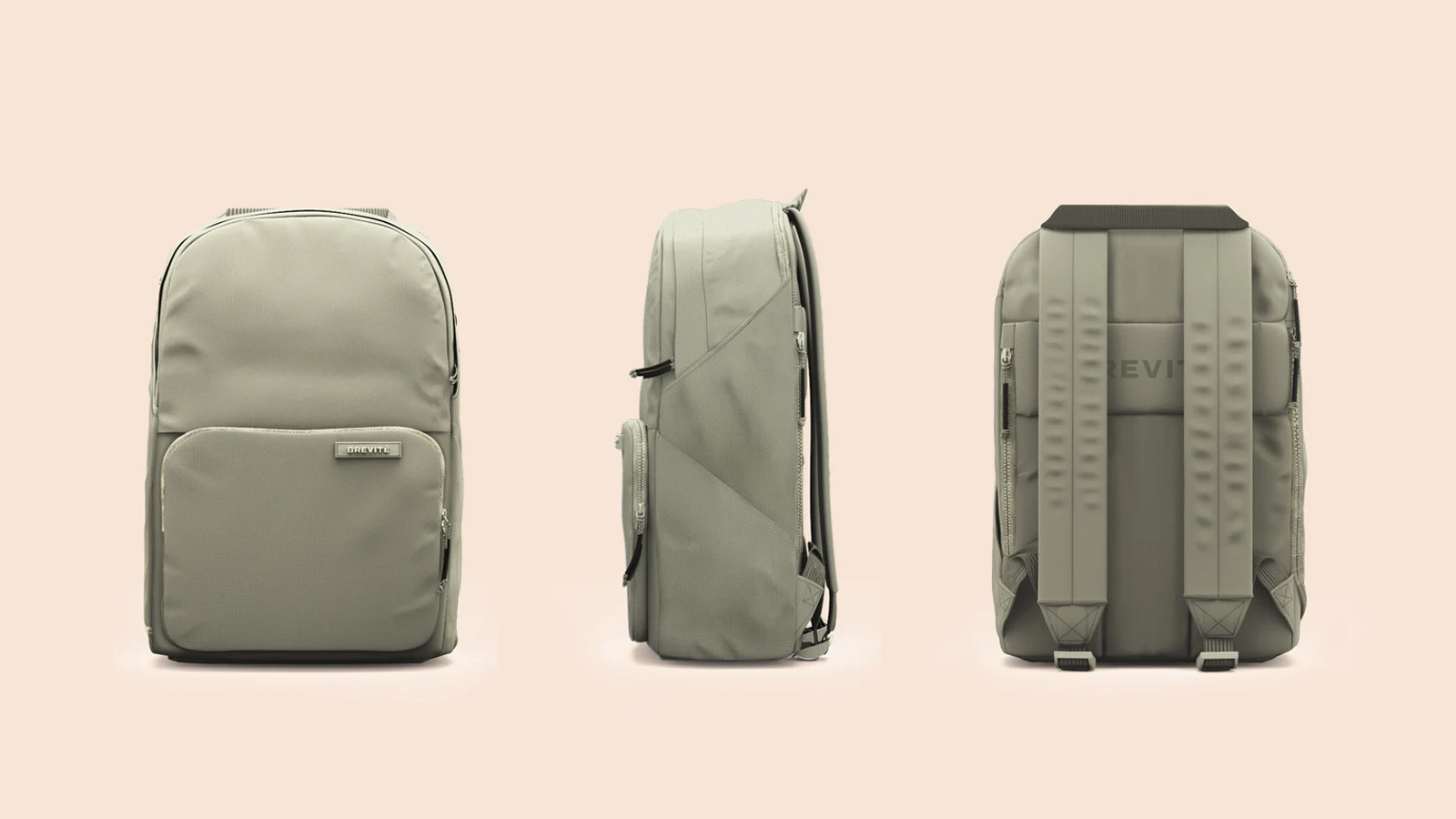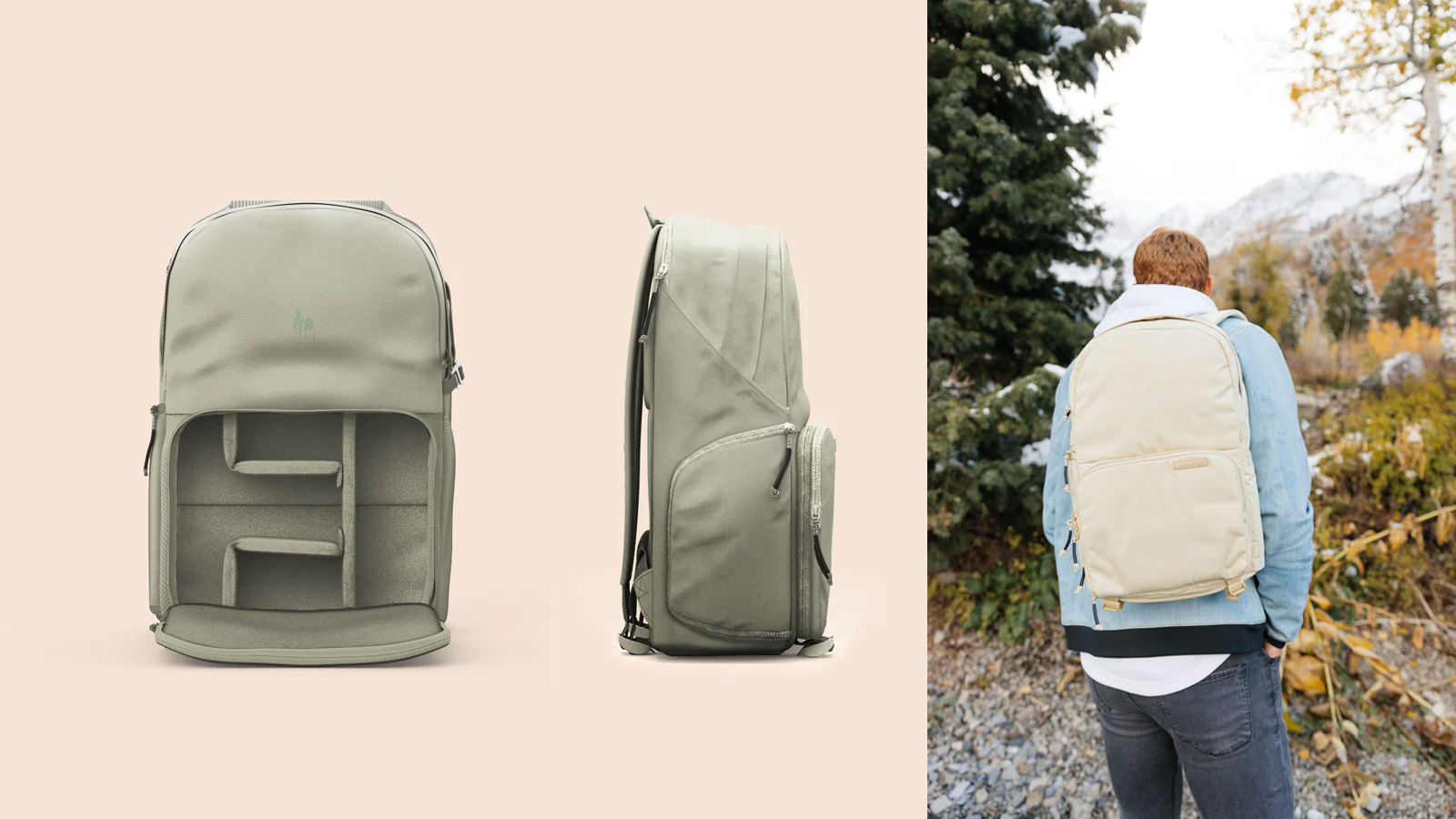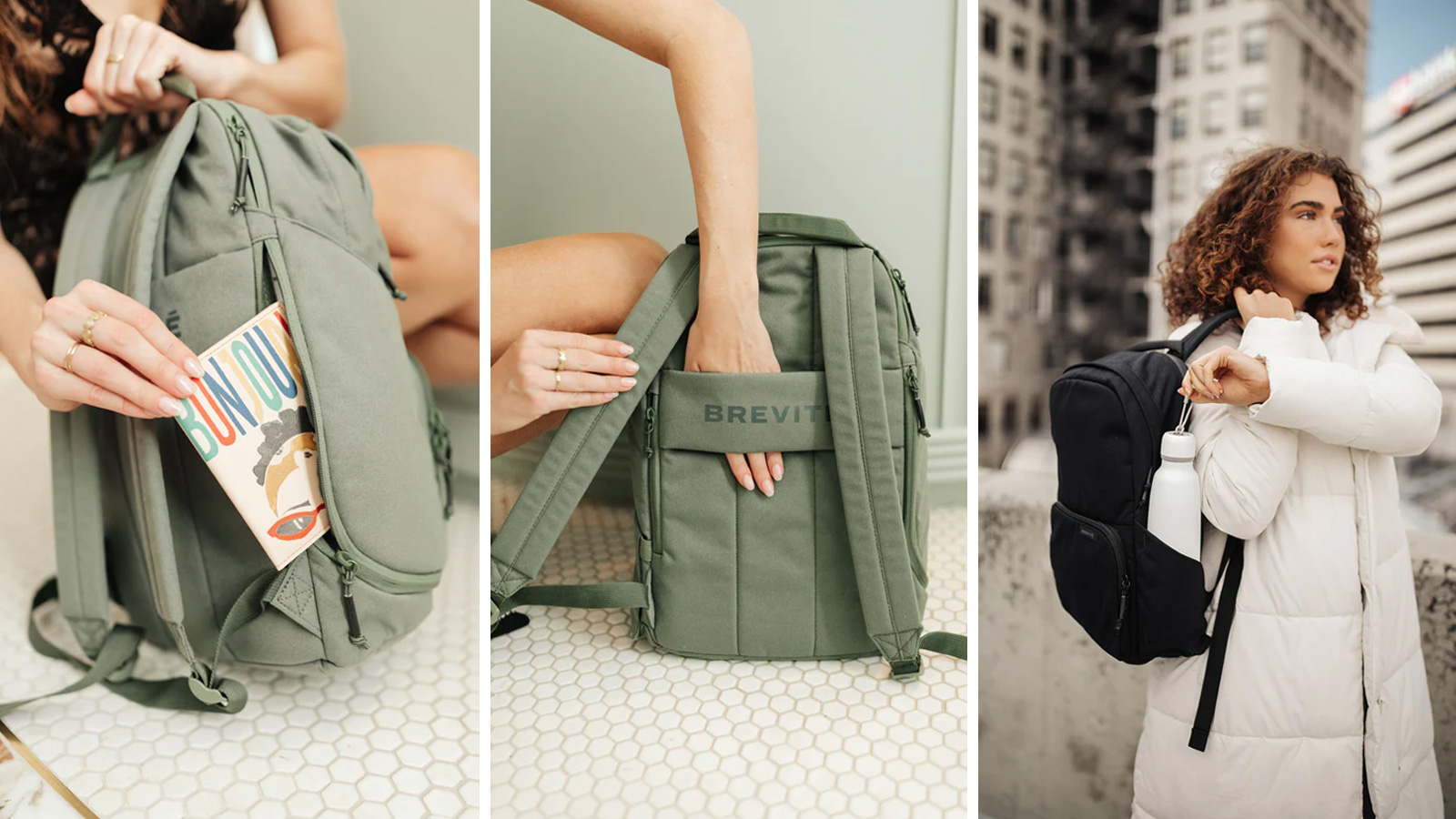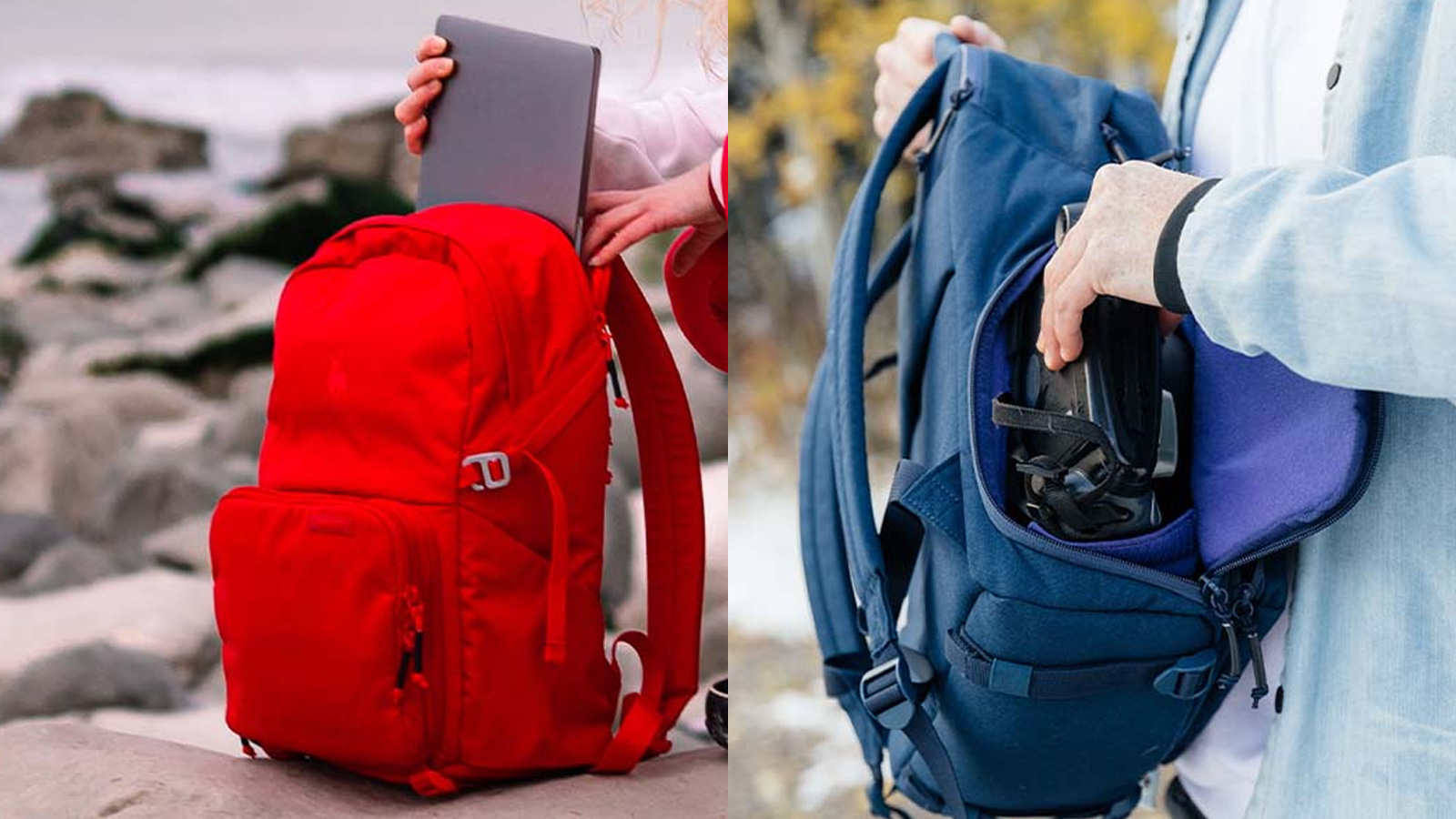 The Brevite backpack looks small and simple but has quickly become my go-to cabin bag for every flight. It has a laptop sleeve in the rear capable of holding my 16-inch Macbook, a secret side pocket for a passport or wallet and multiple pockets within the bag itself.
And as a videographer, I can't stress the importance of safety and storage for my camera gear enough. This backpack has ample space for a camera kit with extra lens, laptop, chargers and all the other stuff you need while travelling. A side zip gives you quick access to your camera and a front zip gives you access to the entire base of the bag without having to rummage through it.
While I find a lot of other camera bags overly bulky or covered in excess stuff like loops, extra odd pockets and tags, the Brevite backpack is simple and lightweight, which allows it to work as an everyday backpack as well. Perfect for day trips while out on holiday. If you decide you don't need a full camera kit that day, you can pull out or rearrange the camera padding and fill it with your day stuff!
4. Nere Relm 48cm Wheel Bag
Victoria: adrenaline junkie
When it comes to travel essentials, Victoria favours a balance between aesthetics, practicality and affordability. It's important that her products can adapt to her ever-changing environment, without breaking the bank. And if it looks stylish while doing that? Even better!
Why I love my cabin bag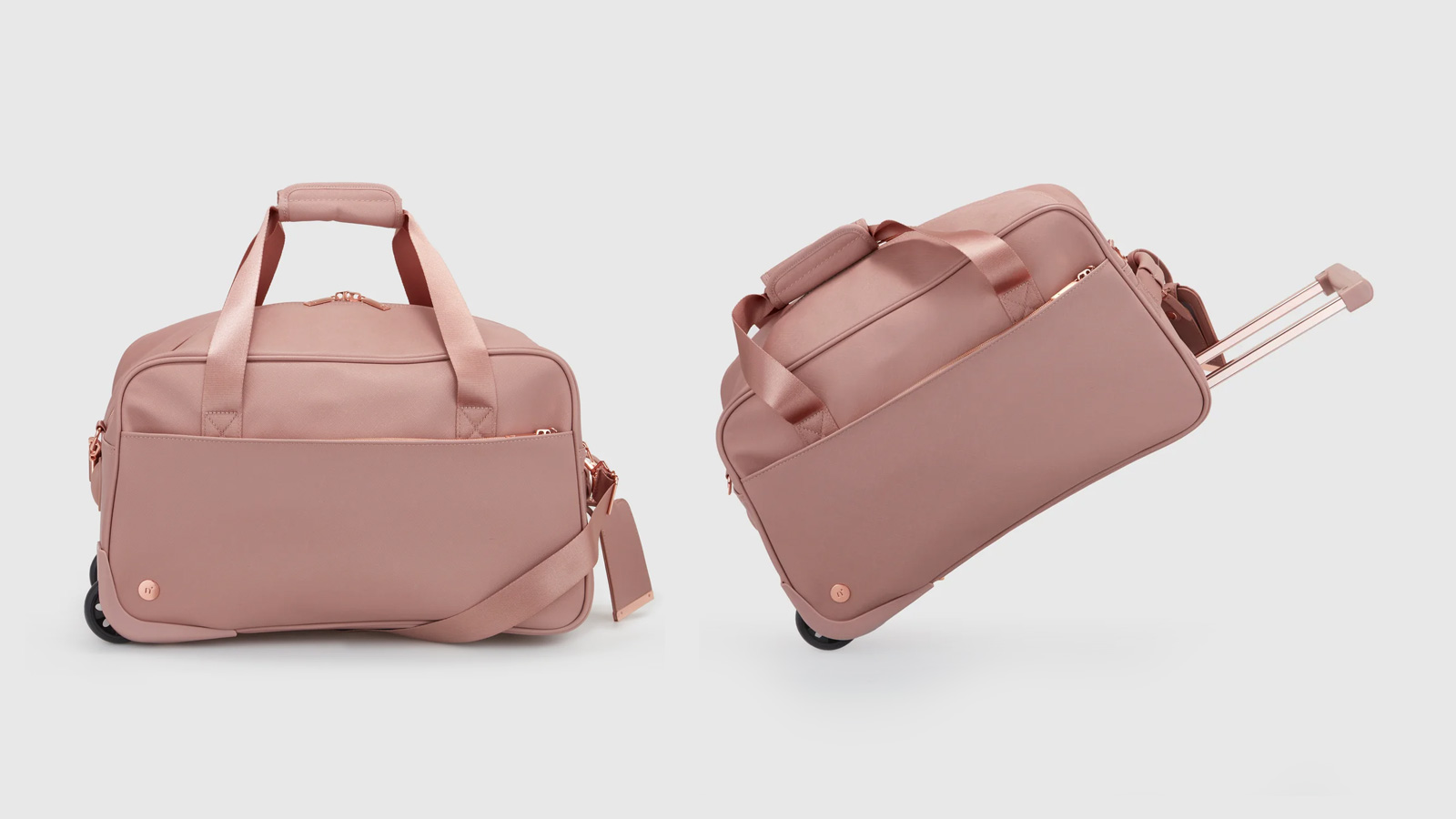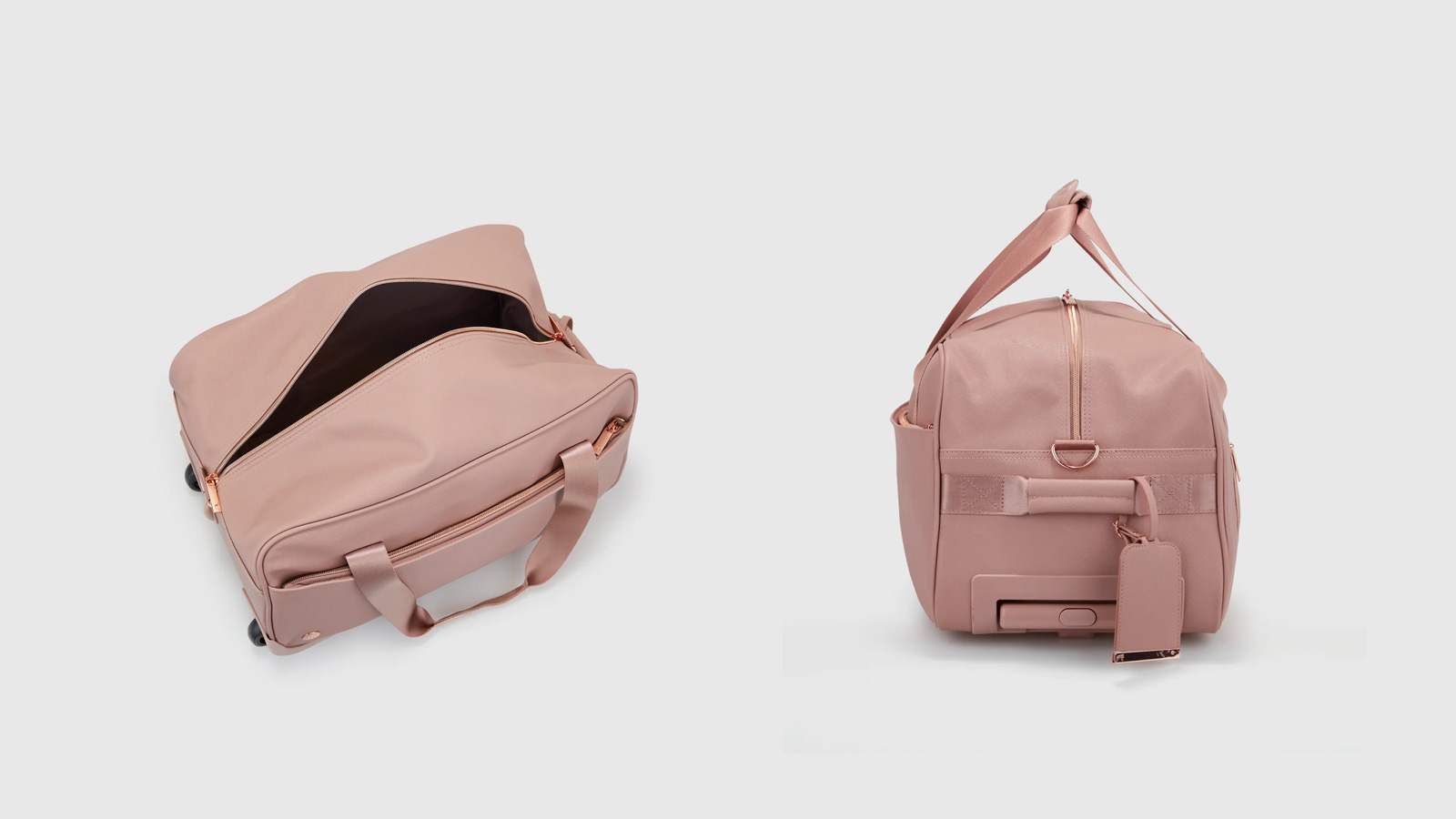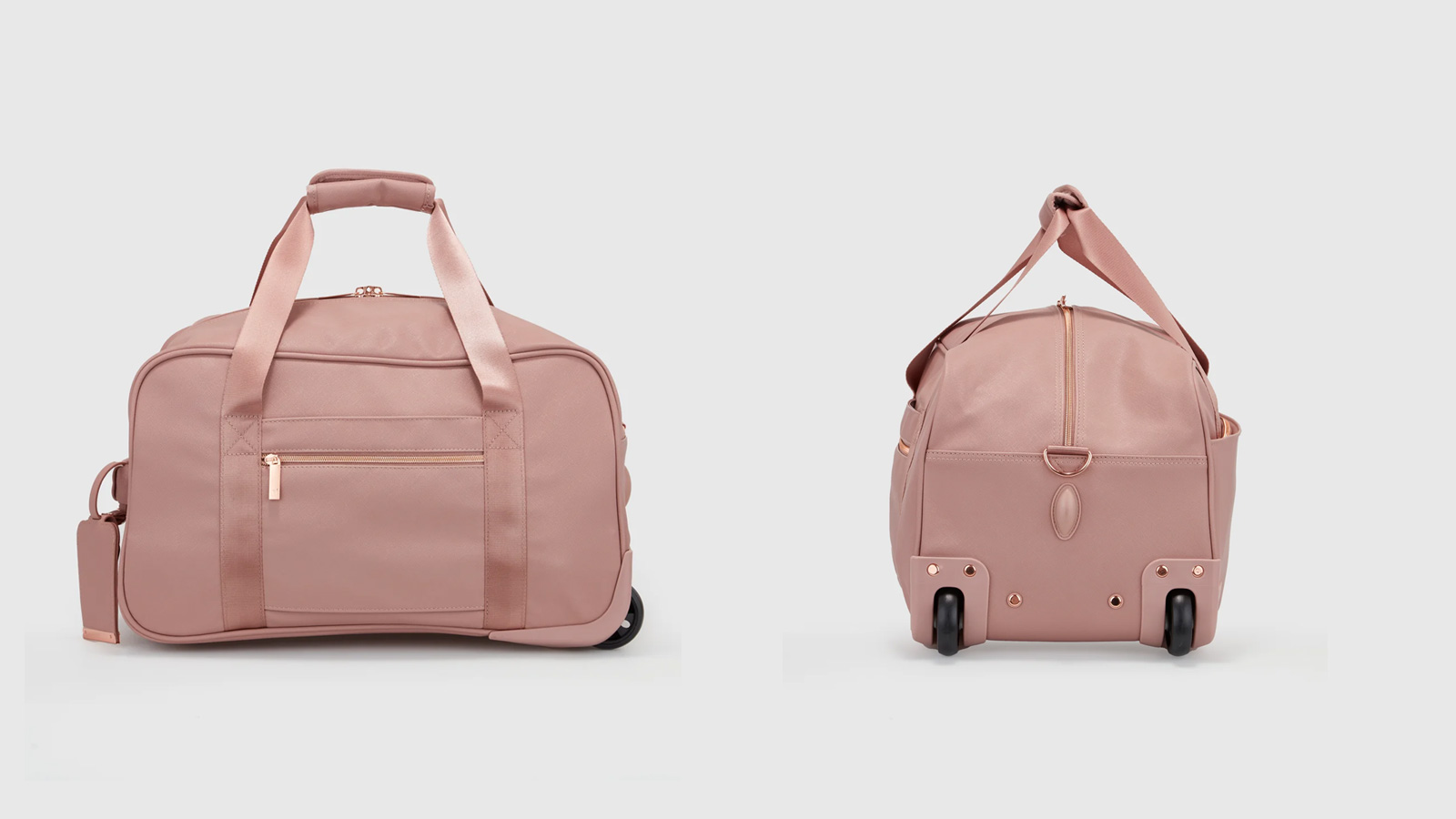 I'm a heavy packer, and I loathe having to wheel two suitcases around when I've got my checked bag – which is normally overflowing with shopping and souvenirs. I prefer cabin bags that have a luggage pass-through so they can sit comfortably on top of my larger luggage. There's a fine line between laziness and efficiency, but this feature definitely errs on the side of the latter.
And then there's one of my favourite features (it's in the name, after all) – wheels! Once my checked bag embarks on its journey through the carousel and into the cargo hold, I have zero desire to carry the remainder of my belongings on my shoulder/forearm/wherever I can balance them. I can simply pull out the retractable handle, pop my bag on the ground, and scurry to my destination. And when I need to actually carry my bag, there are sturdy hand and shoulder straps, too.
And just like finding a dress with pockets, I'm equally as appreciative of the spacious front sleeve that this bag provides. I've got easy access to all my essentials, like my beloved portable charger and mini cosmetics – anything I need to quickly grab, minus the hassle of rummaging through my bag.
Of course, I can't forget the aesthetics on top of how practical this bag is. The colour matches all my other travel essentials (pink, you guessed it!), which is a huge plus for me.
5. July Carry On
Daniel: value traveller
Daniel loves the word 'optimise' when it comes to travel. That is, maximise the comfort for the lowest cost. And it is this word that allured him to the world of frequent flyer points. There is no cash fare that can ever 'outvalue' a great long-haul premium seat redemption. So naturally, you'll find him sitting at the pointy end of the plane more often than not. There is just simply no better way to travel than that.
Why I love my cabin bag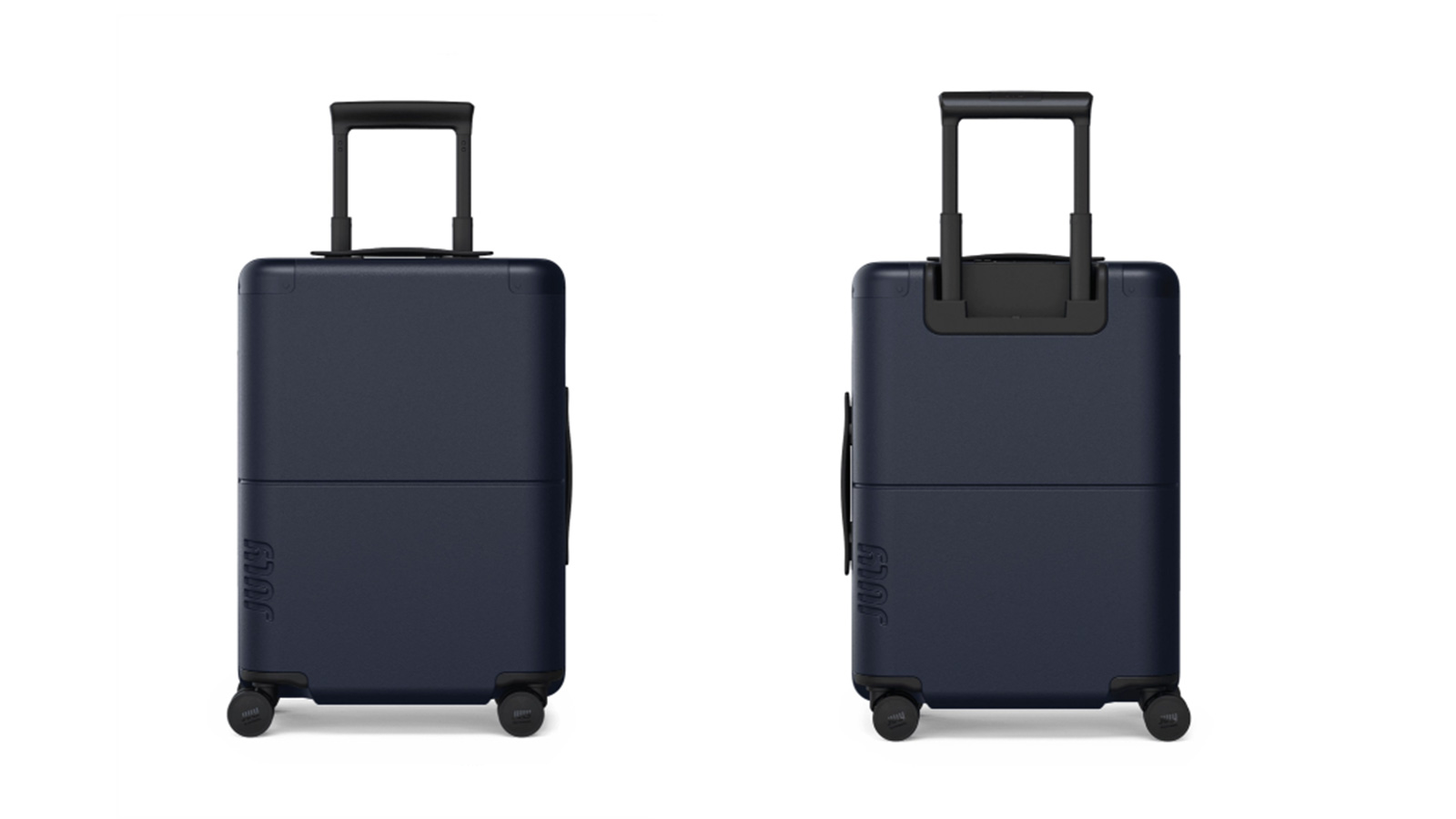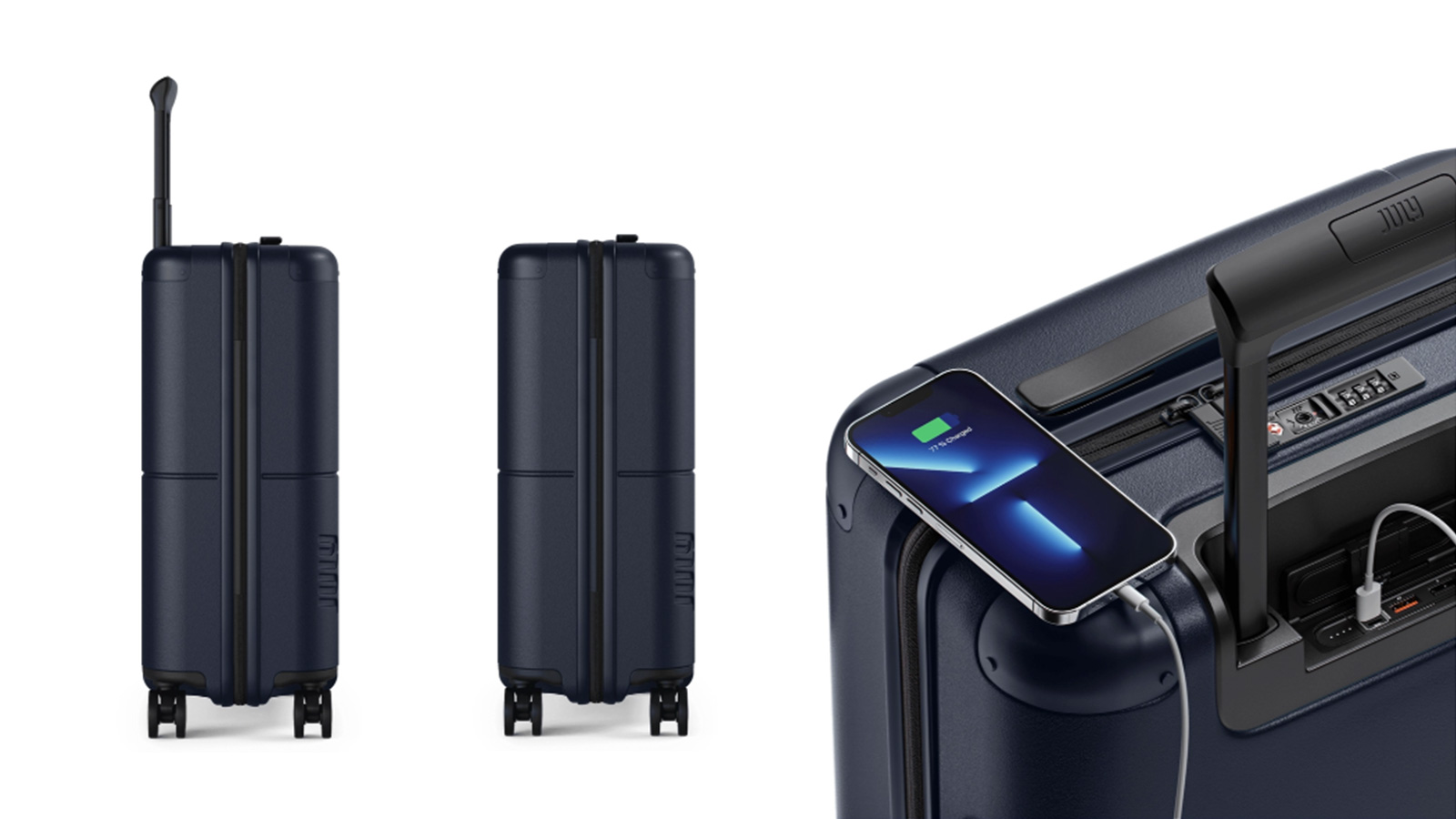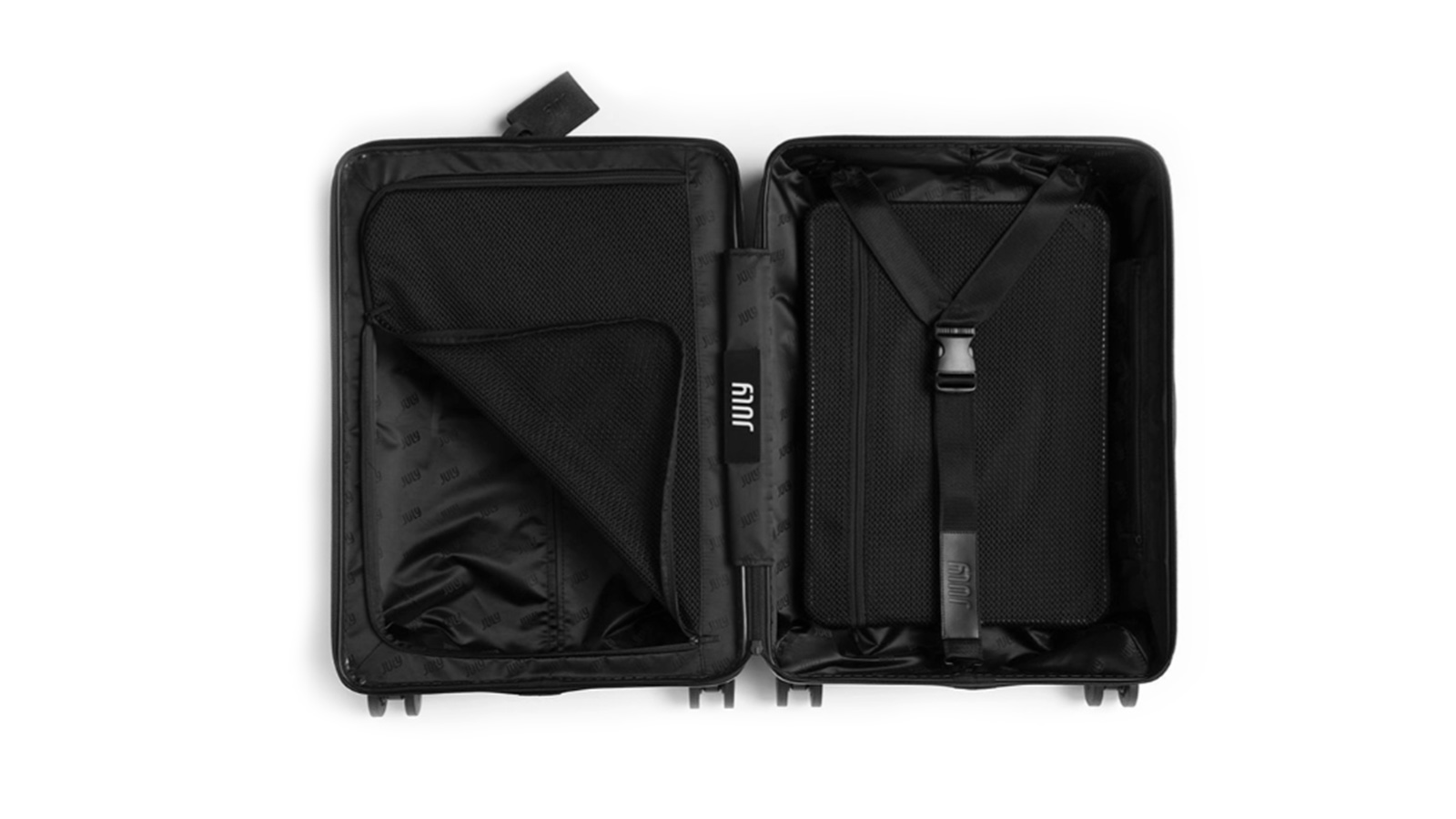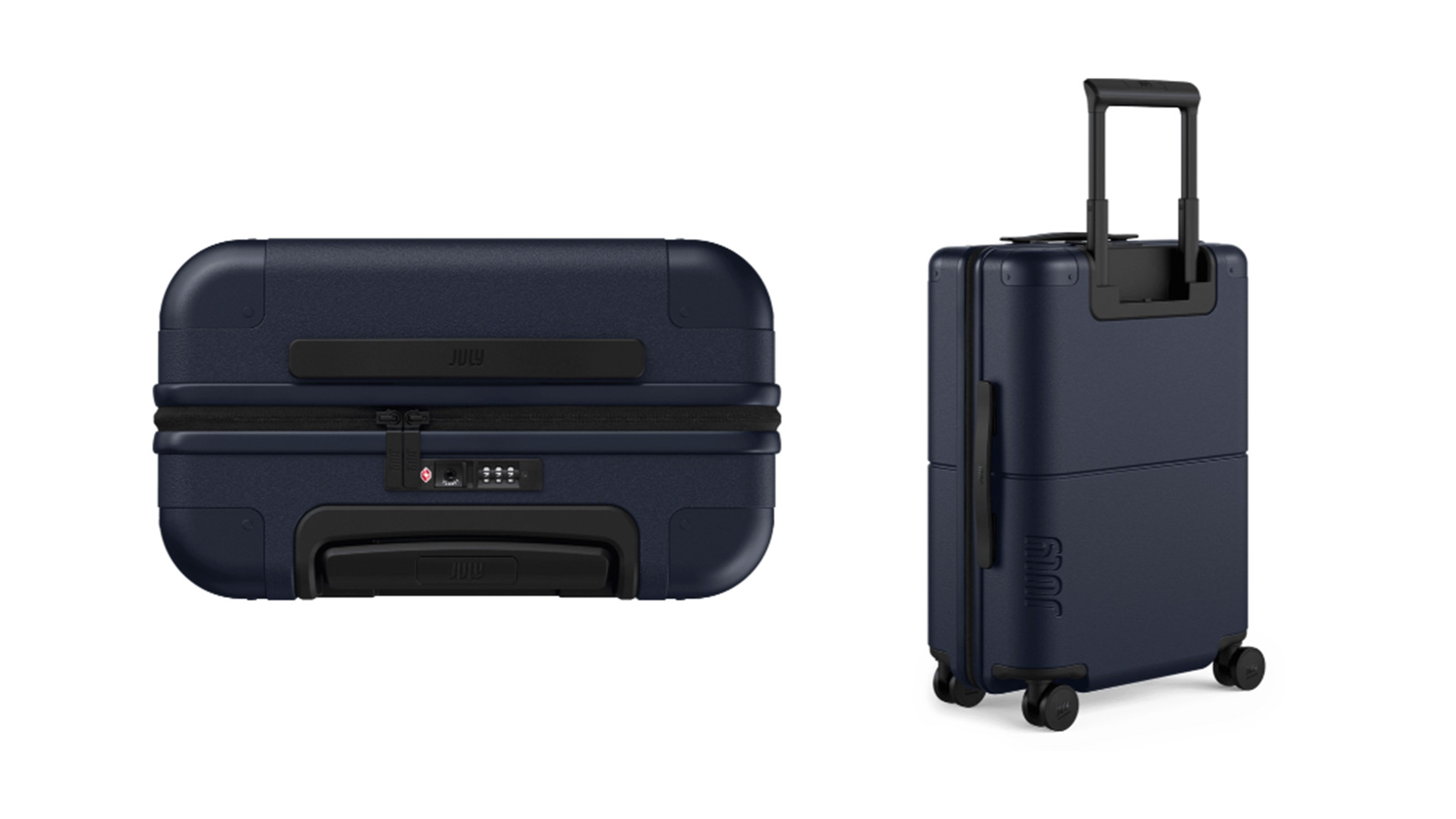 If you're in the market for new luggage, you've probably heard of July. This Australian-based brand is designed for frequent flyers with an optimised size to maximise your available storage space without exceeding cabin baggage allowance on major airlines. It already ticks all of my boxes!
But there's so much more to the July Carry On. I was sick of buying luggage and having the soft case tear or the wheels either fall off or get stuck after a few trips. This hard case is sturdy, and the wheels are strong and glide smoothly over any surface.
The bag itself has compartments for easy storage, and the bag straps are easy to apply with a click system and actually strap your contents down, regardless of how full or empty your bag is.
The luggage also comes with a battery charger near the handle, allowing you to charge your devices on the go. This battery can be removed easily if the cabin bag is required to be checked in.
There are many different creative designs for the July Carry On, which you can tailor to your likes or personality. I took a liking to a black bag with a blue zip (this was a limited edition that they no longer make). And they produce some limited edition luggage that can only be bought during a particular period of time. This ensures you can have a unique style of luggage if that's your thing. There is also a core set of luggage that are always available.
I'm all about optimising my travels. And when it comes to value, you can't go wrong with a good quality cabin bag like the July Carry On to accompany you on your pointy-end expeditions. The brand has also recently launched on Qantas Shopping so you can now earn Qantas Points when you buy July luggage.
6. Wandrd Duo Daypack
Brandon: tech-head
Brandon is a flexible and cost-conscious traveller, equally happy to be flying to a new destination in Economy or the comforts of First Class - as long as it's a great deal. Value for money is important to him, but so are quality and versatility. For his travel gear and tech, Brandon tends to aim for high-end products that are worth the cost and will function well. But he'll also wait for a great sale, cashback or points deal to come along before buying (and also line it up with an upcoming trip to claim the tax back!).
Why I love my cabin bag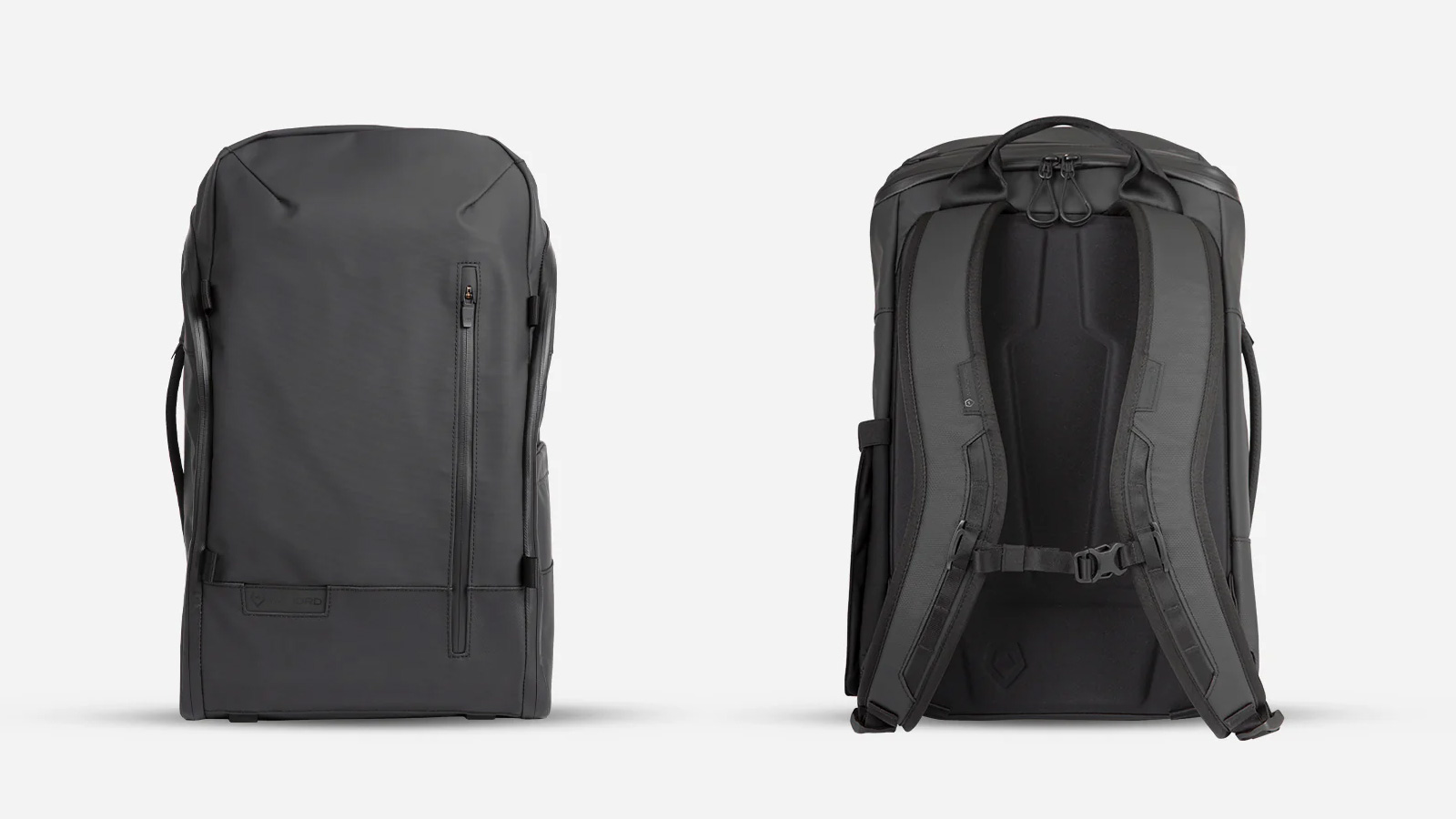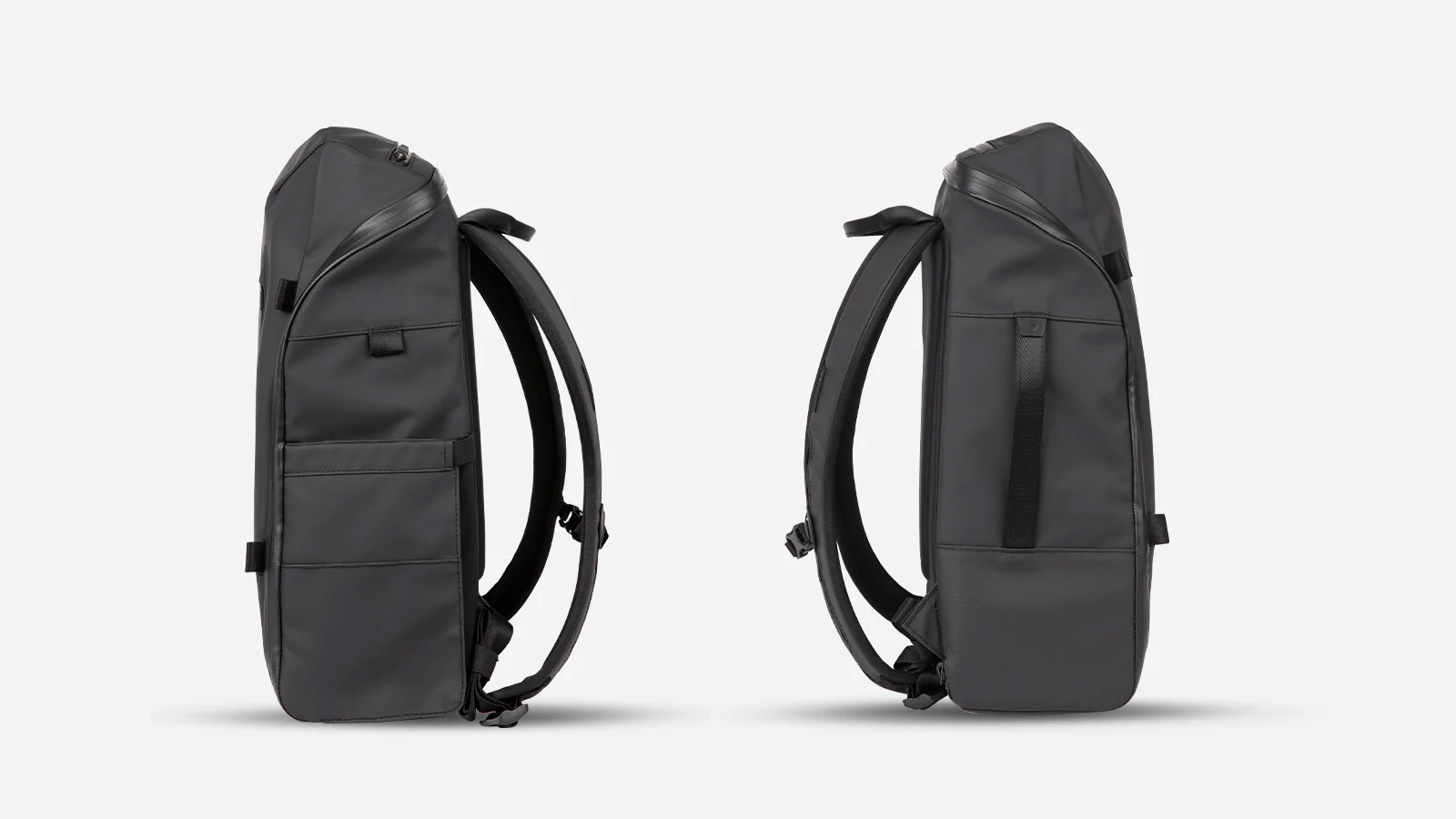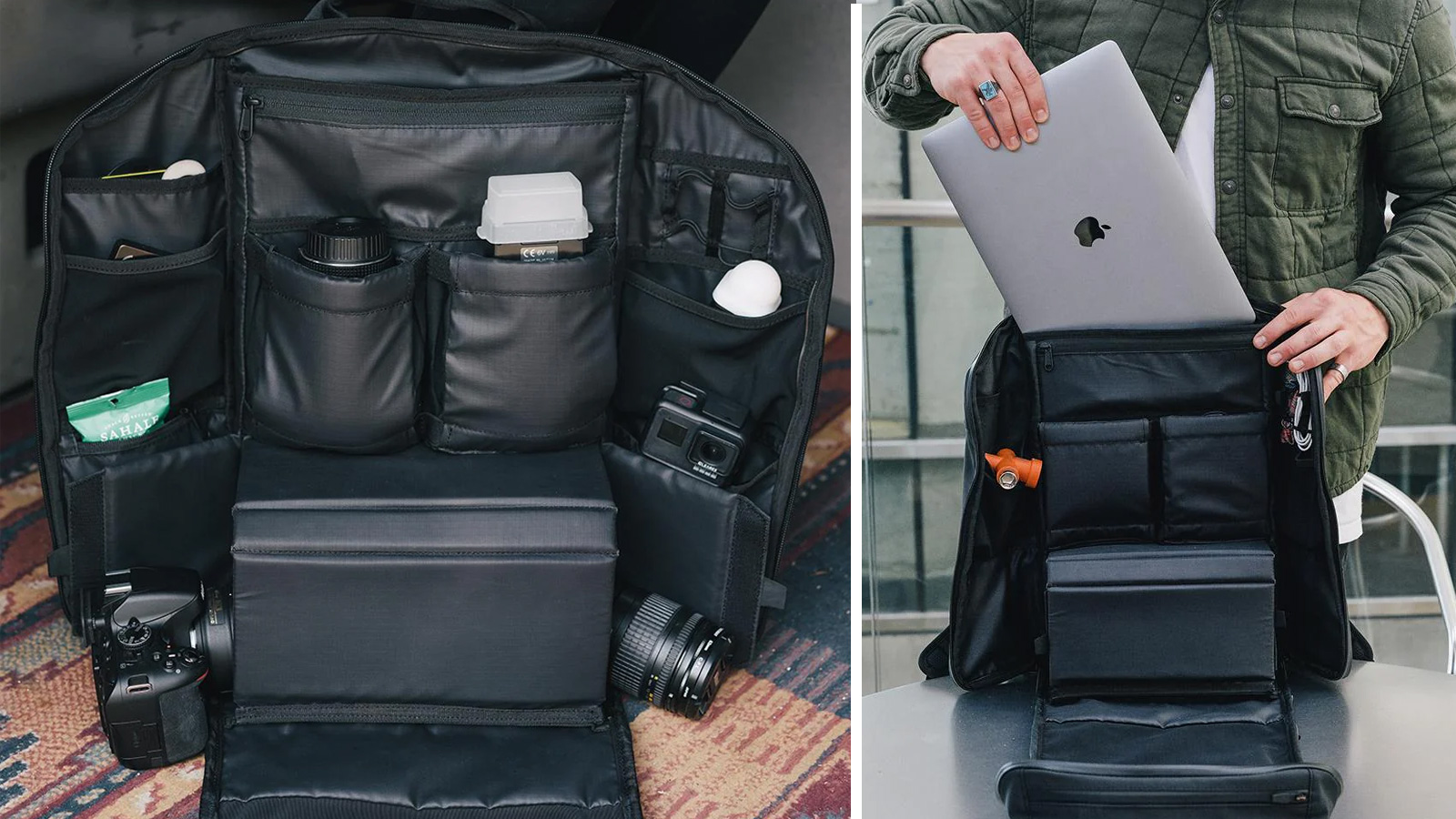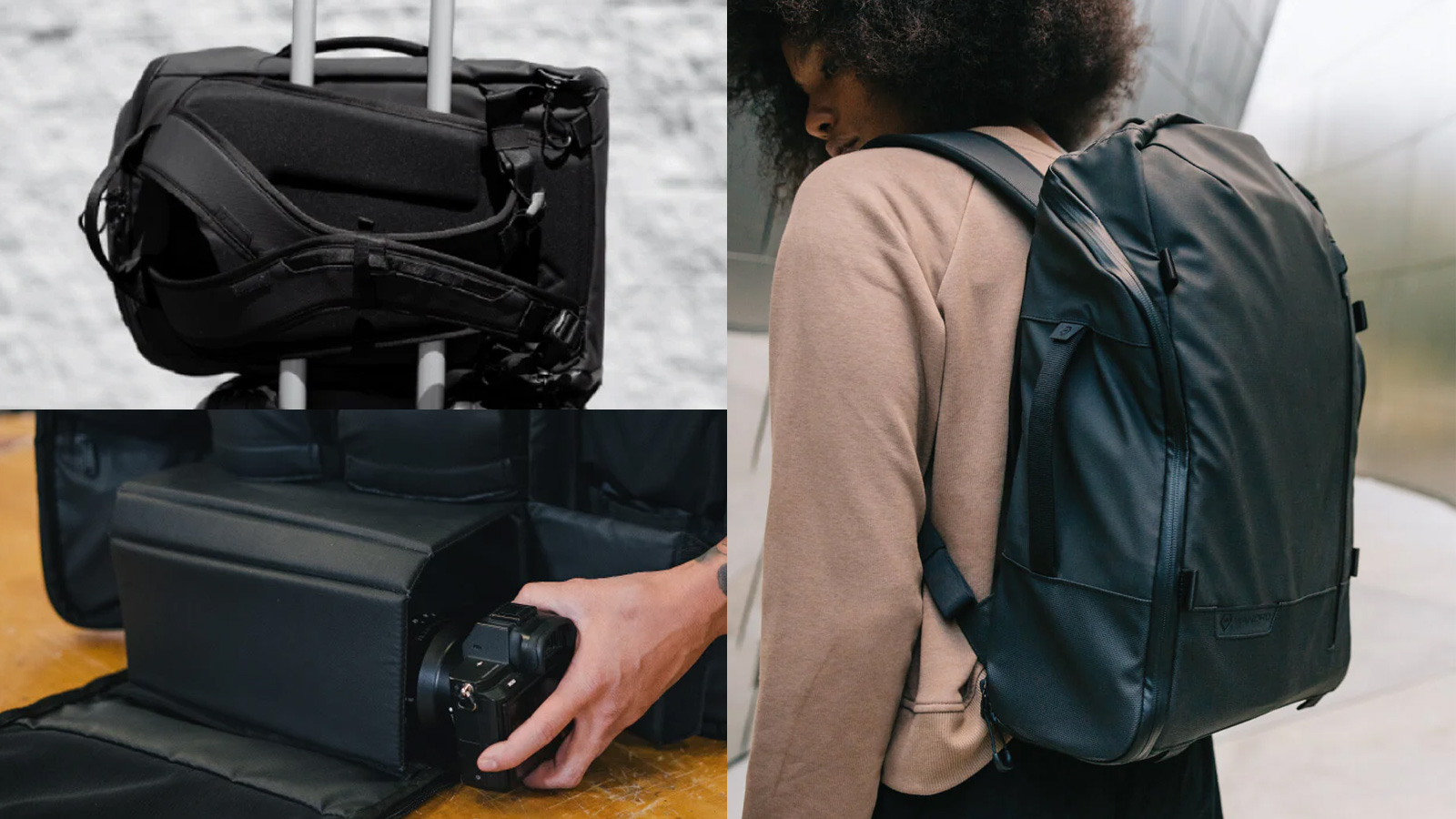 From its beginnings on Kickstarter, to taking the travel backpack world by storm, the Wandrd Duo Daypack is built for endless organisation. I don't always travel with a wheeled carry-on suitcase, especially on longer trips where I have a checked bag. But you will always find me zipping through the airport with my Wandrd Duo Daypack perched snugly on my back.
I invariably travel with a lot of tech, and this backpack fits it all. It's designed with photographers in mind, but also suits general travellers.
First up is the built-in pop-up camera cube, perfect for storing my camera or other delicate items. It pops up when you need to protect what's inside the cube. And when you don't, simply fold it away to make space for your other essentials. The hidden passport sleeve keeps my passport safe and within reach, but out of sight. And the padded compartments are the ideal solution for my laptop, power bank and chargers.
For maximum convenience, the clever four-zip system allows me to open up the backpack from any angle. This is especially handy given that the bag has a built-in luggage pass-through that slips onto my suitcase handle. And when the weather gets rough, I can rest assured that the waterproof exterior will keep my gear dry.
Overall, I'd say this versatile companion is well worth the price tag – you won't be wandering without it!
What should I look for when buying a cabin bag?
No two cabin bags are the same. Here are some things to keep in mind when shopping for carry-on bags:
Size: This varies across airlines, but most major carriers have a maximum cabin bag length of around 55-56cm and width of 35-40cm. We've done the research for you to ensure that all the bags above are suitable for use on major airlines.
Weight: The maximum weight allowed for carry-on baggage differs across carriers, but can also depend on your cabin class, with some airlines offering greater allowance for passengers in premium cabins. Still, it's important to look for a cabin bag that's lightweight. Aim for a bag that weighs less than 2.3kg so you've got plenty of space to carry your essentials onboard.
Durability: There's nothing worse than a handle breaking loose, a wheel going awry or a faulty zipper giving you grief as the immigration officer waits impatiently for you to retrieve your passport. Choosing a cabin bag that's manufactured with high-quality materials can ensure your bag is with you for the long haul – literally and figuratively.
Other features: With so many cabin bags on the market, there's bound to be one that meets even the most niche of your requirements. Need a bag to hold your photography gear? Look for a padded bag with dedicated compartments. Want to power up your electronics before a long flight? Choose a smart suitcase with an in-built charger. Find yourself frequently frolicking outdoors? Select a bag with a waterproof shell and a separate shoe compartment. Finding the perfect cabin bag to suit your needs can take a bit of time and research, but having a stress-free journey is invaluable.
Want the best price on travel essentials?
Now that you know what to keep an eye out for when shopping for a cabin bag, it's time for our number one tip! When shopping online, we use a tool called Zyft to find and compare the best prices on products across thousands of Australian retailers. Founded in Melbourne, this handy plugin can be added to your browser to help you instantly compare prices across multiple websites. Because who has time to sift through countless pages when you've got a trip to plan?
And if the product is currently unavailable (and your next holiday is looming!) Zyft can show you a list of sites that have it in stock. Take a look at the example below, where we found the same product in stock for almost half the price.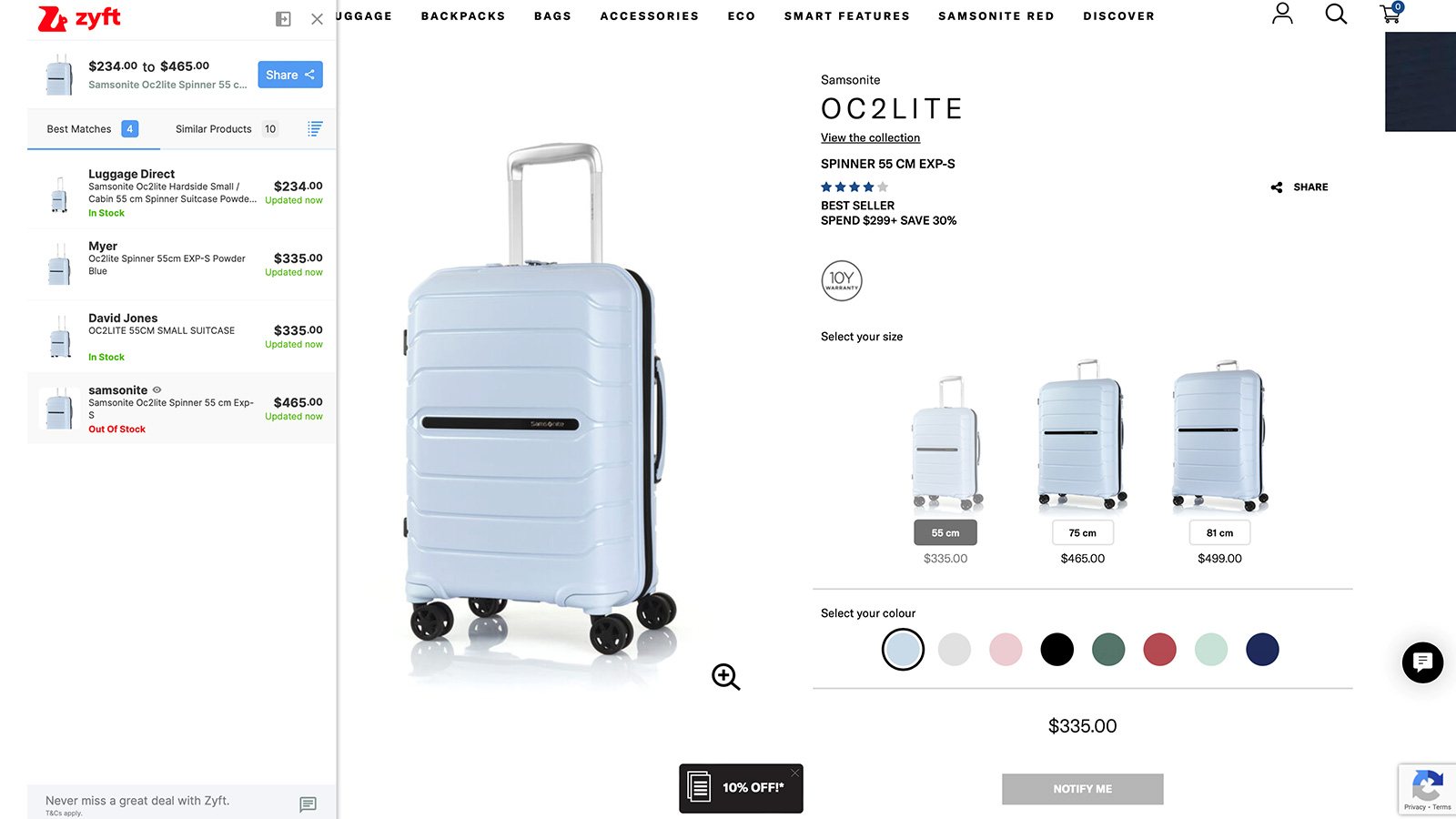 Our final tip when shopping for cabin bags
Earning frequent flyer points isn't reserved for flying. Did you know that you can earn points on the ground, including when shopping for travel products? Having a credit card that earns frequent flyer points means you can pocket points on everyday purchases – including big-ticket travel investments like cabin bags.
Craving more? Follow along with our experiences around the globe by signing up for our email newsletter.
Featured image: Mikhail Nilov, Pexels
Cabin bags our content team love in 2023
was last modified:
September 7th, 2023
by