It's more important now than ever before to be mindful of others and try not to visit places that are too crowded, all in the name of physical distancing. (Note: this doesn't seem to apply to panic buying at the supermarkets).
So how do you work out the best time to visit? It's not fool-proof and you may already know this, but we've got a small tip to share involving Google Maps. After all, if Google already knows everything about us, why not use some of that data to our advantage?
(This article was originally written in 2019 with international travel in mind, but has been updated in 2021).
How do I use Google Maps to check an attraction's busiest times?
It's quite easy, really. Enter in the attraction and you'll get a wealth of information. That includes reviews, directions and opening hours (if applicable), at the top. For this example, we'll look at Kings Park in Perth.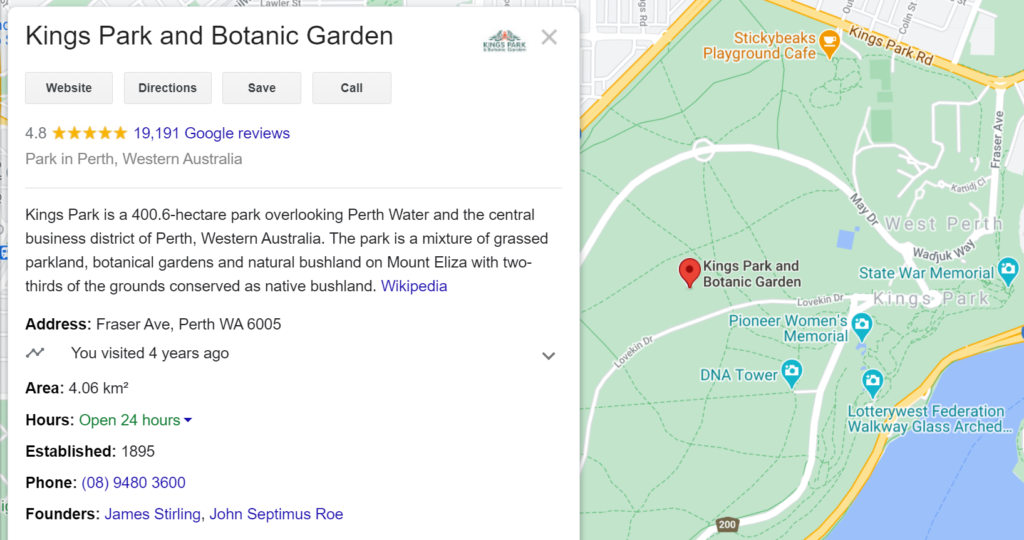 Scroll further down, and you may find the 'big brother data' that Google collects from its users, indicating when that particular attraction is busy or not at any particular time.
Below, you can see that the 'Live' view for Thursday 9am [the time of updating this article] shows the park is not busy at all, because Perth is in the midst of a lockdown at the time of writing.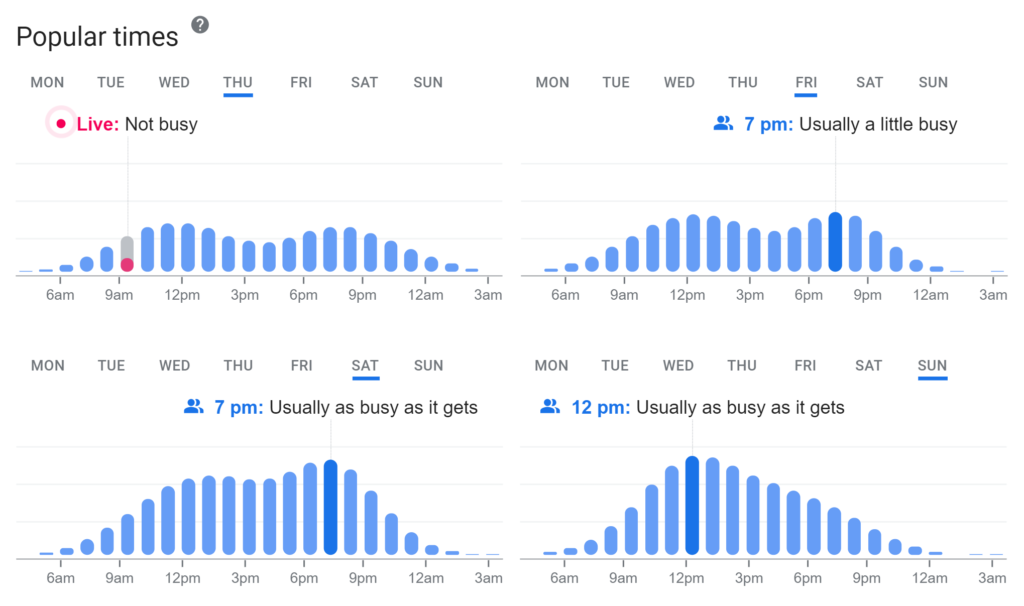 But we can also see the difference in normal visitor trends between Saturday and Sunday. Saturday's peak is usually around 7pm, whereas visitors on Sundays tend to drop-off after midday.
With this information, you could make the choice to take a picnic for Saturday brunch or Sunday afternoon tea to avoid the crowds.
Ad – Scroll down to continue reading.Minimum spend, terms & conditions apply.
After COVID: using Google Maps to find a crowd instead
On the other hand, once physical distancing restrictions are lifted, you may actually want to be at a place like a bar or a nightclub when it isn't deserted.
It can be notoriously difficult in other countries — especially in Europe with cultures more skewed towards late nights — to work out when to arrive.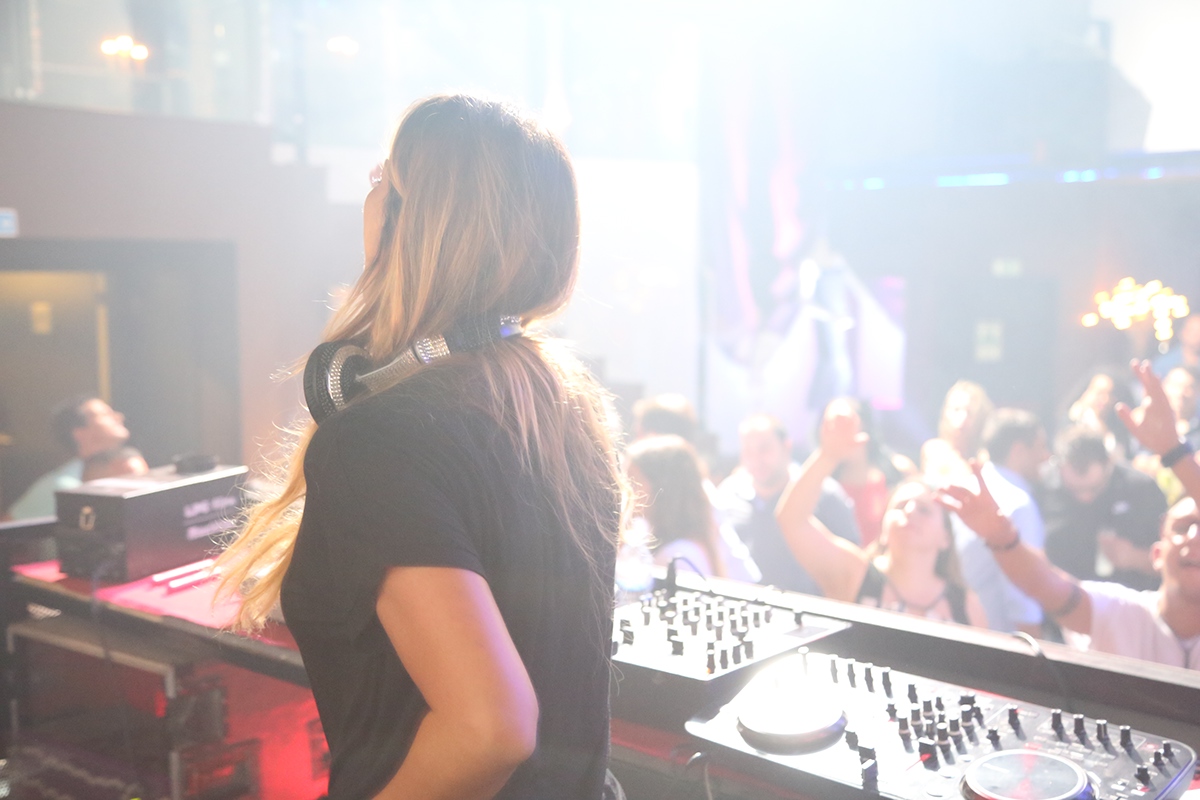 Take this rooftop bar and night club, for example: the peak periods shift from 2pm on Thursdays and Sundays to 12am on Friday nights and 9pm on Saturday nights. Plan accordingly if you want the greatest buzz.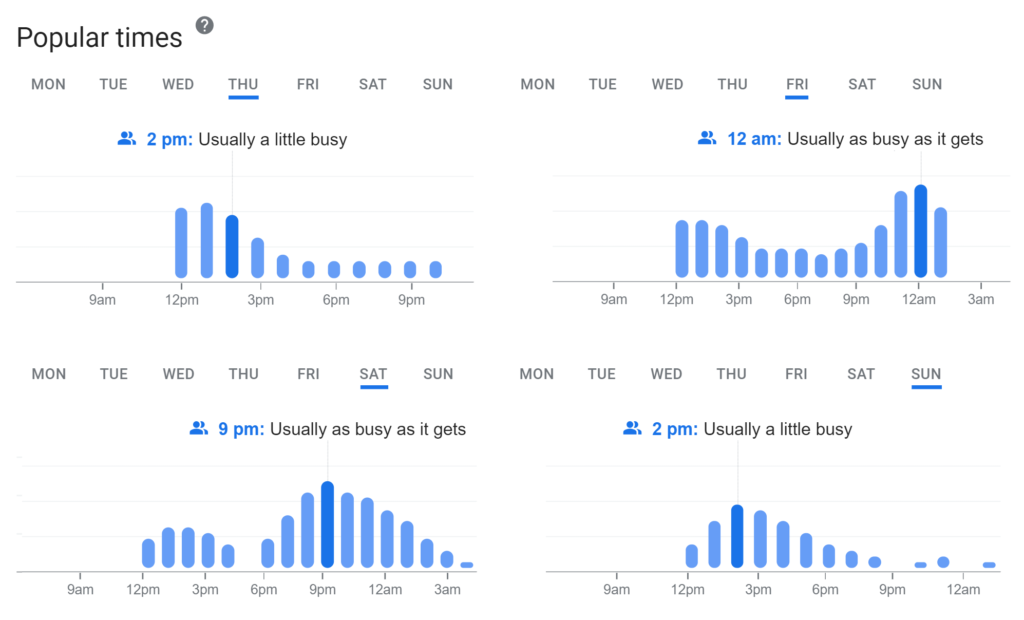 After COVID: working out the peak periods at airports
As a final example, say that you're wondering how early you'll need to get to an airport; either as a passenger or perhaps when dropping someone off and wanting to compensate for traffic jams.
A search for Brisbane Airport reveals there are usually two peak periods during a weekday: 8-9am and 1-2pm. If you're travelling during those times, it could be worth allowing a little extra buffer.
Summing up
This helpful crowd-tracking feature is available on the desktop, iOS and Android versions of Google Maps. Not all attractions will feature the 'popular times' tracking though, so be sure to apply common sense and stay safe.
Featured image courtesy Flickr. This article was originally written by Matt Moffitt.
An easy trick to avoid crowds at major tourist attractions
was last modified:
February 8th, 2021
by