Transferwise, a foreign currency exchange platform, has been operating in Australia for around a year – and they are now charging a much lower 0.6% fee for transfers initiated from Australian MasterCard or Visa.
Important: please see the note below about most banks treating TransferWise purchases as a cash advance, which usually incurs interest on your full credit card balance immediately. This article originally stated that Citibank transactions posted as a purchase, not as a cash advance, but unfortunately I was given incorrect information by Citibank on first checking. We asked again to double check a couple of days later, and was told that it was a cash advance, not a purchase.
We've added a list of banks along with reported experiences. Most banks treat Transferwise purchases as a cash advance. Please be careful when using TransferWise with your own card, and ensure you are not incurring interest on your balance by checking with your bank after making any credit card payments.

---
The current tested list of banks / credit cards and how they treat Transferwise payments:
Tested:
ANZ – cash advance
Bankwest – purchase (although we have a report that it will be re-coded as a cash advance from 17 January 2018)
CBA – cash advance, no points
Citi – cash advance, not sure about points
NAB – cash advance, not sure about points
HSBC – cash advance, not sure about points
Westpac, cash advance, not sure about points
Untested so far:
---
Transferwise is a couple of years old, was started by the ex-founders of Skype and originally was backed by Richard Branson and a number of other investments for it's new approach to handling international payments.
They use the mid-market exchange rate instead of buy and sell rates, which is relatively unique. From there, Transferwise then adds their own fees on top, which makes the whole process a bit more transparent for the average consumer.
What is Transferwise good for?
The goal of Transferwise is to dramatically simplify and speed up the foreign currency transfer market, using their website or app to speedily make transfers to and from a vast number of currencies globally.
Transferwise are not a cash card or account service – you need to send money to a local bank account in the recipient's currency that you're sending to.
This means it's useful for people who are:
Sending money to friends or family overseas
Making payments to overseas businesses or contractors
Moving money between bank accounts in different countries as an expat
Moving cash to a friend or family member overseas to withdraw on your behalf without overseas ATM fees if planning extended travel
The amount of supported destination currencies and countries for payment recipients is now pretty vast.
Ad – Scroll down to continue reading.Minimum spend, terms & conditions apply.
How Transferwise Works
This is the part that makes Transferwise noteworthy when it comes to points-earning – they accept funding of your transfers by Visa and MasterCard in certain regions, including Australia.
To initiate a transfer, after signing up or logging in you just hit the big green button at the top of the page. From here you're then walked through the process of setting up a payment recipient, making and paying for the transfer.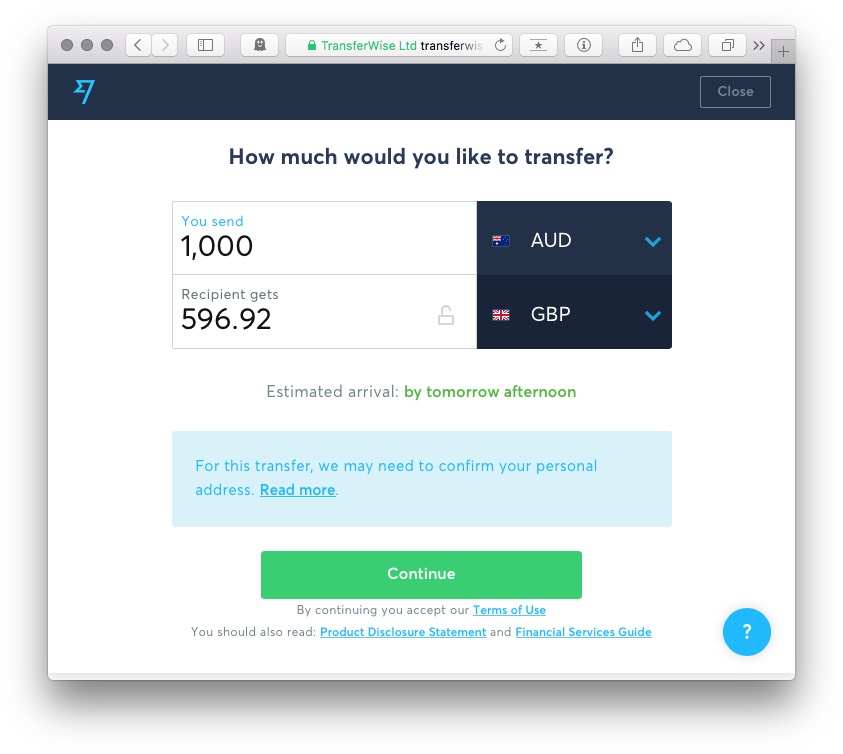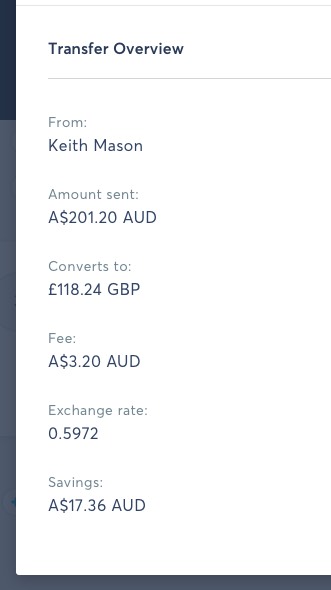 There is a limit of $3,500 per transfer funded by a credit card. It is possible to make multiple transfers, with a $2 additional fee (on top of their standard fees) for each one, up to 6 per day.
If you prefer to (or need to) fund the payment by bank transfer instead of a credit card you can – you'll avoid the fee, but won't earn points, of course.
To initiate your first transfer from AUD you'll also need to go through address verification, which is pretty simple and involves uploading a copy of a bank statement, utility bill, drivers license or other accepted document with your address.
Earning Points with Transferwise
With a 0.6% fee for funding transfers with a Visa or MasterCard, you're essentially buying points by paying the payment fee (and some extra time to pay the payment by using your card).
With a 1 point per dollar Visa or MasterCard, this has you paying 0.6c per point – much lower than the value I put on the points that can be earned from paying the fee, so in my book it's worth doing.
Transferwise recently switched payment processors to bring down their credit card payment fees. Under their old processor Transferwise did warn that some banks might flag transactions as a cash advance, and not a purchase – something to avoid, as this would immediately incur interest in your credit card account.
But that warning seems to now have been removed – at least, I can't find it in their FAQ anymore. Under the new 0.6% fees I have tested Transferwise with both a Citibank Visa and a Bankwest MasterCard. Both transactions came through successfully as purchases after I called both banks to check.
UPDATE: After checking AGAIN with Citibank, I found that I was given incorrect information on my test transaction, and that the test DID come through as a cash advance with Citi. This is bad news.
The transaction did come through as a purchase with Bankwest, however, a comment below states that this will change to a cash advance from 17 January 2018.
I don't have easy access to cards from other banks to run tests with, so I would suggest doing the same and calling the bank to check for your own cards and banks the first time you make a transfer to be 100% sure this is processed as a purchase and not a cash advance on your own card.
Transferwise' Exchange Rates
I personally have been using the service for some time and have found their exchange rates and fees competitive to other overseas payment routes. The fact that the site and app are so easy to use, and that I can fund the transfer using a credit card, are massive wins on top.
Fees and rates can always change though, so make sure you do your own comparison versus other methods you may use to make payments.
This content contains affiliate links from which Point Hacks may earn commissions from transactions generated from new customers, bookings and general enquiries. Find out more here.
Do you have any uses for Transferwise, experiences of using the service, or recommendations for other foreign currency transfer services? Let us know in the comments!
How to use Transferwise to make foreign-currency transfers using your credit card [UPDATED]
was last modified:
November 26th, 2021
by