With only two carriers serving this route compared to five to Los Angeles (LAX), the chance to avoid the mess that is LAX with a direct flight to the calmer SFO (San Francisco) is a great choice.
Remember, although located in 'sunny' California, San Francisco experiences the coldest summer of any major US city, plus the state is experiencing a wet period after years of drought.
The best times to visit are in the northern Spring (mid-March to mid-June) and Fall (mid-September to mid-December), however, if you are combining with travel to other North American cities, the northern Summer (June to August) is a fine time to go too.
---
Depart: Sydney
Arrive: San Francisco
Stops: None (direct flight)
Dates: March to November 2017 (mostly Monday to Thursday departures)
Airlines: Qantas or United
Cost: From $999 in Economy
---
Examples found:
Sydney to San Francisco return in March for $998 with Qantas: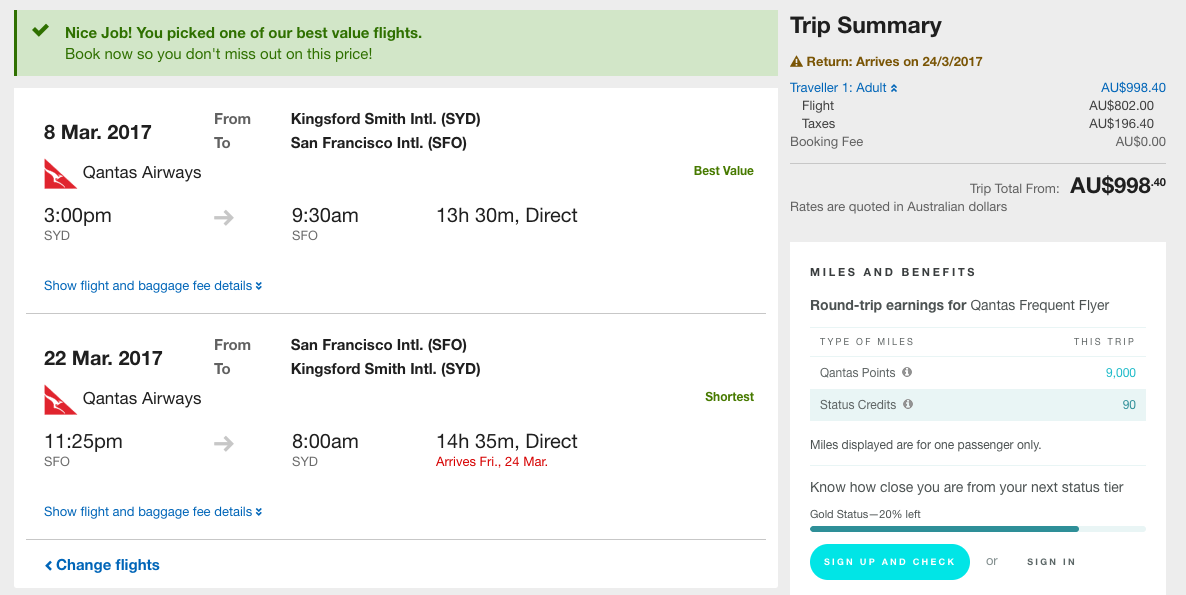 Sydney to San Francisco return in September for $998 with United: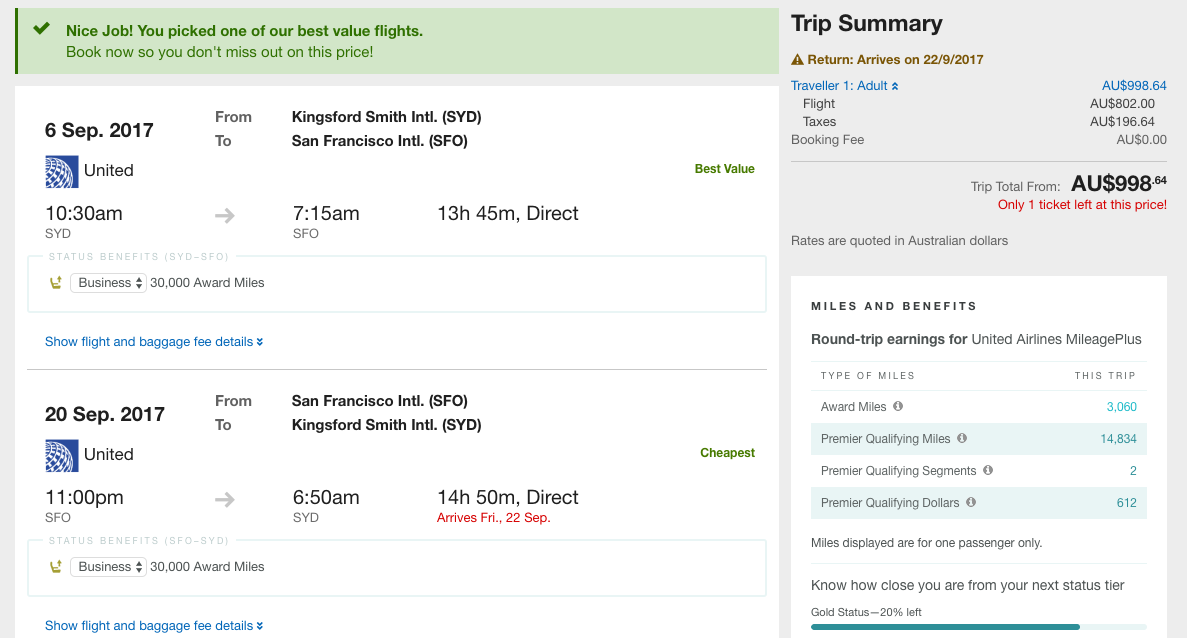 It seems like the cheap price is available on Qantas only in the first half of the year; United's is until November.
Comparing the two options, you'll generally get friendlier customer service on Qantas rather than United, however, United's new Boeing 787 Dreamliner flight (which we've reviewed in Business Class) gives Economy Class passengers an extra inch of legroom at 32″ (compared to Qantas' 31″ on the older Boeing 747).
You can maximise your frequent flyer points earn on this fare by crediting your Qantas flight to Qantas Frequent Flyer and your United flight to Singapore Airlines KrisFlyer. You can also credit your United flight to United's MileagePlus program if you already have a balance with them.
---
Booking link: Go to the CashRewards Expedia site to earn 1% cashback (or $10 off this fare). Click on Go To Store, sign up for Cashrewards for free and you will be redirected to the Expedia site.
More information is available in our Expedia+ rewards program guide.
Airfare deals are typically only available on limited dates. Fares may disappear quickly, so we suggest booking as soon as you are confident in your travel dates.
Flight Deal: Sydney to San Francisco direct with Qantas or United for $999 return
was last modified:
June 21st, 2019
by