Taking advantage of Qantas and LATAM's nonstop services between Sydney/Melbourne and Santiago, you can get cheap fares to a traditionally expensive destination across a wide range of dates, plus pick up a free domestic flight (as long as you credit your miles correctly – our pick would be to Alaska Airlines.)
Travellers in Brisbane and Adelaide can connect in Sydney, Melbourne or Auckland for $50+ more.
Of course, the points earned could be used for other flights too – any of Alaska's partner airlines for example – but the flights are subject to points redemption availability.
Read more for tips on how to maximise points earn on this flight and get cashback on your purchase.
---
Depart: Melbourne or Sydney
Arrive: Santiago
Stops: None
Dates: August 2017 to March 2018 (except over Christmas-New Year)
Airline: LATAM and Qantas
Cost: From $1158 in Economy
---
Examples found: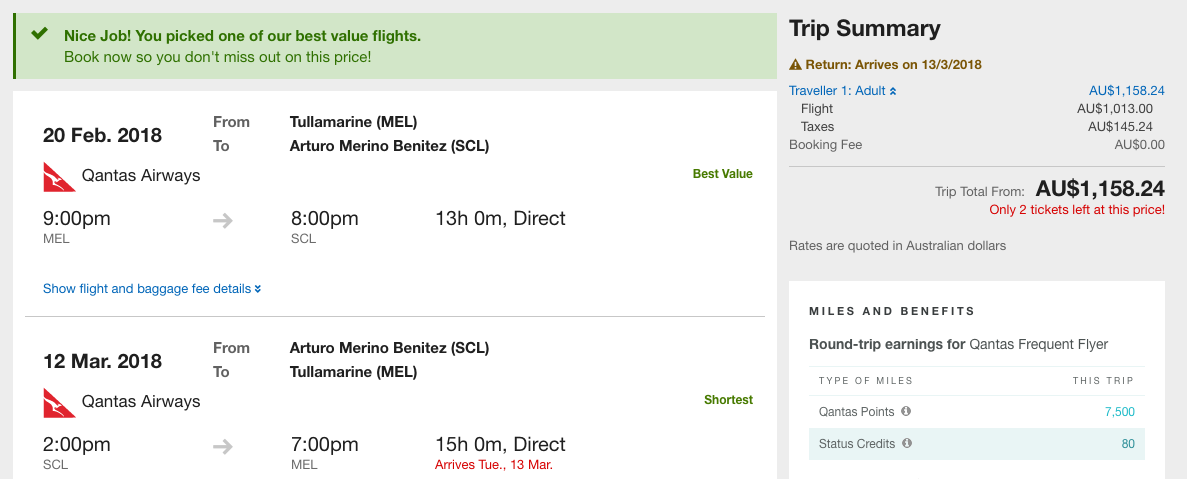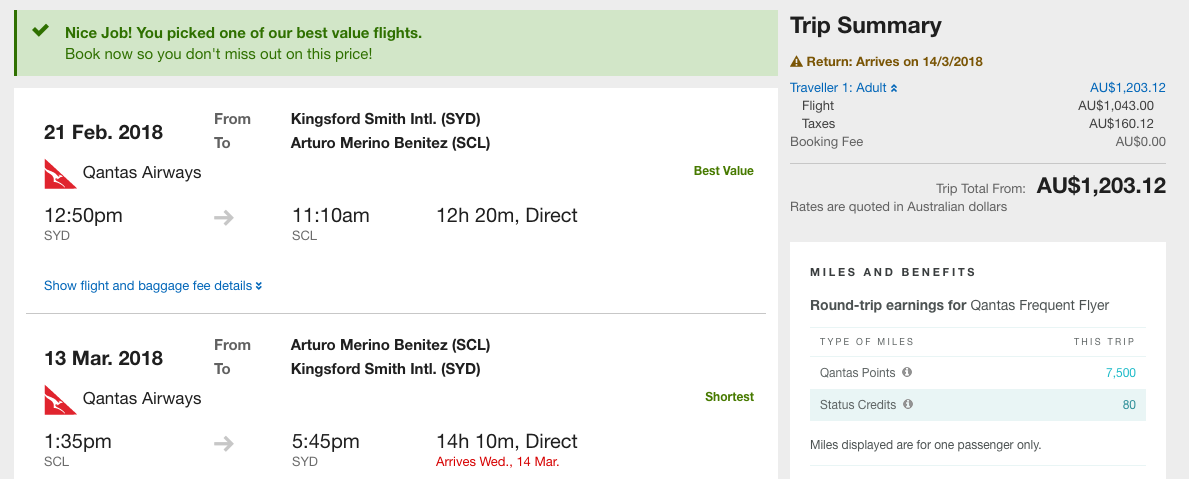 Points earn: With the examples above, you'll earn 7,500 Qantas Points and 80 Status Credits, or more than 14,000 Alaska Airlines Mileage Plan miles, which offers better value redemptions by topping up your balance through buy miles promotions.
To put it into perspective, 30,000 Alaska miles will get you to Hong Kong in Cathay Pacific Business Class; or you could use 12,500 Alaska miles to fly anywhere in Australia in Qantas Economy Class.
If you want to earn enough points for a Qantas domestic flight, then make sure you sign up for an Alaska Mileage Plan account and add your membership number to your travel, either at time of booking or at check-in.
Note that your miles won't be credited until a few weeks after you complete your return trip.
Best credit card to use for purchase: Credit cards that offer bonus points for booking travel
---
Booking link: Go to the CashRewards Expedia site to earn 1% cashback. Click on Go To Store, sign up for Cashrewards for free and you will be redirected to the Expedia site.
More information is available in our Expedia+ rewards program guide.
Airfare deals are typically only available on limited dates. Fares may disappear quickly, so we suggest booking as soon as you are confident in your travel dates.
H/T: Secret Flying
Featured image courtesy Flickr
Flight Deal: fly direct to South America for under $1200 return and earn enough points for a domestic Qantas flight
was last modified:
June 20th, 2019
by