This deal gets you to the US in style in Business Class on American Airlines' new services from Sydney and Auckland and earns you great status credits for Qantas, plus you get to travel First Class within the US!

You can also visit other US cities apart from Los Angeles and New York with two free stopovers, with additional ones available for purchase for just $100 each.
Or, if departing from a city other than Sydney, you could use one of those stopovers to visit friends and family in Sydney, Melbourne or Brisbane.
This deal is on sale until 15 July and is valid for departures from 1 November 2016 until 31 May 2017.
Destinations and prices
To Los Angeles
From Sydney: $4598
Melbourne: $4628
Brisbane: $4628
Perth: $4998
Adelaide: $5198
To New York
From Sydney: $5998
Melbourne: $6028
Brisbane: $6028
Perth: $6398
Adelaide: $6698
There are also options to fly to other East Coast destinations such as Miami, Washington DC and Boston.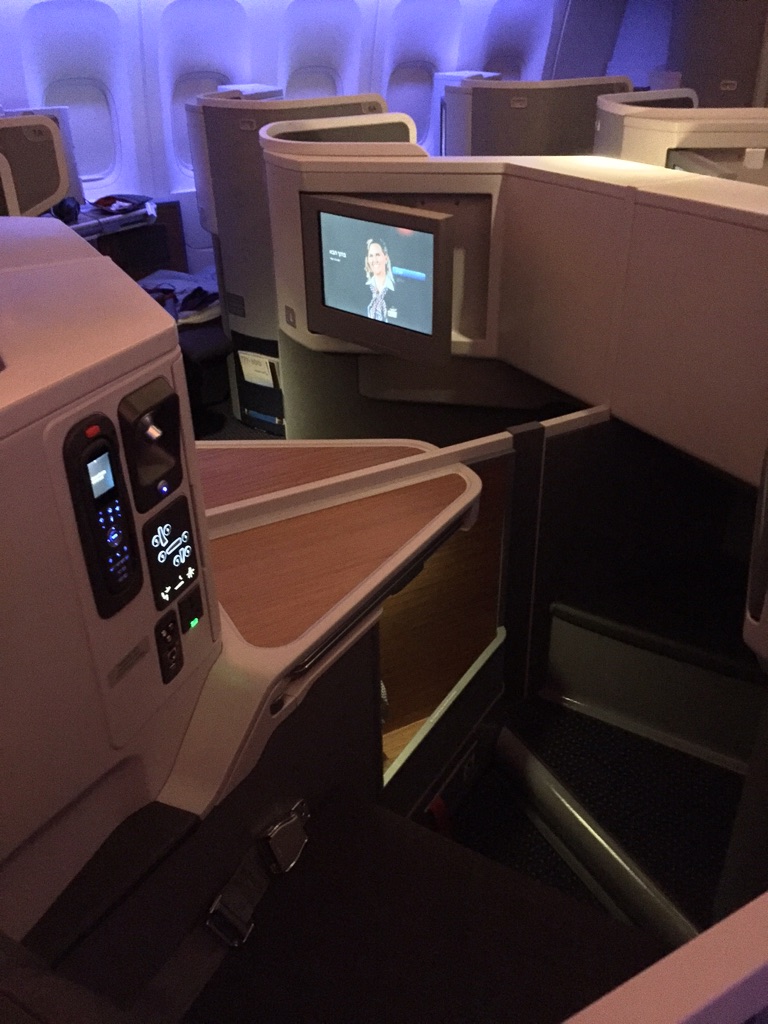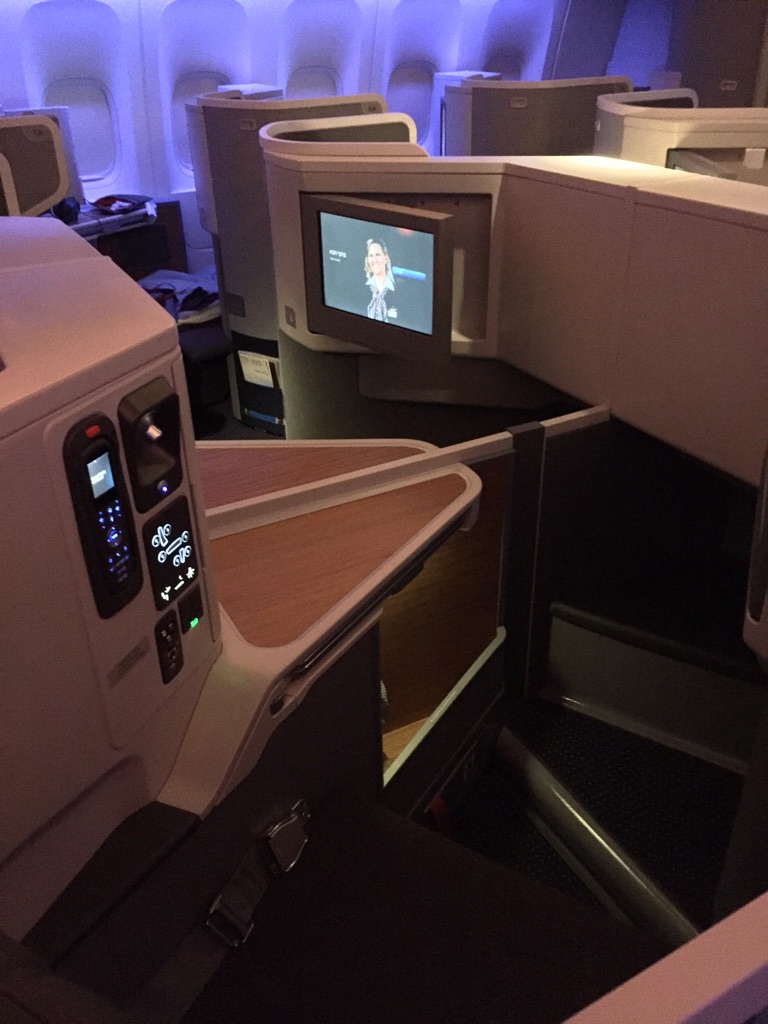 If flying a more direct route, here is the Business Class seat on the 777 used on the Sydney-Los Angeles leg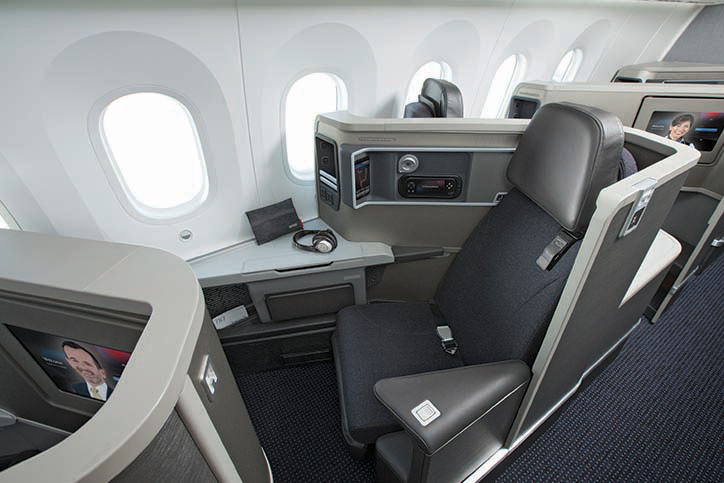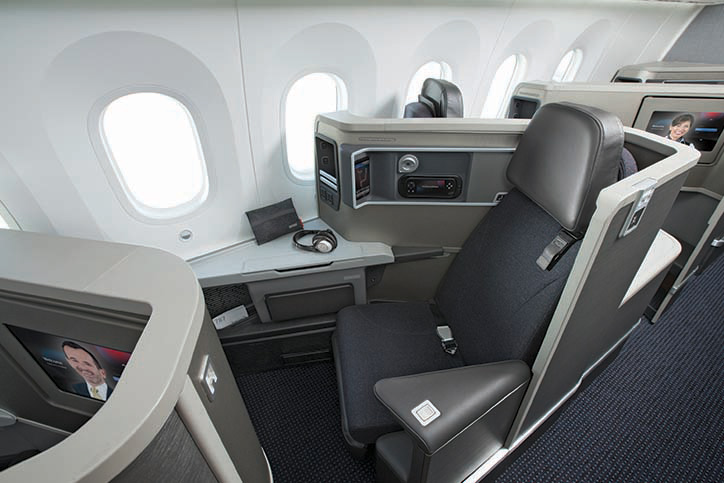 If going for more Status Credits, you'll be on the the 787 Dreamliner on the Auckland-Los Angeles leg
Ad – Scroll down to continue reading.Minimum spend, terms & conditions apply.
Why are we talking about Status Credits so much?
Flying in Economy and trying to reach Gold or Platinum status with Qantas (or any airline for that matter) would take A LOT of trips.
Buying a paid Business Class ticket will help you accrue the required Status Credits (SCs) a lot quicker: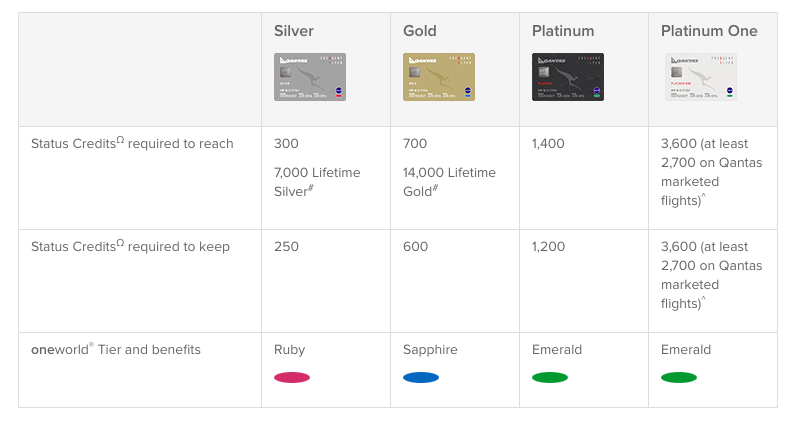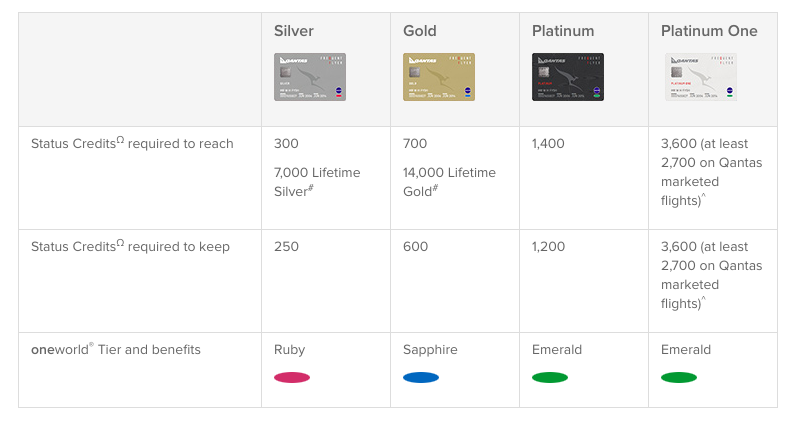 Plus, once you have Gold status with Qantas, you can status match to other airlines.
More direct routing = saves time, but lower Status Credits
A simple Sydney-Los Angeles return flight would earn you 360 SCs, qualifying you for Silver, which doesn't really offer many benefits.
Adding an onward direct flight to and from New York would increase it to 560 SCs, which puts you within reach of Gold status. Now we're talkin'!
More segments = takes more time, but really increases Status Credits
Flying return from Melbourne, Brisbane or Adelaide on a Qantas service to Sydney adds an additional 80 SCs, with those from Perth earning an extra 160 SCs.
Travelling via Auckland (and using AA's 787 Dreamliner service onwards) is also a great way to boost Status Credits.
However, the real benefits come when utilising domestic transfers within the US en route to New York. Plus, another perk is that when using two-cabin domestic services within the US, the fares allow travel in AA First Class.
For example, flying Melbourne-Sydney-Auckland-Los Angeles-Dallas/Fort Worth-Chicago-New York and back the same way adds 90 SCs per sector compared to just 100 SCs for a Los Angeles-New York direct flight.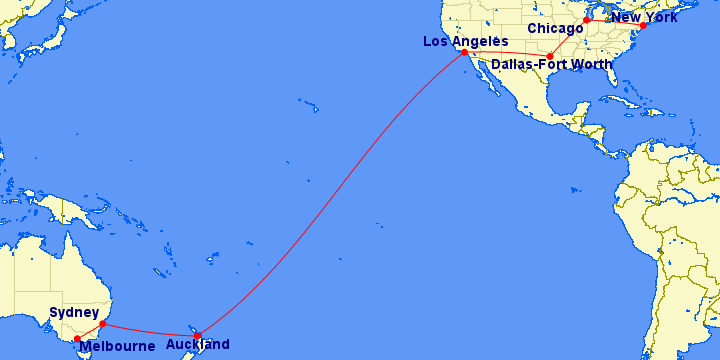 As a result, doing this roundabout routing in each direction nets a traveller an additional 520 SCs when compared with a simple LA-NY return trip – that's incredible earning potential.
In total, the above routing would generate 1000 Qantas Status Credits and costs $6058. That means you qualify for Gold, and with a few more flights with Qantas or its oneworld partners, you could reach Platinum (1400 Status Credits).
For those from the West Coast with a lot of time on their hands, the following itinerary will almost get you to Platinum in one trip, earning 1240 SCs for $6589:
Perth-Sydney (stop)-Los Angeles-Dallas/Fort Worth-Chicago (stop)-Miami-New York (stop) ~ make your own way to ~ Washington DC-Miami-Chicago-Dallas (stop)-Los Angeles-Sydney-Perth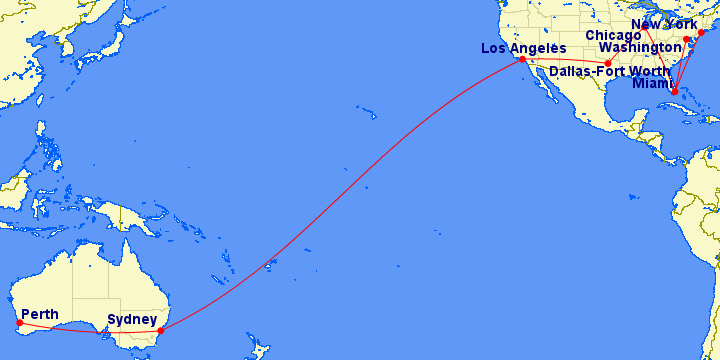 Key terms
On sale until 15 July 2016
Valid for departures from 1 November 2016 until 31 May 2017
One free stopover in each direction permitted at Sydney, Melbourne, Brisbane, Los Angeles, San Francisco, Dallas/Fort Worth, Chicago and Miami
One additional stopover in each direction permitted at above cities for $100

Minimum ten-day stay at final destination (e.g. LA or NY)

Trans-Pacific sectors in each direction must fall on a Monday to Thursday

Qantas services permitted domestically in Australia and to/from Auckland, however Qantas-operated trans-Pacific sectors not permitted (e.g. Melbourne-Los Angeles)
Flight Deal: LA from $4598 and NY from $5998 in AA's new Business Class, plus huge status credit earning potential for Qantas FFs
was last modified:
May 11th, 2022
by