Every Wednesday, our free travel inspiration newsletter does the hard work for you and suggests trips to destinations in the Asia-Pacific with open award seats for a last-minute long weekend trip two weeks from now.
Our featured redemptions for the dates of 10-15 November are two First Class seats open on Emirates and Singapore Airlines services departing Sydney, Melbourne and Brisbane to Auckland, Christchurch and Singapore.
These points redemption were available when we ran our searches earlier this morning. You can see all the results we found this week here, including our picks below.
How does the free weekly Impulse Points newsletter work?
Launched in July 2016 in collaboration with award booking service iFLYflat, Impulse Points takes the guesswork and research out for you if you have growing points balances and the ability to travel impulsively.
It won't work for everyone, but this is what we search for:
for the most interesting award seats available
departing from Australia's five largest airports: Sydney, Melbourne, Brisbane, Perth and Adelaide
for travel two weeks from when you receive the email, for a long weekend of between two and five nights
for two passengers in Business or First Class
across a range of airlines and alliances: Qantas and oneworld, Emirates, Virgin Australia, Singapore Airlines and Star Alliance
using the major points currencies for travellers from Australia
delivered to your inbox every Wednesday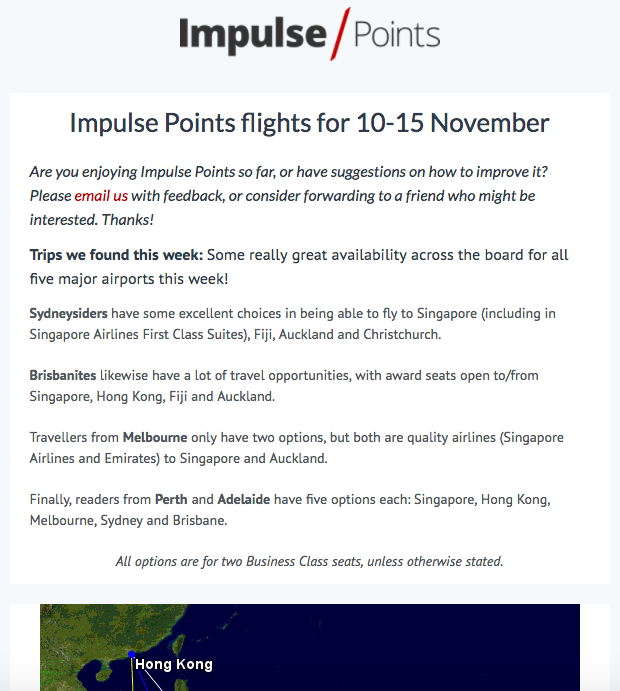 We give you the exact flight numbers, times and dates, and you'll then have the information to be able to either research the redemptions yourself or use iFLYflat's award booking service.
Ad – Scroll down to continue reading.Minimum spend, terms & conditions apply.
Featured Impulse Points Redemption 1: Fly in an Emirates First Class Suite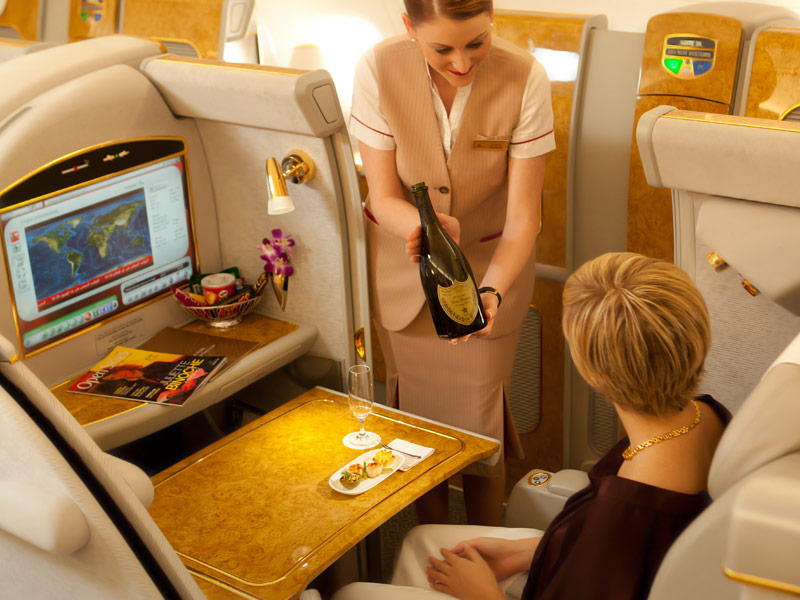 Sydney/Melbourne/Brisbane – Auckland for 54,000 Qantas Points
Sydney – Christchurch for 54,000 Qantas Points
Melbourne/Brisbane – Singapore for 90,000 Qantas Points
One of the best uses of Qantas Points is to take advantage of Emirates' focus on Australia and New Zealand.
It flies the Airbus A380 daily between our three largest cities on the East Coast and Auckland, plus between Melbourne and Singapore (and then onward to Dubai). On the A380, there is an onboard shower and bar.
The Gulf carrier flies the Boeing 777 between Sydney and Christchurch, and Brisbane and Singapore, and still features the individual suites in the image above, but forgoes the onboard shower and bar in a smaller cabin, which results in more attentive customer service than on the A380.
Plus, when departing from Sydney or Melbourne, you'll have access to Qantas' world-renowned First Class Lounges.
Leaving from Brisbane or Singapore, you'll be able to access Qantas' new International (Premium) Lounges.
Featured Impulse Points Redemption 2: Fly in a Singapore Airlines First Class Suite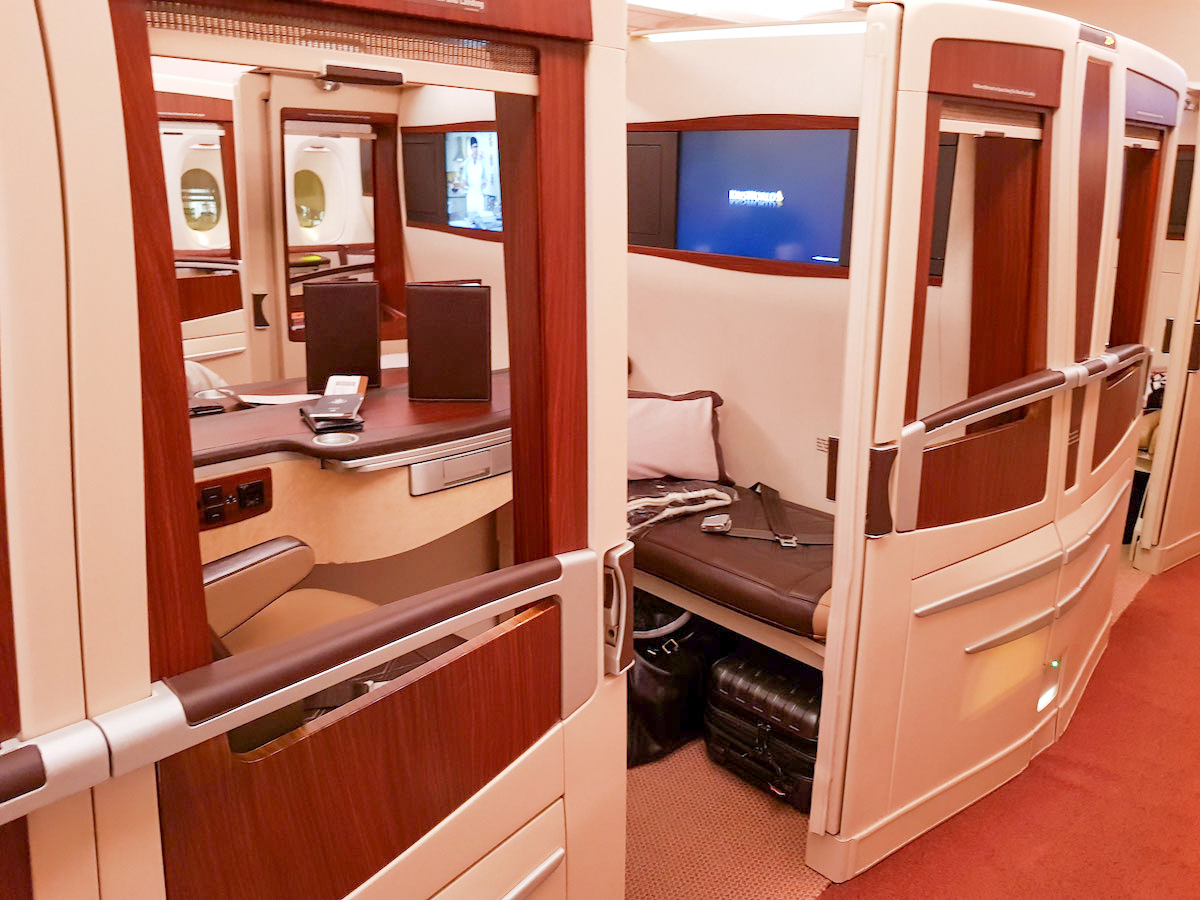 Sydney – Singapore for 63,750 KrisFlyer miles
Melbourne – Singapore for 63,750 KrisFlyer miles
It's quite often hard to find award space in First Class on the Airbus A380, which features these luxurious First Class Suites. Seats usually get snapped up quickly about a year ahead of departure, with some occasional seats showing up up to two weeks before the flight when cancellations and changes have been made by other passengers.
Most Singapore Airlines flights into and out of Australia are operated by Boeing 777s and Airbus A330s, but 1-2 of the 3-5 daily flights between Sydney/Melbourne and Singapore are lucky enough to be serviced by the much larger and more luxurious A380 with individual suites, pictured above.
Other redemptions
The two examples above are only a couple out of the award seats that we have found not only from the East Coast, but from Perth and Adelaide too.
Other destinations this week include flights to Hong Kong, Nadi and domestic flights on Virgin Australia and Qantas:
Images courtesy of respective airlines.
Featured Impulse Points redemption for this week: fly in an Emirates or Singapore Airlines A380 First Class Suite to Singapore or NZ
was last modified:
May 25th, 2022
by