One of the key benefits of the Citi Prestige Visa is two complimentary airport transfers each calendar year.
In this guide, we take a look at the details of how to use it, with a list of included cities, maps of the range of transfers permitted, how to book the service, and our tips for getting the best value.
The essential details
Two complimentary one-way limousine transfers per calendar year, however, those two transfers cannot be on the same trip, meaning that if you want to be driven to the airport for your one-week-long holiday to, say, New Zealand, you can't request the service on the return trip
You can make changes up until 48 hours prior to departure, then you forfeit the benefit
Bookings must be made at least 72 hours in advance but note that they can only be made through the Citi Concierge service, which is open Monday to Friday 8am to 8pm AEST
There is a limit of four passengers and two large suitcases but some readers have told us that you can add passengers/bags for an additional fee at booking. The same goes for extending the distance slightly, e.g. 30km instead of 25km. Any fees charged to the Citi Prestige will be denominated in US Dollars
The primary cardholder must be travelling and the booking needs to be made under the primary cardholder's name
Provided by US travel services company YQ Now
The experience
Here is how the limo benefit works. After checking availability and making your booking through the Citi Concierge—you can call them at 1800 782 948 or email them ([email protected])—you'll receive a booking confirmation.
When you arrive at your destination, there should be a driver waiting for you with Citi signage and your name—from your booking they will know where your destination is.
The cars on offer do vary wildly, so if you have specific requirements for more than a couple of bags you should let them know at the time of booking to ensure you'll be able to fit everything in.
The experiences we've seen first-hand or heard anecdotally range from a standard Holden Caprice to Mercedes C Class (which is fairly small) and up to a Mercedes R Class (a seven-seater)—that's without requesting something larger, which is possible with an additional co-payment.
Airports served
The airports are only located in the Asia-Pacific region, with the Australian airports being Sydney, Melbourne, Brisbane and Perth. Here is the full list:
| Country | Airport | Distance included (km) |
| --- | --- | --- |
| Australia | Brisbane | 20 |
| Australia | Melbourne | 25 |
| Australia | Perth | 20 |
| Australia | Sydney | 25 |
| Cambodia | Phnom Penh | 15 |
| China | Beijing | 40 |
| China | Guangzhou | 40 |
| China | Hangzhou | 40 |
| China | Shanghai Hongqiao | 25 |
| China | Shanghai Pudong | 50 |
| Hong Kong | Hong Kong Island | All |
| Hong Kong | Hong Kong Island S | All |
| Hong Kong | Kowloon | All |
| Hong Kong | New Territories | All |
| India | Bangalore | 40 |
| India | Delhi | 40 |
| India | Mumbai | 40 |
| Indonesia | Bali | 40 |
| Indonesia | Jakarta | 40 |
| Japan | Osaka Kansai | 50 |
| Japan | Tokyo Haneda | 30 |
| Japan | Tokyo Narita | 85 |
| Korea | Seoul Gimpo | 50 |
| Korea | Seoul Incheon | 50 |
| Macau | Macau | All |
| Malaysia | Kuala Lumpur | 75 |
| New Zealand | Auckland | 30 |
| Philippines | Manila | 25 |
| Singapore | Singapore | All |
| Taiwan | Kaohsiung | 15 |
| Taiwan | Songshan | 15 |
| Taiwan | Taipei | 45 |
| Thailand | Bangkok | 40 |
| Thailand | Phuket | 35 |
| Vietnam | Hanoi | 30 |
| Vietnam | Ho Chi Minh City | 20 |
Note that this list is accurate as of August 2018, so be sure to double check the Citi Prestige latest terms and conditions before relying on it.
Australian airports
The limousine service provider YQNow has confirmed to Point Hacks that the distance is calculated on kilometres driven on Google Maps, not on the direct distance between two points. This means that whilst the maps below show direct distance using a 20-25km radius from the airport, the actual limit will probably be closer in depending on the specific roads taken.
Sydney's 25km limit takes you to most of the North Shore, the start of the Western Suburbs and Cronulla to the south: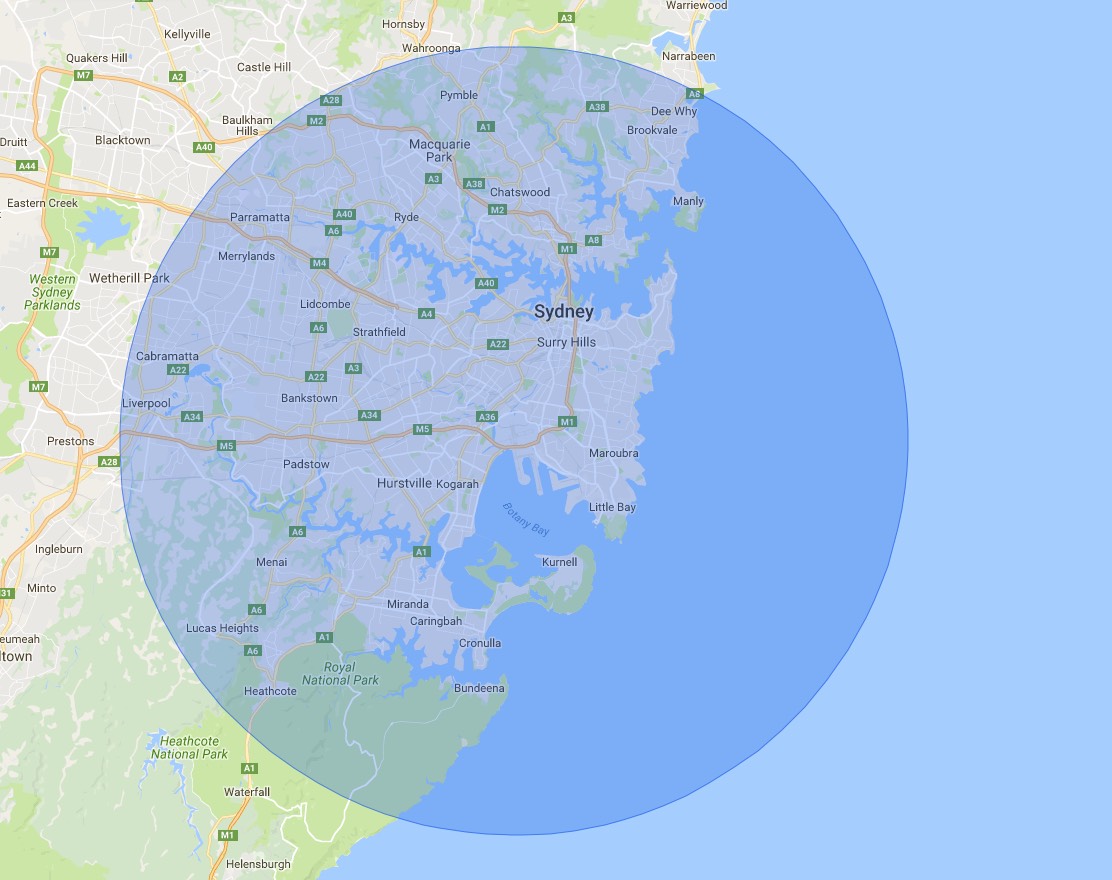 Melbourne's 25km limit takes you to the CBD and St Kilda but ignores many of the Eastern Suburbs: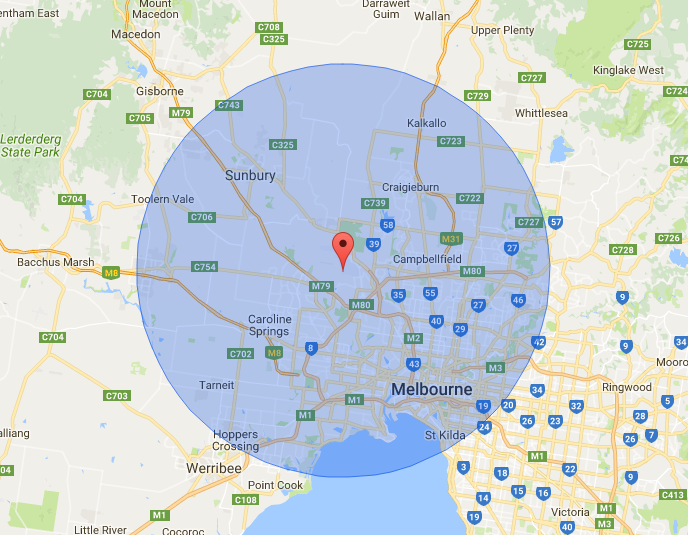 Brisbane's 20km limit stretches from North Lakes down to Sunnybank: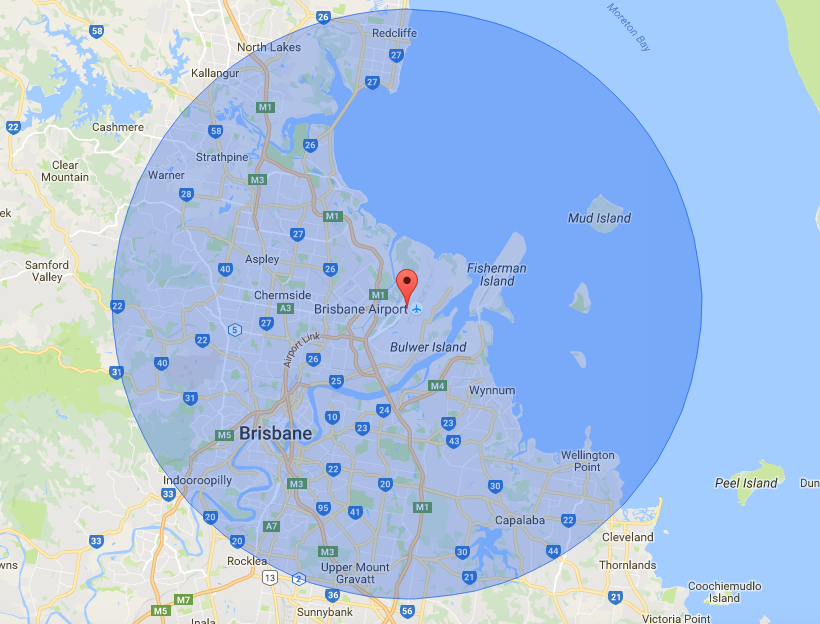 Perth's 20km limit covers a lot of the metropolitan area but does not reach Fremantle: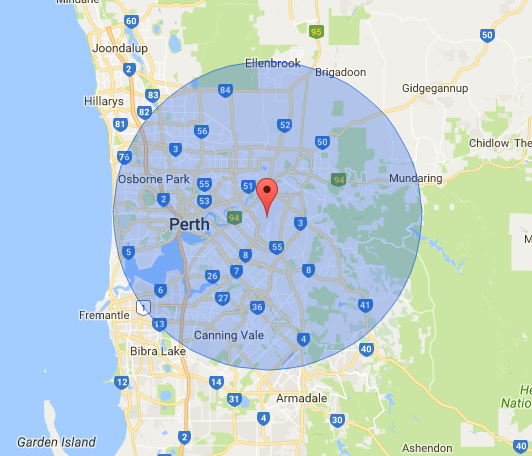 Good-value airports based on generous distance allowance
Even though these cities have good public transport options from their airports, the generous distance allowance is attractive for riding in a limousine.
Singapore (unlimited)
Hong Kong (unlimited)
Tokyo Narita (gets you all the way to the city. Public transport to/from Narita is modern and efficient given the distance but it can be expensive, especially for multiple passengers)
Kuala Lumpur
Shanghai Pudong (covers all of Pudong and a significant portion of Puxi)
Good-value airports based on poor traffic conditions
These cities tend to suffer from heavy traffic, so even if your accommodation is not too far from the airport, the convenience factor of being in a limo instead of a taxi, train or bus may be important to you.
Delhi (note that the modern metro line to airport is very modern, clean and comfortable if you can get to a nearby station easily)
Mumbai
Bangkok
Jakarta
Bali
Manila
Do you think any of the other cities represent good value for the limo transfers offered by Citi Prestige? Please share in the comments below.
Summing up
The Citi Prestige limousine transfer benefit offers good value and is available in our four biggest cities here in Australia, as well as a number of ones throughout Asia-Pacific.
Just make sure to use the two passes on two separate trips and if using them overseas, you will get the best value by choosing cities that either offer long distances or where you are going to sit in traffic—you might as well do it in comfort!
How to use the Citi Prestige Visa free limo transfer benefit and maximise its value
was last modified:
June 4th, 2019
by