Asia Miles is a very interesting frequent flyer program which we at Point Hacks feel isn't so familiar to most Aussie frequent flyers – but should be in your box of tricks.
It is not a simple or common program to earn miles from flights, and it also has a confusing set of award charts and routing rules. But by looking deeper into Asia Miles redemption options, there are a lot of hidden gems if you get into the details.
Considering Asia Miles can be earned relatively easily through American Express Membership Rewards, ANZ Rewards and Westpac Altitude Rewards, there are some good value opportunities here for using your points.

If you're completely new to Asia Miles, then start with our intro guide here. This guide will focus on how to use Asia Miles on an around the world trip, primarily in Business or First Class – but there's also value to be had with Economy redemptions too.
The basics: Asia Miles is a part of oneworld
oneworld is a strong alliance of around 15 member airlines, including Qantas. Here's the full list:
Air Berlin
American Airlines
British Airways
Cathay Pacific
Finnair
Iberia
Japan Airlines
LAN Airlines
TAM Airlines
Malaysia Airlines
Qatar Airways
S7 Airlines
Royal Jordanian
Sri Lankan Airlines
And Asia Miles is a points transfer partner of:
Getting into Asia Miles around the world redemptions
There is actually no specific award chart for around the world redemptions with Asia Miles. But if you look into their award charts, there are two that will allow round the world redemptions redemption.
The first is for a single Asia Miles partner airline, or you can mix one with Cathay Pacific or Dragon Air, but no more than 1 different partner. This makes it hard to redeem for an around the world itinerary – it's technically possible, but not the focus of this guide.
The second chart is the 'oneworld Multi-Carrier Award Chart. This award chart is applicable when you redeem a round-trip award ticket with an itinerary which covers:
Two oneworld alliance airlines, where Cathay Pacific (CX) or Dragonair (KA) is not included; or
Three or more oneworld alliance airlines when Cathay Pacific or Dragonair is included.
This might be slightly more limiting than the comparable Qantas award, as only up to two oneworld partners can be included if you don't have Cathay Pacific in your itinerary.
However, this is not a major problem for us in Australia as Cathay Pacific flies to all major Australian cities and as part of an around the world trip, it's not that inconvenient to have Hong Kong as a major hub.
Here is the award chart (as of July 2018):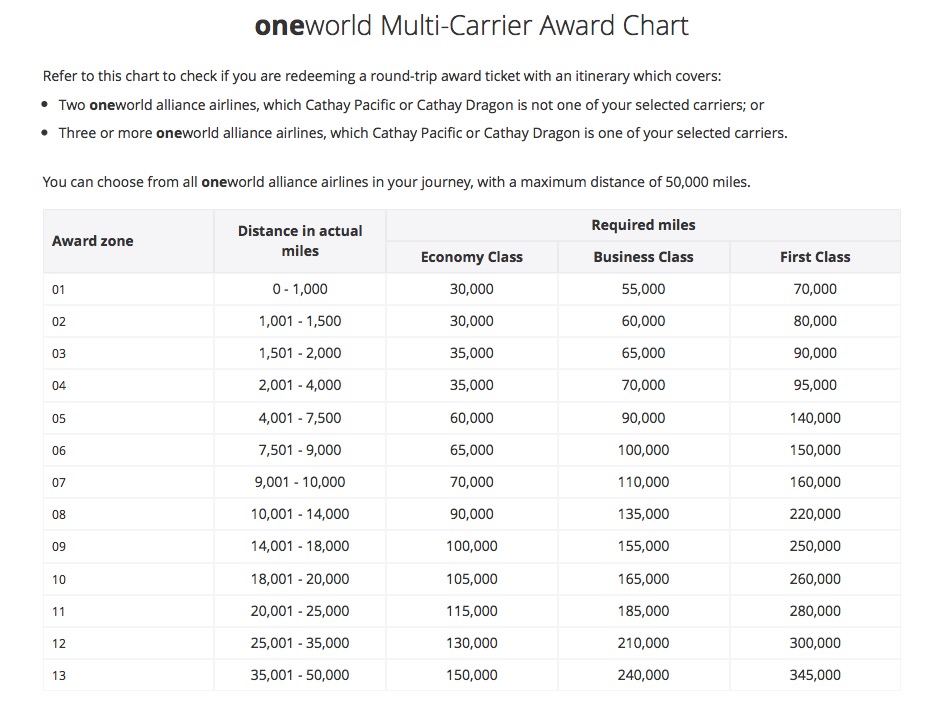 And the rules, in a nutshell:
You must redeem a roundtrip award ticket.
Your itinerary must include two Oneworld airlines not including Cathay Pacific or Dragonair, or three or more Oneworld airlines including Cathay Pacific or Dragonair.
The maximum distance range is up to 50,000 miles.
You can have a maximum of five stopovers, two transfers, and two open jaws either at the origin, en-route, or the turnaround point.
So if you can maximize the 5 stopovers and 2 open jaws, you can visit a whole range of cities around the world.
The major advantage of this Asia Miles redemption over Qantas' equivalent is that it is far cheaper!
Qantas allows an around the world itinerary up to 35,000 miles, but charges 280,000 Qantas Points in Business Class, and 420,000 in First Class.
For a similar distance, Asia Miles only charges 210,000 and 300,000 miles in business and first class respectively for distance up to 35,000 miles.
Comparing Qantas to Asia Miles, this is a whopping 120,000 points saving for first class!
An example itinerary
In the example below, you could have stopovers in
Hong Kong
San Francisco
Santiago
Frankfurt
Doha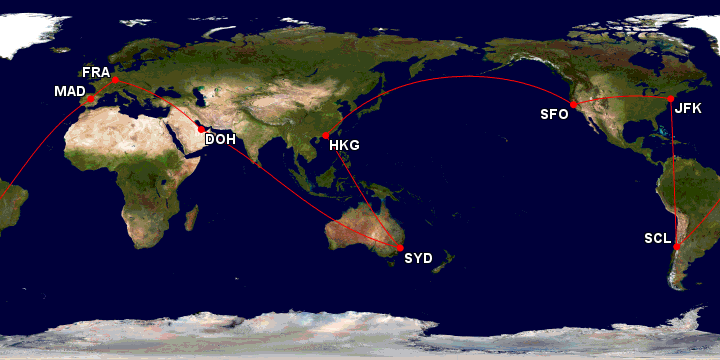 This routing comes in at 37,262 miles which is more than the distance Qantas would permit for their comparable round the world redemption, and costs less.
Now, here are the limitations:
You can have up to 5 stopovers
You can have up to two open-jaws (where you arrive into one city, but depart from another)
According to the rules you can only have 2 transits. This means if you need to use short-haul connecting flights to get to non-hub destinations, you can only have up to 2 in your itinerary, otherwise it will be considered as stopover.
To use this chart, you must use at least two oneworld partners
You can't use more than two oneworld partners without including Cathay Pacific or Dragonair
You can't include Cathay Pacific's non-oneworld partners such as Air China or Alaska Airlines.
Other than these few limitations, it can be great value if you maximise the 5 stopovers, 2 transits and 2 open jaws – if you do you can potentially visit up to 9 cities with much lower miles than required with Qantas Frequent Flyer.
To make things a bit easier, you can use the Asia Miles' Award finder and type in your itinerary and see how many miles you will need, or do the same via gcmap.com.
Making your booking, and taxes…
Asia Miles does impose fuel surcharges and taxes on their awards, so the usual tactics to minimise these would apply – these include avoiding high tax departure cities such as London or Frankfurt, and airlines like British Airways.
Taxes and fees should be comparable to if you used Qantas Points for the same flights.
Summing up – Asia Miles multi-carrier awards
These have to be redeemed over the phone with Asia Miles, and – big caveat – I am yet to redeem for one, so don't have any personal experience to share with booking. Yet.
That said, on paper these seem like excellent value for holders of points balances that can be transferred to Asia Miles, and who wish to travel on a lengthy around the world itinerary in Business or First Class.
Using Asia Miles 'multi-carrier' awards for great value around the world redemptions with oneworld
was last modified:
July 21st, 2018
by