Update: Alitalia has now added Virgin Australia codeshare numbers to many of its domestic flights from Rome to other Italian cities, including Venice, Florence and Palermo. You can check the list here.
Crediting Virgin Australia flights bought this month to MilleMiglia instead of Velocity will net you double miles in Economy Class and triple miles in Business, but is it worth the switch? If flying domestically, no; but if travelling abroad, yes.
The promotion details
Double miles in Economy and Premium Economy Class
Triple miles in Business Class
Booking period: 1 to 30 September 2016
Travel period: 1 September 2016 to 28 February 2017
Full details of the promotion can be found here.
Flights must carry Virgin Australia and Alitalia codeshare flight numbers, however it seems that Virgin Australia flights cannot be booked through the Alitalia website (as shown below), so we are assuming you can book through the Virgin Australia website (or a third party) and link your MilleMiglia membership number to the ticket at the time of booking or check-in.

Eligible routes
Domestic flights
Virgin Australia flights between Sydney and:
Adelaide
Ballina
Coffs Harbour
Gold Coast
Hobart
Melbourne
Perth
Sunshine Coast
International flights
Virgin Australia flights between:
Alitalia flights between:
Abu Dhabi and Rome
Abu Dhabi and Milan
Abu Dhabi and Venice (until 29 October 2016)
Ad – Scroll down to continue reading.Minimum spend, terms & conditions apply.
When does it make sense to credit to MilleMiglia instead of Velocity?
MilleMiglia awards miles based on the distance flown, whilst Velocity awards a generous 5 Velocity Points per $1 spent on domestic flights and has a distance-based award chart for international flights.
I took three routes as examples to compare the earning potential based on fare class. For the Sydney to Melbourne flight, I searched for fares on a random weekday in November 2016 for each of the fare classes in order to calculate the VA earn.
The winner of each class is highlighted in bold. Where there is no number bolded, it means that the earning is equal in both programs.
One-way Flight and Fare Class
Earning with Velocity
Regular earning with MilleMiglia
Earning with MilleMilgia with bonus
Sydney to Melbourne on VA
Deep Discount Economy (S Class)
580 ($116 fare)
109
218
Discount Economy (T)
780 ($156 fare)
219
438
Economy (Y)
1480 ($296 fare)
438
876
Business (D)
3755 ($751 fare)
876
2628
Sydney to Abu Dhabi on VA
Deep Discount Economy (S)
3745
1872
3745
Discount Economy (T)
3745
3745
7490
Economy (Y)
7490
7490
14980
Business (D)
14980
14980
44940
Abu Dhabi to Rome on Alitalia
Deep Discount Economy (S)
1345
672.5
1345
Discount Economy (T)
2690
1345
2690
Economy (Y)
2690
2690
5380
Business (D)
5380
5380
16140
My conclusion is that if you are purchasing a ticket on Virgin Australia between Sydney and a domestic destination, you will earn more points when you credit to Velocity instead of MilleMiglia.
Conversely, if you are flying from Sydney to Abu Dhabi on Virgin Australia and potentially then onto one of the three Italian destinations (Rome, Milan or Venice) on Alitalia on a full-fare Economy or Business Class ticket, with this temporary bonus, you will earn more points through MilleMiglia.
If you are flying internationally on a Deep Discount or Discount Economy ticket, there is either no or little difference between the programs, so you should probably stick to Velocity for geographical reasons.
Where can your MilleMiglia miles get you?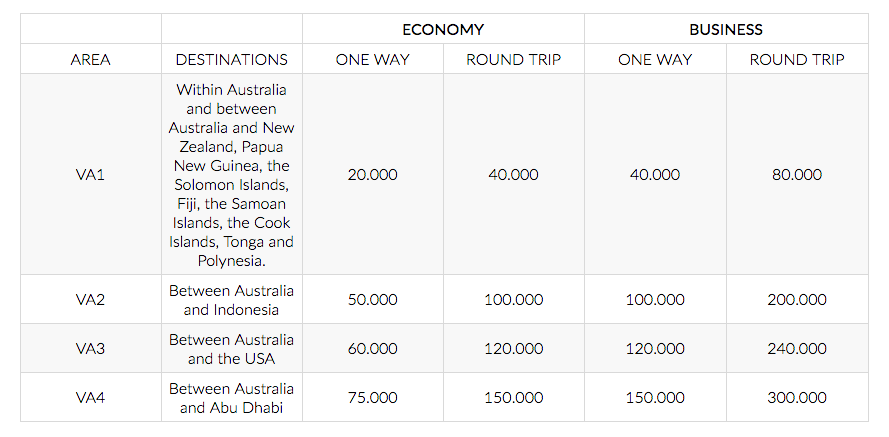 Flying return on a full-fare Economy Class ticket from Sydney to Italy will net you just over 40,000 miles with MilleMiglia, which is enough for a one-way Business Class ticket on a Virgin Australia flight within Australia or to the Pacific Islands. (For the same return flight credited to Velocity, you'd only get enough points for a one-way Business Class flight between Sydney and Melbourne.)
If flying in Business, you'll rack up just over 120,000 miles, which is a one-way Business Class ticket to the US, potentially in Virgin Australia's new 777 Business Class.
Joining MilleMiglia
You can join MilleMiglia here, and you will get a 2,000-point welcome bonus.
Featured image courtesy of Alitalia.
Alitalia's MilleMiglia program offers up to triple miles on Virgin Australia flights, but does it make sense to take advantage of it?
was last modified:
December 21st, 2017
by