Starwood Preferred Guest is running a Starpoints purchase promotion, with a discount offer of up to 30%. Aside from the targeted offer back in November, this is about the best discount you can get for Starpoints.
The maximum purchase is 30,000 points, and the 30% discount starts at purchases of 20,000 points, which will cost $490 USD. The deal runs until 30 April.
This is a great deal for Starwood points with value to be had from high-end, usually expensive hotel stays, or transferring to one of many partner frequent flyer programs.
You can find value in the usually inaccessible currencies for points purchasing like KrisFlyer, Velocity or Asia Miles, all of whom partner with Starwood.
The current Starpoints promotion
Discounts are tiered as follows:
0 to 4,000 Starpoints: no discount
5,000 to 9,000 Starpoints: 10% discount
10,000 to 14,000 Starpoints: 15% discount
15,000 to 17,000 Starpoints: 20% discount
20,000 to 30,000 Starpoints: 30% discount
At the 30% discount level, this yields a cost of 2.45 USD cents per Starpoint, or if all 20,000 points are transferred to airline miles with the 5,000 point bonus, 1.96 USD cents per airline mile at 25,000 miles.
You'll need to have SPG accounts that are at least 12 days old to take advantage of this deal, so sign yourself and other family members up (with their permission!) for the current (or future) promotions.
Finally, with the merger of Starwood and Marriott well underway, it's worth understanding that the SPG program is going through a range of changes. For now, you can transfer points out to Marriott Rewards at 3 Marriott Rewards = 1 Starpoint. This opens up some new opportunities for redemption too, which you can read more about here, but these are not points to buy and hold for the long term (as usual with most points currencies).
---
Guide to buying Starpoints from SPG for cheap hotel stays and airline transfers
Offer history
March-April 2017 (current offer): 30% discount
November-December 2016: 50% discount (targeted)
June 2016: 30% discount
March 2016: 25% discount
December 2015: 25% discount
September 2015: 20% bonus
May 2015: 25% discount
December 2014: 25% discount
May 2014: 25% discount
Using Starpoints to transfer into airline miles/points
Starwood Preferred Guest has the widest range of airline partners out there, including Velocity, Krisflyer and Asia Miles – but not Qantas Frequent Flyer. The full list of transfer partners and ratios is below.
For all 1:1 transfer partners, for a transfer of 20,000 points you'll also get a bonus of 5,000 additional airline points or miles, which really makes it worth targeting that 20,000 point transfer as the sweet spot.
| Frequent Flyer Programs | Exchange Ratio - Starpoints:Airline Miles |
| --- | --- |
| Aeromexico Club Premier | 1:1 |
| Aeroplan/Air Canada | 1:1 |
| Air Berlin | 1:1 |
| Air China Companion | 1:1 |
| Air New Zealand & Air Points | 65:1 |
| Alaska Airlines Mileage Plan | 1:1 |
| Alitalia MileMiglia | 1:1 |
| All Nippon Airways (ANA) Mileage Club | 1:1 |
| American Airlines AAdvantage | 1:1 |
| Asia Miles | 1:1 |
| Asiana Airlines | 1:1 |
| British Airways Executive Club | 1:1 |
| China Eastern Airlines | 1:1 |
| China Southern Airlines Sky Pearl Club | 1:1 |
| Delta Air Lines SkyMiles | 1:1 |
| Emirates Skywards | 1:1 |
| Etihad Airways | 1:1 |
| Flying Blue | 1:1 |
| Gol Smiles | 2:1 |
| Hainan Airlines | 1:1 |
| Hawaiian Airlines | 1:1 |
| Japan Airlines (JAL) Mileage Bank | 1:1 |
| LAN Airlines LANPASS Kms | 1:1:5 |
| Miles and More | 1:1 |
| Qatar Airways | 1:1 |
| Saudi Arabian Airlines | 1:1 |
| Singapore Airlines KrisFlyer | 1:1 |
| Thai Airways International Royal Orchid Plus | 1:1 |
| US Airways Dividend Miles | 1:1 |
| United Mileage Plus | 2:1 |
| Virgin Atlantic Flying Club | 1:1 |
| Virgin Australia | 1:1 |
Example uses of Starpoints
I've used Starpoints to top up a range of my frequent flyer accounts for redemptions, including American Airlines, Velocity, Asia Miles and KrisFlyer. I've also redeemed Starpoints for exclusive events through SPG Moments, and for hotel stays.


Using my Amex points for an F1 experience: SPG Moments package at the 2014 Melbourne Grand Prix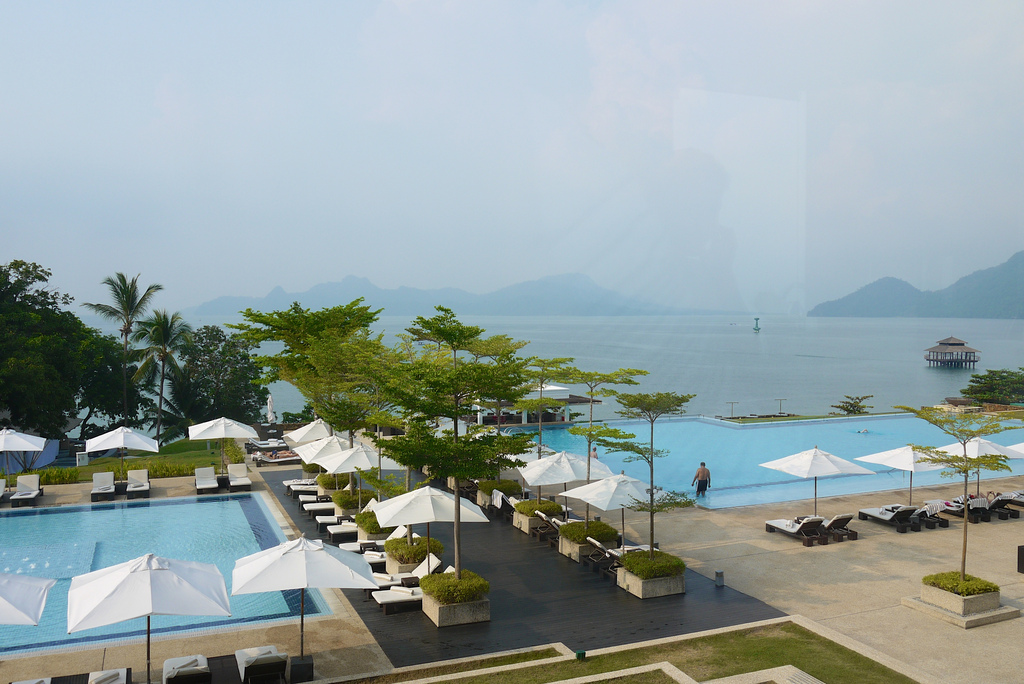 The Westin Langkawi Resort & Spa Review – Langkawi, Malaysia
The use for airline redemptions is too broad to cover off in one guide, but for starters have a read of the following guides to give you some ideas:
Limitations on purchase and transfer amounts
Starwood put a 30,000 limit on the maximum number of points per SPG account you can purchase per (calendar) year, so at first glance it seems like this promotion can't be used for large purchase amounts.
However, one way to get around this restriction is to use household points transfers, where SPG allows members who have the same address on their account the ability to transfer between accounts.
You would purchase miles for each account individually, and then request a 'household' transfer, which can be made online or over the phone. Thanks to One Mile at a Time for this tip.
There are also techniques to follow to maximise the amount of airline miles you can receive from SPG transfers.
There's a limit of 79,000 miles that be transferred out of your account per 24 hours, and given that Starwood only awards the 5,000 point bonus for 20,000 point transfers, you'll miss out on one chunk of 5,000 bonus points if you transfer the maximum 79,999 Starpoints.
As a result, the transfer sweet spot is 60,000 SPG points to 75,000 airline miles, so to maximise the bonus, transfer no more than 60,000 points (to a single program) per 24 hours.
Some transfer bonus examples come out as follows:
10k SPG = 10k airline miles
20k SPG = 25k airline miles (20k + 5k bonus)
30k SPG = 35k airline miles
40k SPG = 50k airline miles (40k + 10k bonus)
50k SPG = 60k airline miles
60k SPG = 75k airline miles (60k + 15k bonus)
70k SPG = 85k airline miles
79,999 SPG = 94,999 miles (79k + 15k bonus)
Conclusion
Starpoint purchases can be an excellent way to top up an overseas frequent flyer account, where miles or points are otherwise hard to come by. The sheer volume of their transfer partners yields a lot of opportunities to use these points.
You can also leverage them into cheaper hotel stays, but that's completely dependent on the nightly rate a hotel is charging on a given night, versus what they want to charge in Starpoints.
There may be an opportunity for your specific hotel stay plans, so check on that if you have any stays coming up.