Tigerair and Scoot have joined forces with six other airlines in Asia to take on AirAsia and Jetstar, as well as the three full-service alliances, offering passengers more destinations and a streamlined booking process.
The Value Alliance, launched in May 2016, is the world's biggest alliance of budget airlines, competing against only one other low-cost alliance, U-FLY Alliance, centered on China, Hong Kong and Southeast Asia, which was launched in January 2016.
The Value Alliance has service to over 160 destinations on 176 aircraft, from Australia to Japan, and the Philippines to the Middle East – here's what to expect if you book and fly with one of their member airlines in future.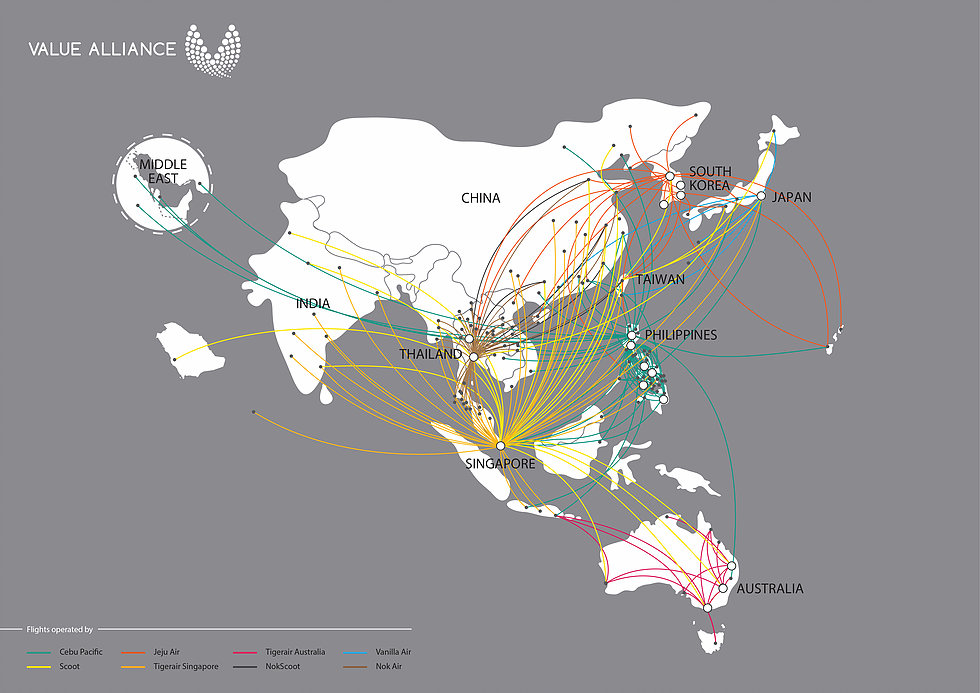 The current full-service airlines are Star Alliance (with 27 members), SkyTeam (20) and oneworld (15). (Side note: oneworld was named Best Airline Alliance in the 2015 Skytrax World Airline Awards, followed by Star Alliance in second and SkyTeam last. It seems like the biggest isn't always the best).
Which airlines are members?


Tigerair Australia (Australia)
Scoot (Singapore; subsidiary of Singapore Airlines)
Tigerair (Singapore; subsidiary of Singapore Airlines)
Vanilla Air (Japan; subsidiary of ANA)
Cebu Pacific (Phillipines)
Jeju Air (South Korea)
Nok Air (Thailand)
NokScoot (Thailand)
Why did these airlines decide to band together?
1. To compete with AirAsia and Jetstar
This alliance is designed to compete with dominance of AirAsia, Asia's largest low-cost carrier with 15% of the Asian budget market and the fastest-growing major low-cost airline in the world, and Jetstar, which has a 9% market share.
Scoot CEO Campbell Wilson, posed the question:
"Would we want to share that with other airline groupings? We are doing this for our own strategic reasons. The fact that you don't see some airlines here is self-explanatory."
2. To take advantage of growing demand in Asia
This alliance is focussed on Asia, in which Boeing has estimated 100 new passengers to enter the market over the next few years, creating demand for over 10,000 new single-aisle planes, such as the Airbus A320 and Boeing 737, over the next 20 years.
Ad – Scroll down to continue reading.Minimum spend, terms & conditions apply.
What benefits can you expect as a passenger?
Search and book flights, checked baggage and meals for all eight airlines through one member's website
If one carrier's flight is cancelled or delayed, you will not need to worry about paying rebooking fees, as the other airlines will rebook you
What downsides do you need to be aware of?
As they are low-cost carriers, be aware of extra charges for services such as checked baggage, meals and seat selection (ancillary services account for ~20% of LCCs' revenue)
Currently need to collect and re-check baggage when transferring between airlines (could change as the alliance develops further)
As opposed to the three full-service alliances, this one does not allow access to airline lounges, nor is there any word yet on earning and redeeming miles through reciprocal frequent flyer programs
May lead to collusive behaviour, meaning prices could well rise due to the sharing of pricing data between the airlines
Summing up
Passengers from Australia will be able to take advantage of easier connectivity between low-cost carriers and more destinations in Asia, but currently need to factor in extra time to collect and recheck baggage between airlines.
Travellers also need to be aware that meals and checked baggage are not included in these airlines' fares, with the earnest money-savers advised to fly with carry-on baggage and bring self-prepared food.
Budget airlines in Asia unite to form Value Alliance – including Tigerair and Scoot
was last modified:
November 30th, 2017
by