Last week American Airlines' and Qantas CEO's Doug Parker and Alan Joyce called an impromptu press conference in Wellington, announcing American Airlines service to Auckland to commence in June 2016.
The route will be flown daily with an American 787 as part of the Qantas and American Airlines proposed joint venture, as part of their recent announcement of American service to Sydney and Qantas to San Francisco.
I wanted to put a bit of work into looking at what this means for Australian travellers, as this isn't just a play for in/outbound travel from New Zealand for American Airlines.
I actually flew Qantas' old A330 service on the Auckland – Los Angeles – New York route back in 2011. It was one of my earlier reviews for this site, so it's nice to be able to dig that out of the archives.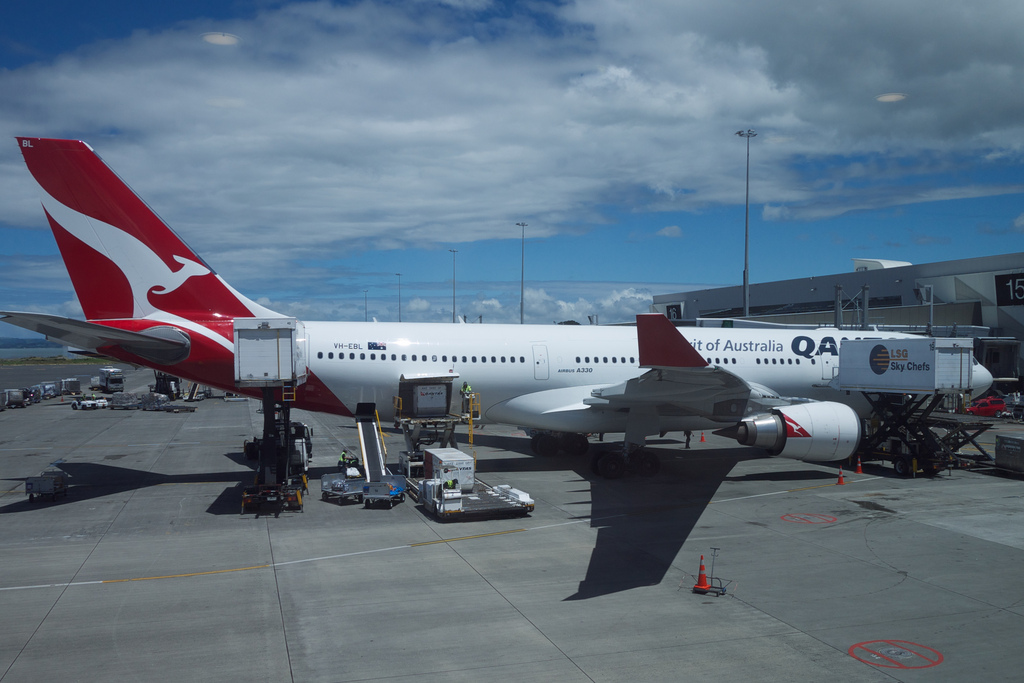 American's 787 Business Class is quite a step up from Qantas' A330 from just a few years ago, offering a Herringbone layout with full aisle access for everyone.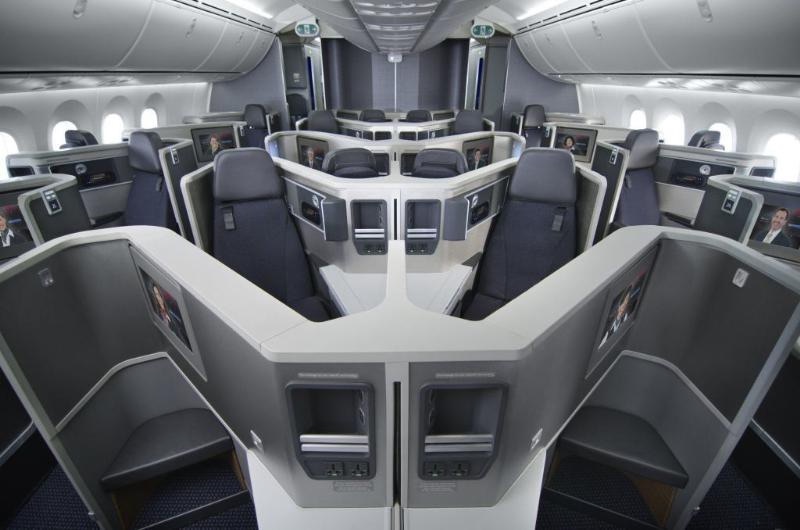 Air New Zealand's existing services are more plentiful and fairly convenient for many Australian travellers, but points redemption availability in premium classes is lacking
Air New Zealand has a number of direct destination options to the US from their Auckland hub, with Houston service coming online with United, plus their existing flights to Vancouver and Los Angeles. This has them as an option for many Aussie travellers looking for paid fares to the US given the relatively easy international to international connection in Auckland.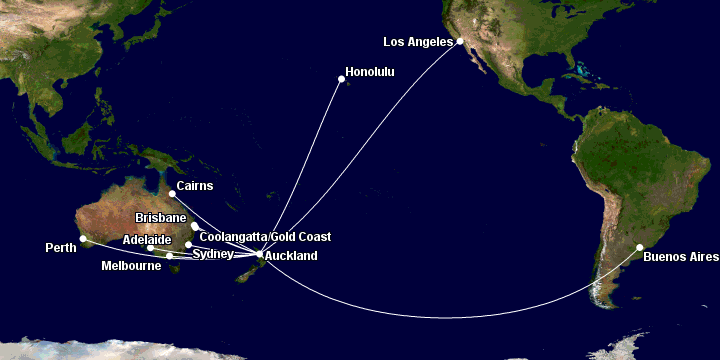 Air New Zealand's non-existent availability for using frequent flyer points of partner airlines (such as Velocity) is renowned.
Their Airpoints program is also a 'revenue-based' frequent flyer program, meaning their own points are earned and used based on the exact fare you pay for / want to use those points for. The currency is called 'Airpoints Dollars' for a reason.
This new route therefore makes the new Qantas / American route an option for those looking for ways to use points to head across The Pacific, despite Air New Zealand's penetration in the Australian market for both Australian -> New Zealand and connecting traffic to the USA or South America.
As an aside – Airpoints is a partner with most Aussie banks, so for the points -rich it could make sense to redeem for Air New Zealand if you have the points needed, as redemption availability through their program for Air New Zealand operated flights is excellent – you are essentially purchasing a paid fare using points instead of cash.
Ad – Scroll down to continue reading.Minimum spend, terms & conditions apply.
American service to Auckland should add additional connection options for a range of destinations, using points or cash
The proposed departure time of 1.20pm in the afternoon could allow the new Auckland to Los Angeles service some connections from around Australia. The current Perth – Auckland Qantas service even arrives in the morning, offering an extra option for WA residents to the US (and with a more seamless connection logistically than in Sydney).
As of today, Qantas services the following routes to Auckland: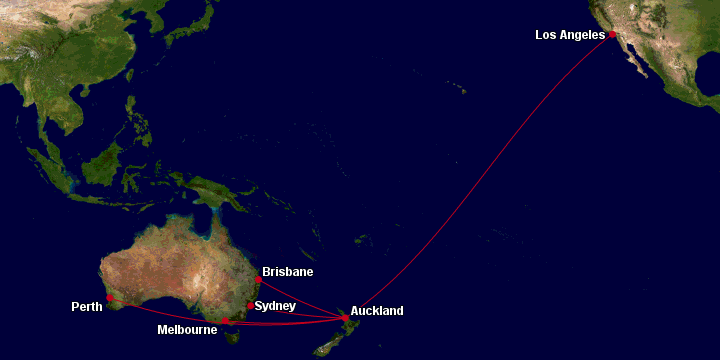 The return service arrives back in Auckland at 6.35am from Los Angeles, allowing for plenty of onward connections back to Australia or domestically within New Zealand.
There could be a number of connections from Jetstar as well – Jetstar flies from the Gold Coast to Auckland, but maybe other second-city destinations might open for Jetstar and/or Qantas connections.
With the joint venture on the cards between American and Qantas, my understanding is that in theory neither party should care (from a revenue point of view) which airline their customer's fly with, as any revenue, costs and profit will be shared.
As a result, Qantas could have some incentives to maximise profit by offering better connections to the US, although there aren't many city pair connections in terms of outright distance that could be improved dramatically by routing via Auckland over Sydney, Brisbane or Melbourne.
In terms of paid fare revenue, it seems like this is mostly a play for the New Zealand to US market, with maybe some upside for Australia to US too.
Total travel time could be improved by having a single international to international connection in Auckland, rather than domestic to international in Sydney. The travel experience at the least would be better.
But guess what I care most about? More points redemption options (here's hoping).
When points redemption seats across the Pacific are so limited, any availability on the New Zealand American Airlines flight would be snapped up despite an additional connection.
Jetstar gets a vague mention in the media release, so I am assuming that Jetstar flights will be bookable as Qantas codeshares when paying for a fare through Qantas or American.
Jetstar flights are also redeemable using Qantas Points.
As the primary points currency with access to Jetstar, Qantas Frequent Flyer gets a leg-up over other oneworld frequent flyer program options (including American Airlines own AAdvantage program) for redemptions including Jetstar connections to or within New Zealand.
With the recent expansion in Jetstar's domestic operations in New Zealand, then assuming codeshares are put in place this definitely puts the Qantas / American business on the map as an option for New Zealand travellers heading to Los Angeles, for both Qantas Point redeemers or those using cash.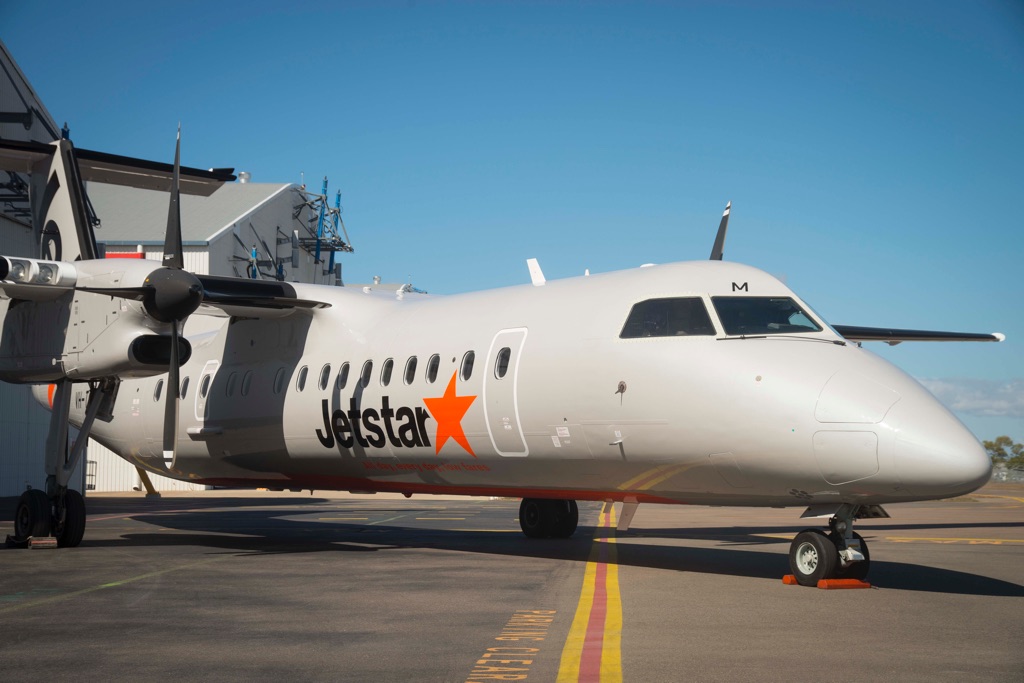 A Jetstar Q300 on it's way to New Zealand after repainting from Qantas livery, courtesy Jetstar
When will bookings open for American's Auckland – Los Angeles route, will points seats be available?
Bookings are not currently open, and the exact timing / schedule has not been confirmed.
As a result there's no award space to check yet – but given American's lack of release of the cheaper level award space on the Sydney flight launch, I wouldn't expect anything different on the Auckland route.
I'll keep looking though once the calendar opens up and will of course let you know if a significant amount of space comes available.
How many points will be needed to redeem for Auckland – Los Angeles with American?
Auckland to Los Angeles is 6,504 miles. For Qantas Classic Awards, this falls squarely into Zone 7 (5,801 to 7,000 miles), meaning a cost of 42,000 Qantas Points in Economy, 84,000 in Business, and 126,000 in First Class.
By contrast, both Sydney, Brisbane and Melbourne to Los Angeles all fall into Zone 8, costing 48,000, 96,000 and 144,000 Qantas Points for each of the three cabins, one way.
This is only a small saving, but is worth keeping in mind if you are short of a few points and American ends up having availability.
When using Qantas Points with domestic New Zealand connections using Jetstar, some of the cities further south actually will fall into Zone 8 at over 7,000 miles for the total distance to Los Angeles, for example Dunedin at 7,164 miles. Christchurch and Wellington would fall into Zone 7 though.
There won't be many routes, but I'd recommend Qantas make exceptions for any routes in New Zealand that do full into Zone 7 to ease redemption pricing for all concerned.
With Cathay Pacific's Asia Miles program, this route falls in the middle of Zone D, which is 5,001 to 7,500 miles. This is the same as Sydney and Brisbane to Los Angeles, so there's no gain to be had by targeting Auckland as a redemption option with Asia Miles.
The current AAdvantage award chart is zone based, so it's the same as Australia – USA at 37,500 miles one way in Economy 62,500 miles in Business Class, and 72,500 in First Class. You could connect from anywhere Australia (on a Qantas, but not Jetstar flight) for the same points cost, unlike Qantas which would charge you extra points. for most connecting flights to Sydney, Melbourne, Brisbane or Auckland.
That pretty much rounds up my thoughts on this route announcement!
It's a nice addition to the route portfolio for Qantas and American, and will in the long run open up some new redemption opportunities for points-collectors – primarily for New Zealanders, but also Aussies.
They will only come though once American have route bookings up and running and start allowing points redemptions on the new flights. This could take some time – possibly even after the route has started operating – so don't hold your breath for access in the near future.
American Airlines to add New Zealand to their route network in mid-2016 – my take for Australians using points for flights to the USA
was last modified:
November 24th, 2015
by