You may have read Todd's post on Buying United Mileage Plus for cheap Star Alliance Business & First Class redemptions. With his experience in buying United Mileage Plus points for first class travel, Todd has uncovered a new way to utilise United Airlines' status match to achieve Hertz Gold Rewards status.
United Airlines had recently announced that they will upgrade any of their Silver, Gold, Premier Platinum, and Premier 1K members to the equivalent (a generous perspective of Hertz Gold Rewards) status within the Hertz program.
In this guide, Todd explains the step-by-step process of achieving the two status matches (assuming you don't already hold status with United Airlines).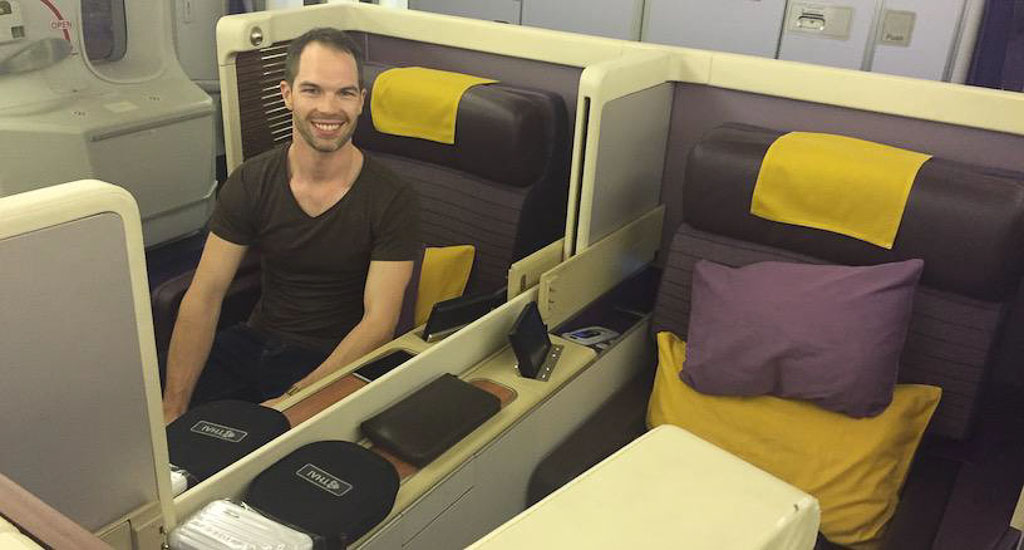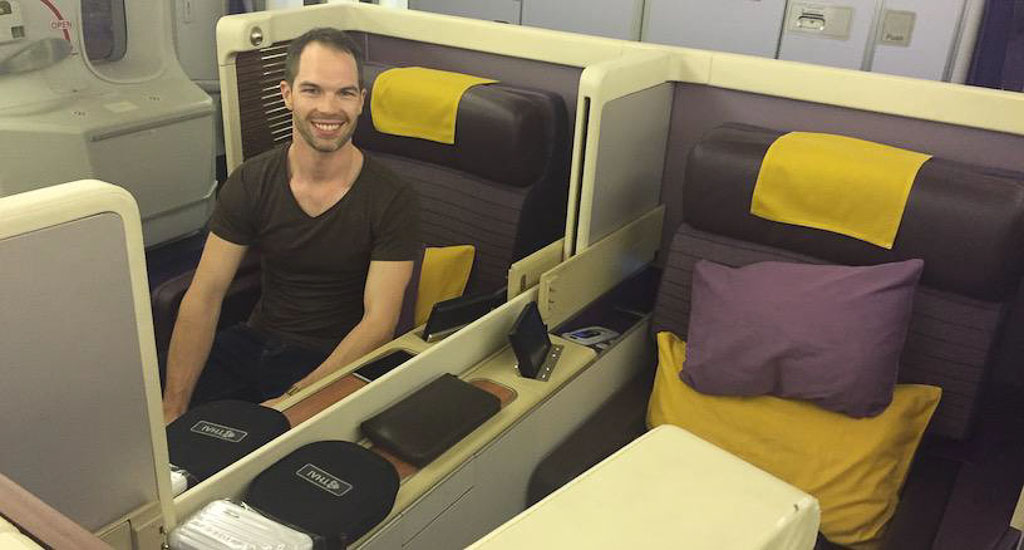 Todd flying First Class in the Thai Airways 747 from Bangkok to Sydney using United Mileage Plus points.
When it comes to prestige cars and those that turn heads, Point Hacks contributor Todd Heslin is an expert, and runs RideHacks — a site specifically for hacking prestige car rentals.
The RideHacks Ultimate Guide to Hertz has also been tailored for the Point Hacks community. That guide goes into the details of the Hertz program – where the best value can be mined, and how to find your way into an Audi, BMW or Porsche this weekend.
To bring this all together, United also offer a Status Match for anyone holding status with a non-Star Alliance airline. Therefore the simple version is:
Request for United Airlines to match your status from another airline.
Apply for the Hertz status match.
Find yourself with benefits that would otherwise require a minimum spend of AU$3,500 or AU$5,600 with Hertz.
How to use this status match opportunity
Important: There is no harm in enrolling in both programs below, however for the Status Match benefit, you must first be a Silver or above in any non-Star Alliance airline. Therefore Virgin Velocity and Qantas Frequent Flyer are both acceptable.
Step 1 – Enrolling (if you haven't already)
To start with we need to first have a United Airlines Mileage Plus account and Hertz Gold Rewards account.
Click here to enroll in the United Airlines Mileage Plus program
Click here to enroll in the Hertz Gold Rewards program
When you are enrolling in Hertz Gold Rewards, I suggest that you enter the American Express CDP number. Although it's supposed to only be used by members, it's rarely (i.e. never yet to date) been checked and will give you a better discount than United, or any other airline except for Etihad, will give you.
Amex CDP code: 705500
If you try this and it doesn't work, leave a comment below and we'll amend the article.
Step 2 – Requesting the United Status Match
Send the following email to [email protected]
Hello,
I am new to United Mileage Plus however I have read that you do status matches on this page:
I would like to utilise my existing status with [your current airline] to match this with Mileage Plus. Here are my details:
Account number:
[enter your account number]
Mailing address:
[Enter your mailing address]
A copy of my [other airline program] card is attached.
Could you please process this upgrade for me?
Many thanks
[Your Name]
Use this template, ensure you update all of the details to your own and scan/attach your card from another airline that clearly shows your name and status level. They will decline your request if you don't have a clear scanned card.
My request was sent at 10am on 3 November and I received a response roughly a week later on 11 November at 2am. My Etihad Gold Status had been matched to United Airlines Premier Gold Status for a 90-day challenge.
It's worth noting at this point, you don't automatically receive the status and you have to actually fly a minimum number of miles within 90 days to retain it.
My calculations were that a return economy flight to LAX or SFO would lock me into Star Alliance Gold benefits for another 12 months. A round trip would be about $1500 however some folks in the Point Hacks community have advised me that the 14-hour flight in economy wouldn't be worth it just to retain the status. However this is worth noting if you plan on heading to the US anyway.
Step 3 – apply for the Hertz Status match
You've done all the hard work and this final step is quite straight-forward:
Head over to: https://www.hertzstatus.mileageplus.com/
Enter in your details for both programs and the screen will look like this.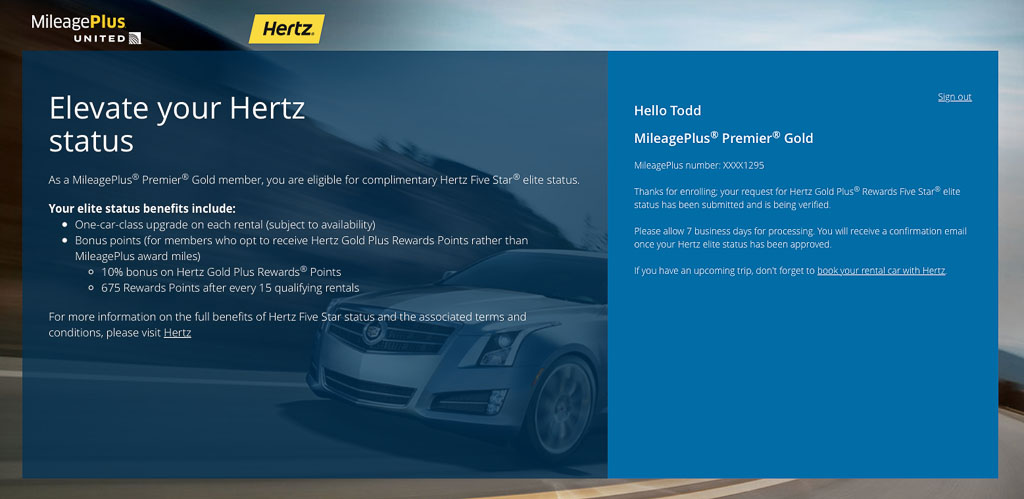 My request was submitted on the 16th November at 3:30pm and approved by the 19th November at 5:00pm.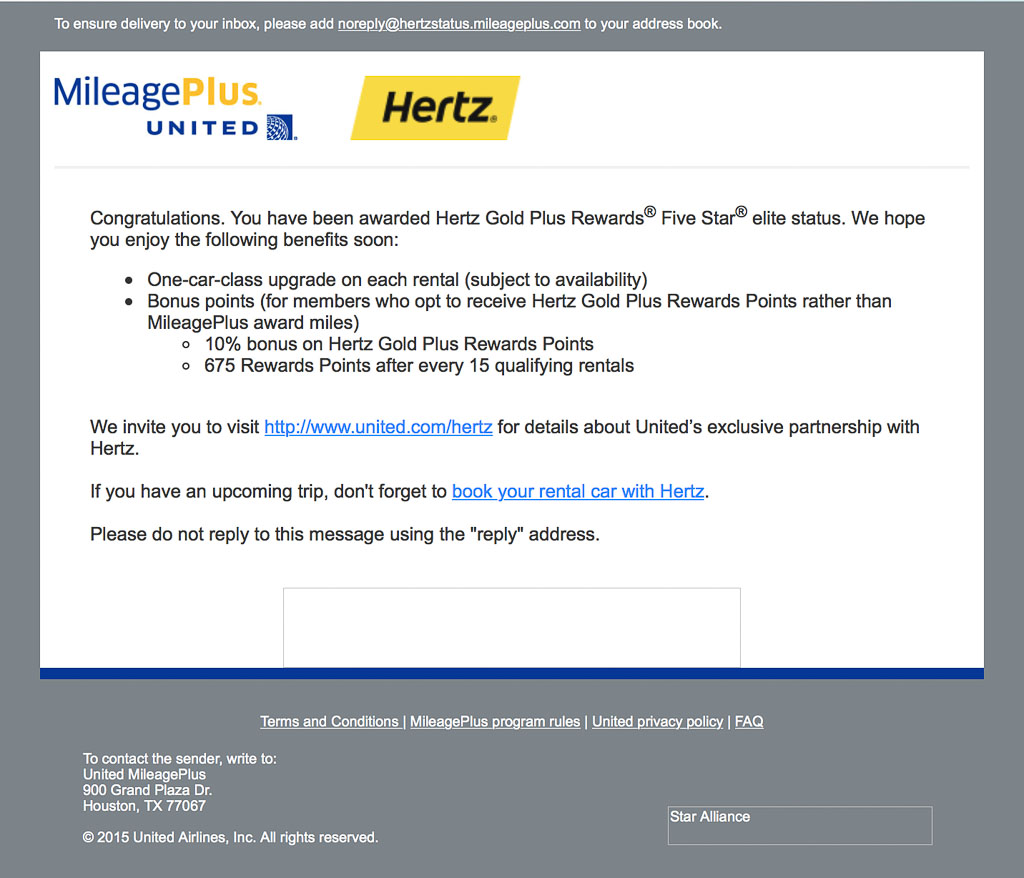 Ad – Scroll down to continue reading.Minimum spend, terms & conditions apply.
Hertz President's Circle – why not?
11:30am on a Wednesday morning, the double-shot cappuccino moments from my mouth, and writing the first words of my Guide to Hertz Rentals. My iPhone rings:
Hello Mr Heslin, this is Karen from Hertz.
[Small talk]
I realise you have a booking of the Porsche Cayman on the 5th of December. Unfortunately the car is no longer available. Could we try another day?
Only a few days earlier, I opened my email and received an offer from Hertz that seemed like the perfect opportunity: 20% off Hertz rentals for the month of November.
In researching this deal that I eventually, and somewhat reluctantly, posted in the deals section of RideHacks, I quickly realised that there was absolutely no availability of the two Porsche Caymans they had in Sydney during the offer period. Seemed like bait and switch to me, but instead of whinging, I booked in the car for December to secure a review for the RideHacks readers.
When the call came through, I felt the immediate disappointment that my goal of reviewing the Porsche Cayman would be pushed into 2016. But then Karen asked in a polite, yet somewhat telesales tone (she is better at customer service than sales):
We have one sitting in the city washed and ready to go if you want to take it today. Do you want to take it?
Naturally, I had the upper hand now. Although they needed to find another time to sit me down in the Cayman, they had excess inventory burning $350 per day unless I agreed to take the car today. Without sounding like an American used car salesman (you can hear the voice), I responded with:
Karen, I know the rate I was provided was for the weekend. I assume it would be a bit cheaper during the week right?
I didn't have the heart to drill her on the opportunity cost to Hertz at the tune of $350 per day. She sounded so…nice. It would have been like taking a kid with training wheels onto a plank obstacle course. Instead, she took my question onboard, checked with her boss and called back to confirm that she could discount the usual $300 daily rate to $250. Negotiation was done from my side, I took the deal.
You can read my review of that Hertz Porsche Cayman here.
I wonder how this situation would be different if I had been a Hertz President's Circle member?
The Hertz Program
Hertz is one of the three major rental companies who offer a prestige or luxury fleet. They also have a loyalty program called the Hertz Gold Rewards program. Although I cover the details of the program, it's benefits and drawbacks in the Ultimate Guide to Hertz Prestige Rentals, here is the summary.
There are three status levels obtainable in the current Hertz Gold Plus loyalty program:
Gold Plus Rewards
Five star
President's Circle
It's free to join the Gold Plus program, and the primary benefit of joining is access to the Hertz Gold Plus priority counter (not at all locations).
When you earn your status up to Five Star and President's Circle status, does much change? On paper, not really. You definitely earn some bonus points for your rentals and receive upgrades for all cars, but not the good stuff (Audi, BMW, Porsche). But if you can acquire this status without paying any dollars to Hertz, why wouldn't you?
More interestingly, Hertz have recently been sending surveys testing out what their members value. It seems like the program is about to be overhauled. If you're holding the top status during the changes, chances are you will be looked after. We hope.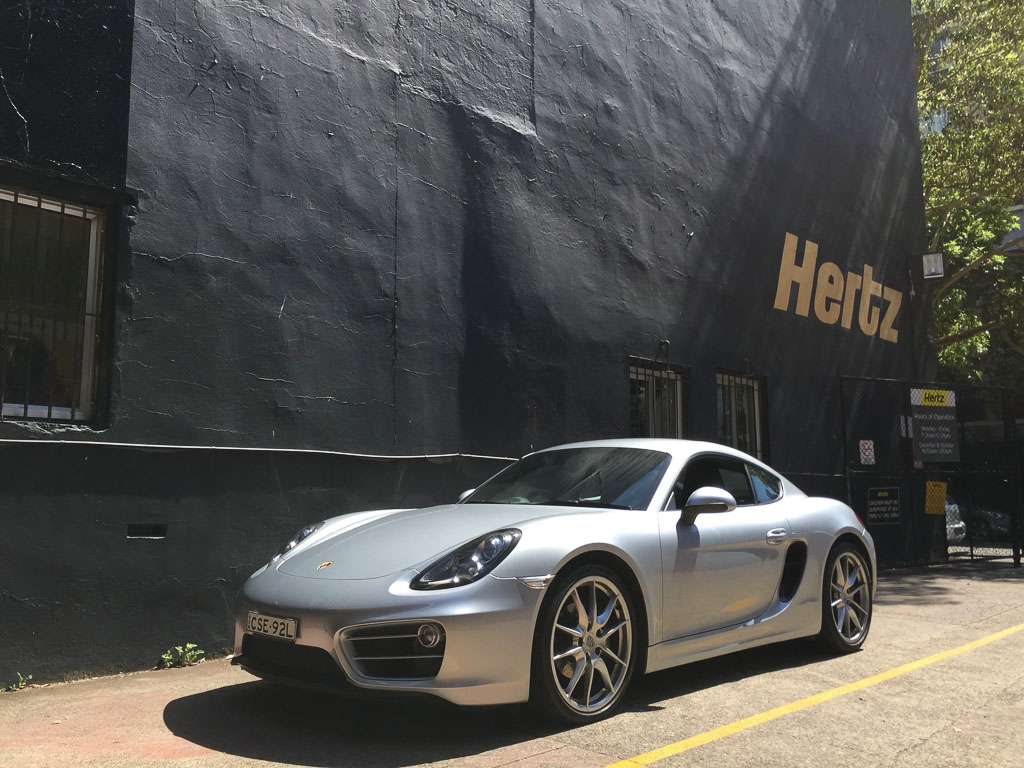 Summary
Is Hertz Gold Rewards status a lucrative club of executives, high flyers and private bankers where you're treated with Dom Pérignon champagne and the latest Ferrari? No, not quite. If this ever happens, you'll be sure to find me covering it over at RideHacks.
However considering that the process doesn't require much effort and if the Hertz program changes, you'll only benefit – why not?
This content contains affiliate links from which Point Hacks may earn commissions from transactions generated from new customers, bookings and general enquiries. Find out more here.
Double status match opportunity with United Mileage Plus & Hertz Gold Plus
was last modified:
December 2nd, 2021
by