Uber
rocks – it's like on demand Business Class for car rides around
Sydney
or
Melbourne
, and at a very reasonable rate too. Usage is simple –
you download the Uber app to your phone and sign up
, select what kind of car you want to book depending on your budget, track the driver to your location and tell him where to go. I don't ever really request Uber Lux cars (which include Audi Q7's and the like) but occasionally one shows up and it's a superb way to get around the city.
The point of this post is to let you know that they are offering a $20 new user credit for sign ups until July 8th (midnight Sunday). It's essentially a $20 free taxi ride. If you haven't used the service before it's a great time to (and you can try it later, just bank the $20 credit for another time).
They also recently launched Uber Taxi in Sydney, with Silver Service and similar cars and drivers choosing to turn on Uber for their bookings, and rates the same as a regular taxi – and with no credit card surcharge. It's a no brainer to use if you can plan your cab hailing a few minutes in advance of stepping out into the street.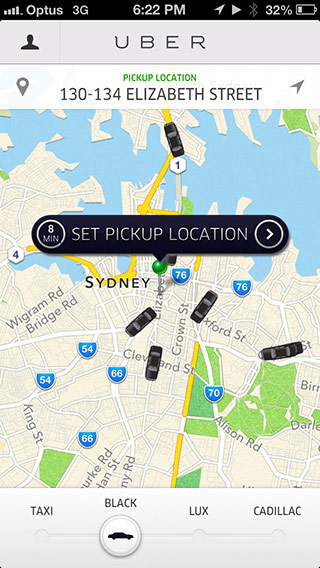 The best thing for me is that it eases the friction of paying for a ride with credit cards – you can store multiple cards for payment in the app, and at the end of your journey you simply step out of the car and receive a very helpful email receipt within a minute or so. It makes paying for taxis by card so simple, and you earn more points as a result.
For full transparency, if you sign up through my link and try Uber I get a $20 credit to my account – thanks for supporting the site! And if you'd rather post your own referral code in the comments instead for someone else to use instead, please do.

Uber offering a $20 new user / sign up credit this week
was last modified:
July 1st, 2013
by