Qantas have announced
that they'll be retiming a bunch of existing services to the US from Australia, as well as adding extra frequency to existing routes – with the key changes on the Melbourne – Los Angeles, Sydney – Santiago, and a new service from Brisbane – New York (still via Los Angeles).
These changes complement the increase in frequency to Dallas on the A380, announced last month, and are all primarily due to more efficient aircraft utilisation. They also allow Qantas to claim morning, midday and evening departure times now from Australia to the US. The changes do add some new flights, which should mean additional points seats to look out for – and here's when and where to look.
Quoting Qantas directly, 'Fares for the new services and changes to existing services will be published in selling systems progressively from early next week'. At this point I'd also expect to see any initial Classic Award availability show up, so keep your eyes out from Monday onward.
New Service: Melbourne – Los Angeles QF95/QF96
This will operate 3 times per week, departing Wed/Fri/Sun and returning Mon/Wed/Fri on a 3 class 747 (no First Class). This is in addition to the existing QF93/QF94 service.
This one is going to be a key flight to check for Business Class award seat availability, with operations starting from January 21st.
QF11 Melbourne – Los Angeles will move to a morning departure, connecting to the new Brisbane – LA – New York service for flights to New York.
New Service: QF15/QF16 Brisbane – Los Angeles – New York
This is an extension of the existing QF15/QF16 service to and from Brisbane, and may open up some new award seats on the Los Angeles – New York routing – although given the LA – New York extension comes at the expense of QF107/QF108, it's unlikely.
QF15/QF16 will operate with a sub 1 hour turn around in JFK, arriving at 1750 and departing at 1845. This is going to be tough to keep on time, but isn't much different to the existing QF107/QF108 schedule.
This change comes in on February 1st.
It's worth knowing you can actually take a Los Angeles – New York (or vice versa) flight in isolation (i.e. without connecting same day) on a paid or points ticket (if there is availability).
I've previously connected the next day (requested when booking over the phone), with an additional 24 hours in Los Angeles. As long as you are flying the over-Pacific flight with Qantas, you can also use Qantas (on the same booking) to travel between LA and New York. As such, if you see points availability on two different days – between Australia and LA, with a gap, and then LA onward (or vice versa) you should be able to book this using your points.
Cutting QF107/QF108 from Los Angeles – New York
QF107/QF108 is being retimed and relabelled as QF17/QF18. It will depart Sydney in the late afternoon, arriving at 1410 – to late to continue onto New York, with passengers instead connecting onto American Airlines flights.
The departure from the US will be kept around the same time at 2350, so the aircraft is turning back around to Sydney after.
The A380 flight, QF11/QF12 will retime to a morning departure at 0950, to connect to the QF15/QF16 service announced as above.
Extra Service: Fridays, Sydney – Santiago
This starts on February 20th, and is on top of the 3 existing weekly flights. If you're interested in Classic Award seats to South America, this is one to watch.
Ad – Scroll down to continue reading.Minimum spend, terms & conditions apply.
Wrap up
The full list of changes are here, and also documented in this PDF (pictured below as well).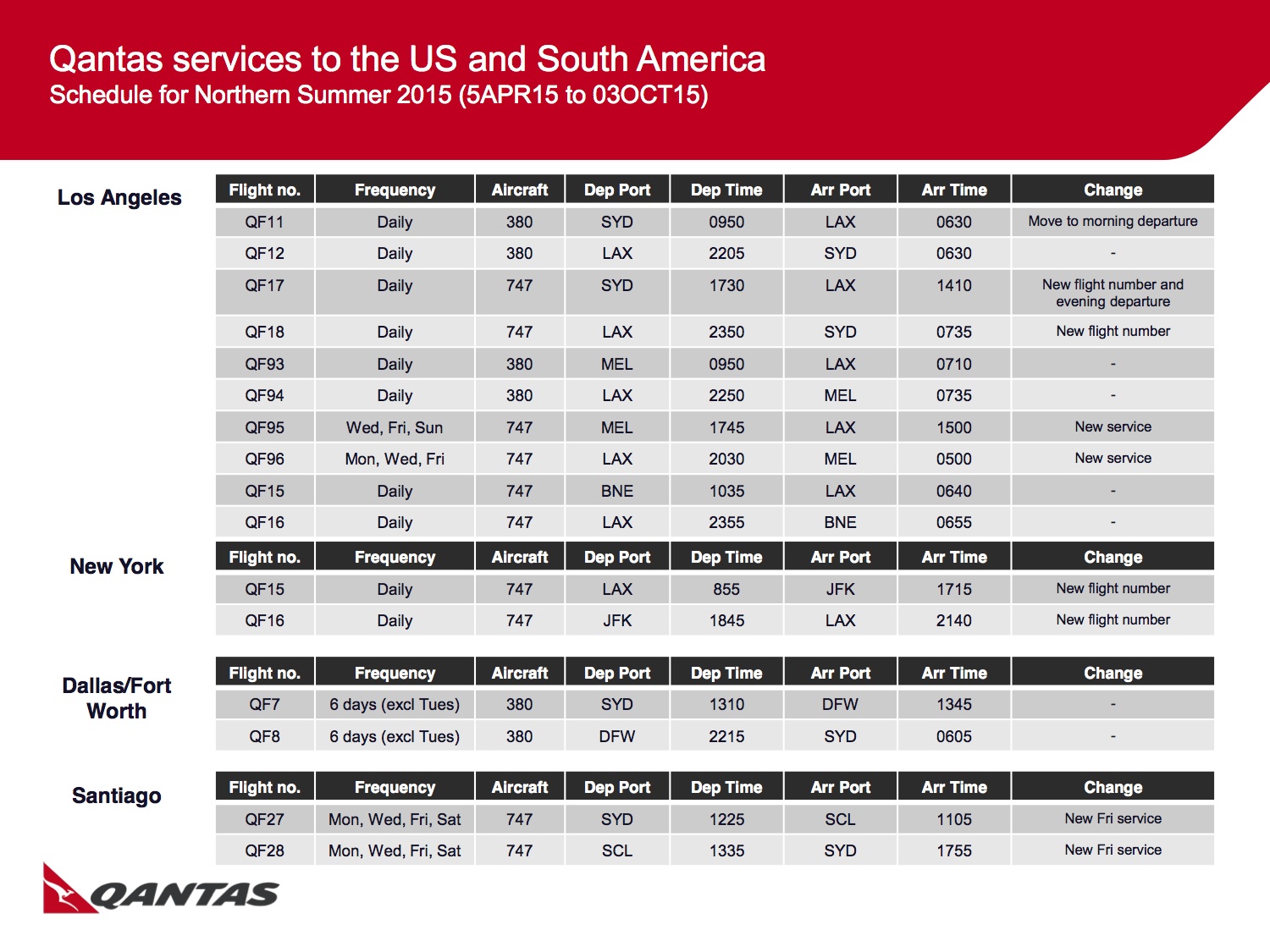 It's well known that points seats to and from the US and Australia are some of the hardest to come by. These changes probably won't make a world of difference in the medium term – but initially some short-term opportunities may crop up if you look.
Qantas boost services to North and South America – new flights may mean more Classic Award seats available from next week
was last modified:
December 21st, 2017
by