The as always excellent AusBT has the full rundown on a set of changes that will impact on anyone looking to redeem their Qantas Frequent Flyer points across Qantas' network.
Previously, there had been a large disparity in the fuel surcharges paid as part of the booking, with Qantas operated flights coming in several hundred dollars more expensive than Emirates. Ironic, given you're using Qantas Frequent Flyer points.
These changes only apply to points redemptions, and see reductions on the fuel surcharges payable when booking on Qantas operated flights in all routes in Economy, in most routes in Premium Economy, and mostly small increases in Business and First Class, with the worst hit being Australia to Africa redemptions where the fuel surcharge increases from $260 to $380.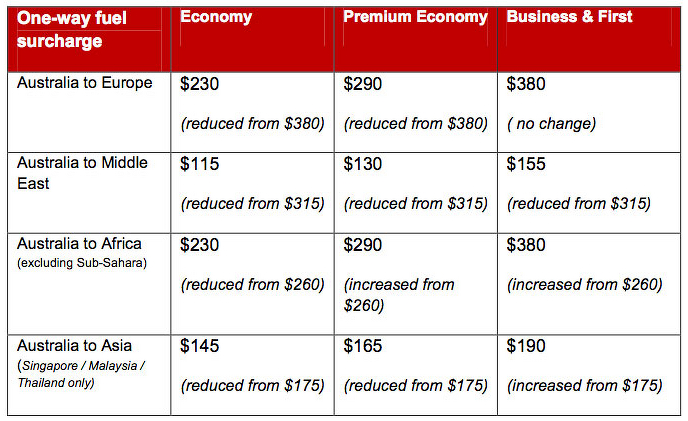 This is good news for Qantas Frequent Flyers who want to fly on Qantas operated flights – the premium cabin fees lift a little, but the Economy fees come down by a lot more, meaning your Qantas points have got a little more valuable. The downside? Emirates operated flight charges are increased, and in addition, Emirates Skywards are lifting their fees up to Qantas new level to meet in the middle, so Skywards members are out of pocket compared to previous redemption costs.
Qantas tweaks fuel surcharge fees on points redemptions to match Emirates – for the most part getting cheaper
was last modified:
September 8th, 2015
by