A change of some kind to the Qantas Frequent Flyer program has been on the cards over the last few months, with the general negative business news coming out of Qantas.
I mooted what I thought would be the impact of a sale of Qantas Frequent Flyer, but had hoped they wouldn't touch the program otherwise. That's not the case – here are the full details.
I'm going to start with the good, and move onto the bad.
Qantas Frequent Flyer, up to this point, has been a very consumer-centric and, in my opinion, world-class frequent flyer program. The changes announced this week pretty much bring the program's appeal downward, in line with their main competitors.
There's still a lot of value to be had from Qantas Frequent Flyer points and from earning Qantas status. The ability and cost for you to use your points for premium travel and upgrades hasn't been diminished.
And finally, Qantas have, at least, given a couple of months notice of the changes, rather than being effective immediately.
That's the good news. Here's the bad.
The most noteworthy changes – it's all about how you earn Qantas points and status credits
Partner status credit earn has been halved where there is competition to the Qantas and Emirates network, with Qantas points earned on partners probably to follow in the same direction when these specific are announced in following weeks.
Qantas are restructuring their buckets for Frequent Flyer purposes, breaking down Economy, Premium Economy, Business and First Class into a confusing range of 'Qantas Frequent Flyer Categories' in these fares. You'll have to know which one your ticket sits in to know how many points and status credits you'll earn.
They are reducing the minimum points guarantee to 800 points for the discount economy fares, down from 1,000.
Points are now earned on distance-based bands, rather than distance actually flown, and the % based status bonus on top is based on the points earned at one of the lower fare classes.
They are also re-working the zones by which points and status credits are earned, alongside the breakdown of fare buckets, so some routes are now worse off with status credit and point earn.
It's a bit of a mess – there's a complexity problem when a table like this one is required to tell your customers what points you'll earn.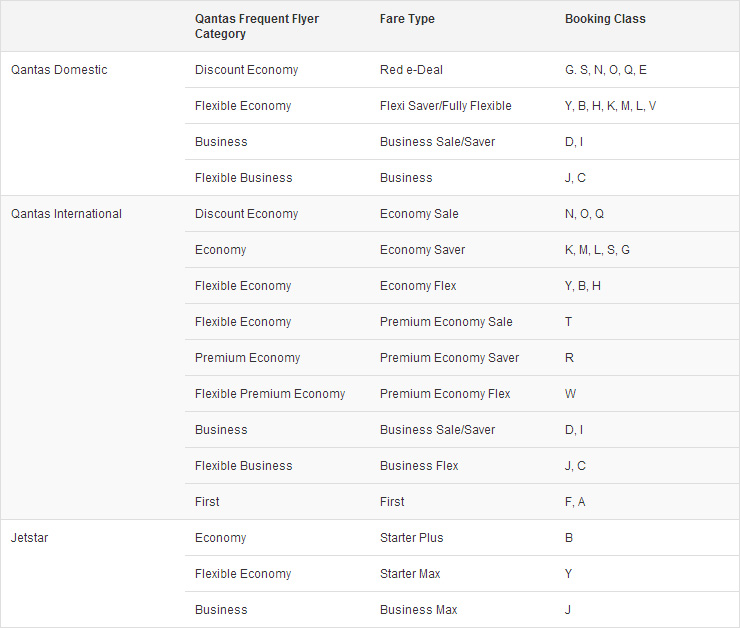 Ad – Scroll down to continue reading.Minimum spend, terms & conditions apply.
My take on the changes
AusBT have run the numbers and it's fairly clear that many Qantas travellers earning points and status into Qantas Frequent Flyer, may well be better off with these changes – which is great for the people it positively impacts. You can't argue with these numbers – however it's the strategy behind it that I find bemusing.
The strategy seems to based on the notion that flyers will continue to be uninformed and uncaring about their decisions on airline fare and Frequent Flyer program choice, and will accept the lock-in to Qantas that this set of Frequent Flyer program changes take.
Flying with Qantas partners will be half as rewarding as it used to be, which makes the whole program less appealing to anyone who wants to have some degree of choice in who they fly with.
So through these changes, Qantas are trying to strong-arm loyalty to their airline through their Frequent Flyer program, instead of through routes or products.
Qantas increasing lock-in of their frequent flyers to fly with them could well harm their business with consumers feeling they now lack choice. This reduces the appeal of their Frequent Flyer Program and in turn, reduces the appeal of giving your cash to Qantas.
Consumers have a lot of choice in Australian market in the airlines they can travel with, and they will increasingly become more savvy in their choices of travel partners and loyalty programs.
If you know your travel is most of the time on flights operated by Qantas or on Qantas codeshares, you'll absolutely be better off. If not, it's probably time to consider alternatives and see if they work for you.
A bunch of links worth perusing for more detail:
Qantas Frequent Flyer changes – partner points & status credit earn reductions to kick in from July 1st
was last modified:
December 21st, 2017
by