Qantas have decided to make some positive changes to their Classic Award chart, which are available for new bookings immediately from today, January 6th.
While the key message from Qantas is that Qantas International Economy redemptions are getting a little cheaper all round, the points reduction actually cuts across all of Qantas' key frequent flyer partners as well – including Emirates, American Airlines and Fiji Airways – in addition to Qantas' longest Domestic flights.
The taxes and surcharges that Qantas pass on to customers is one of the key gripes when it comes to using Qantas Points, and the reductions (at least in the examples they are showing) are definitely worth noting as they could tip the balance toward using points instead of cash for Qantas Economy redemptions. Score!
What's going on?
In summary, as Qantas put it:
We have some great news to ensure 2016 is even more rewarding for you! From today, we've reduced the Qantas Points and carrier charges required for selected Qantas International Economy Classic Flight Rewards* booked on and from 6 January 2016.

We're also reducing the points required for selected International Economy Classic Flight Rewards with some of our partner airlines, including American Airlines®, Emirates and Fiji Airways.
The page summing up the changes by Qantas is here, and the new classic award chart showing the new pricing is here. and shown below.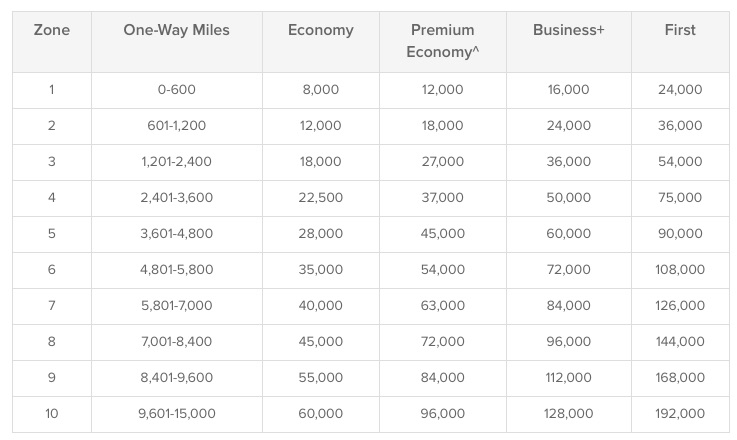 Qantas give some example reductions in surcharges as follows:

Given that the reductions are effective immediately it's hard to compare the $$ changes for old versus new on other routes outside of these examples.
Cash copayments for fees and surcharges are coming down a lot more, but for Qantas International Economy redemptions only
From the examples Qantas posted, here are the % decreases in surcharges needed:
| Example Route | New Surcharges | Old Surcharges | |
| --- | --- | --- | --- |
| Perth and Singapore | $245.93 | $425.93 | -42% |
| Brisbane and Hong Kong | $290.66 | $336.66 | -14% |
| Melbourne and Los Angeles | $419.32 | $609.32 | -31% |
| Sydney and London (Heathrow) | $708.18 | $848.18 | -17% |
That's quite a wide spread in terms of % decrease across the examples, but if it were to be a 25% average reduction across most routes that's going to be a decent win for many people.
I don't know of a way of looking at charges under the previous pricing so if anyone has example of surcharges on existing bookings vs those charged for new bookings, please add them in the comments – it will be interesting to see the differences.
The reduction in surcharges on Qantas-operated international Economy flights is the key win from these changes.
Ad – Scroll down to continue reading.Minimum spend, terms & conditions apply.
Points for Classic Award redemptions are coming down by a little
The points reductions are more minimal than the surcharge reductions, but do cover more partners and potential routes so will have an ongoing impact for cheaper Economy redemptions across the board – with the exception of shorter flights at 2,400 miles or under.
The reduction in points needed is around 5% on average, with the biggest reduction in Zone 4 – at 2,401 to 3,600 miles.
| Zone | One-way miles | Qantas Points (new) | Qantas Points (old) | % reduction |
| --- | --- | --- | --- | --- |
| 1 | 0-600 | 8000 | 8000 | 0 |
| 2 | 601-1,200 | 12000 | 12000 | 0 |
| 3 | 1,201-2,400 | 18000 | 18000 | 0 |
| 4 | 2,401-3,600 | 22500 | 25000 | -10% |
| 5 | 3,601-4,800 | 28000 | 30000 | -7% |
| 6 | 4,801-5,800 | 35000 | 36000 | -3% |
| 7 | 5,801-7,000 | 40000 | 42000 | -5% |
| 8 | 7,001-8,400 | 45000 | 48000 | -6% |
| 9 | 8,401-9,600 | 55000 | 56000 | -2% |
| 10 | 9,601-15,000 | 60000 | 64000 | -6% |
The best reductions are in Zones 4, 5 and 10 – so I'll showcase some examples of routes that will need fewer points in these zones as a result of these changes.
As mentioned before, this change is actually across the key set of Qantas partners covered by the Classic Award table, which include Emirates, American Airlines, and Fiji Airways.
Qantas-operated flights example point reductions
The following charts are via gcmap.com and show the distance ranges from selected cities, along with a few hand-picked destination cities that Qantas fly to on a non-stop basis to act as examples.
Zone 4 is 2,401 to 3,600 miles and has a 2,500 Qantas Point one way decrease.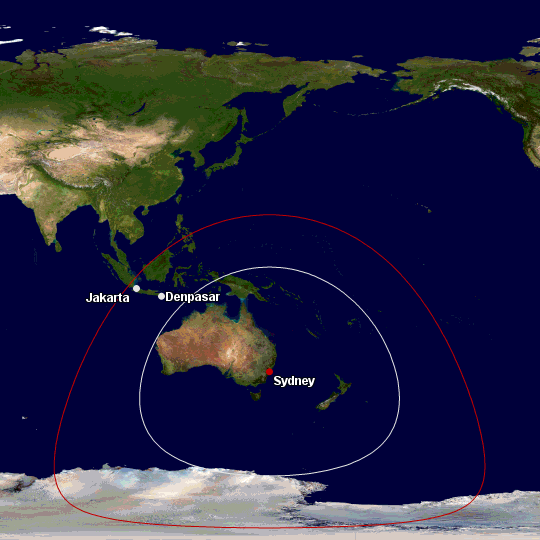 From Sydney, the primary destinations in this zone are Denpasar and Jakarta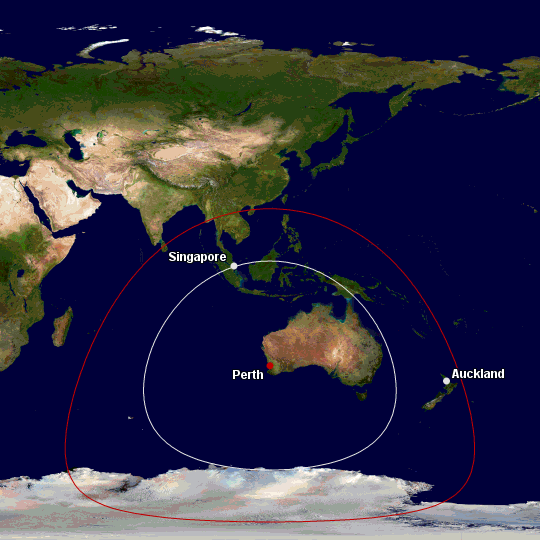 From Perth, the primary destinations in this zone are Singapore and Auckland

Zone 5 is 3,601 miles to 4,800 miles and has a 2,000 Qantas Point one way decrease.
This Zone is a key one in the Qantas award chart in terms of the number of city pairs it covers, so I'm not surprised it hasn't been reduced further.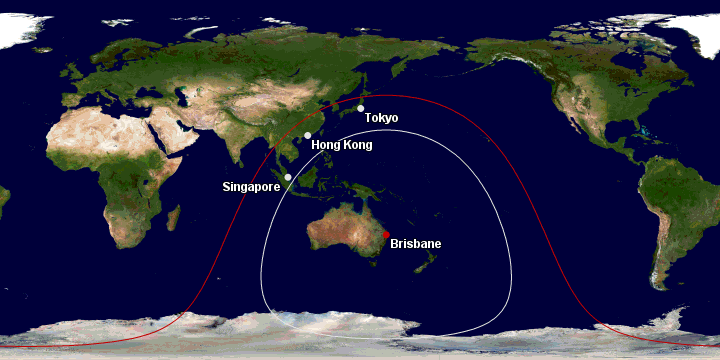 From Brisbane, Singapore, Hong Kong and Tokyo are serviced directly.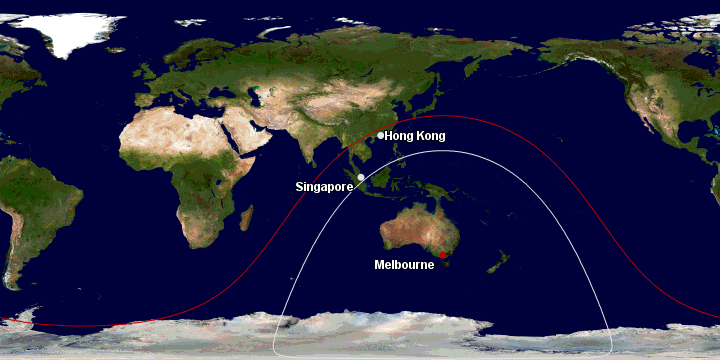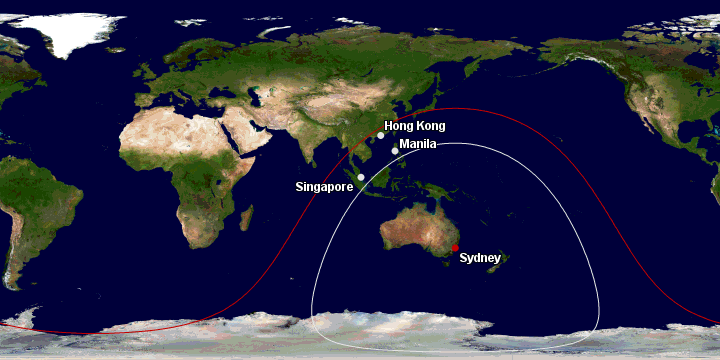 From Melbourne there's Singapore and Hong Kong, with Sydney adding Manila as well. Tokyo falls into the next zone up for both cities.

Zone 10 is Qantas' highest, is 9,601 to 15,000 miles, and reduces by 4,000 Qantas Points one way.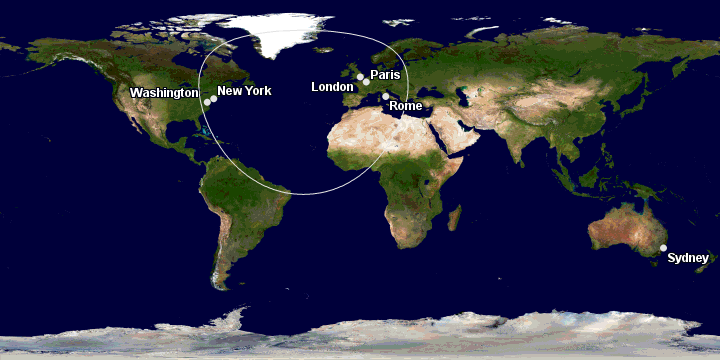 From Sydney (and Melbourne and Brisbane) this covers the East Coast of the US and Western Europe.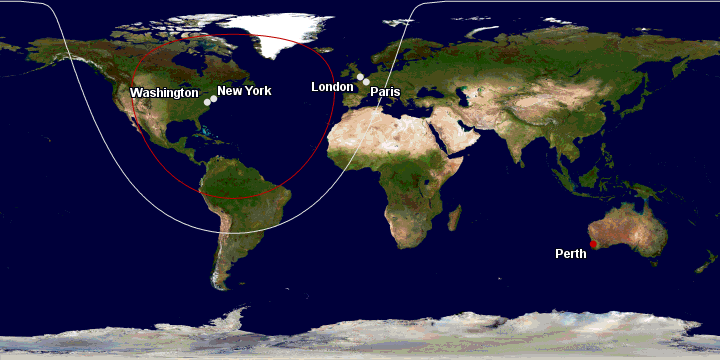 From Perth, Western Europe mostly falls into Zone 9 so the decrease is not so marked at 1,000 Qantas Points only. The East Coast of the US though still reduces by 4,000 Qantas Points.

Also not shown is the Sydney – Santiago service which falls into Zone 7 – this receives a 2,000 Qantas Point decrease each way in Economy.
At the most extreme, the cost of an Economy return flight from Sydney/Melbourne/Brisbane to New York or London is falling by 8,000 Qantas Points, from 128,000 to 120,000.
Emirates-operated flights example point reductions
Emirates network is very broad, so I only took a quick look at a few city pairs out of Dubai. The Zone 10 reductions shown above would also apply if travelling on Emirates-operated flights with a sub-24 hour connection in Dubai.
It's worth remembering there's also no surcharge reduction for partners like Emirates.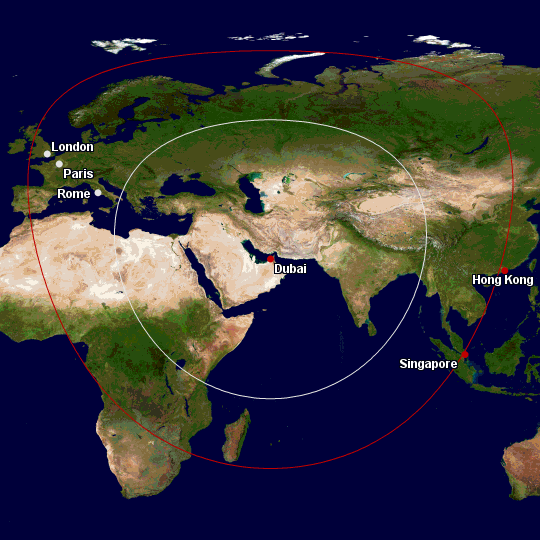 If you were stopping over in Dubai, most destinations in Europe would fall into Zone 4 with a 2,500 Qantas Point reduction each way.
American Airlines-operated flights example point reductions
Los Angeles is a key gateway city for Australians travelling to the US with Qantas, and Los Angeles to New York falls within, also getting a 2,500 Qantas Point reduction in Economy each way.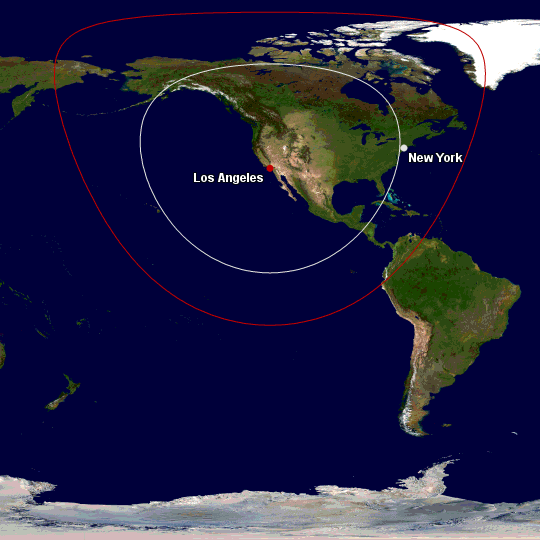 What about your existing reservations?
Existing reservations are not available for refunds of either points or cash savings at the new pricing level, so this leaves incurring a change fee if there is going to be a significant saving.
In theory for many flights you could be better off in terms of cash to cancel or change your existing flight, and have it rebooked at the new price level.
You won't save many, if any points by doing this – the reduction in points price generally isn't going to be enough to cover the 5,000 point cancellation fee – but you may be willing to incur that fee if the tax savings by making a new booking are significant.
If you are considering this you will need to check that there is award availability for the change you are planning to make, and if you don't have enough points in your account to rebook immediately I'd suggest calling Qantas and asking them to help with the effective 'exchange' of flights without you needing to wait for a refund.
How about non-Economy redemptions?
Qantas are clear that there are no points changes to Premium Economy cabins or higher. However the surcharges applied between cabins are often similar or related in terms of their breakdown.
Once again, anecdotal evidence from you guys would be helpful to see if old Business Class redemptions do now price more cheaply – unfortunately I don't have any Qantas redemptions in play right now to check with.
Summing up
I'm not going to pretend this is a MASSIVE improvement for point-redeemers who want to travel in Economy – there are still going to be many circumstances where Economy sale fares will continue to offer better value than redeeming your points for Economy travel, as I touched on in this recent post about where to get the most value from your points.
I think you'll still get better value by targeting your redemptions to the better value uses of Qantas Points, such as Qantas, Emirates and American Airlines, Business and First Class, Jetstar StarClass (yes, that's right!), and Fiji Airways Business Class.
However if you are keen on making your points go as far as possible, these changes will increase the chances you will see a fare / route / itinerary that makes more sense to redeem you points for Economy travel.
Has Christmas come late? Qantas is reducing the points, and more importantly, taxes, on Economy flight redemptions
was last modified:
September 4th, 2018
by