Qantas are once again running their bonus points offer on gift vouchers as we get closer to Christmas, with 5 Qantas Points per $ available on gift vouchers until 31 December.
It seems the 5 points/$1 earn rate is the new norm, having dropped to this level for what is now the second year after previously offering 10 points.
If you know you'll consistently book paid flights with Qantas throughout the course of 2017, this offer is worth considering. However, the reduction in points makes it less of a 'sure thing' as you'll be holding your cash with Qantas on the assumption you'll be able to use it within the terms of the voucher, which are not completely straightforward.
The offer is available until the end of December, and bonus points will take up to 8 weeks to credit.
There is a $2,000 limit on the voucher, with the following value options available: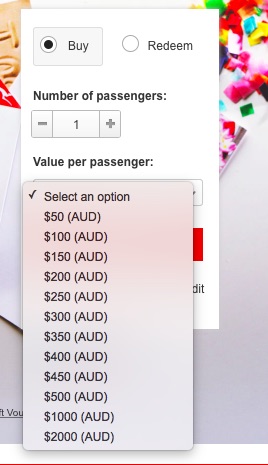 There are some terms, so you can't use these for any Qantas flight out there, unfortunately:
A maximum of $2,000 per person per ticket
Flights must be booked departing from Australia
Vouchers can't be used as payment for taxes/fees on Classic Awards – they can only be used for paid fares for example
They also can't be used on a multi-city itinerary (so one-way or return flights only)
You need to purchase vouchers for a specific number of people (this can be one traveller) to be included on the ticket, so unless you definitely know you'll be booking flights for multiple people, just buy single vouchers and link the bookings later
On the plus side:
They can be redeemed online, thus avoiding the phone booking fee
Vouchers are valid for 12 months
The balance of a voucher that's not used is given back as another voucher to be used again within the same expiry period
Using a voucher negates the need to pay credit card fees on bookings
The full terms are here and the offer page is here.
Offer history
2016 (current offer): 5 points per $
2015: 5 points per $
2014: 10 points per $
2013: 10 points per $
2012: 10 points per $
2011: 10 points per $
Ad – Scroll down to continue reading.Minimum spend, terms & conditions apply.
Purchase a gift card to trigger 2,500 bonus points with Amex Qantas Ultimate card
By purchasing a $50 gift voucher (the minimum value), you'll get not only 250 Qantas points for the transaction with this promotion, but it will also trigger the 2,500 bonus points offer for making your first Qantas purchase with the American Express Qantas Ultimate card.
Summing up
This is a good deal if you (or someone you will gift the voucher to) know that you will inevitably be purchasing a Qantas flight in the next twelve months.
It also saves having to pay a credit card fee on bookings.
Qantas returns with offer of 5 Qantas points per $ spent on gift vouchers until end of year
was last modified:
February 2nd, 2022
by