Qantas 'Marginal' Any Seat Awards have been around for a long time and are finally being axed by Qantas on June 30.
There are a couple of variants on Any Seat Awards – those that are essentially using points to pay for a cash fare (and are usually expensive), and those which can be booked more cheaply if there are Classic Award seats available on the same flight.
Qantas just announced on March 27th that Any Seat Awards priced at the cheaper, classic award level in points will be killed off for bookings after July 1st.
These Marginal Any Seat awards were always going to be on life support after it was announced they were no longer bookable online (only by phone) in mid 2013.
Now you have up until the end of June to make any final bookings using your points to earn status credits 'cheaply'. Qantas [have confirmed] that the option to remove bookings will be taken away on this date, but travel can be taken after – and I'm assuming this to mean that you'll still earn points and status credits on travel made as Marginal Any Seat Awards after this date.
The cheaper, (Marginal) Any Seat Awards are the focus of this guide, which I of course I spent the time to update and republish last week, and given the time limited nature of their availability, I figured it was important to include the news alongside this guide rather than elsewhere on the site.
Don't blame me for Qantas' changes though, not my fault!
---
This guide was originally updated and re-published in mid March, but I've updated it with the latest information and it's now fully relevant as of late March 2014.
Cheap Any Seat Awards used to be bookable on Qantas.com, but in mid 2013 Qantas removed that possibility from their online booking engine, and you now have to call Qantas directly to book them.
In summary, the cheaper Any Seat Awards are a great way to use Qantas points in the short term, specifically if you want to –
Use your Qantas Frequent Flyer balance to bump up your status credit balance and get you closer to Qantas elite status (Silver, Gold or Platinum)
Earn points on your point redemption bookings to offset the cost paid in points
Generally gain more flexibility in your points bookings for changes / cancellations
The downsides are increased taxes on redemptions, and a general air of uneasiness around booking them – they have to be made over the phone, and I'm never 100% sure the points and status credits will be credited to my account until they actually do!
The nuts and bolts of Qantas Any Seat Awards – International & Domestic
I have booked several of my past international Business and First Class redemptions as Any Seat Awards to get additional value out of these bookings, along with recent Domestic hops to Melbourne.
Cheap Any Seat Awards are available only on Qantas operated flights, to those wanting to redeem Qantas Points. They aren't available on Qantas codeshares with other airlines, or to those looking to redeem other frequent flyer program points.
Any Seat Awards are different to Classic Awards in that they have a variable price (in points) which depends on a couple of factors – whether there is classic award availability, and if not, what the current cash fare is for the flight and class of travel you are looking at. Classic Awards have a fixed price in points and are limited in availability at that price.
Any Seat Awards are not worth considering as an option unless they are pricing at the same, cheaper level as a Classic Award – and I'll outline how to find these lower cost Any Seat Awards later in this guide.
Any Seat Awards are bookable on a wide range of Qantas tickets on partner airlines, however these lower cost options that I've seen using the method I'll outline later are available are on Qantas operated flights only.
Any Seat Awards also have a different (usually larger) copayment of taxes and fees to go along with the booking versus a Classic Award, and this needs to be factored into the decision when looking at a booking – potentially the points and status credits earned as an ASA will offset the additional cost.
Similarly to Classic Awards, if looking at an Economy class redemption you need to consider whether this is a good use of your points – unless fares in Economy are particularly steep for the route you are looking at, you're unlikely to get great value per point unless you look to book in Premium Economy, Business or First Class.
How to find leads for cheap (in points) Any Seat Awards on Qantas.com – even though the new booking engine won't show them outright
Qantas Any Seat Awards are generally researched through Qantas.com in a similar way as Qantas Classic Awards. Booking them over the phone with Qantas tends to be more difficult than a Classic Award, as they seem to be a bit more complex for phone agents to handle than Classic awards.
To find the lower priced Any Seat Awards – which end up costing the same, in points, as a Classic Award – you'll need to start by searching for Classic Award availability on Qantas.com. In this example, I'll be looking for a Business Class seat, one way, from Sydney to Perth in Business Class.
The easiest to use award search form is on this page. This is pretty basic stuff, so if you know this already, feel free to skip on.
First, I like to use the calendar grid available in the Classic Award search if I'm even slightly flexible with dates as it reduces the number of searches you end up needing to make. To bring that up, select 'Flexible with dates' when searching.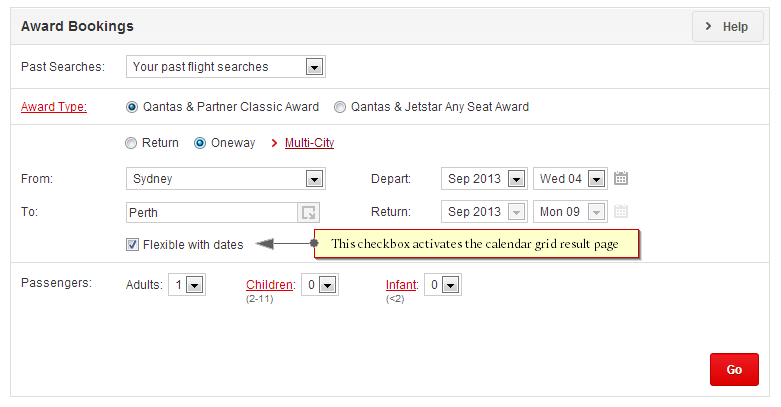 The search results look like this, which makes it really easy to see where there is availability across a whole month. I've tweaked the default checkboxes here to show Business Class only – availability is pretty good on Sydney to Perth.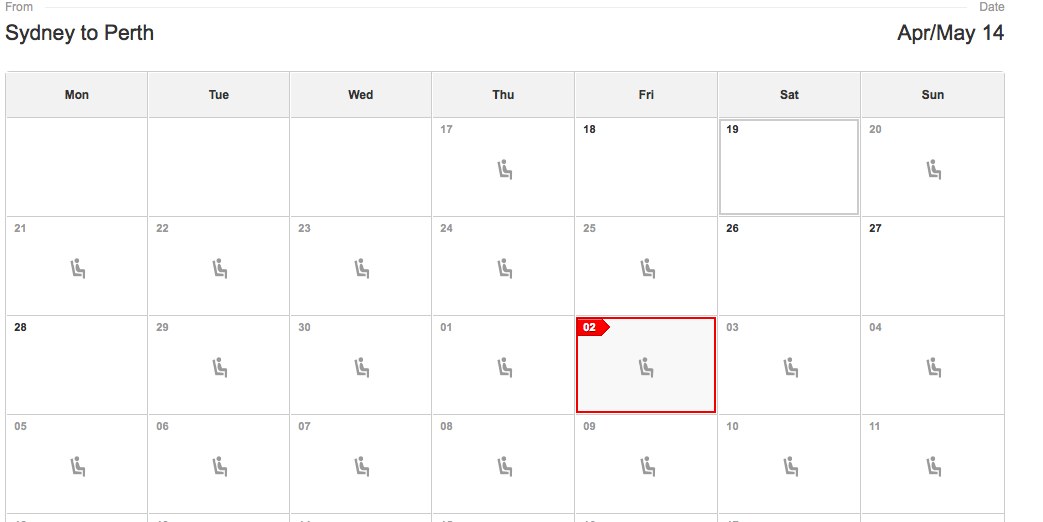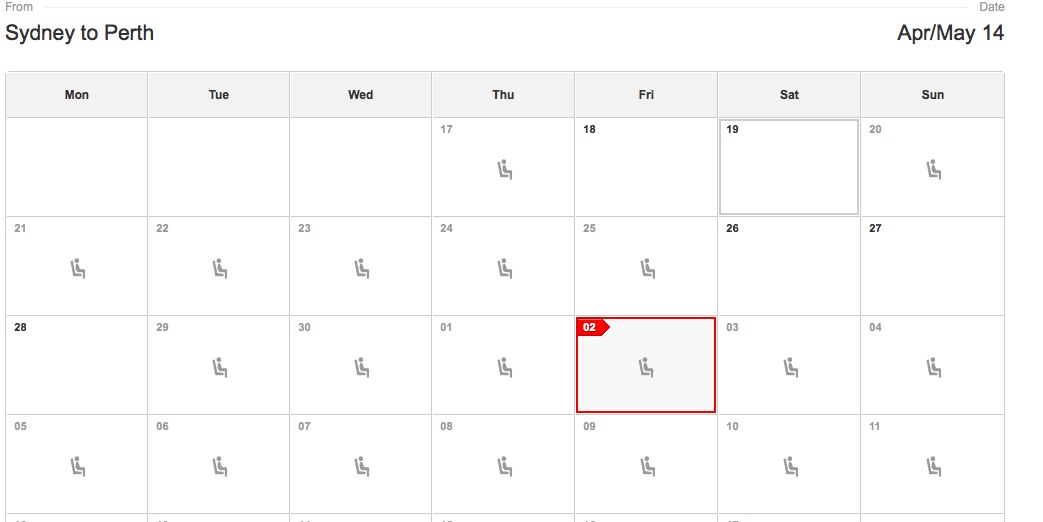 After selecting the date, I can then see what flights are available…


… and at the foot of the page, the cost for the Classic Award that I'm then hoping to book as an Any Seat Award – remember this is in Business Class.


Ad – Scroll down to continue reading.Minimum spend, terms & conditions apply.
Making a Qantas Any Seat Award Booking over the phone
Now, booking this as an Any Seat Award – this is the bit where calling Qantas is necessary to actually make the booking.
When they made the changes to Any Seat Awards in 2013, Qantas gave a specific number to use to make Any Seat Award bookings like this – 1300 366 587.
I've found around 3 out of 4 agents know exactly what I'm asking for when calling this number, and make the booking without any issue. The odd one has no idea. With those, it depends how patient I am, but most often I will hang up and call back.
I've had great success by clarifying my request in the same manner as outlined in the great AFF thread on this topic, asking 'I would like to book a Classic Award fare as an Any Seat Award please'. Mention your intended dates and flight numbers, and away you go into getting a quote.
Two things worth noting:
Don't let the agent charge you a booking fee. These should be waived.
The agent will probably quote you a higher price first, which is the taxes fully paid by Qantas points on top of the fare. For a Sydney to Melbourne Business Class flight, this might be has much as 13,000 points on top of a 16,000 point fare. You can ask them to reduce the taxes paid with points to nothing, and get a quote in dollars – in that example, around $101 at the time of writing.
Why would I want to spend more money to book an Any Seat Award compared to a Classic?
Cancellation Policy Differences
First up, the booking terms and conditions for the Any Seat Award for this booking are the same as a paid Business Class seat. I can get a full refund of all the points, and also the ability change the flight (to another flight with the same ASA availability) for no cost. If there's a high chance of trip cancellation, this is quite valuable to me.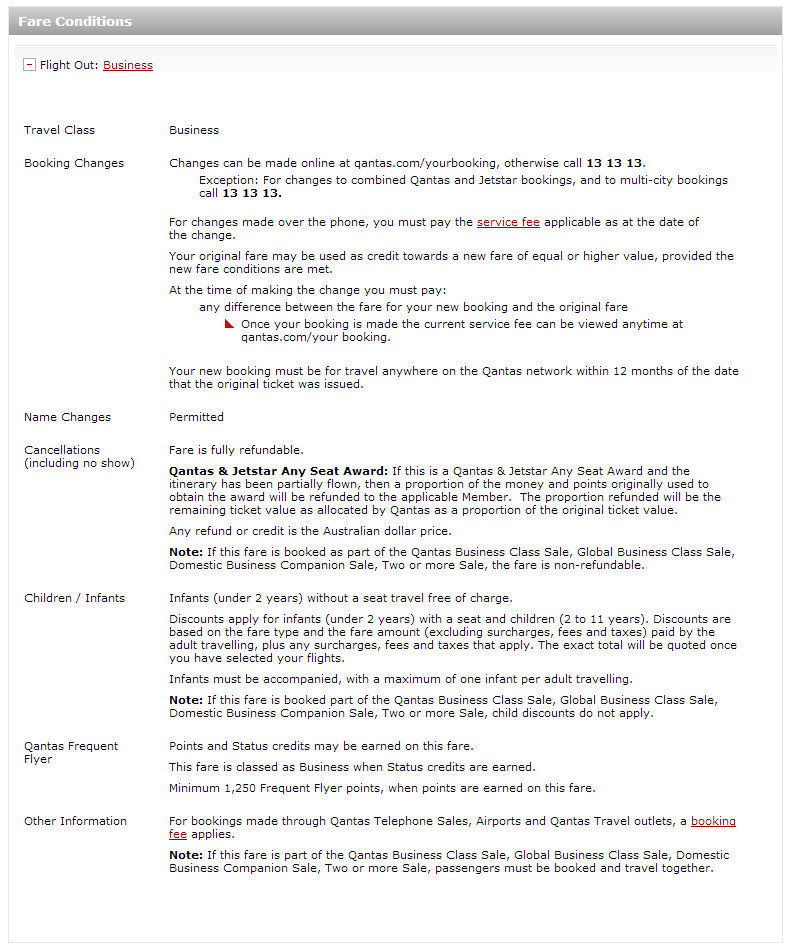 Note that the cancellation and change policies vary based on the route and sometimes particular flight you are looking to book. Always check the actual cancellation fee, as it may be several hundred dollars – such as in the case of flights departing from Europe that I've looked into in the past. However, of course, this may well be offset by the extra points and status credits you'd earn from the ASA booking, so you'll need to assess each booking accordingly.
Earning Points & Status Credits
Secondly, I'd earn both Frequent Flyer points and 80 status credits on this booking to help me towards obtaining or renewing Qantas status. If you know you'll obtain or renew Gold, for example, the additional year of lounge access would well be worth some extra cash.
On the points front, as an existing Qantas Gold member, I'd earn 4,593 points back after taking this flight. Does that fully offset the additional ~$190? No. But adding in the status credits and the additional cancellation flexibility on top, it's looking appealing.

Method Summary & Notes
Research classic award availability and costs in points and taxes to find flights that will have lower cost ASA availability
Look for the ASA award by calling Qantas on and try and also get costs for a Classic award for that same flight. Number: 1300 366 587
Compare the ASA and Classic award co-payment required, and assess whether the points, status credits and different cancellation policies are worth the additional fees for your circumstances
For international bookings, the fee differences between a Classic Award and Any Seat Award are usually less marked, but the cancellation and change fees can differ a fair bit, so bear that in mind.
Finally, cancelling a Business Class Any Seat Award to regain the full amount of points back to your account normally needs to be done over the phone with Qantas and can take up to a couple of weeks for the points to come back into your account.
Conclusion – Qantas Any Seat Awards
I often book Any Seat Awards awards for Business Class redemptions at Classic Award levels. It helps me keep my status credit balance high, and without an ASA in each of my past membership years, I probably wouldn't have kept Qantas Gold status quite so readily.
Booking ASA's at full price levels, without first looking at whether a cheaper ASA at Classic Award price is available, is rarely justifiable unless you are made of points, so this isn't a method to open up more award availability – it just gives you more options on how you make that award booking and a different mix of benefits.
Finally, you can often book Any Seat Awards for a little more cash that pass through a stopover point. This can increase your status credit and points haul even further, and is a commonly used tactic in the frequent flyer world to earn status credits quickly without a significant outlay on a Business Class flight to do so.
Qantas axe 'Marginal' (cheap) Any Seat Awards – How to book them until June 30
was last modified:
March 28th, 2014
by