Qantas boosts 'Golden Triangle' flights just before Christmas
Posted:
November 25, 2020 - 2:30 pm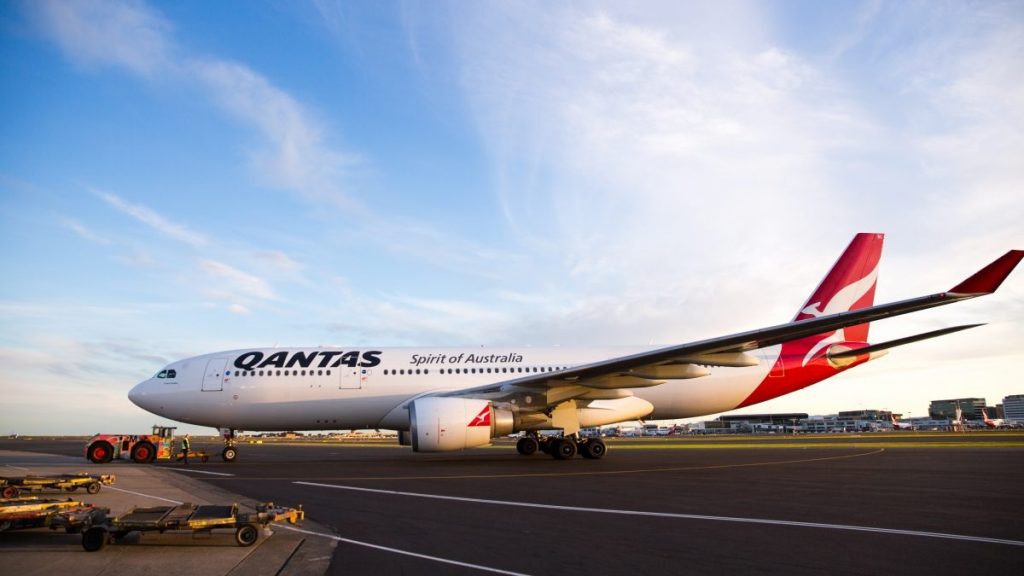 What we'll be covering
In light of Queensland throwing the state's borders open to New South Wales and Victoria next week, Qantas and Jetstar will operate more than 1,200 extra return flights in the lead-up to Christmas.
That's equal to more than 250 return flights a week on routes from Sydney; a stark contrast to the current total of 36 return flights during the same period. More than 160 flights per week will also depart Melbourne from 1 December 2020.
In total, more than 10 routes will be reinstated, providing more choice for premium and leisure travellers. It will also return Qantas to 60% of its pre-COVID levels, which is an encouraging change.
By early December, 30 of the airline's domestic and regional lounges will also be open, so that travellers can have a largely have a 'normal' travel experience.
New South Wales and Victoria have done such a great job getting the virus under control that it makes complete sense to open the borders to Sydney and Melbourne.

Based on the demand we're seeing already, Queenslanders can expect to welcome a lot more visitors in the next few months. We can't wait to see a repeat of the heartwarming scenes in Melbourne and Sydney this week with families reuniting after months apart, this time in Queensland.

– Alan Joyce, Qantas Group CEO
The update to the minimum domestic network for Qantas highlighting expanded routes is shown below.
---
[Old] Increased Flights for June and July
Qantas and Jetstar will both increase the number of flights during the months of June and July, with flights increasing from 5 per cent of pre-coronavirus levels up to 15 per cent by the end of June and up to 40 per cent of the Qantas Group's pre-crisis levels in July subject to state border restrictions being lifted.
This means more than 300 flights per week will be in the air should things go to plan.
Details of the additional flights include:
More services on capital city routes particularly Melbourne-Sydney and a number of routes to-and-from Canberra.
Increased intra-state flights for Western Australia, Queensland, New South Wales and South Australia. Broome, Cairns and Rockhampton to see a significant boost in weekly flights.
Flights will resume on eight routes not currently being operated.
Qantas to commence flights from Sydney to Byron Bay (Ballina), after the route launch was postponed due to the Coronavirus.
(A state by state breakdown of the Group's domestic and regional schedule can be viewed here)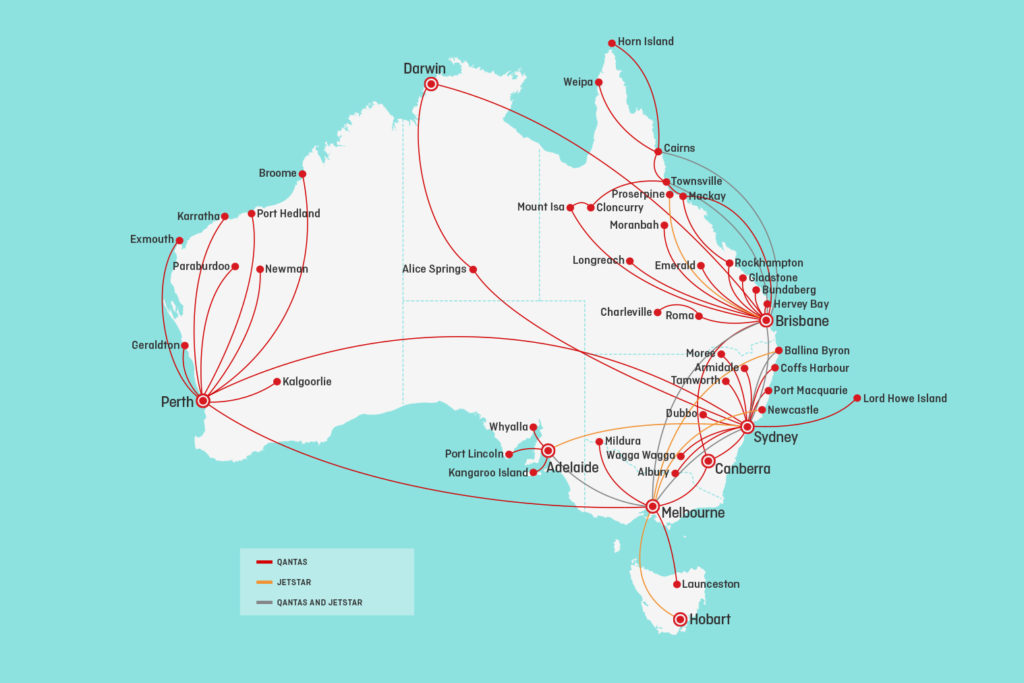 A key location missing from the above map is the Gold Coast, with no flights scheduled for the peak Winter holiday season that would normally see a swath of Jetstar flights (and a small number of Qantas flights) descend on the city, as a result of the continued Queensland state border closure.
Most other routes around the nation are expected and include cities that also fall with states implementing hard border closures.
The original article regarding the minimum domestic network for Qantas is shown below.
---
Qantas and Jetstar will resume flying an underwritten, minimal domestic schedule, in an agreement reached with the Australian Government.
The agreement will see the number of passenger flights they operate increase from 105 per week currently to 164 per week to all capital cities and 36 regional destinations and will provide critical freight capacity, which has fallen significantly as commercial air networks have shrunk.
Ad – Scroll down to continue reading.Minimum spend, terms & conditions apply.
[Old] The Minimum Domestic Network
The schedule commences from Friday 17 April and will run for a period of eight weeks until 7 June 2020, with all fights being fully operational by 20 April 2020. Fares can be booked as normal from the Qantas and Jetstar websites.
The good news is that the additional services will see more planes in the air and ensure communities stay connected and assist with the movement of critical freight around the country.
Flight Details
The new trunk routes include the following:
Adelaide – Melbourne
Adelaide – Sydney
Brisbane – Melbourne
Brisbane – Sydney
Canberra – Melbourne
Canberra – Sydney
Melbourne – Hobart
Melbourne – Perth
Melbourne – Sydney
Perth – Sydney
The following regional routes will also recommence:
Victoria/Tasmania
Melbourne – Mildura
Melbourne – Launceston
New South Wales
Albury – Sydney
Armidale – Sydney
Ballina – Sydney
Coffs Harbour – Sydney
Dubbo – Sydney
Lord Howe Island – Sydney
Tamworth – Sydney
Wagga Wagga – Sydney
Queensland
Brisbane – Cairns
Brisbane – Emerald
Brisbane – Gladstone
Brisbane – Mt Isa
Brisbane – Longreach
Brisbane – Mackay
Brisbane – Moranbah
Brisbane – Roma
Brisbane – Rockhampton
Brisbane – Townsville
Cloncurry – Mt Isa
Cloncurry – Townsville
Cairns – Horne Island
Cairns – Townsville
Cairns – Weipa
Charleville – Roma
Mt Isa – Townsville
Mackay – Rockhampton
Mackay – Townsville
Townsville – Rockhampton
South Australia
Adelaide – Kangaroo Island
Adelaide – Port Lincoln
Adelaide – Whyalla
Western Australia
Newman – Perth
Broome – Perth
Geraldton – Perth
Kalgoorlie – Perth
Learmonth – Perth
Port Hedland – Perth
Karratha – Perth
Northern Territory
Alice Springs – Darwin
Alice Springs – Sydney
Brisbane – Darwin
Indicative prices for a one-way Brisbane to Sydney flight on 29 April is shown below for both Economy and Business Class.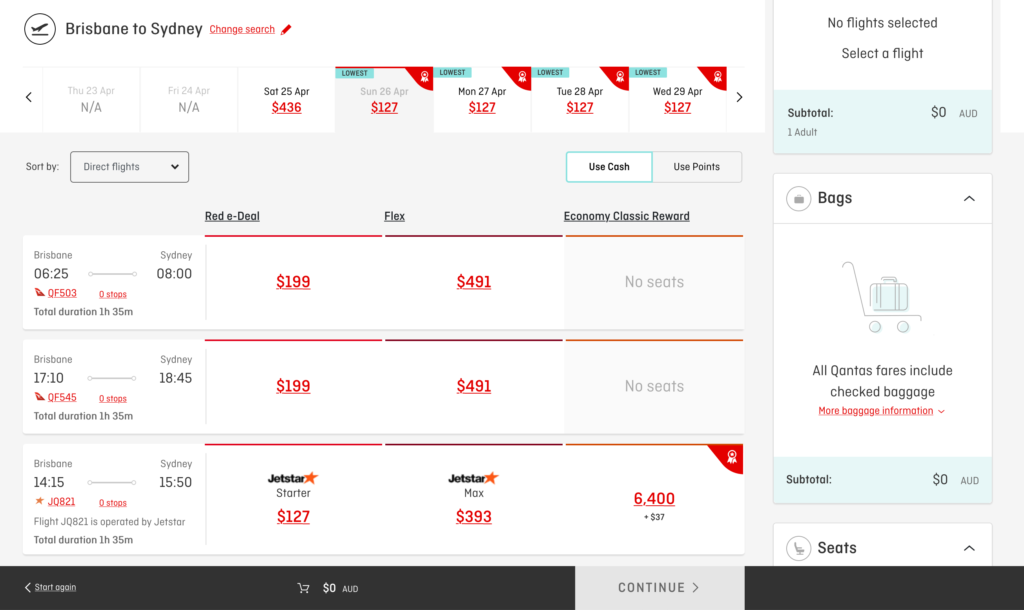 Summing up
It is great to see the Australian Government has reached an agreement with both Qantas and Virgin Australia to ensure that passengers and critical freight routes remain open.
Hopefully, this will not need to be extended and by 7 June, we will be well on our way to getting domestic travel resembling some form of normality.
Qantas boosts 'Golden Triangle' flights just before Christmas
was last modified:
August 25th, 2023
by