Japan Airlines will definitely be rostering on a 777-300ER with First Class on the Sydney – Narita route later this year as hoped when they announced they would be upgrading it back in June – with First Class availability for frequent flyer redemptions now available on an ongoing basis.
It's great news for those who had redeemed for First Class seats up to Japan for the northern hemisphere winter, and good news for Business Class travellers on an ongoing basis as it seems like the upgrade to their improved Business Class cabin is here to stay.
Note JL originally put out a press release stating there would be no First Class on this route – Thanks to AusBT for the correction via Twitter, Japan Airlines got their press release slightly wrong!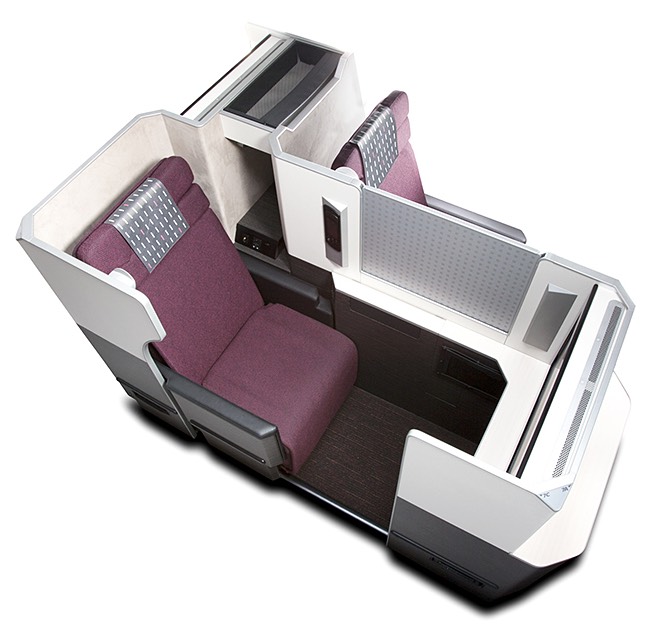 The changes kick in from October 25th (26th for JL772 up to Narita).
If you've made a redemption booking in First Class you'll need to contact your frequent flyer program to see how they'll handle the downgrade – in all cases I would assume they will permit a partial refund in points and to move you down to Business Class if you want to continue the trip.
Please share you experiences if you're affected in the comments, I'd love to know how you get on.
Source: JAL press release and updated schedule
---
Previously…
Last year Japan Airlines decided to upgrade their daily Tokyo to Sydney service to a 777-300ER with improved Business and First Class product for the peak Australian summer / Japanese winter – and it looks like they're doing it again.
There hasn't been a formal announcement (that I can find) but from late October until late March, First Class is bookable – and again heaps of points seats are available this time around.
I took this opportunity for a ski trip to Japan this last December and had a blast – you can read my review of the outbound Japan Airlines First Class experience here. Highly recommended!

Update: AusBT are stating that Japan Airlines haven't officially confirmed the 777-300ER will be running the route, despite it appearing in the schedule.
This seems odd – you'll have to make your own mind up on how comfortable you'll feel redeeming points as a result.
Example award availability
Here's a search showing the available dates for two seats in First Class for Sydney to Narita for some example dates in January: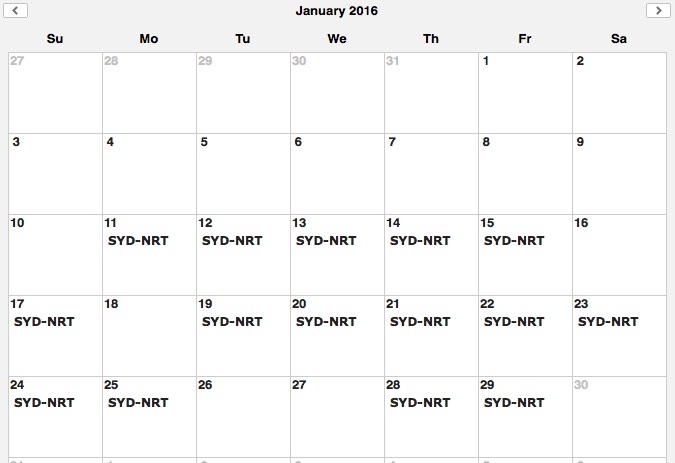 And the same for the return over January and February:
It's likely this space won't last too long, however I booked my First Class trip two months out from departure and there was still some availability on not so desirable travel dates (Boxing Day and New Years Eve).
Ad – Scroll down to continue reading.Minimum spend, terms & conditions apply.
Finding award availability on Japan Airlines
There are two alternatives – use the British Airways search engine if you have signed up as a BA Executive Club member (you'll need to a use non-Australian address though if you haven't), or Awardnexus.com as my favourite paid option.
Awardnexus is the source of the availability screenshots above.
Redemption options and costs
The two primary options for Australian's looking to redeem for this route would likely be Qantas Frequent Flyer, or American Airlines AAdvantage programs.
With Qantas Frequent Flyer
Qantas will charge you 114,000 Qantas Points for a one way First Class redemption, along with a few hundred dollars in taxes and fuel surcharges.
Sydney – Narita just falls into the partner Zone 6 band in the Qantas Classic Award table, as below.
It may not possible to book this award online as the Qantas search engine doesn't offer First Class between Sydney and Narita as an option, as understandably the cabin is not usually operated on this route.
My general experiences in calling Qantas to redeem award flights on Japan Airlines have been mixed – I have a 50:50 hit rate across several redemptions on call centre staff being available to see the availability that's being shown on the British Airways site.
The best option is to press the agent to look further and let them know that you have seen that award space is available from another source, or hang up and call back to see if someone else knows how to see it on their end.
All the while, be ultra-specific in that you are looking award space for Japan Airlines operated flights, rather than Qantas.
With Asia Miles
Asia Miles are a transfer partner of American Express Membership Rewards, ANZ Rewards, Westpac Altitude Rewards, and Citibank Rewards for Citibank Prestige cardholders only.
You'll be able to net one-way First Class for 70,000 Asia Miles, or 120,000 Asia Miles for a First Class return. This is a much better deal than Qantas Points, if you have access to a credit card program to make a transfer to Asia Miles.
With American Airlines AAdvantage
AAdvantage will charge you 60,000 miles one way between anywhere in South Pacific (including any Australian cities, New Zealand, or even Fiji) to Asia Zone 1 (which includes Japan, China, Korea, and Mongolia).
As a result if you want to travel further into Asia Zone 2 with your AAdvantage award, flying to another city in Japan or beyond, this would make a great AAdvantage redemption.
You'd need to coordinate a sub-24 hour stopover in Tokyo and connect to your onward flight within that time to have the award prices at 60,000 miles.
American also allows mixed cabin awards so your connection can be in Business or Economy, depending on your preferences for destination, routes and availability.
Summing up
This is a great opportunity to have an amazing experience in Japan Airlines First Class, and right now award availability is wide open.
If you have the points on hand and an inkling you'd like to coordinate a trip around this opportunity, I'd go for it and lock in your dates and seats, even if you're not 100% sure on taking the trip.
The best thing about points is their relative flexibility – Qantas would charge you a 5,000 point cancellation fee, or American Airlines $150 USD fee if you changed your mind.
Japan Airlines (actually) confirms Sydney – Narita proposed First Class service that was on the cards for late 2015
was last modified:
September 4th, 2018
by