With prices to Manila usually hovering around $600, getting there for just over half of that is a great deal!
This offer is with Cebu Pacific, which is a low-cost airline, so meals and checked baggage cost extra, but this deal still represents great value.
The direct flights have quite good timings, with an evening arrival to Manila and red-eye flight home, meaning you'll save on a night's accommodation costs.
This sale is on for November 2016 to March 2017 departures, but as dry season covers all of these months except November and tickets are understandably more expensive in the peak travel month of December, our tip to get these cheap tickets and good weather is to go in January, February or March.


The Wikipedia page for a destination in mind nearly always has climate information, which can help you plan the best time to go. In Manila's case, travelling outside of the wet season (which runs from May to November) is a good choice.
---
Depart: Sydney
Arrive: Manila, The Philippines
Return: Sydney
Dates: November 2016 to March 2017
Stops: none (direct flights)
Airline: Cebu Pacific
Cost: $358+ in Economy with 7kg carry-on baggage or $434+ (with 20kg checked baggage)
Payment methods: Visa, MasterCard or PayPal (no added credit card charges)
---
Examples found:
$358+ with just 7kg carry-on baggage: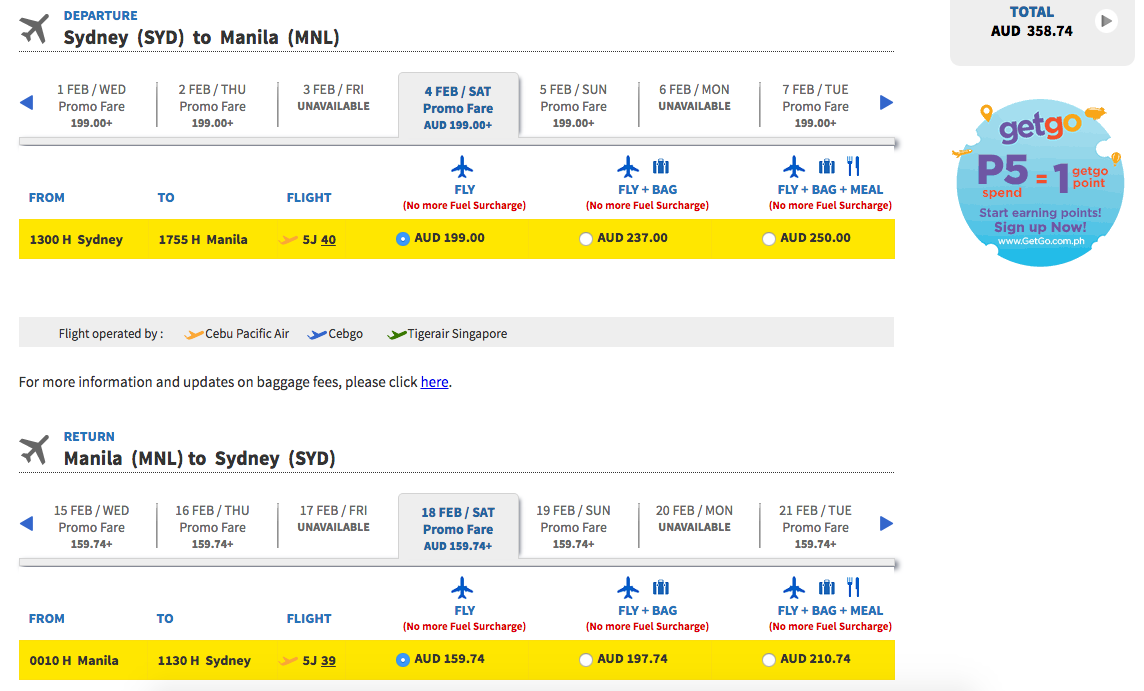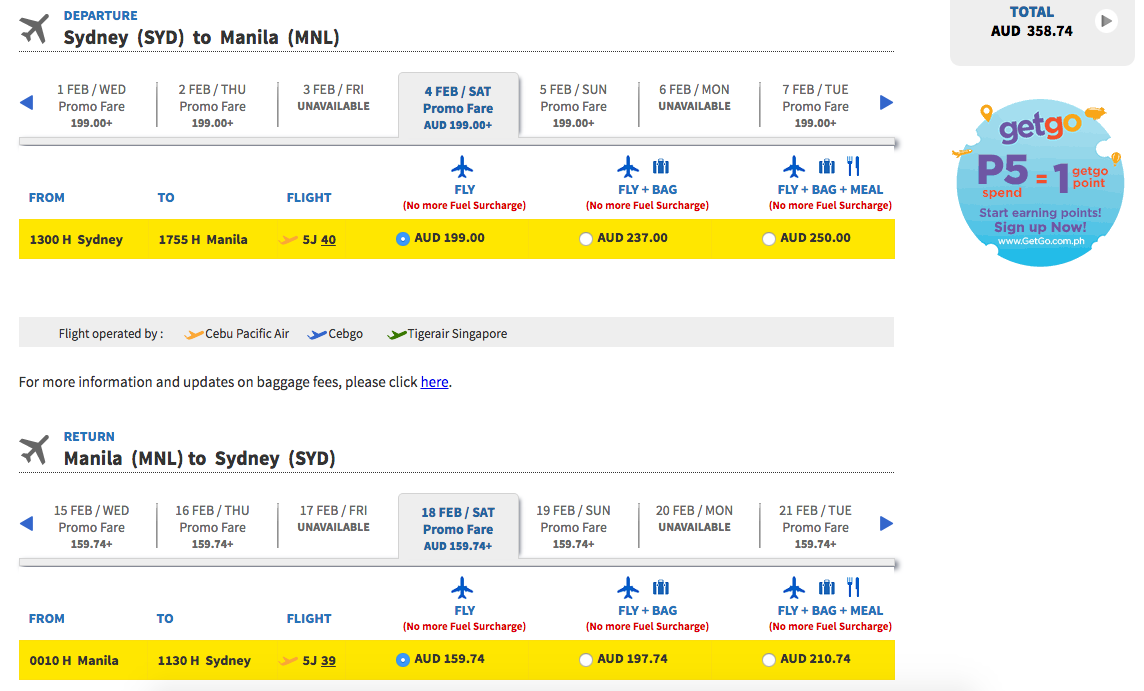 $434+ with 20kg checked baggage: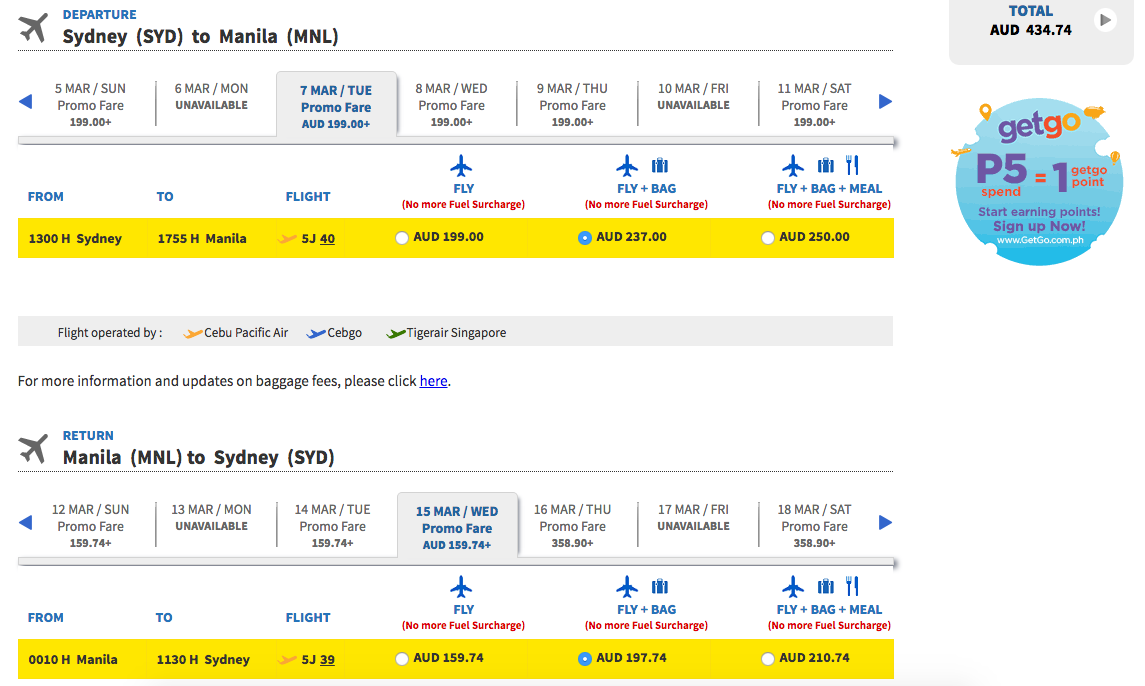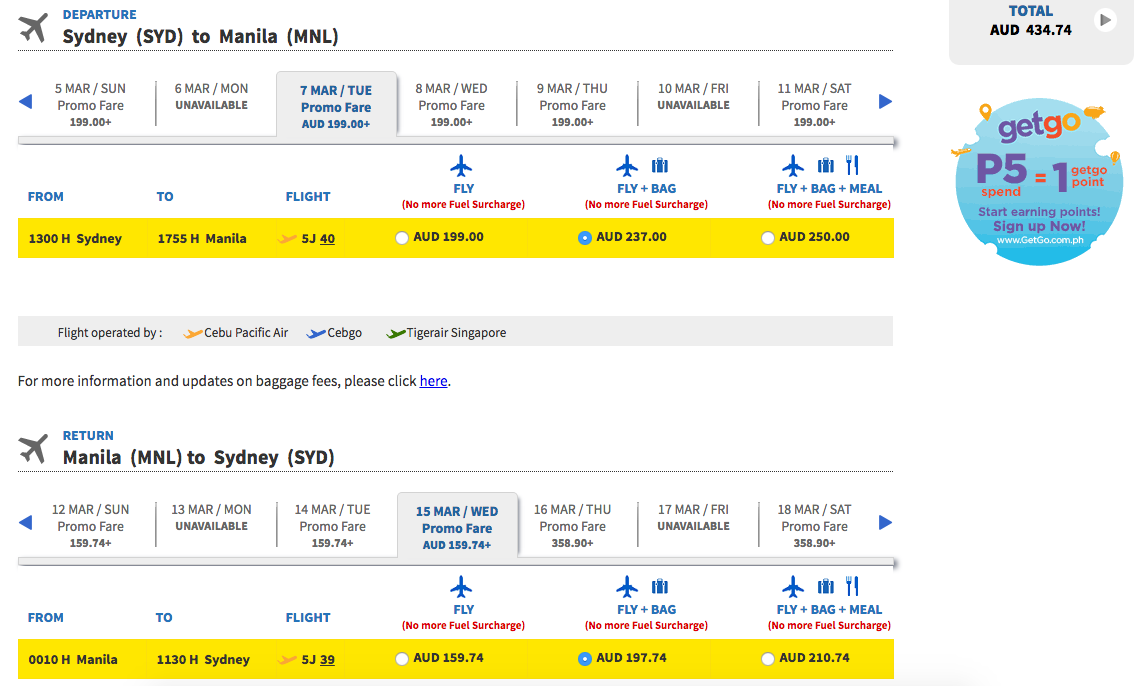 ---
Booking link: Go to the Cebu Pacific website to do your search and make your booking (not bookable through online travel agencies such as Expedia, Zuji or STA Travel)
Airfare deals are typically only available on limited dates. Fares may disappear quickly, so we suggest booking as soon as you are confident in your travel dates.
With thanks to OzBargain user biggweilo for alerting us to this deal!
Flight Deal: Sydney to Manila for under $360 return during dry season (Jan to Mar 2017)
was last modified:
December 21st, 2017
by