October-November is an ideal time to visit both San Francisco and Houston, plus transiting through Auckland avoids clumsy transfers at Sydney Airport.
San Francisco has the coldest summer (June to August) of any major US city, with the seemingly omnipresent fog giving way to more sun from September to November. It is also a good time to enjoy milder temperatures in Texas.
You can also try an open-jaw ticket search, flying into one city and out of the other (see example below).
Note: there are more seats on sale to San Francisco than Houston.
---
Depart: Sydney, Melbourne, Brisbane, Adelaide or Gold Coast
Arrive: San Francisco or Houston
Stops: Auckland
Dates: October to November 2016
Airlines: Air New Zealand
Cost: From $861 in Economy
---
Examples found:
Gold Coast to Houston return for $861:

Melbourne to San Francisco for $872:
Brisbane to San Francisco return for $884: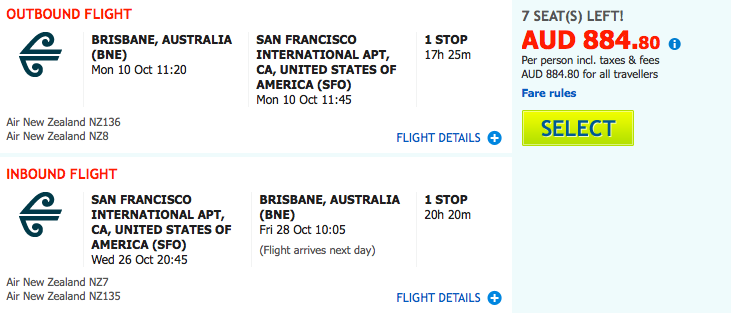 Sydney to San Francisco for $889: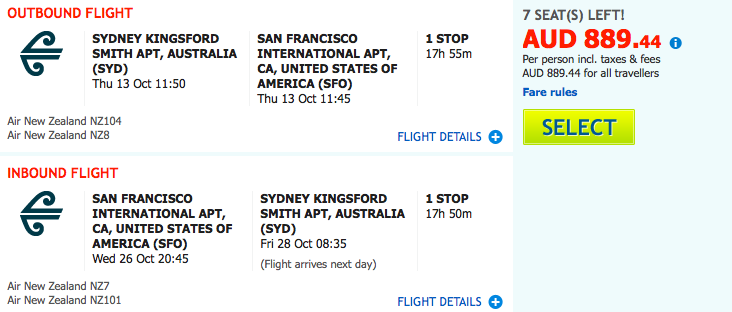 Adelaide to Houston return for $969:

Flying into Houston and out of San Francisco (or vice versa) seems to cost an extra $30+:

Airfare deals are typically only available on limited dates. Fares may disappear quickly, so we suggest booking as soon as you are confident in your travel dates.
Flight Deal: San Francisco/Houston return for under $900 from most cities on Air NZ
was last modified:
May 30th, 2022
by