Well, the inevitable happened – after yesterday outlining the changes to points caps and earn rates on the Citi Premier Visa, I thought cardholders had gotten away with avoiding further devaluations to the Signature and Prestige Mastercard.
Unfortunately, I was wrong – and Citi's previously flagged reduction in transfer rates from 1.5 Citi Rewards points = 1 Velocity point or 1 KrisFlyer mile to 2 Citi Rewards points = 1 airline point, is coming through.
This time though, they are giving at least 90 days notice, with the changes pegged to come through on March 18th.

Here's a screenshot of the communication of changes to existing cardholders: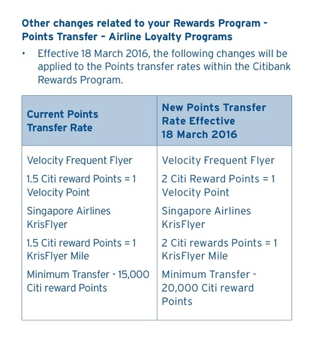 The key changes are self evident – the reduction in transfer rate and increase in minimum points transfers. Transfer those points over by mid March!
Previously from November 2015…
In a positive turnaround, Citi have reversed their decision to cut the points transfer rates from Citi Rewards to Velocity and KrisFlyer, which saw Citi cardholders face a loss in points value of around 25%.
AusBT are reporting, and Citi are confirming via Facebook comments, that the new rates will be reversed in coming days – so don't transfer your points out of Citibank in the short term until that's been fixed.
This is actually fairly amazing. Behind the scenes at Point Hacks I've heard of several members out of pocket for the equivalent to the tune of millions of points, and also witnessed a powerful movement of many of them banding together to put an immense amount of formal pressure on Citibank to resolve this in their favour.
The fact that their efforts, and everyone else who pressured Citibank through public channels – the AFF forum, Facebook members, AusBT and your comments here – shows that banks need to think through any changes they make to rewards programs, and make them within the scope of their terms.
Having said that, Citi have added new a clause to their terms and conditions since this minor fiasco, which appears to allow them to do this in future without any legal recourse:
3.6. Points Transfer – Travel Loyalty Programs
3.6.4. We may change the Points Transfer program rules including participation of travel loyalty program providers, regulations, policies, benefits, conditions of participation or points/mileage levels (if applicable), in whole or in part at any time with or without notice.
How confident that leaves us about whether they would actually do this in future, I don't know. The best tactic is probably to keep on top of your points balances, ensuring you transfer them out strategically to airline partners on a regular basis.
Regardless, it's clear they will face an immense consumer backlash from an extremely passionate community if they do something similar in the future. Well done to those who put the effort in to push Citi on this one.
I'll let you know once the transfer rates have been updated in Citi's systems.
Previously from November 2nd
The Citi Rewards program has long been a favourite of points collectors looking for an alternative rewards program that's not linked to an American Express.
The transfer rates from Citi Rewards were just cut – down from 1 Citi Reward to 0.666 KrisFlyer or Velocity miles, to 1 Citi Reward to 0.5 airline miles. This is for both the $700 pa Citi Prestige Mastercard and the Citi Premier – almost a 25% cut in value.
What's worse is that this was done on November 1st, and existing cardholders were given no notice. This, to be honest, is a pretty appalling way to run a rewards program.
Old vs new earn rates for the Citi Premier and Prestige Mastercard
I've summarised the differences in the previous transfer and therefore earn rates for the two key cards and the new below.
| | Old | New |
| --- | --- | --- |
| Citi Rewards Transfer Rate | 1 Citi = 0.66 Velocity / KrisFlyer | 1 Citi = 0.5 Velocity / KrisFlyer |
| Citi Prestige earn rate / domestic | 1.33 Velocity / KrisFlyer per $ | 1 Velocity / KrisFlyer per $ |
| Citi Prestige earn rate / international | 3.33 Velocity / KrisFlyer per $AUD | 2.5 Velocity / KrisFlyer per $AUD |
| Citi Premier earn rate / domestic | 1 Velocity / KrisFlyer per $ | 0.75 Velocity / KrisFlyer per $ |
| Citi Premier earn rate / international | 2.65 Velocity / KrisFlyer per $AUD | 2 Velocity / KrisFlyer per $AUD |
It's not a pretty sight for either set of cardholders.
The Citi Prestige Mastercard has a $700 annual fee, so for this to go to a 1 point per $ earn card for two of the major airline currencies on the market, when there are higher earning cards out there, is not good.
For Citi Premier cardholders this means that their effective earn rates on spend have been cut from a relatively market leading position.
I reached out to Citibank who provided this official comment on these changes:
Any changes made are always in line with the rewards terms and conditions. We believe our rewards program continues to provide excellent value for our customers. We continually review our rewards program to ensure it provides value for all of our customers. We have recently conducted one of these reviews in light of recent external market changes and the impacts on our Rewards Program.
Ad – Scroll down to continue reading.Minimum spend, terms & conditions apply.
What can you do about this?
Firstly, if you are interested in whether this is above board, the Citi Rewards terms are here.
Term 6.2 is the key one:
6.2 We may vary these Rewards Program Terms and Conditions from time to time. We will notify you of a change in the following ways:
* If we change the rate at which all Points in the program are generally earned or converted we will give you 90 days written notice of that change;
* We will give you 30 days written notice of other changes to these Rewards Program Terms and Conditions;
* If we change the Point value of individual goods or services in the program to reflect changes in the price charged by our suppliers for those goods or services, or if a particular Reward is unavailable we will notify you on our rewards website at the time you redeem your Reward.
I don't know if Citi are within the terms of their program to make a change with no notice if they claim that the price charged by KrisFlyer or Velocity has increased.
I don't believe that a points transfer is a 'good or service', but wouldn't be surprised if that term is leant on to disclaim the lack of notice.
I am no lawyer, so if you have a specific reading of the terms, I'd love to hear it in the comments.
So, firstly, contact Citi and express your displeasure. Ask for discounts on your annual fee and/or bonus points as compensation. If you don't get a satisfactory outcome, maybe it could be worth asking the Financial Ombudsman to get involved.
If you are willing to share any successes, again, please do so in the comments.
How it should have been done?
I don't think making changes to a rewards program is a problem. Businesses and contexts change all the time, and as consumers we need to be prepared for that.
However banks and rewards programs need to recognise that member engagement is only possible if there is consumer trust in the program. Trust needs to be engendered by providing clear notice of changes, in writing, allowing the consumer to take action based on the change.
Regardless of Citi being in the right or wrong according to the letter of their terms, they will have screwed many consumers by reducing the value of their hard-earned points balances, without offering the ability to do anything about it.
What are the non-Citi Visa options for Velocity earn?
For heavy non Amex users, this leaves few Velocity-linked cards that earn 1 point per $.
The Virgin Money Visas lead the pack at 1 Velocity points per $ on the Flyer Visa, and 1.25 points per $ on the High Flyer Visa.
The Virgin Money cards are also issued by Citibank – but are managed by an independent business to Citi. My understanding that points earn rates, bonuses and other key product features are managed by Virgin Money, not Citibank, but I suppose there's also a small risk of product changes there.
Summing up
I'll also change the Point Hacks card guides to Citi Rewards, and the Citi Premier and Citi Prestige Mastercard in the next day – unfortunately I'm travelling most of today but will try and get this done ASAP.
Finally, I've also tried to confirm with Virgin Money that the Flyer Visas remain unaffected for the foreseeable future. Again, I'll add any comment I can on that to this post.
Thanks to a Point Hacks commenter for the heads up, and AFF for links to terms and their opinions.
Citibank still devaluing Citi Rewards – transfer rate cut to Velocity and KrisFlyer from March 2016
was last modified:
April 3rd, 2020
by