At Point Hacks, we have always advocated that the best value redemptions are those for long-haul flights at the pointy end of the plane. However, it appears the ability to redeem our hard-earned points for this redemption is likely to be shut-off until at least 2021.
So what does this mean for your frequent flyer points, and how best should you redeem them if you are looking to do so sooner rather than later? This guide will run through your available options.
The value proposition has not changed
While many things have changed due to the coronavirus outbreak, the value proposition for frequent flyer points is not one of them. It still remains the case that the best value use of your points is in premium classes on long-haul flights.
With these redemptions, you should be able to secure values in excess of 3 cents per point, and sometimes much more, whereas physical product and gift card redemptions will get you about 0.5 cents per point.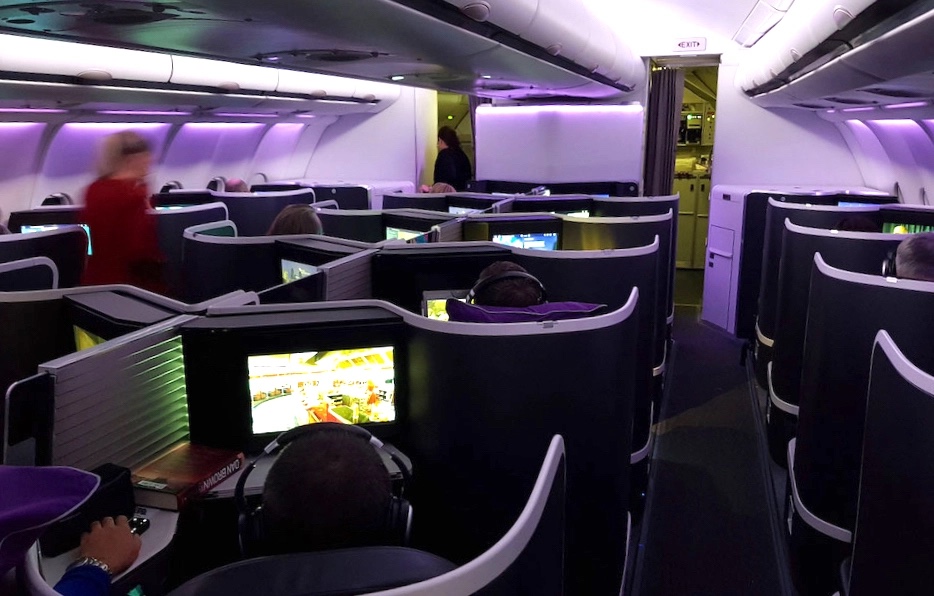 Given that long-haul flights are likely to not recommence until at least 2021, you might be wondering whether you should look to redeem for non-flight rewards.
Before you make that decision, be sure to consider whether saving your points for short-haul flights may be better value for you. It is very likely that domestic air travel will recommence before international travel, and just as premium class seats offer the best value on long-haul flights, the same is the case for short-haul flights. Economy Class seats on short-haul flights can also represent great value when travelling on routes that have little competition, usually those to regional areas.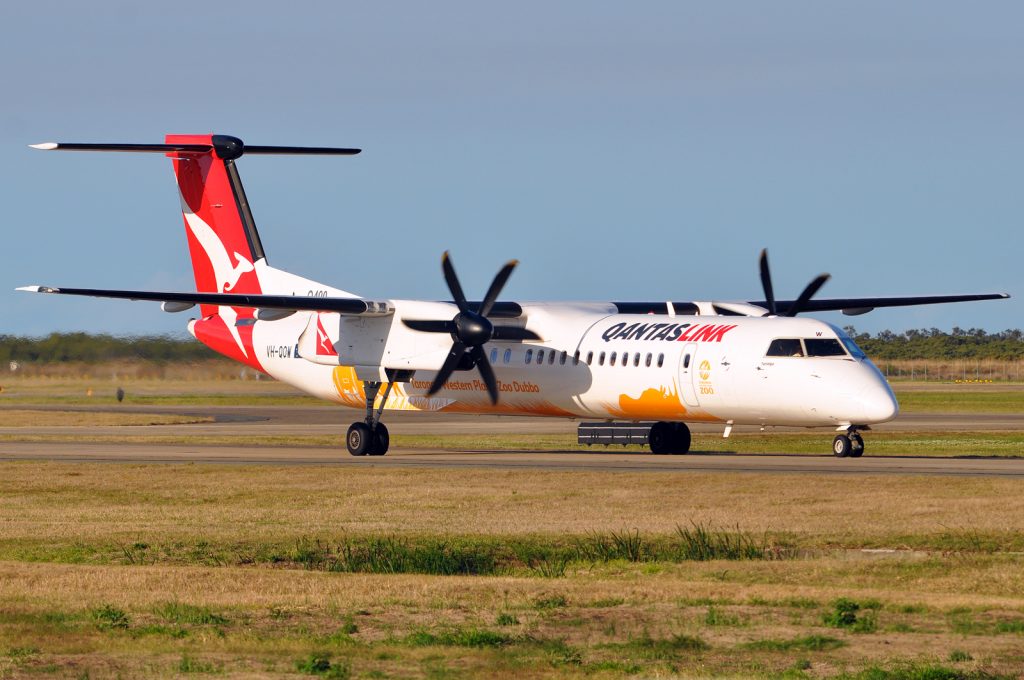 Not all non-flight redemptions are created equal
While variation in value for non-flight redemptions in no way fluctuates as much as flights, there is still some variation. We take a look at some examples below.
Product
Retail
dollar
value
Qantas
Points
required
Qantas
Point
value
Velocity
Points
required
Velocity
Point
value
$50.00 Westfield Gift Card
$50
11,010
0.45c/pt
10,900
0.46c/pt
Delsey 68cm Montrouge 4-Wheel Expandable Trolley Case
$255
83,930
0.30c/pt
94,812
0.27c/pt
Ipad – Wifi 32GB
$469
80,600
0.58c/pt
92,871
0.51c/pt
Bose Soundlink Revolve Speaker
$249
54,690
0.46c/pt
61,823
0.40c/pt
Breville Bit More Plus 2 Slice Toaster
$59
12,730
0.46c/pt
15,039
0.39c/pt
Bose Soundlink Around Ear Headphones II
$329.95
59,690
0.55c/pt
67,763
0.49c/pt
DeLonghi – Nespresso Citiz & Milk Coffee Machine
$269
47,600
0.57c/pt
69,772
0.39c/pt
The value range is quite small, from around 0.45 to at most just short of 0.6 cents per point, which means that the value you receive from these non-flight redemptions should not factor into your decision anywhere near the same levels as they do when redeeming for flights.
Gift card redemptions offer value on the lower end of the above range, but you should consider that with these cards, their indirect value can be boosted by using them on products that are on sale with the retailer. So for example, if you use your card on a product that is currently 50% off, you are going to get 0.9 cents per point in value rather than the standard 0.45 cents per point.
Also, consider redeeming points for a more flexible gift card, such as one from Westfield, rather than brand-specific one that locks you into that retailer. Generally, the former cards are slightly more expensive in terms of points needed, but it is usually negligible and the flexibility in use more than outweighs the increase in points cost if you are presently unsure how you wish to spend the gift card.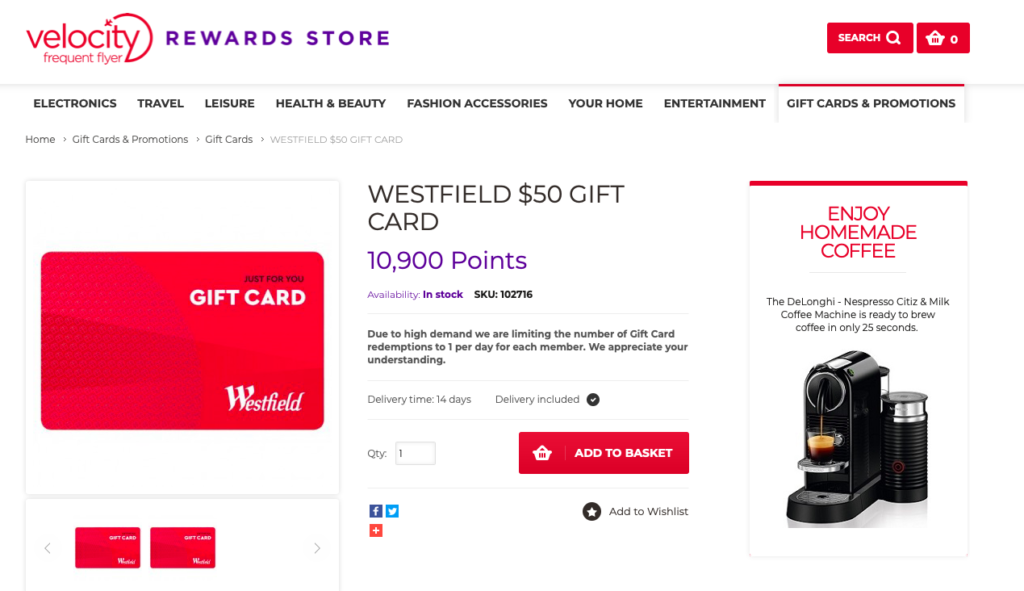 Physical products such as electronics and vacuums are your other main option, and depending on the product can offer a slightly better or worse value per point to gift cards. Keep in mind that the points required will be based on the product's full retail price, and therefore takes away the ability to boost the value on sale fares as with gift cards.
However, from time to time, the airline redemption malls, Qantas Shopping and Velocity Rewards Store do offer discounts in the number of points required for certain products, so keep an eye out for them.
Ad – Scroll down to continue reading.Minimum spend, terms & conditions apply.
Am I still getting good value for my points?
Point Hacks provides a comprehensive list of valuation estimates for a range of frequent flyer, frequent guest and other loyalty programs.
There are a number of variables that we consider when estimating the value of a particular program, and we explain these in our valuations guide, which can be accessed here.
Should you be redeeming now?
I refer back to my first point, the value proposition has not changed, so if you can hold out for flights to resume, this is your best bet to get the best value.
If you are concerned the future viability of your points, especially with the media speculation on Virgin Australia, then you will need to assess what is best for you – Things to consider include do you have future travel planned and do you have a substantial number of points in other programs to cover those flights.
It should also be noted that the structure of the Velocity program is such that it is an independent business that is overseen by a Trustee, so it is not inevitable that any negative development for Virgin Australia will be a repeat of the Ansett Global Rewards scenario.
Summing up
Everyone is having to reassess the modus operandi in nearly everything they do as a result of the COVID-19 outbreak, and your strategy for frequent flyer points is no exception.
If there is a take-out from this, it is, do not panic and instead calmly assess what you are looking to use your points for in the future. If you plan to travel at some point in the future, either later in the year or in the years to come, you will still get the best bang for your buck with flight redemptions.
However, should travel not be in your immediate plans, the value you will receive from non-flight redemptions fall within a narrow range, so make sure to focus less on the value you are receiving and more on redeeming for what you actually want. Gift cards can assist to increase the value received if you can find the product you want to purchase on sale when using the card.
With limited ability to fly, how should you be redeeming your points now?
was last modified:
April 20th, 2020
by