The COVID-19 pandemic has made many of us place a greater emphasis on our health. So what better time to look at improving our overall health and being rewarded for it?
Introducing AIA Vitality, the loyalty program for AIA Australia. This life, health and wellbeing specialist offers members a suite of rewards for making healthier choices.
We take a look at the program and explore the many ways you can benefit from maintaining a healthy lifestyle.
What is AIA Vitality?
AIA Vitality promotes itself as a personalised, science-backed health and wellbeing program. The objective of the program is to support members every day to make healthier lifestyle choices.
AIA Vitality provides you with tools and support to help you to maintain a healthy lifestyle. Encouraging you to do relevant health checks, move more and eat well are all part of the support. And to help you stick with your health plan, the program incentivises you with rewards.
The program has three key pillars:
Know your health
The first pillar helps you to learn more about your health. Features include:
Online health assessments
Private and personalised feedback
Free annual in-pharmacy health check
Improve your health
The next pillar relates to the support offered to help you make healthier choices, including:
Discounted gym memberships and fitness devices
Quit smoking programs
Nutrition consultations
Enjoy the rewards
The final pillar is all about enjoying the fruits of your labour, with:
Cash back on eligible domestic and international flights
Discounted movie vouchers
e-Gift cards from a range of popular retailers
The video below explains the program in a minute flat. Make sure to check it out!
AIA Vitality Status
Members earn AIA Vitality Points for making healthier life choices. These Points contribute to your overall AIA Vitality Status (Bronze, Silver, Gold and Platinum).
The number of Points needed to attain the various Status is shown below. So too are the program's partners, which have been categorised by the three pillars above.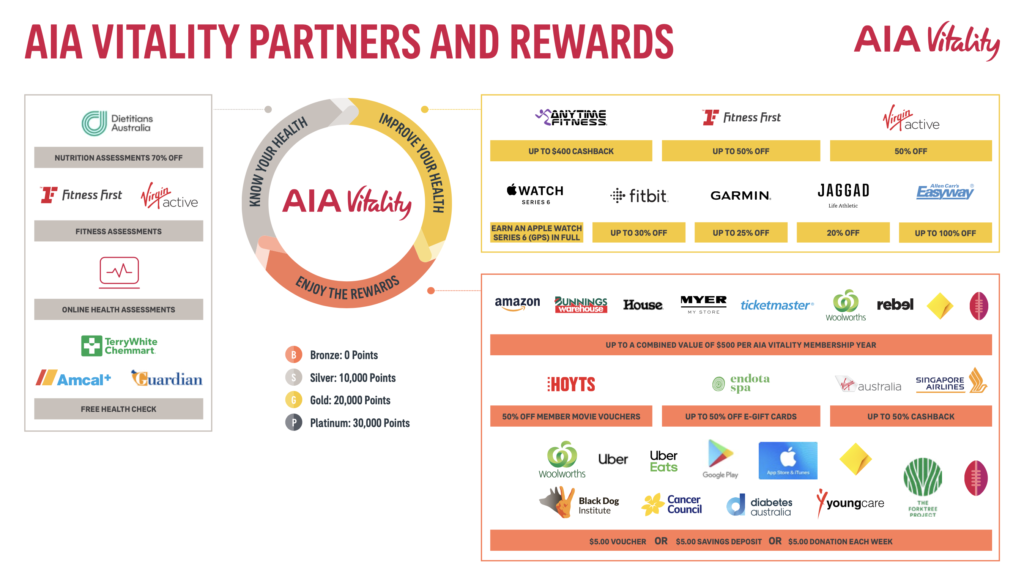 The higher your Status level, the greater the value of your rewards. We look into the rewards that are available in more detail below.
Ad – Scroll down to continue reading.Minimum spend, terms & conditions apply.
How do I earn AIA Vitality Points?
There are three main ways that members can earn points. These include:
1. By completing physical activities
Members earn Physical Activity Points by undertaking various physical activities. There are three types of metrics that measure your physical activity:
Steps per day
Heart rate data
Calorie data
To earn Physical Activity Points, you must first link your fitness device. You can then earn a maximum of 100 points per day. The number of points you earn is based on the information sheet below. If you complete two or more fitness activities in one day, you will earn the higher number of points between them.
2. By taking steps to improve your health knowledge
Improve your health knowledge – and be rewarded for it – by getting the following:
Eye check
Dental check
Fitness assessment at participating gyms
Health check with your GP or participating chemists
Nutrition assessment at participating dieticians
Vaccinations
Each of the above will earn you points. And the more you do, the more you earn!
3. By going to the gym or other approved fitness events
Every time you visit an Anytime Fitness, Fitness First or Virgin Active gym, or attend an approved fitness event, you will earn points. So there's no better time to become a gym junkie than now!
So just how many points can you earn from improving your health knowledge, going to the gym, or attending another approved event? We take a look below.
What benefits can I get from my AIA Vitality Points?
AIA Vitality doesn't work like traditional loyalty programs when it comes to receiving benefits. Most loyalty programs involve earning points to then redeem for a benefit. This program works slightly differently.
There are two types of benefits available to members. With the first, benefits are automatically awarded once certain milestones are achieved. With the second, members can access discounts (all members, in fact!) when purchasing from AIA Vitality partners.
Let's look at each in turn.
Automatic benefits
By reaching certain milestones, members can receive the following benefits:
Active Benefit – a $5 voucher per week
You will earn a $5 voucher per week when you meet your personalised Active Benefits target. This is a dynamic target that is individual to each member, based on the member's past activity performance.
You can select one use for the voucher each week. Happily, there's a wide variety of uses – with some being quite creative!
These include:
Spend at one of the program's retail partners
Make a donation to a partner charity
Spend at participating AFL clubs
Deposit into a nominated CBA bank account
Earn an Apple Watch Series 7 (GPS & Cellular) and connectivity with Optus over 24 months. See below for more information.
Shopping Reward – eGift Cards
You'll receive an eGift Card every time you hit 10,000 points in each membership year, which you can spend at your choice of retailer. For every additional 5,000 points earned, you will receive further eGift Cards, up to a maximum of 35,000 points. The distribution of eGift Cards is as follows:
| | |
| --- | --- |
| AIA Vitality Points earned per membership year | eGift Card received ($) |
| 10,000 | 20 |
| 15,000 | 40 |
| 20,000 | 60 |
| 25,000 | 80 |
| 30,000 | 100 |
| 35,000 | 200 |
Discounts with partners
On top of this, members can also receive discounts when purchasing certain products and services. The level of discount is generally tied to your AIA Vitality Status level. The higher your level, the greater the discount!
Examples of discounts available include:
Partner
Benefit
HOYTS, HOYTS Lux, CMAX, Majestic & Grand Cinemas
50% off movie vouchers (max six tickets per month)
Endota Spa
Maximum of four eGift Cards per membership year, with the discounted rate as follows:

Bronze – 10%
Silver – 20%
Gold – 30%
Platinum – 50%
Virgin Australia, Singapore Airlines
One of the best perks? You can receive up to 50% cashback on the base fare of eligible domestic and international flights (one way or return) operated by Virgin Australia or Singapore Airlines. Plus, Delta flights to/from Los Angeles. Flights must be booked via the dedicated Virgin Australia portal available via aiavitality.com.au.

Bookings can include up to eight accompanying passengers. But keep in mind, no cashback will be applied to these accompanying passengers.

Cashback amounts are as follows:

Bronze – 10%
Silver – 20%
Gold – 30%
Platinum – 50%
For a full range of benefits available, see the above guide titled "Your AIA Vitality Guide to Points and Rewards".
Apple Watch Benefit
For your automatic Active Benefit, instead of electing to receive a $5 voucher, you can instead choose to activate the Apple Watch Benefit.
Under this option, all Active Benefit Rewards you earn will contribute to reducing your loan repayments with etika.
To read more about this Benefit, as well as read examples of how the Apple Watch Benefit works, please see the attachments below.
How to join
To join AIA Vitality, you will need to take out an eligible health or life insurance policy with AIA.
Read more about how to join when taking out a health insurance policy.
Read more about how to join when taking out a life insurance policy.
Summing up
While AIA Vitality doesn't work in the same way as other traditional loyalty programs, it is just as rewarding. You have plenty of opportunities to earn AIA Vitality Points through a vast range of positive lifestyle activities. And you also have a great array of reward options, suited to a range of preferences and tastes.
Whatever you enjoy, there's a reward out there that is sure to hit the spot!
The Ultimate Guide to AIA Vitality
was last modified:
October 19th, 2023
by