Admirals Club is the lounge brand / access programs of American Airlines, just like the Qantas Club here – with a few differences. American Airlines sell access to Admirals Clubs, as with Qantas, but they also offer a 30 day Admirals Club access pass for $99 USD which comes with the full benefits of annual membership.
This 30 day pass is ideal for the infrequent traveller flying in Economy or Premium Economy, who wants to make use of the lounges during their travels. The pass will get you access to all domestic Qantas Clubs, International Business Class lounges, Admirals Clubs and Alaska Airlines boardrooms when flying with American Airlines or Qantas – the full list of locations is here.
I republished this one as I'd previously understood the deal to be off the table, then some commenters with experience thought it was back on along with American clarifying that it was possible to access Qantas lounges with the pass. However some other commenters think it might not be working still, so tread with caution.
If it does work the guest policy is generous, with 2 guests allowed into the lounge if they are travelling with the 30 day pass-holder, and there are no limits to the number of lounges you can use during your 30 days of ownership.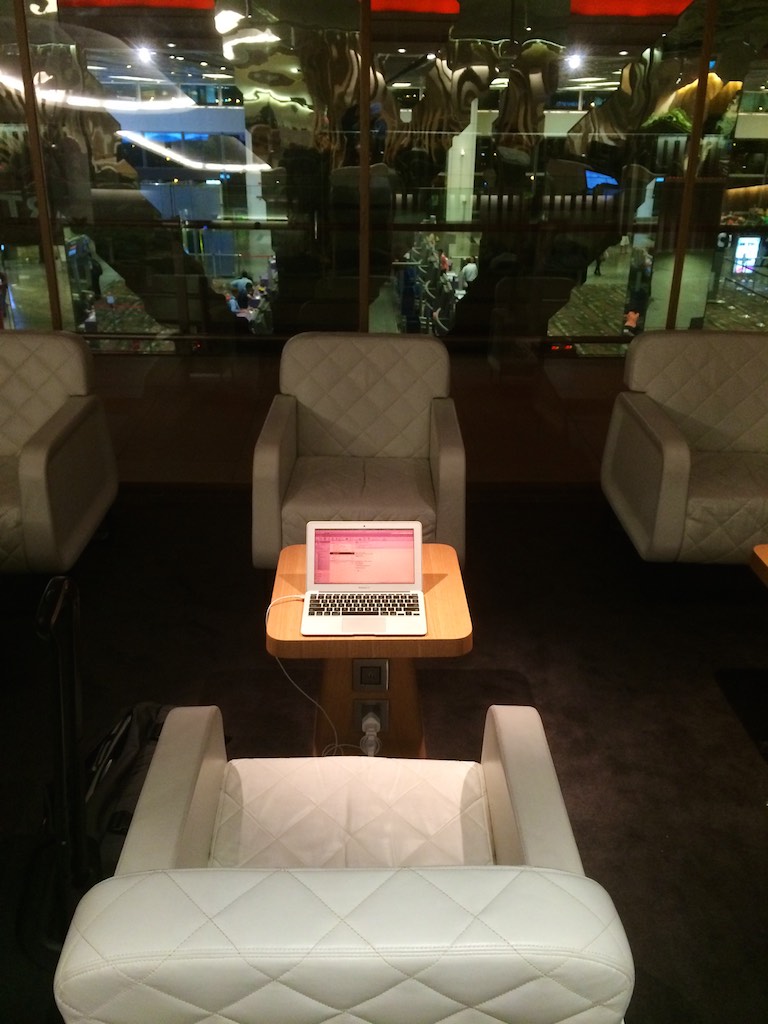 Ad – Scroll down to continue reading.Minimum spend, terms & conditions apply.
How to order and use 30 day Admirals Club passes
First, you'll need to be an AAdvantage member to be able to buy a pass, so if you haven't already signed up, do so here.
You can then purchase a pass from American Airlines, here. The 30 days can commence the day of purchase or you can select a date in the future to start your 30 days, but this needs to be within 90 days of the purchase date.
You won't be sent a physical card to use to access the lounges, but instead a receipt generated during the transaction needs to be printed and presented at the lounge to gain access for you and your guests.
I'm yet to use a 30 day pass, so don't know what this looks like – if anyone does use one I'd love you to take a picture of it and send it in for me to add to this guide.
A note on guest access at Qantas lounges
Admirals Club 30 day passes are somewhat unique in that they permit 2 guests access along with the passholder. This is better than Qantas standard lounge access for most members, and I'm not 100% sure that this would be honoured at all Qantas lounges.
In my research though I've come across several people stating that Qantas do permit 2 guests – if you have any of your own personal experiences, please report back.
Summing up
This is a great way to gain access to a range of lounges over a 30 day period, especially on trips including Asia (flying with Qantas), North America (Qantas or American Airlines), or domestically/in NZ (Qantas Clubs).
---
Previously American Airlines had updated their terms to read that access to Qantas Clubs is only permitted when travelling on American Airlines marketed or operated flights, removing the ability to use the 30 day lounge pass for Qantas Club access when travelling with Qantas.
A commenter noticed recently (thanks 'WGTN'!) that this requirement had again been removed, with the term explicitly stating "Select Qantas Clubs when departing on the same day on a Qantas operated flight or an American marketed flight operated by Qantas".
American Airlines also reconfirmed this by email, saying:
If you present a ticket or boarding pass showing travel marketed on American Airlines or Qantas and operated on Qantas and your current Admirals Club membership card or 30-Day Membership receipt, you can be admitted to the Qantas lounges.
---
Qantas & American Airlines lounge access for $99 USD – use the Admirals Club 30 day pass [Deal Dead Again?]
was last modified:
August 11th, 2016
by