I'm obviously a sucker for loyalty programs of most flavours and some time ago I'd registered with British Airways OnBusiness (for small-medium size businesses) scheme, where you can accrue further points on top of Avios for IAG group (BA, Iberia, Openskies) flights.
OnBusiness (OB here out) is free to join – see the website here – and allows you to redeem your OB points for flights, hotels and such. I'm 95% certain you need to also credit these flights to an Executive Club account (i.e. not Qantas Frequent Flyer) to actually accrue OB points, but I may be wrong.
This is just necessary background, not the point of this post. I received a friendly call a couple of weeks back asking if I was still engaged in the program (I had credited a couple of European flights at some point to my OnBusiness account), and with an offer of a 15% discount on British Airways flights originating in Australia to Singapore, Bangkok or London, in all classes of travel except First, which was emailed to me after the call.
I've done a bit of digging, and from the email I received it seems like an open offer to anyone with OnBusiness membership in Australia – which is surprising given it's not possible to be an Executive Club member if residing in Australia. (As a side-note – hopefully this will change after the JV with BA ends on April 1?)
Effectively the discount is open to BA Executive Club members of any flavour – I tested and was offered the discount after signing in with an Executive Club account not linked to an OB account.
It gives 15% off the base fare (excluding taxes/fees/surcharges) – but I would also register for OB membership to minimise any issues. BA Executive Club membership isn't available to those who register with an Australian address, so you'd need also need a mailing address overseas.
You can access the discount and book online here – once clicking 'sign up now', you'll be taken through to your Executive Club account page, where when searching for flights, you can see the discount applied – screenshots below.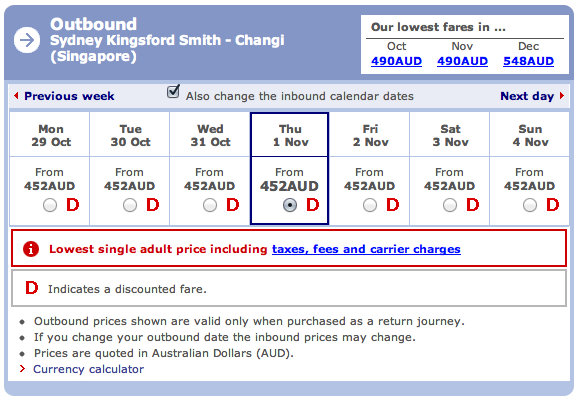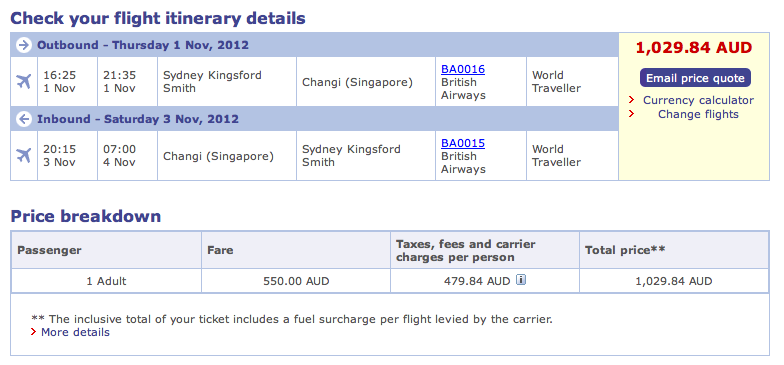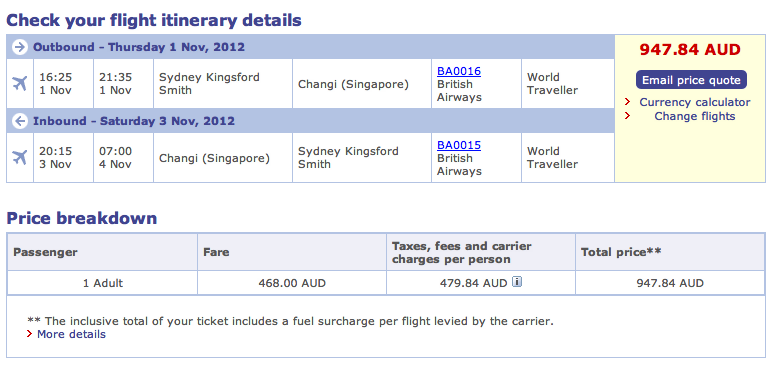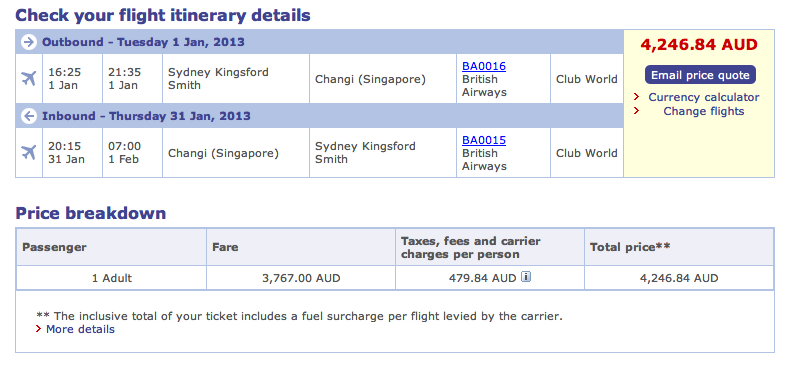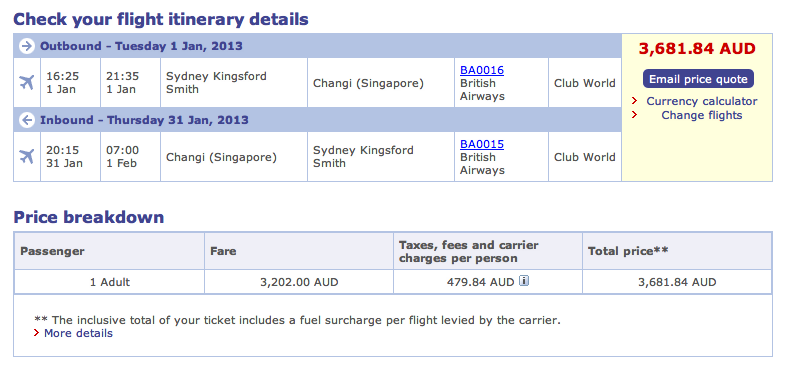 You may find it not worth the hassle for an Economy booking, but 15% off the Business Class base fare to Asia or London is worth considering. Once the booking is ticketed, there may well be nothing stopping you from changing your chosen loyalty program to accrue points and status into (i.e. into Qantas Frequent Flyer) via the standard Manage My Booking page, and the terms do not mention that travel must be undertaken under your Executive Club membership, however don't bank on it too much – no guarantees. If online MMB doesn't let you update your frequent flyer details, the BA call centre probably would.
Not ground-breaking, but if you're planning a trip with BA anyway, worth taking advantage.
Terms and conditions
The discount only applies to flights booked directly on ba.com when logging in or registering through the Business Partner offer page

This offer is valid for departures from Australia to UK/Europe, Singapore and Bangkok until 30 June 2013.

All travel must be completed within 12 months from departure.

The discount will apply to the lowest booking class available on the nominated day of travel and applies to the fare only. All taxes, fees and surcharges are payable by the passenger.

Travel permitted on selected British Airways operated flights from Australia to Singapore and London, and selected British Airways code on Qantas operated flights from Australia to Singapore, Bangkok and London.

Travel from Melbourne, Brisbane and Adelaide via Sydney on Qantas Airways with British Airways Code. The 15% discount does not apply from Perth to UK/Europe, Singapore or Bangkok flights. Travel to London via Hong Kong permitted on British Airways code, Qantas operated aircraft with no stopover in Hong Kong on to London.

Aer Lingus operates between London to Dublin and London to Cork. For discount to apply, no stopover permitted in London, travel must be on a connecting flight to qualify.

UK domestic flights are in Euro Traveller (economy).

Bookable on ba.com only through dedicated closed user group URL. Discount cannot be booked via a travel agent, and cannot be used for price beats, or on non qualifying code-share flights.

The offer is subject to availability.

All flights must be confirmed at the time of booking, open dated sectors are not permitted.

Airfares are non transferable, seats are limited, flight/routing restrictions and cancellation fees apply, please refer to terms and conditions on ba.com before booking is completed.

The discount is only available for personal travel, no corporate travel permitted.

For any booking related enquiries please contact our call centre on 1300 767 177, please have on hand your booking reference.

For access issues, please email [email protected] with the flight dates and destinations you are trying to book, for assistance.
Access a 15% Discount on British Airways flights originating in Australia
was last modified:
June 25th, 2019
by