Virgin Wines is an online wine retailer that offers up a healthy serve of three Velocity points per dollar for any purchase (excluding shipping).
It differs slightly from Qantas Wine, in that it does not have a premium membership tier or run special events – it just sells wine by the case and with the occasional special 'club cases'. The store is run by Laithwaite's Wine People, who offer identical products on their own website.
There is no extra cost to join Virgin Wines – anyone can purchase anything they have listed on the site.
Note: The following information was collated ourselves and we do not have a commercial partnership with Virgin Wines or Velocity.
Number of wines on offer
As of November 2018, Virgin Wines had 387 dry reds, 172 dry whites and more than 200 other assorted products, including sparkling wines and gift packs.
The Wine Club is an optional free membership which organises a case of 12 wines every three months, with your choice or mixed, all-white or all-red.
Pricing of products
New Wine Club members typically have an introductory offer starting from $99 for the first shipment of twelve wines.
Afterwards, shipments range from $159.99 to $209.99 every quarter, depending on selection. As the arrangement is flexible, you can swap wines, delay or even cancel shipments as you see fit.
Delivery is always charged per order, and ranges from $9.99 to some metro cities, to $14.99 for farther places like Perth and Tasmania, capping at $29.99 for remote WA and Northern Territory.
Free delivery is granted with more than $300 spend in a transaction.
Occasionally 'Velocity Exclusive' offers will appear which bundles 3,000 bonus points and free shipping into one of the club selections.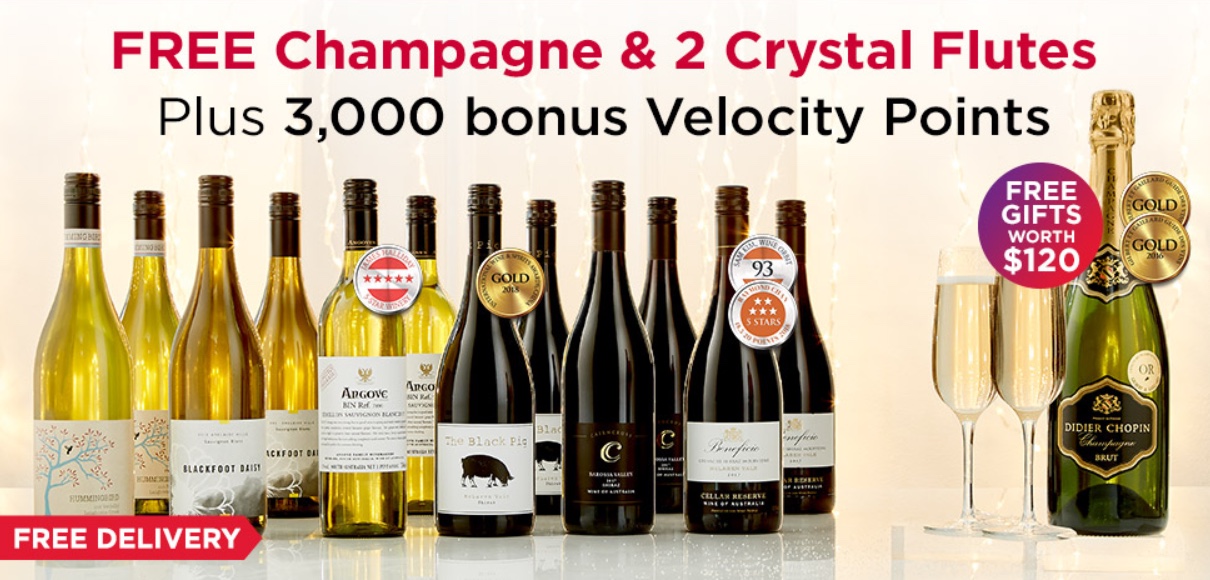 Much like other wine retailers, pricing of products on Virgin Wines can be hit-and-miss compared to local chain giants such as Dan Murphy's.
You can find the much-lauded Torbreck RunRig Barossa Valley Shiraz 2006 for $240 on Virgin Wines, compared to $299 at Dan Murphy's.
Conversely, a typical bottle of Moët & Chandon Brut Impérial NV goes for $69.99 on Virgin Wines and $48.90 at Dan Murphy's, at the time of writing.
Generally, an online retailer like Virgin Wines will specialise in 'boutique wines' by smaller wineries, which you may not find readily available in shops. One aspect to consider is that it will be hard to find reviews of these smaller products.
Ad – Scroll down to continue reading.Minimum spend, terms & conditions apply.
Earning Velocity Points with Virgin Wines
You will earn 3 Velocity Points per dollar on any spend, excluding delivery costs. This is not a bad earn rate, especially when paired with the right credit card.
Points can take up to 30 days to be credited after purchase, according to terms and conditions.
If you are an infrequent flyer and want to keep your balance of Velocity points active, then purchasing through Virgin Wines can be an okay way to earn points, after you take into account pricing of products compared to big stores, and delivery fees.
Given Velocity Points do not expire as long as you earn or redeem points once in 24 months, there are far simpler ways to clock up some points to keep your balance active.
Best credit cards to use for purchase
Virgin Wines accept American Express, Mastercard and Visa. There is no bonus for using any particular type of card, so just use whichever one offers you the most points per dollar for general purchases.
In the past, American Express ran cashback promotions in conjunction with Virgin Wines and Laithwaite's Wine People, such as $50 off a $150 spend. Be sure to check your Amex Offers tab before purchasing. You will earn three Velocity points per dollar with either website.

Summary
Virgin Wines is quite a different service to Qantas Wine – there is no regular bonus offers on single item purchases, premium memberships or special events for members.
While Qantas Wine has some links to the airline, including advertising wines they serve in Business and First class cabins, Virgin Wines has no link to Virgin Australia at all.
It is essentially an online wine retailing website with Velocity points thrown in, with the occasional good package deals for Velocity members.
How to earn Velocity Points with Virgin Wines
was last modified:
March 16th, 2022
by