Reward seats are what we normally recommend you hunt for with your growing balance of frequent flyer points. These coveted rewards are essentially a special allocation of seats on a flight, bookable with your frequent flyer points and a relatively small cash payment.
The main appeal of these reward seats is they are not just available in Economy Class, but also all other cabins including Business and even First Class! The opportunity to fly in luxury for points and a small amount of cash is an alluring proposition for many.
Why would I want to collect points for a reward seat?
Airlines will call it many different names, but there are a few defining characteristics that apply to most (but not all) reward seats:
Availability is very limited, particularly in premium cabins which may have one seat available at best
Demand for reward seats can be very high, with popular routes selling out shortly after its release
The points needed for a particular cabin and route is fixed based on a region or distance chart (but some programs are transitioning to dynamic pricing)
You tend not to earn points or Status Credits on reward seats
The number of points required for Business Class is usually not much more than double the rate for Economy Class (in some cases, it can even be less than double), which makes it a great value redemption for points hackers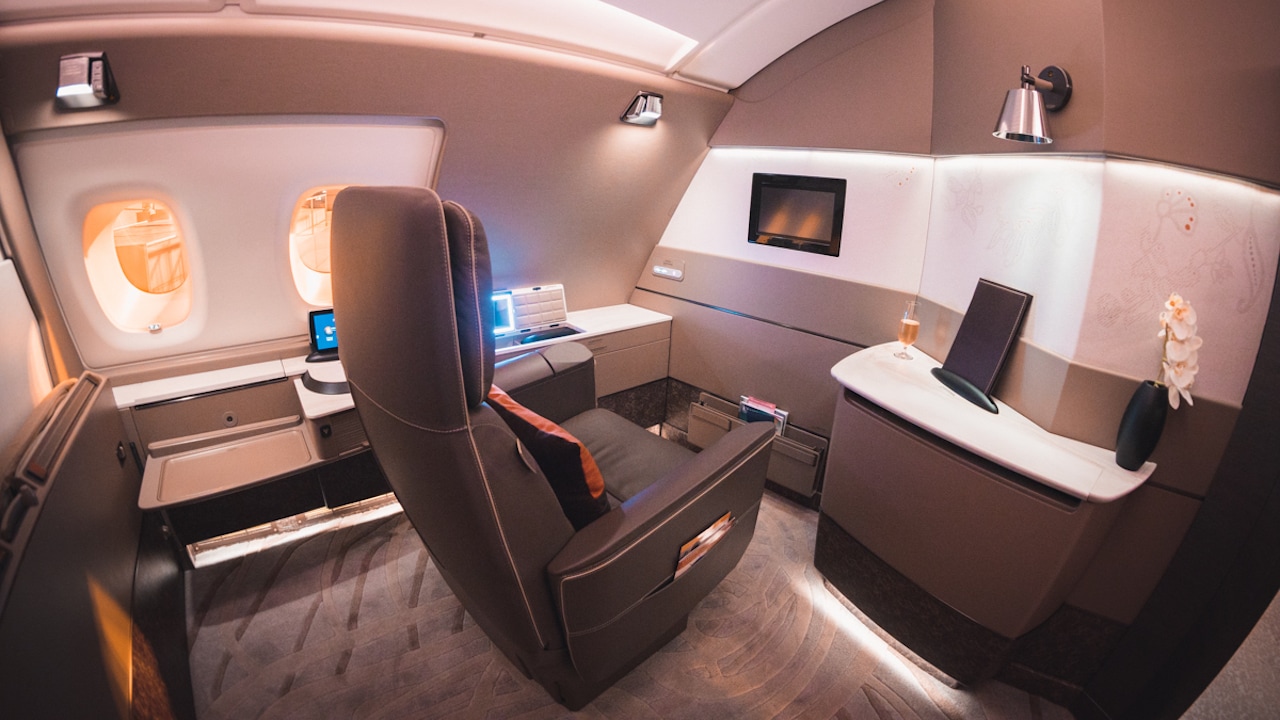 Finding and booking one easier said than done. This guide takes a look at the various types of reward seats that are offered by our two main local programs: Qantas Frequent Flyer and Virgin Australia's Velocity Frequent Flyer.
Ad – Scroll down to continue reading.Minimum spend, terms & conditions apply.
What are Qantas reward seats?
There are two ways to book flights with Qantas Points — 'Classic Flight Rewards' and 'Points Plus Pay'. Don't get confused about booking the wrong type of reward, though:
Classic Flight Rewards are the true reward seats you should be seeking. The points needed are fixed-rate and there is a cash co-payment as well.
Points Plus Pay is essentially when your points are converted to offset a cash fare. You'll burn a lot of points this way, and it's not the same as a reward seat.
More on Qantas Classic Flight Rewards
Classic Flight Rewards require a set number of points per flight, based on the distance of travel. They are available with Qantas and Jetstar as well as most airline partners below, such as Emirates, Cathay Pacific and more.
To book a Classic Flight Reward, simply login to your frequent flyer account and toggle 'Use points' on the booking window while searching for flights.

Tip: (For Qantas-only flights, you can also leave 'Use Points' unchecked and still see reward seats alongside cash fares on the same page).
Remember, there is limited availability of Classic Flight Rewards seats available on each flight, and some flights have no seats available, as below. A cash co-payment is also required to cover taxes and carrier charges.

You can calculate the number of points you need for your Classic Flight Rewards redemption using Qantas' Points Calculator (easy), or peruse the Classic Flight Reward tables (more advanced users).
Points aren't earned on Classic Flight Rewards. And unless you're a member of the Qantas Points Club, you won't be able to earn Status Credits either.
What are Velocity reward seats?
Like Qantas, there are two similar ways to book flights with Velocity points — Velocity Reward Seats and Any Seats. Both are available with Virgin Australia and partner-operated flights, although the latter may not be currently available for now.
More on Velocity Reward Seats
Velocity Reward Seats also require a set number of points per flight, based on the distance travelled. The actual number of points needed is usually a bit less than Qantas for comparable flights.
There are a limited number of Velocity Reward Seats available on each flight, and some flights have no seats available. You will not earn Velocity points or status credits for flying, and in addition to the required points, taxes, fees and carrier charges are also payable.
To book Velocity Reward Seats simply select 'Use Points + Pay" on the booking window. Economy and Business Reward seats will show up in conjunction with Any Seats, where available.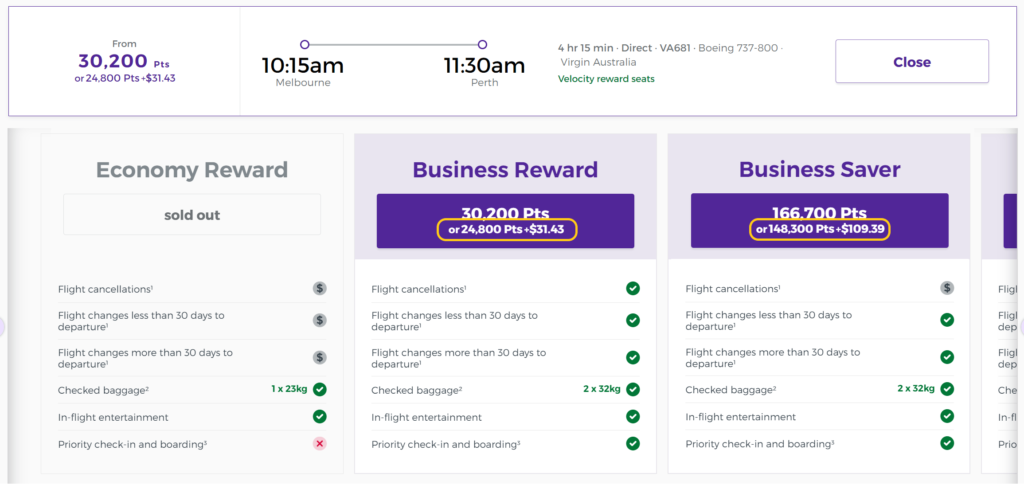 As seen in the example above, using your points for non-Reward fares (Any Seats) is a massive waste of points in most cases, so be sure to avoid those. Only use points on Economy Reward or Business Reward fares, for the best value.
Summing Up
Searching for reward seats can be a time-intensive and sometimes confusing process given the different ways Qantas and Virgin Australia allow you to use your points.
Knowing the difference between a 'reward seat' and an 'any seat' or 'points plus pay' seat will help to ensure that you are searching for rewards that meet your needs and frequent flyer points balance.
If you're looking for the more restrictive 'Classic Reward Seats' or similar, it does sometimes take patience and flexibility in terms of dates and flight routes. But in the end, it's one of the best uses of frequent flyer points, particularly when you're relaxing in the pointy end of the plane.
This article was originally written by Tom Goward.
Introduction: what is a reward seat and how does it work?
was last modified:
May 23rd, 2022
by