I recently flew on QF1 from Sydney to London via Singapore, which is also known as the 'Kangaroo Route'.
This overview will describe the 23-hour trip on this route, and provide an insight into what to expect from Qantas' International Economy Class on the world's largest passenger plane.
The stopover point was recently changed back to Singapore from Dubai, breaking the 20+ hour flight conveniently into two. The duration of the stopover was less than two hours, meaning that I had just enough time to disembark the aircraft, stretch my legs, and get back to the gate ready for boarding.
The Qantas A380
The flagship of Qantas, A380-800, is an oldie but a goldie, accommodating nearly 500 passengers and providing international quality travel to many destinations around the world.
The more than decade-old A380 aircraft, numbering 12 in total, is currently getting a makeover, with Qantas refurbishing all four A380 cabins to provide more space and a refreshed look. The refurbishments are expected to be completed by mid-2020.
Fleet & routes
Qantas operates a total of 12 Airbus A380s, all of which offer First, Business, Premium Economy and Economy Class.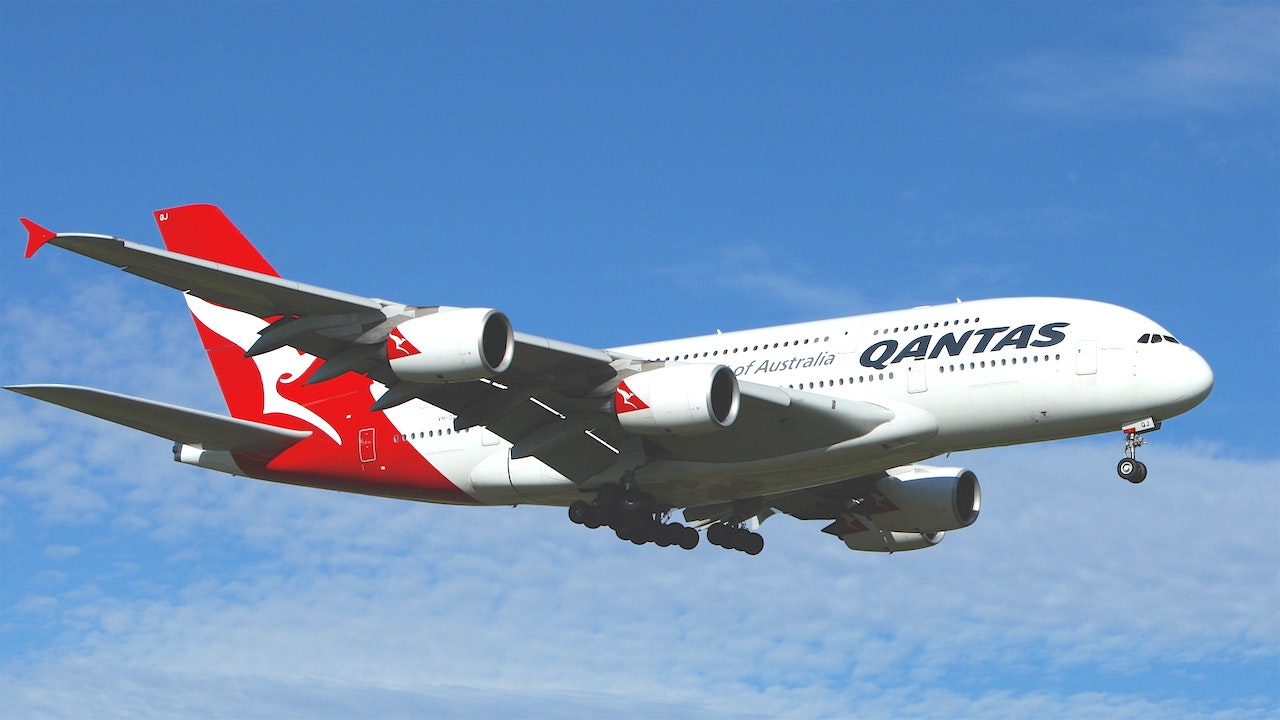 The A380s are often referred to as the flagship of Qantas, as they only fly on long-haul international routes, including:
Sydney – Dallas/Fort Worth
Sydney – Hong Kong (during peak season only, on selected flights)
Sydney – Los Angeles
Sydney – Singapore
Sydney – Singapore – London
Melbourne – Los Angeles
Melbourne – Singapore
Please note that not all of the above flights are subject to last-minute change of aircraft, and not all of the US routes are operated by an A380.
The cabin & seats
Qantas' first refurbished A380 lifted off in September this year, so there are currently multiple configurations for the aircraft.
I flew on one of the older Airbus 380s that accommodates 14 First Class suites and the majority of Economy seats downstairs, whilst 64 Business Class seats, 35 Premium Economy seats, and 5 rows of Economy seats are located on the upper deck.
The Economy seats downstairs are arranged in a 3-4-3 configuration, the Economy seats upstairs have a 2-4-2 layout.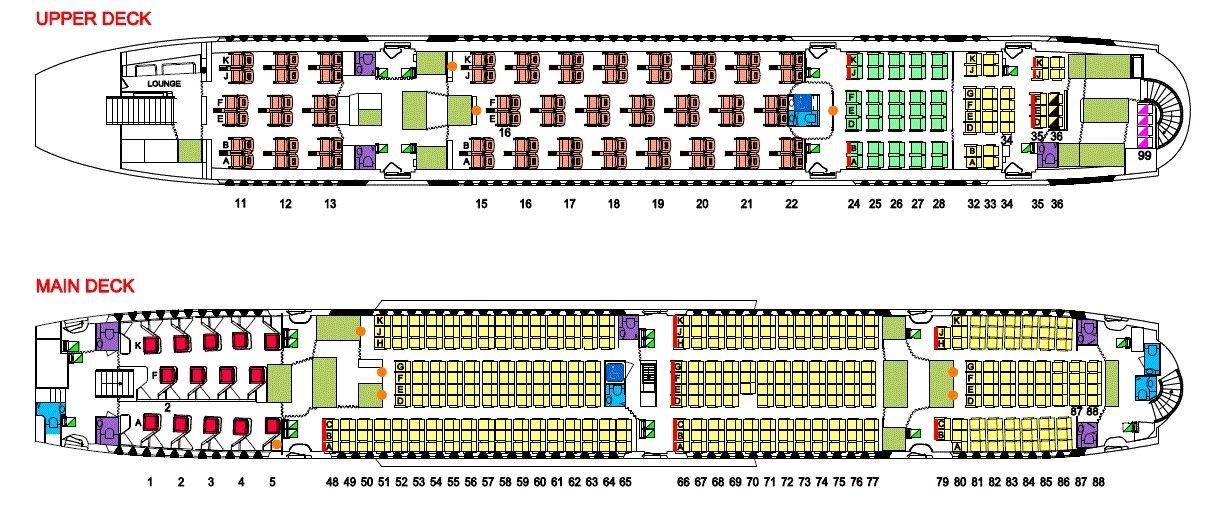 The upper-deck of the refurbished A380s feature gain the biggest changes, with an expansion in the number of Business and Premium Economy seats available, while the highly sought-after Economy seats on the upper deck are removed, confining all Economy seats to the main deck downstairs.
The spruced-up A380s have 70 Business Class seats and 60 Premium Economy seats on the upper deck, and 14 First Class suites and 341 Economy seats downstairs.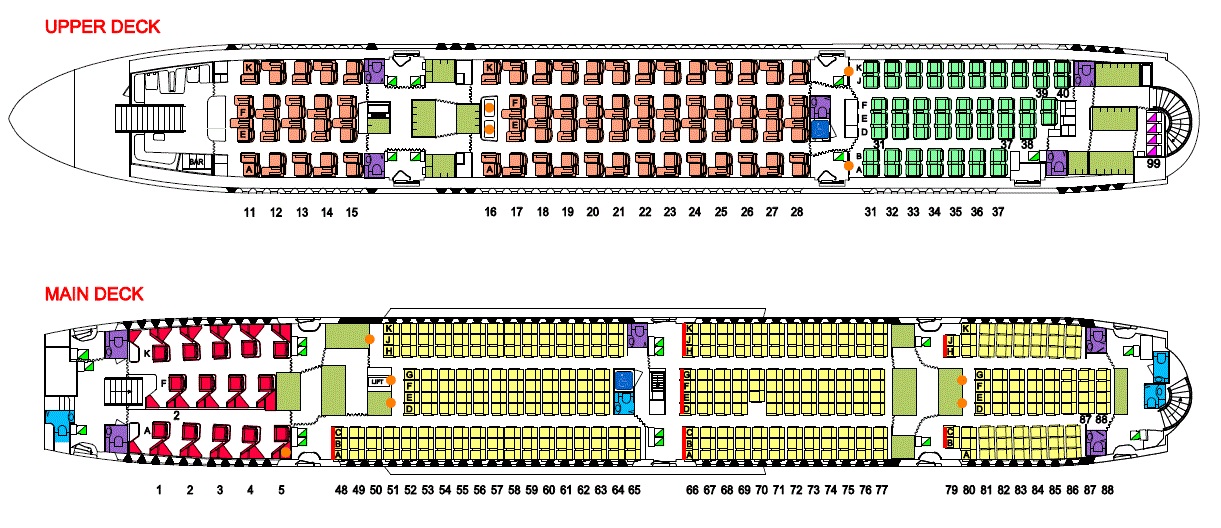 We will look to do a review of the refurbished A380 Economy cabin (and other cabins too of course!) as more refurbished planes come on-line.
The Economy seats come with a 31 inch seat pitch and a 17.5 inch width, which is only slightly bigger than the seat dimensions of Qantas' narrow-body jetliner Boeing 737.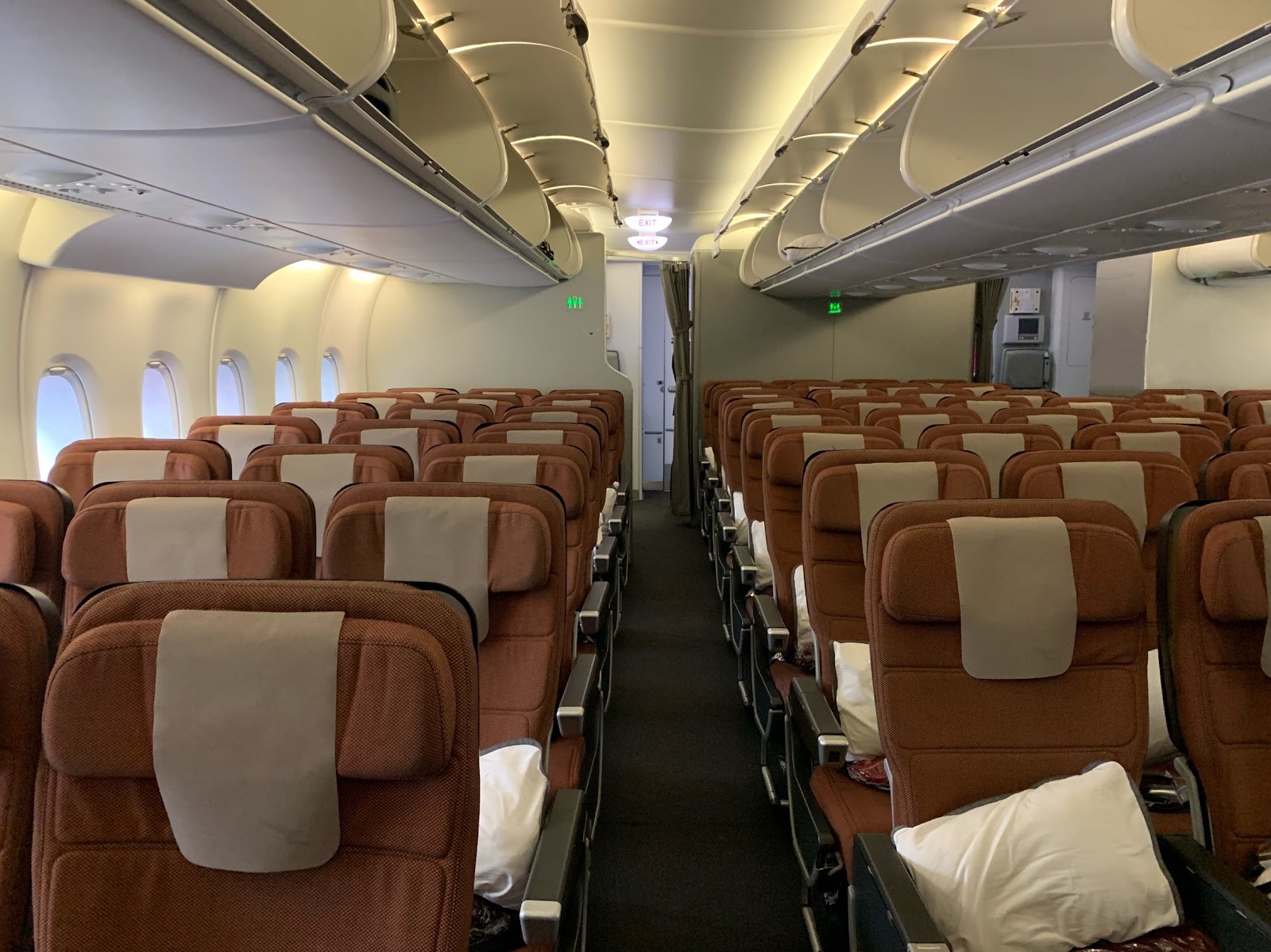 For a wide-bodied double-decker plane, you'd expect a little bit more room, even if it is just an Economy Class seat.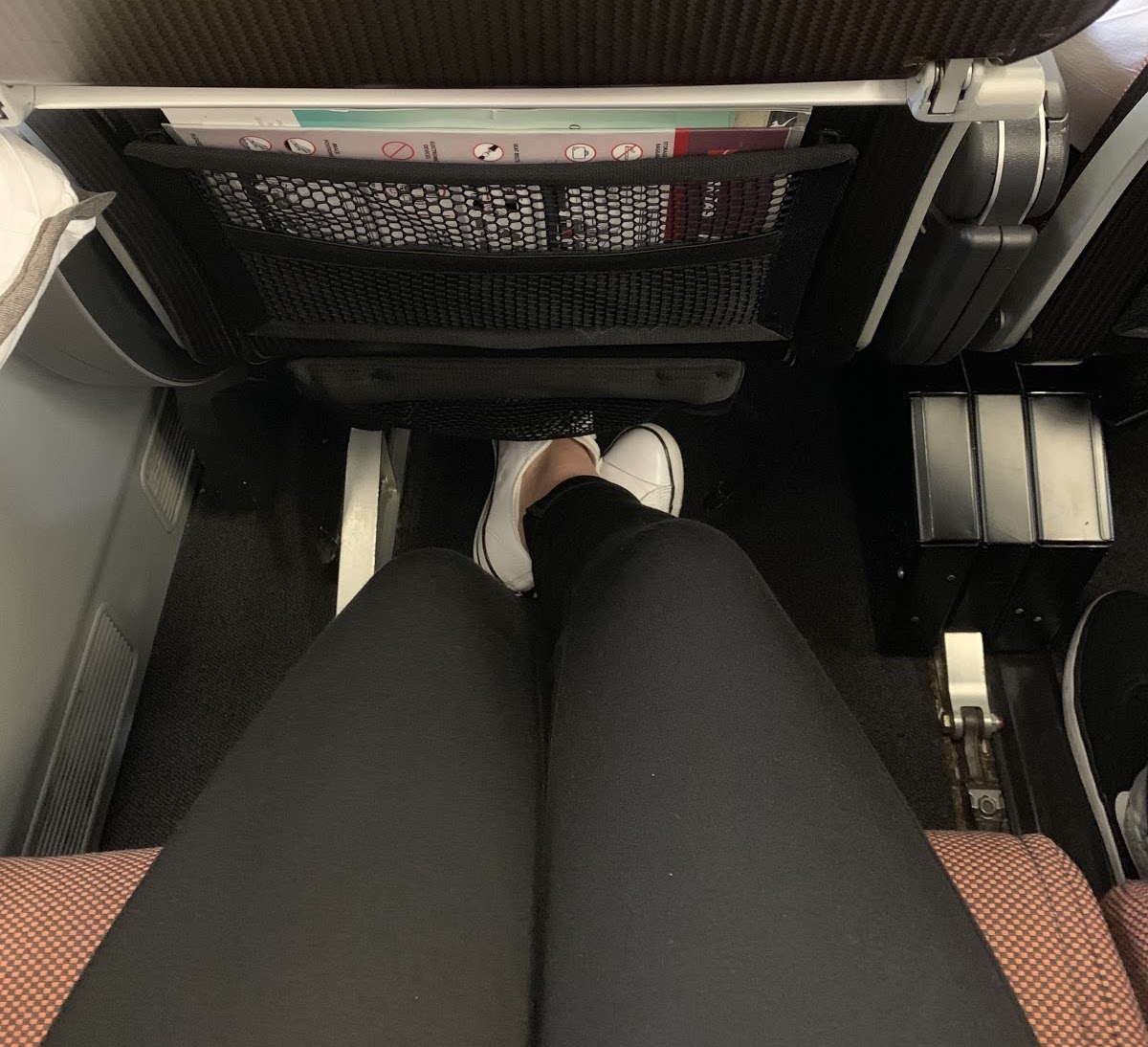 The seats themselves are starting to show their age, but are nevertheless fairly comfortable with soft ergonomic cushioning and adjustable winged headrests.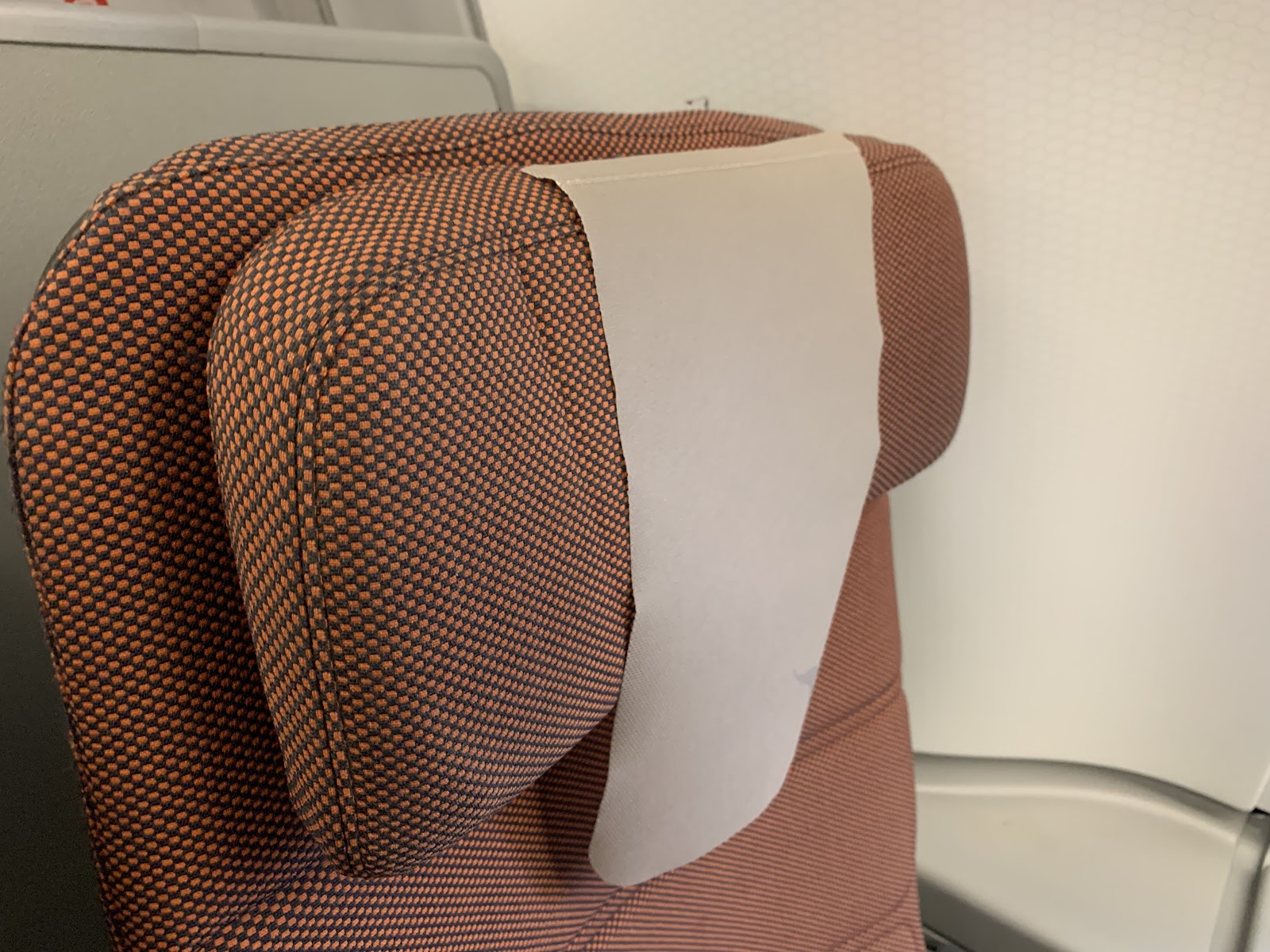 The Economy seats also recline, and the seat base moves in conjunction with the seat recline. Combine this with resting your feet in the footrest net under the seat in front, and you should be able to stretch out comfortably enough to catch some shuteye on a long-haul flight like this.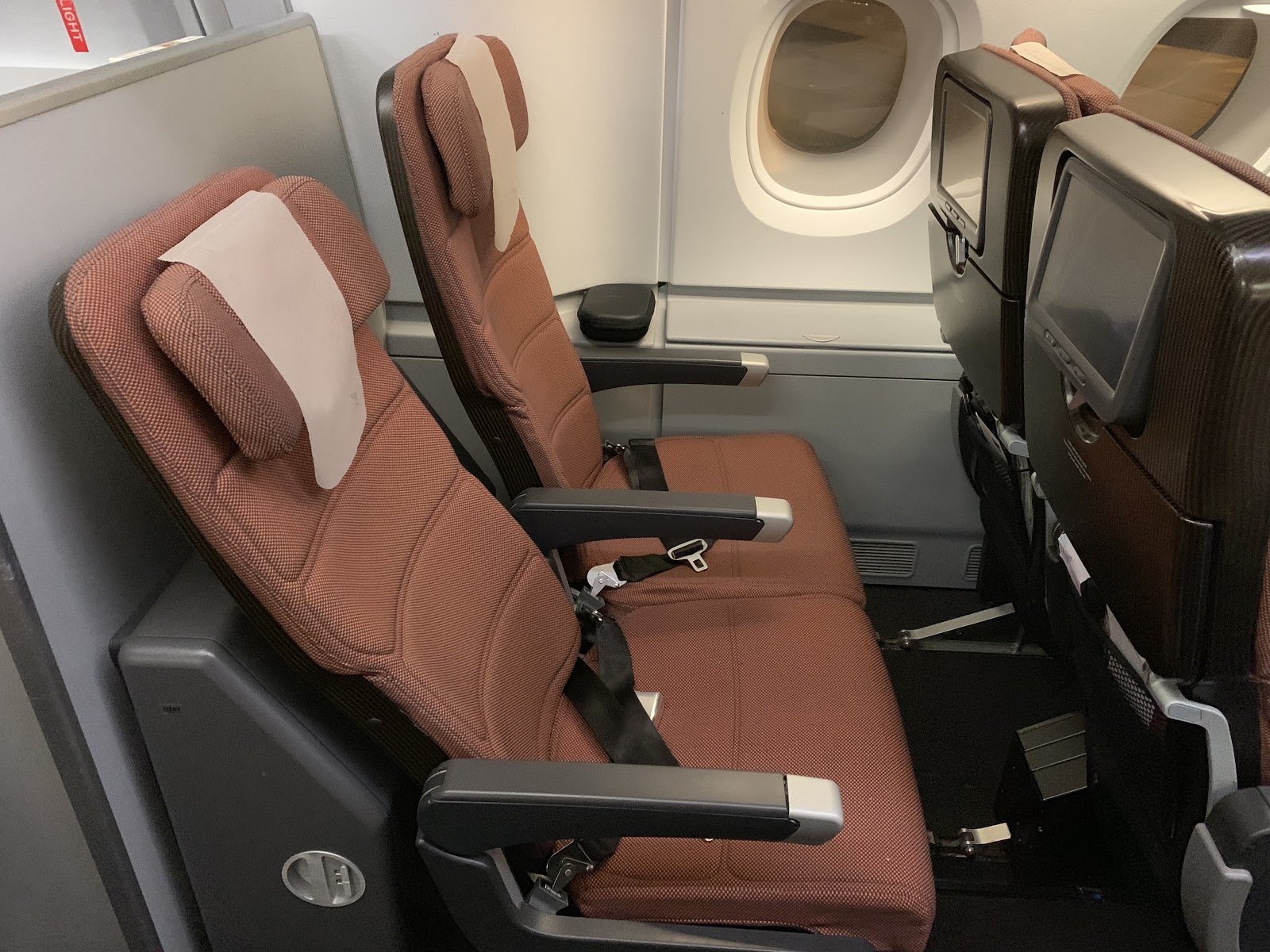 Seat choice
I was lucky enough to sit in one of the most sought-after Economy seats on the upper deck.
As there are only 5 rows designated for Economy Class on the upper deck, the whole cabin has a more private setting. The two seats by the window are perfect for passengers travelling in pairs.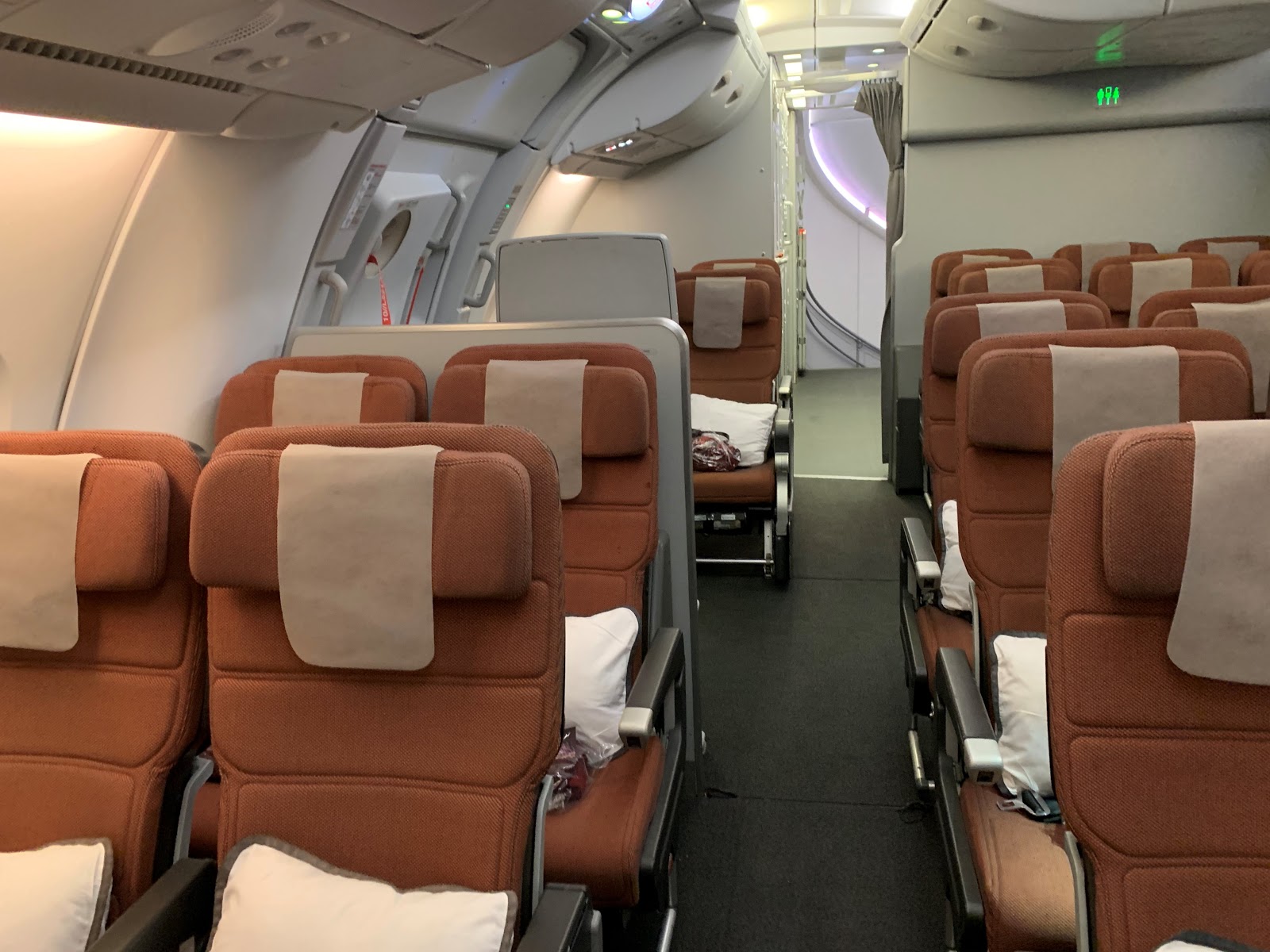 We were seated in 33A and B, which are located in front of a wall. This meant that there was no one sitting behind us, and we could recline away guilt-free.
The window seat also had a small compartment next to it, big enough to store my personal items in.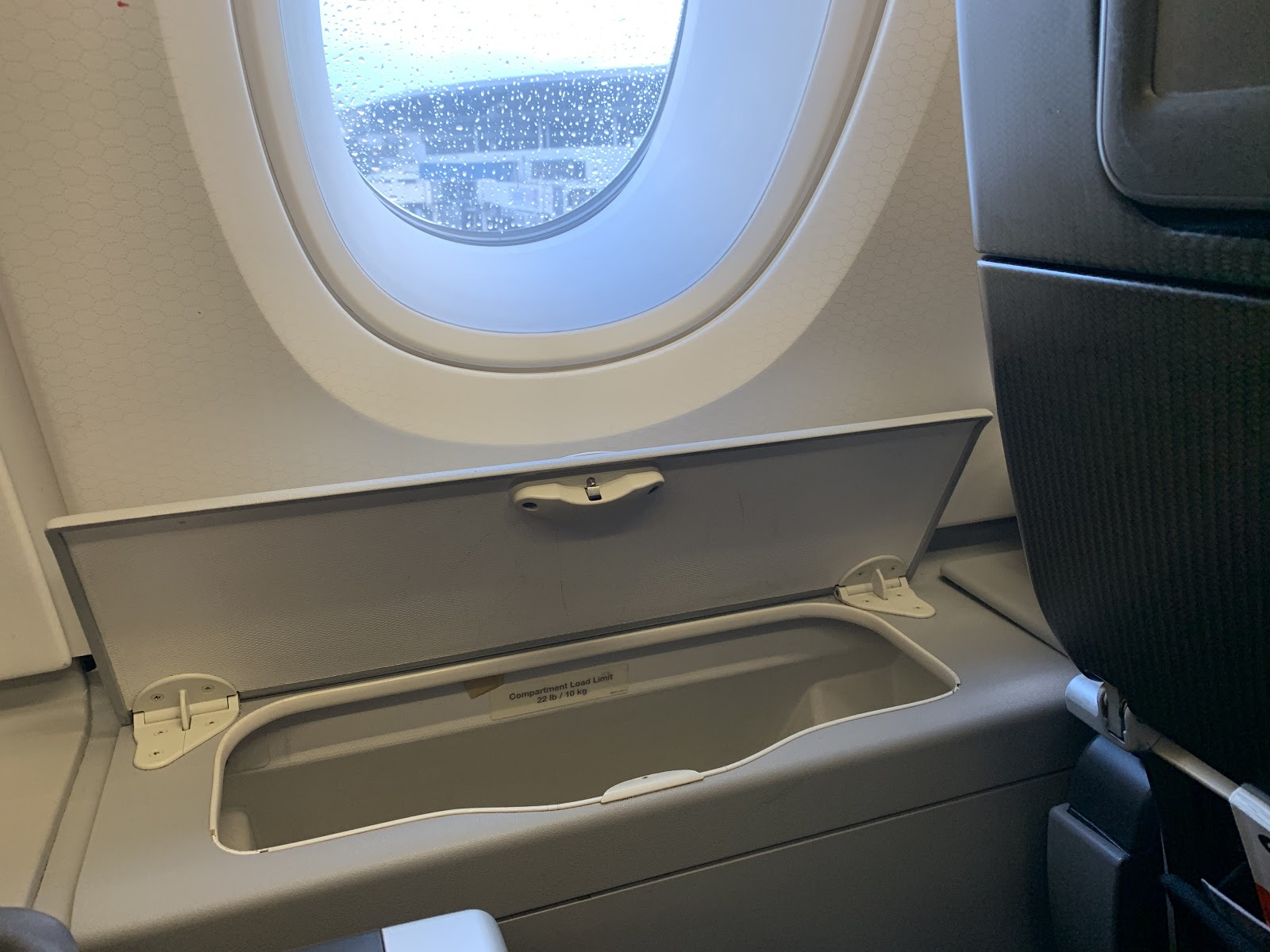 The Economy 2-4-2 configuration upstairs is very favourable for couples, as it saves them from sitting next to complete strangers. The rest of the Economy cabin is located downstairs in a 3-4-3 layout. If you are travelling solo or in couples, you are likely to have a stranger sitting next to you, unless the flight is not full. If you are travelling with your family or in bigger groups, you might prefer the 3-4-3 configuration, as you can have the whole row to yourselves.
Being smart about your seat selection can provide a little bit more room, privacy, as well as easier access to the seat. In my opinion, bulkhead and Exit Row seats are the best picks if you are willing to pay the extra cash.
The bulkhead seats have slightly more knee room, as well as the benefit of no one sitting and reclining in front of you, however, the bulkhead itself limits your legroom and restricts you from stretching out.
The Exit Row seats have considerably more legroom, however, the tray tables and entertainment systems are also stowed away in a fixed armrest, meaning that you are unable to use the entertainment system during take-off and landing.
Best seat for Solo Travellers
If you are a solo traveller and not too fussed about disembarking the aircraft as one of the last passengers, I would keep an eye out for seats 80A and 80K, as they are both window seats without anyone sitting in front of you. These seats can be great for extra privacy, additional legroom and easy access. And again, you'll be able to enjoy the views!
Another great seat is 71D, as there is no seat in front of you, however, this seat is now considered an Extra Legroom Seat (used to be free) and is priced the same as an Exit Row Seat.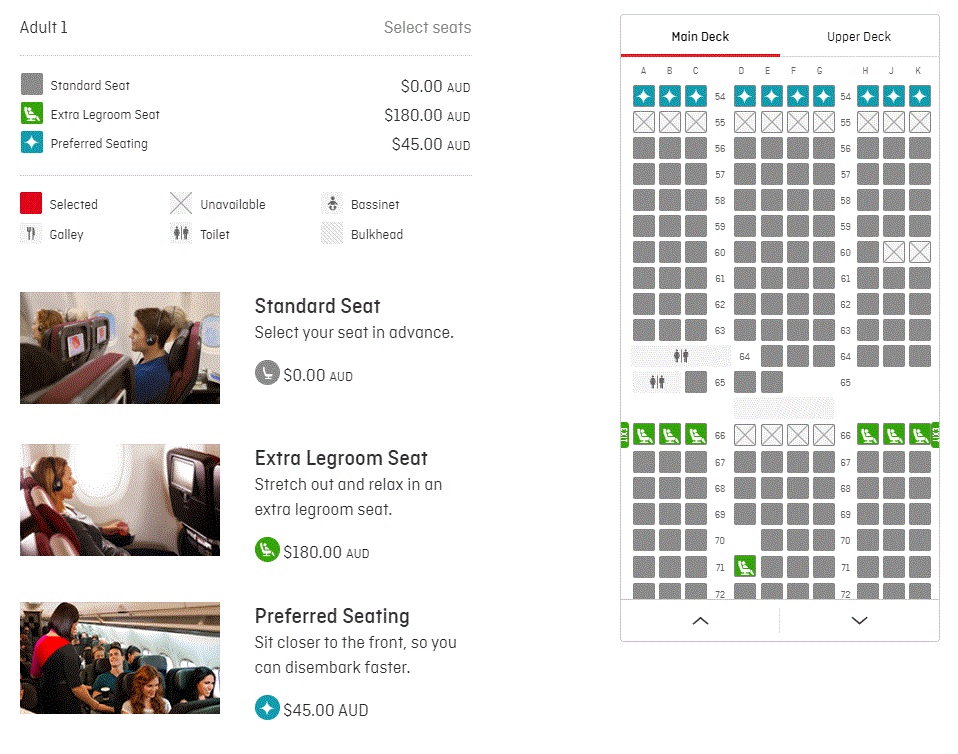 You can select your seats for free when making your booking, but keep in mind though that most upstairs Economy seats, as well as the Economy seats downstairs that are further up in the front of the plane are normally reserved for higher tier Qantas' frequent flyer members.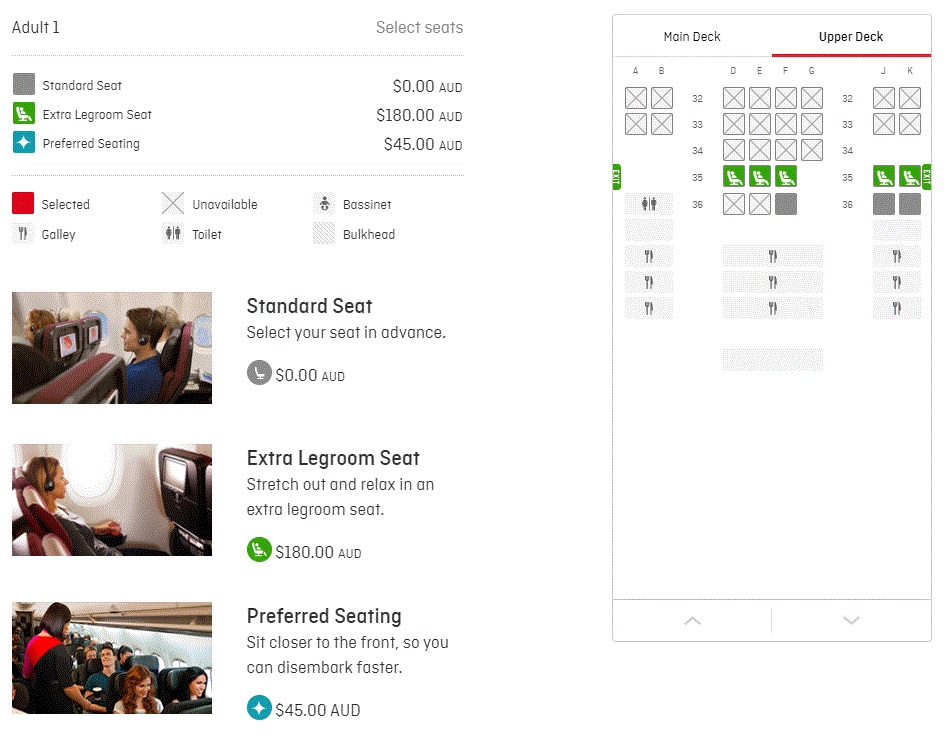 Some of these open up 80 hours before departure, so make sure to keep an eye out on your Qantas app, or checking your booking online, as you might be able to snatch up a seat that will offer an extended degree of privacy or more legroom.
Whilst Qantas' Platinum One Frequent Flyers and Chairman's Lounge members can select Extra Legroom seats for free, all other members can purchase Exit Row seats or Additional Leg Room seats for $180.00. For an extra $45.00 you can also choose to sit further up the front of the plane should you want to disembark the aircraft faster.
Food & drink
When flying on a 20+ hour flight on an A380, you'll be sure to have decent catering, even in Economy Class.
Unfortunately, the menus weren't provided in our cabin for the first leg of the trip, so we weren't able to choose our meals before the flight attendant approached us. This seemed to be a surprise for the staff as well, as when one of the passengers asked what the dinner options were, the flight attendant advised her to have a look at the menu.
If you were more organised than us, you would have selected your meal before the flight with Menu Select, available online or on your Qantas app. You can do this up until 12 hours prior departure.
Although there was no menu on board, we got to choose between three dinner opinions: chicken cashew satay with prawn nasi goreng, vegetable lasagne or a salmon salad.
I chose the first out of the three, and received a generous meal served with bread, as well as bread and butter pudding for dessert.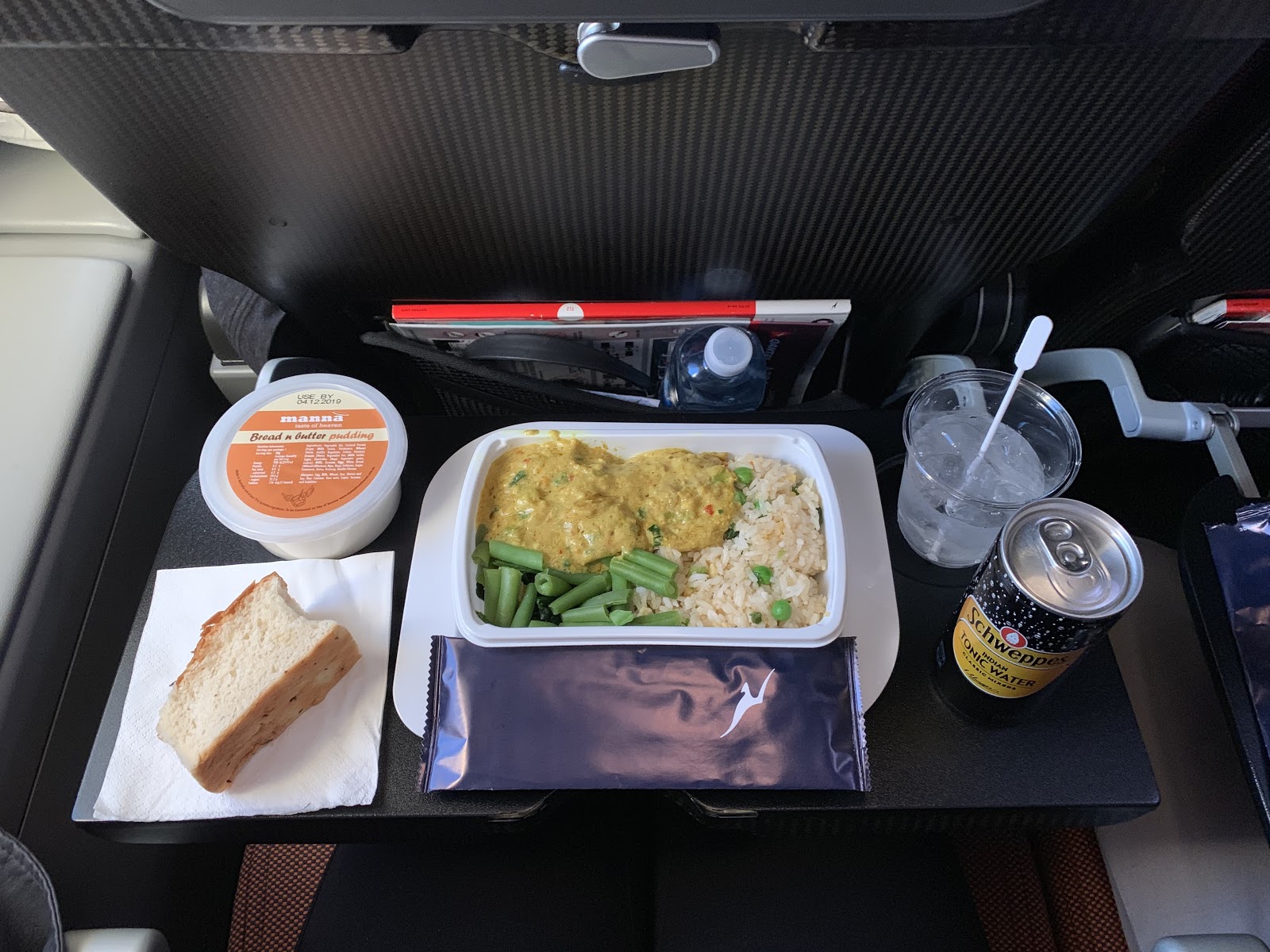 Later on in the flight, we were offered a Weis ice cream bar as a mid-flight snack.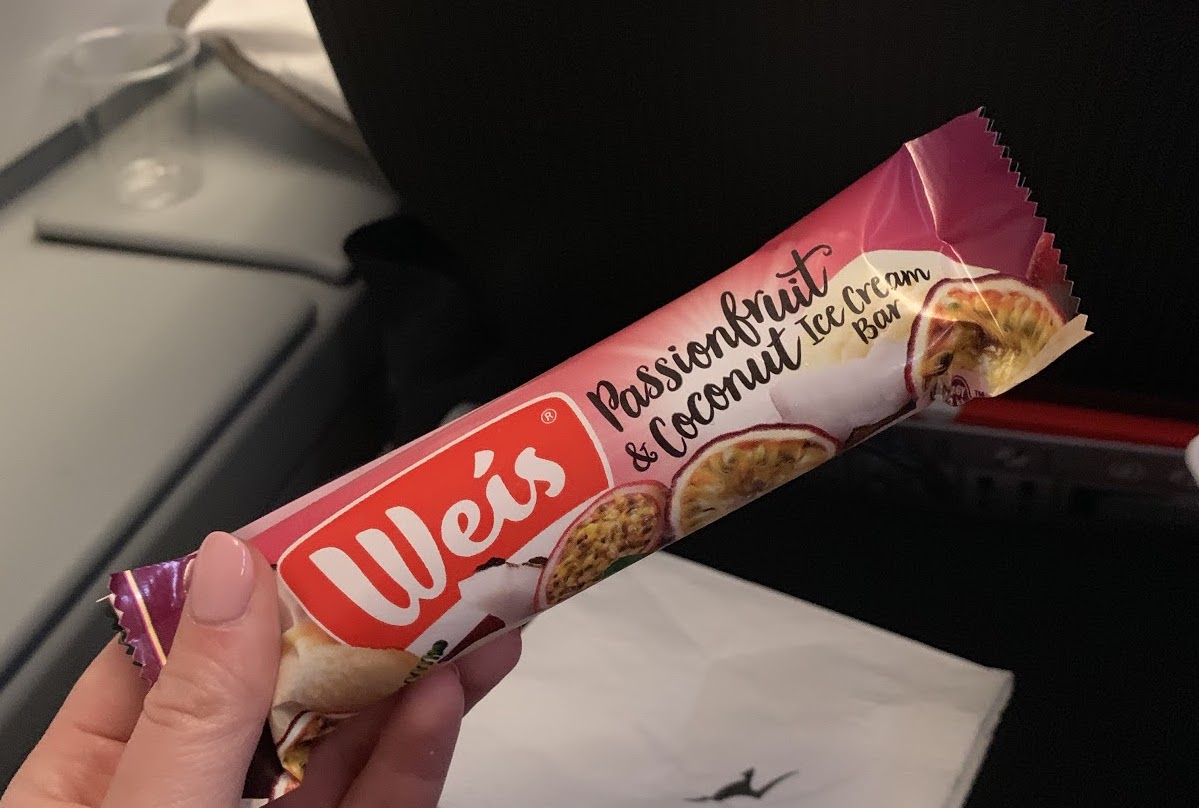 Before landing in Singapore, we got to choose between spinach and feta quiche, and steamed dumplings.
I chose the latter and received a dumpling variety box with soy and ginger sauce. Evidently you can't expect bursts of flavours from an on-board dumpling box as such, but it was still a nice snack just prior to landing.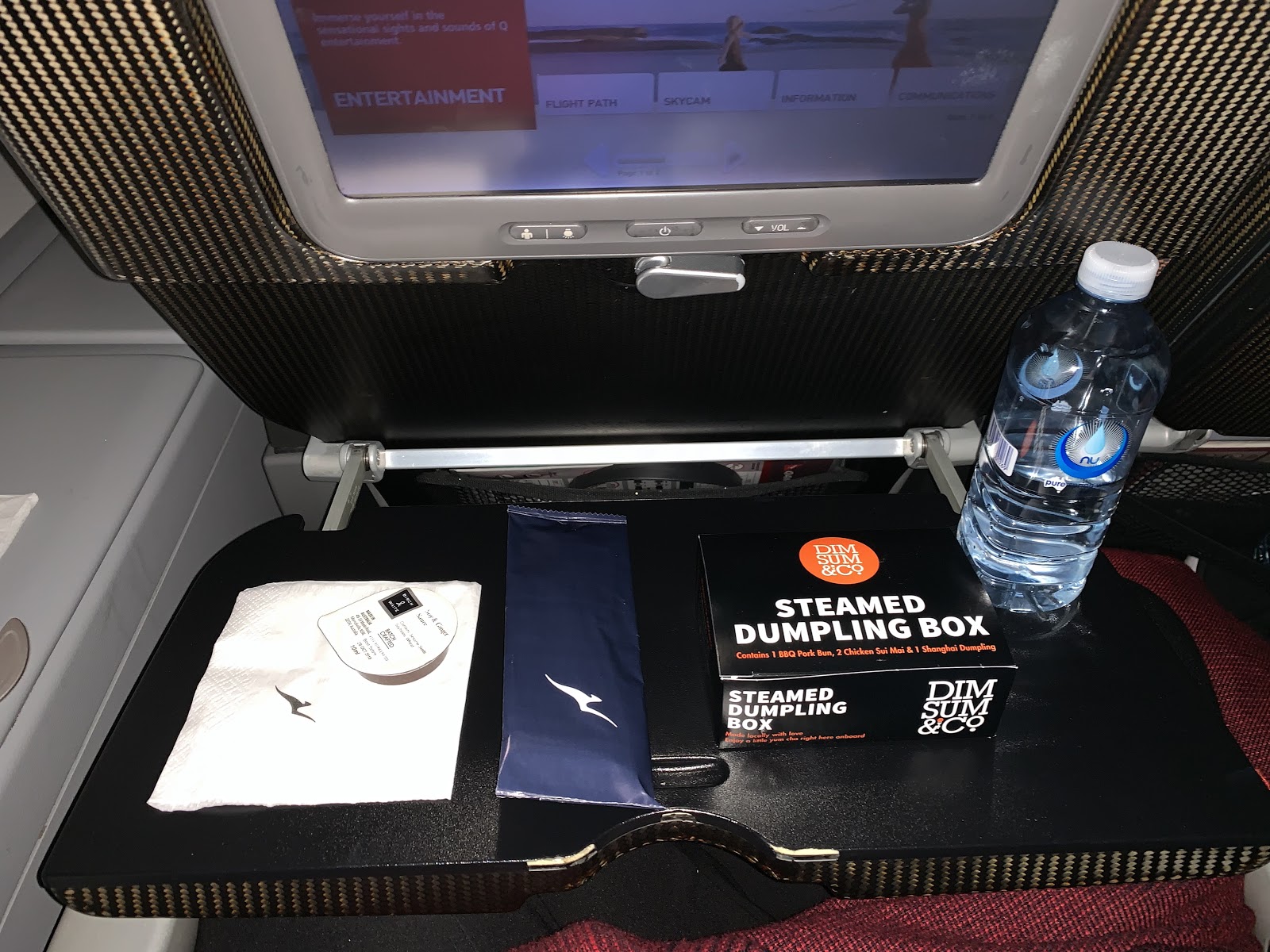 In terms of drinks, complimentary beverages are offered throughout the flight, including juice, soft drinks, hot drinks, basic wines, beers and spirits.
On the Singapore – London flight we were actually given menus that outlined the meals and beverages offered on the flight.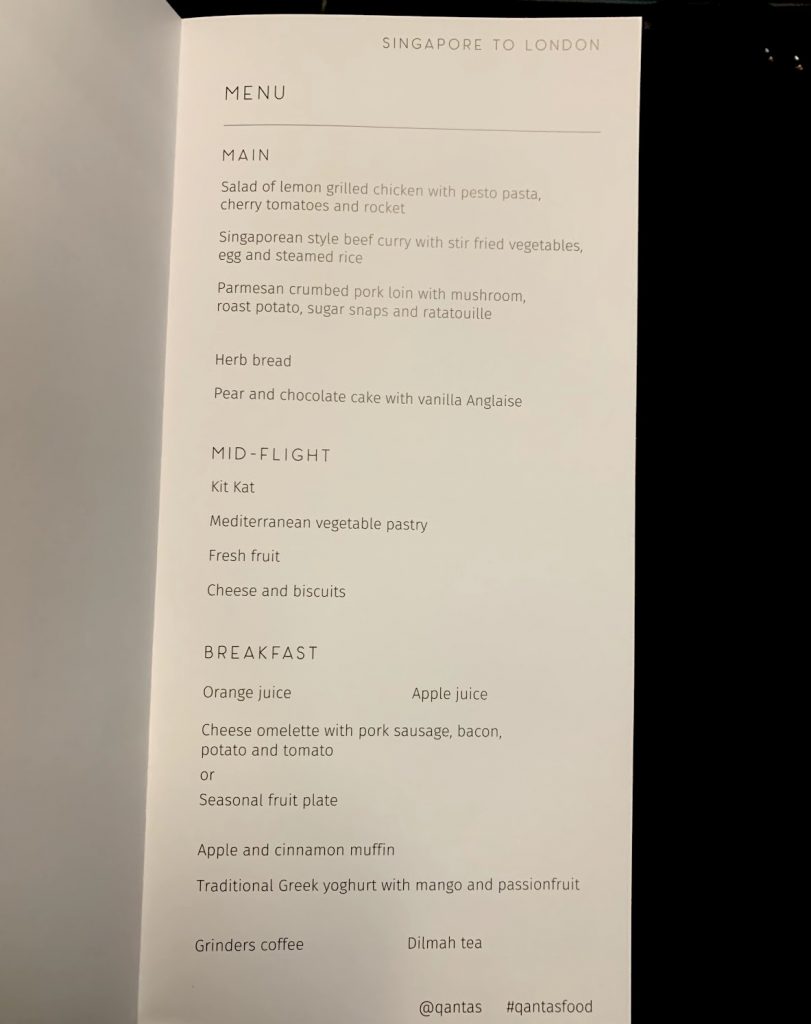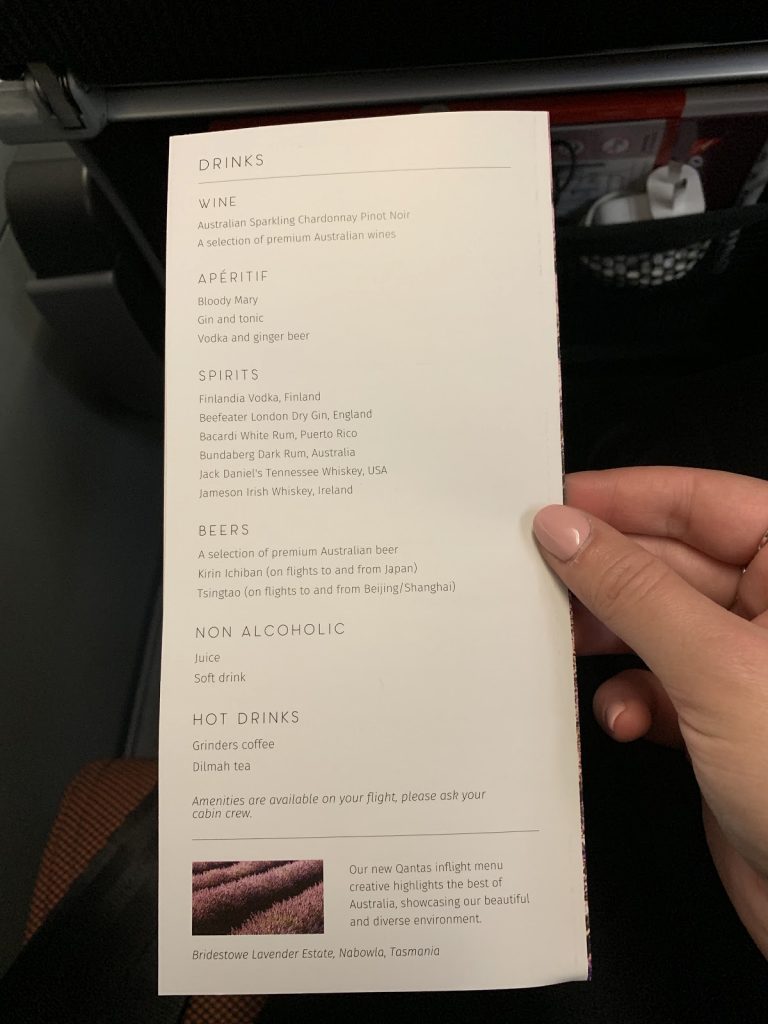 I chose the parmesan pork with vegetables and was quite happy with my choice. Another generous serving of food that didn't taste bad at all. This was served with herb bread, as well as a pear and chocolate cake with vanilla anglaise for dessert.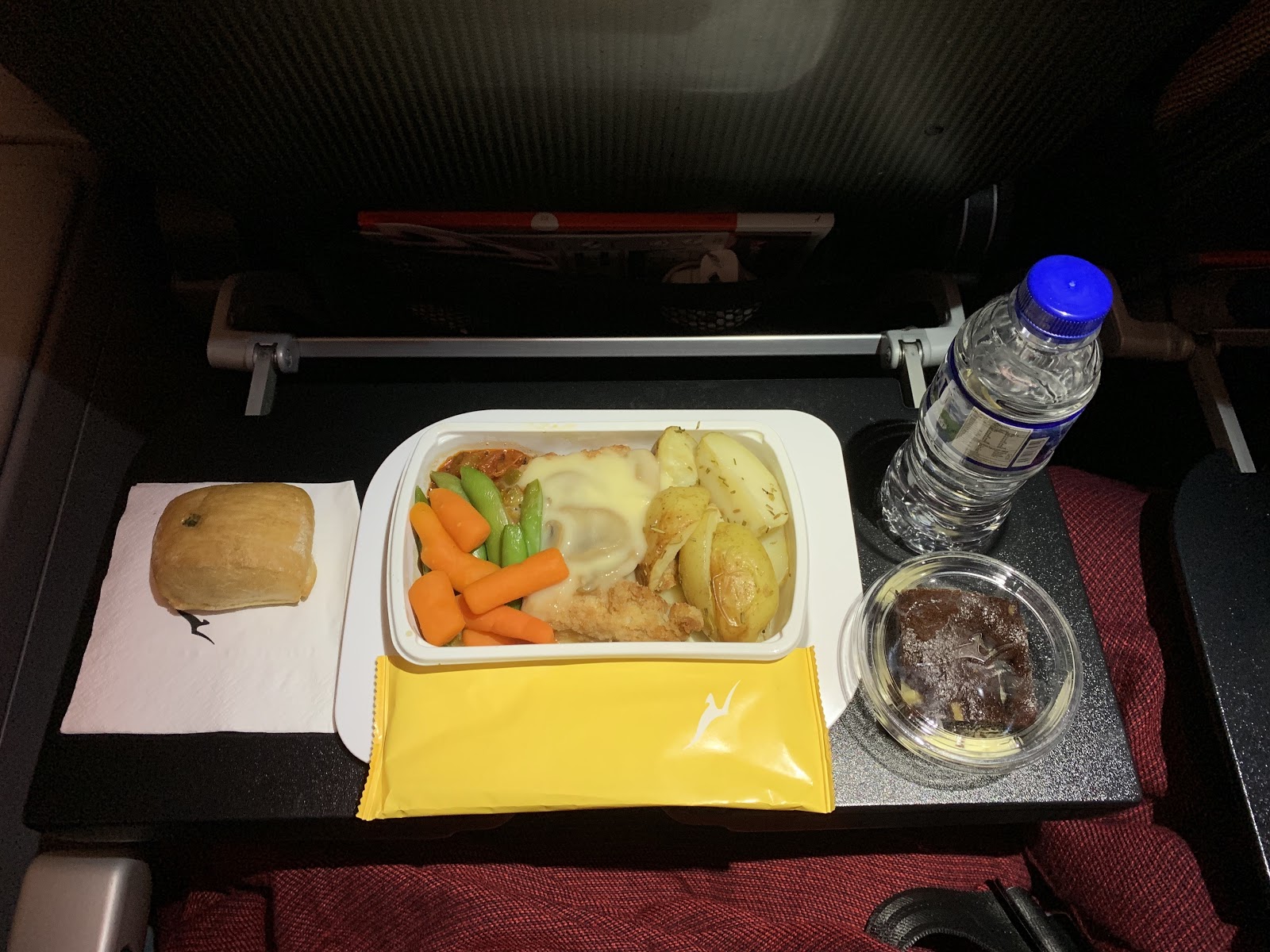 Being an overnight flight, the lights go out after dinner service, so you can attempt to get some shuteye, or make yourself comfortable and watch a movie… or three.
If you feel peckish in the middle of the night, you can help yourself to a self-serve complimentary snack station located in the galley.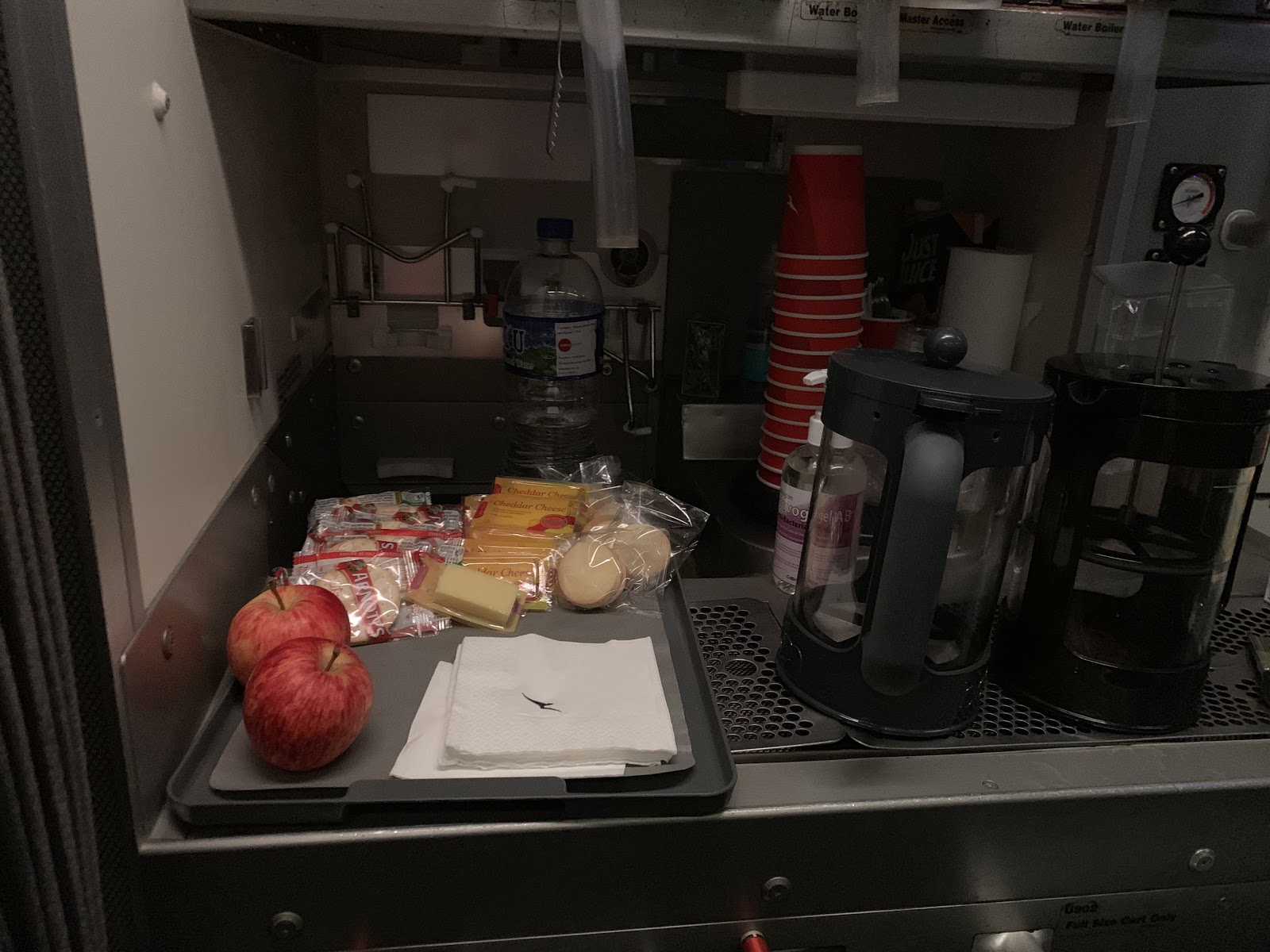 I'm all for midnight munchies, so the complimentary snack bar was greatly appreciated.
Whilst I was hovering over the snack station, thinking how much cheese and crackers would be acceptable to cart back to my seat, I was approached by a friendly flight attendant asking whether there is anything he can help me with. I wasn't too sure about asking his assistance in lugging cheese and crackers back to my seat, so I just said I couldn't sleep and was after a midnight snack.
He then offered me a vegetable pastry, which I couldn't say no to. I left the cheese and crackers then and there and waddled back to my seat with my warm parcel of comfort food.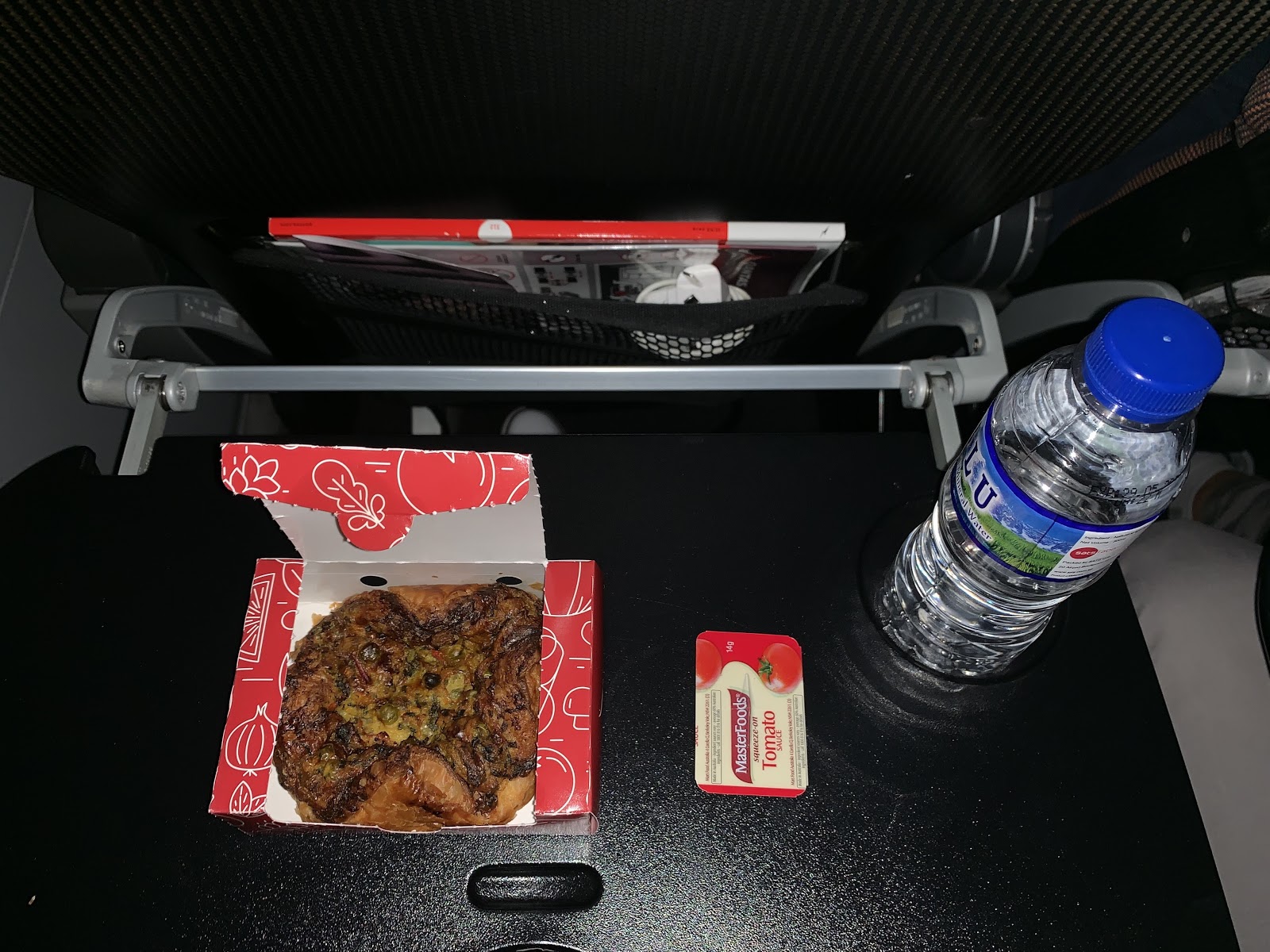 After I had eaten myself to sleep, I was woken by the same flight attendant, offering me 'breakfast in bed'. I got to choose between a cheese omelette or a seasonal fruit plate.
I opted for the first one and received once again a rich serve of breakfast staples. This was accompanied by an apple and cinnamon muffin, and Greek yoghurt with mango and passionfruit.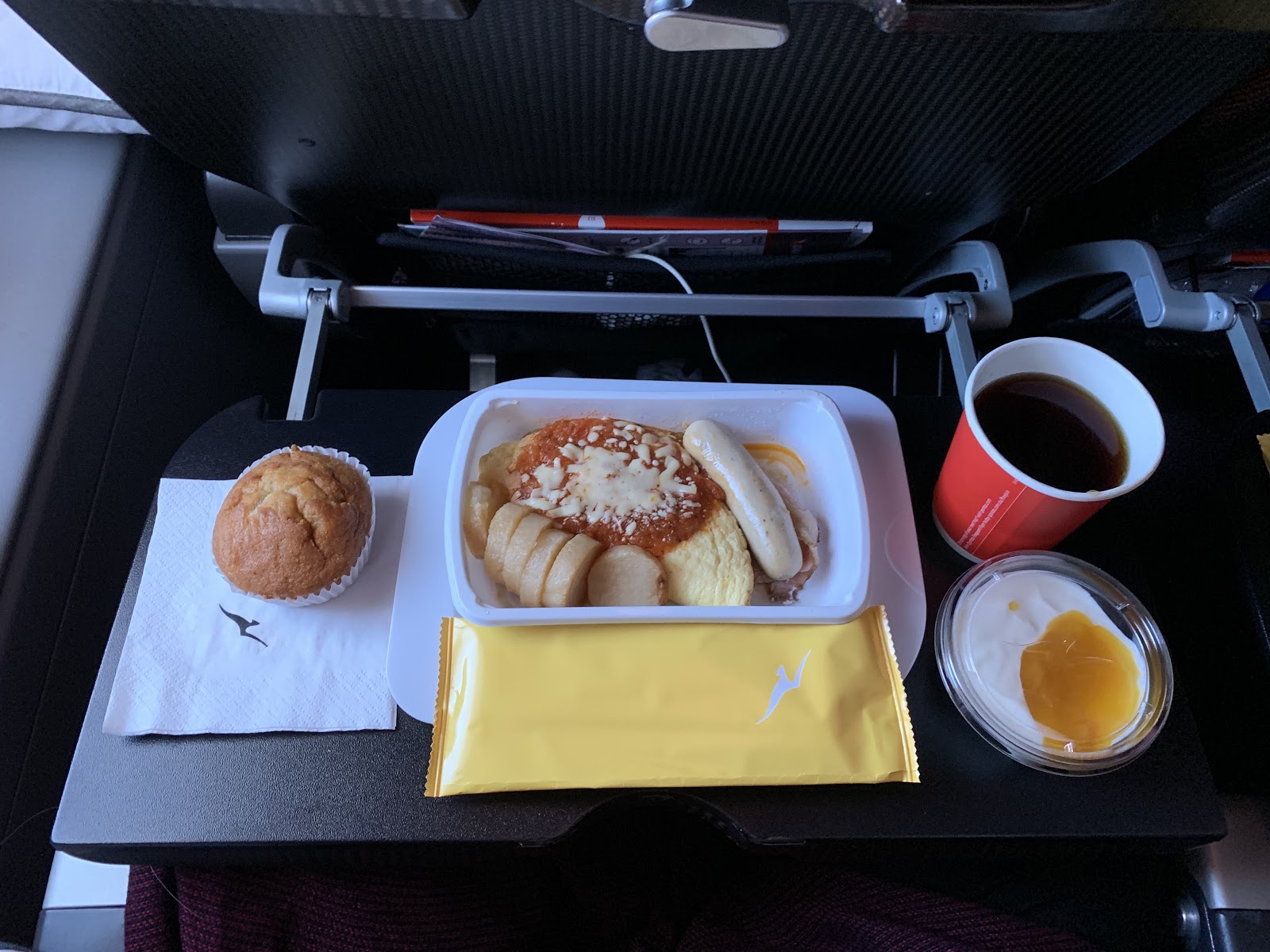 Qantas has truly upped their in-flight catering game, offering a variety of tasty dishes, and incorporating fresh ingredients and multicultural flavours even in their Economy Class.
Customer service
As mentioned previously, the whole trip was in two legs, and both flights had different flight crews.
Considering that the crew has to manage almost 500 passengers altogether on the mammoth of a plane, both crews on both of the flights did a decent job.
Being on the upper deck in the Economy cabin, the cabin staff only had a small number of passengers to look after.
The first crew was reasonably friendly, but in terms of customer service there was nothing outstanding. Although professional and polite, the flight attendant serving us seemed to be rather generic and a little short on people skills.
I do have to admit that they went through serving the meals super-fast, meaning that we could get comfortable sooner.
The customer service on the second flight was exceptional. I probably wouldn't have been able to fault the flight attendants on the first flight that much if the crew on the second flight hadn't gone above and beyond and provided us with extra attention and effort.
The cabin crew was young, and not afraid to stop for a friendly chat if you were up for one. The meal service was carried out quickly and efficiently, and all customers were attended to with great energy.
A crew member was always available to assure everyone had enough water or anything else they needed at all times of the flight.
Although you normally have minimal interaction with the crew when it's an overnight flight, they still managed to provide outstanding customer service and make sure each customer in the cabin was comfortable and well looked after.
Inflight entertainment
All Economy seats on the A380s are equipped with an Inflight Entertainment System with a large personal touch screen.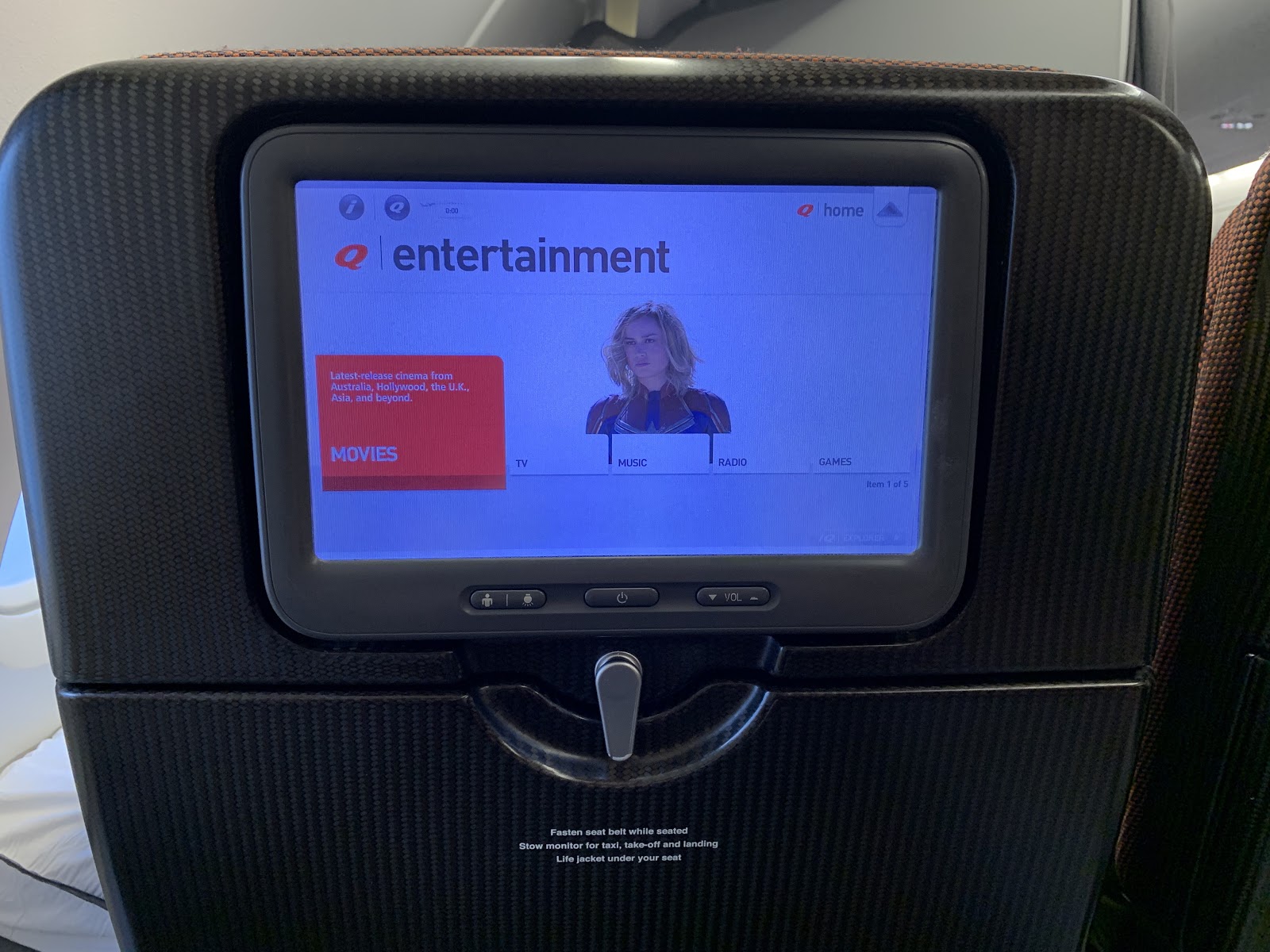 The selection of movies, TV-shows, documentaries, music, radio channels and games is comprehensive, featuring latest Hollywood releases, as well as classics from around the world.
If you missed out on a window seat, external cameras provide a live stream of the view from outside to your screen.
The system itself is easy to navigate and can be operated using the touch screen, as there are no separate remote or volume controls located in your armrest unless you're sitting in a bulkhead seat.
Unfortunately, you won't be able to use your Bluetooth headphones with the entertainment unit, instead, you can find a headphone jack located on the side of your armrest.
Each seat is also equipped with a universal power outlet that you can find underneath your seat, as well as a USB port that is located on the front of your armrest.
Whilst a lot of Qantas' competitors offer Internet on their jumbo jets, Qantas' A380s are not equipped with WiFi.
Amenities
There are ten lavatories available for Economy passengers, one located on the upper deck, and the rest downstairs on the main deck.
For the size of the aircraft, the bathrooms are surprisingly small in size.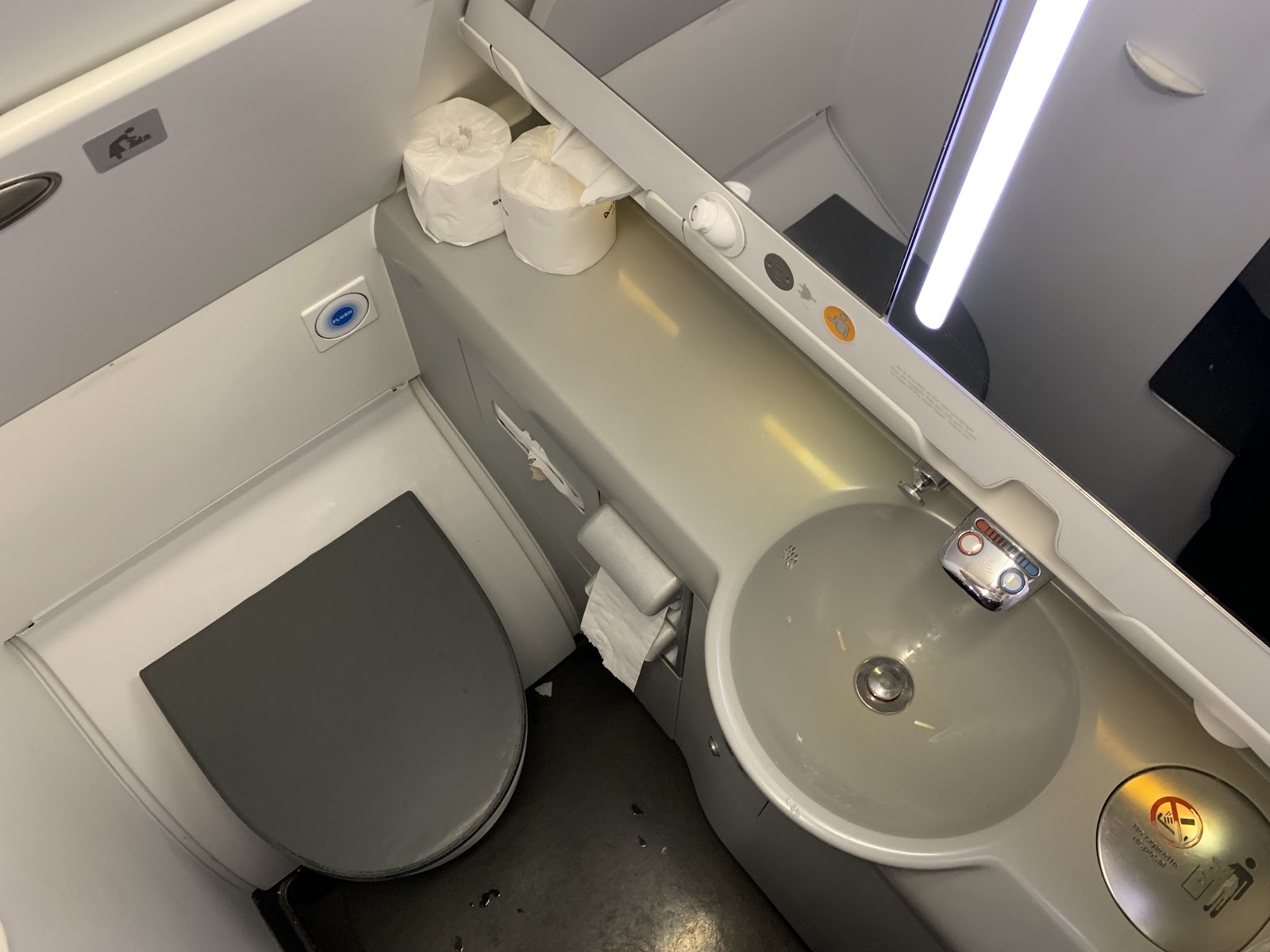 Considering that there are only ten bathrooms for over 300 passengers, there is a high possibility that you might have to wait in line to get to one of the lavatories, especially in the morning when everyone needs to use the bathroom.
Upon boarding, you can find a pillow and blanket waiting at your seat.
On the first part of the trip, no amenity kits were provided for regular Economy Class passengers. Qantas Frequent Flyers with Gold status and above, however, did receive a Napoleon Perdis amenity kit that was distributed to Premium Economy passengers. The kit included socks, a toothbrush and –paste, an eye mask as well as a travel size face moisturiser and lip balm.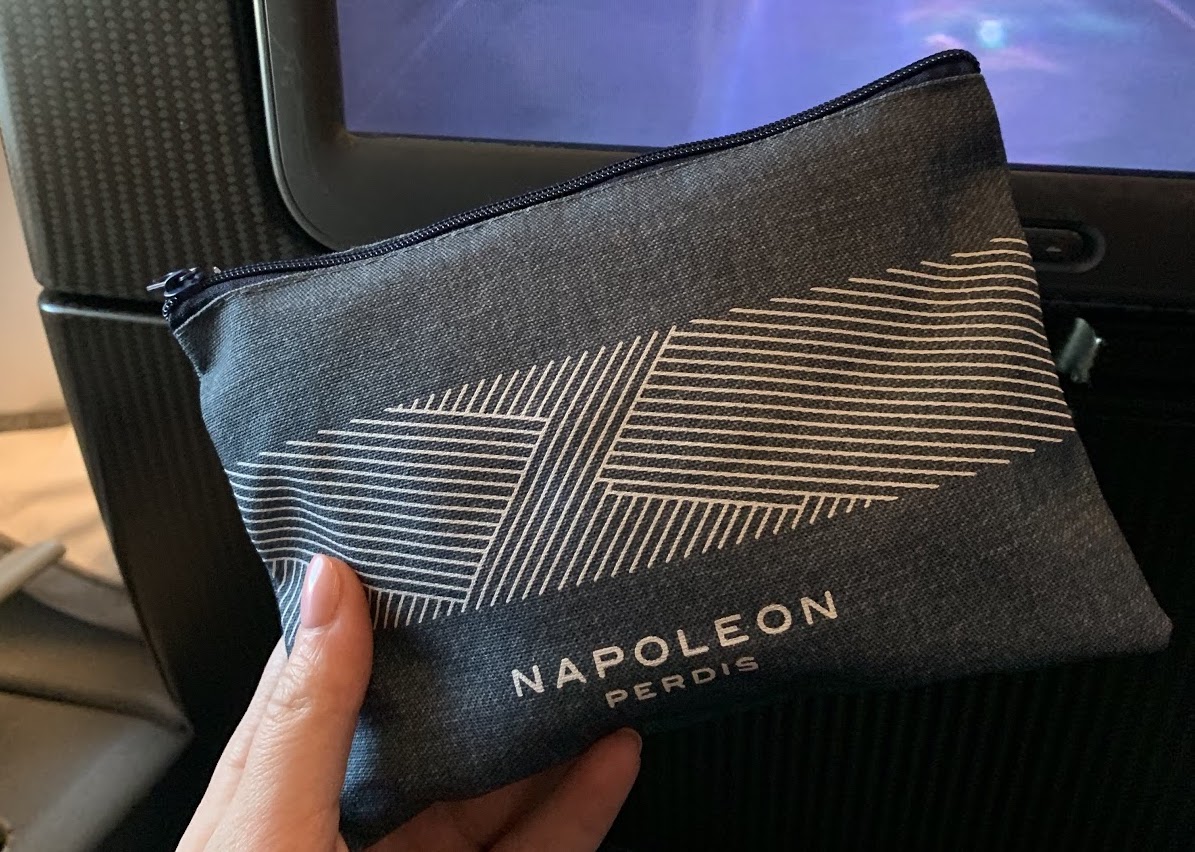 All Economy Class travellers did receive a small amenity kit on the Singapore – London flight, containing a dental kit, eye mask and earplugs. Additional travel amenities are normally available on request.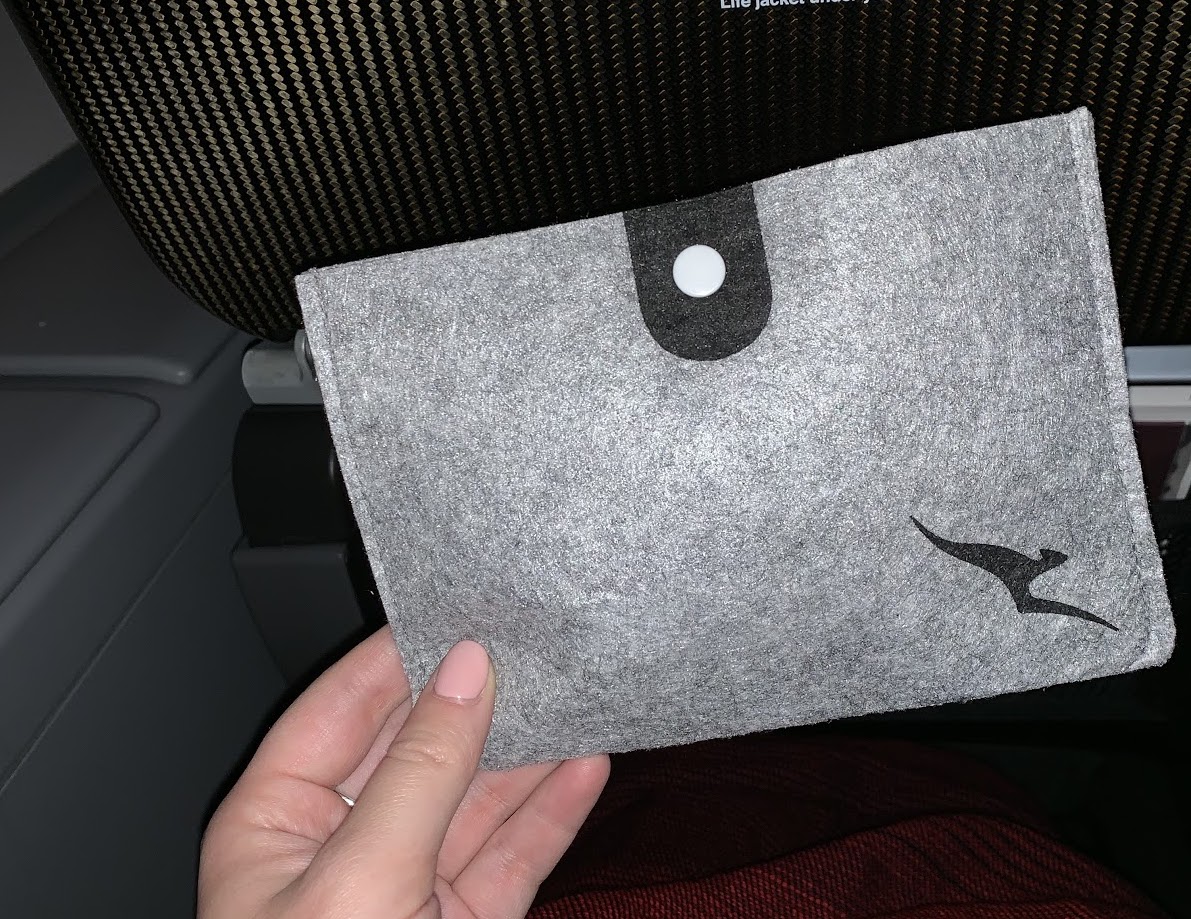 All Economy passengers were provided with basic headphones.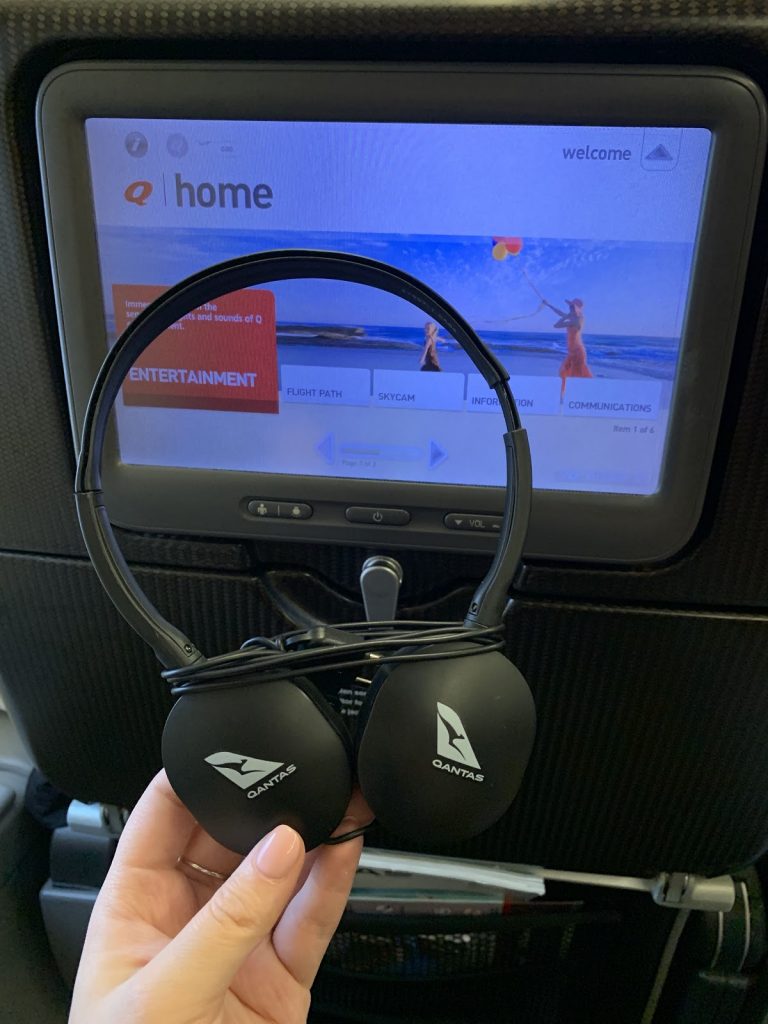 Higher status Frequent Flyers were handed noise-cancelling headphones which were obviously much nicer than the basic ones.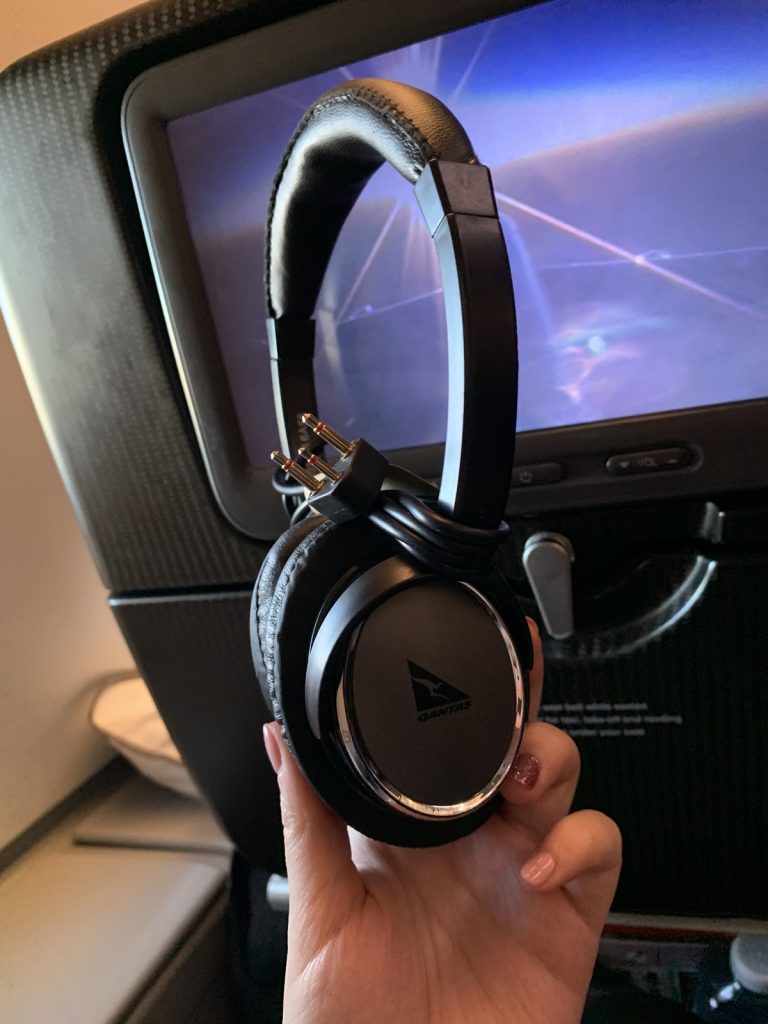 How to redeem points for this flight
Although you have an option to book this flight with your Frequent Flyer points, I would recommend saving your points for a Classic Flight Reward or a Classic Upgrade Reward in Business or First.
Booking this flight paying only with points is possible, but keep in mind that this delivers the least value for your hard-earned points. The points value varies based on the cost of the ticket, meaning that if the cash value of the ticket increases, so does the amount of points needed to book the flight.
If I was to book this 23-hour flight with points only, it would have cost me a whopping 182,100 points, which equals 0.69 cents per point. Considering that this is just for a standard Economy seat, there is little to no value to be received from booking this flight with only points. You can read our guide to getting the most value from your frequent flyer points here.
It should be noted though, that paying for a flight with points would only earn you the same amount of Qantas Points and Status Credits than it would when paying in cash.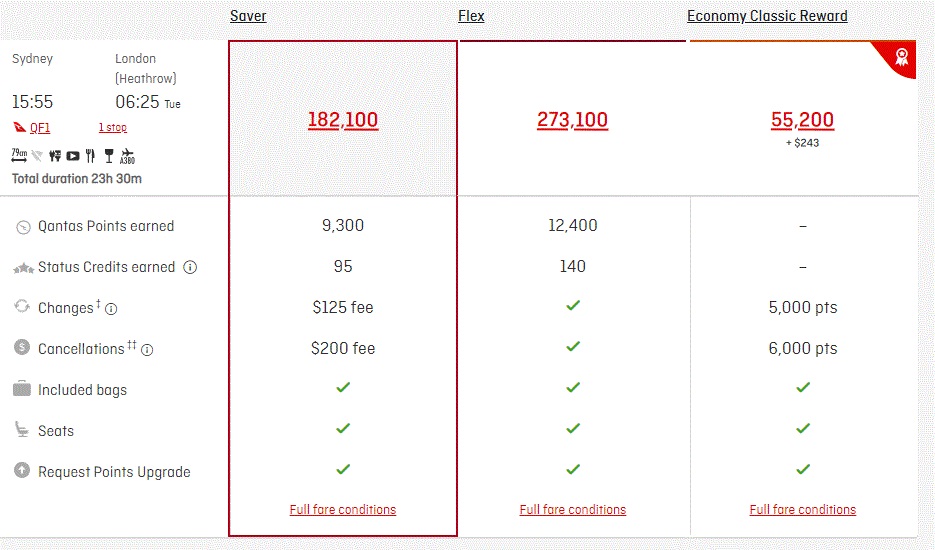 A more beneficial way to redeem your Qantas points is to book a Classic Flight Rewards seat.
The reason why Classic Flight Rewards can potentially deliver more value for your points is that the amount of points you need is calculated based on the distance and travel class, instead of the cost of the ticket. This means that even if the ticket prices go up, the amount of points needed for a Classic Flight Reward seat remains the same.
You can use Qantas' points calculator for Classic Flight Rewards by entering your intended travel class and destination. The cost of the points will stay the same, regardless of the time of the actual booking.
Do keep in mind that Classic Flight Rewards seats are subject to availability, and may not be offered on all flights.
If I was to book an Economy Classic Rewards seat for this flight, I would have paid 55,200 points + $243.00 in taxes. This represents 1.83 cents per point value, which is looking a lot better than using only points. Referring to our valuation for a Qantas Point, 1.83 still falls below the value of 1.9 cents per point.
Although booking a seat with Classic Flight Reward can be beneficial in terms of delivering value for your points, booking a flight this way does not earn you any Qantas Points or Status Credits.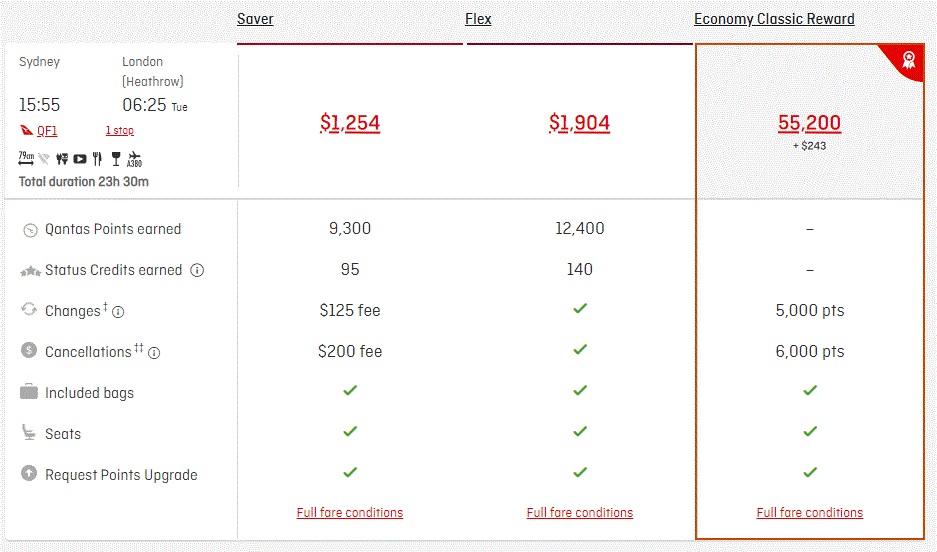 You can also book your flight by combining points and cash. This is a good option when you have some points to spare, and the cash fares are particularly high.
Once you've selected your preferred Qantas flight, the booking system gives you an option to 'Use Points Plus Pay' as a payment option (you have to be logged into your Qantas FF account to do this). From there, you can adjust the cash and points ratio as you wish.
The system does set a limit of minimum points to be used for the flight. The minimum amount that I would have had to spend for this Economy seat was 5000 points in addition to $1,222.52 in cash. Again, this is not great value, as it equals only 0.63 cents per point.
As the amount of Qantas Points used increases, the value of the cash decreases, however, the points value remains around the same, regardless of how much you change the ratio.
Similarly to paying only with points, combining points and cash on eligible flights earns you Qantas Points and Status Credits just like it would when paying only in cash.

Additionally, you can also use points on this flight from other loyalty programs, including Cathay Pacific Asia Miles, American Airlines AAdvantage Miles and British Airways Avios.
Lounge access
Depending on your Frequent Flyer membership status, you can access either the International Business Lounge or the International First Lounge before your Economy Class flight.
The International Business Lounge welcomes members of the Qantas Club and Qantas Frequent Flyers who hold a Qantas Gold status or above, while the First Class Lounge can be accessed by Qantas Platinum and Platinum One Frequent Flyers.
Summing up: why choose this flight?
Qantas provides a reasonably good Economy product on their Airbus A380, however, I would not use my Frequent Flyer points for a long-haul flight like this and instead save them for Business- or First Class.
The duration of this particular flight is normally over 20 hours, so comfort is the key.
Being the biggest passenger plane in the world, I expected extra space, but was surprised to see that there wasn't that much more room than in Qantas' narrow-body jets. With Economy seats being fairly tight, you need to be very smart about your seat selection to maximise legroom and comfort.
The seats and the overall design of the plane were starting to show their age, so I am eager to see what the refurbished A380s have to offer.
What is great
Inflight entertainment with a broad selection of movies, TV-shows, music and games
Satisfying meal- and beverage selection
Self-serve snack station
Friendly and attentive staff
Footrest
Elementary seat selection included in the ticket price
Ability to earn and redeem Qantas Points and Status Credits
What is not great
No inflight WiFi
Small seat pitch and width
Expensive extra legroom seats
Outdated seat- and cabin design
No menus provided on the first flight
Inconsistency in customer service between the two flights
Related reviews
Qantas A380 International Economy Class overview
was last modified:
May 18th, 2022
by