On a recent trip to Honolulu, I visited the Plumeria Lounge in the Hawaiian Airlines inter-island terminal. This lounge is officially reserved for Hawaiian Airlines passengers flying international Business Class. However, I was also able to gain access via my Priority Pass card.
Lounge details & location
The Plumeria Lounge is above Gate A16 in the inter-island terminal. Once through security, turn right and look for the signs to the Wikiwiki Shuttle. An escalator takes you to the third floor and the entrance to the lounge.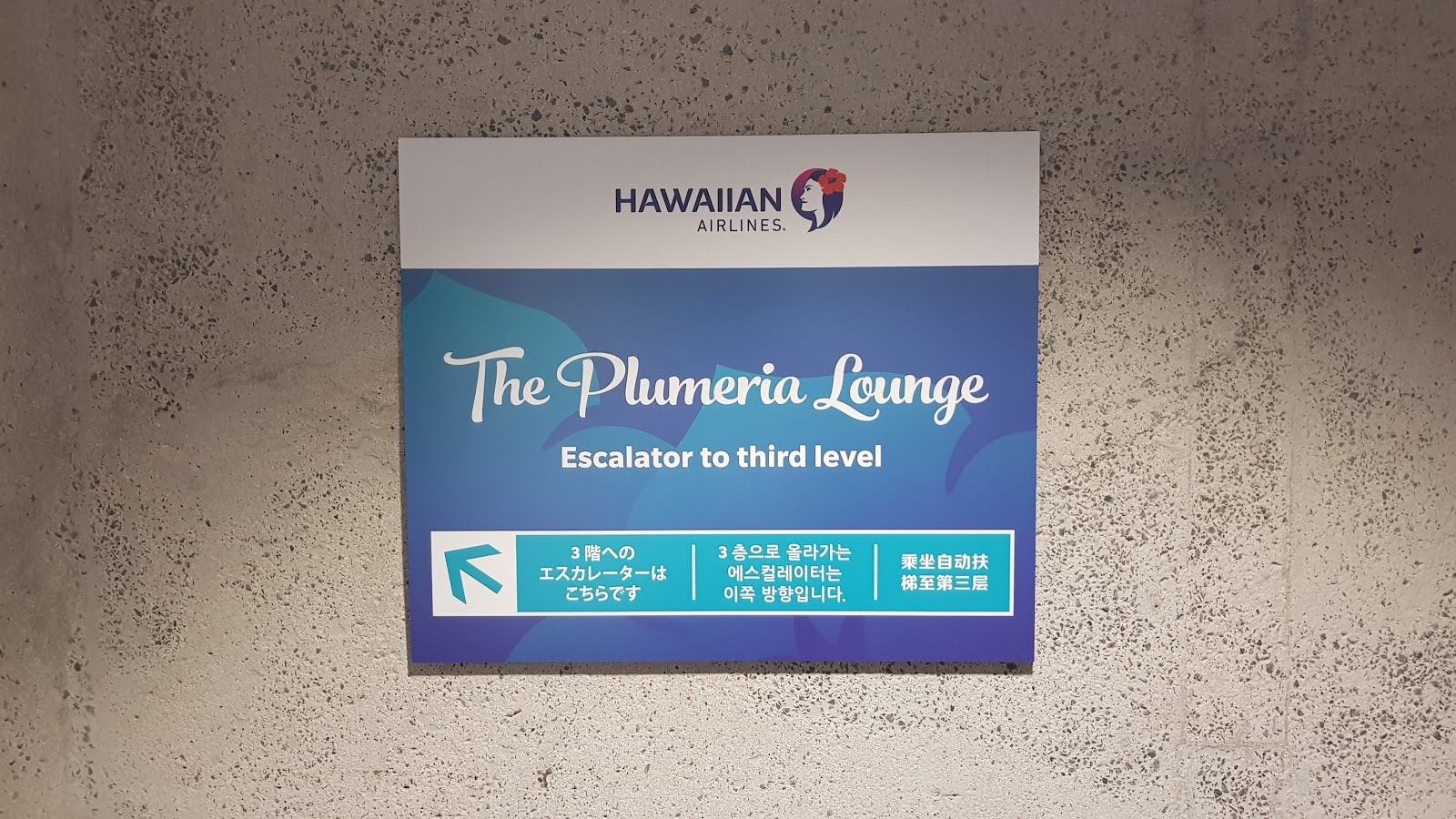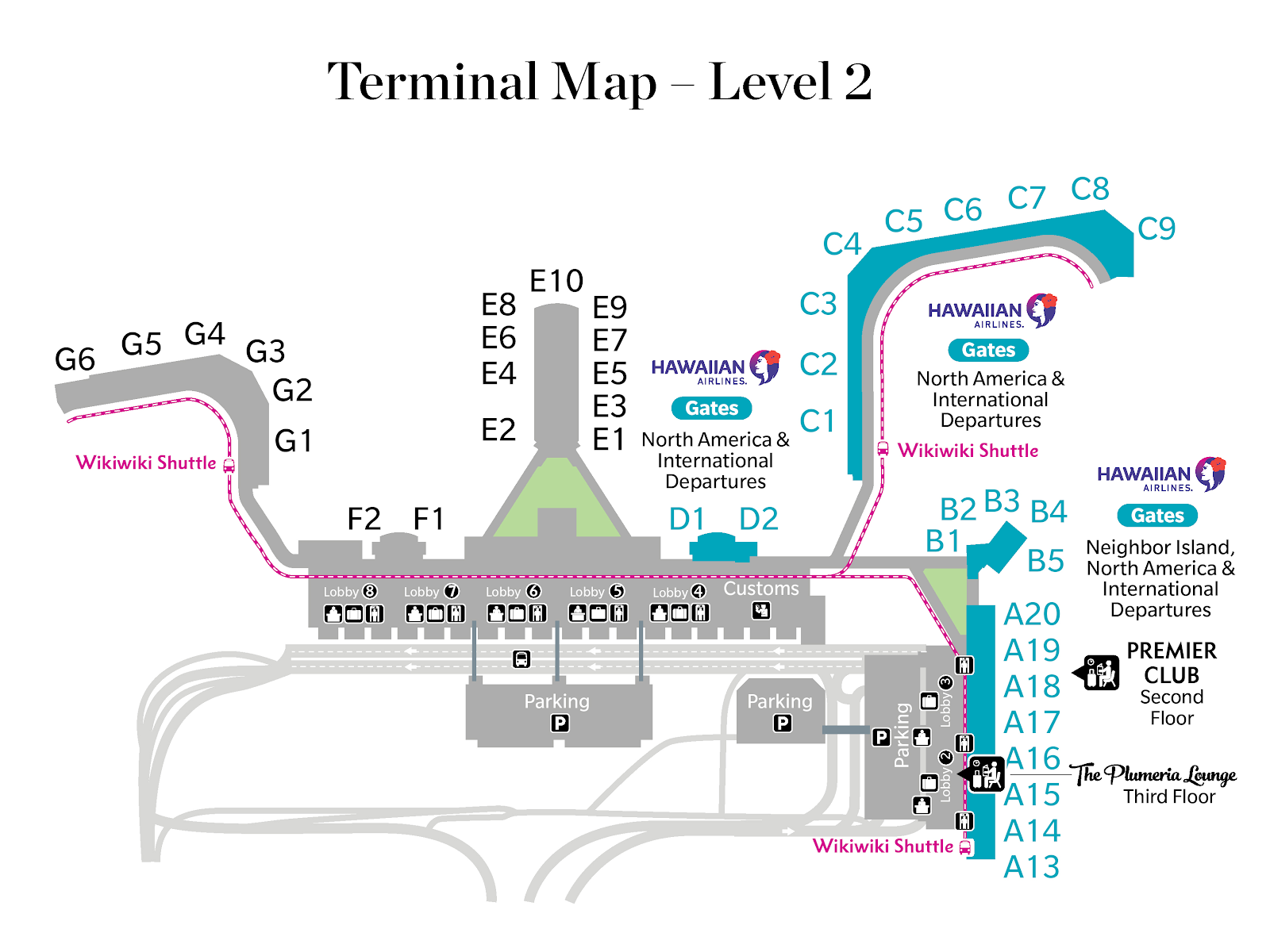 The Plumeria Lounge is open seven days a week from 9:00 am to 9:30 pm. Children under 21 must be accompanied by an adult (as alcohol is served) and access may be denied if space is limited.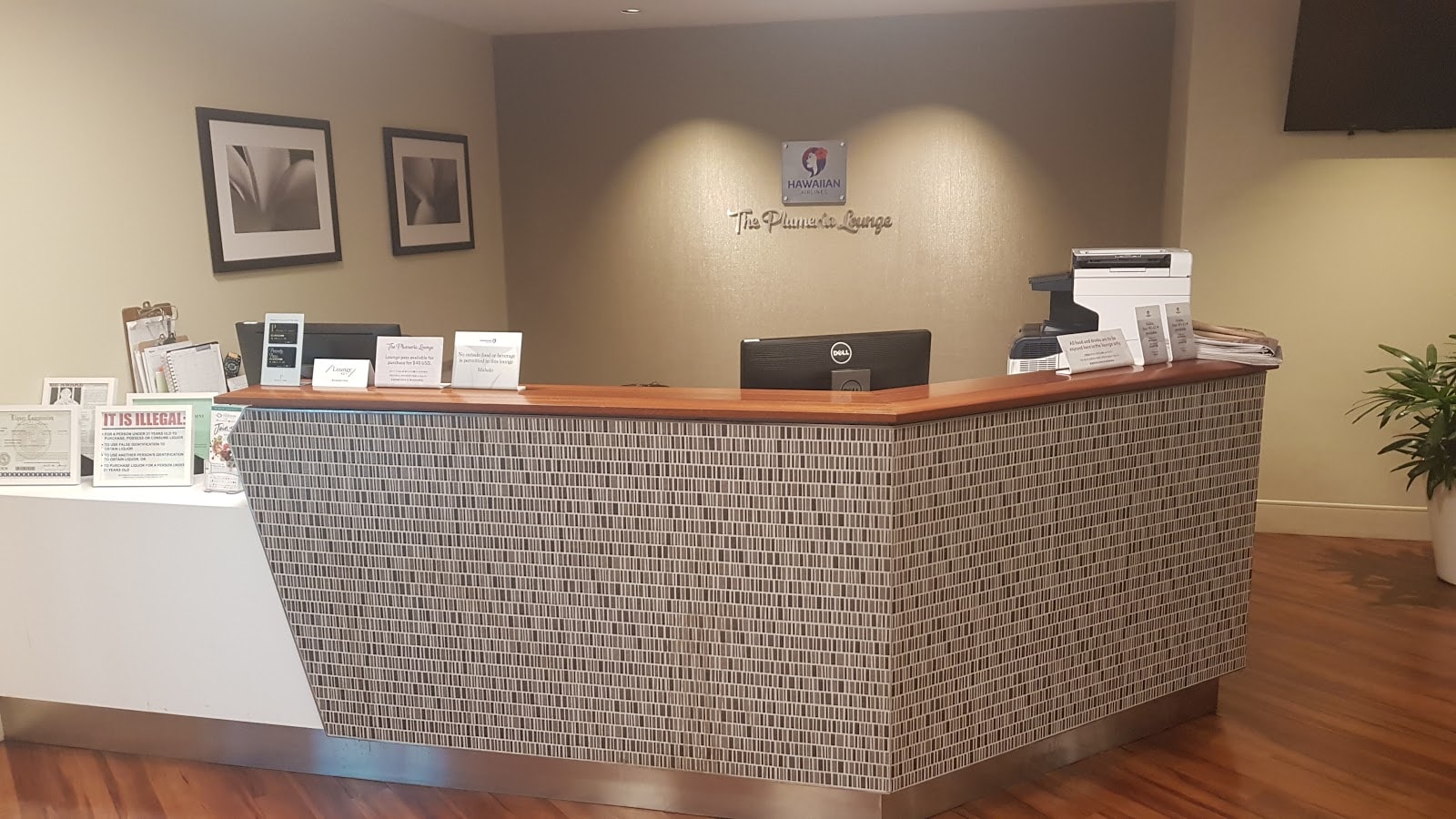 I visited the lounge twice, both times in the early afternoon and easily found seats.
Lounge seating
The lounge is a single rectangular space of approximately 150m2. Lounges, easy chairs and coffee tables are on one side of the room, whilst the other side has a more formal eating area.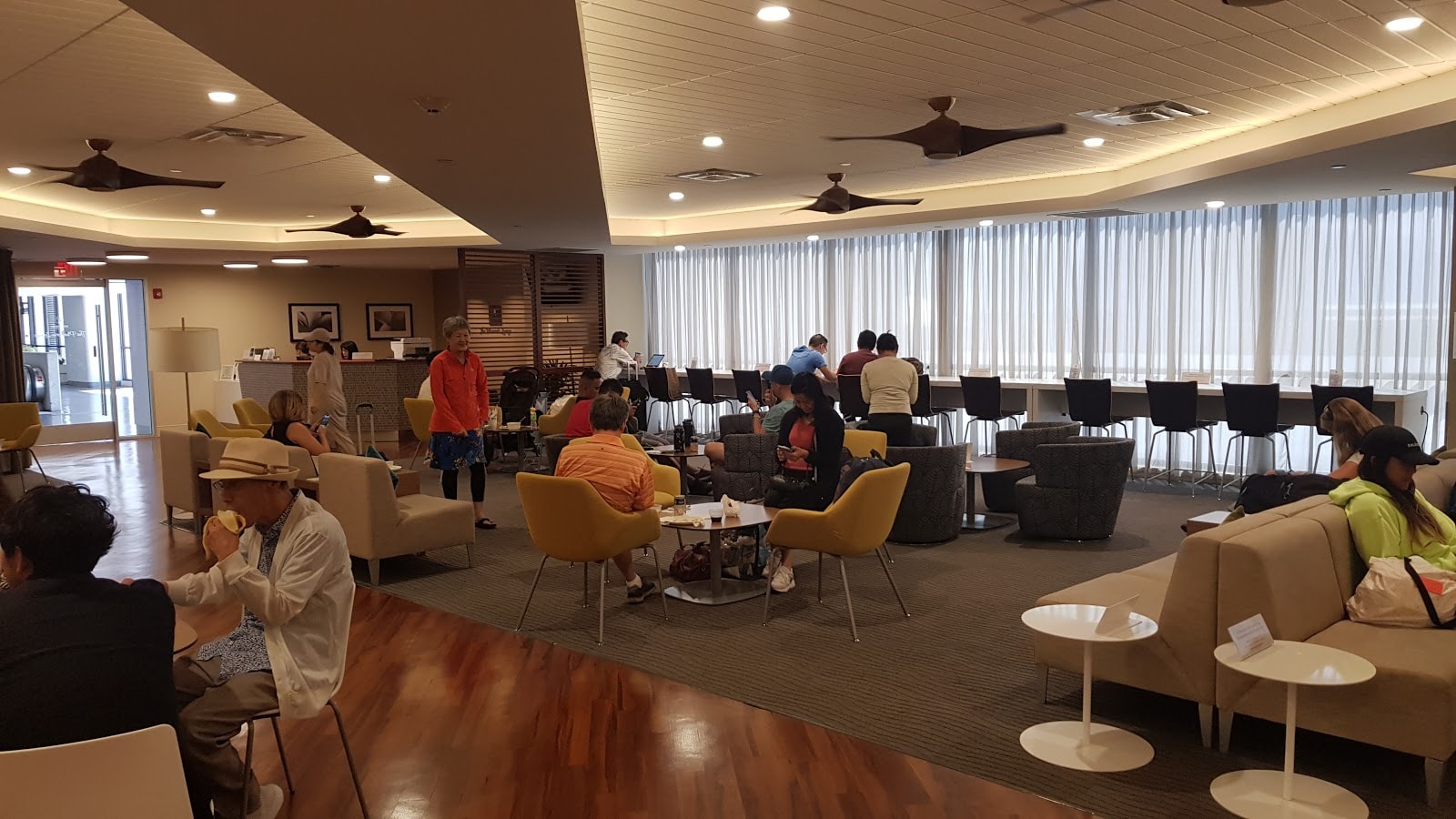 There are plenty of powerpoints on the bench desk by the window, as well as on the opposite wall in the eating area, as well as a TV screen is on the wall at the rear of the room that is muted.
There is no screen showing departures, nor are there any announcements made inside the lounge, so be careful to not lose track of time.
As the lounge faces due west, the curtains over the windows are permanently drawn to keep out the fierce Hawaiian sun. The actual view is of the Wikiwiki shuttle area, so the view is far from being world class.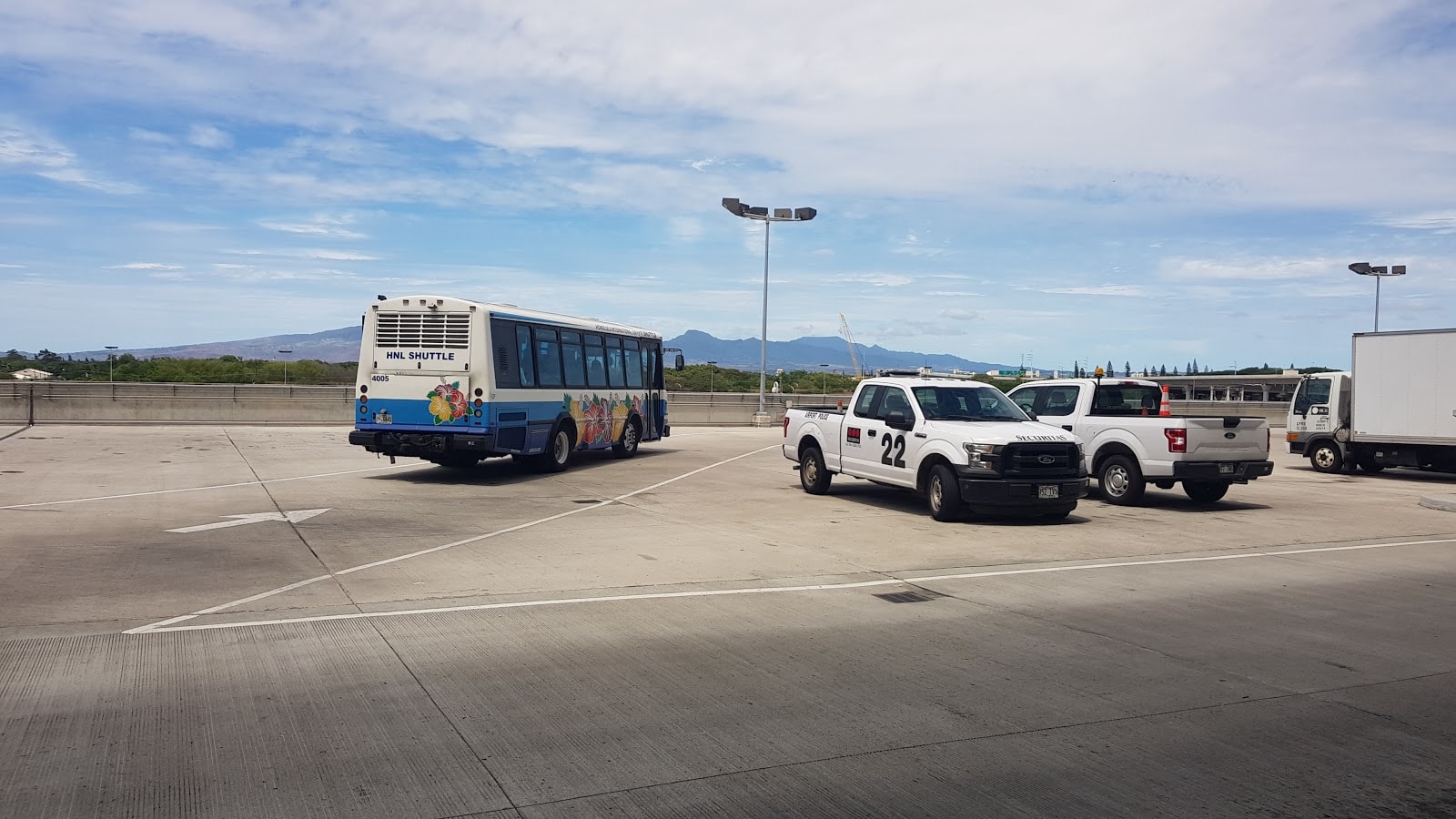 Food & drink
One corner of the lounge is devoted to a plentiful supply of basic, but adequate food. All the food and drink is free of charge.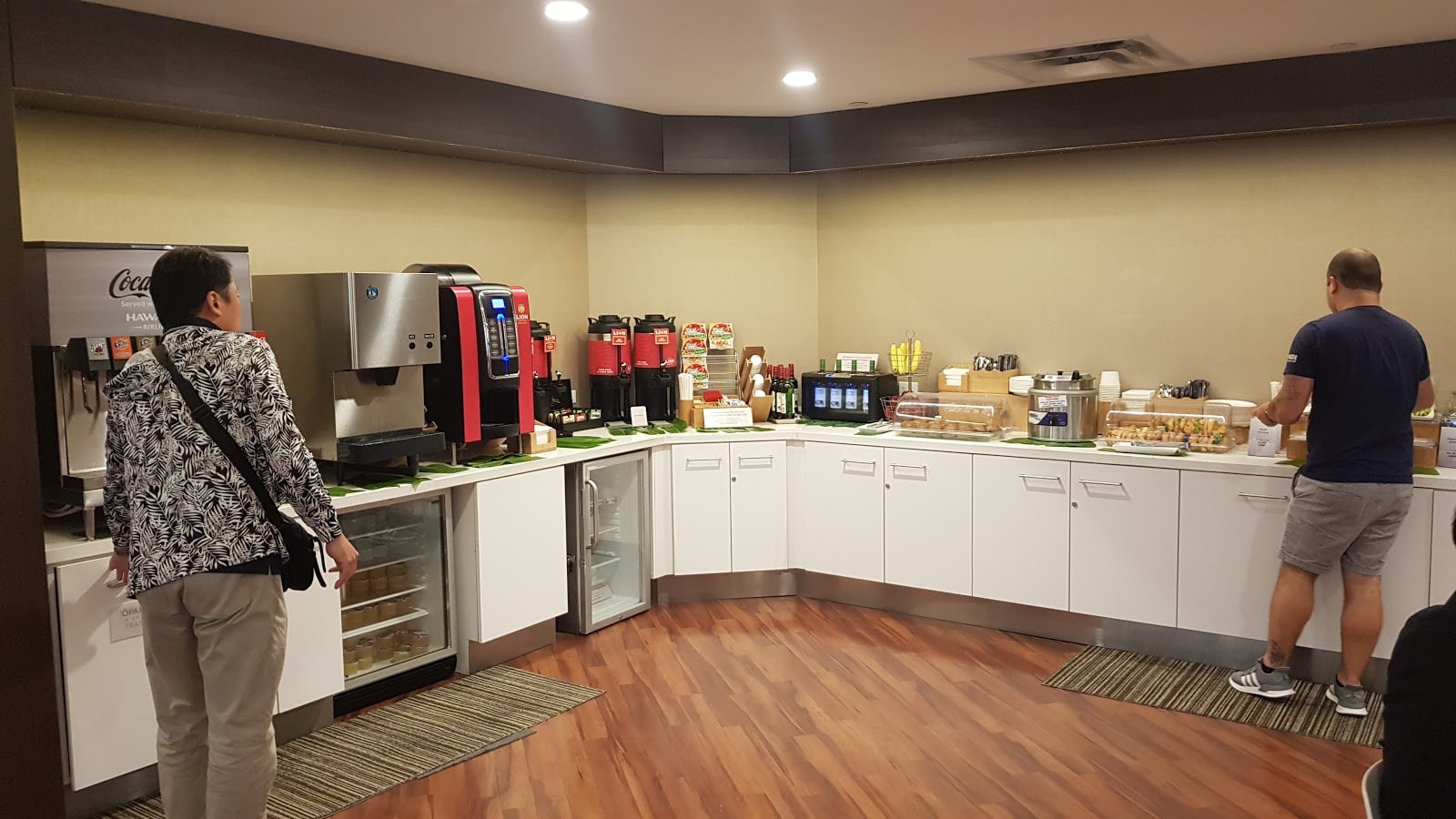 Rolls and croissant 'sandwiches' have turkey, lettuce and cranberry sauce filling. The hot soup was beef oxtail.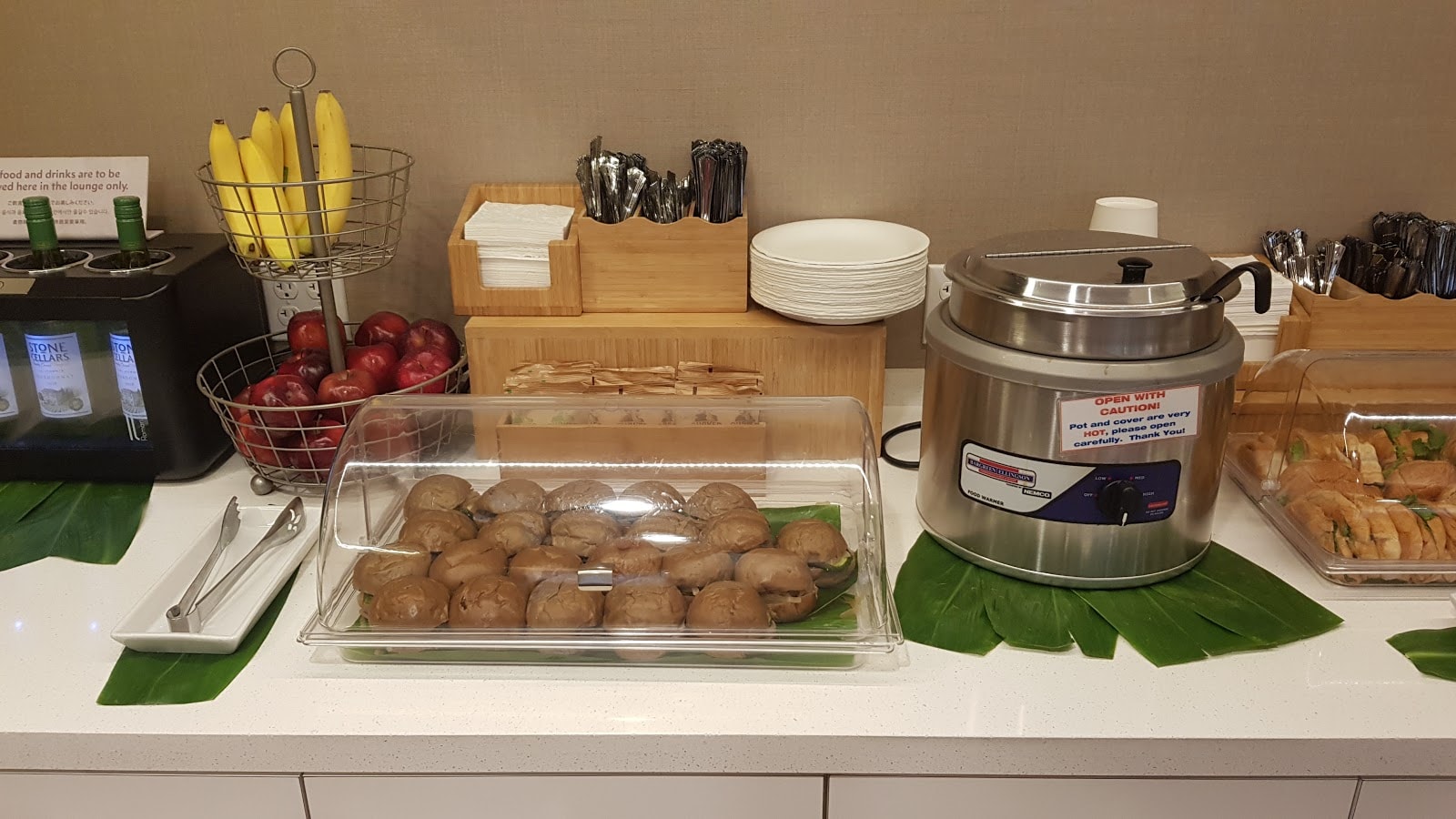 A selection of cut vegetables is available, with a range of dipping sauces. You can also choose from muesli bars, nuts, potato chips and cute Honolulu Cookie biscuits.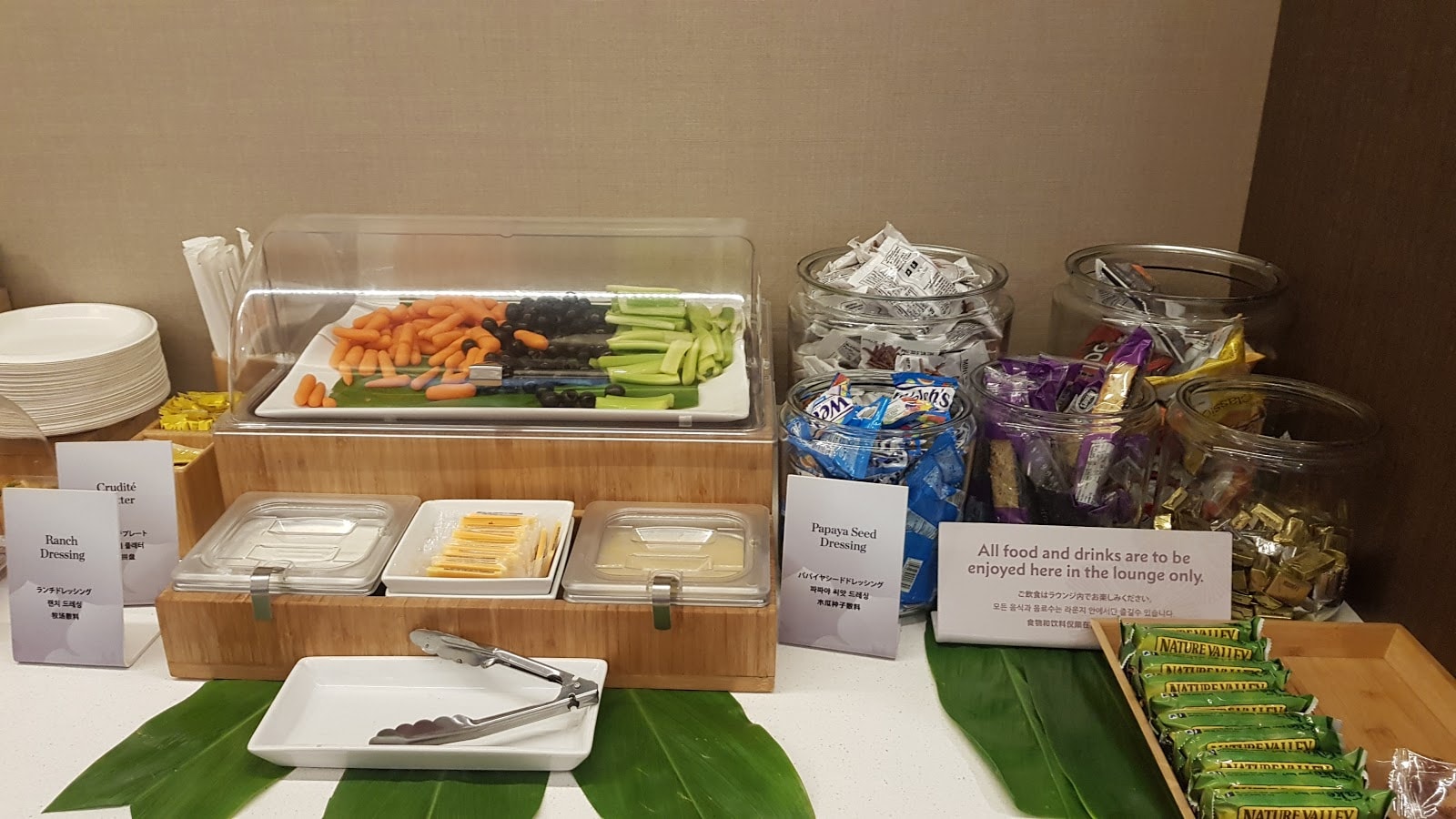 Fresh fruit and cup-a-noodles are also provided.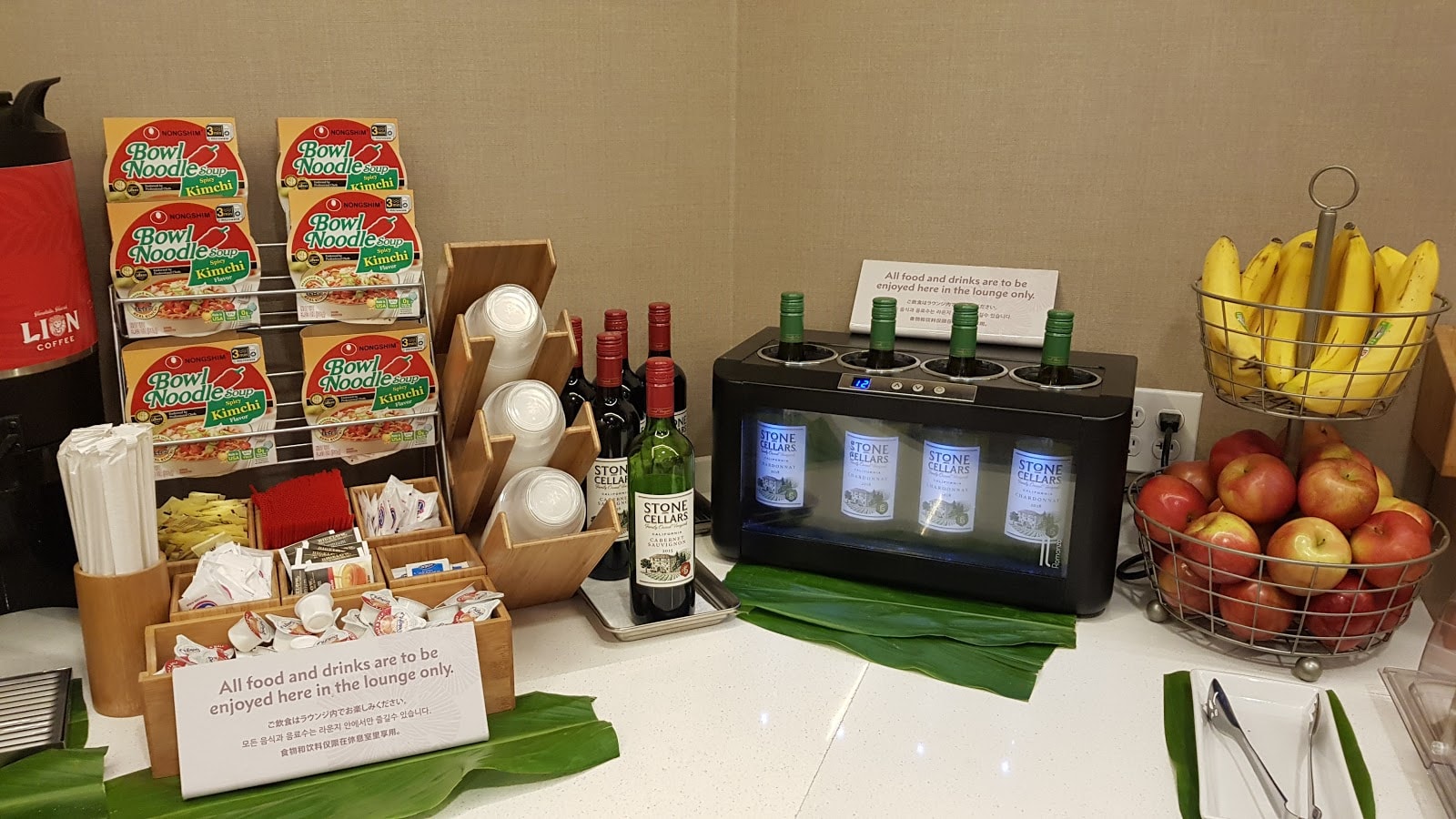 Hawaiian Airlines' ubiquitous Passion-Orange nectar is also available.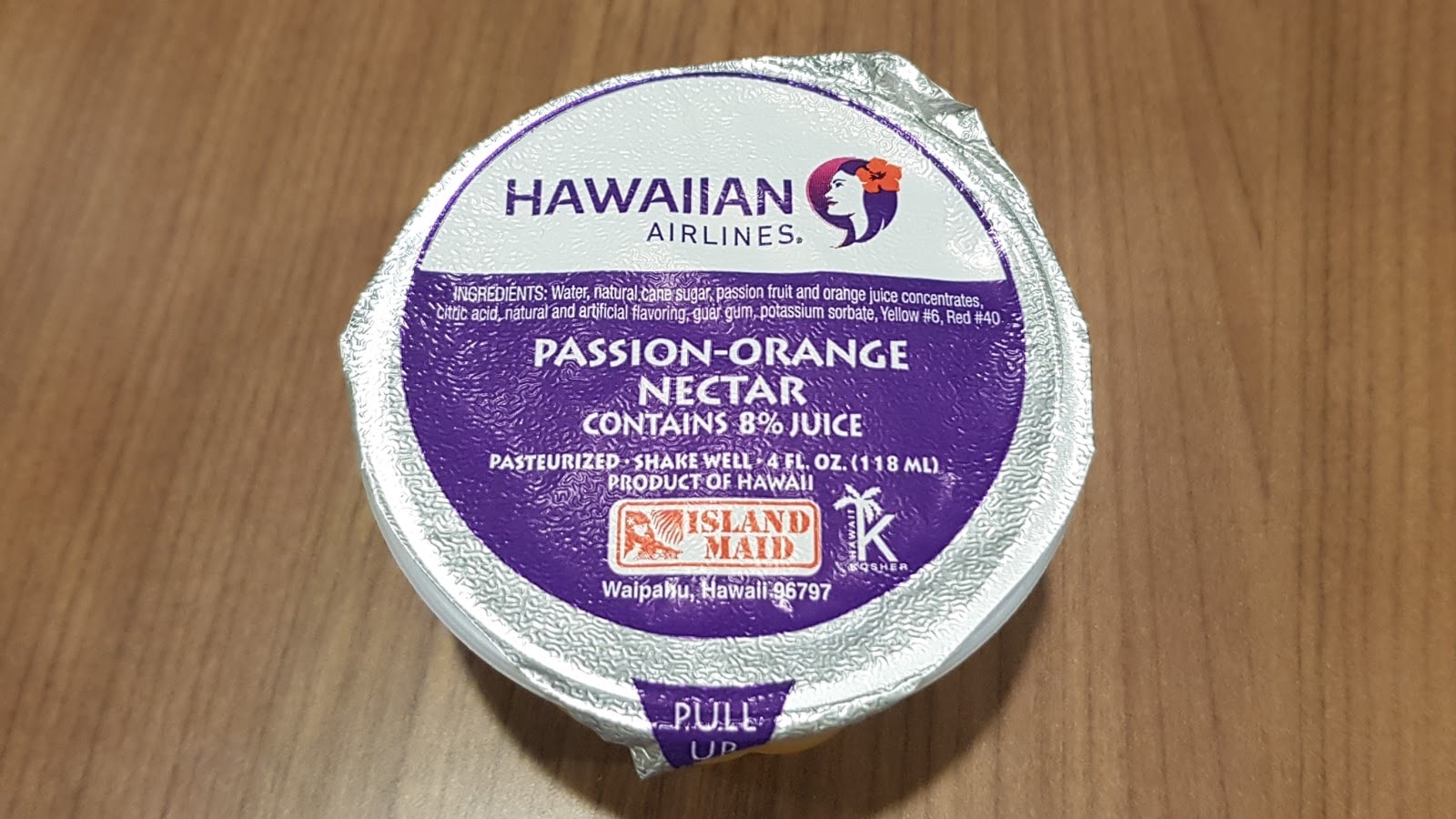 Drinks consist of Coca-Cola branded soft drinks, iced water, two blends of coffee as well as Twinings tea. The wines supplied were Cabernet Sauvignon and Chardonnay from a Napa Valley winery.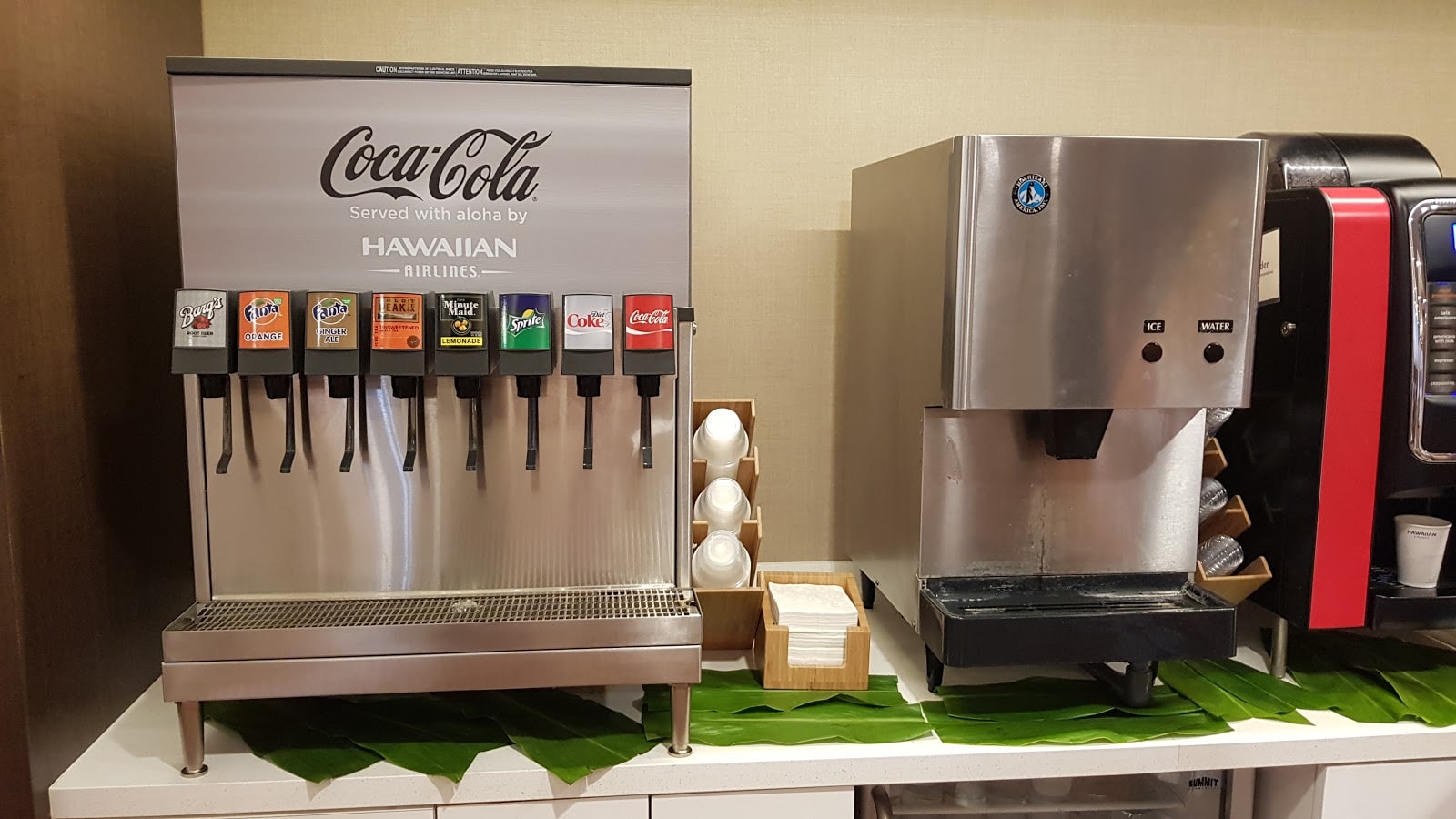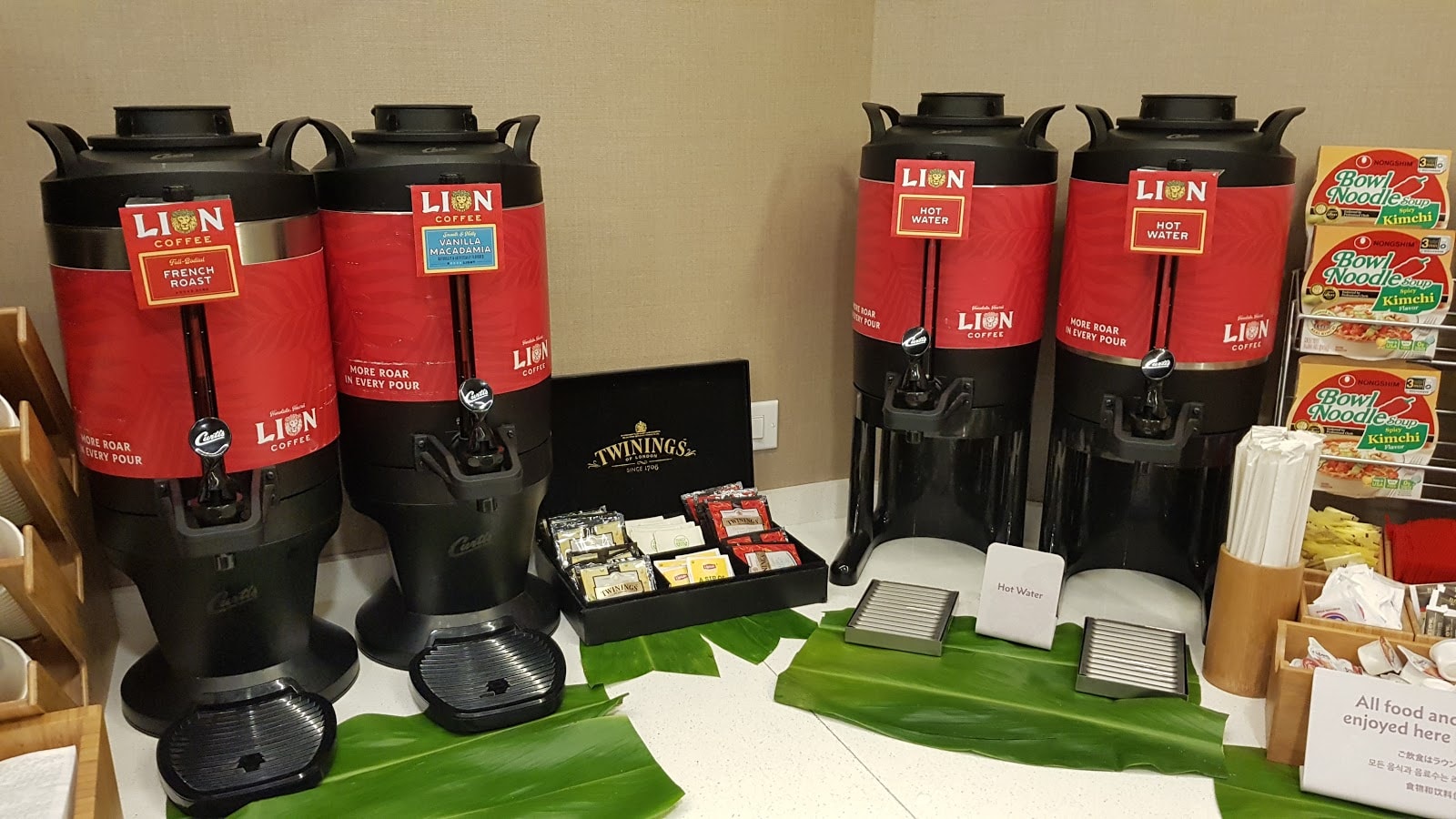 Maui Brewing's delicious Bikini Blond lager is the only beer on offer.
Amenities
Male and female bathrooms are at the far end of the room, but was unfortunately not able to get any photos as they were all being used while I was there. There are no showers available.
Wi-Fi is available via a dedicated wireless network, secured by a password. One must provide an email address to register on the network. A blistering 70Mbps symmetrical bandwidth allowed me to upload these photos in a flash.
Lounge access options
By class of travel: Passengers flying international Business Class on Hawaiian Airlines receive free access
By airline frequent flyer status: Hawaiian Airlines Pualani Gold and Platinum members flying inter-island can purchase a day pass to access the Plumeria Lounge. Otherwise, they have free access to the Premier Club on the second floor
By alliance frequent flyer status: Virgin Australia Gold and Platinum passengers can use this lounge when travelling in Business Class
By lounge membership program: Priority Pass memberships provide access to the lounge.
By day pass: One can walk up and pay US$40 to enter the lounge (no membership required). Hawaiian Airlines Pualani Gold and Platinum members receive discounted rates
Summing up: our take
If one has Priority Pass membership, then this lounge is definitely worth a visit. Even if there is less than an hour before a flight, this is enough to gain entry, have a snack, a drink and a bathroom break in air-conditioned comfort.
Those with a longer layover before their flight might consider buying a day pass. Although there are plenty of food and drink options in the terminal, prices are expensive. One could easily spend more than US$40 on refreshments downstairs.
Be aware that if one is flying inter-island from the B terminal or internationally from the C terminal, it is a 10- to 15-minute walk from the lounge to the gate. Allow plenty of time to navigate the crowded terminal.
What is great
Free food and drink
Fast Wi-Fi
Plenty of powerpoints for charging devices
Air conditioning
What is not great
No view
No showers
No magazine or newspaper racks
No screens or announcements for departures
It can be a trek to the departure gate
Expensive day pass price for short stays
The Plumeria Lounge, Honolulu
was last modified:
April 15th, 2021
by