The pay-per-entry Brisbane Plaza Premium lounge is set to re-open its doors on 31 May 2021 after more than a 12-month hiatus due to the COVID-19 pandemic. I take a look at what you can expect when you next take a flight overseas, including within the trans-Tasman bubble to New Zealand.
Before my Singapore Airlines Airbus A350 Business Class flight from Brisbane in late 2019, I took the opportunity to visit the Plaza Premium Brisbane Lounge with my Priority Pass membership and was quite pleasantly surprised by the amenities and service I found inside.
Editor's note: Plaza Premium has confirmed to us that the a-la-carte service offering now is very similar to pre-COVID times, but just with the usual COVID-19 restrictions that we have all become used to.
Lounge Location and Details
The Plaza Premium Lounge is located next to the Singapore Airlines SilverKris lounge in Brisbane International Airport. Turn right after immigration and security, and find the escalators going up opposite Gate 82.
Lounge layout and seating
The lounge entrance is to the right hand side when you get off at the escalators.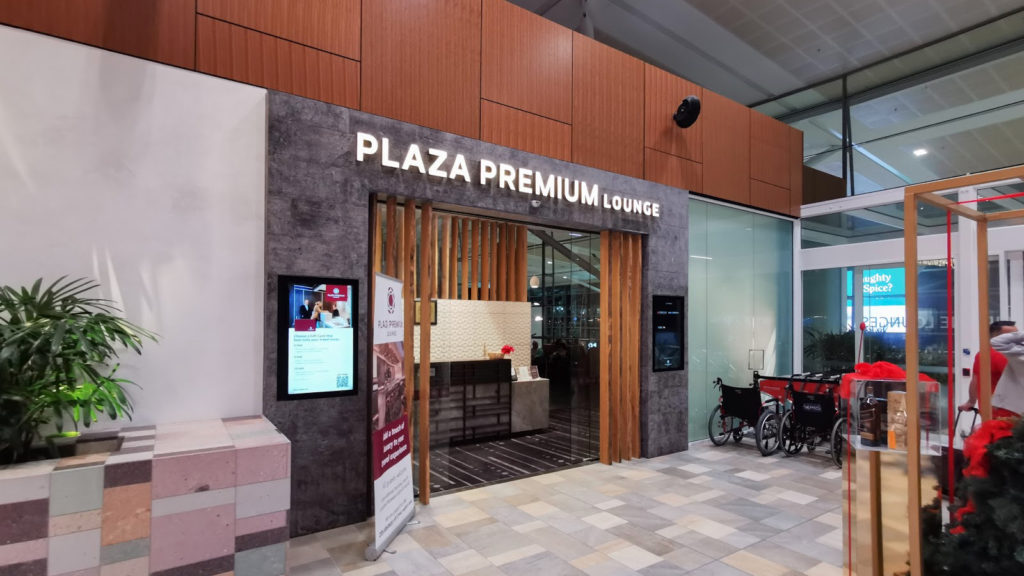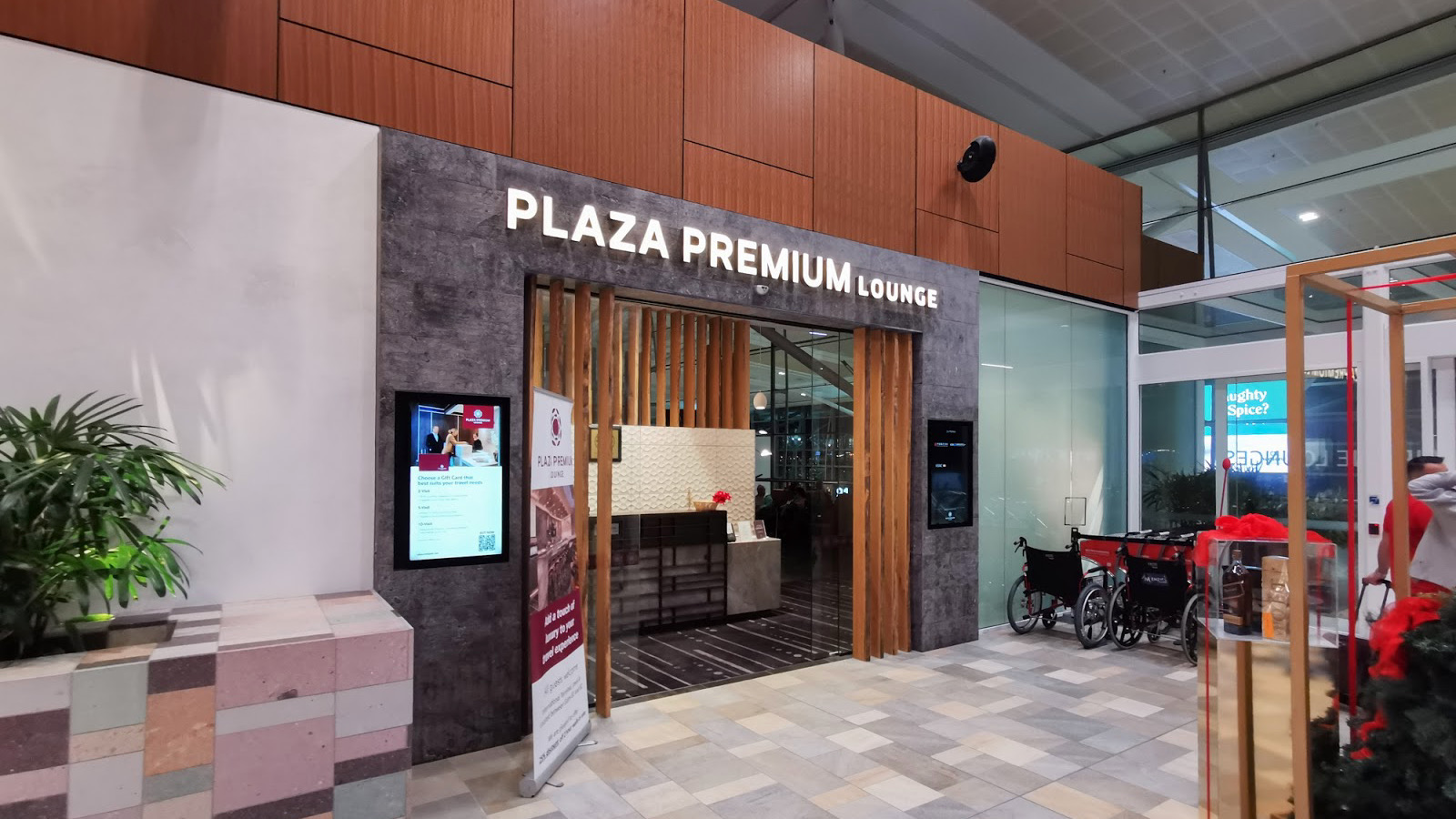 Past the reception desks, you'll find the lounge is quite small in size overall and seating options seem a little cramped. Along the terminal windows is the quietest section with an interesting choice of seats.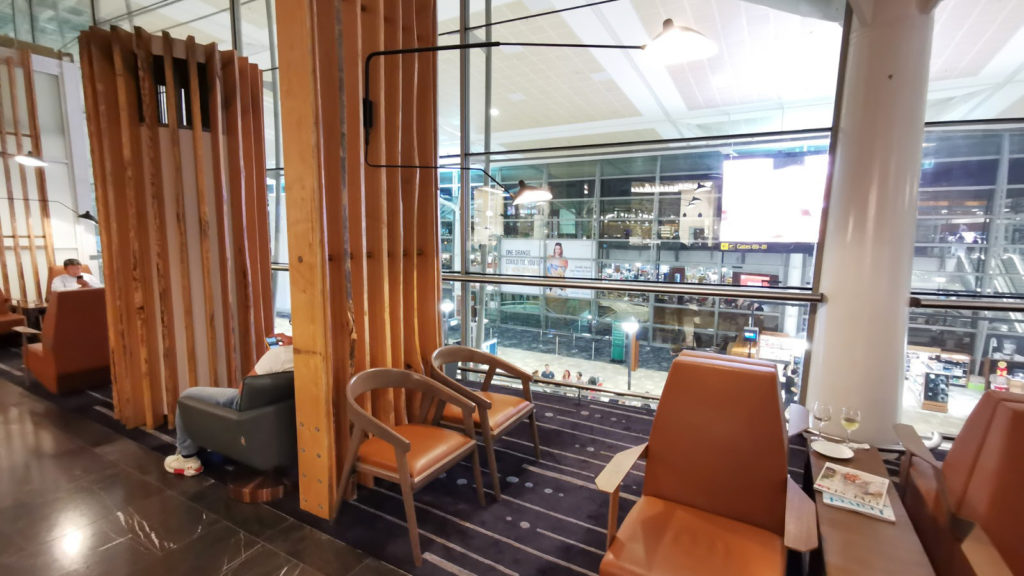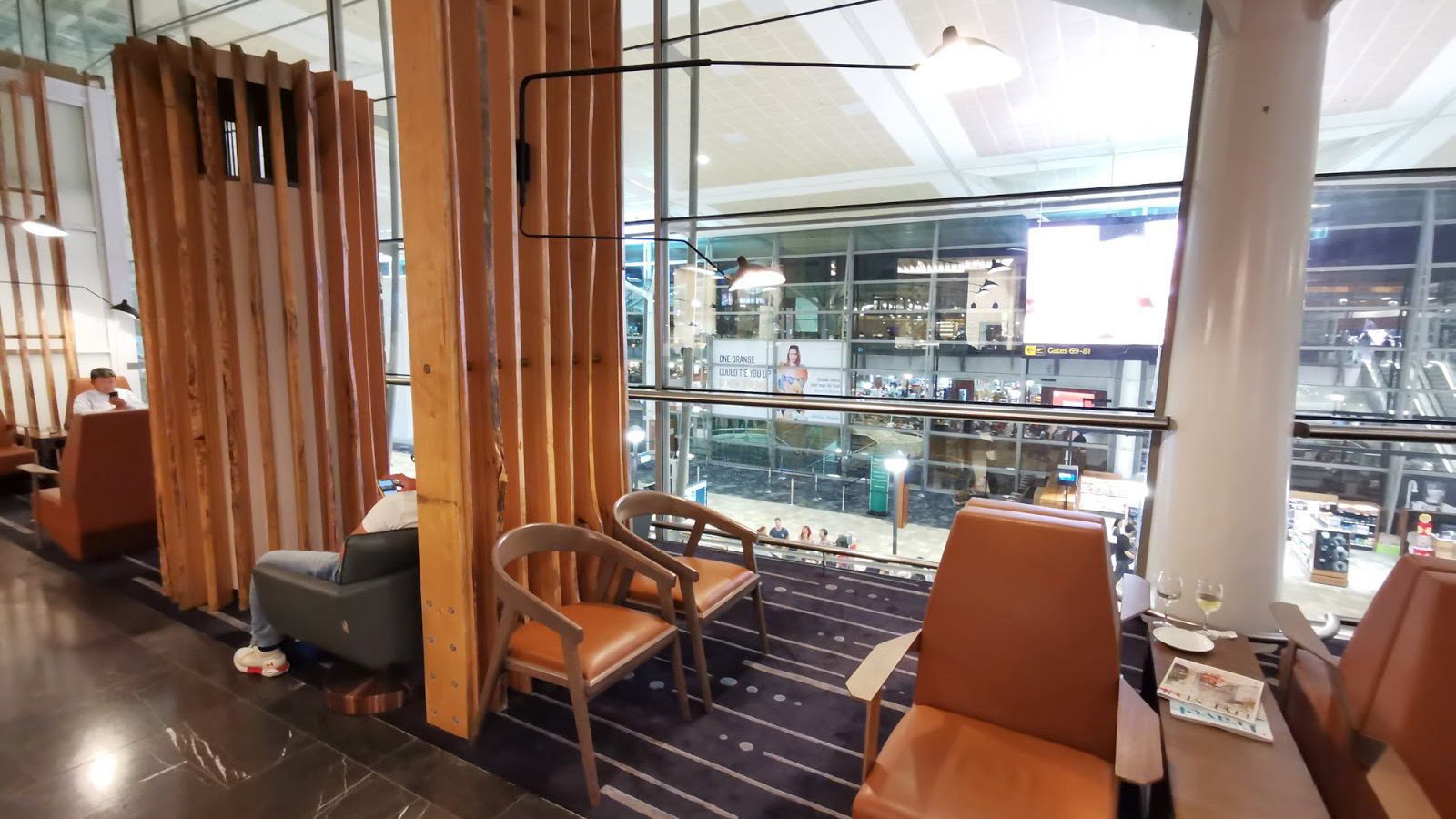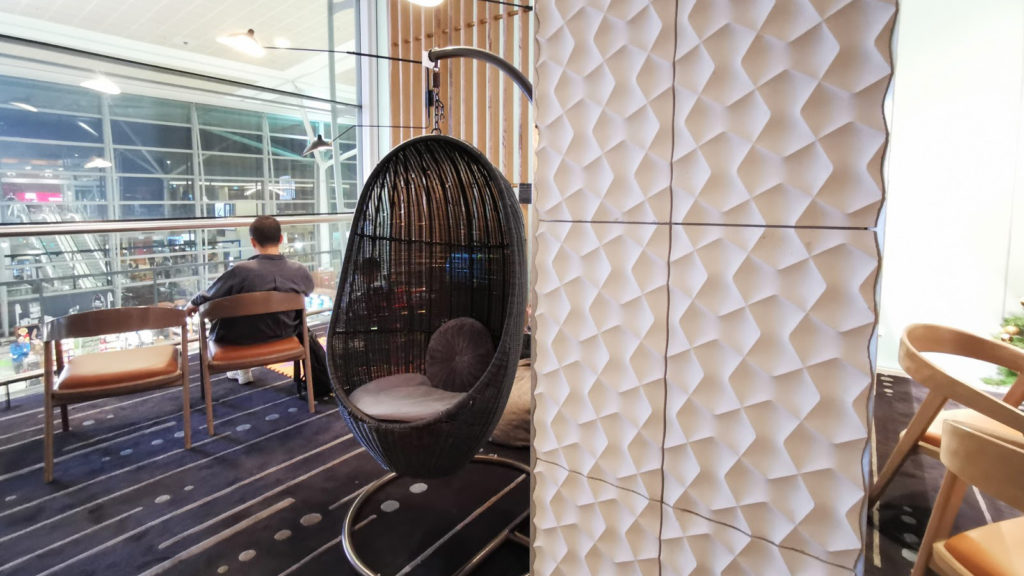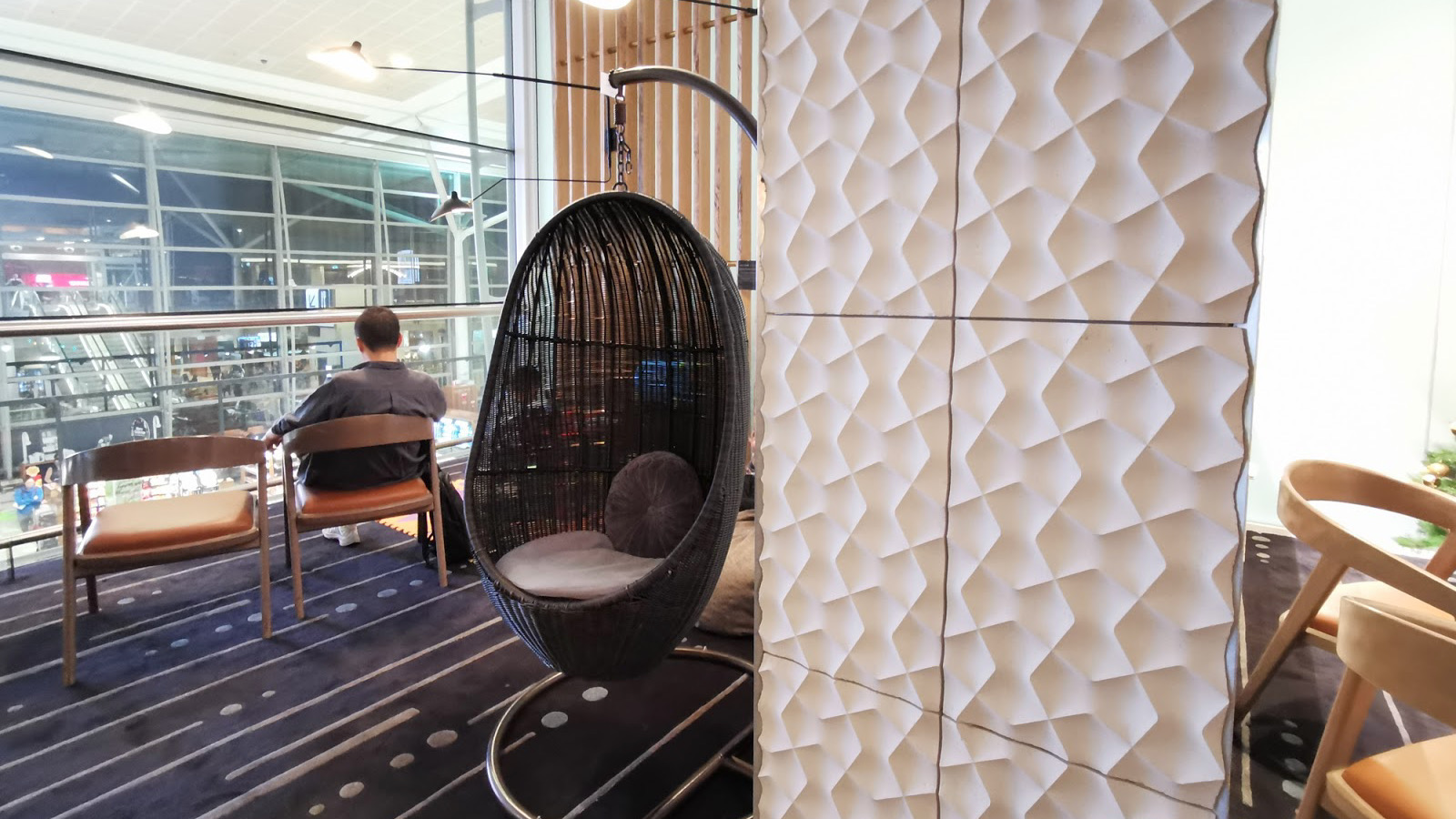 The main section of the lounge has more traditional seating. Some areas have brighter reading lights and TVs as well.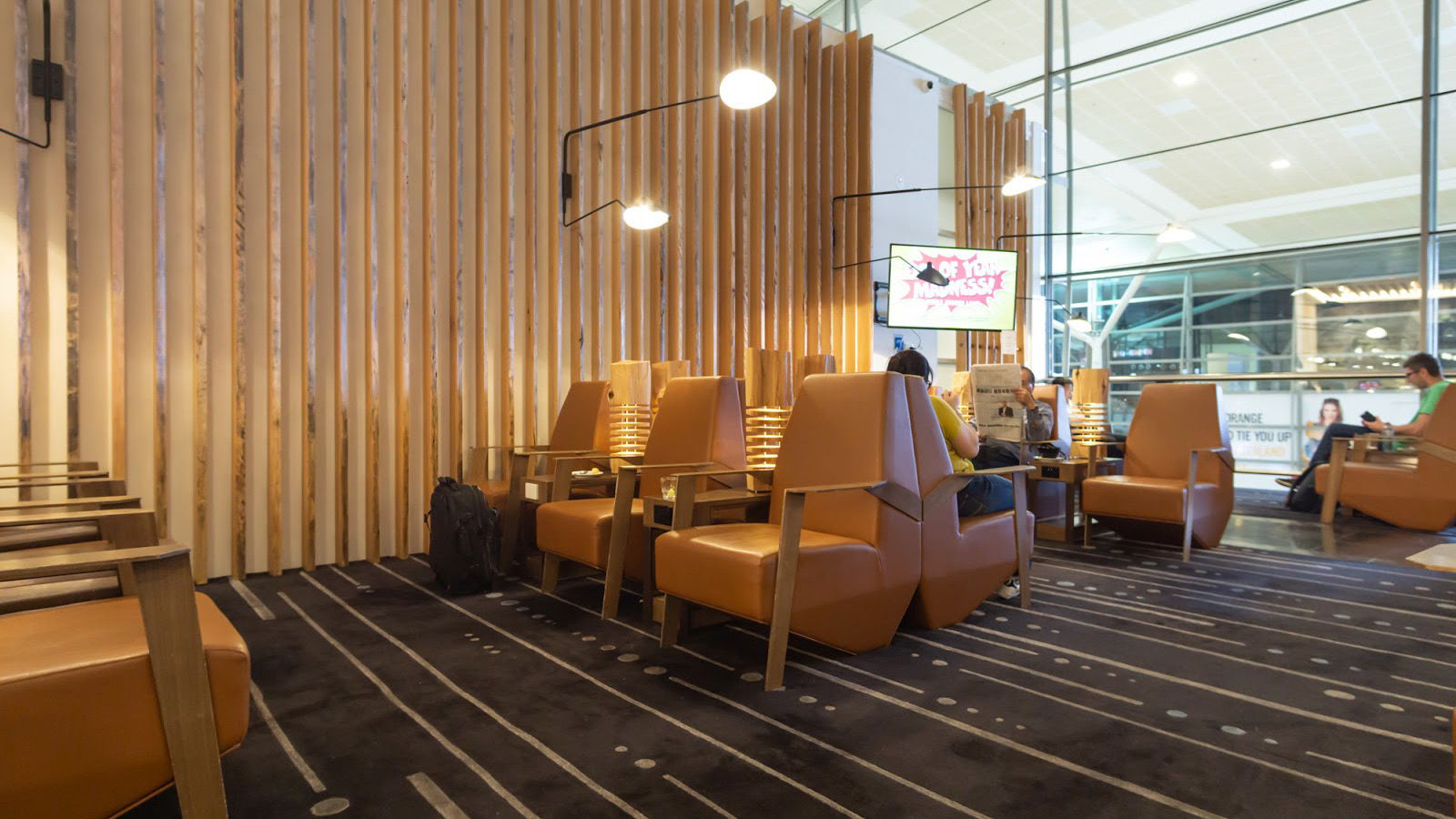 Towards one side is Plaza Premium's signature hexagonal work pods, something I first encountered in the lounge chain's Jakarta lounge.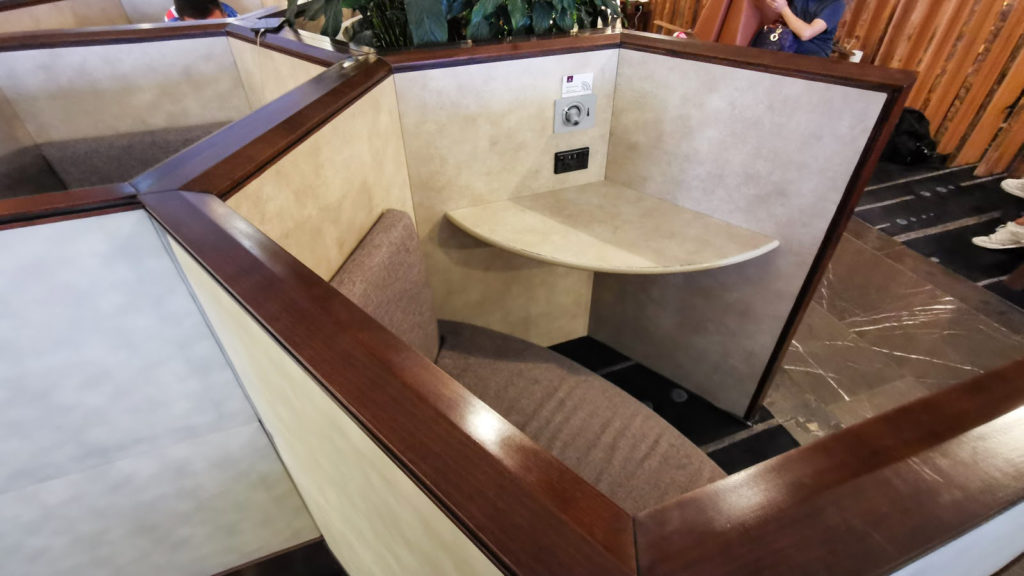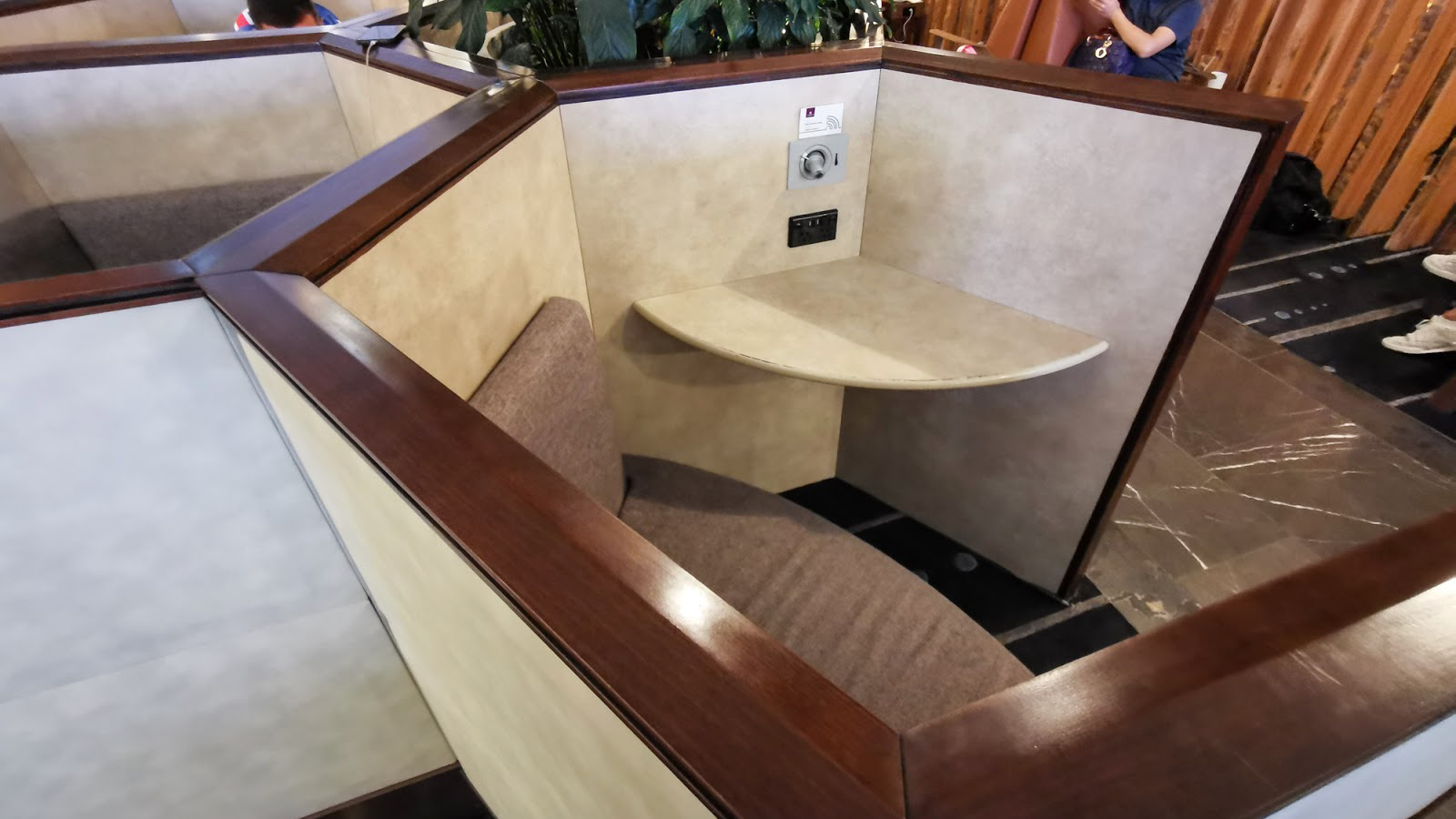 The far side of the lounge has a small dining area including a bar, kitchen, stools and dining tables. Bathrooms are off to the left side of the bar.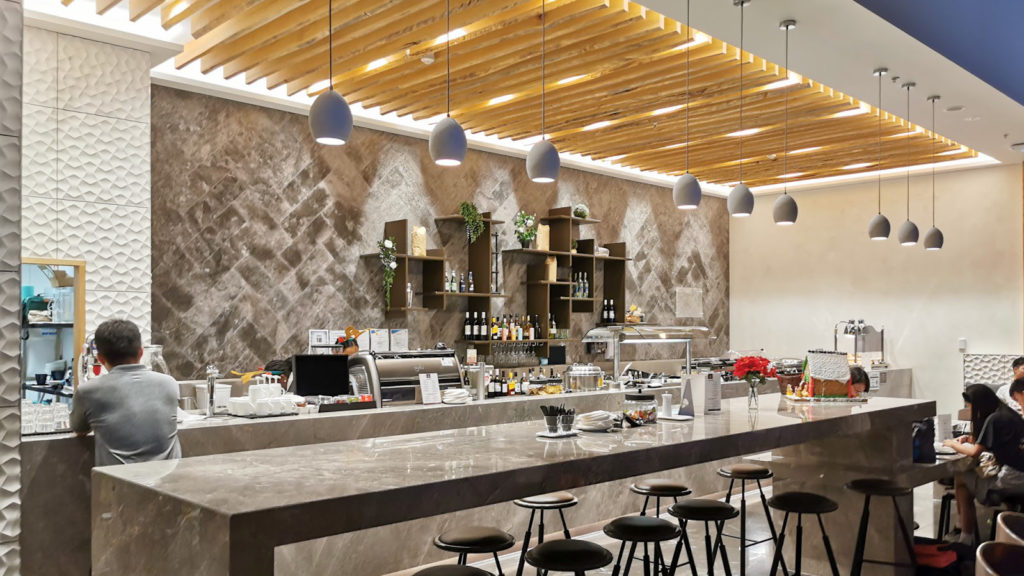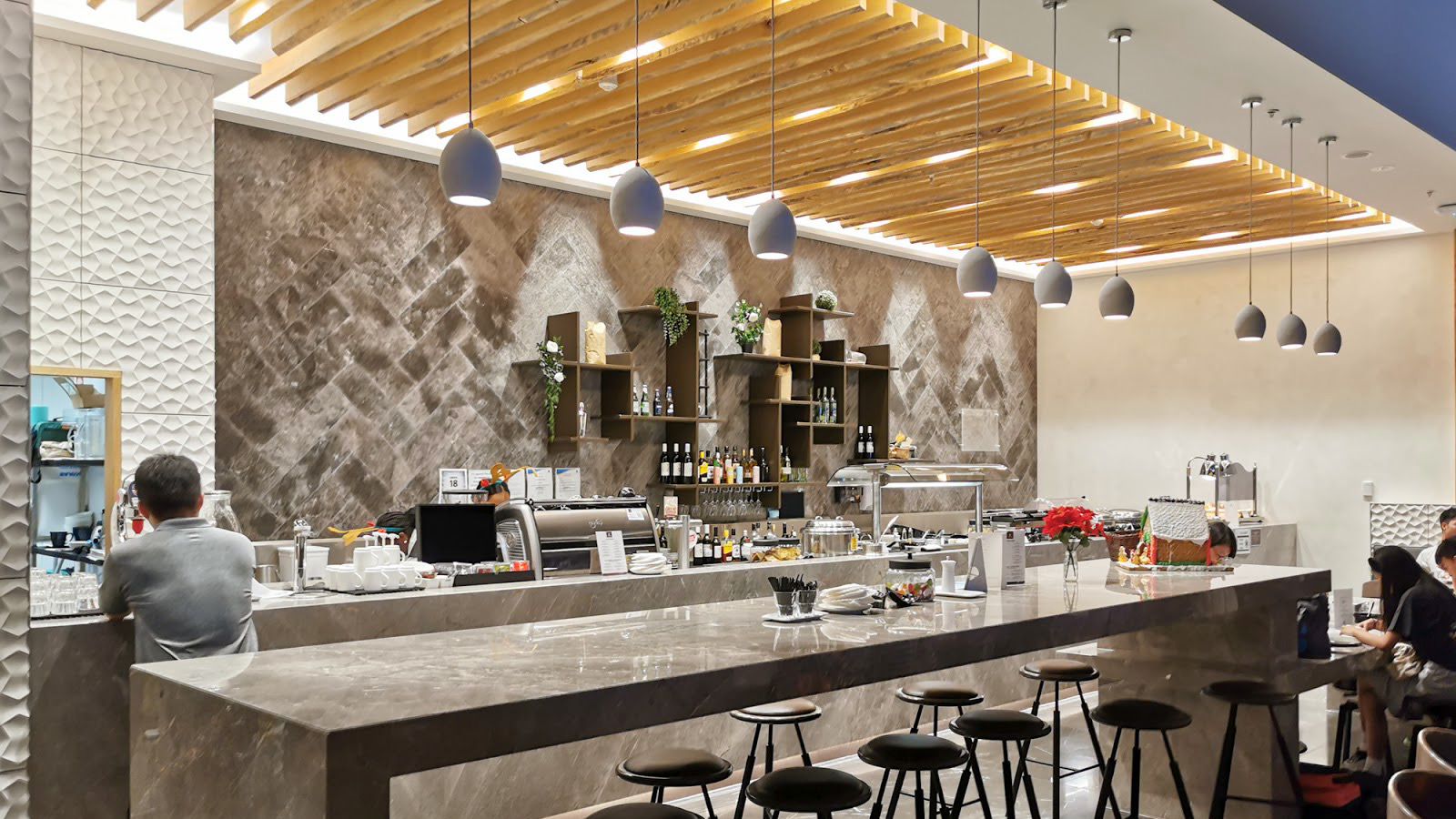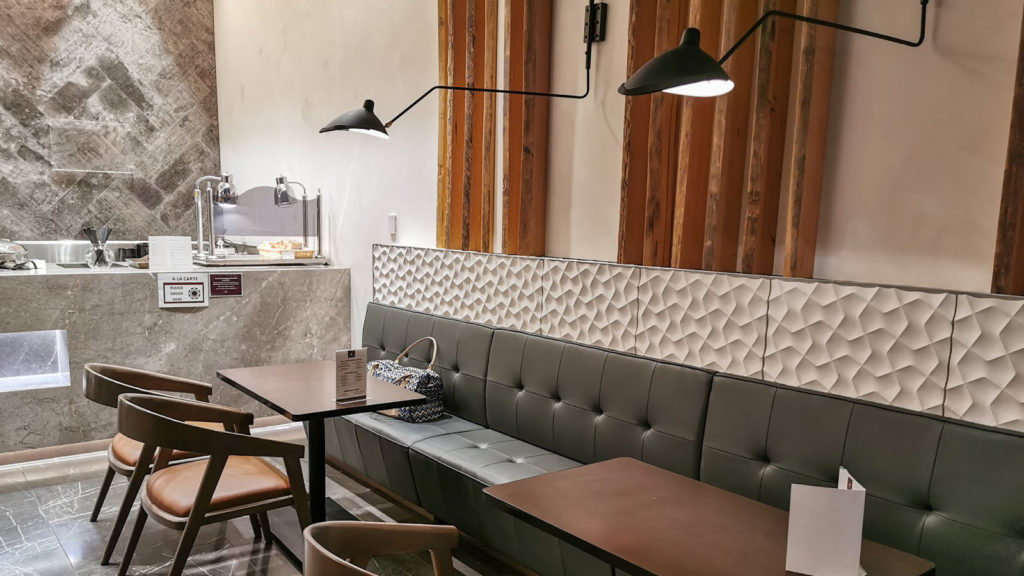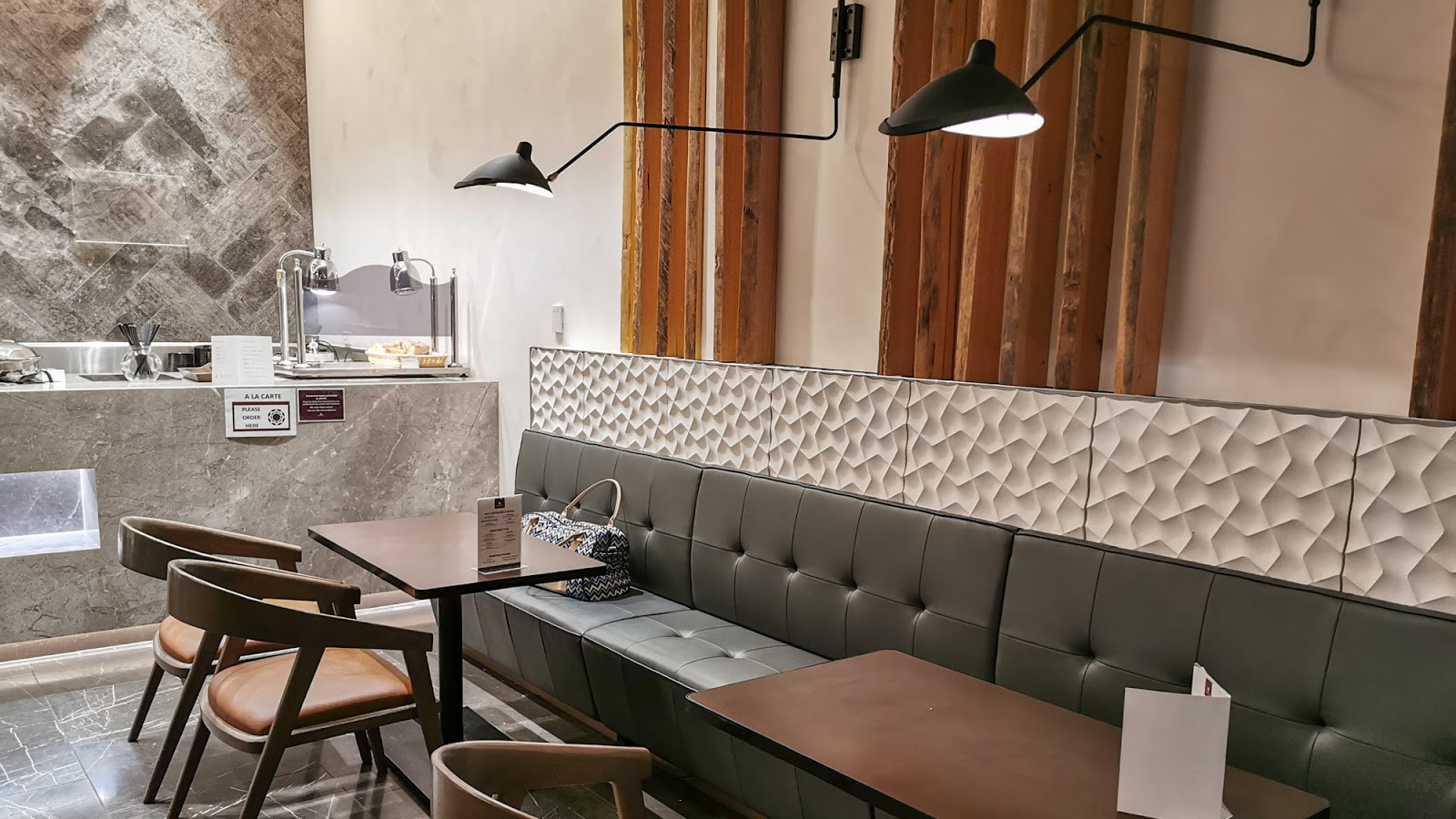 Food and Drink
Note: The below food and beverages are from a visit in December 2019. The offering may be modified now due to COVID-19 restrictions, including limited or no access to buffet-style dining.
The food options were much better than I anticipated, but drinks options are much more limited if you are after alcoholic beverages. For dinner, there is a light buffet which includes festive roast pumpkins and turkeys (as you'll probably have realised by now, my visit was during Christmas).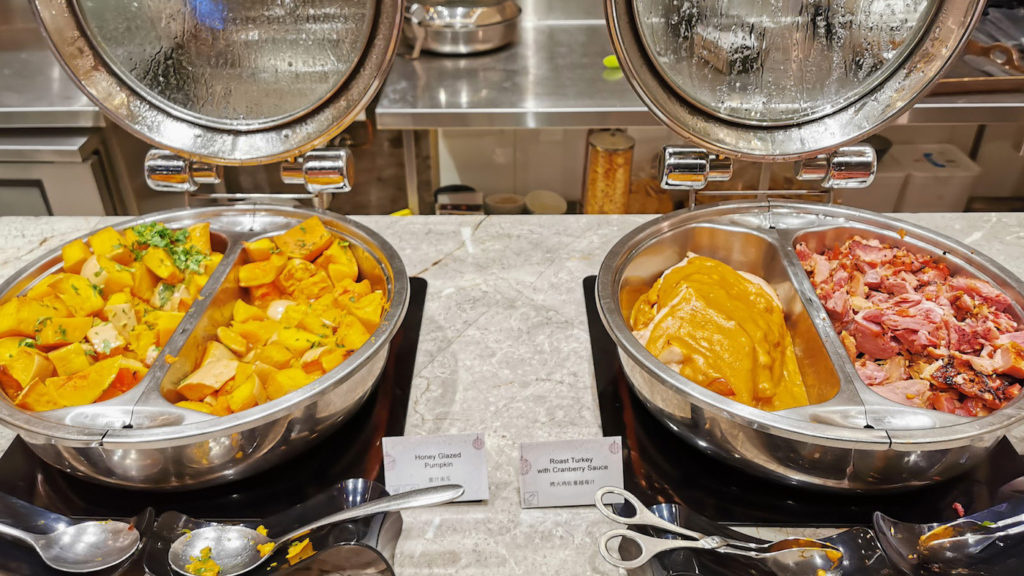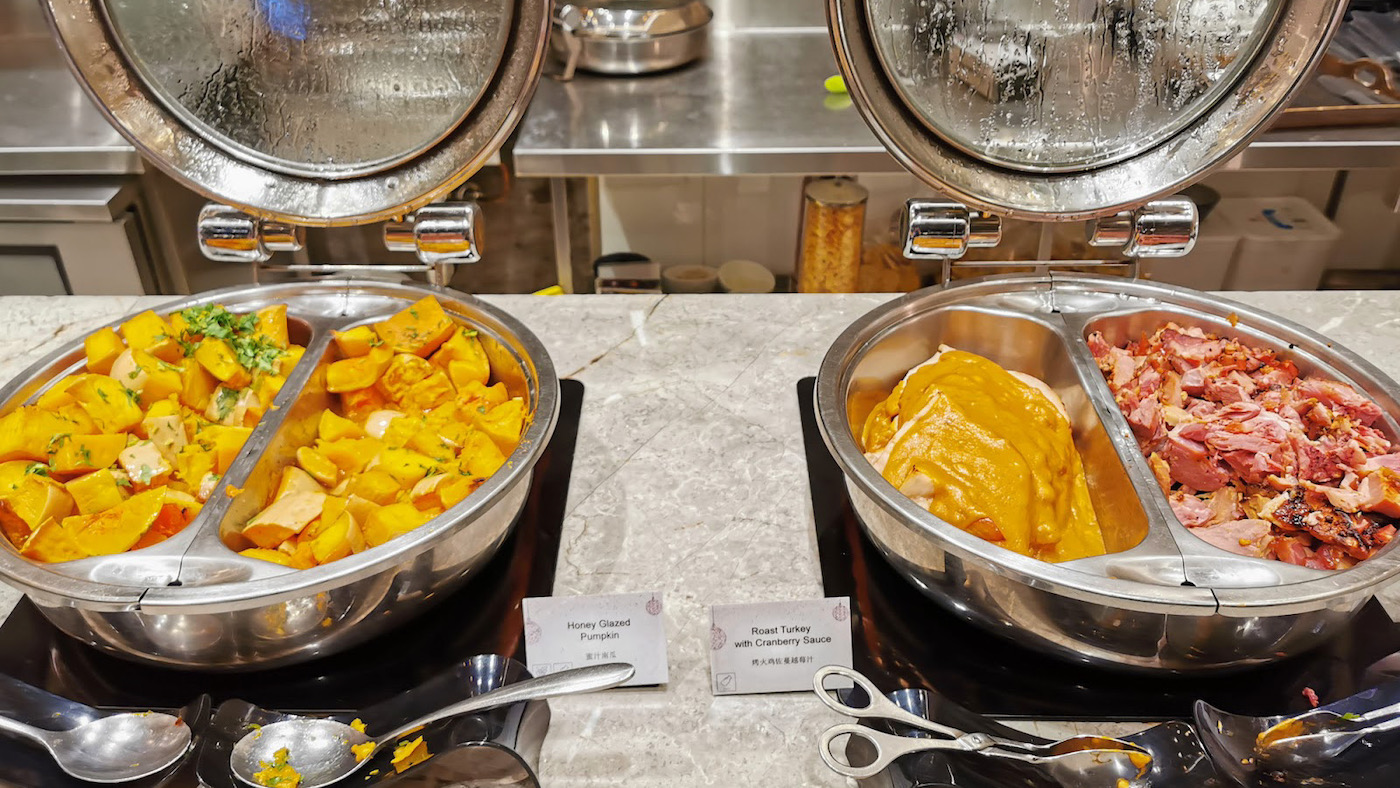 The cold bar options include potato salad, green leaves, cheeses, condiments and petit four desserts. These were all of a reasonable quality.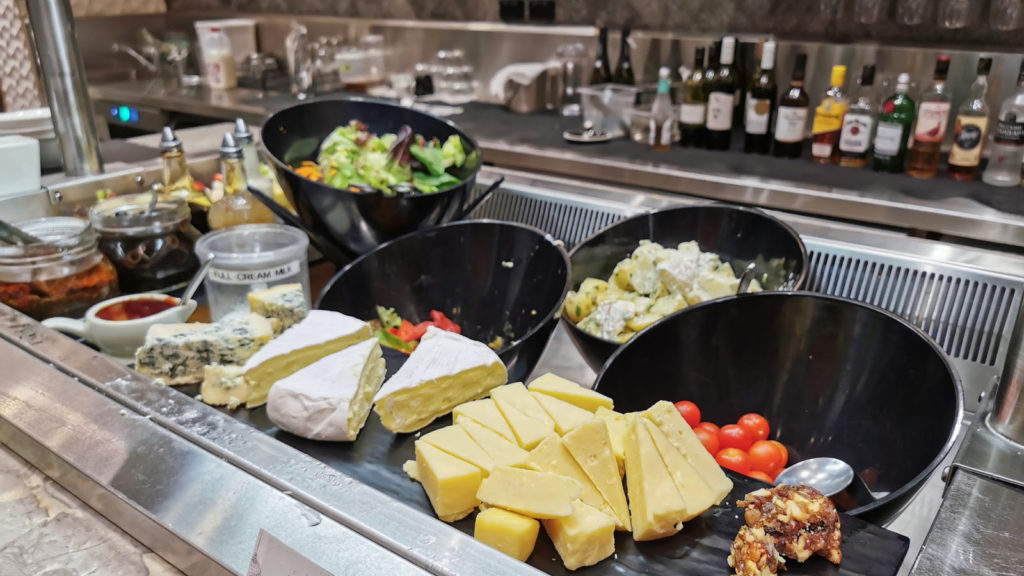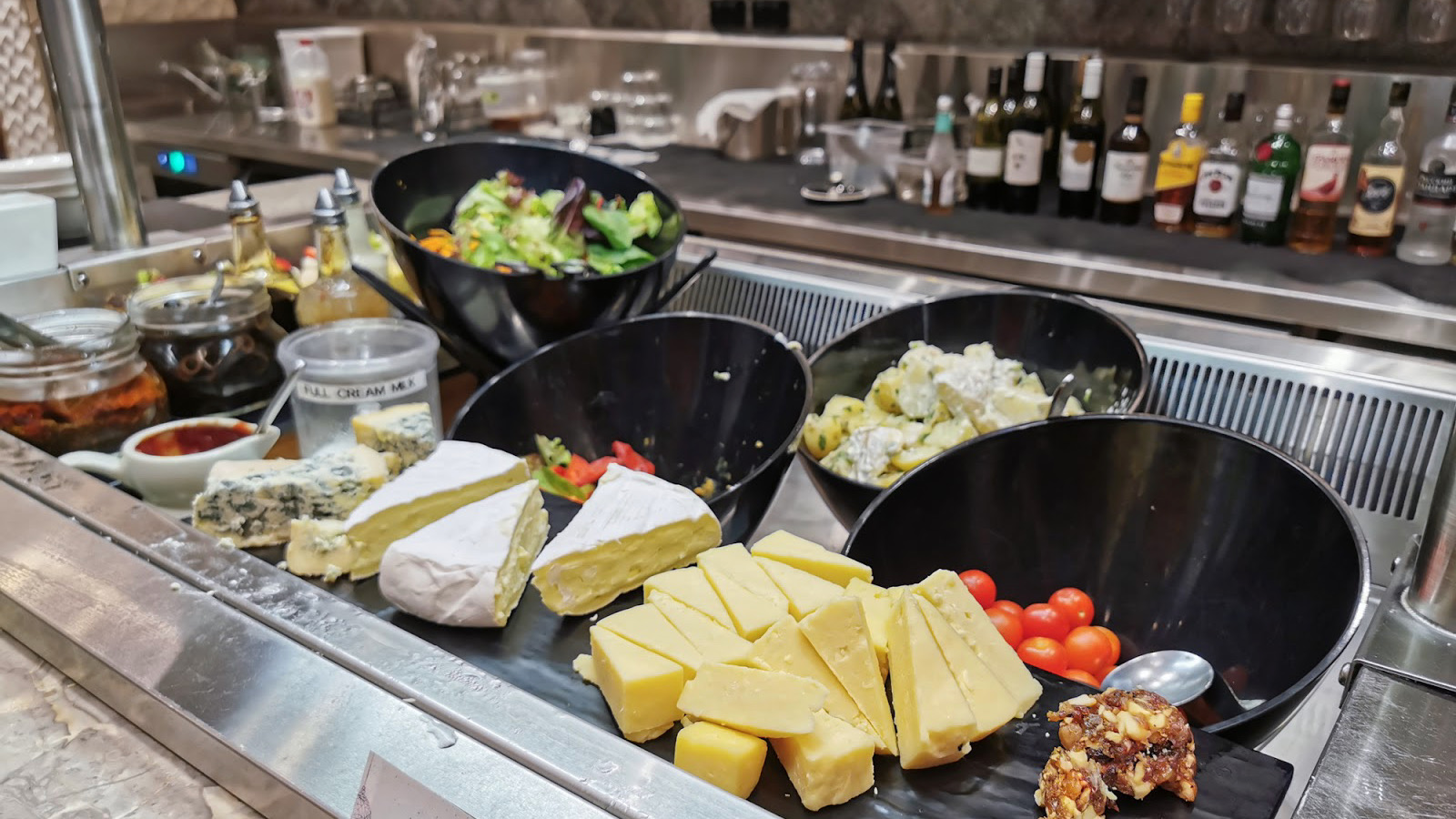 However, I recommend you try the a-la-carte menu which has a great selection of dishes that are cooked to order.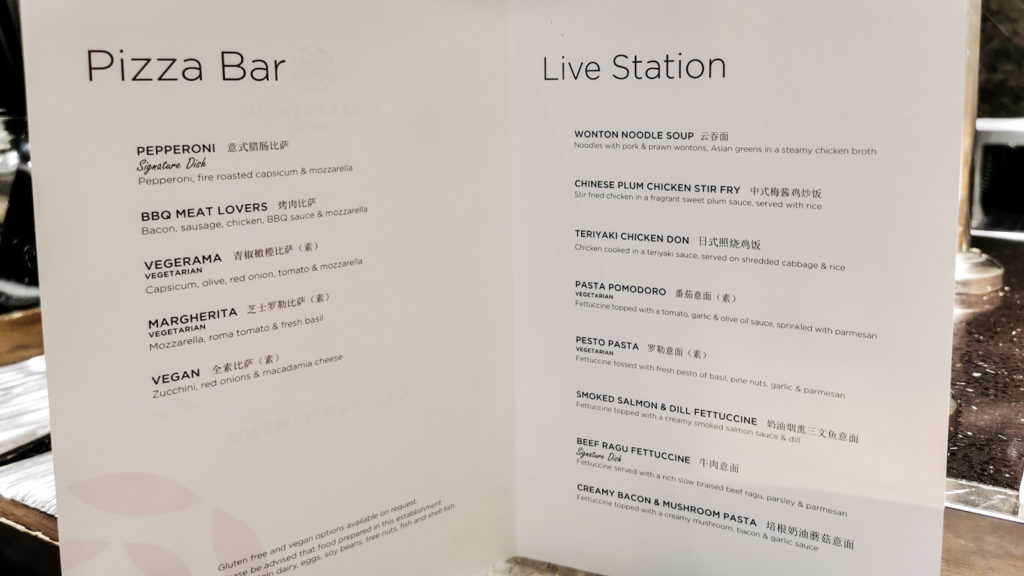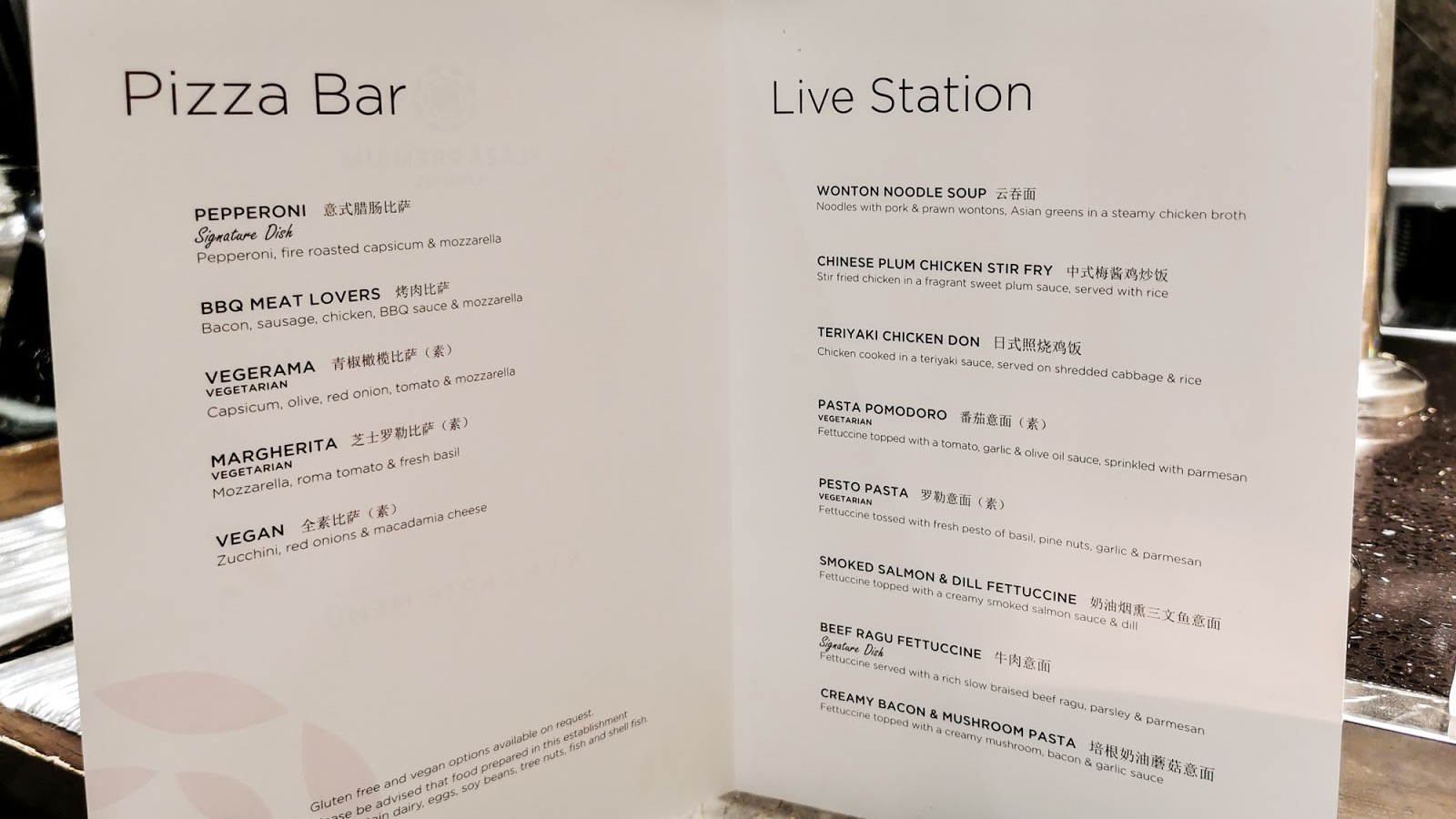 I ordered a wonton noodle soup and teriyaki chicken don, both of which were tasty.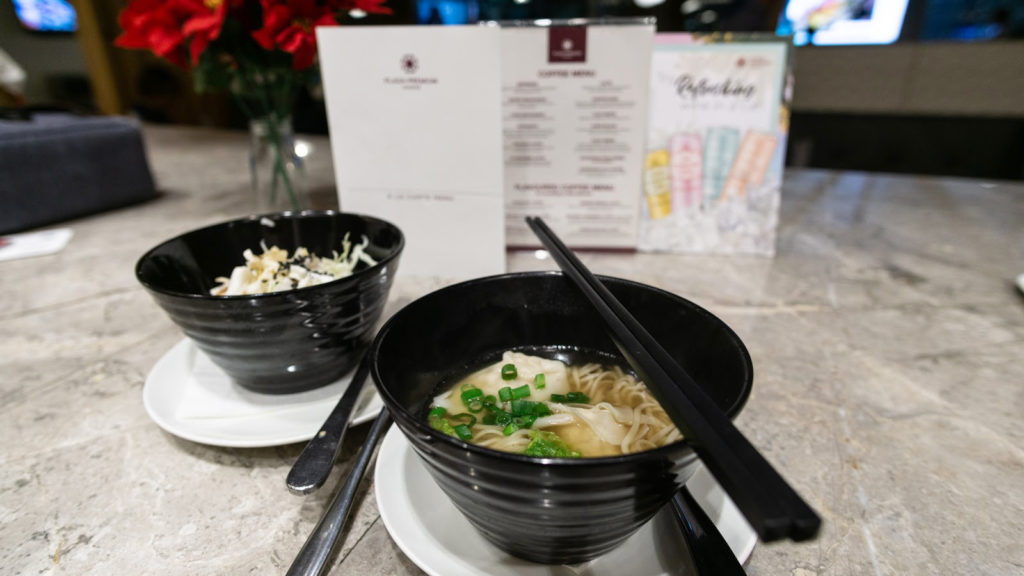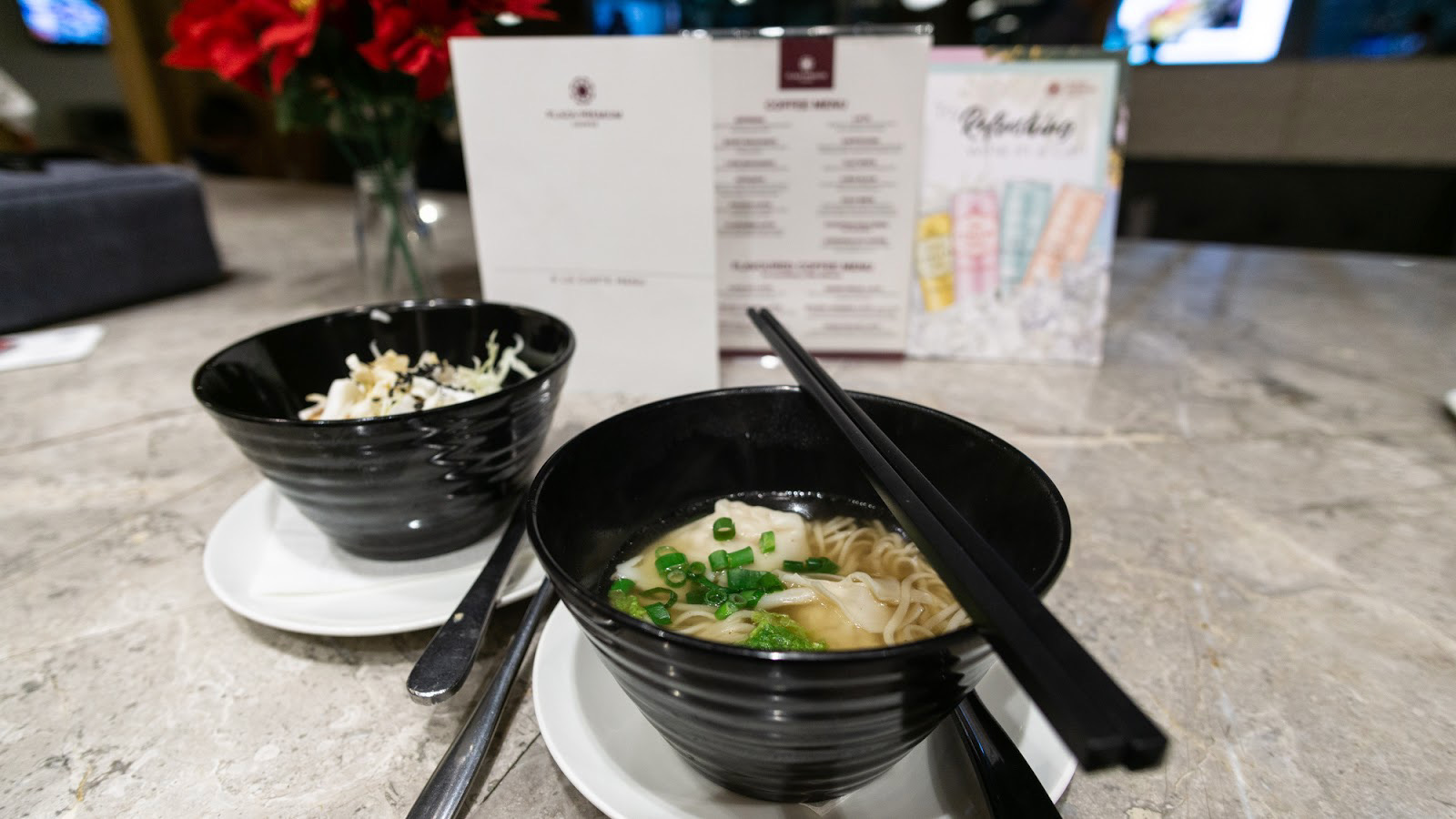 All soft drinks, infused waters, barista coffees and teas are complimentary, which should satisfy most loungers. The seasonal special drink of mulled wine was an interesting choice too, except it was probably better suited to a chilly winter night than a balmy Brisbane evening!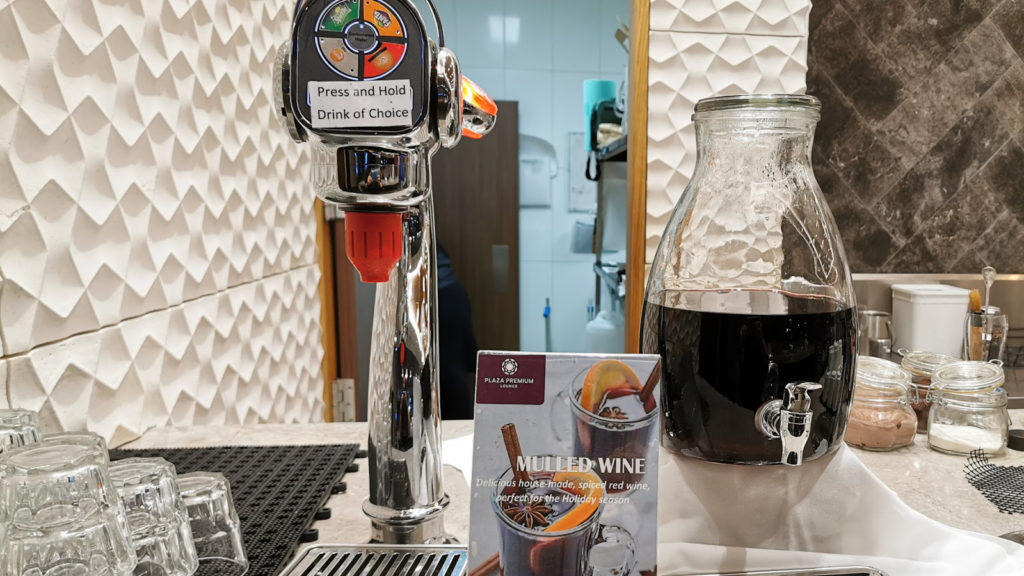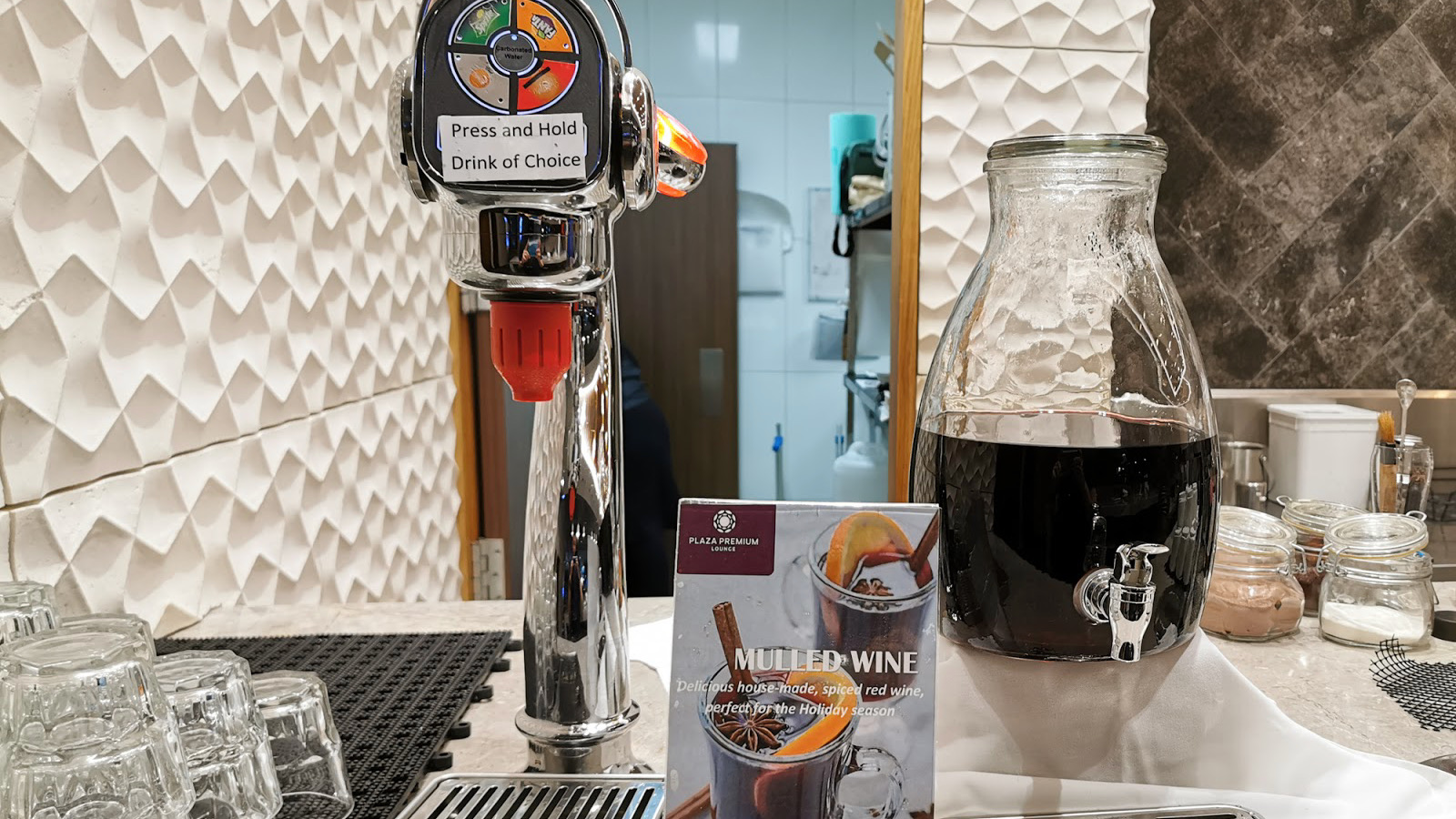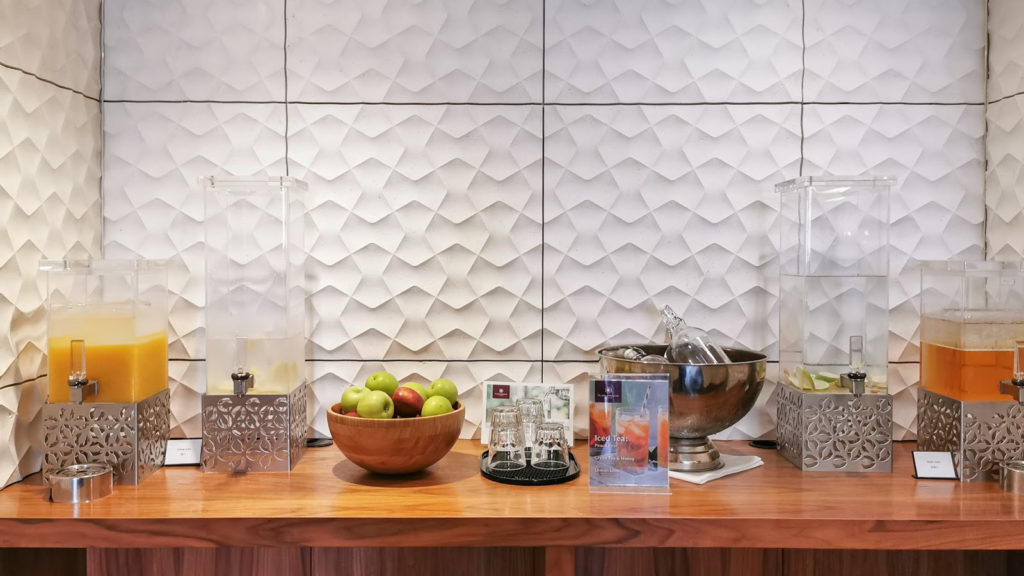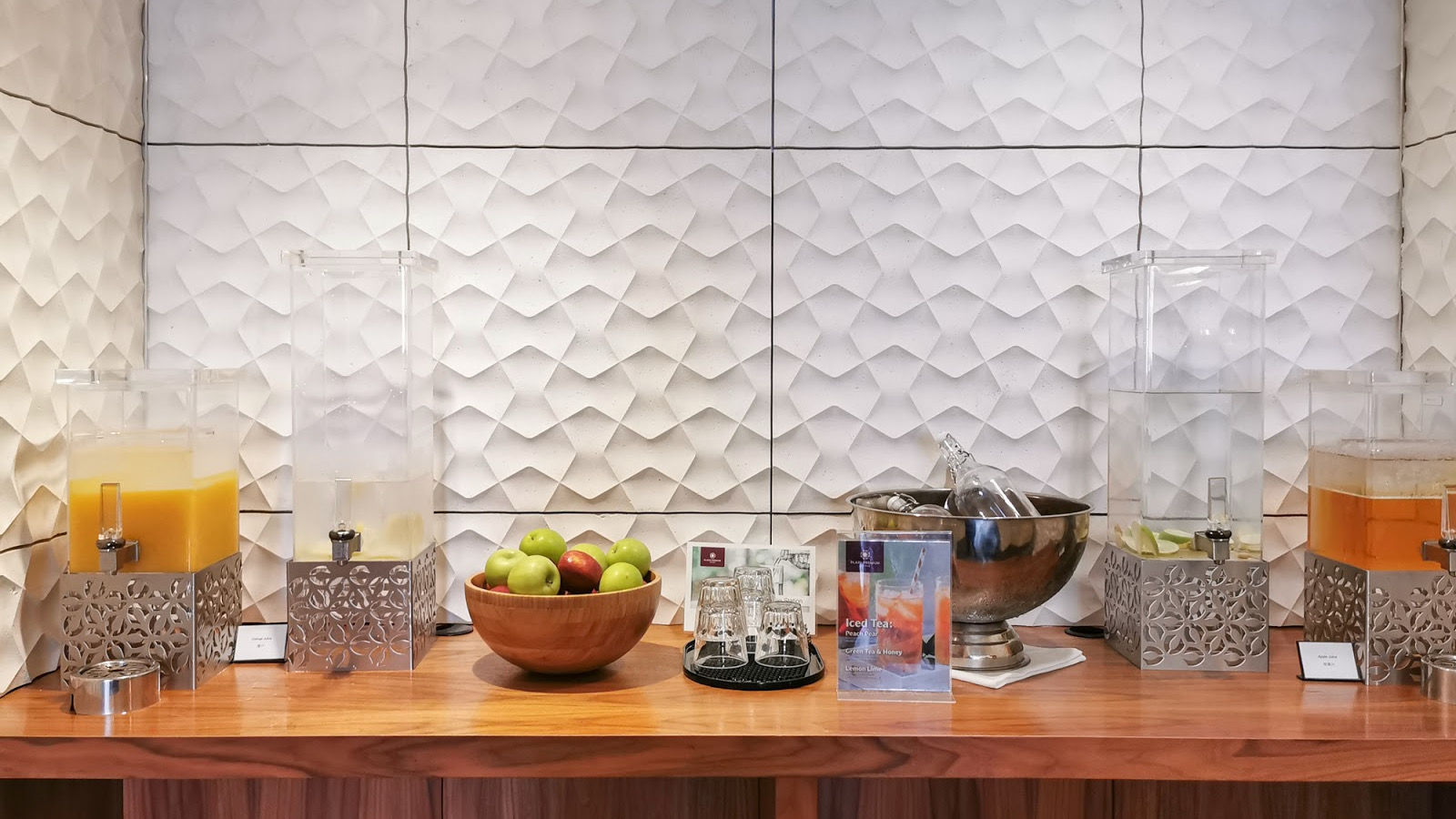 A house white and red wine are complimentary too. Premium alcoholic drinks are otherwise available at a cost.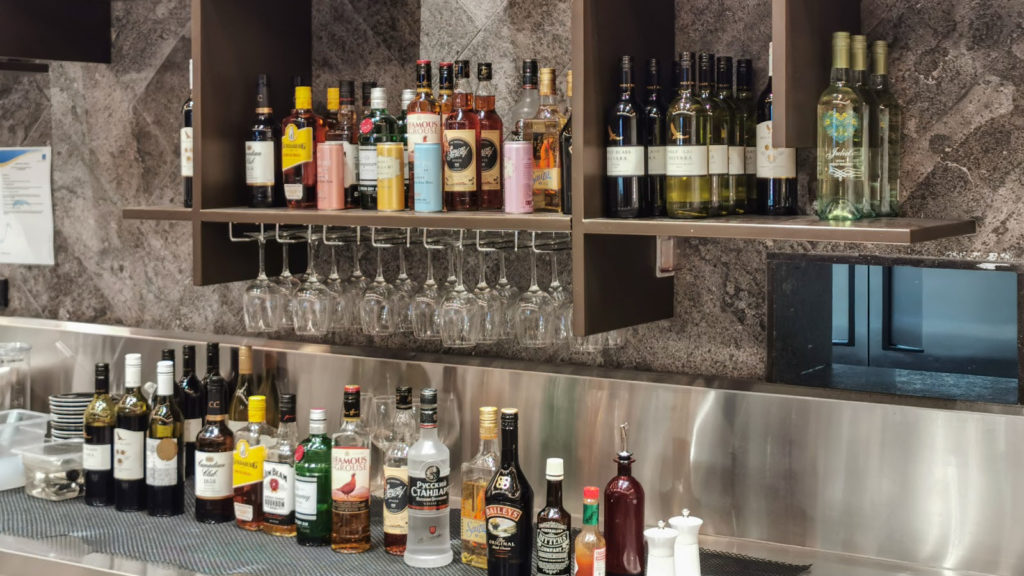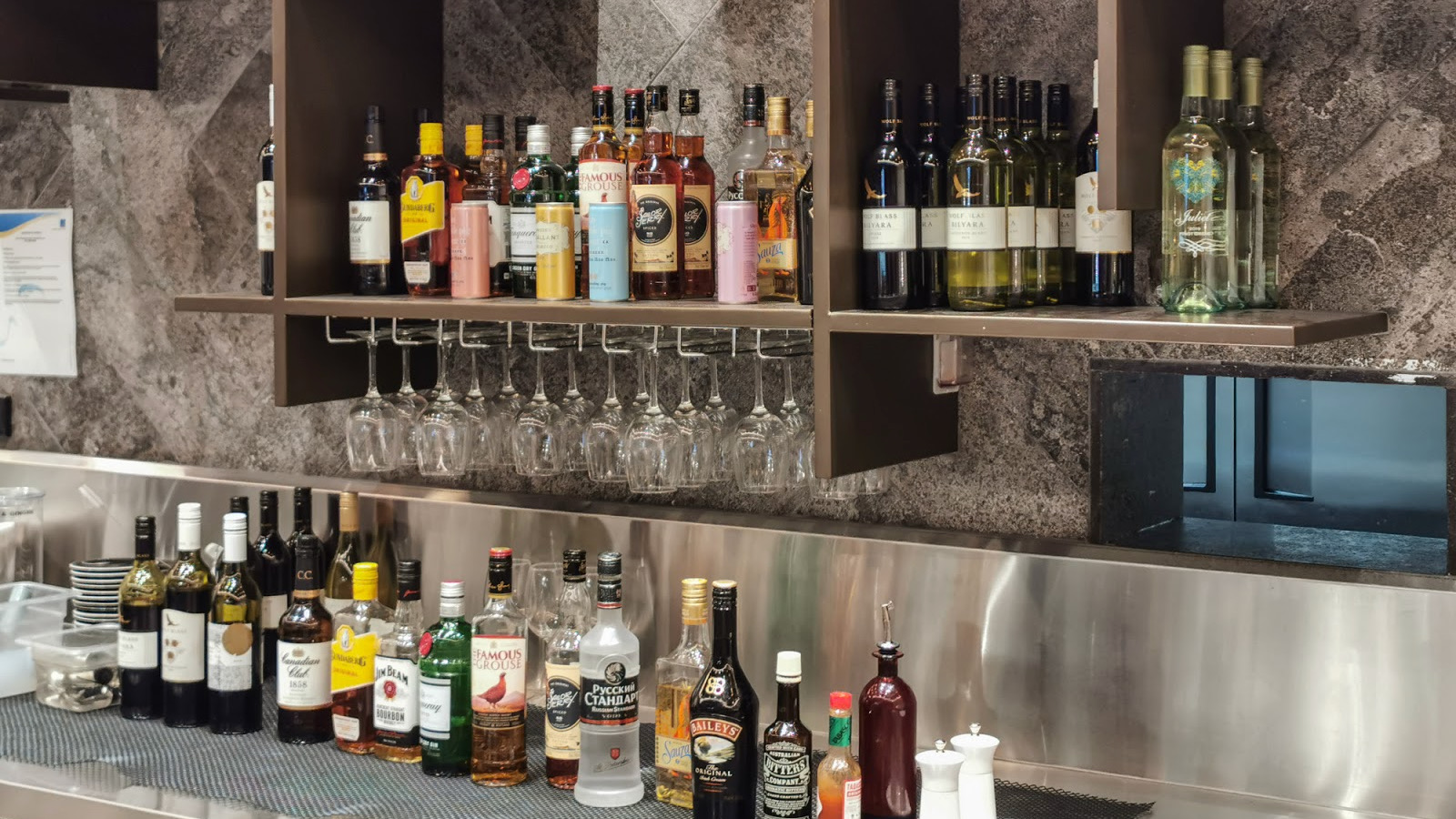 Amenities
Although I didn't use the shower facilities, I'm told the lounge only has one shared shower room, which means you might have a long wait during busy times. Bathrooms are clean.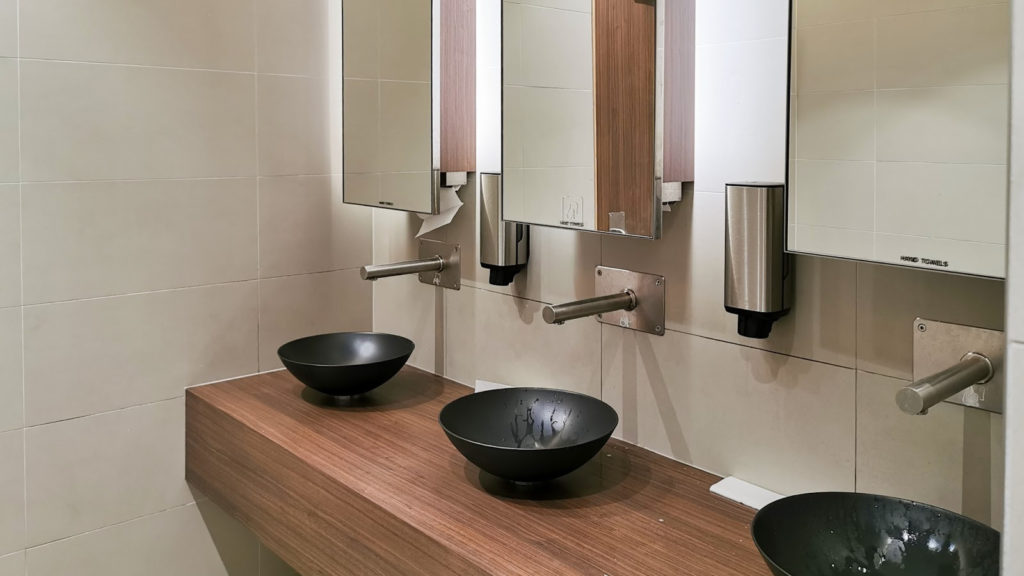 There is an abundance of reading material on the shelves near the reception entry.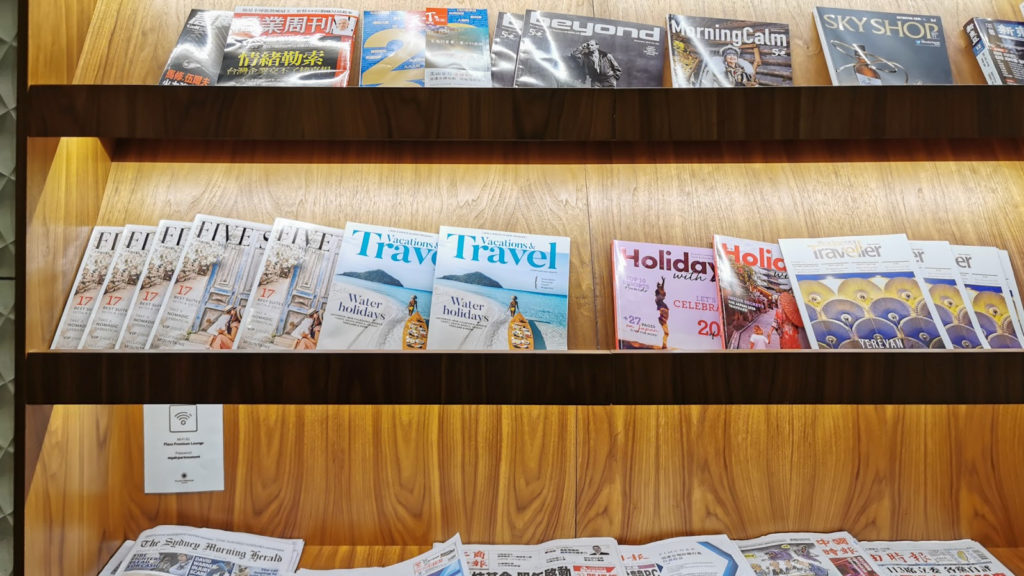 As a relatively modern lounge, there are enough power points throughout the area including between seats.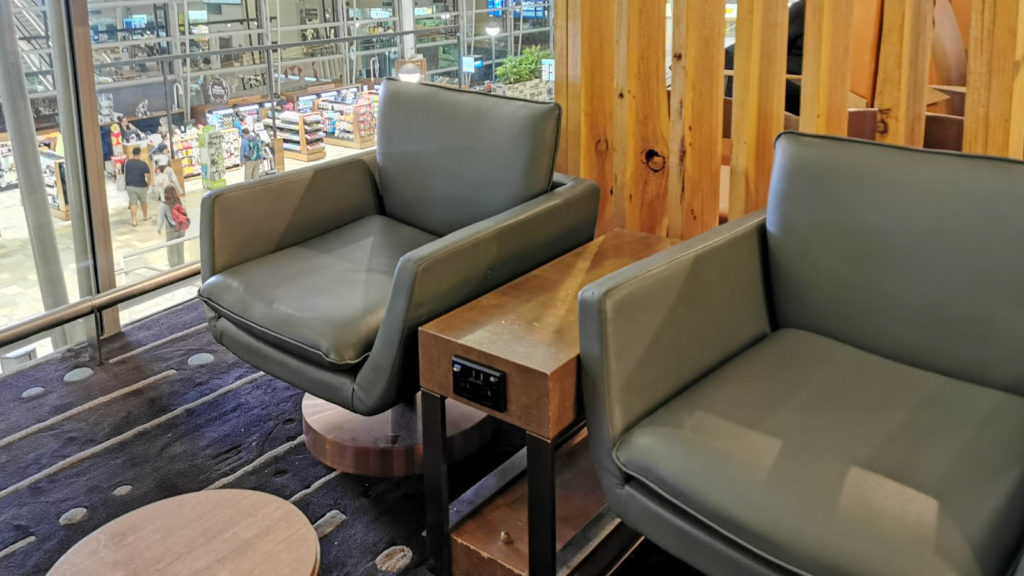 I like the work booths which are great for individual travellers and those who need to get work done. It has power outlets, a reading light, and the WiFi details.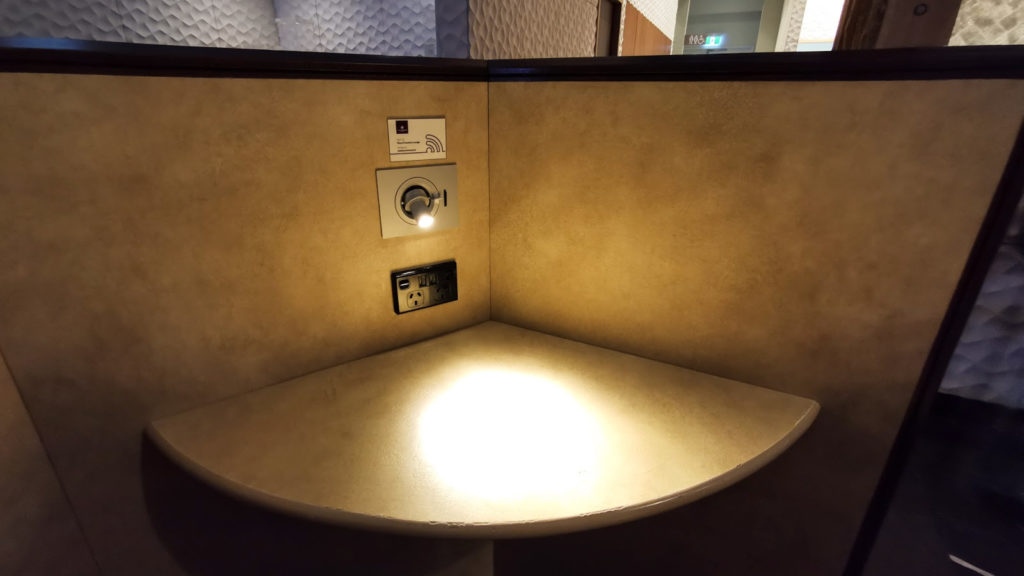 The free WiFi isn't amazing, but fast enough at 17 Mbps download and 19 Mbps upload.
Lounge Access Options
By airline business class or elite frequent flyer: China Airlines, Korean Air, China Southern Airlines, Eva Air, Hawaiian Airlines, Hainan Airlines, Malaysia Airlines, Malindo Air and Nauru Airlines.
By day pass: Access can be purchased on the Plaza Premium website, or purchase a prepaid number of visits
By lounge membership program: Until 30 June 2021, through Priority Pass, DragonPass and LoungeKey (not Loungepass). Afterwards, access through Priority Pass and LoungeKey will be removed.
By credit card: Through the American Express Platinum Charge and Diners Club card.
There are also ways to enter through foreign-issued credit cards and programs, so check directly with your provider if this is the case.
Our Take
This lounge gets busy as it is used by many airlines and you can enter with various credit cards and lounge membership programs. I feel like the space is a bit too small for the number of people they cater for, but I understand that's probably more of an airport space issue.
With limited shower facilities, I wouldn't count on getting one if you are visiting during a busy period. However, everything else is up to scratch. There are a good variety of spaces, from working to dining to lounging. WiFi is fast enough and there are plenty of power outlets.
The food options are quite interesting and a welcome change from the usual soggy buffet options. While the free drinks options are better at full-service airline lounges, the complimentary selection should satisfy most travellers too.
What was great
Made-to-order food
Variety of working spaces
WiFi and power outlets
What was not great
Small space that fills up quickly
Limited shower facilities
Plaza Premium Lounge Brisbane overview
was last modified:
May 31st, 2021
by