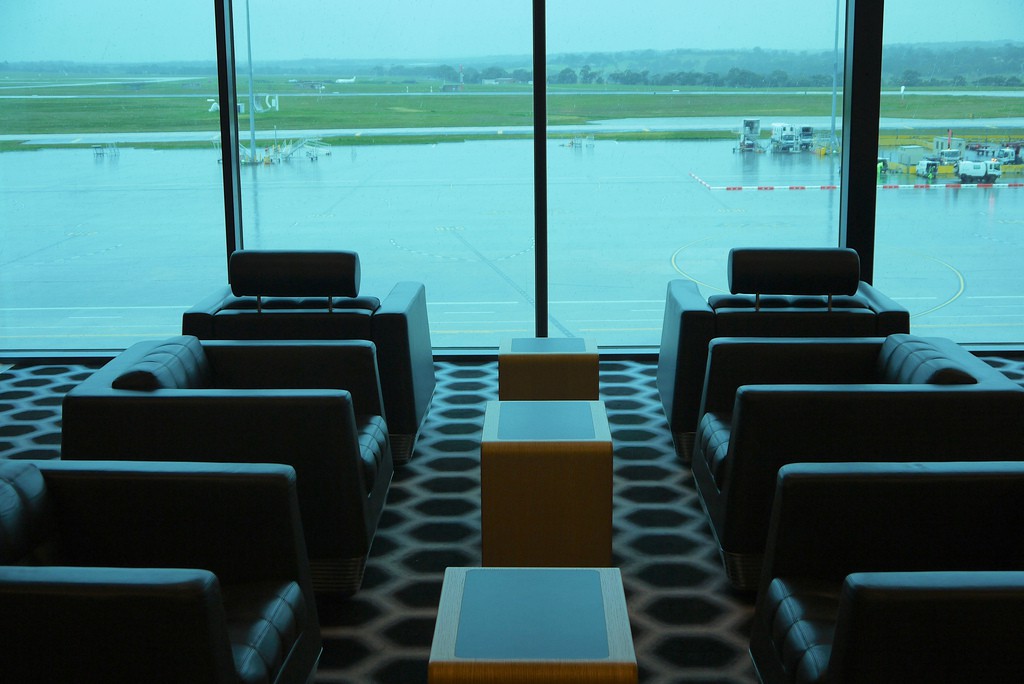 I had been planning a trip to Malaysia for a few months – after snagging this First Class seat with points as an Any Seat Award, I then began to construct the rest of my itinerary – Sydney – Melbourne on Qantas (paid domestic economy), connecting to QF9 to Singapore in First Class; a night in Singapore followed by a quick hop to Penang for 3 days, Langkawi for 2 more, Kuala Lumpur for one and back to Sydney on Malaysia Airlines Business Class.
The first time I was in a Qantas First lounge, it was thanks to a Qantas' 'sorry' invite. This time, it was a fully fledged First passenger, flying from Melbourne to Singapore on QF9 on the A380 – and I was happy to be able to try out the Melbourne First Class lounge as a result.

I was called the day before by the Melbourne lounge staff to arrange my massage appointment and confirm my connecting flight from Sydney. This is a nice touch, and gives some structure to your lounge visit so you can plan your time.
With some excitement to try out Qantas First Class I headed off to Sydney airport for a quick run to Melbourne. I checked in for my Melbourne – Singapore flight in Sydney, where the check in guys really couldn't have cared less I was connecting to First class, and the flight to Melbourne was like any other Qantas domestic economy flight. After arriving in MEL around 11am for my 3pm departure (plenty of time to enjoy the lounge!), I wandered off through immigration and security to find it.
On arrival, I was greeted, seated and offered a drink as the only passenger in the place. Some kind of Qantas function was just finishing up, with a tour of some people having some drinks, watching the Olympics and generally looking around. The intrusion was kind of annoying, but minimal.
The Melbourne lounge has a bit less wow-factor than Sydney, but is just as pleasant a space to be in for a few hours. The space is not as open and airy, but the same Marc Newson designed furniture and interior keeps things very classy.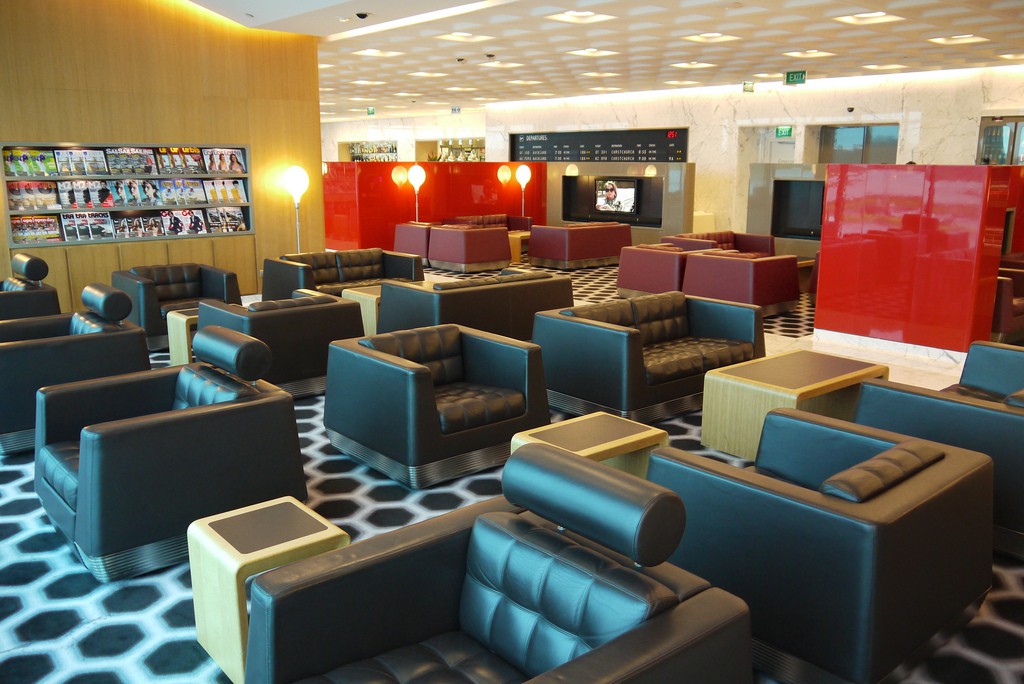 There are several reading nooks or libraries, instead of just one large one in the Sydney lounge, making them much more usable spaces.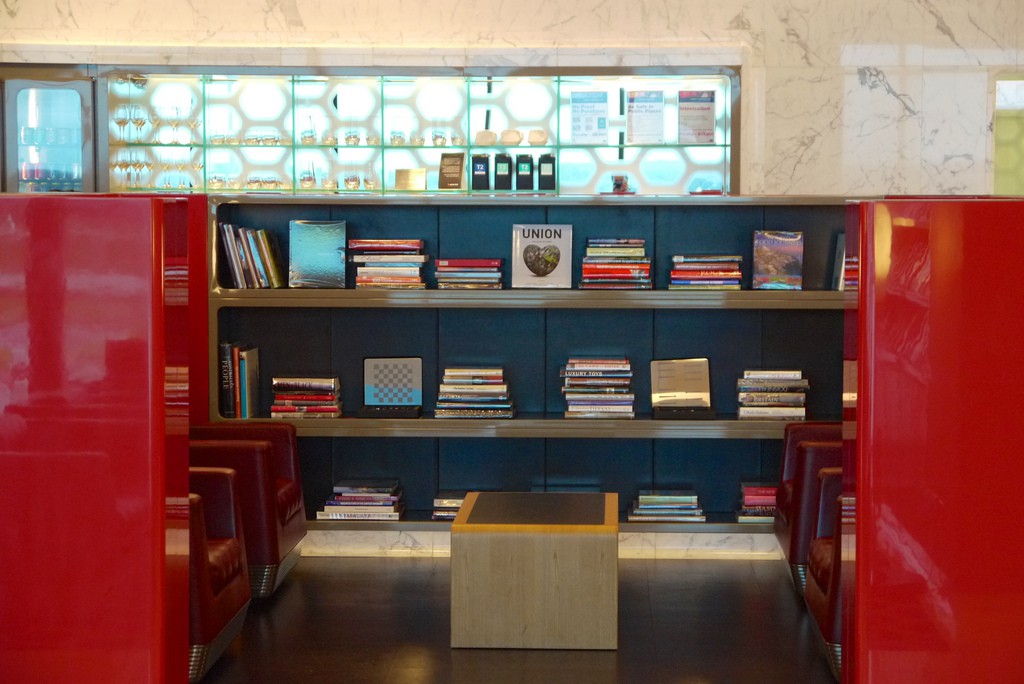 The departures board in Melbourne is the same classic style as the Sydney lounge.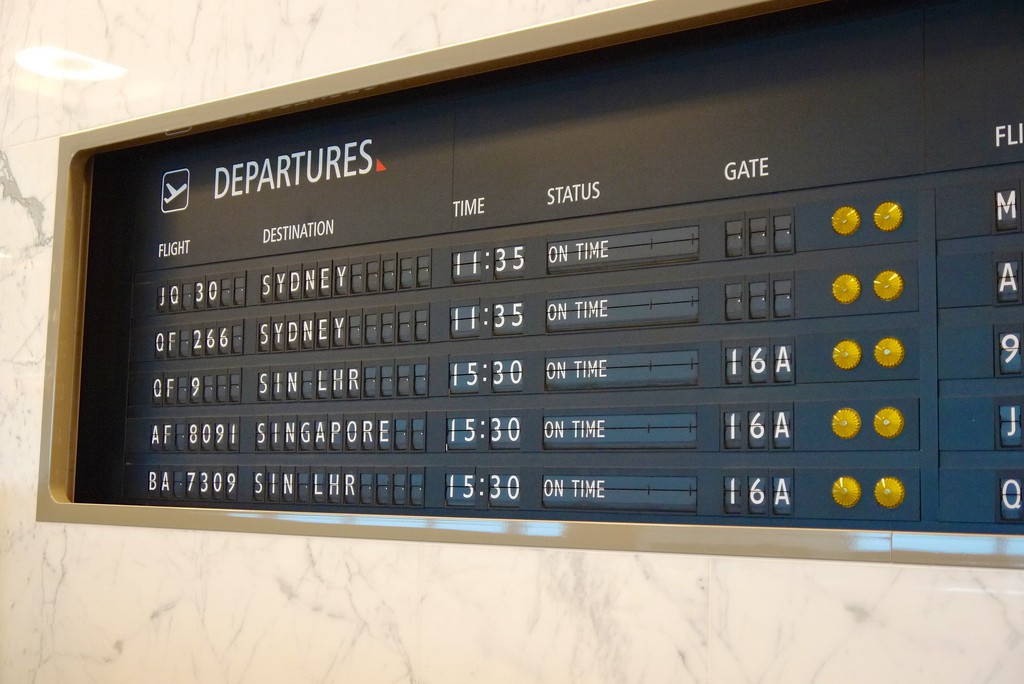 I had some time before my massage appointment in the Spa, so I grabbed a drink and watched the aircraft moving around on the apron, with rain pounding down outside.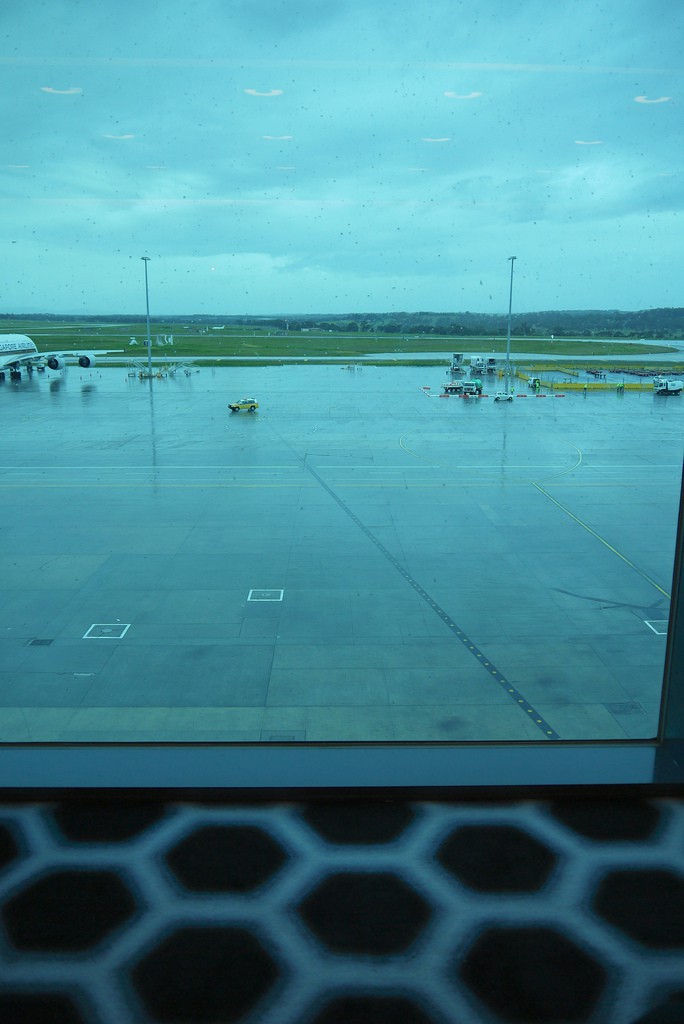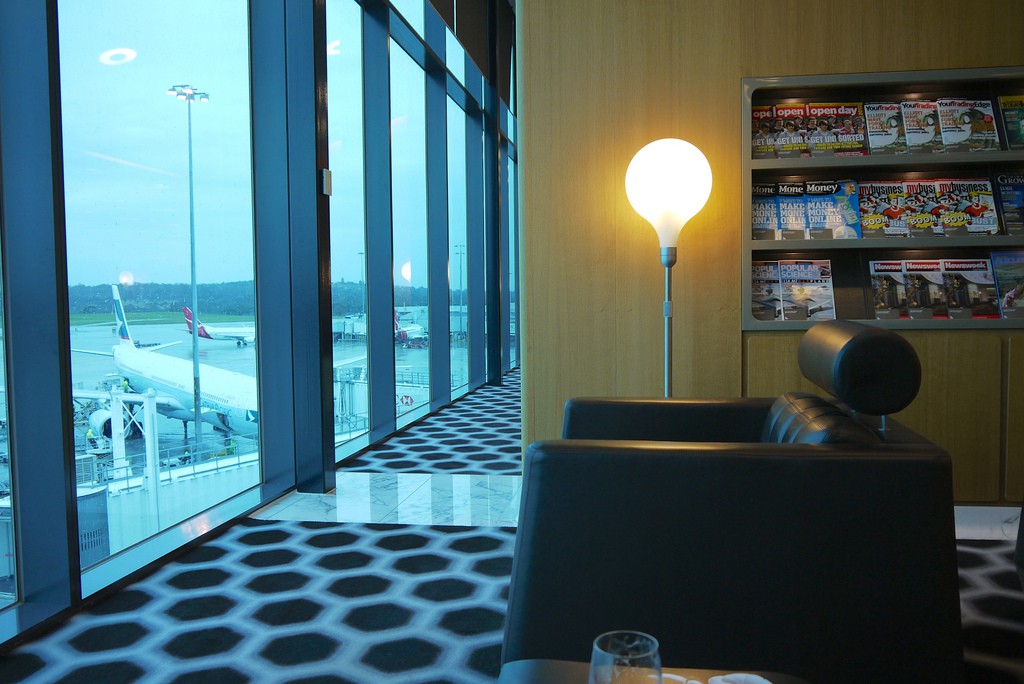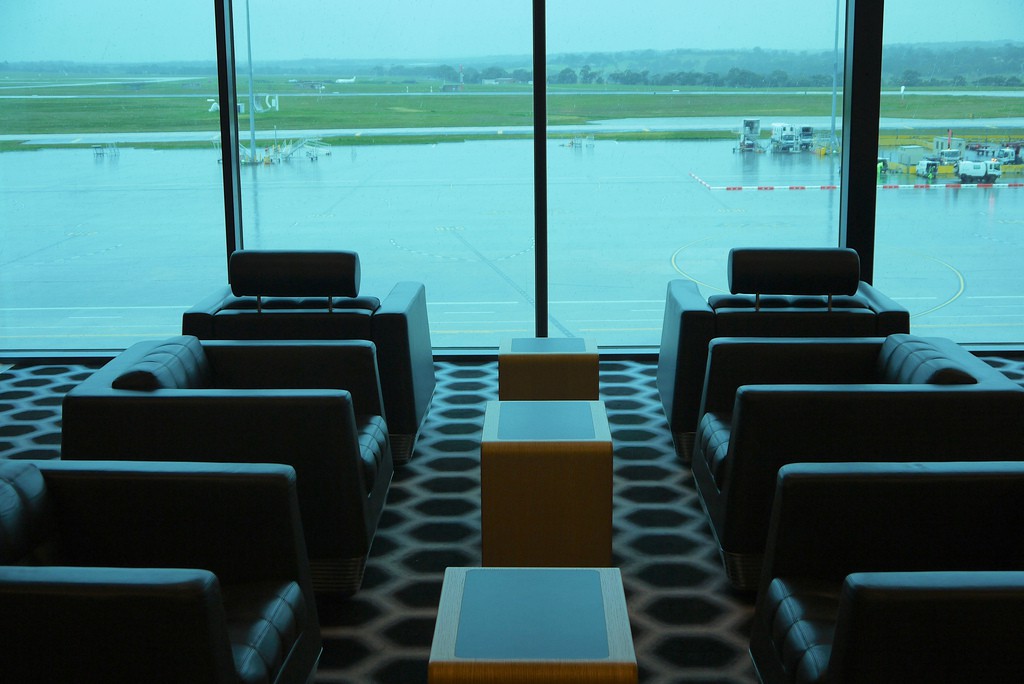 The time for my massage rolled around quickly, and I headed off for my appointment. The treatment was excellent, a very relaxing 1/2 hour. The Spa rooms overlook the tarmac, but as the day was so horrible outside, the curtains were drawn – I actually preferred this as it seemed more calm and private.
The spa opening hours are 8am to 11:30am and 8pm to 11:30pm.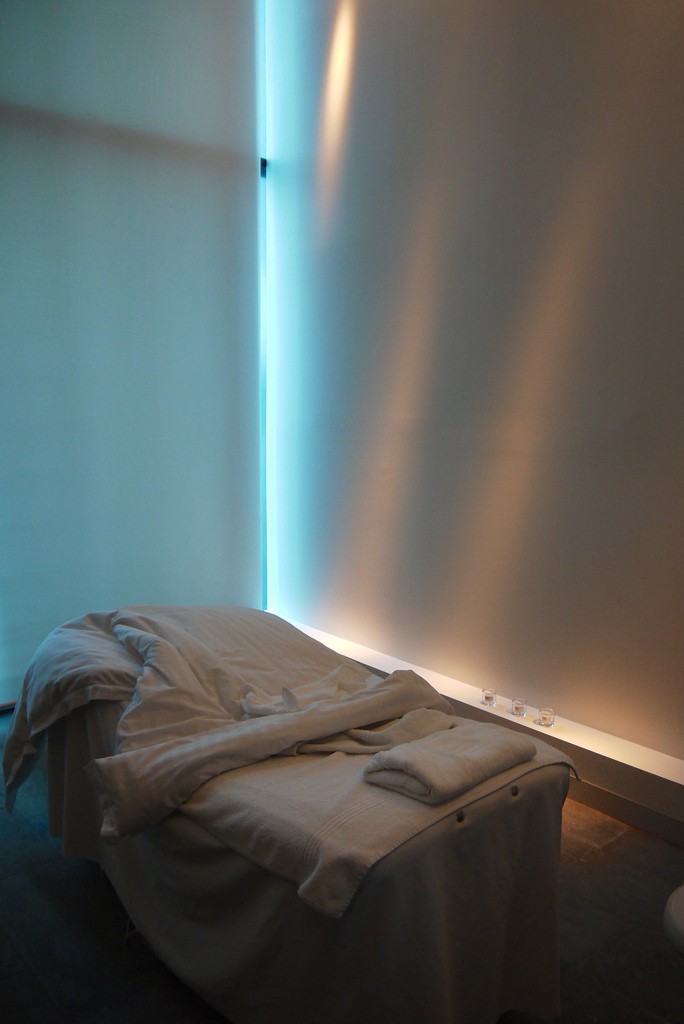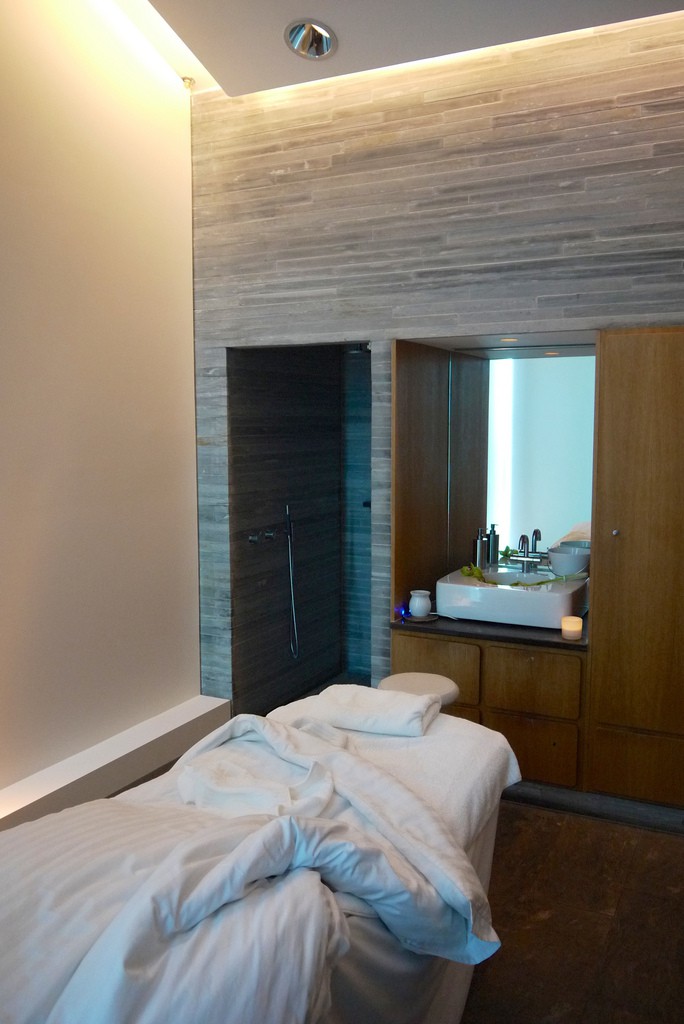 After the massage, I wandered out for lunch in the restaurant, where I chose to sit a the bar to grab a bite to eat and drink.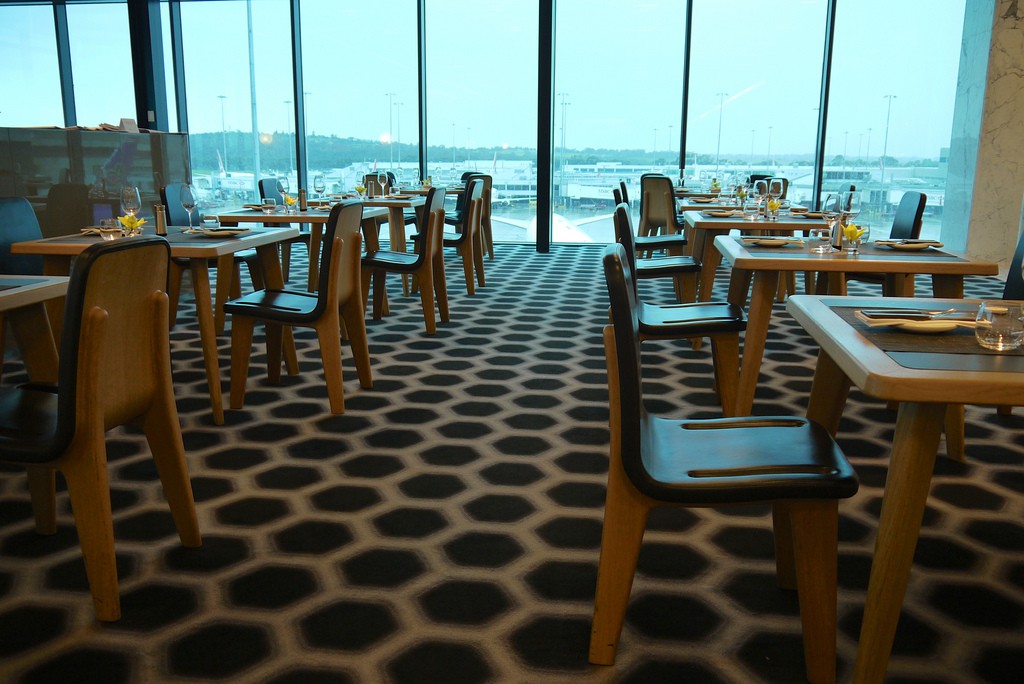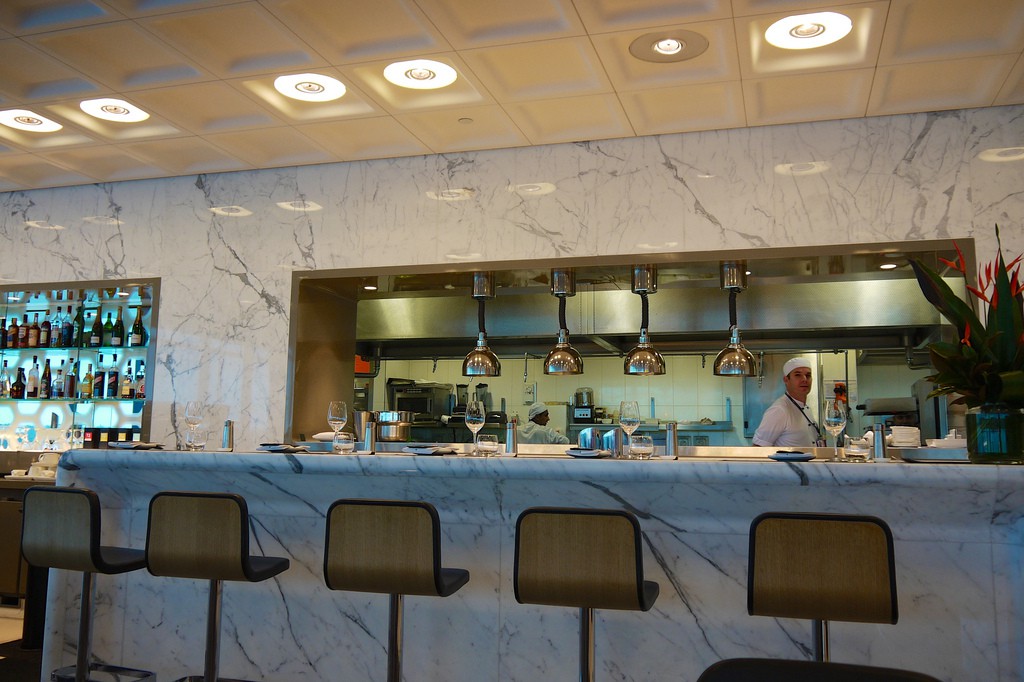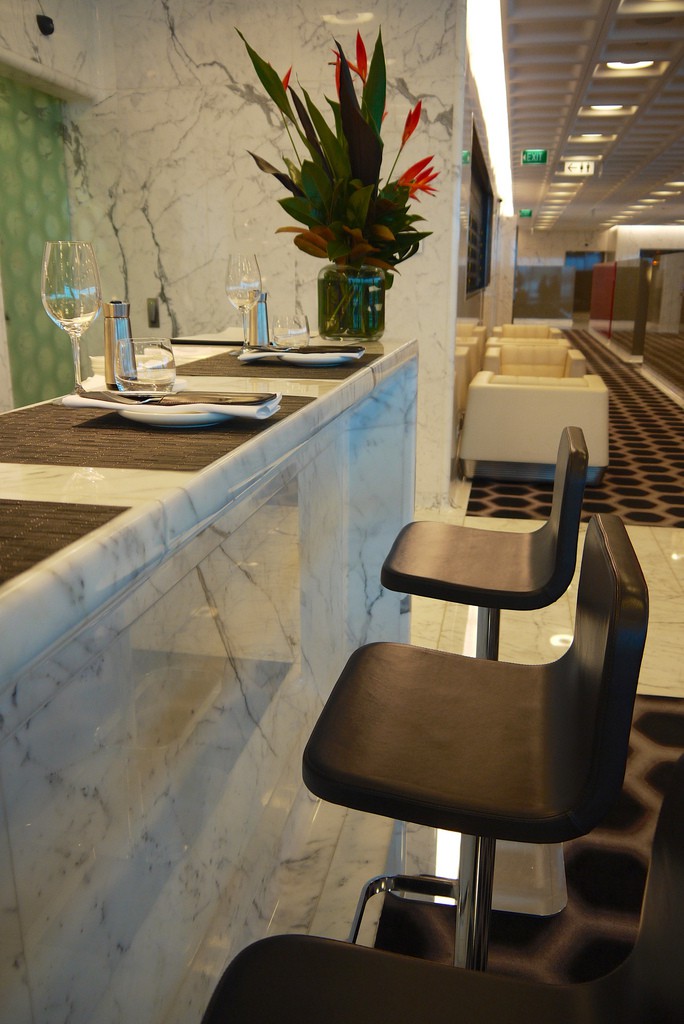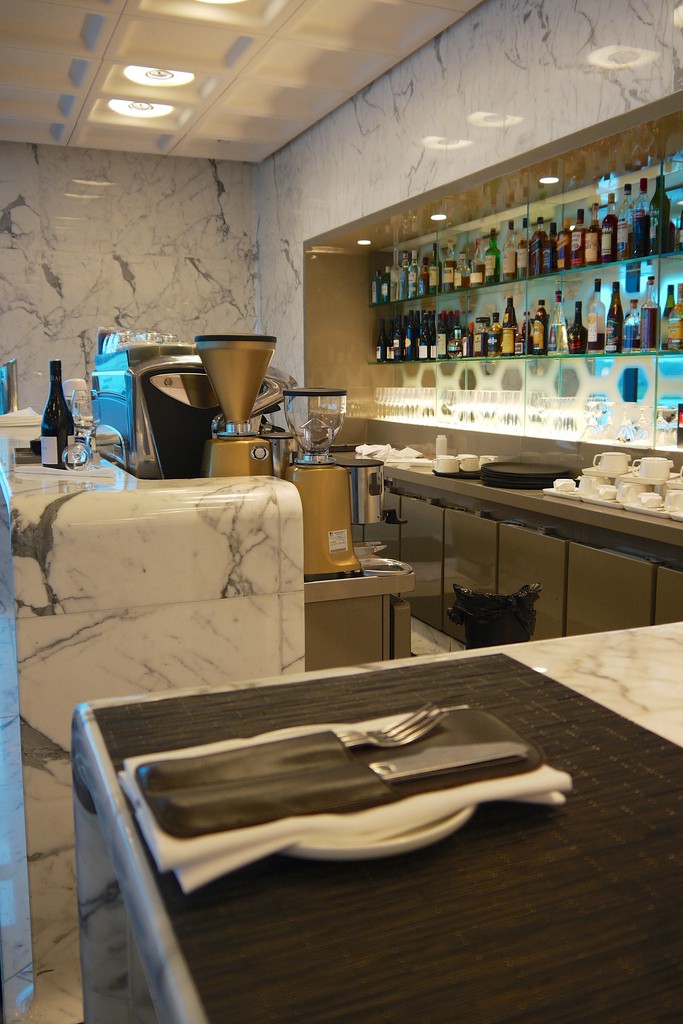 I went for the pretty classic Buffalo Mozzarella to kick things off, followed by a Pork Belly main, a vegetable tasting plate and Raspberry and Vanilla ice cream dessert.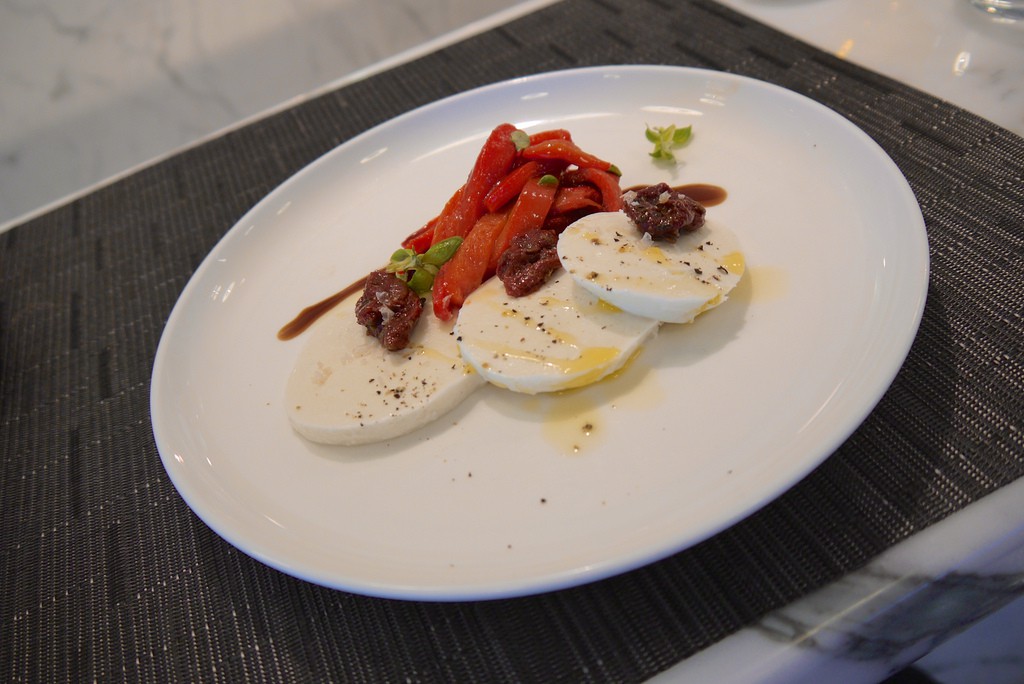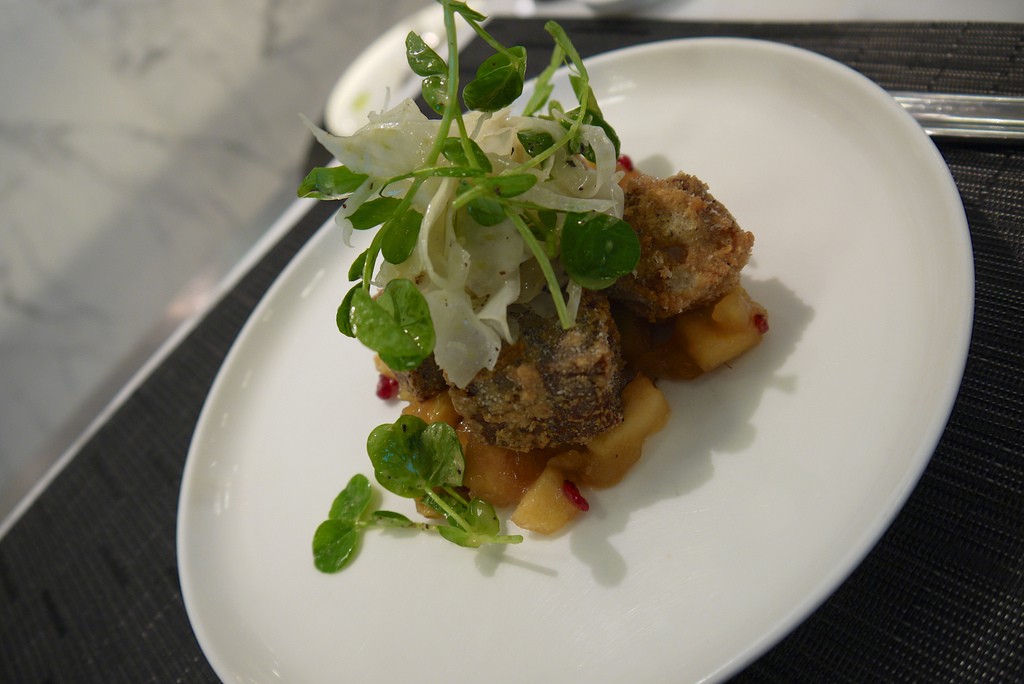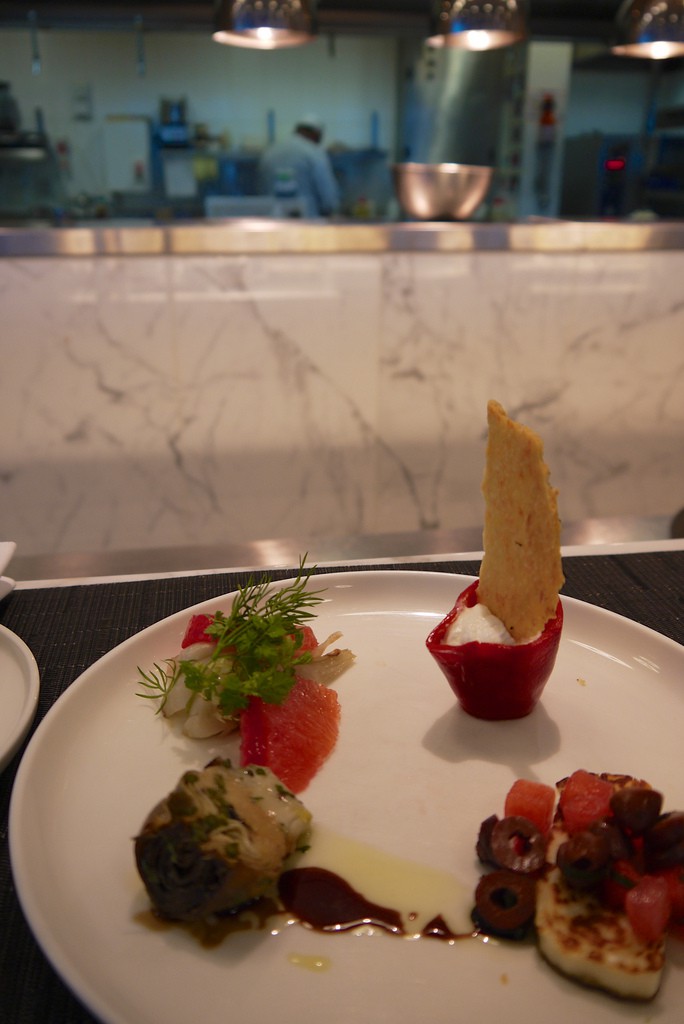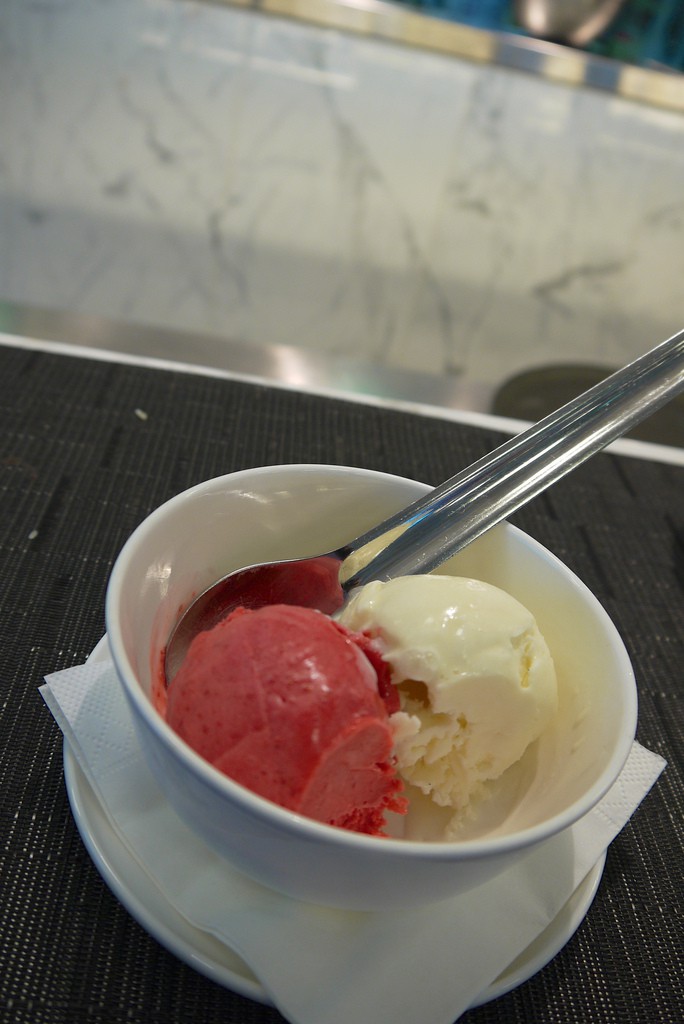 The food was excellent as you'd expect; and sitting at the bar near the open kitchen allowed me to observe each dish go through the various stages of preparation before finally being called for service and delivery to me. This was really interesting and made me appreciate the effort that went into the various plates I tried.
Conclusion – My Opinions
The Melbourne lounge is more intimate than Sydney, and as such loses some of the immediate wow-factor. But it's also better for it – I found it a more relaxing, more personal experience, with staff members really willing to interact, attempting to address me by name, and give some decent personal service.
The interior design is just the same as Sydney. It's like a mini-clone – and I think Qantas could do well to give the Melbourne lounge it's own twist on their First Class lounge experience, and differentiate it somehow. For Qantas Platinum travellers or Oneworld Emerald frequent flyers who pass through both lounges, any kind of differentiation would be another special touch on an already premium environment.
As it is, Qantas rely completely on the 'First Lounge' aesthetic defined by Marc Newson, while which I personally love, I could certainly appreciate the Melbourne lounge having some differences to Sydney.
All up, and as expected, a thoroughly enjoyable few hours.
Qantas International First Class Lounge Melbourne Review
was last modified:
August 12th, 2017
by