Flying from Singapore with Qantas status means I can access three lounges before departure. I've previously tested and reviewed the Qantas Singapore Business Lounge and the Emirates Lounge, so last on the list is British Airways.
All three lounges are located in Terminal 1, so lounge-hopping between them is quite easy. Here's my review of the British Airways Singapore Lounge, which was a nice and quiet place to relax before the flight.
Lounge Location and Details
Like the Qantas Singapore Business Lounge, British Airways' is found after immigration in Terminal 1 of Singapore Changi Airport, slightly closer to the gates C1 to C26.
Follow the signs for both lounges – it will lead you up an escalator to a quiet Level 3. Whereas you need to head down a small hallway for the Qantas Singapore Business Lounge, the British Airways Lounge should be visible to you straight away, opposite in the far corner.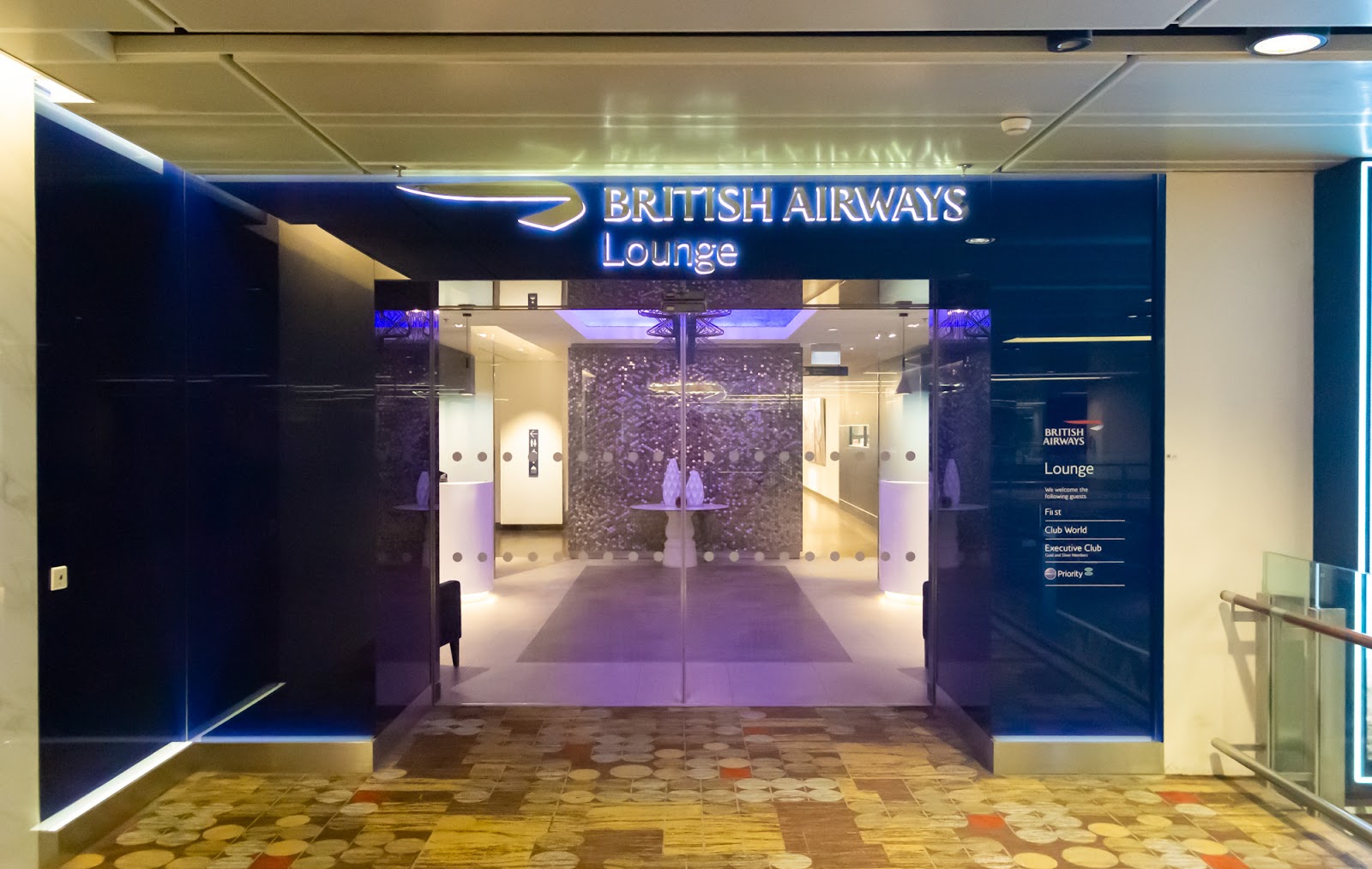 The BA Lounge is open from 3pm daily until 11pm or so, when the last departure of the day is called. These hours are in line with Qantas' own schedule, and match the big bank of oneworld members flights leaving Singapore in the evening.
Lounge layout and seating
There are two reception podiums on either side of a very beautiful entrance, featuring mood lighting, artwork and stylish tiling. British Airways First Class passengers have access to a private space called 'The Bar' towards the right and bathrooms are to the left.
Here is a quick peek inside The Bar, which seats about 40 people and has nicer drinks overall (still the same food though). Normally, you'd need a code to get entry via the keypad.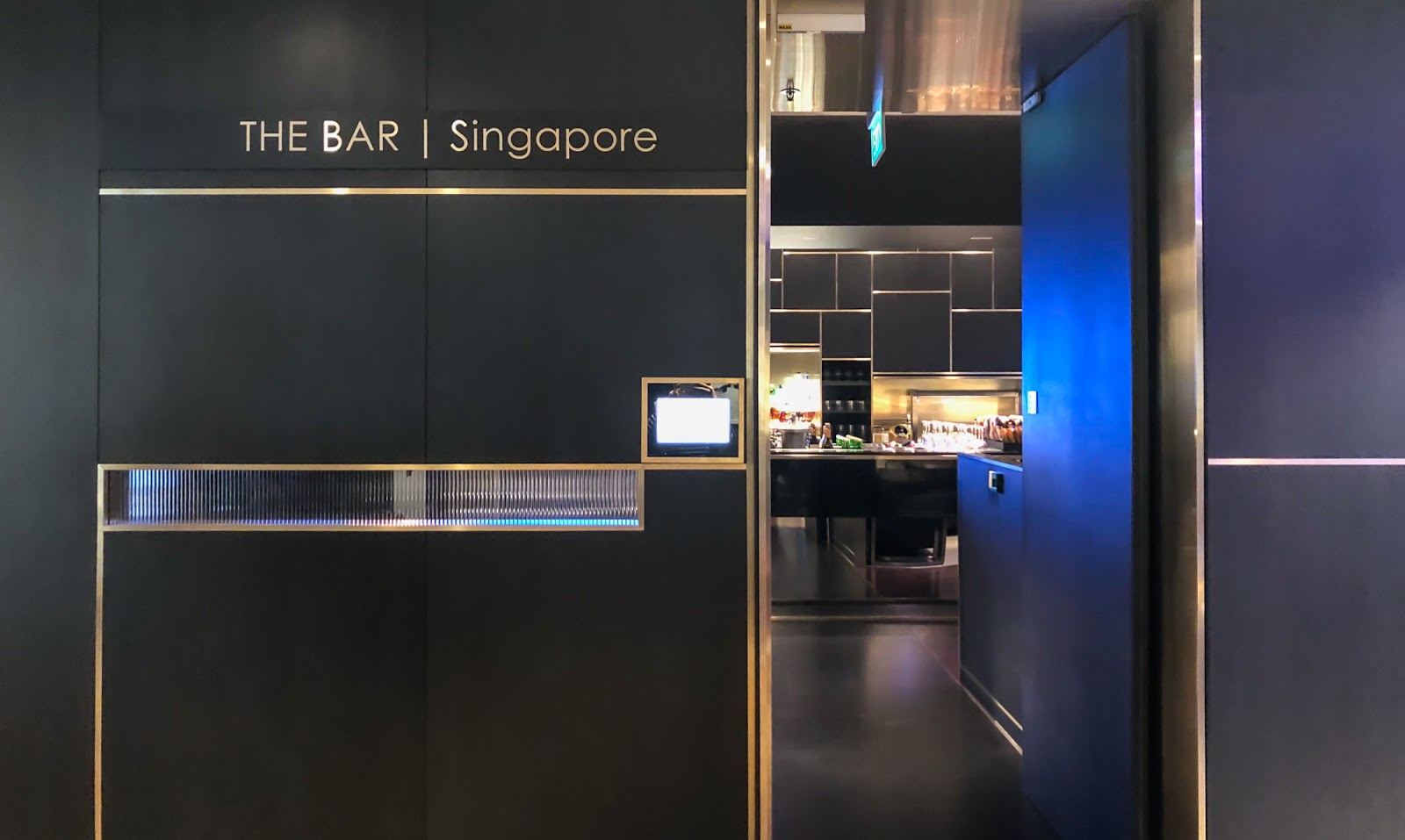 The lounge is relatively small and perfectly rectangular in shape. There are separate zones for lounging, dining and working, and a mix of seating such as individual seats and shared tables.
Running through the centre of the lounge are two distinct spaces – the first one as you walk in has all the buffet food, while the second one features all sorts of drinks and the lounge's centrepiece wine bar, with a great lighting design.
Then, there are three more different zones towards the back. The first one looks like a waiting room with all seats facing a small screen. The second looks like someone's lounge room, and the last zone would be the study.
The seats towards the back of the lounge also tend to be the quietest.
Food and Drink
For a straight-up comparison, I definitely felt the food and beverage in the British Airways Lounge was not as good as the Qantas Singapore Lounge, but not too bad overall when compared to other lounges.
From 3pm to 5pm, the lounge only has a small selection of cold items to snack on, including deli sandwiches, a potato salad, cheeses, fruits and individual dessert bites.
After 5pm, the lounge picks up with chicken satay sticks, curry with rice, and a pasta dish. All of these looked fairly fresh and tasty for lounge buffet food.
At the wine bar, there is a choice of three red and three white wines, unfortunately no sparkling. Champagne is only served in 'The Bar' behind the black door.
The focus in this lounge is clearly on spirits and mixed drinks, with two mirror stations offering more than ten different types of spirits, still and sparkling water, juices and condiments such as lemons, salt, pepper and Tabasco.
Of course, soft drinks and local beers are readily available from the fridges below the bars. The buffet area also has British Twinings tea and coffee from a machine.
Amenities
The British Airways lounge does have all the amenities necessary for a relaxing and productive stay. Firstly, there are a few shower rooms which aren't as spacious as Qantas', but certainly get the job done.
Toiletry products are by Elemis (British Airways' spa partner back in the UK). I really liked the showers here, where it's easy to control the temperature with the bottom knob, and choose from three showerhead modes – waterfall, rainfall or handheld (or, all three at once!)
If it's a recharge you're after, the lounge has you covered with plenty of universal plugs and USB charging ports located at most seats and tables throughout.
WiFi is free in the lounge, but my speed tests showed a low 3 Mbps downloads and a higher 26 Mbps uploads, strangely asymmetrical even when the lounge was quiet. In terms of other business facilities, the back area has a printer and networked computers.

Finally, there are some British, Singaporean and international newspapers and magazines.
Lounge Access Options
There are many ways to access the British Airways Singapore Lounge, especially for passengers flying oneworld airlines or with elite oneworld status.
By class of travel: First or Business Class passengers travelling on a British Airways or oneworld operated and marketed flight.
By BA Executive Club status: British Airways Silver, Gold and higher (e.g. GGL) status when flying British Airways or a oneworld flight.
By oneworld status: oneworld Sapphire and Emerald equivalent frequent flyers before a Qantas or oneworld flight.
Our Take
The British Airways lounge is pretty good all things considered, although there are stronger contenders in the terminal, particularly Qantas.
The main thing I liked about this lounge was how quiet it was compared to the Qantas lounge next door after 5pm. The food is fairly decent and I liked the wide selection of drinks available.
With a fresh design, plenty of power points and good facilities, the British Airways lounge is still a comfortable place to relax before a flight, which is primarily what a lounge is for anyway.
If you have access to this lounge, you probably will have access to the Qantas lounge next door. An ideal plan would be to go there first for the superior food and drinks (including a la carte dishes and cocktails from the tended bar), before checking out the British Airways lounge for some peace and quiet.
What was great
Modern design with a stunning central wine bar
Quiet ambience before most Qantas flights (busier before BA flights)
Extensive selection of spirits and mixers for drinkers
Buffet food of a decent quality
Lots of charging ports
Big variety in seating areas and zones
What was not great
Slow WiFi download speeds
No tended bar (therefore no barista coffee, fancy cocktails etc.)
British Airways Singapore Lounge overview
was last modified:
April 26th, 2022
by