American Express' spacious Card Member lounge is a relatively recent addition to Sydney International Airport in a completely renovated space, previously occupied by Malaysia Airlines.
The new lounge is three times larger than the previous lounge at over 600 square metres – offering guests not only more space – but a greater choice of amenities and dining options.
We reviewed this lounge back in 2019. Since then, this space has become the American Express Centurion Lounge in Sydney, so we'll bring you an updated review once it opens.
Editor's note: The American Express Sydney Lounge is currently closed. This review has been refreshed to simplify imagery with our new image carousels and to remind readers of their potential lounge options once broader international travel opens up again. The following text was originally published in October 2019.
COVID-19 DISCLAIMER: The situation regarding Covid-19 is constantly changing, and the impacts on travel remain quite fluid. We endeavour to keep our content as up to date as possible in this dynamic environment.
Where is the American Express Sydney Lounge?
The new American Express lounge is located in the T1 International terminal, near Gates 50-63, which makes it a great option if you are travelling with Star Alliance carriers. If you are travelling on oneworld carriers, make sure to check out the information screens in the lounge for transit times, as walking times can exceed 15 minutes.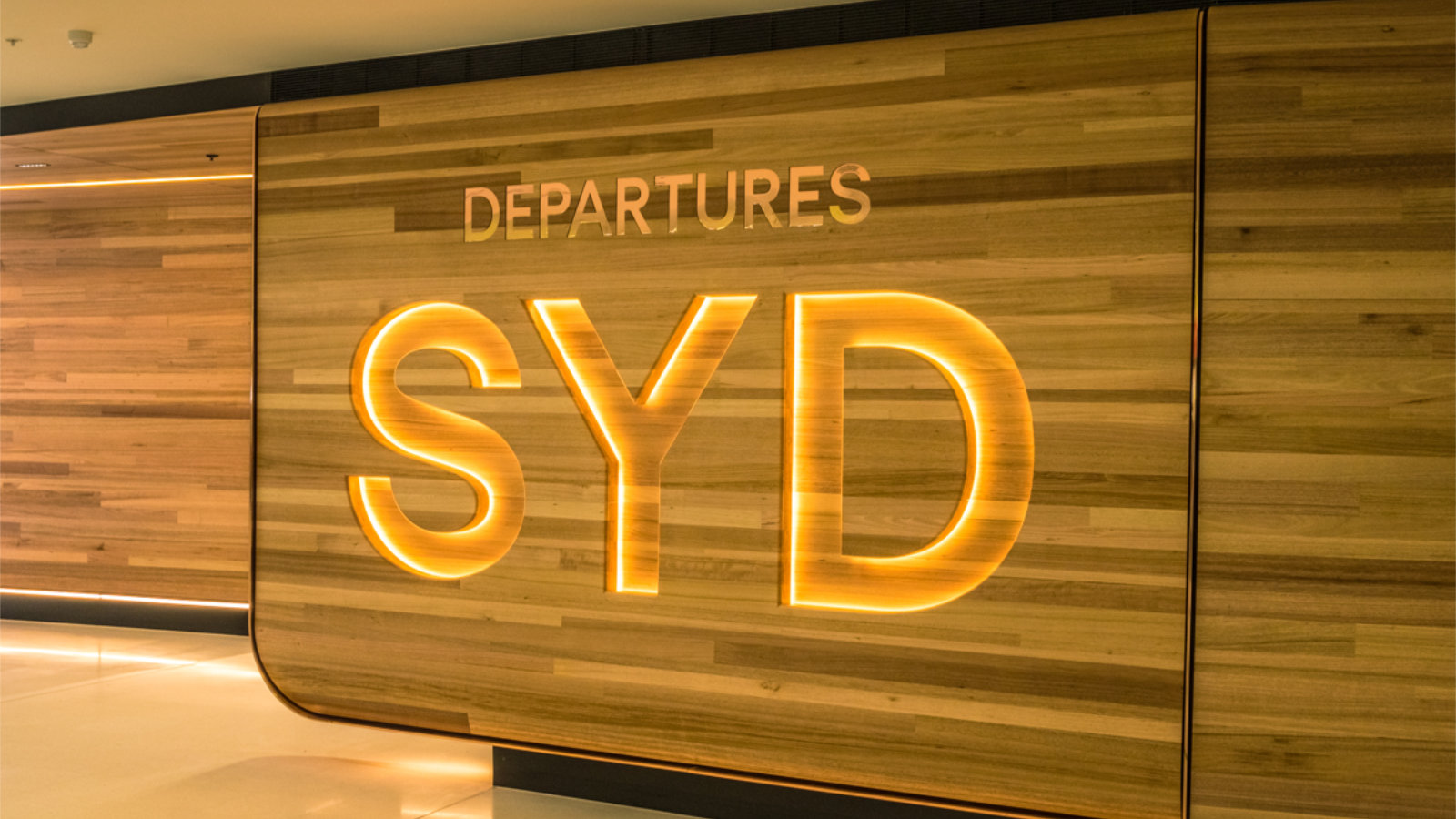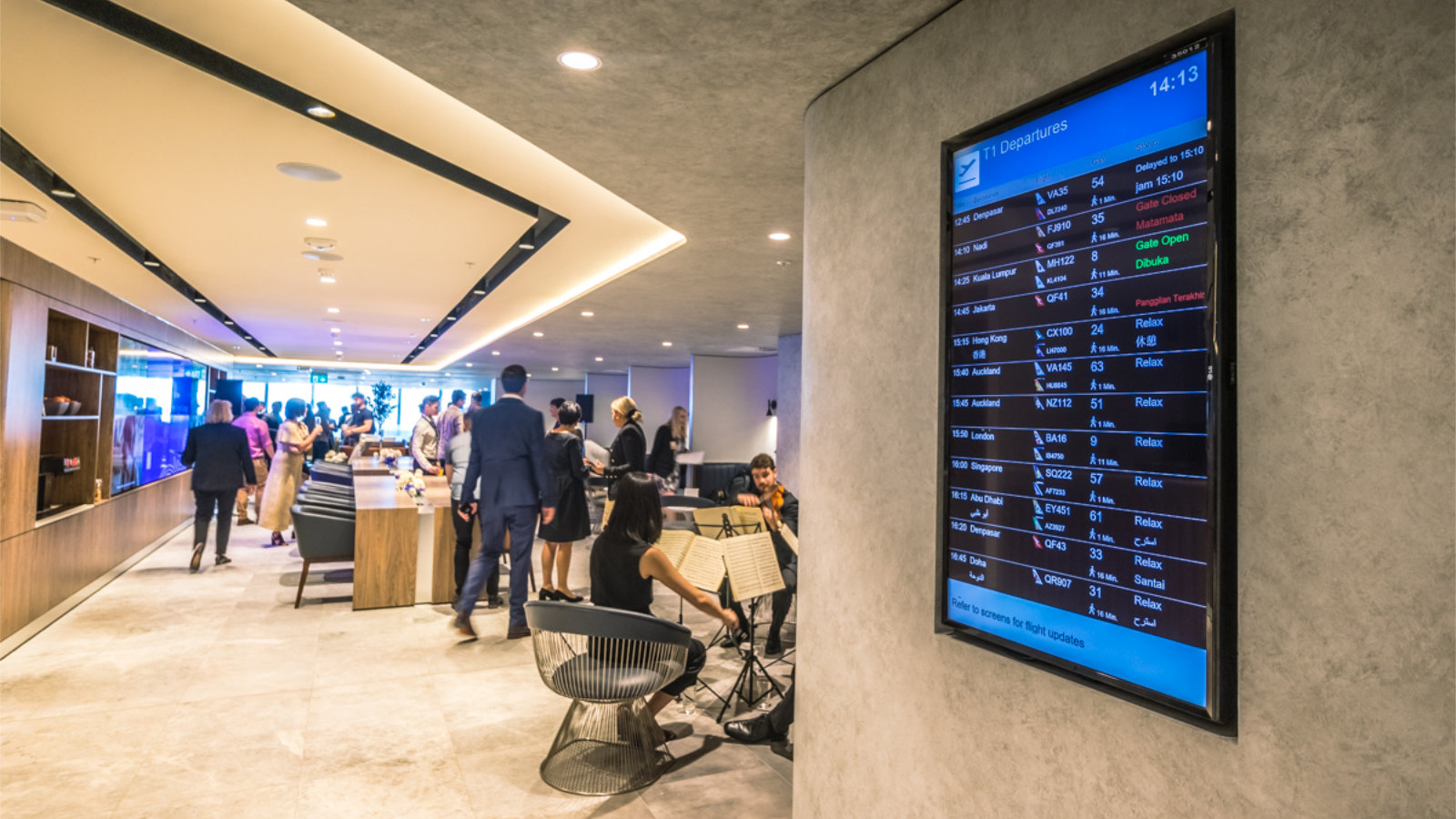 Map of the lounge
American Express Lounge Seating
The lounge is divided into three distinct areas: a public dining space; a private resting space; and a 'social' area with multiple LCD displays, bench seating and self-serve beverages.
Speaking with Point Hacks, the designer of the lounge and director of Mitch Squires and Associates commented:
What we wanted to achieve with this lounge is a fusion between what people might experience in an American Express Centurion lounge with the casual and relaxed feel of a sports bar. The brief was all about creating a stress-free haven for eligible American Express Card Members and their guests.

– Mitch Squires
Entering the lounge, you will be greeted with a familiar but larger green wall, which was also a key design feature of the previous American Express lounge.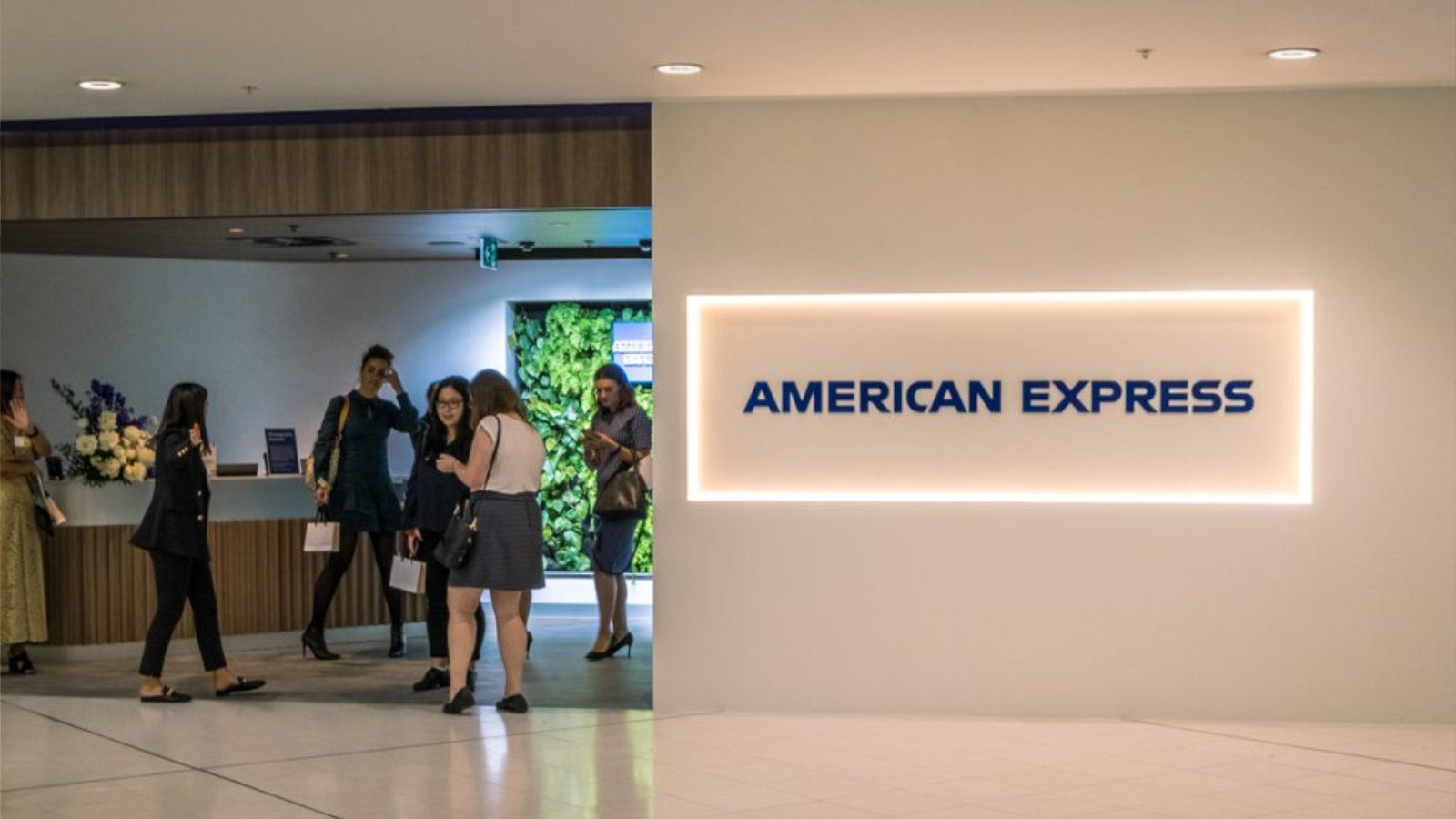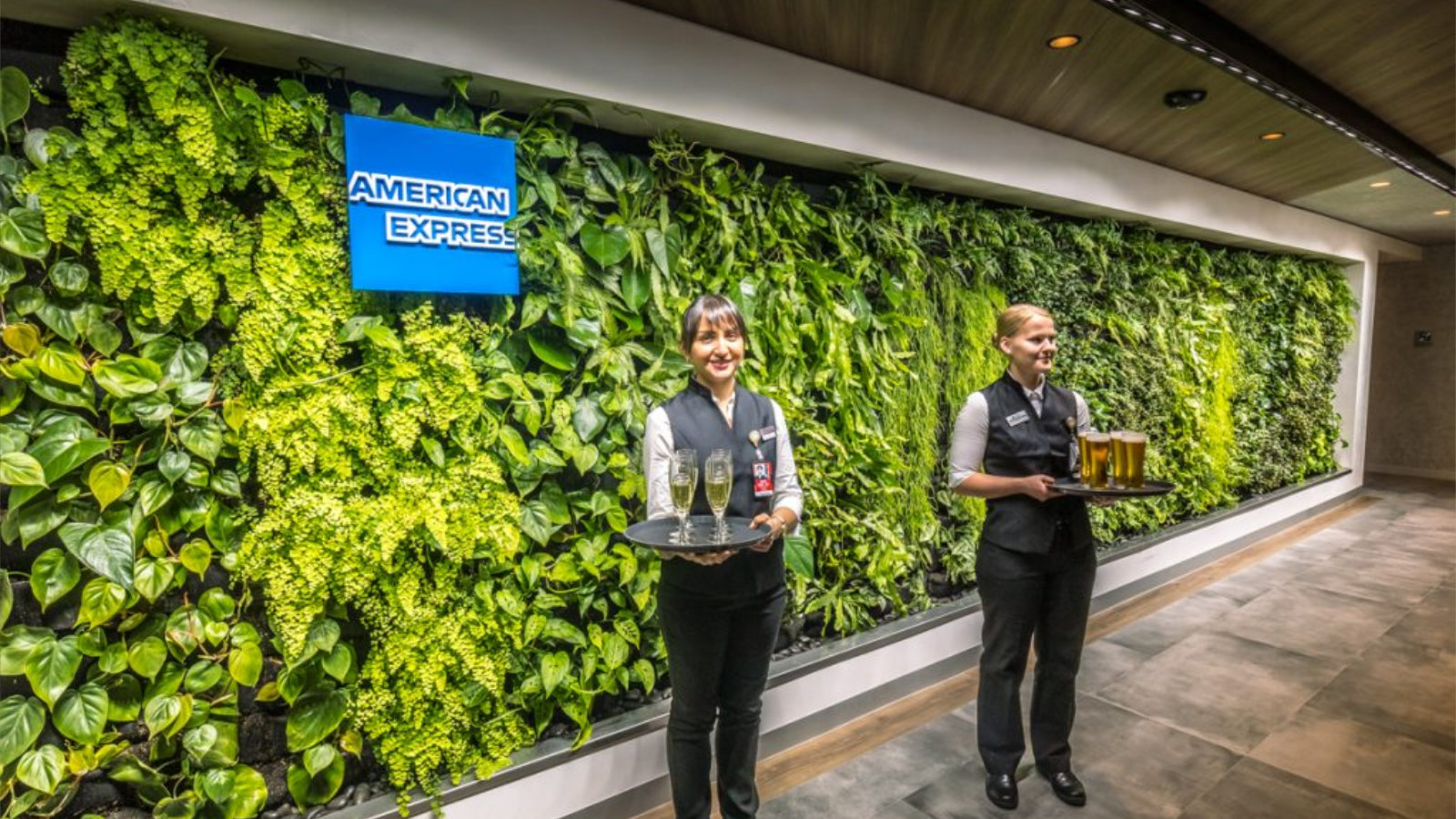 To the left, you'll find the public dining spaces, with booths and smaller tables.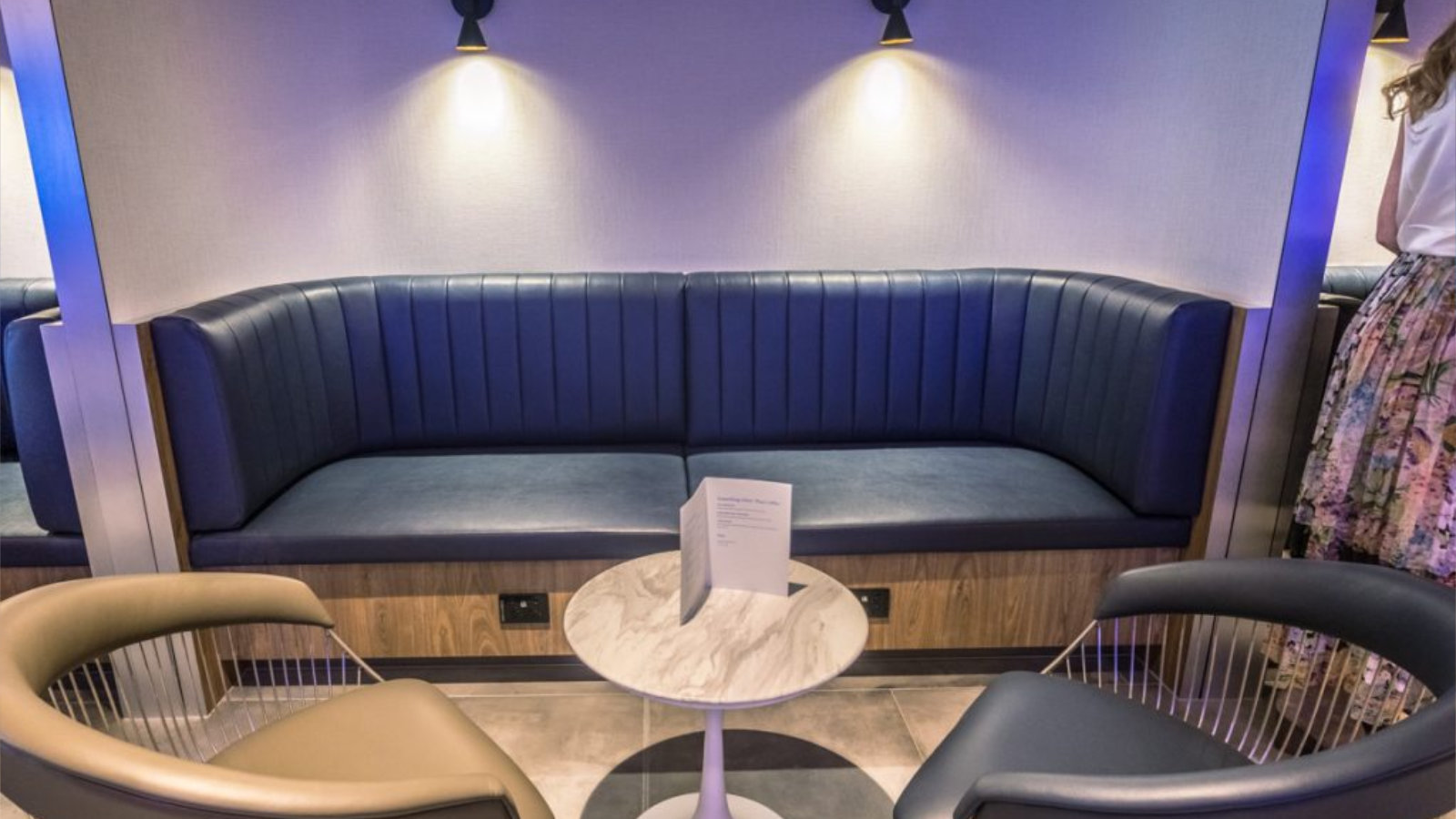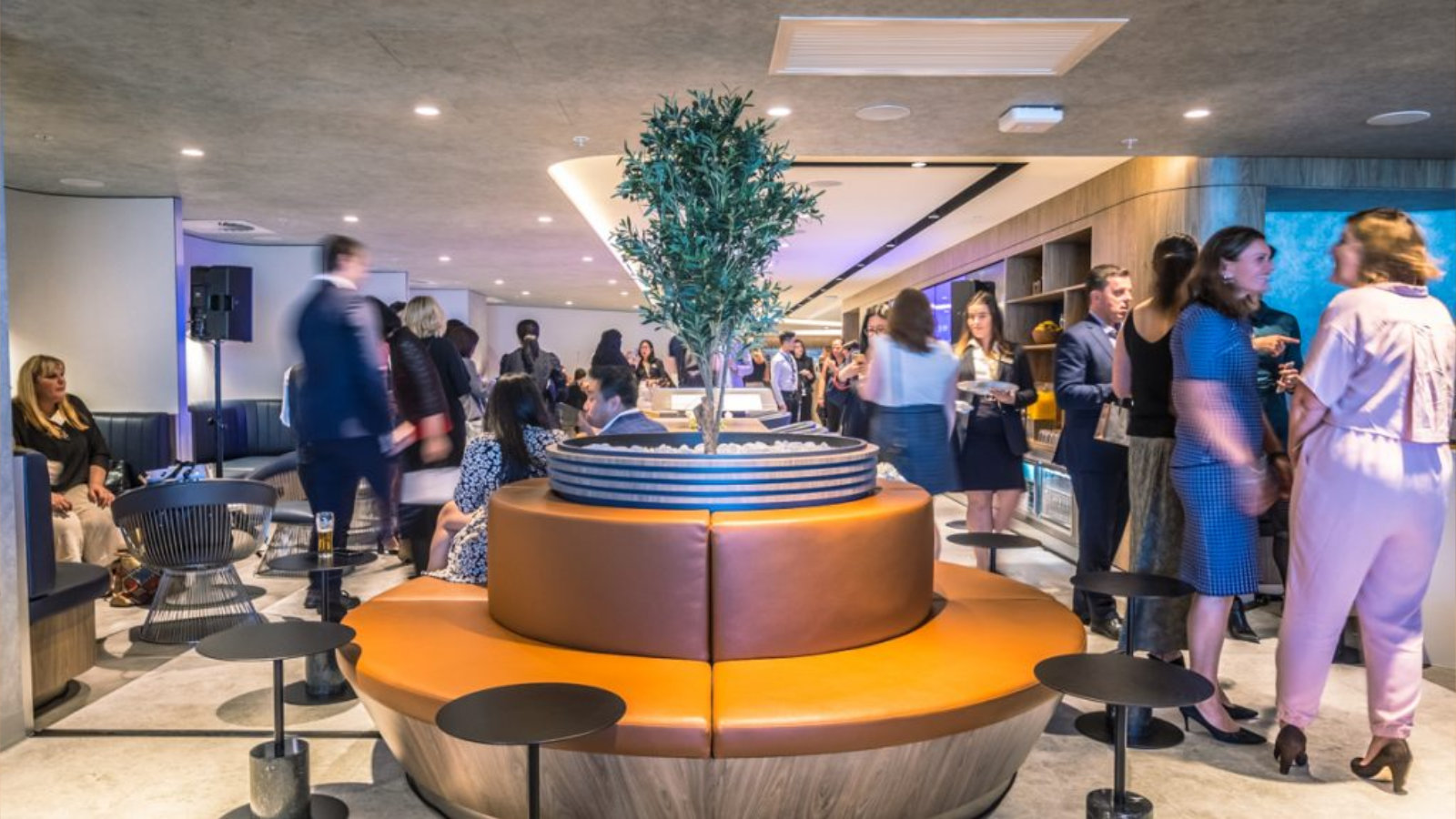 The 'social' area features two long tables with bench seats in front of a bank of LCD screens and the self-service refreshment areas.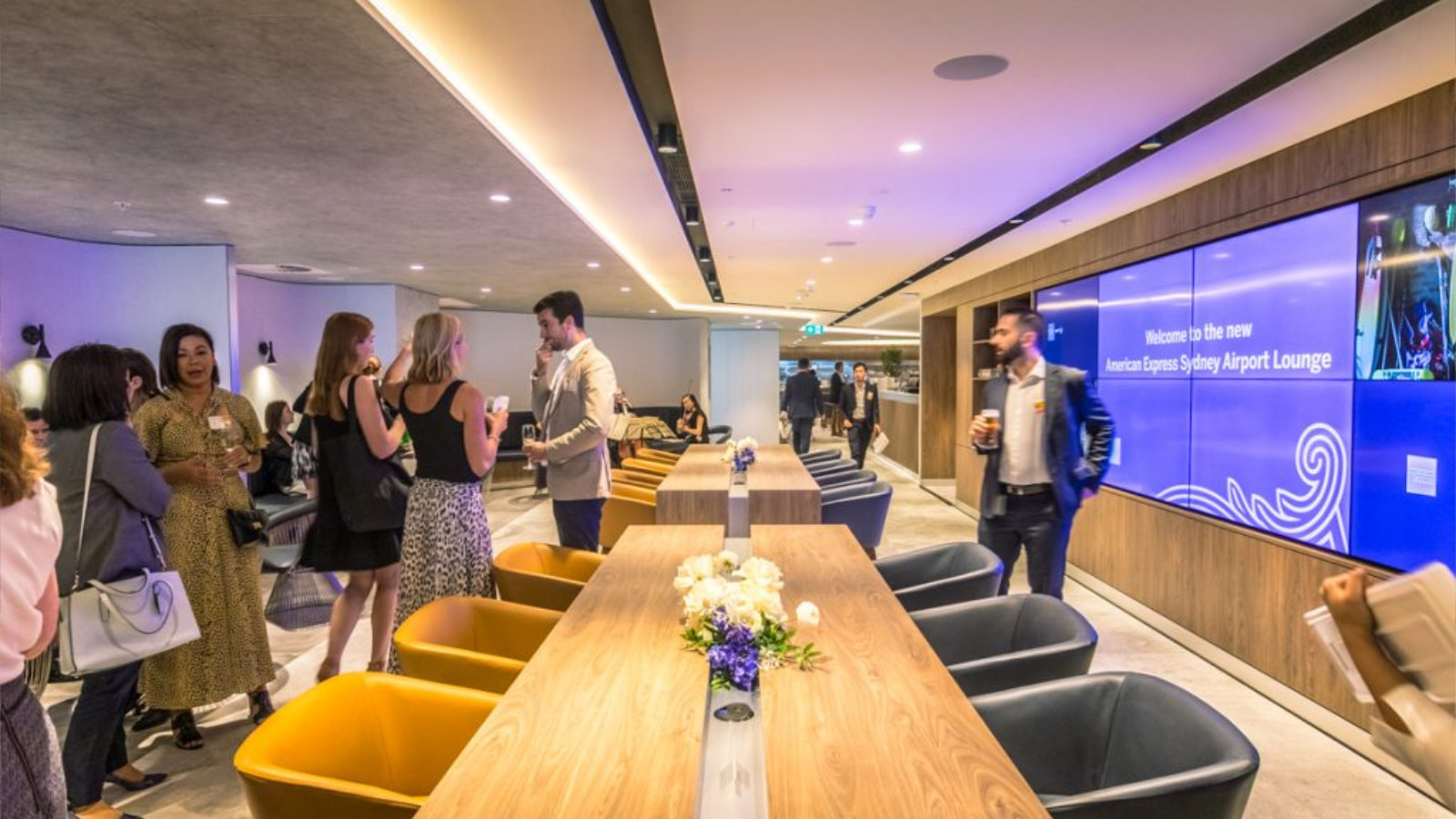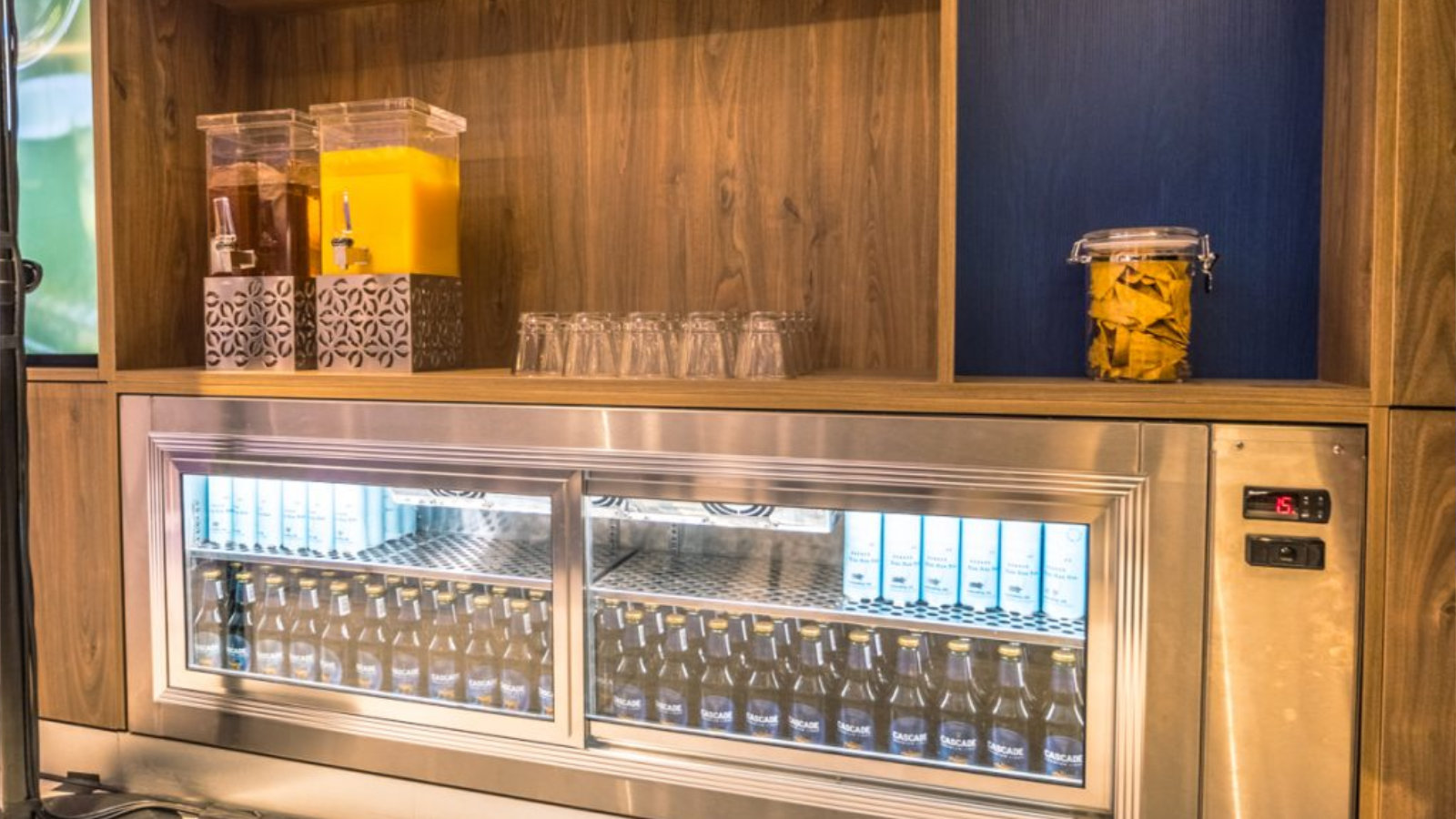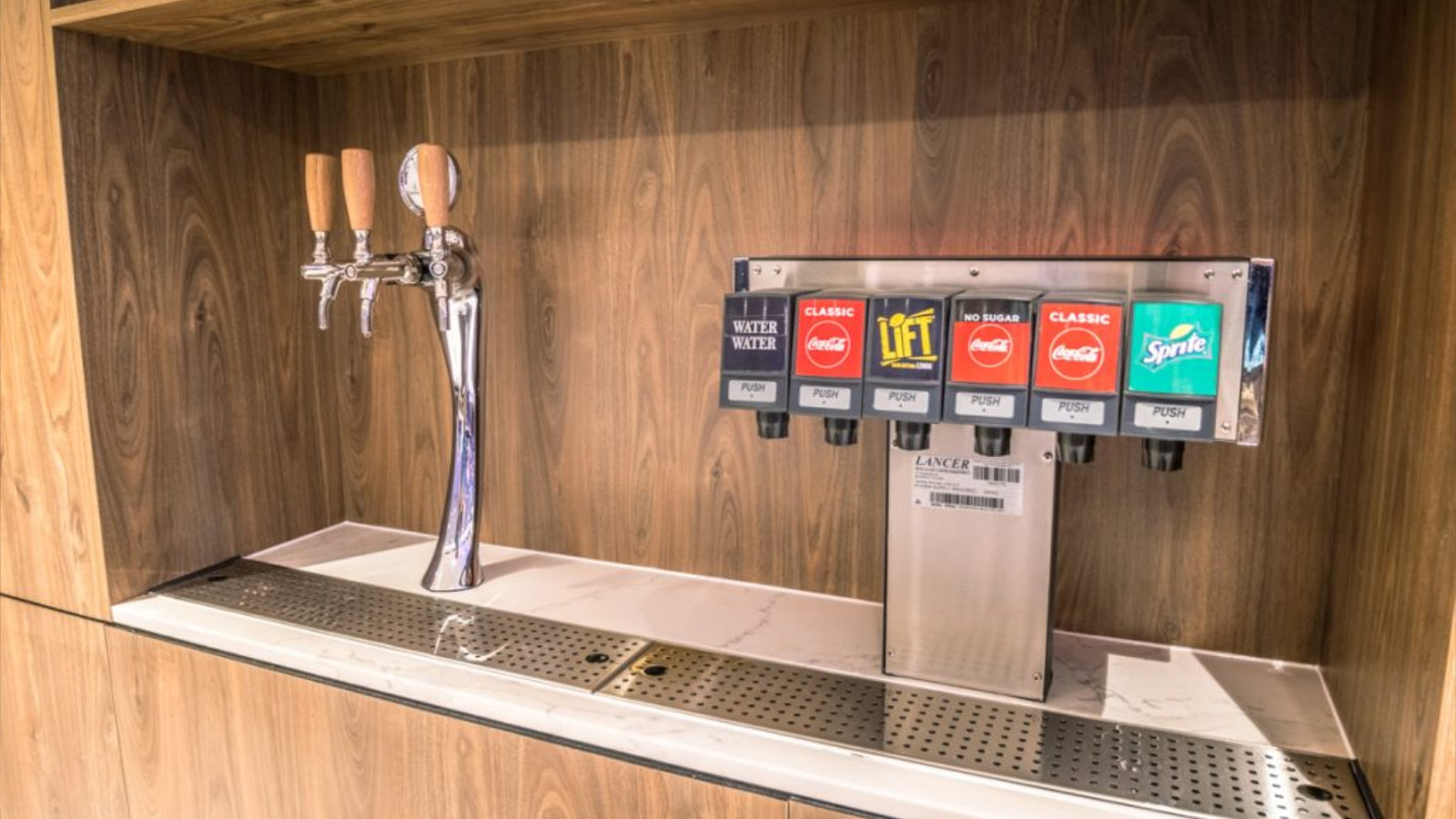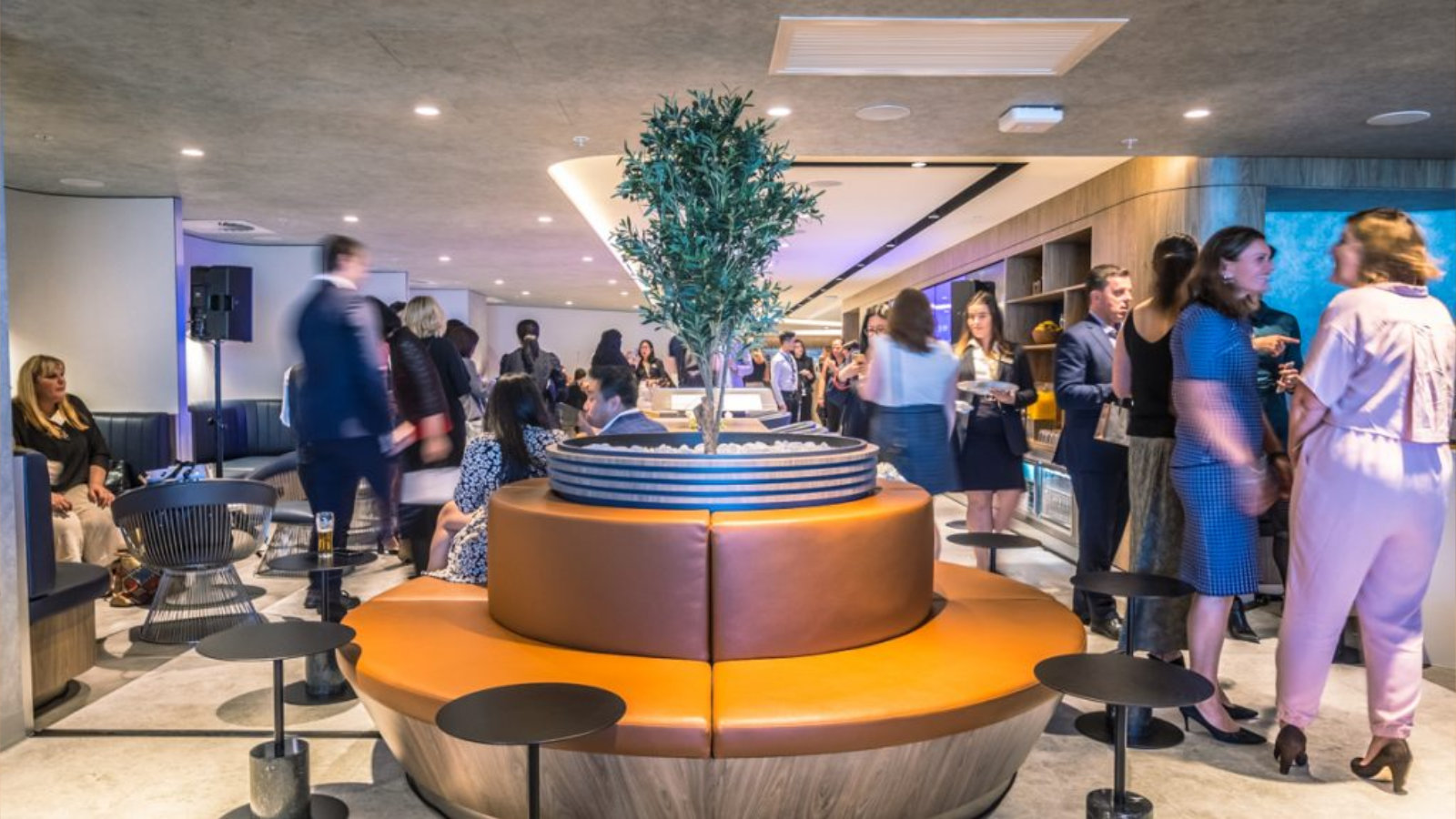 Behind the bench seats are private alcove/booth seating that lets you have a quiet conversation with your guests whilst still being connected to the public space.
The private resting space features several different lounging options, from banquette seating, high-winged recliner chairs and leather armchairs.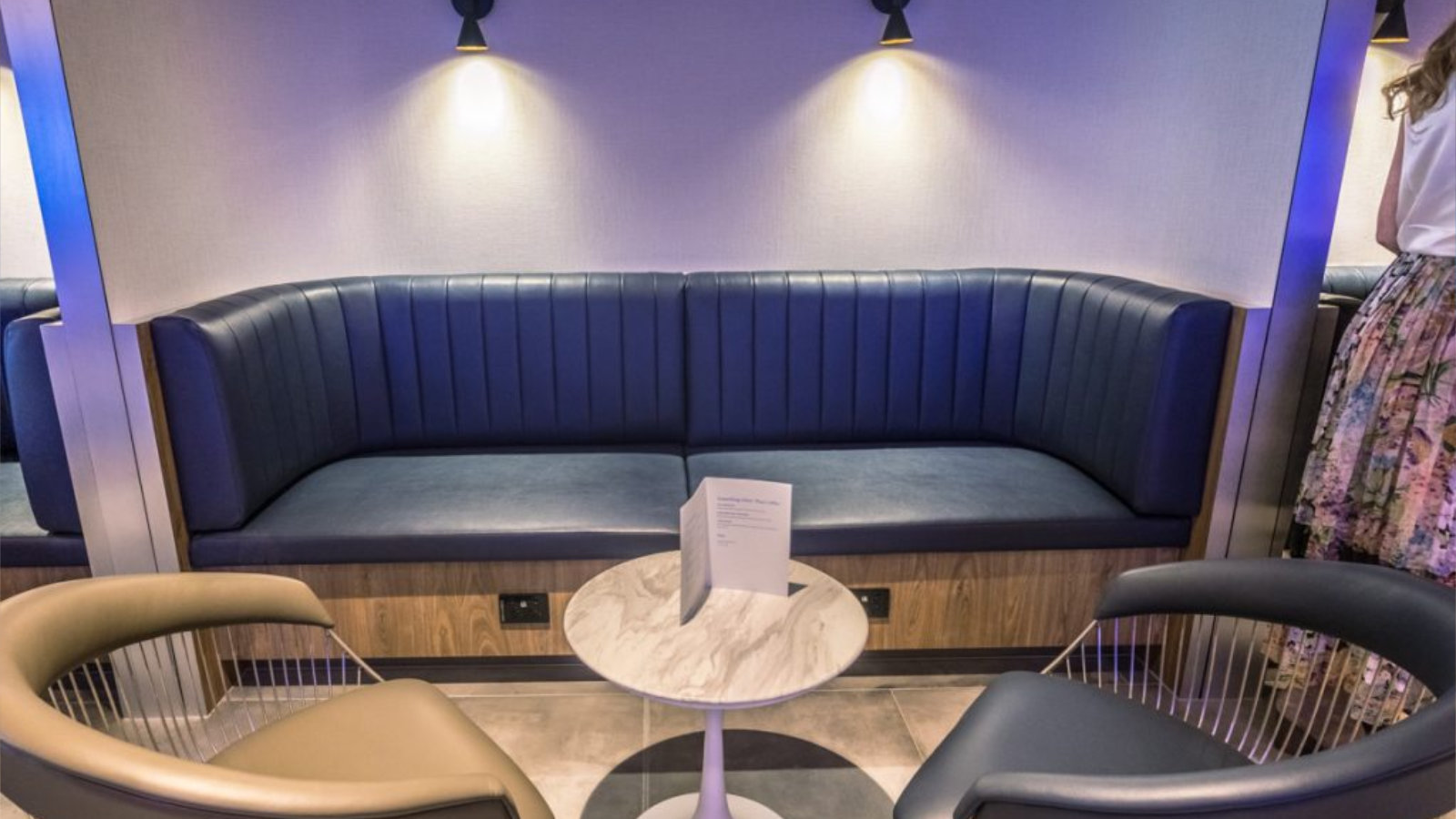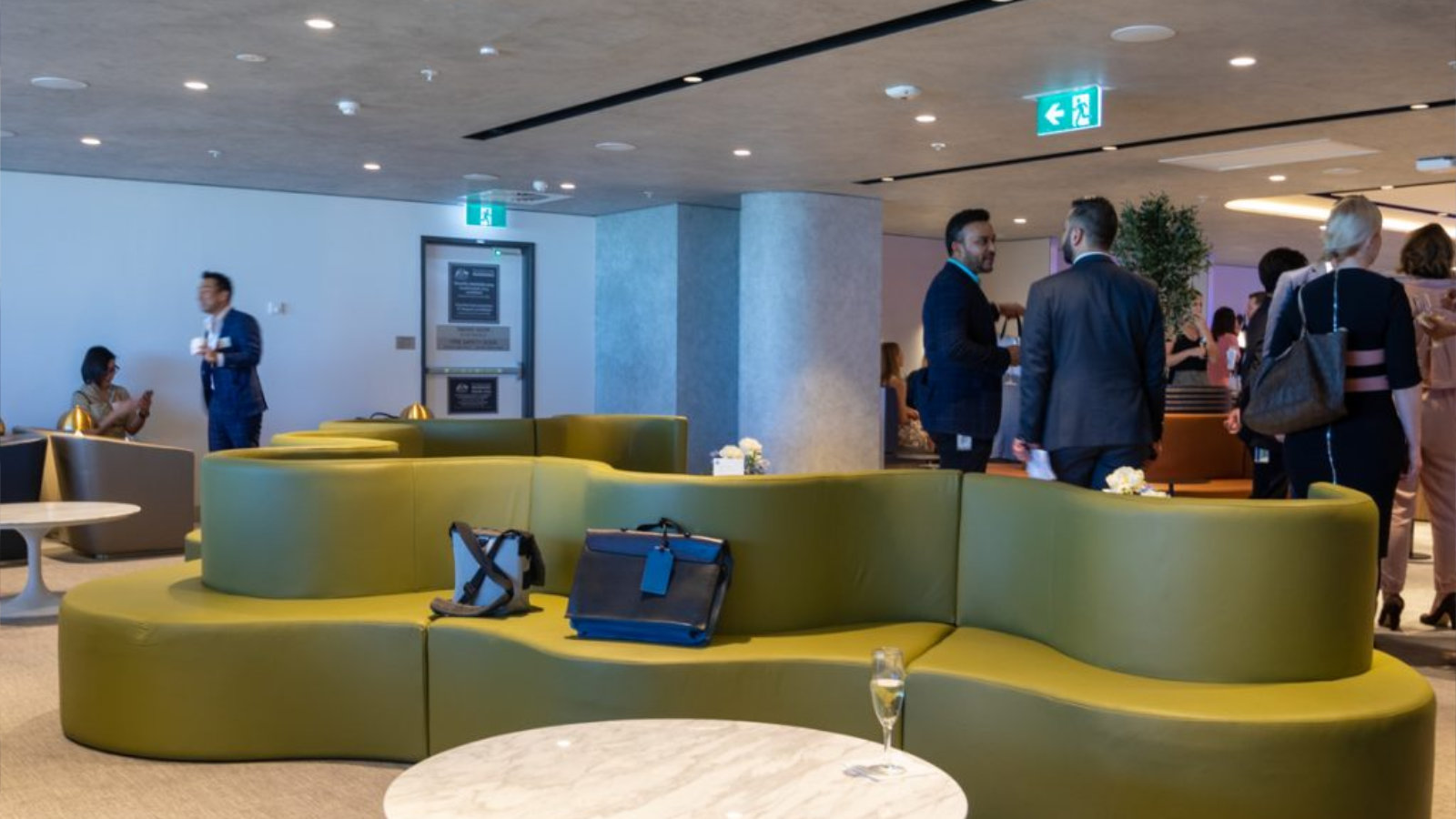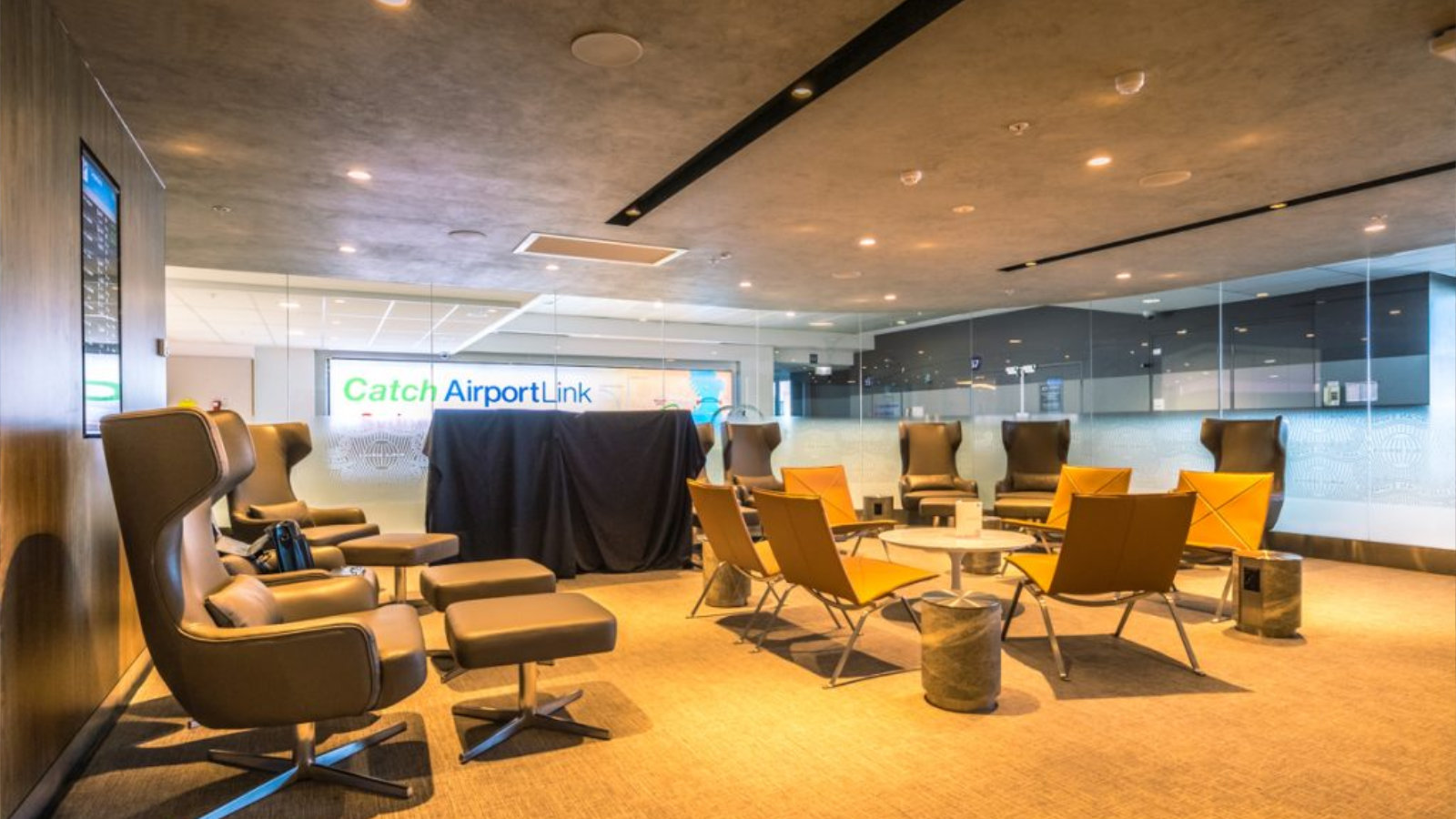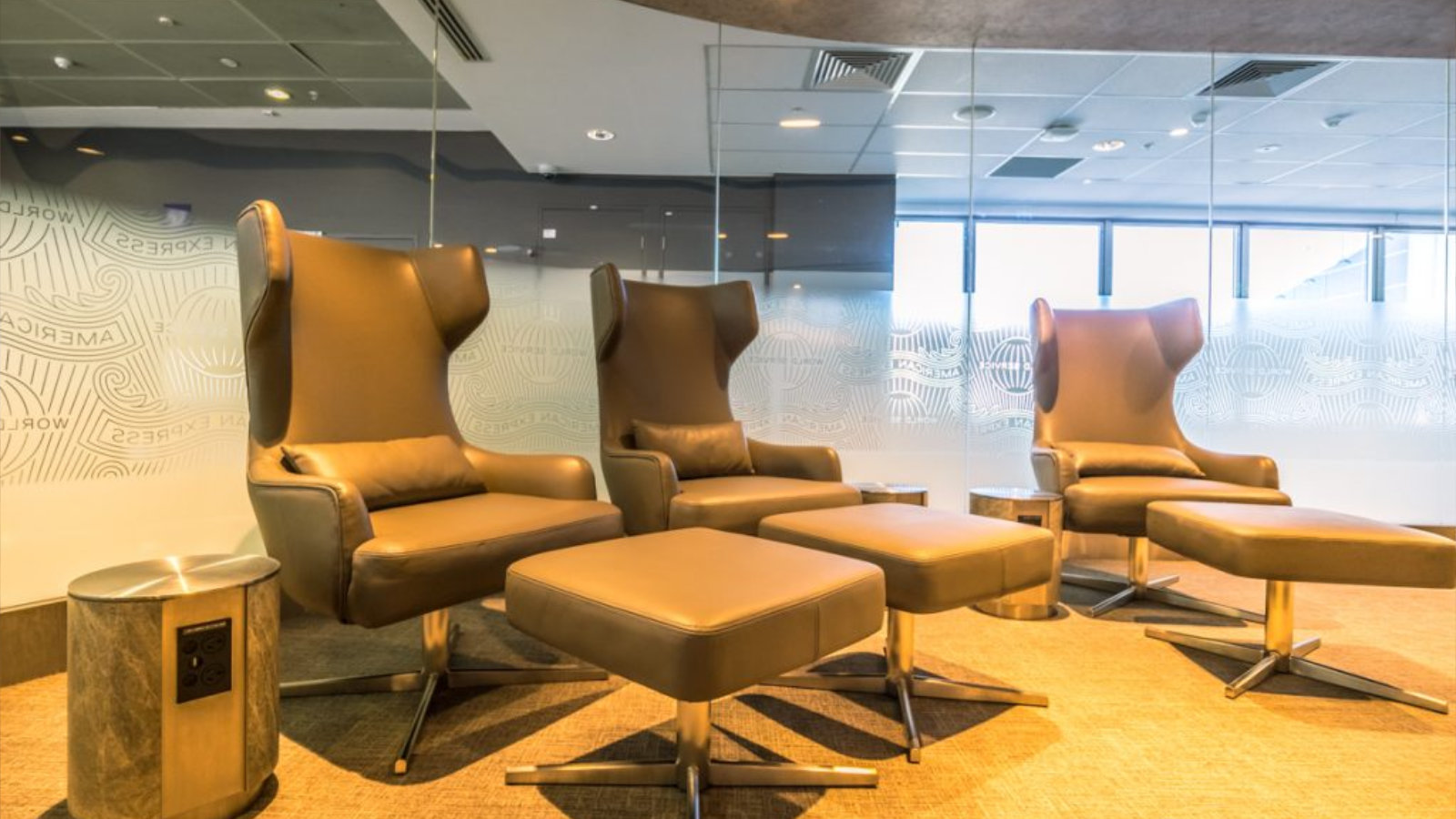 This space features plenty of power points to charge your devices whilst you're relaxing.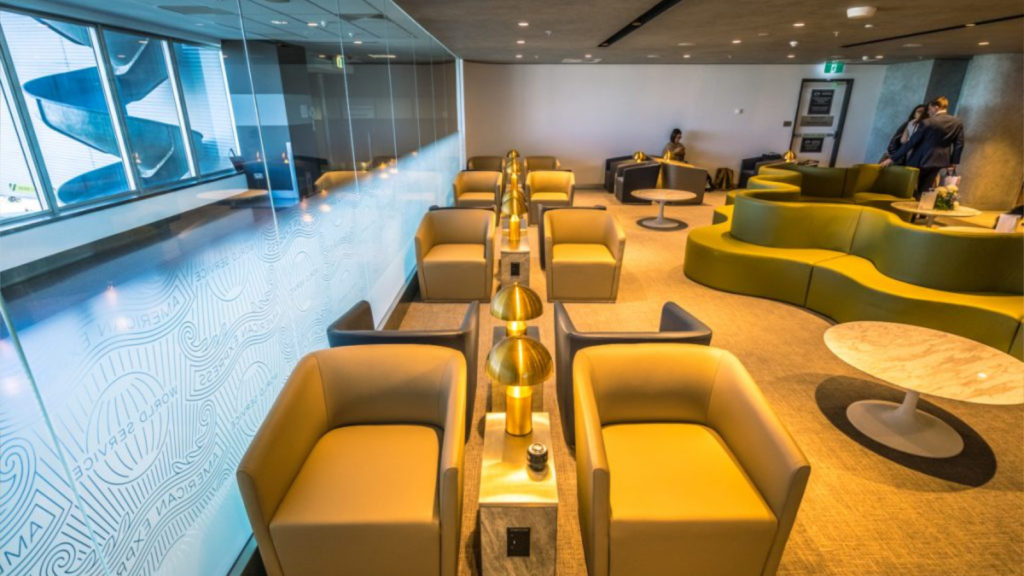 One of the more interesting features of this space is the view of the apron and runway. Prior to American Express renovating this space, it had no windows, so it worked closely with its partners, Plaza Premium Group and Sydney Airport, to extend the space and provide guests with not only a source of natural light, but a view of arrivals and departures.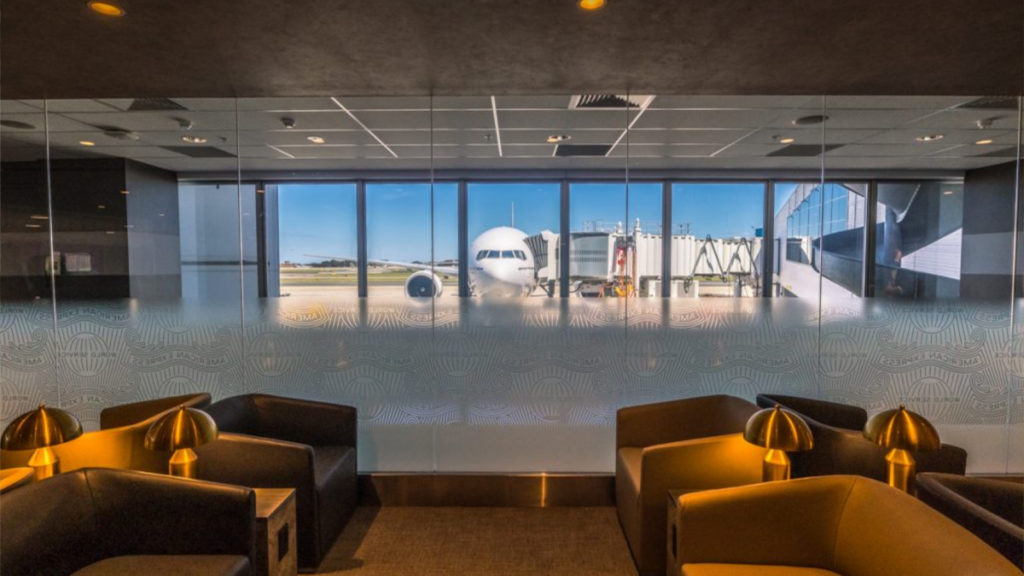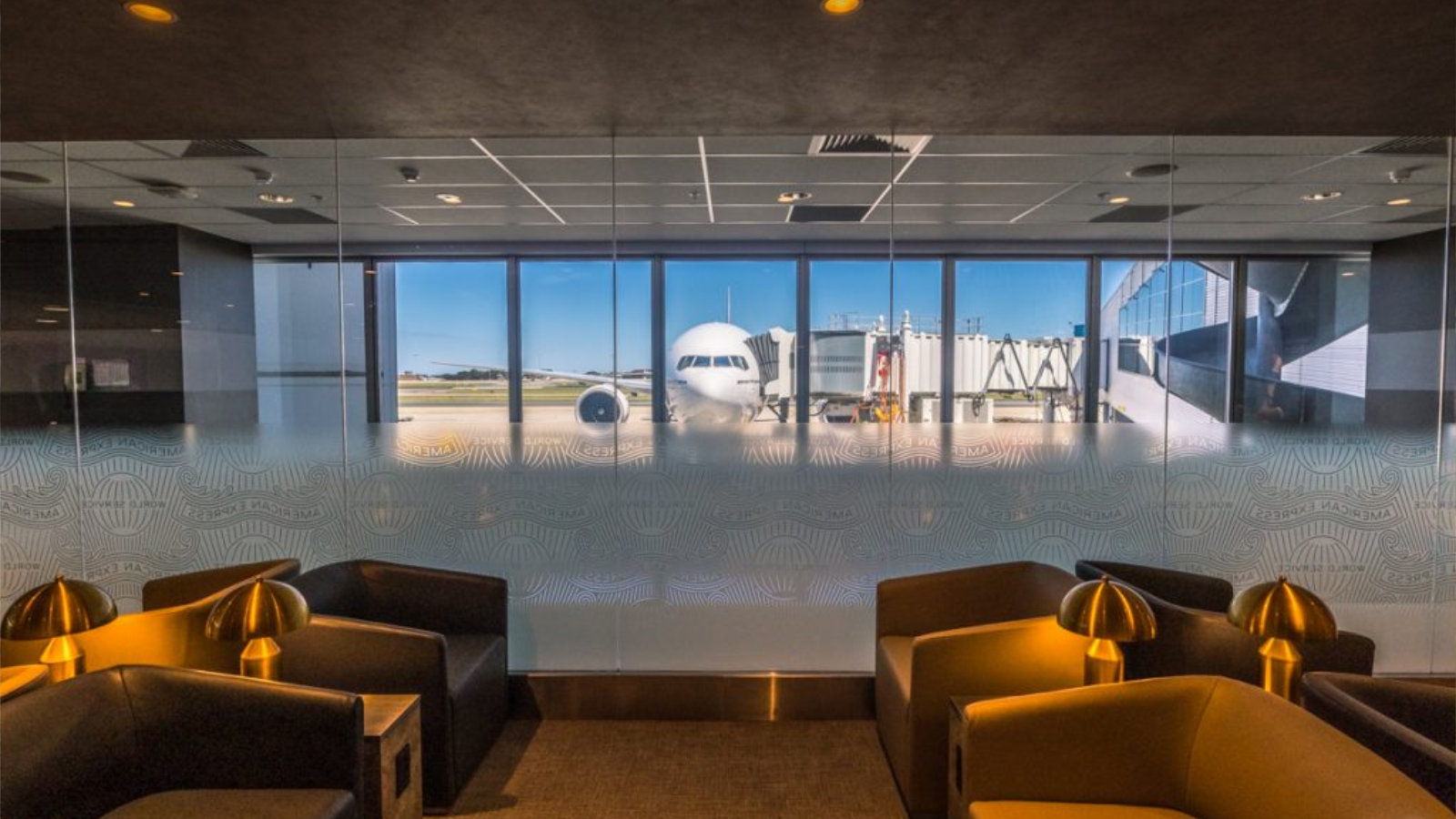 A key component of the design brief for the lounge was to have an 'activation space' that could be used for multiple purposes. Mr Squires explained:
The activation space was a key component to the design of the lounge, so that AMEX could use it for product launches, wine tastings, or other transitory installations to surprise and delight members and guests.

– Mitch Squires
During the launch event, the activation space was occupied by representatives from The Daily Edit who were embossing leather passport wallets with guest's monograms.
American Express Lounge Food & Drink
The public dining area of the lounge features several different seating options.
Refreshingly, American Express has chosen to incorporate 'live cooking' stations into the lounge. Depending on the time of day, you can watch your meal or snack be created by the chef in full view, confident that it is fresh and prepared to your liking.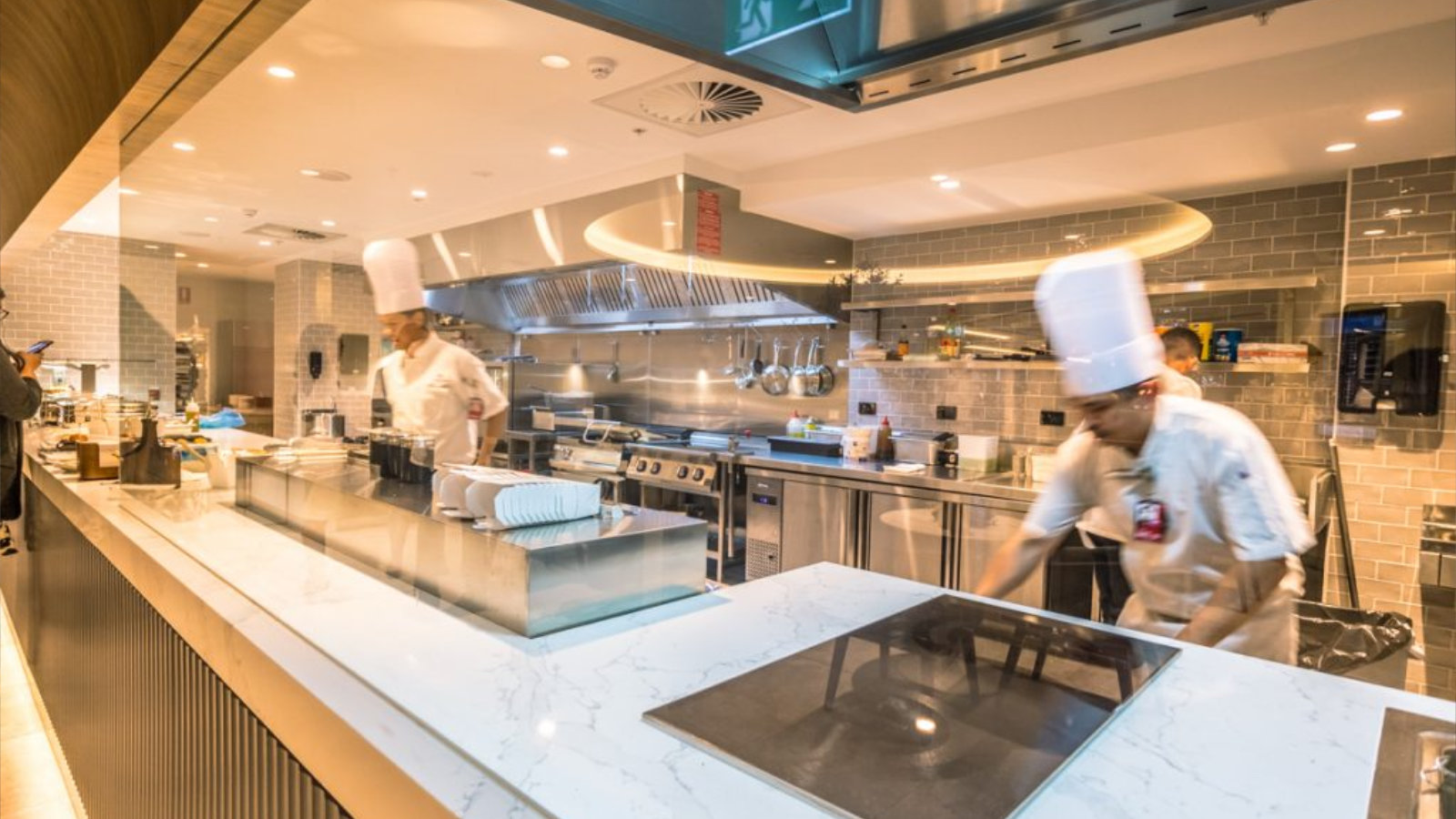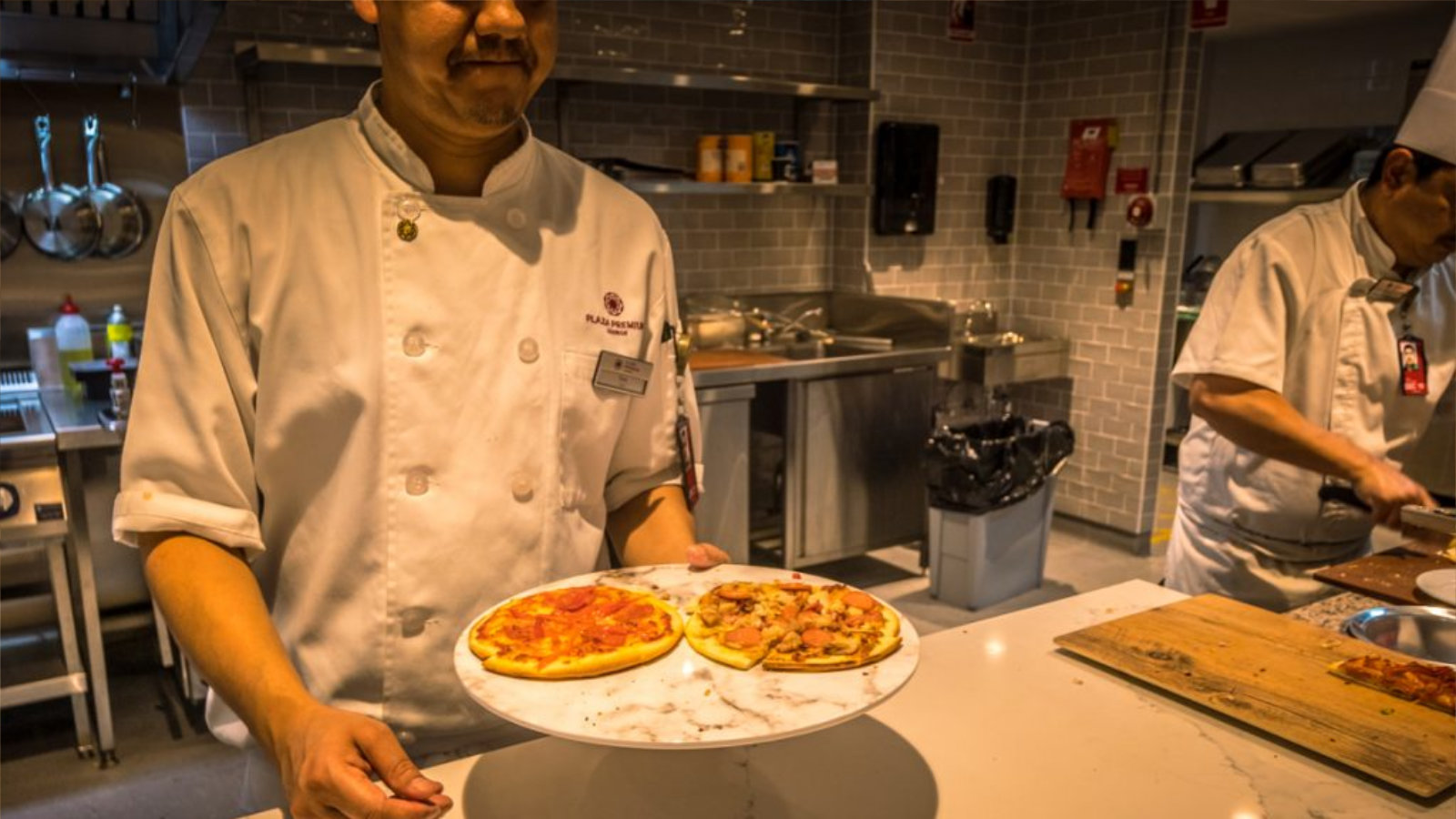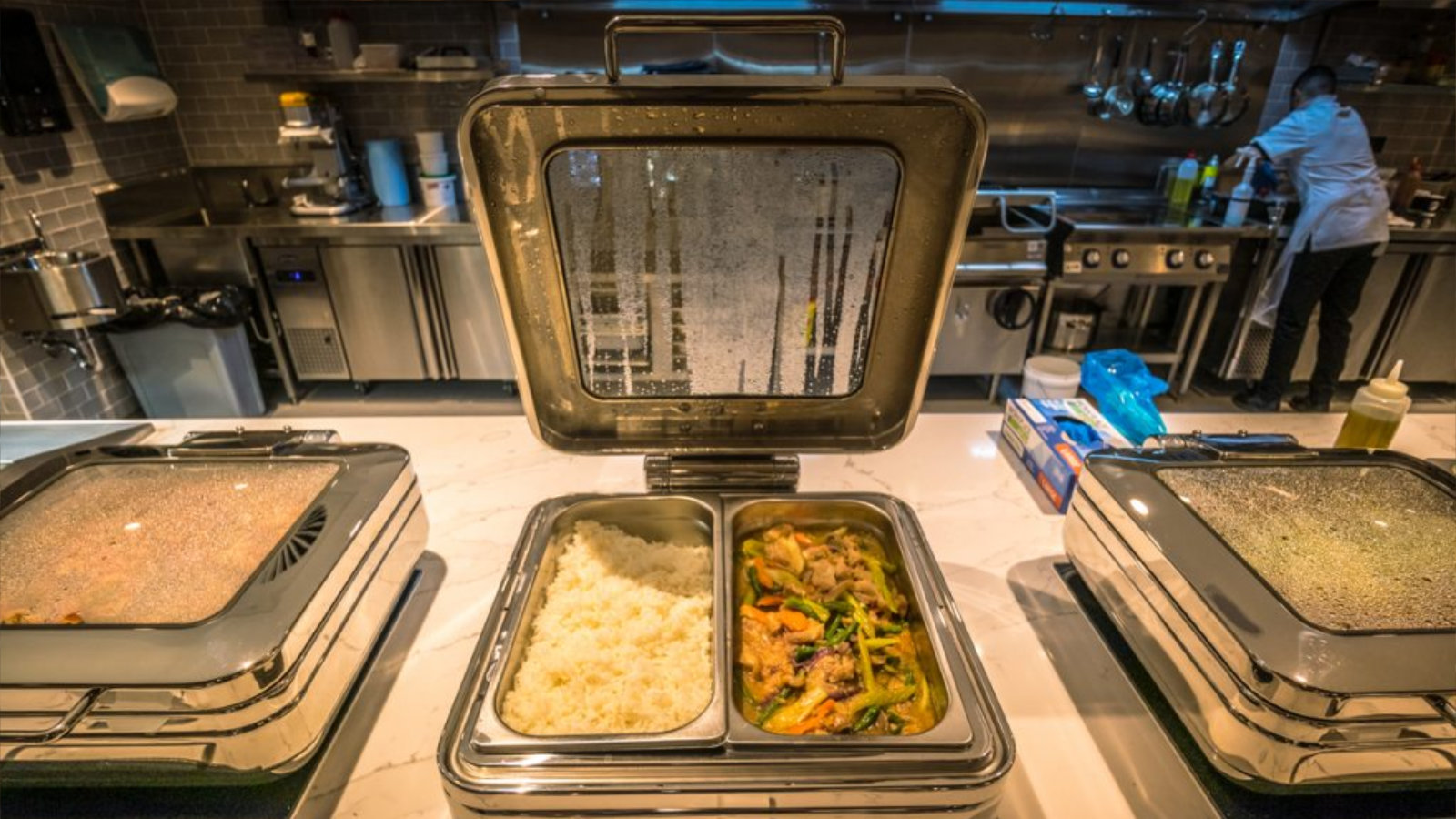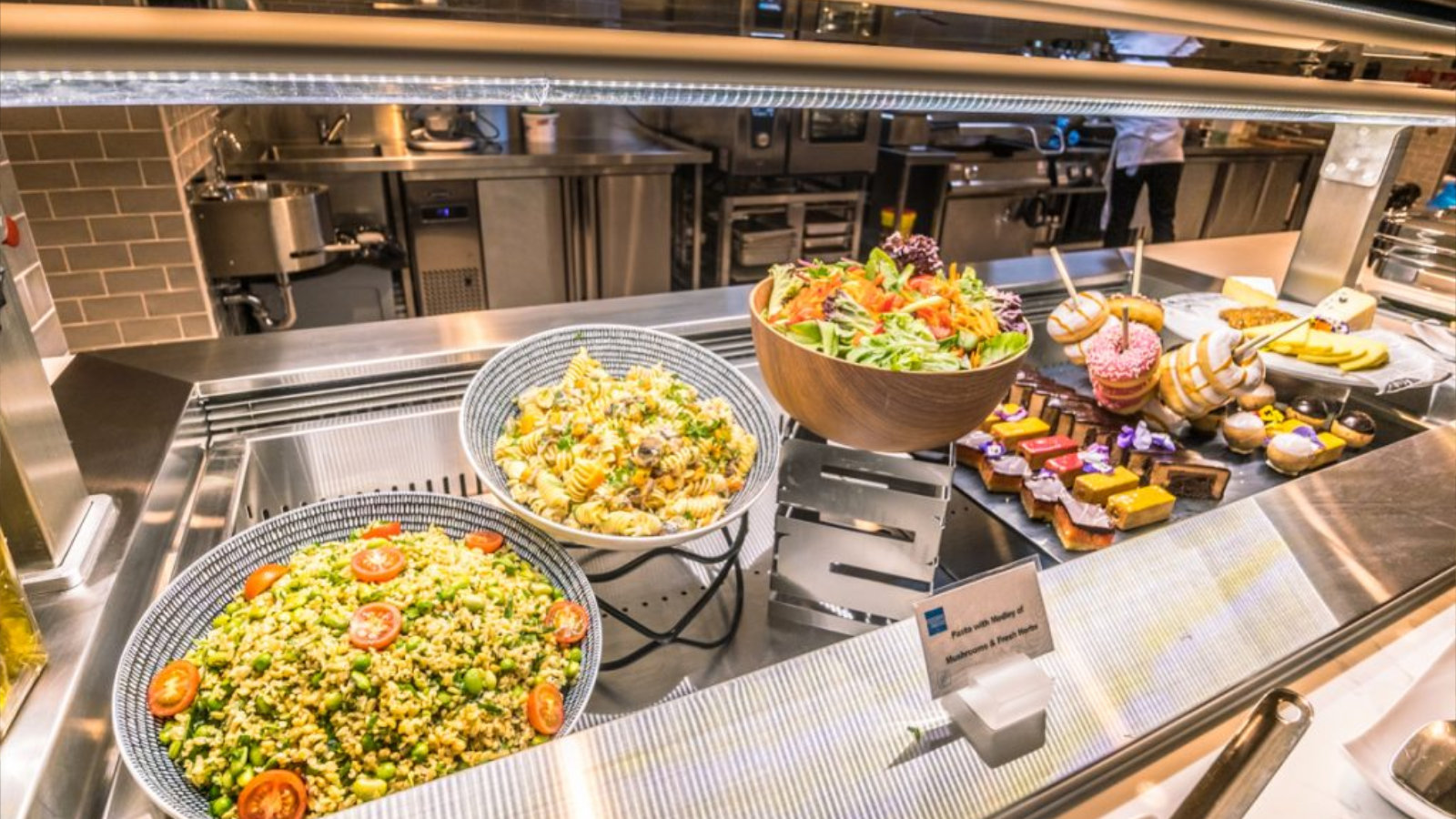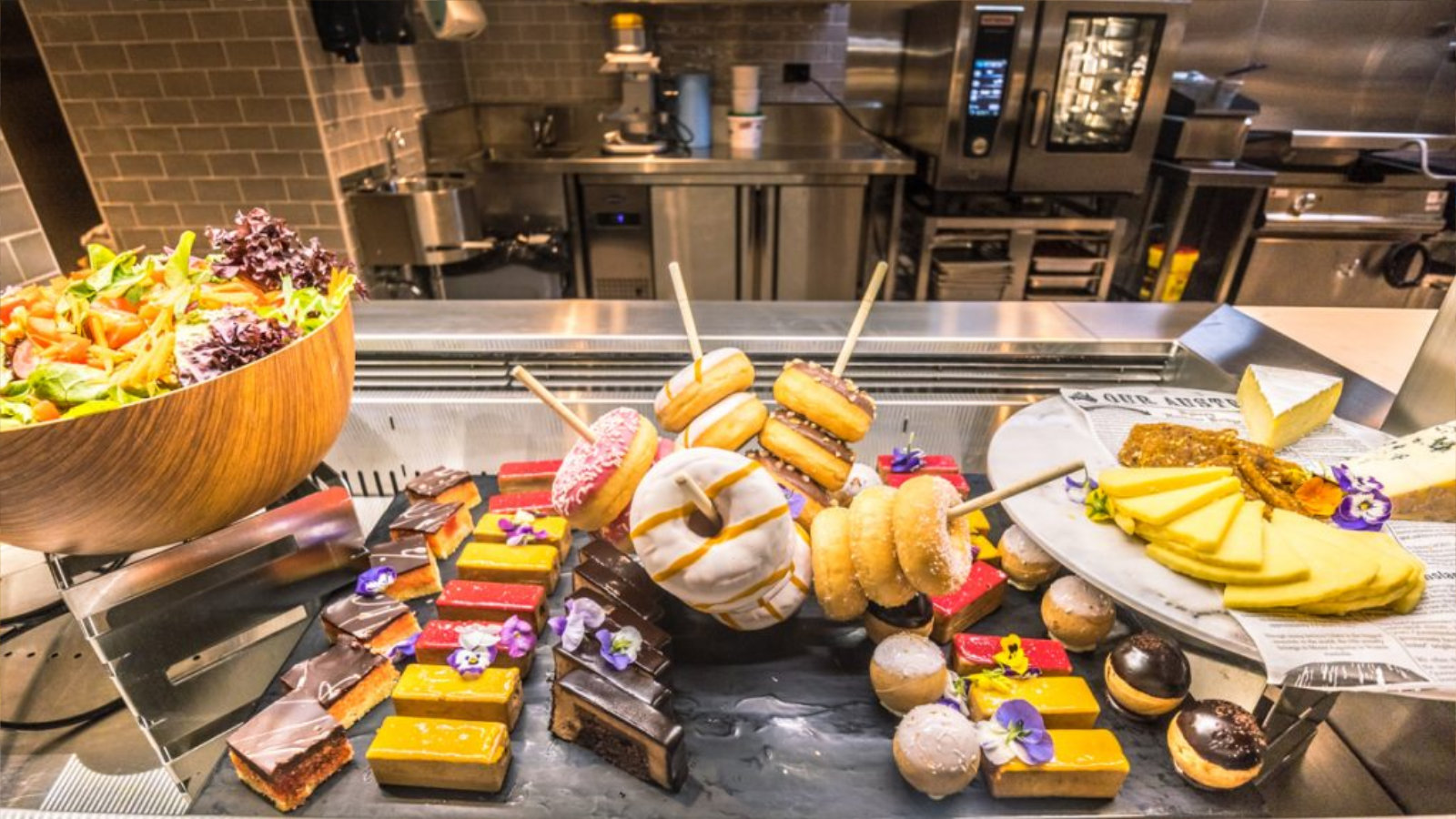 A large selection of local and international beers and wines are provided on-tap, as well as a selection of cocktails—including a signature espresso martini which gives the Air New Zealand lounge upstairs a run for its money.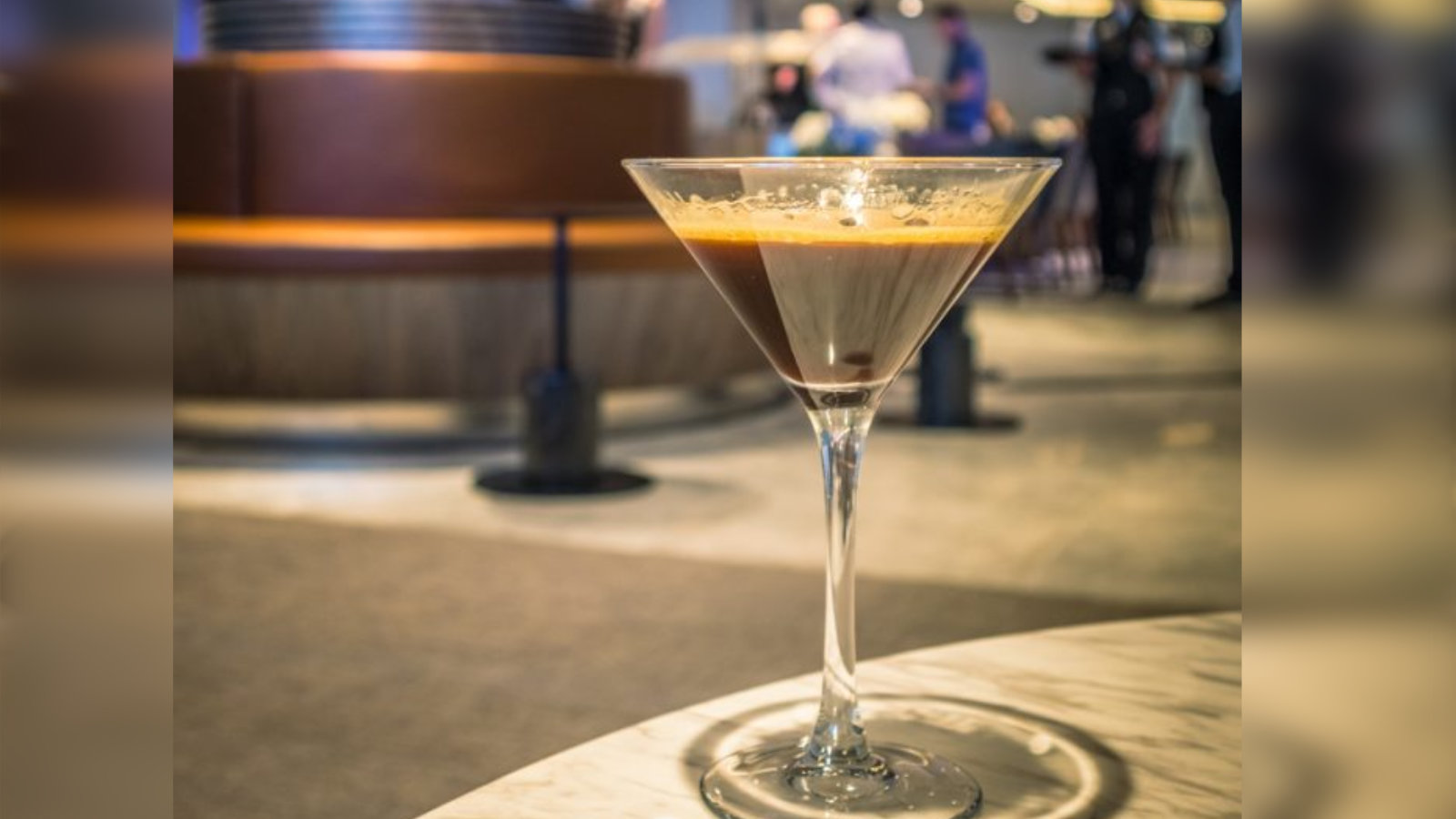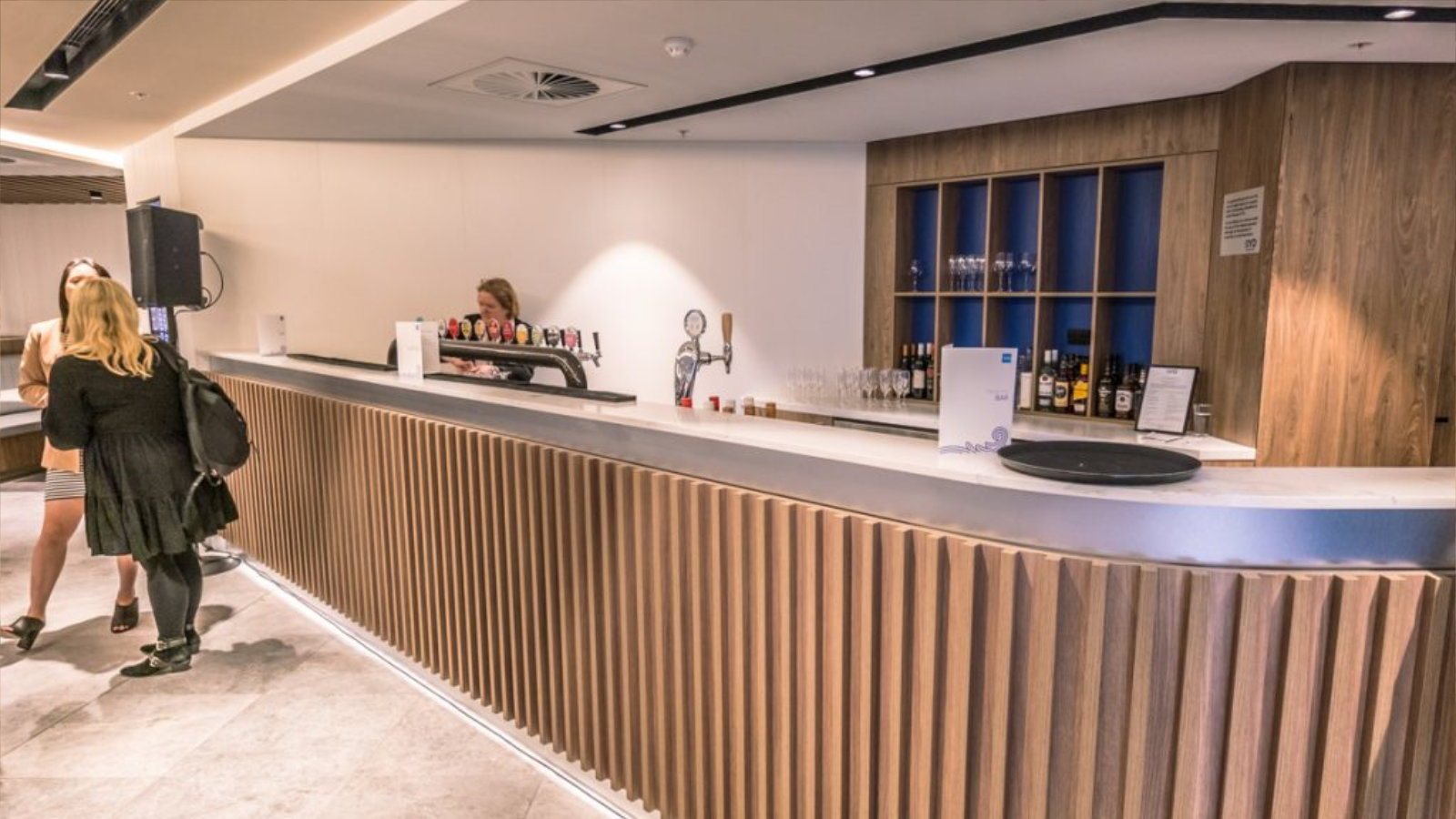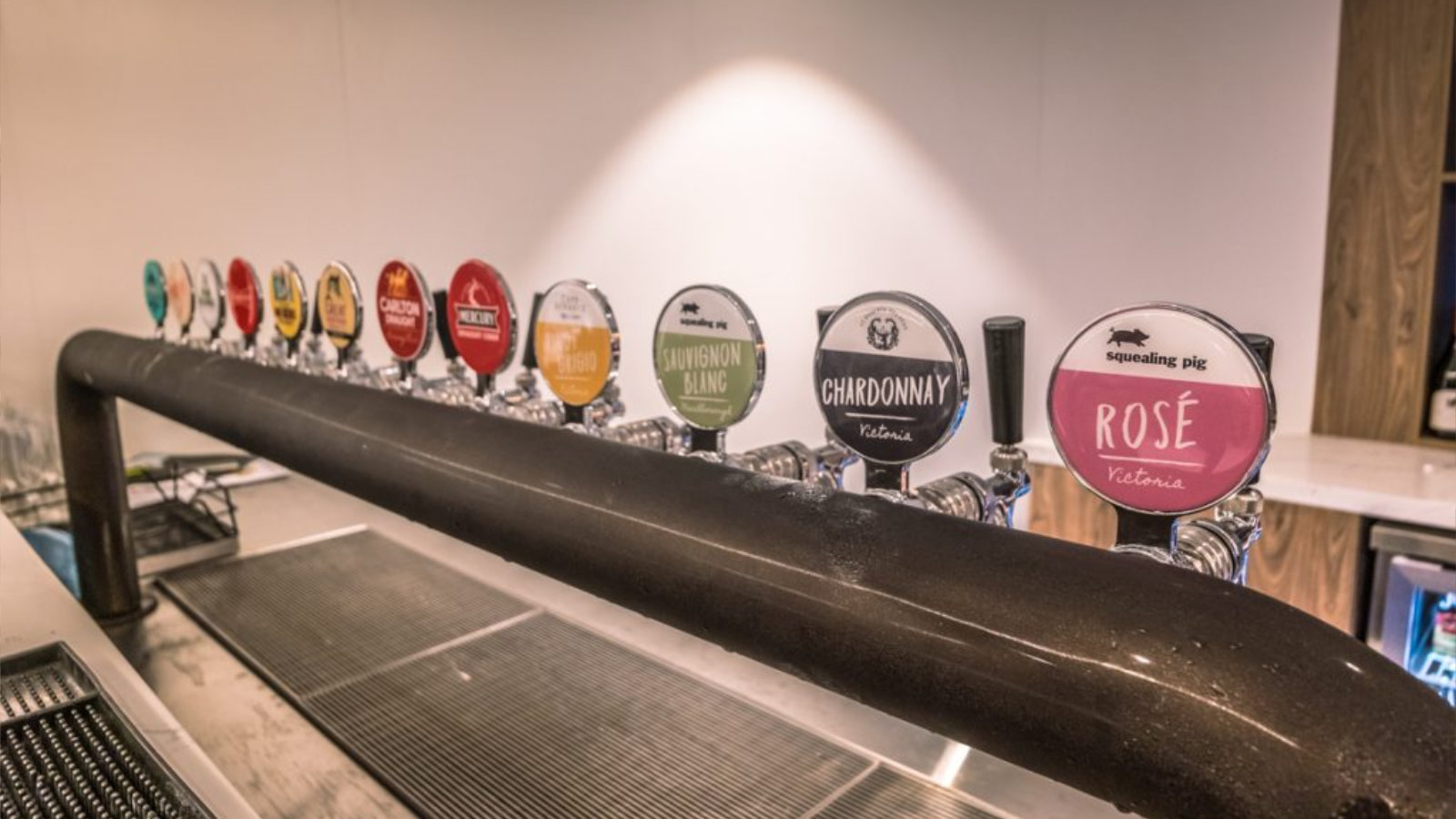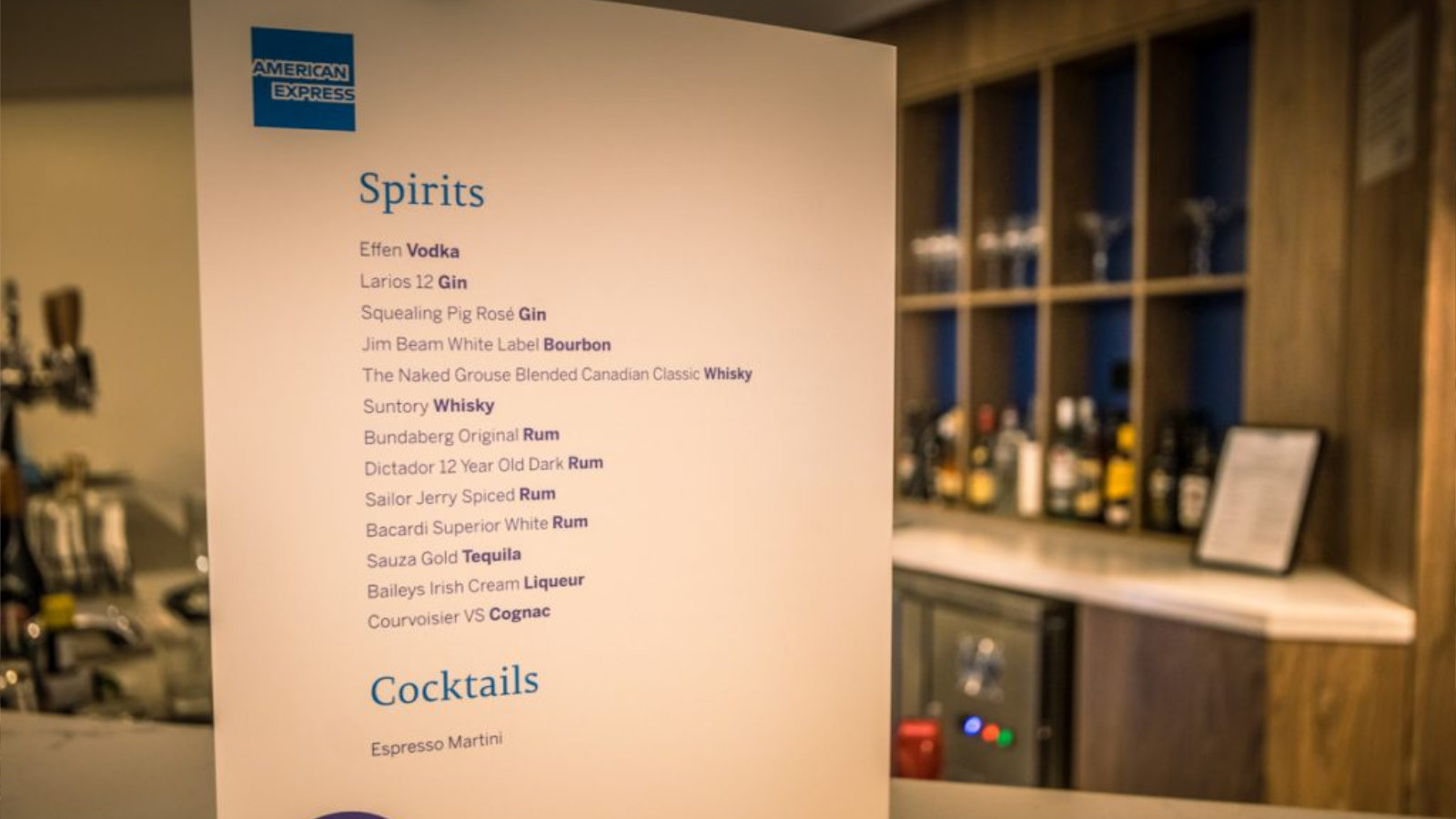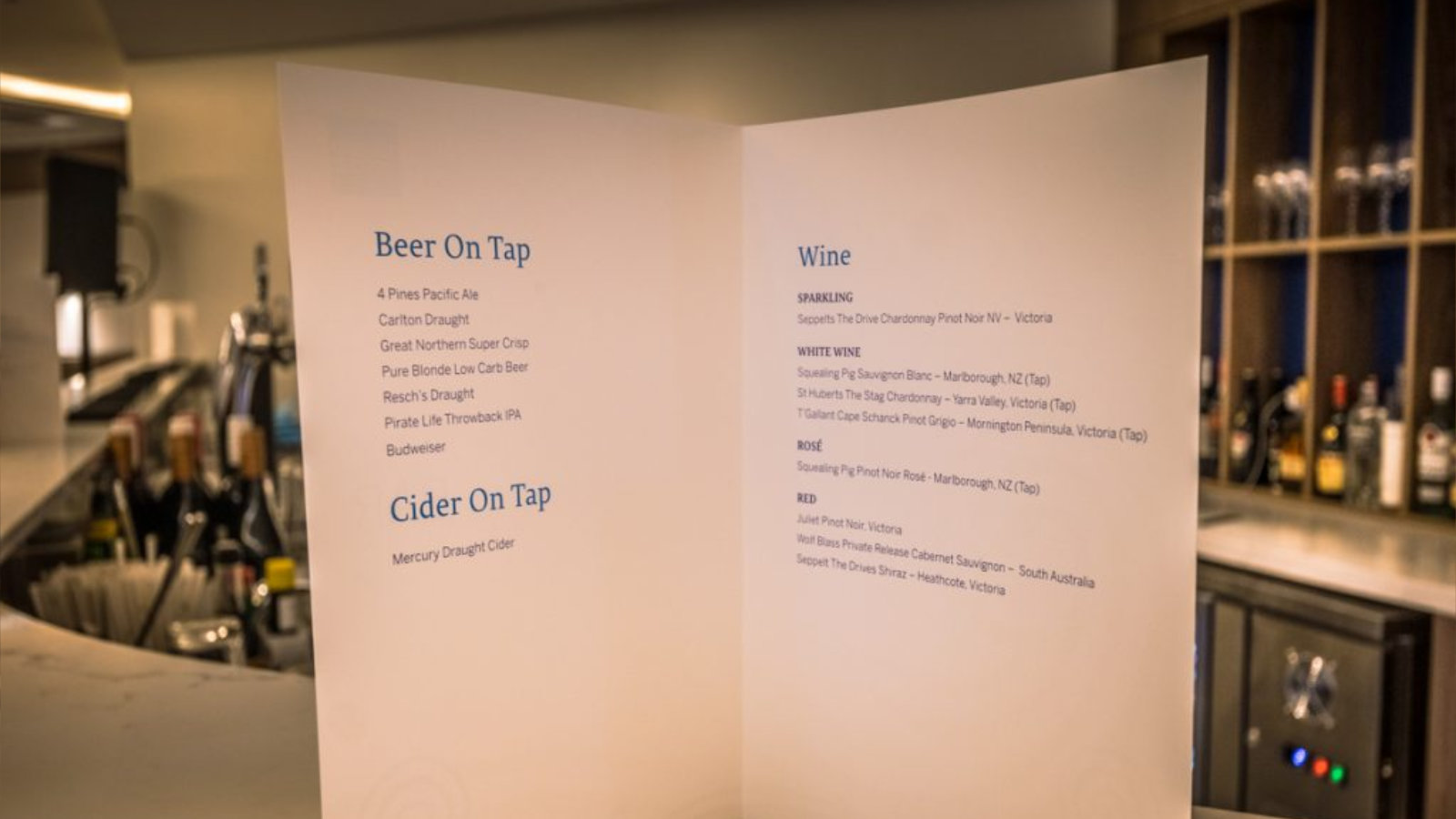 Barista-brewed coffee is available from the bar.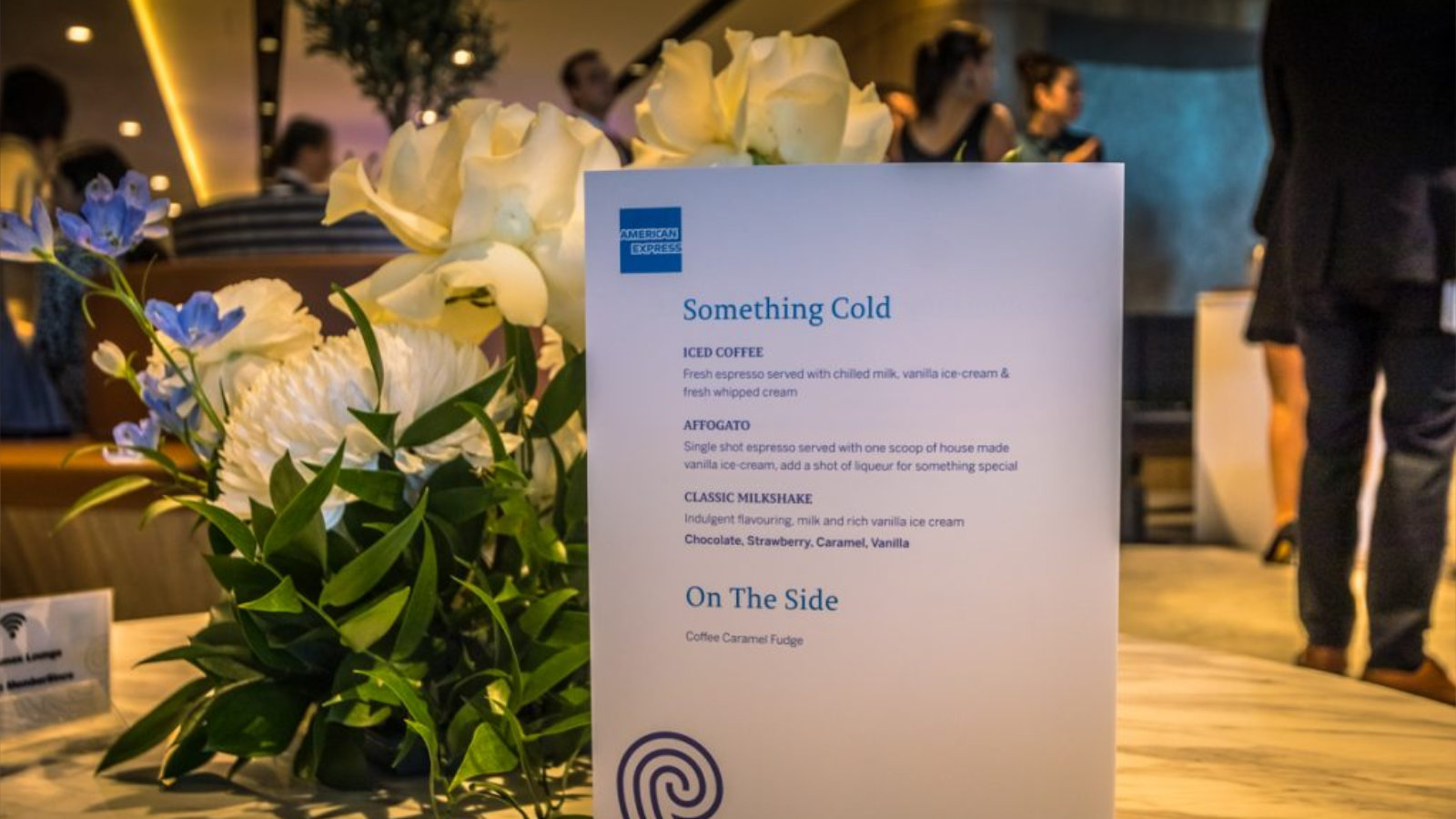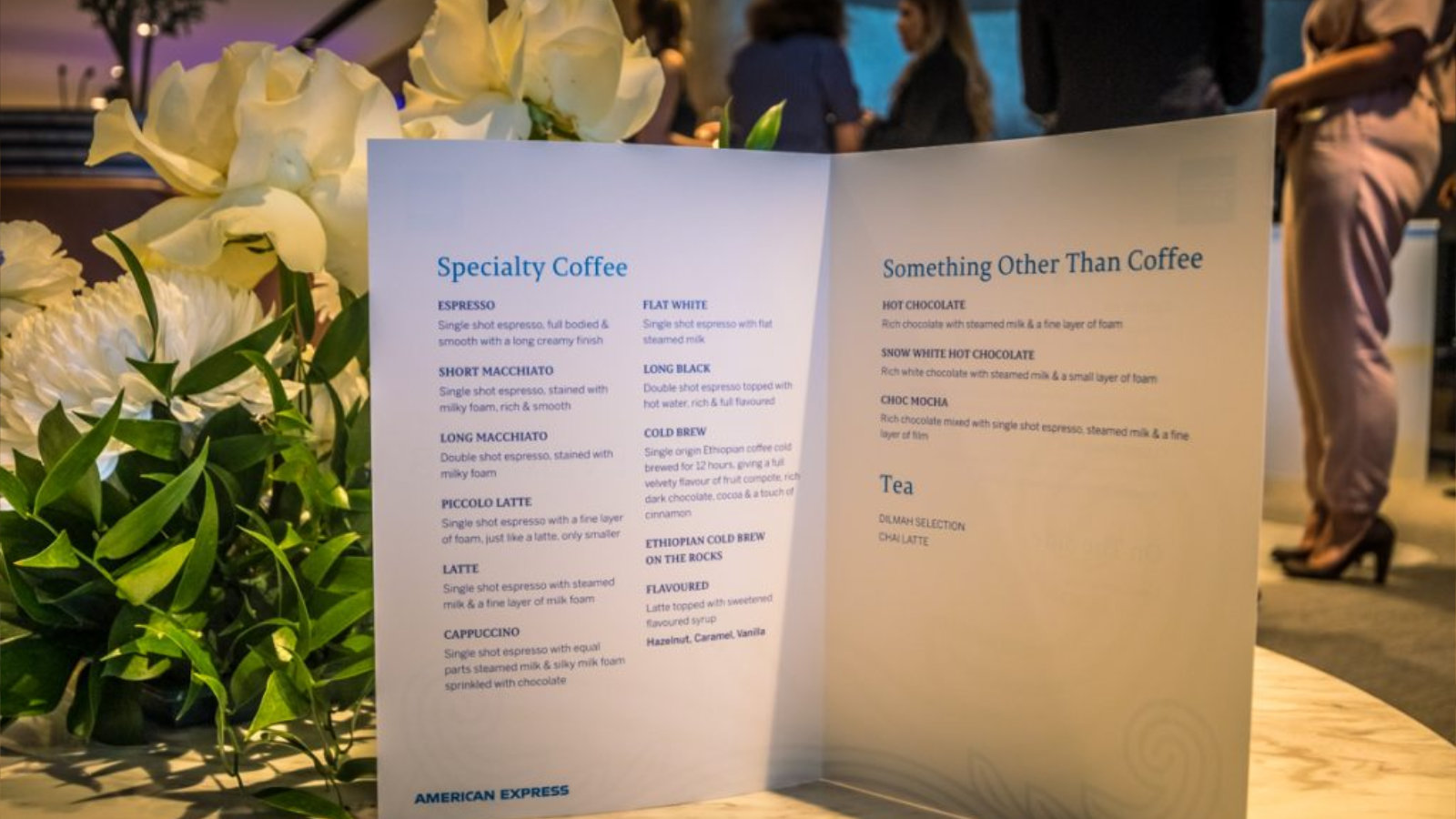 Amenities
Setting the new Amex lounge apart from its predecessor is the inclusion of shower suites. There are three of them in total and all come stocked with L'Occitane en Provence products.
Local Australian interior design firm, IA Design, worked with local artists to create bespoke wall decals for both the male and female bathrooms that feature Sydney-inspired imagery.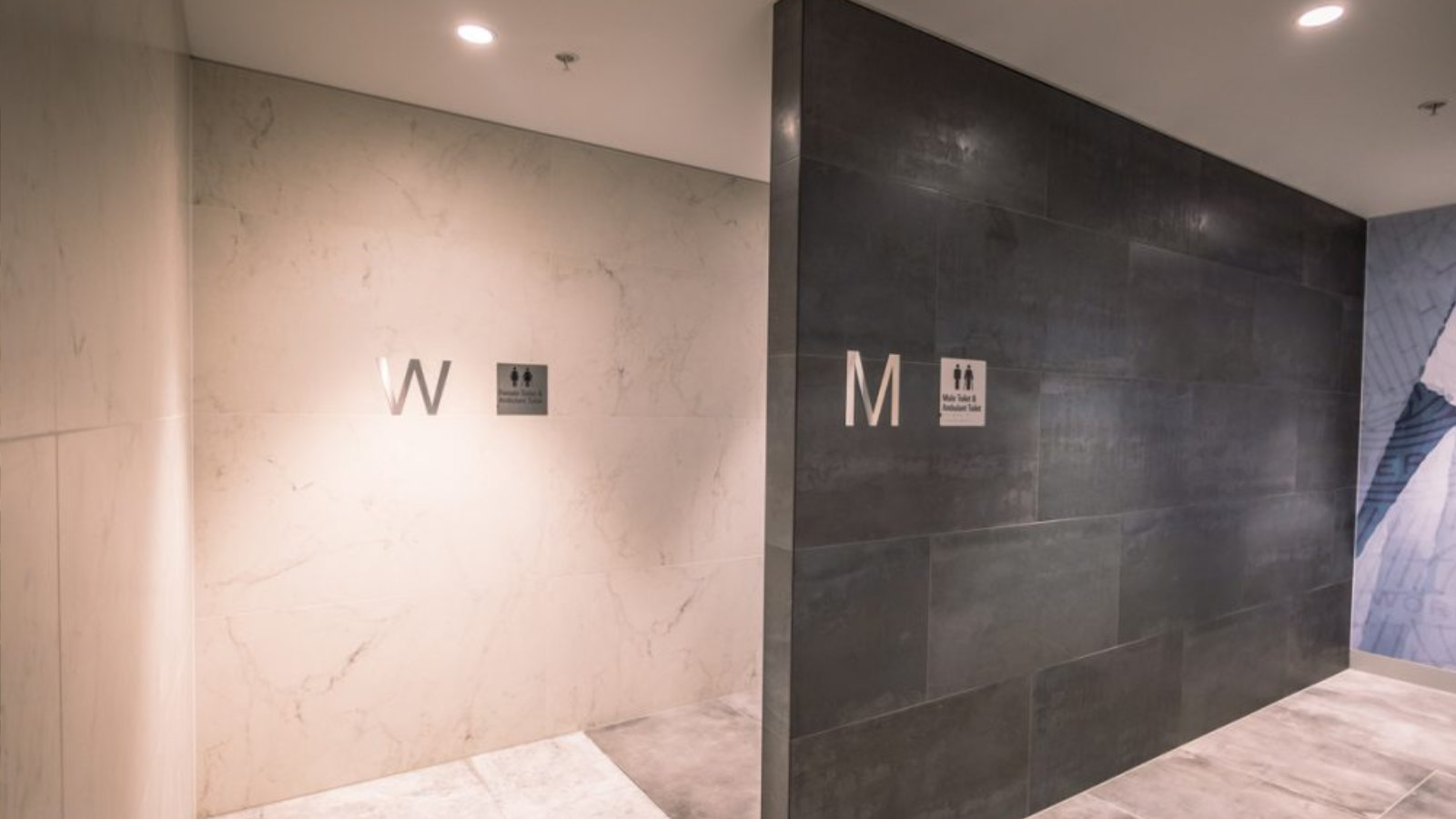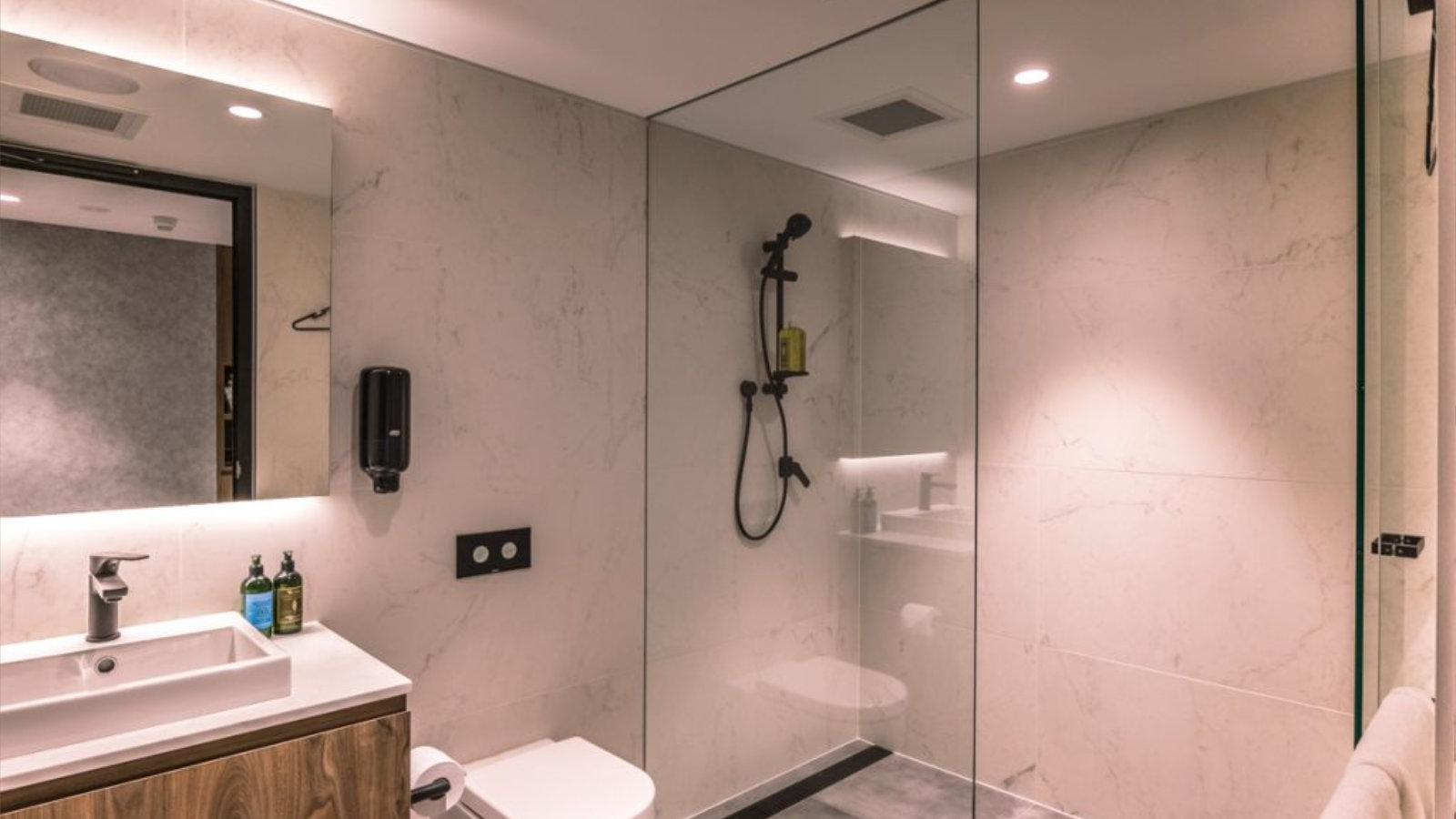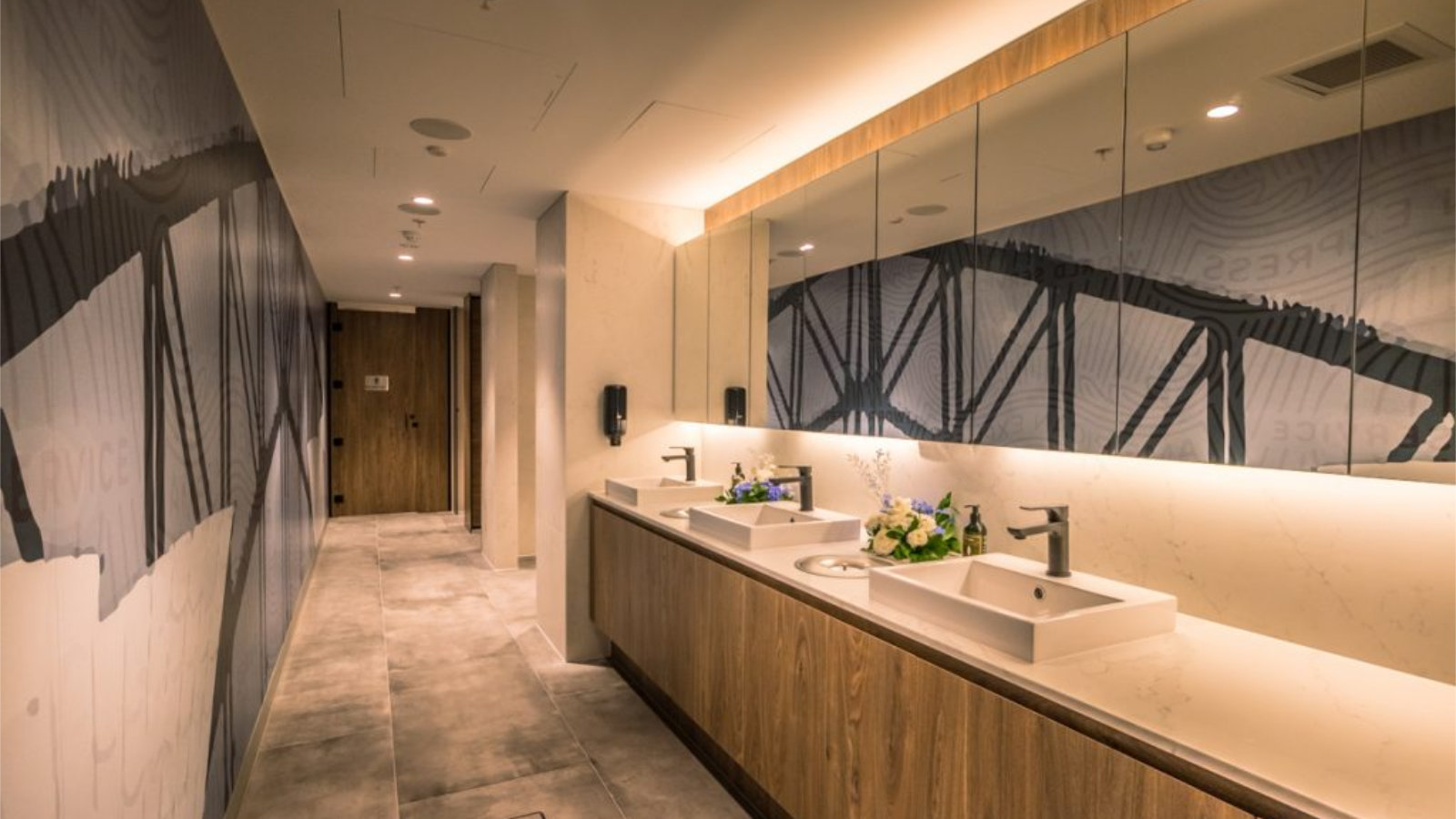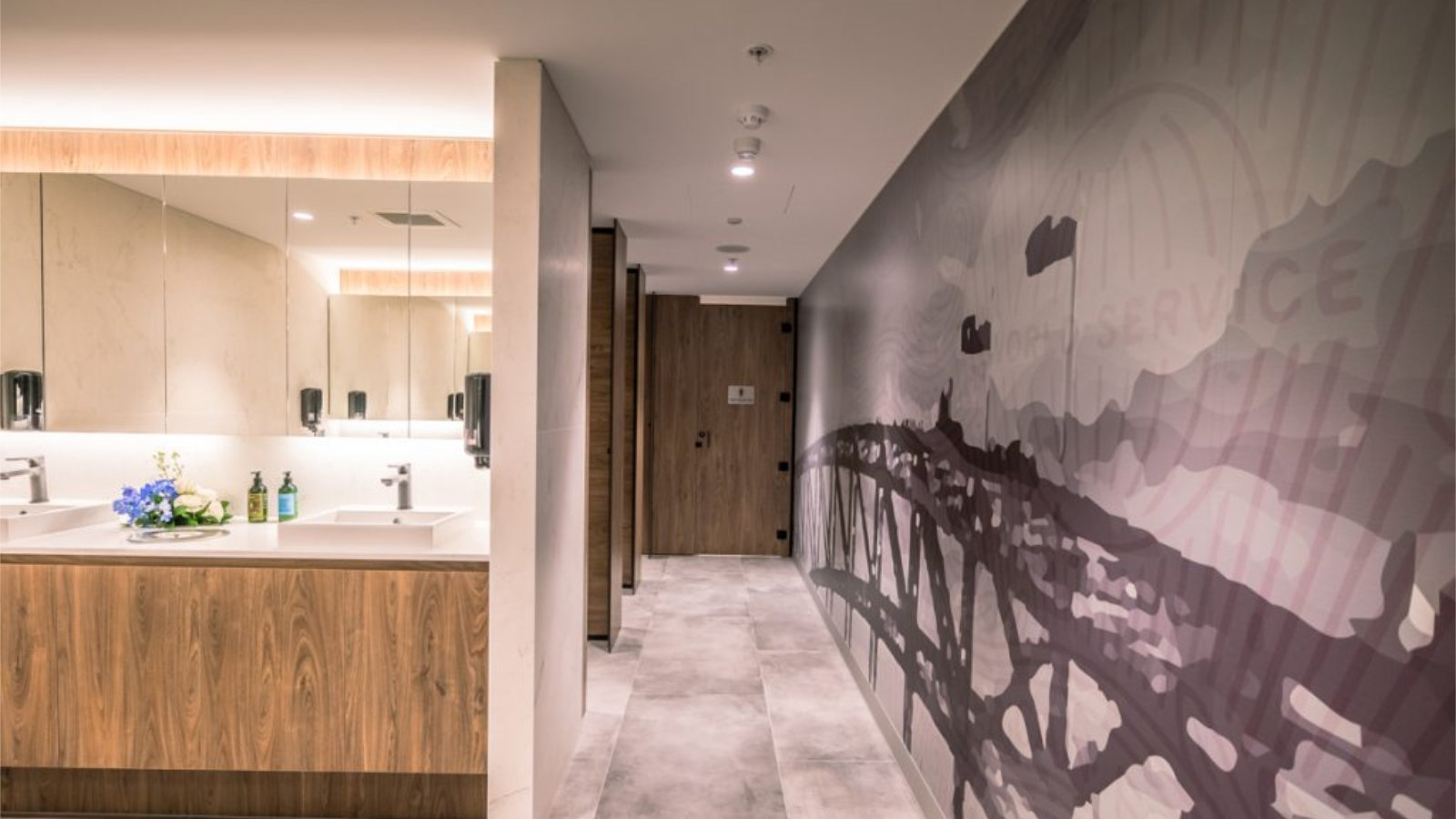 Fast and free WiFi is available throughout the lounge. We clocked the speeds at 53 Mbps down and 58 Mbps up, with a ping of just 5ms. That's plenty of bandwidth for everyone.
Lounge Access Options
Card Members with the following cards can access this lounge on an unlimited basis:
American Express Centurion Card
Card Members are entitled to bring their children between the ages of 0-17 and up to the two guests into the lounge. If you have one of the following cards, you are also entitled to two complimentary lounge entries per calendar year:
American Express Platinum Corporate Card
American Express Platinum Reserve Credit Card
Qantas American Express Corporate Platinum Card
COVID-19: Do you have Amex lounge passes that are due to expire? American Express will continue to extend the expiry of those passes.
Summing up: our take
American Express, in conjunction with Plaza Premium and its design partners, have done a brilliant job to deliver a new lounge experience for its Card Members at Sydney International airport. The natural and neutral tones used throughout make it an inviting and pleasant lounge to spend time in before your flight and the choice of three spaces gives travellers the opportunity to dine, relax or socialise.
Some guests may miss the more expansive views from the old lounge. However, others like myself won't miss sitting in the old lounge with the summer afternoon sun belting in and turning it into a pseudo-bikram yoga studio.
Overall, American Express and its partners have done a great job with its new lounge in Sydney. Card Members and their guests will definitely appreciate the extra space and increased capacity, the larger bar with more beverage options, higher quality food, shower facilities and power points located everywhere you look. It now seriously competes with other airline lounges.
What's good
Three times the size of the old lounge
Tendered bar
Live cooking station
What's not
Possibly a longer walk to your gate
Reduced tarmac views compared to old lounge
Updates by Brandon Loo.
American Express Centurion Lounge, Sydney
was last modified:
February 18th, 2022
by