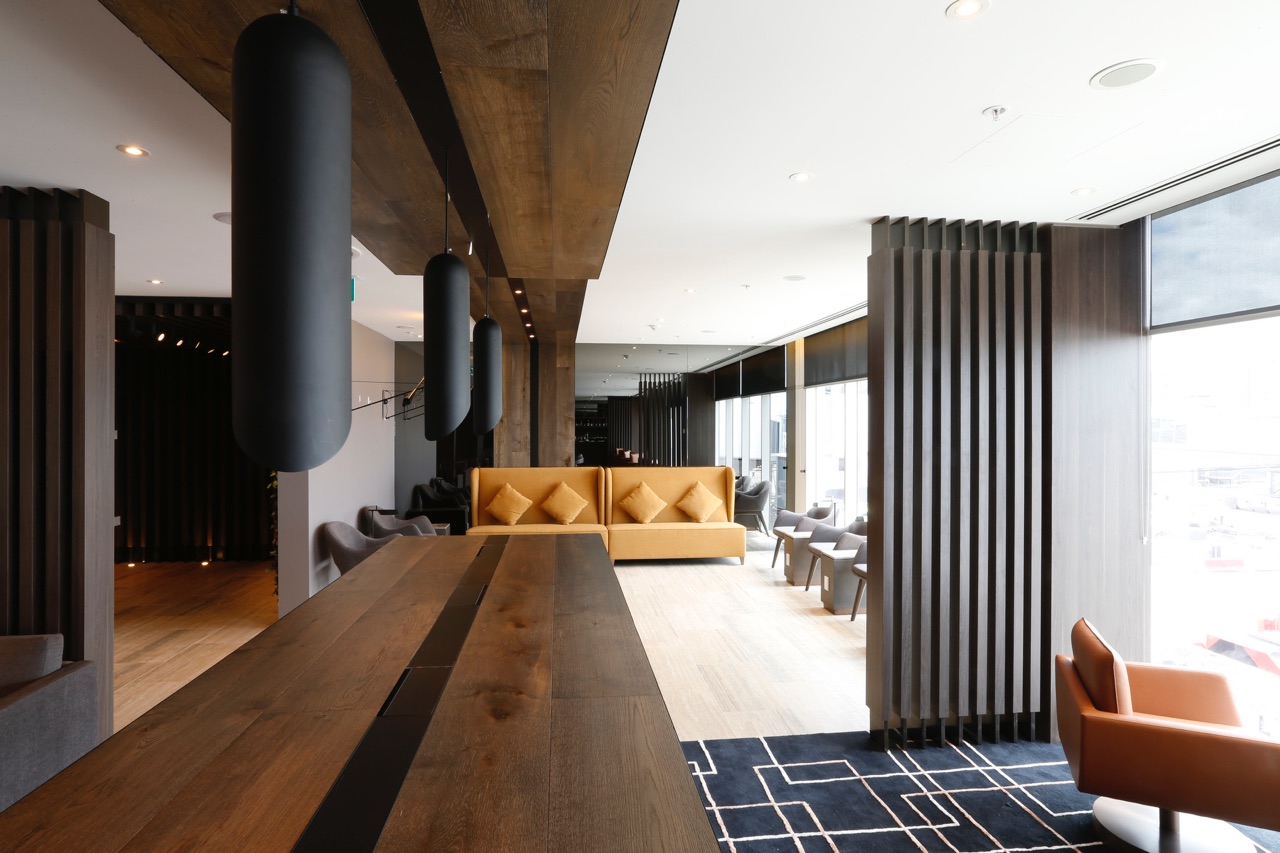 I first visited the American Express-branded lounge at Sydney International Terminal 1 when it opened back in 2015. Since then, the Point Hacks team has gotten to visit the Amex lounge a number of times, so we've updated this guide with new photos, a wifi speed test and a comparison with the SkyTeam Lounge next door.
There is a range of American Express cards on the market that will offer you access to the lounge, which is a really solid perk, so for Sydney residents who are premium American Express cardholders (or anyone who has to travel through Sydney International a lot), this is a nice benefit.
I also got the chance to chat with the Product Manager at American Express who was responsible for launching the lounge about how it came about. In this guide, there's a mix of American Express-supplied images along with my own photos, and I'll give you my take on the lounge too.
Lounge Details
The lounge is open every day from 6am until 11pm.
Both the download and upload speeds using the wifi connection are excellent:
Lounge Location
It's close to gate 24, which is fairly central in the terminal complex, another few minutes' walk beyond the Qantas Business and First lounges.
Located right next to each other and operated by the same company, Plaza Premium, you might want to read our comparison of the two lounges in our review of the SkyTeam Sydney Lounge if you are flying a SkyTeam carrier.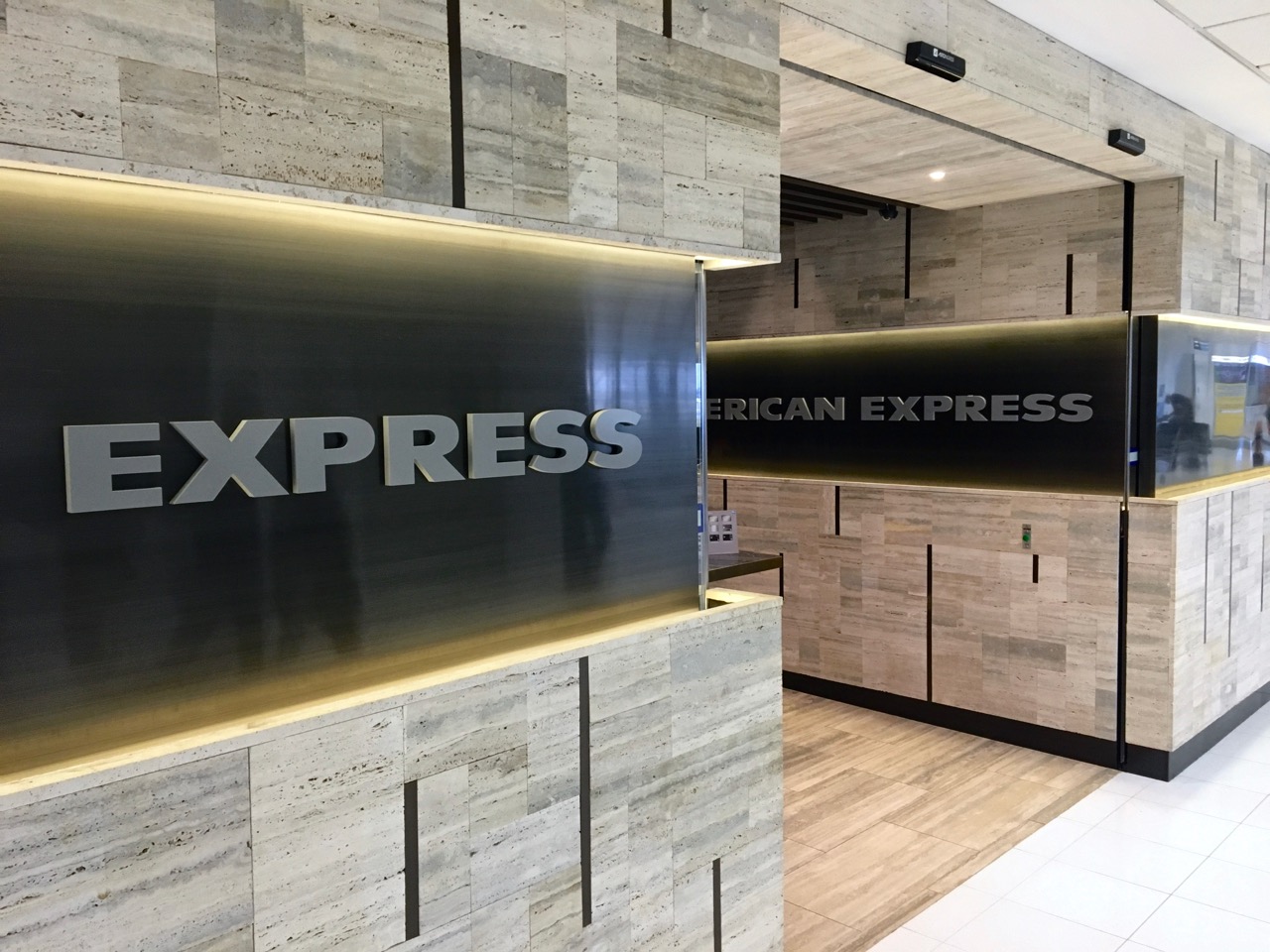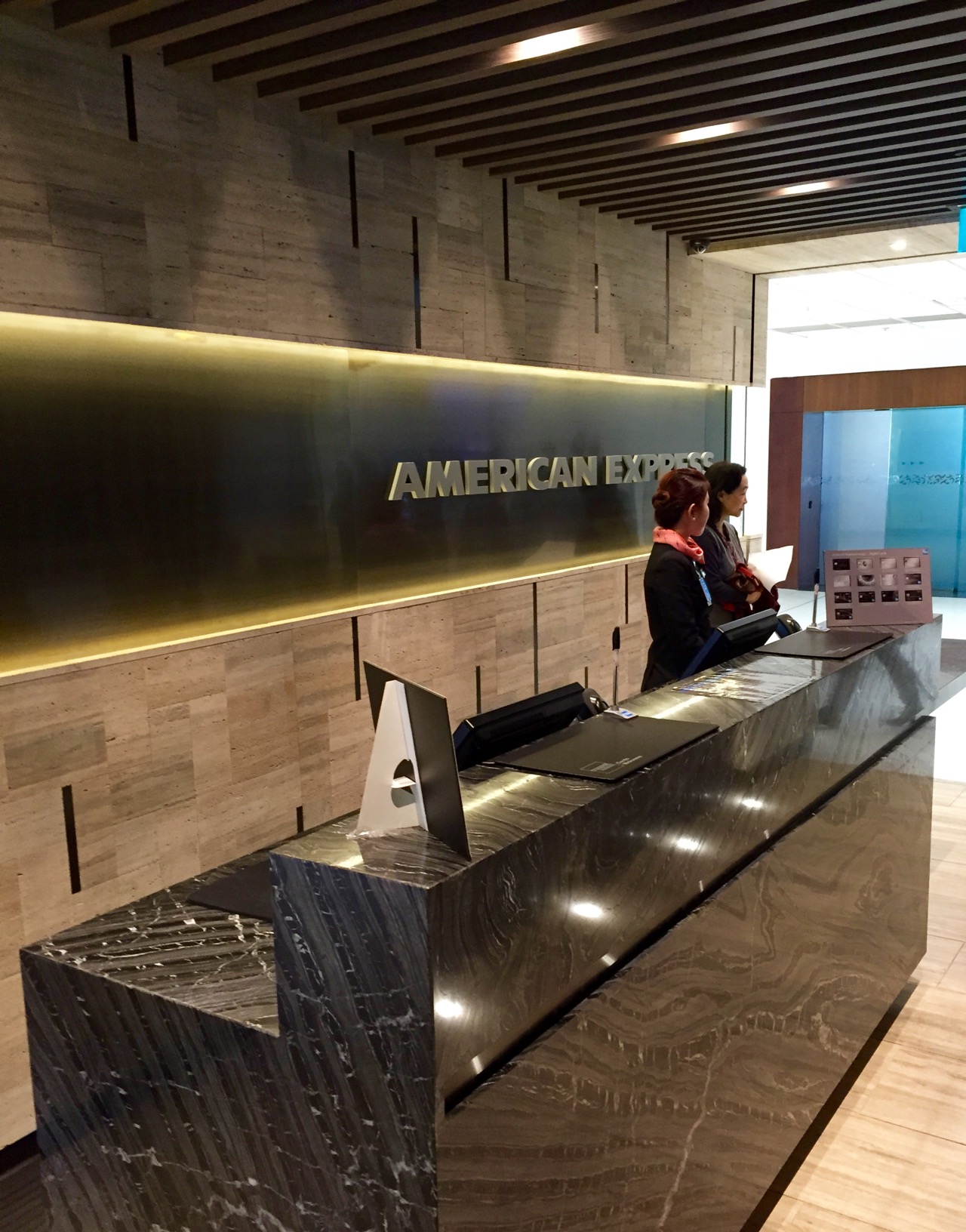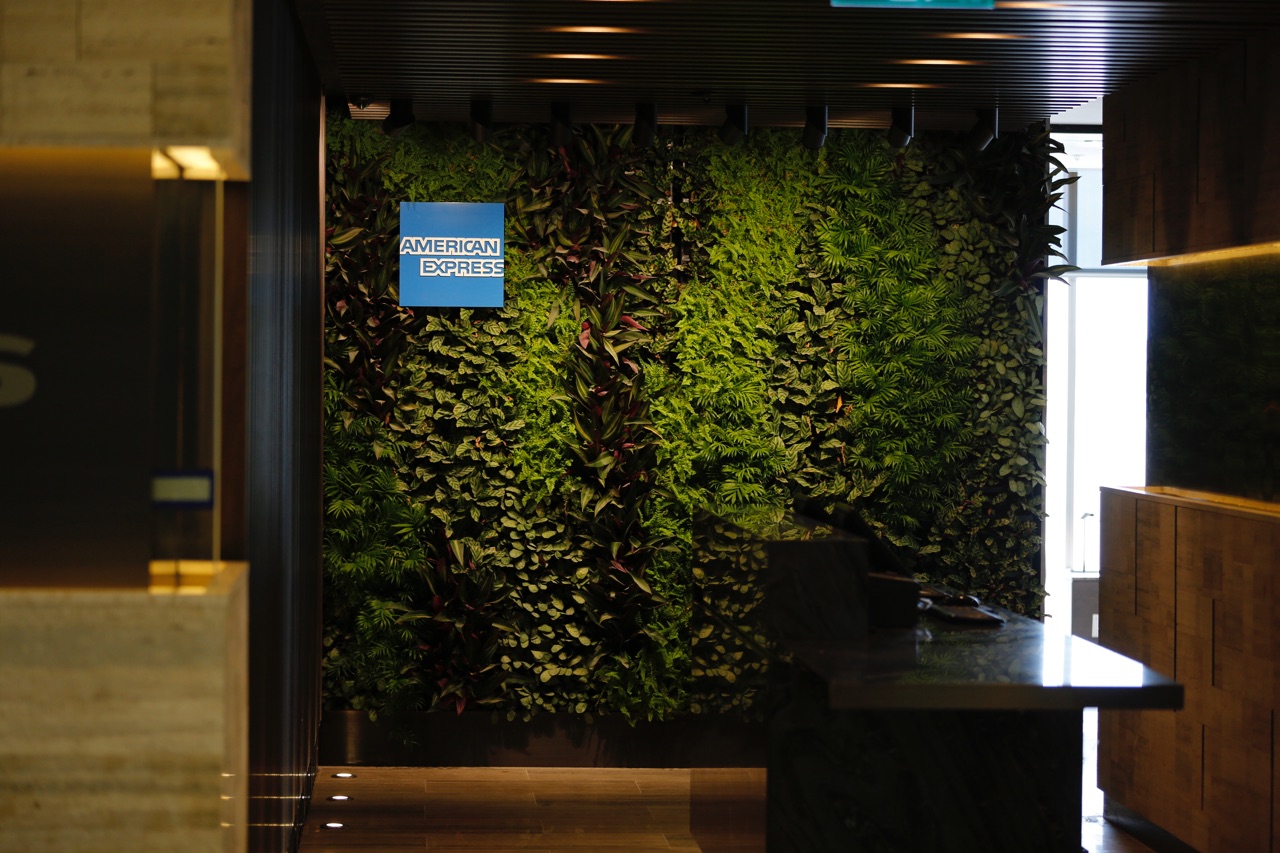 At the entrance, there's a green wall which helps set the tone for the design of the interior.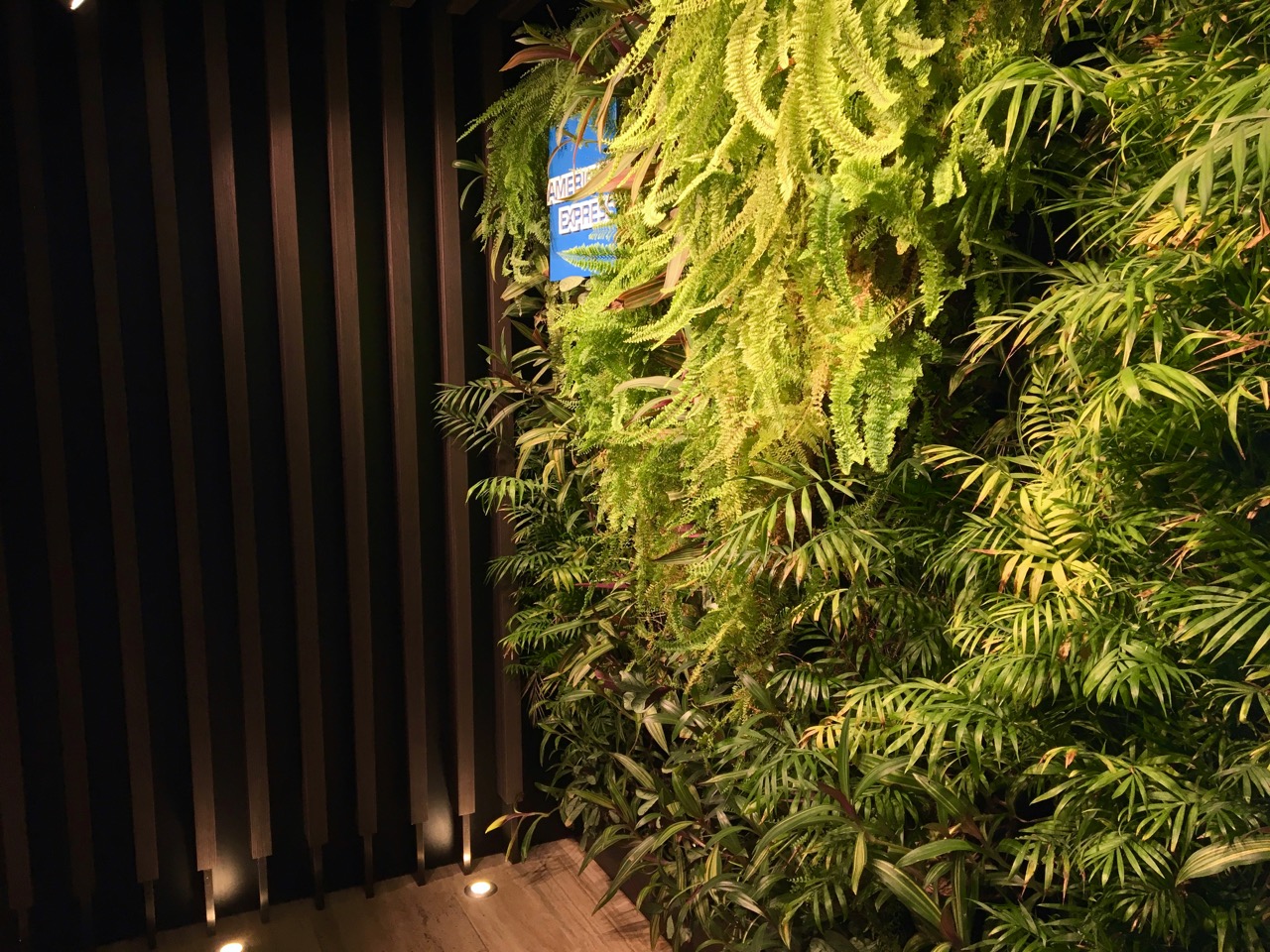 Lounge Seating
The lounge is split down the centre, with a long bar and high seating.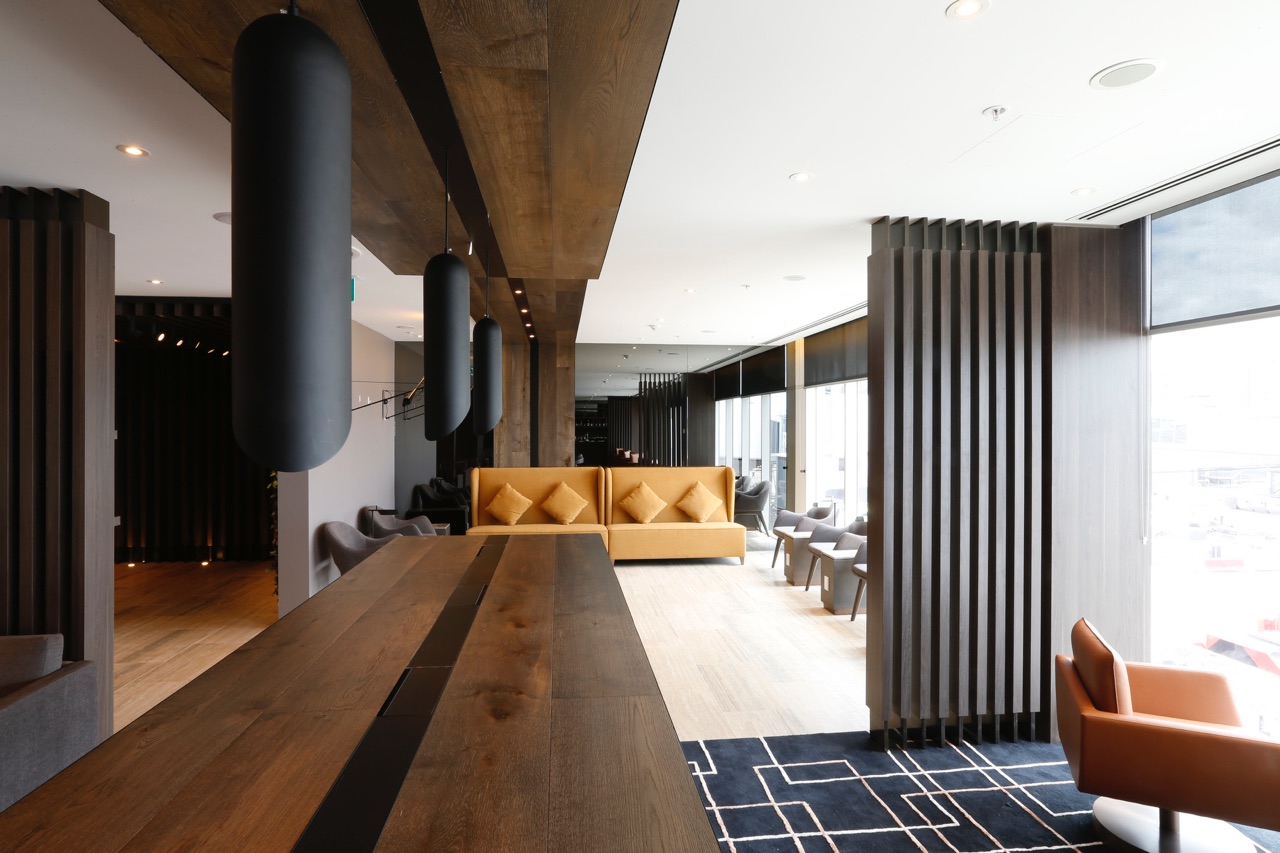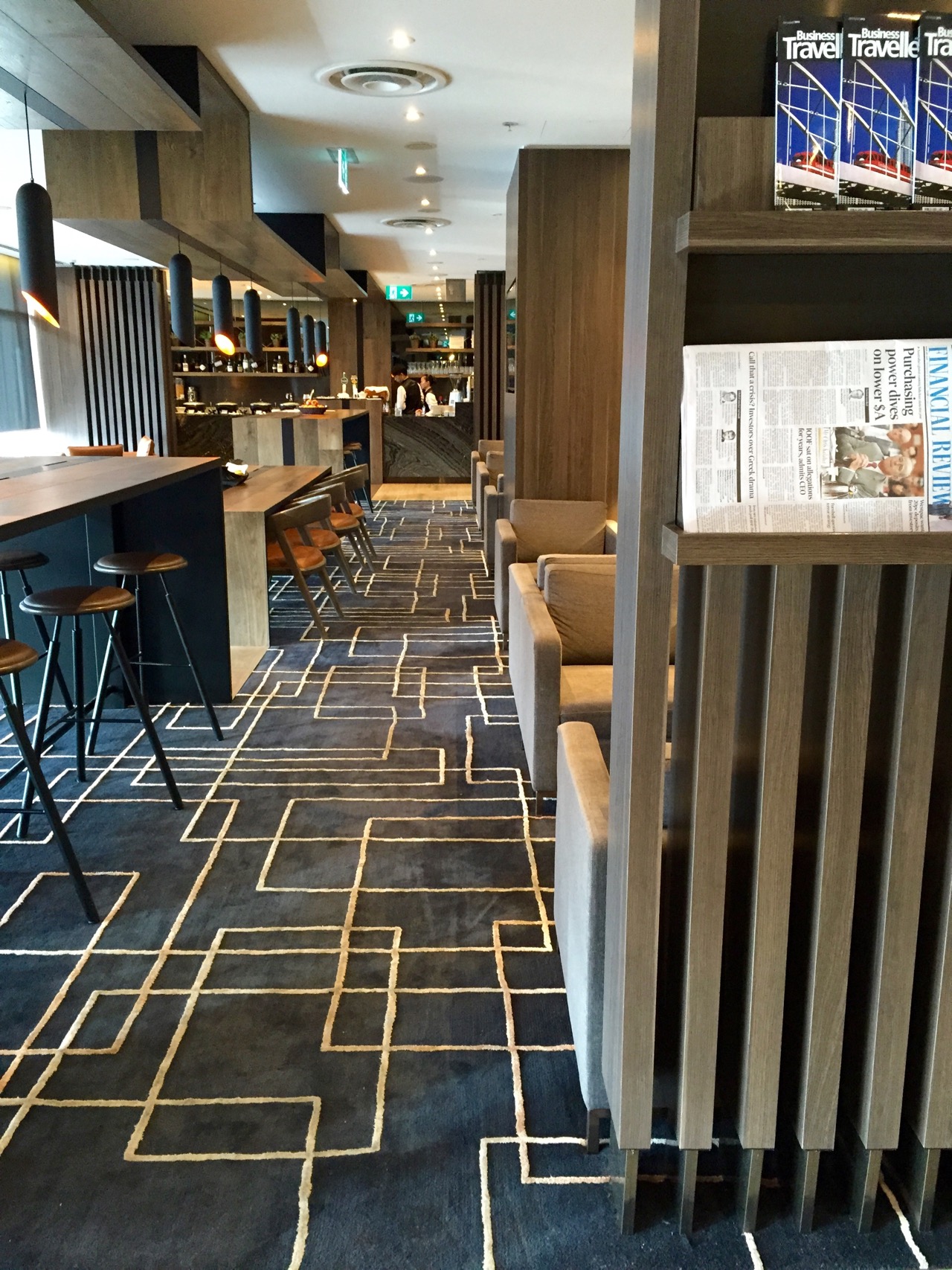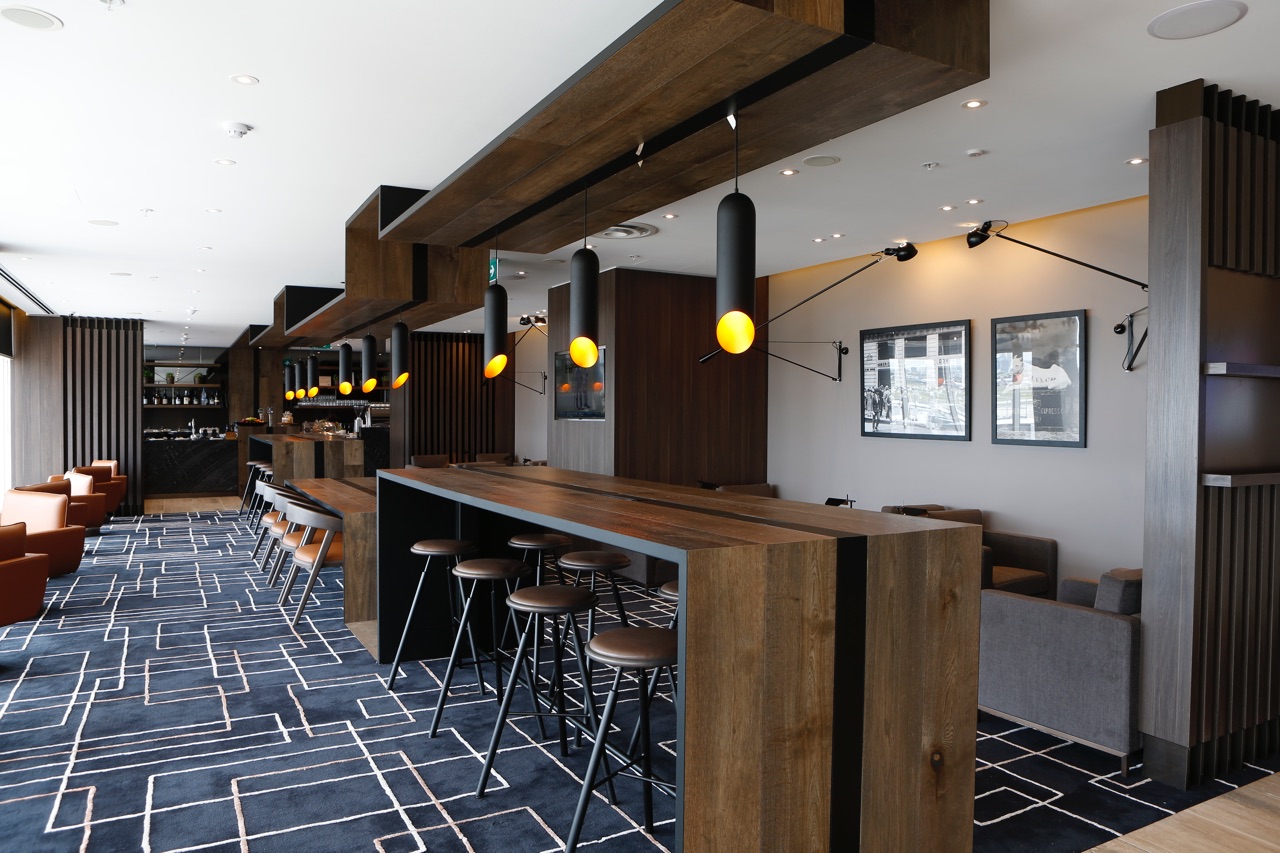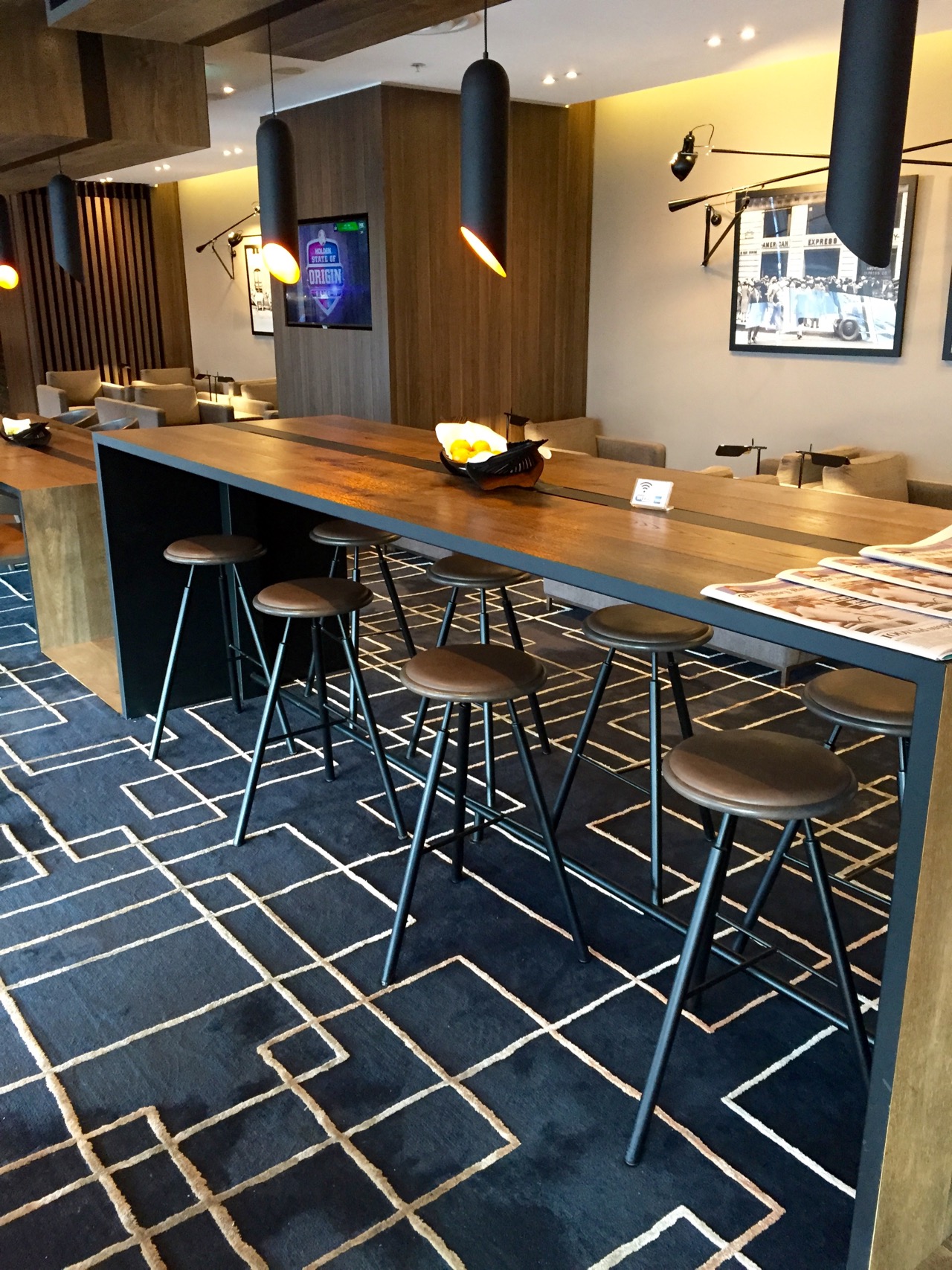 Otherwise there's some low comfortable seating against the far wall.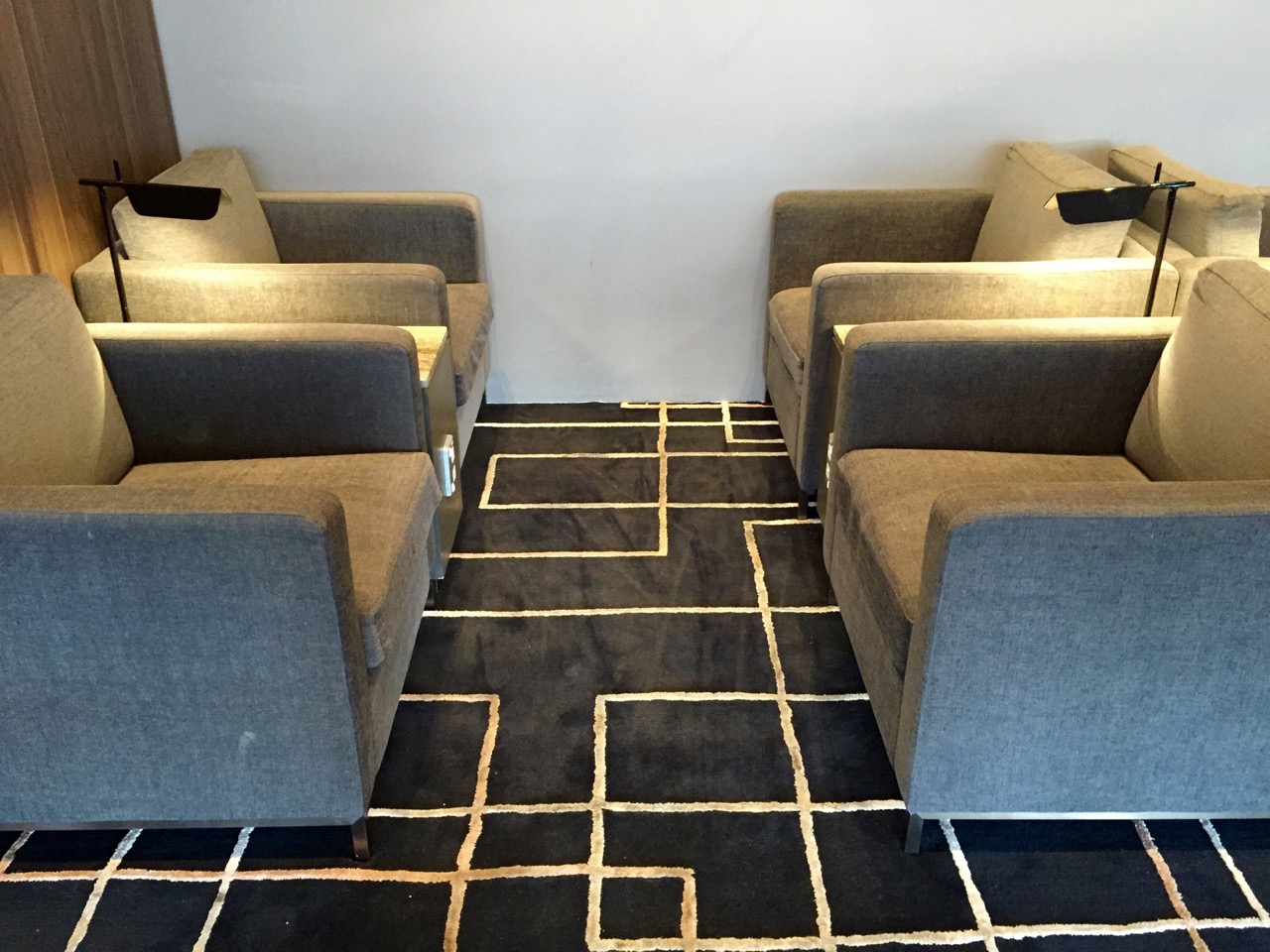 Along with outward facing window seats for those who want to soak up the view.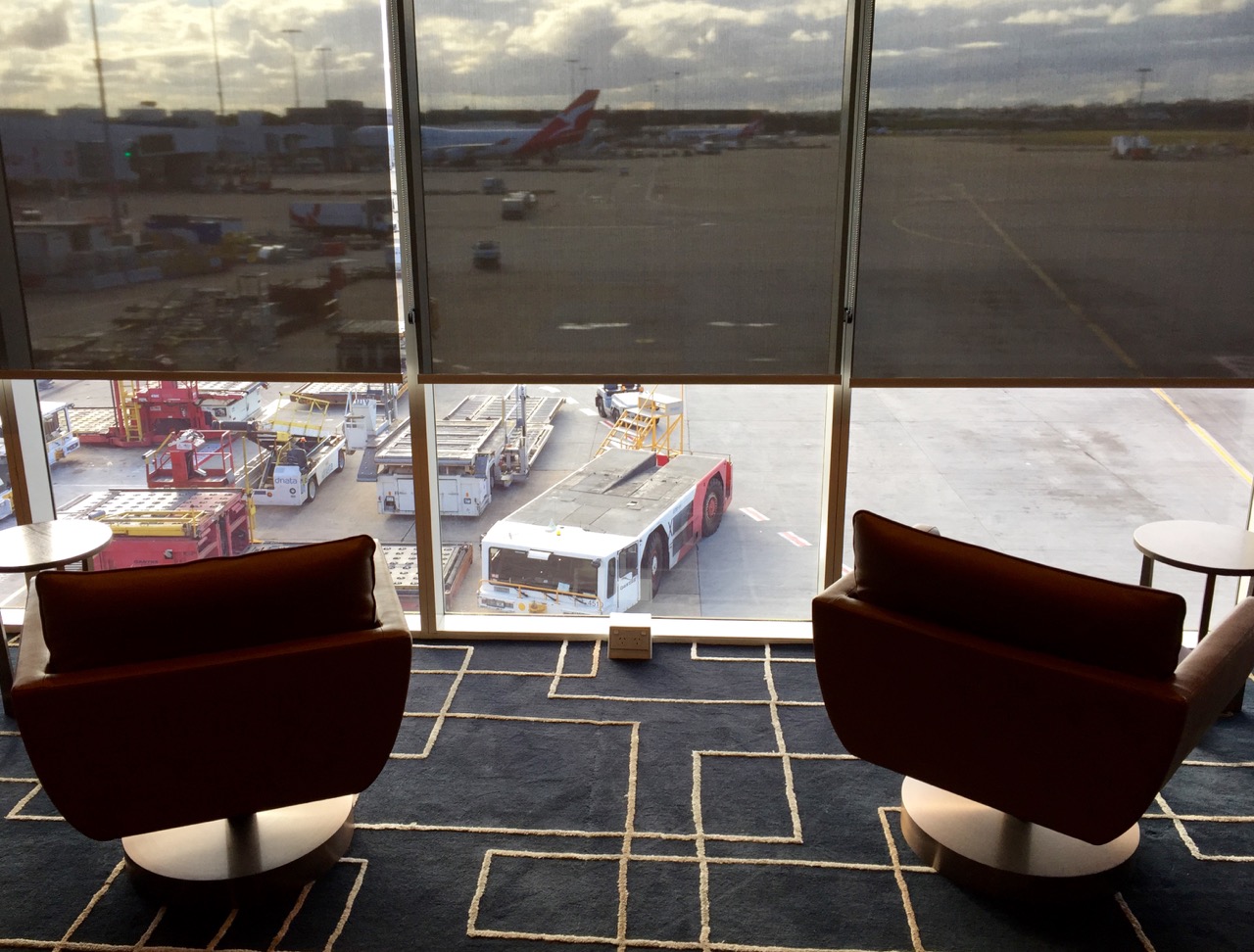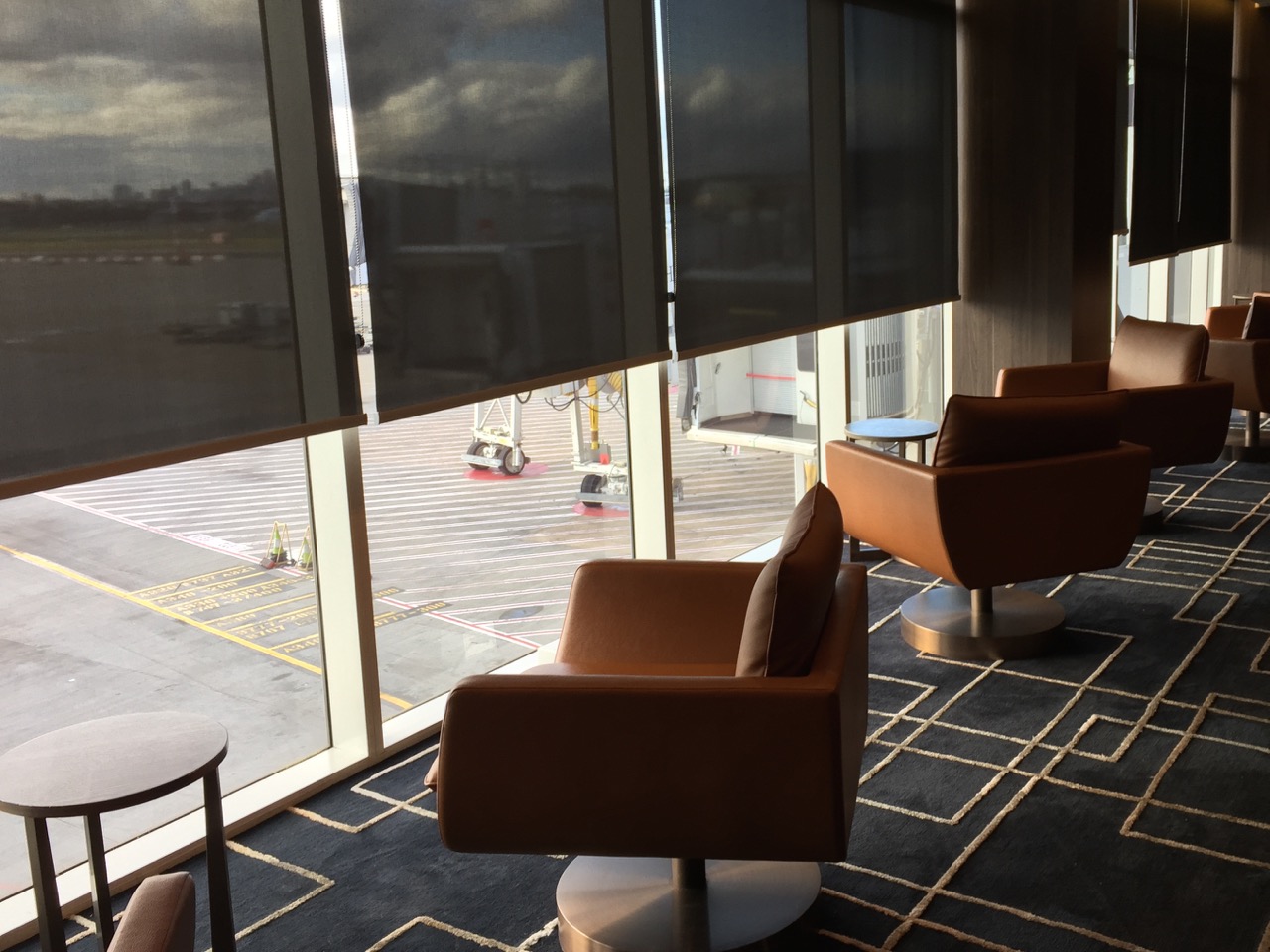 There are also window side seats that are inward-facing.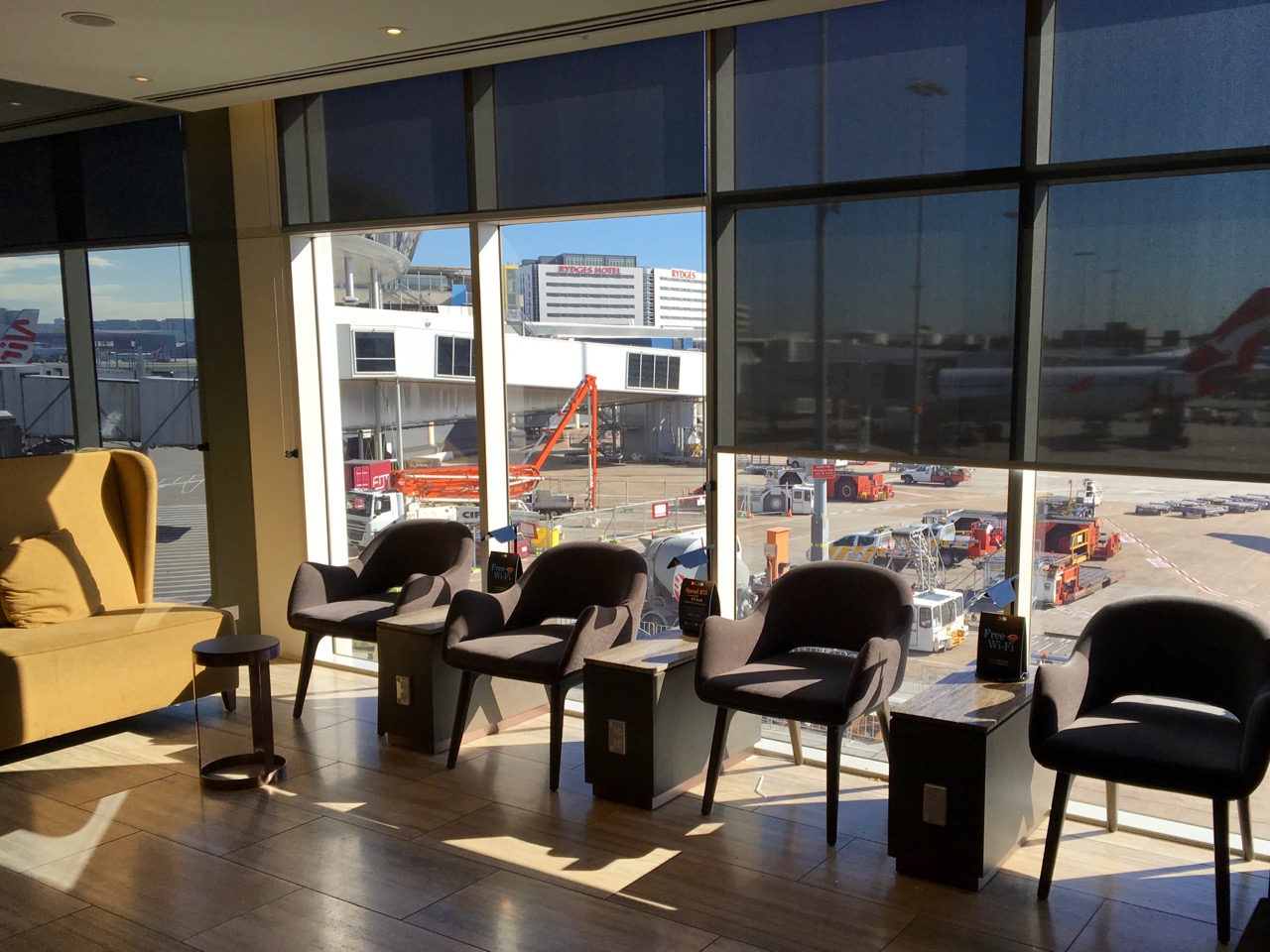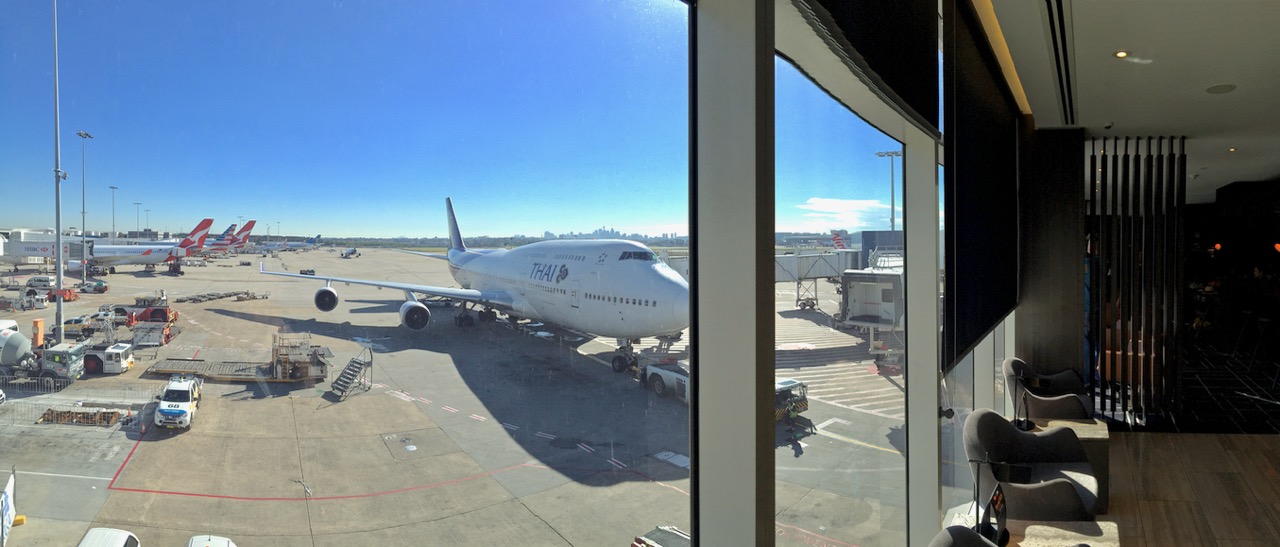 Food & Drink
In terms of food and drink, there's a barista service, well stocked bar, and a range of food options throughout the day.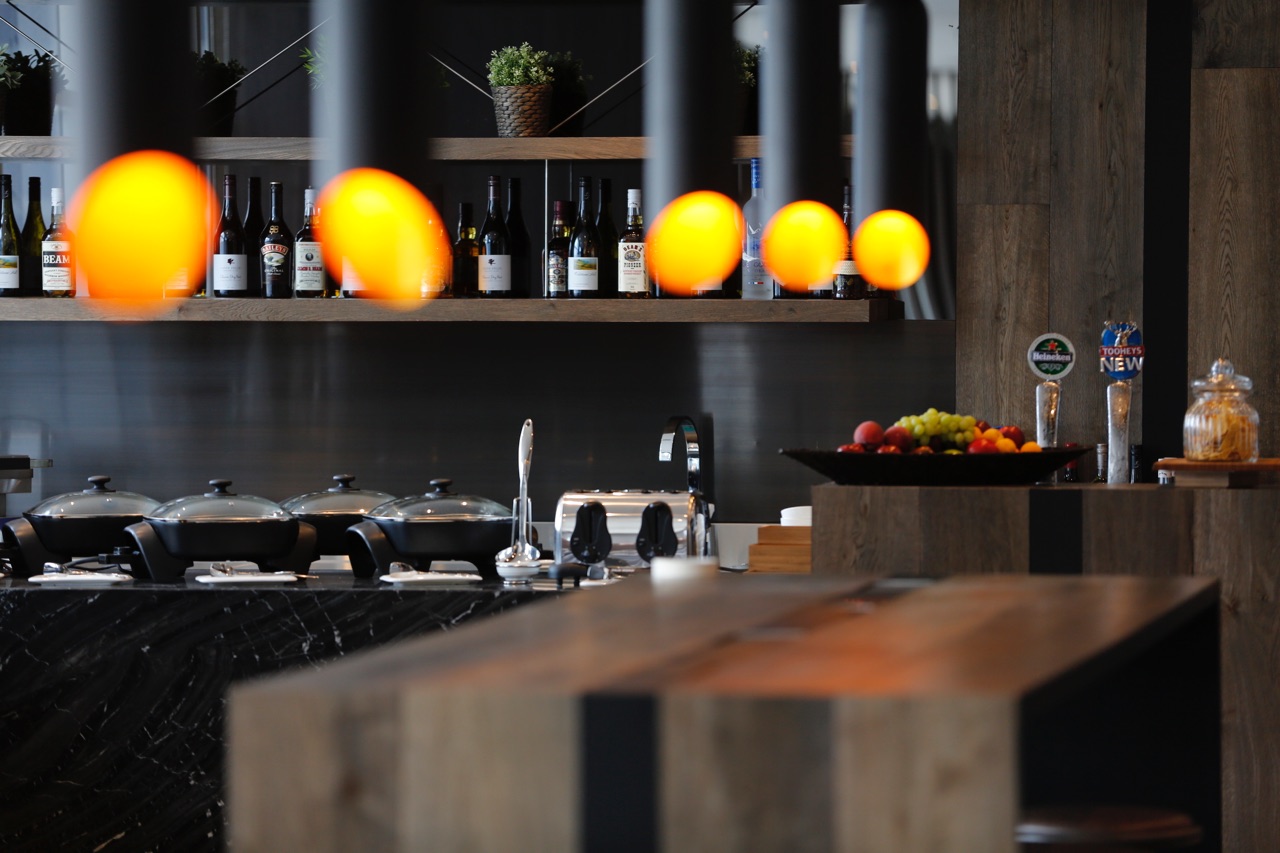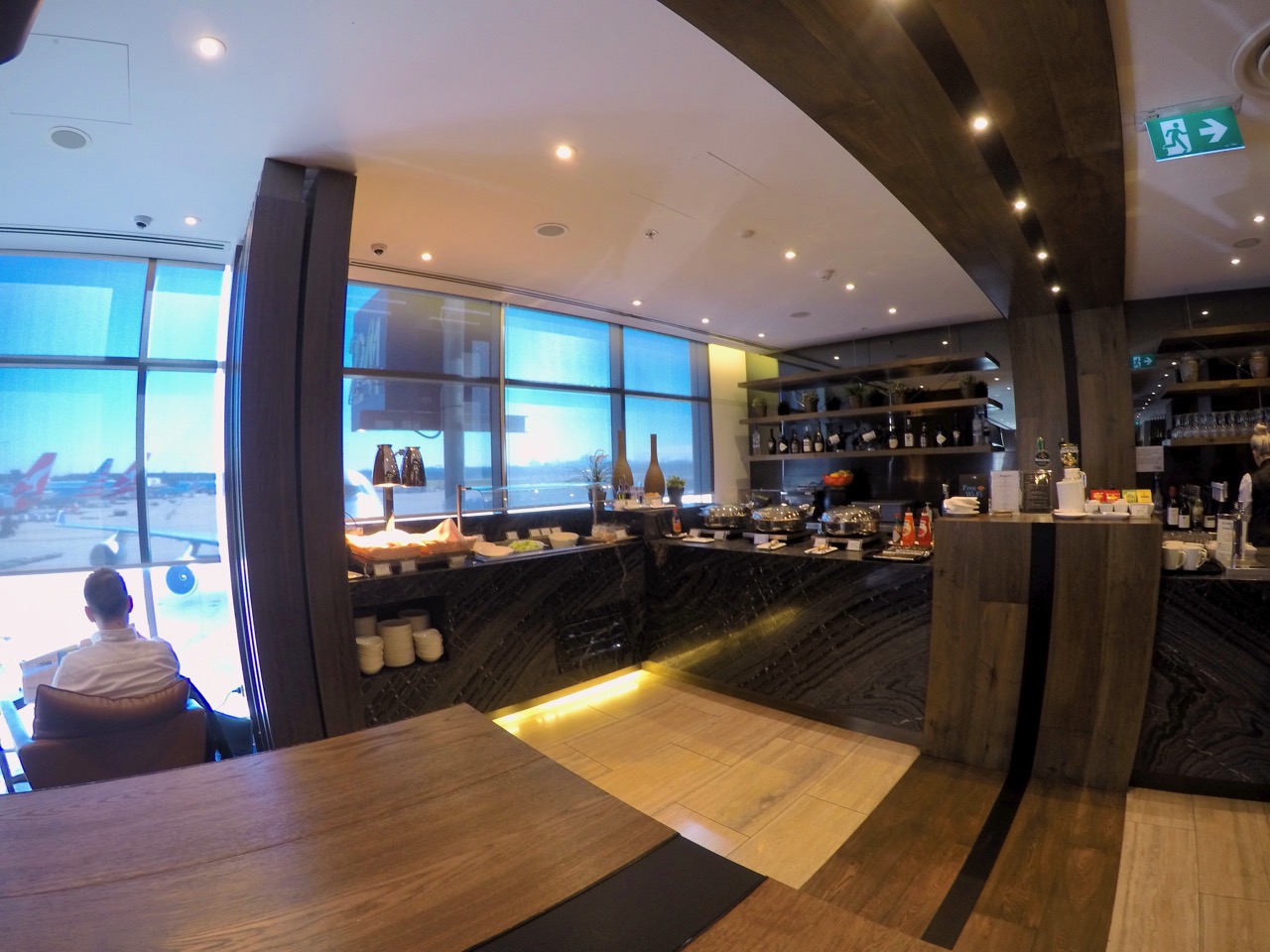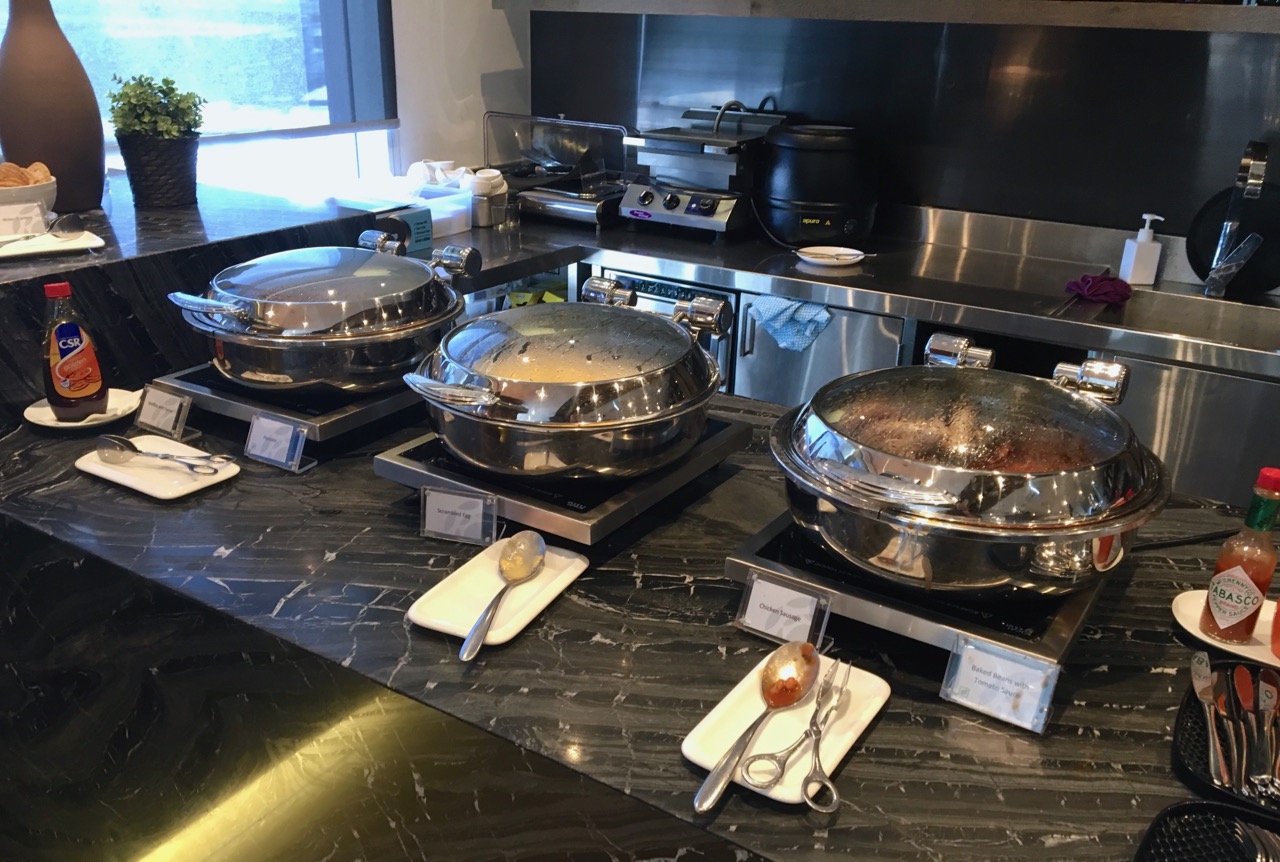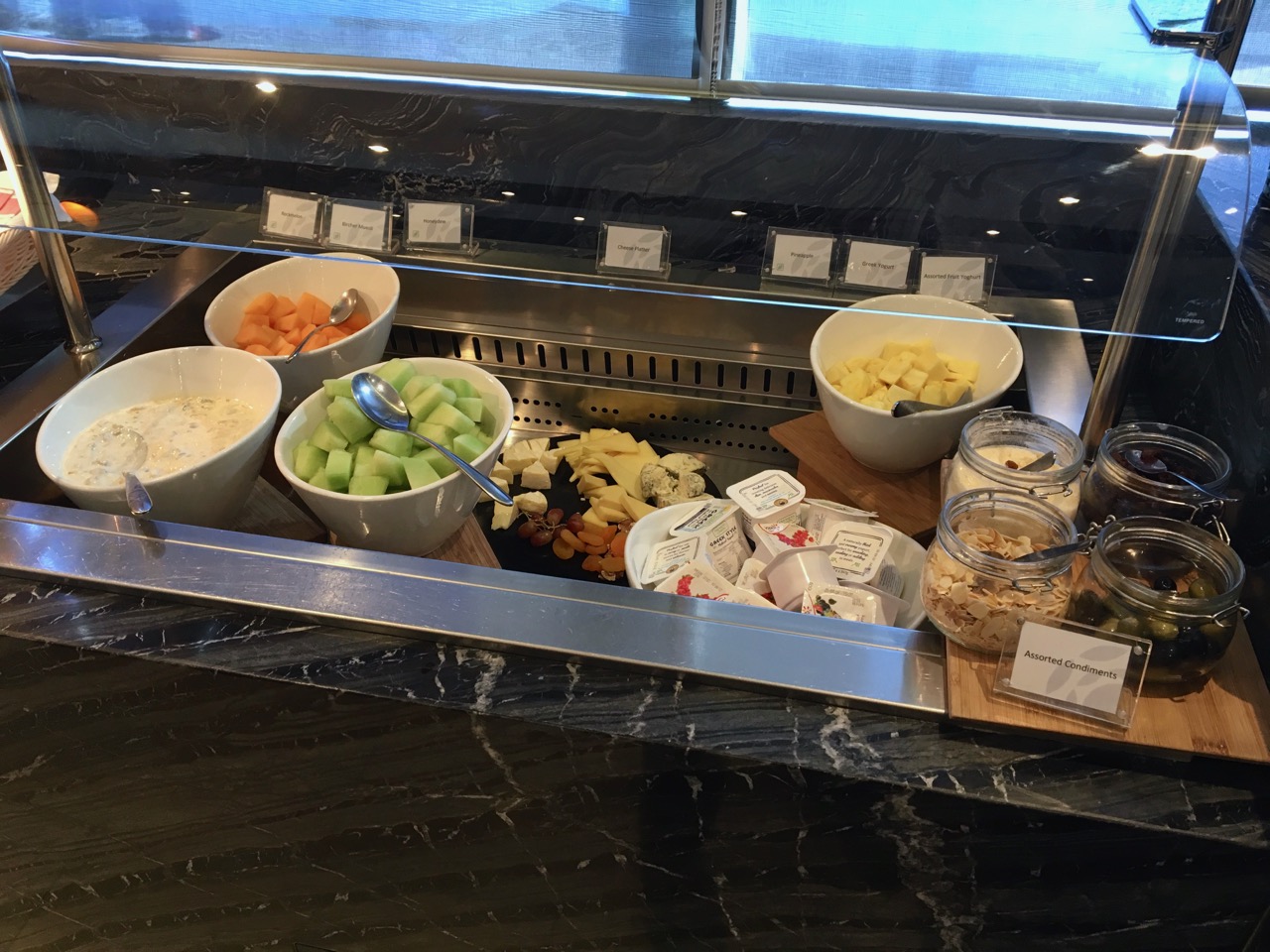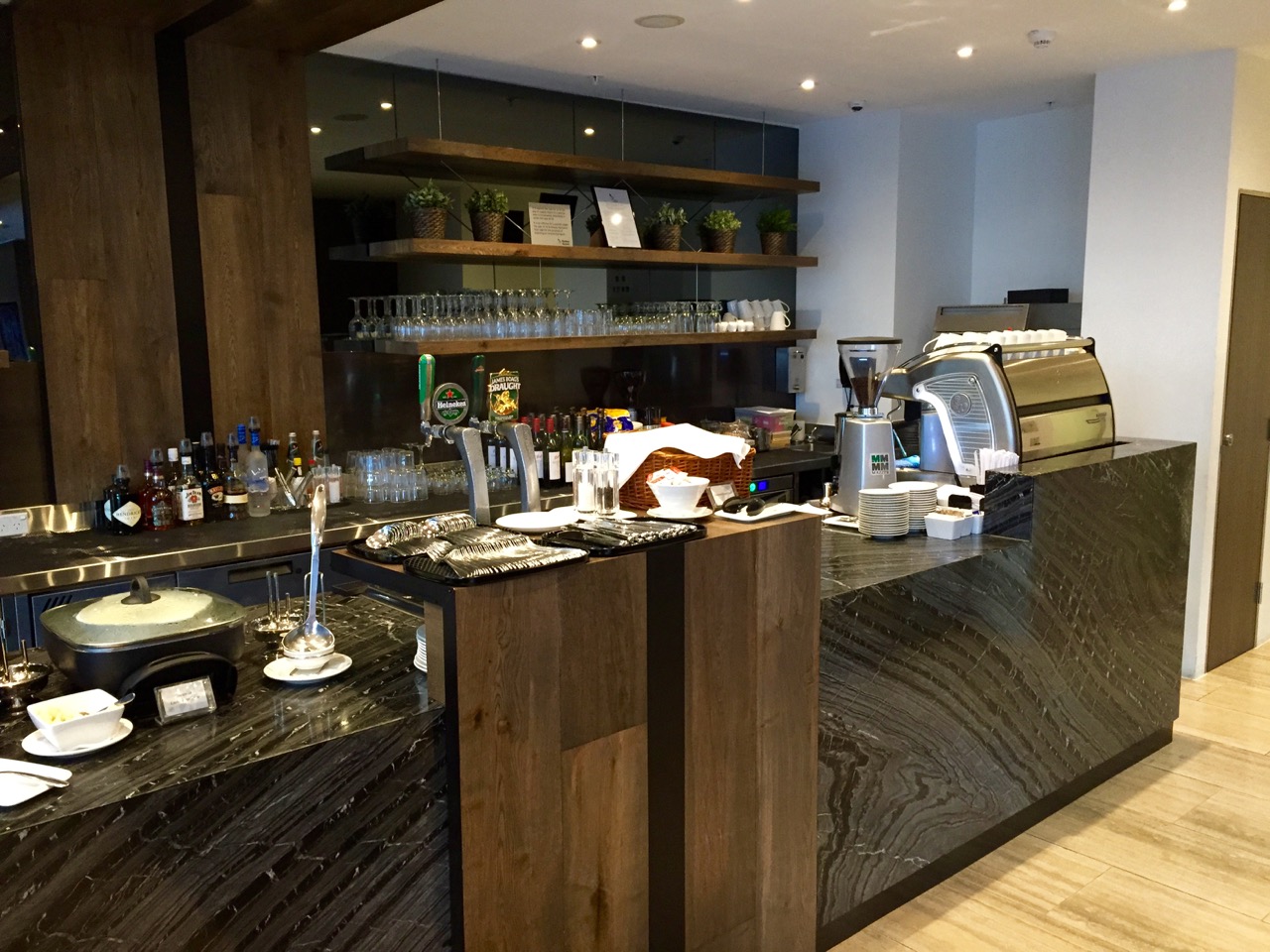 Who is the American Express Sydney lounge useful for?
If you're flying Economy or Premium Economy frequently and value lounge access, using the American Express lounge instead frees you from the likes of paid membership programs like Qantas Club. You can access the American Express lounge with any ticket, on any airline, as long as you are an eligible cardholder.
Even if you travel in Business Class (with accompanying lounge access elsewhere with your ticket), this is likely to be a quieter lounge than the some major Business lounges at Sydney International, so could be worth seeking out.
Cards eligible for access
Access to American Express lounges is available to those holding an eligible American Express card.
What I learned from chatting to American Express about the background of the lounge
The Lounge style, such as the green wall, the marbles, the wood and other surfaces, is consistent with other American Express airport lounges around the world
The majority of visitors that use the lounge are Platinum Charge cardholders and anecdotally they use the lounge over others due to its quietness and exclusivity
Numbers have shown the lounge is popular week-in week-out, being slightly busier before lunch with many international business travellers taking flights leaving in the morning
Other American Express lounge reviews
Other Sydney lounge reviews
Summing up: the American Express Lounge Sydney
The seating and workspaces are all comfortable and relatively informal, and the views out over the tarmac are definitely more interesting than the Qantas Business Lounge upstairs.
The food and drink offerings are about the average you'd expect from an international lounge in Australia.
The big misses the Amex lounge makes are a lack of a family room/kids' area and shower facilities.
If you're a frequent traveller through Sydney International in Economy or Premium Economy across a range of airlines, then the lounge access as a Platinum Charge cardholder would be really valuable.
As a Black or equivalent cardholder with bank-issued American Express, then the two visits per year are a nice perk as well, and ideal for family holidays where you'll be able to get you and the kids in without issue.
I would happily spend a few hours here catching up on work or having a drink and something to eat before a flight.
The American Express Platinum Charge Card has up to 120,000 Membership Rewards Points on offer, exclusively available to Point Hacks readers until 10 June 2019. A great card for those who want to earn Membership Rewards points on everyday spend with lots ongoing premium benefits.
120,000 Membership Rewards points, receive 40,000 bonus points for every month you spend $1,500 or more within the first 3 months of becoming a Card Member
$450 Travel Credit annually
Unlimited access to over 1,200 lounge across 130 countries – including Priority Pass and American Express lounges globally, Virgin Australia Domestic and Delta when flying
Access to American Express Fine Hotels & Resorts perks & discounts
Complimentary status & memberships with a number of hotel loyalty programs including Accor Plus Membership valued at $395 per year
Complimentary The Australian Financial Review Premium digital subscription
Complimentary Travel Insurance cover extended to additional card members (PDS)
Earn to 2.25 Membership Rewards points per $1 on all eligible purchases, except for spend with government bodies, for which you will earn 1 point per $1 spent
Annual Fee: $1450 p.a.
Charge card, not credit card - balance requires payment in full each month but with no pre-set spending limit - more about this
Card Members who currently hold or who have previously held any Card product issued by American Express Australia Limited in the preceding 18 month period are ineligible for this offer. Previous and existing bank-issued American Express companion cardholders are eligible for this offer.
Charge card, not credit card - balance requires payment in full each month but with no pre-set spending limit
Offer expires: 10 June 2019
Read the Amex Platinum Charge guide →
Point Hacks may receive a commission from the card issuer for each applicant of this card. More about this →
American Express Lounge Sydney overview
was last modified:
May 3rd, 2019
by