For New South Wales residents who are American Express Card Members—or anyone who has to travel through Sydney International a lot—access to this lounge a nice benefit.
This lounge is being upgraded and the new facility will open on 23 October 2019. It will be three times the size of the current lounge, with a live cooking station and three shower suites.
If you are flying on a SkyTeam carrier, you might want to read our comparison of the two lounges in our review of the SkyTeam Sydney Lounge. They are located right next to each other and operated by the same company, Plaza Premium.
American Express Lounge Sydney details & location
The lounge is open every day from 6am until 11pm.
It's close to Gate 24, which is fairly central in the terminal complex, another few minutes' walk beyond the Qantas lounges.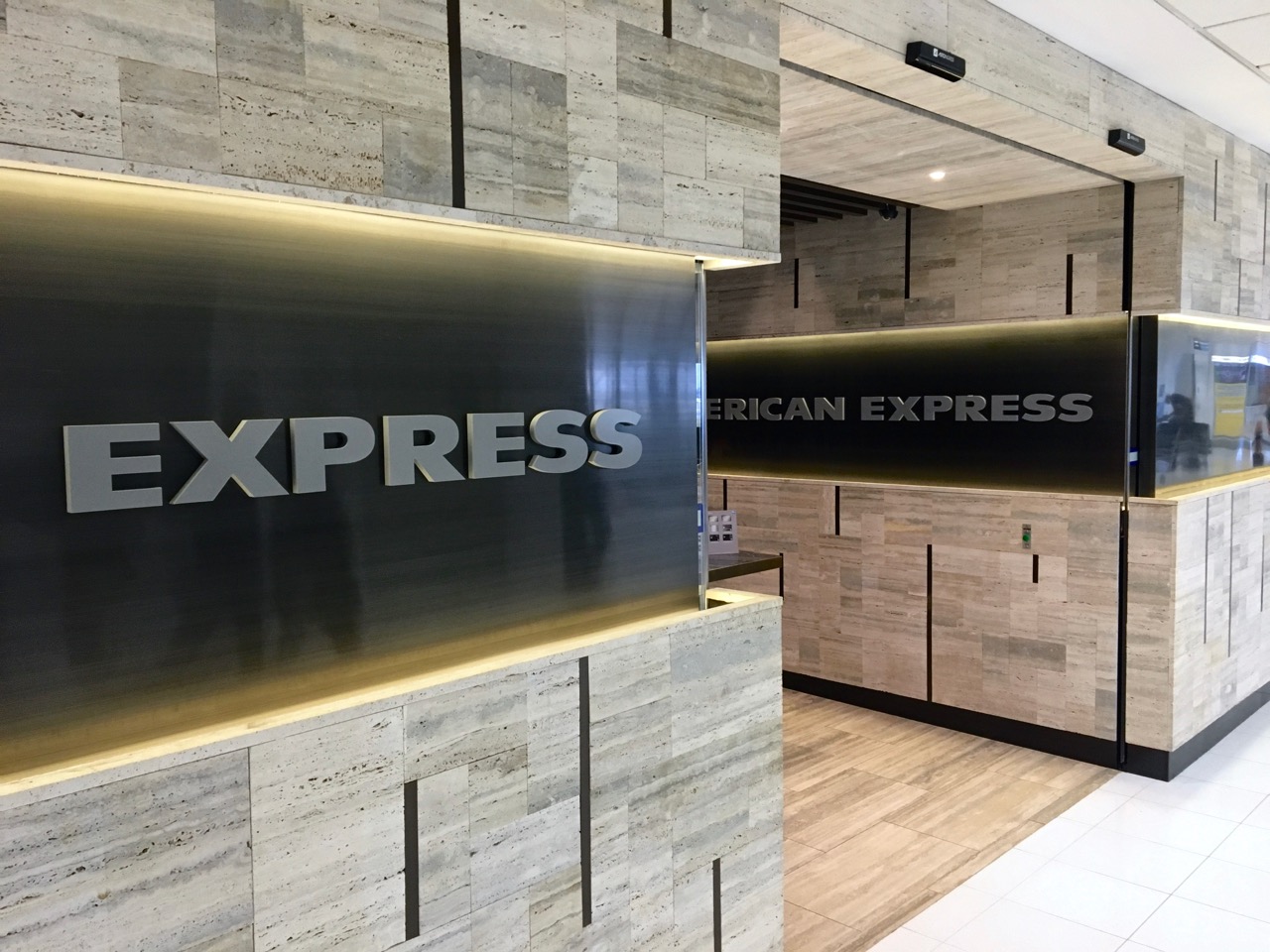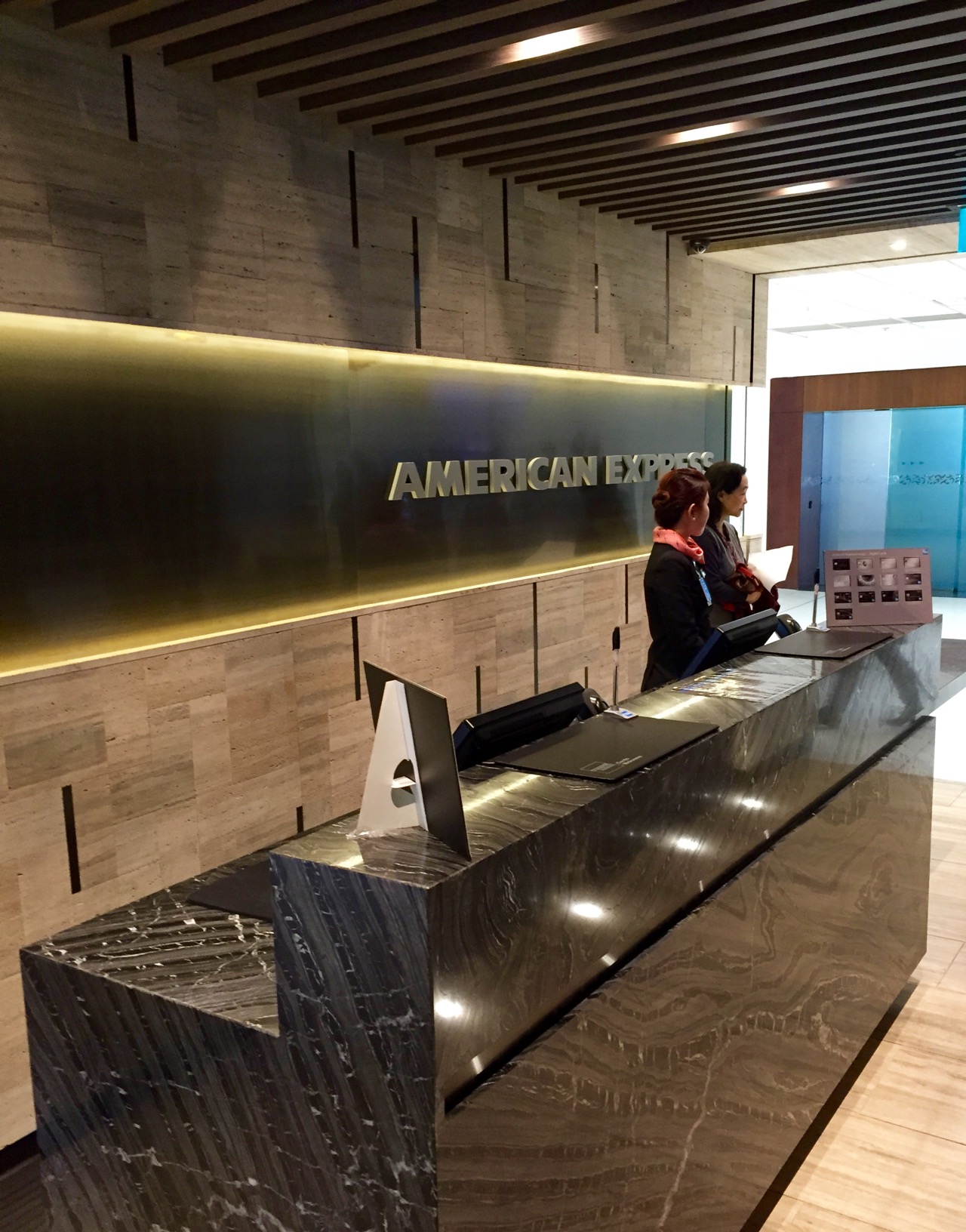 At the entrance, there's a green wall which helps set the tone for the design of the interior.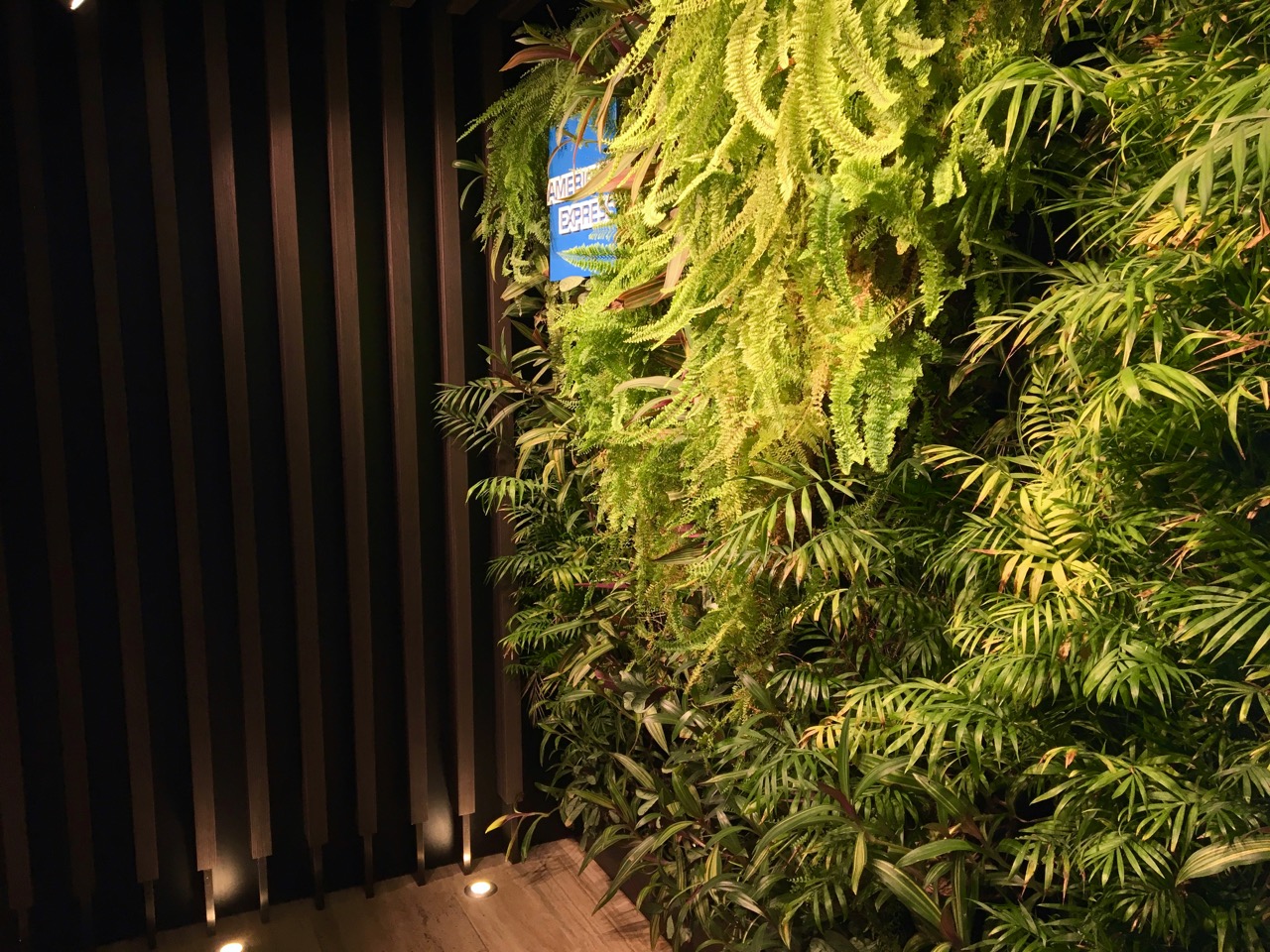 American Express Lounge Sydney seating & layout
The lounge is split down the centre, with a long bar and high seating. (Note these pictures were obviously taken during a private visit—expect a lot more people in real life.)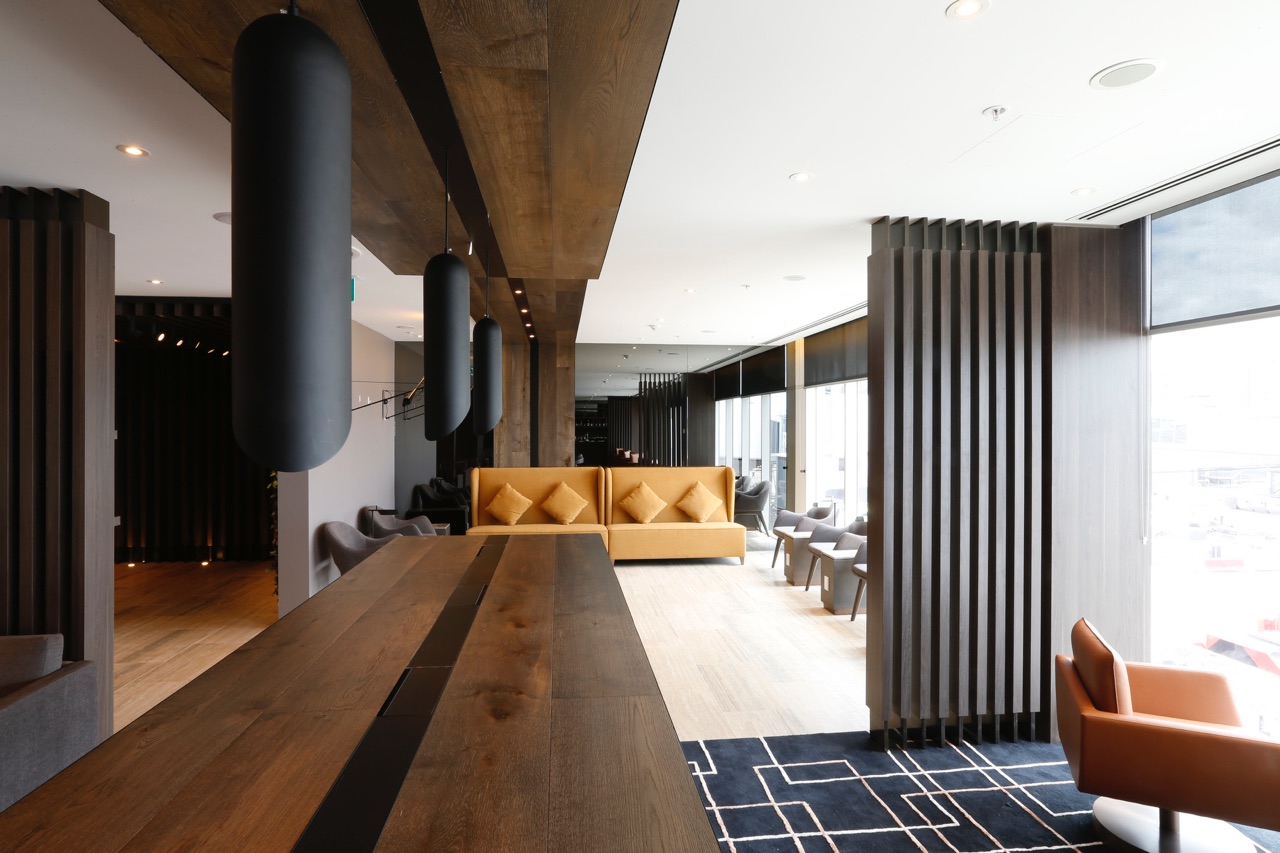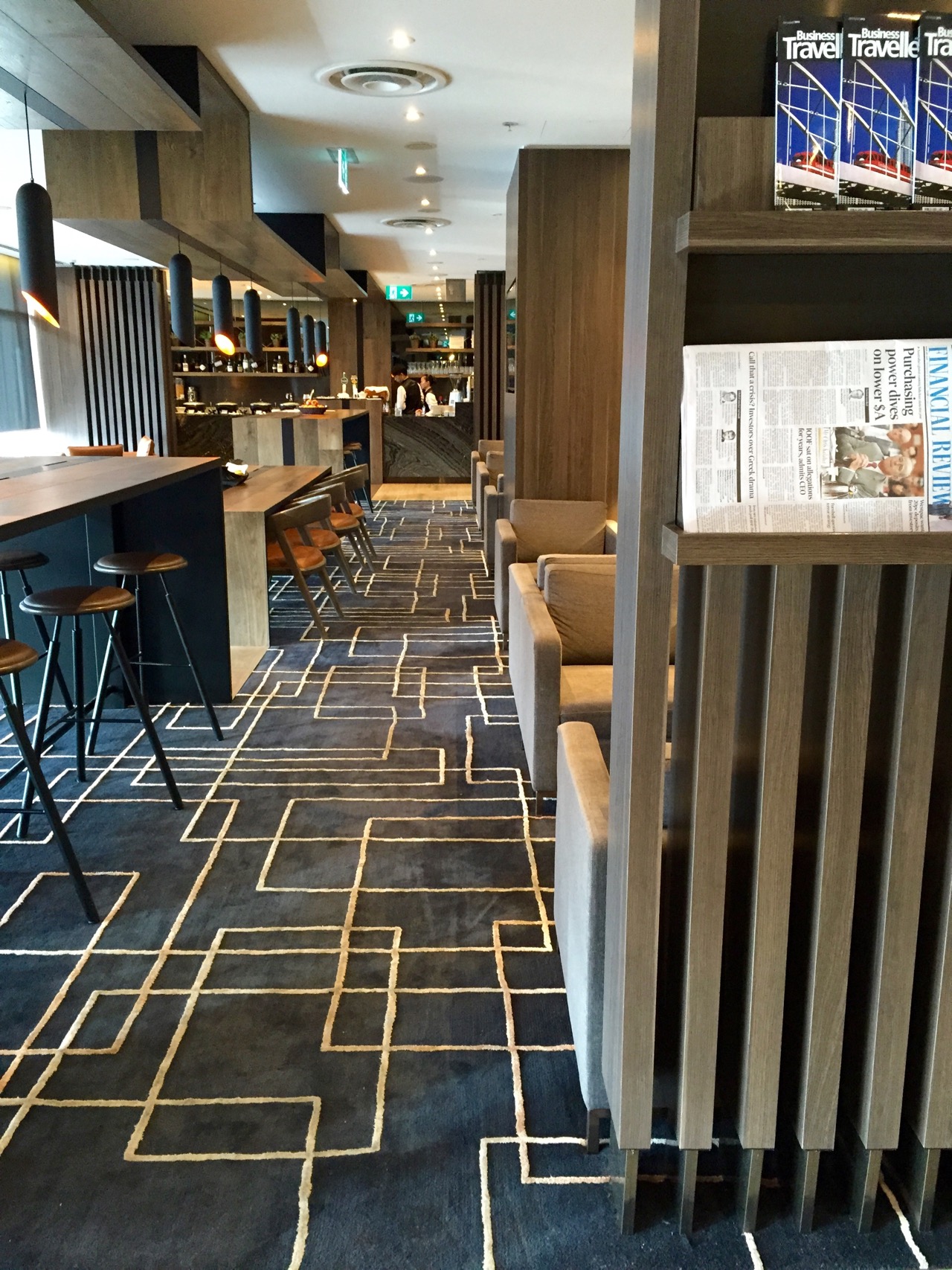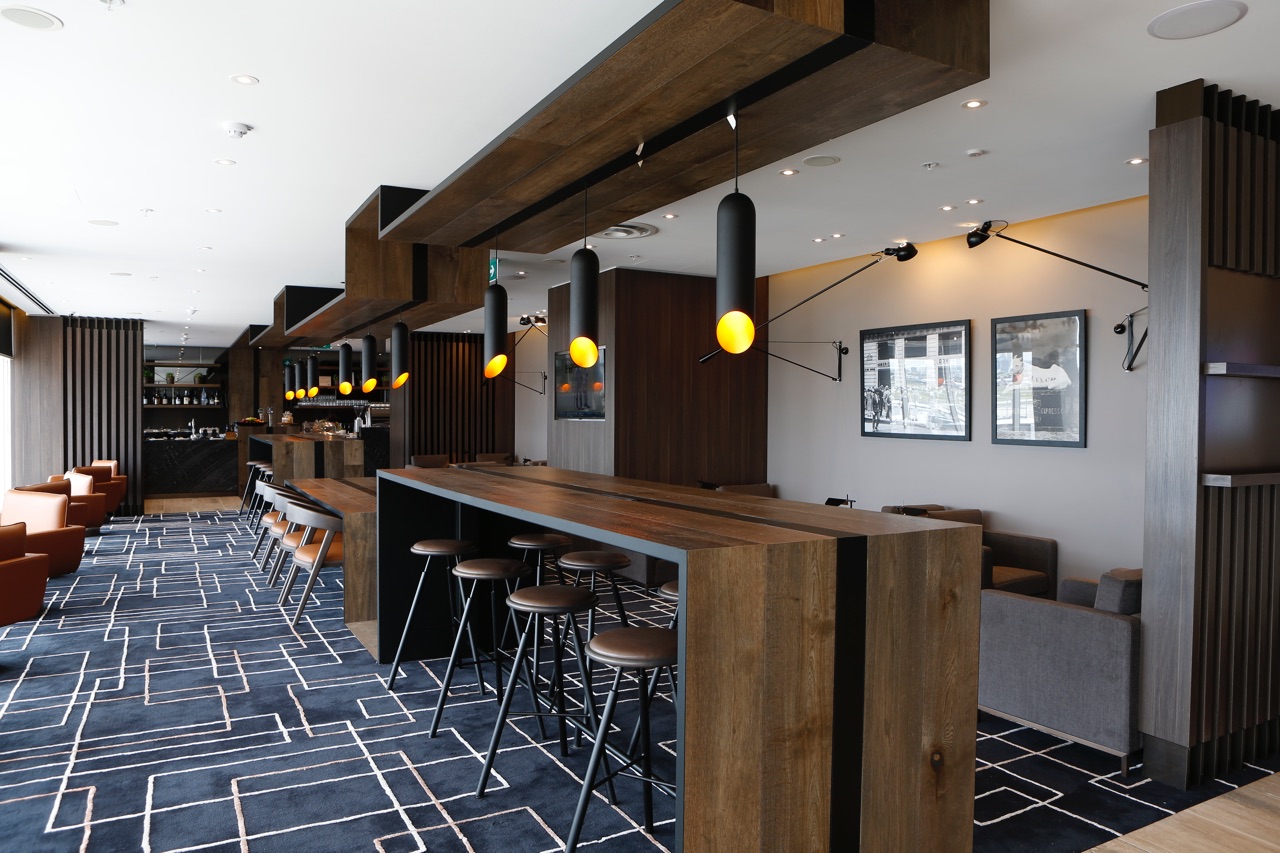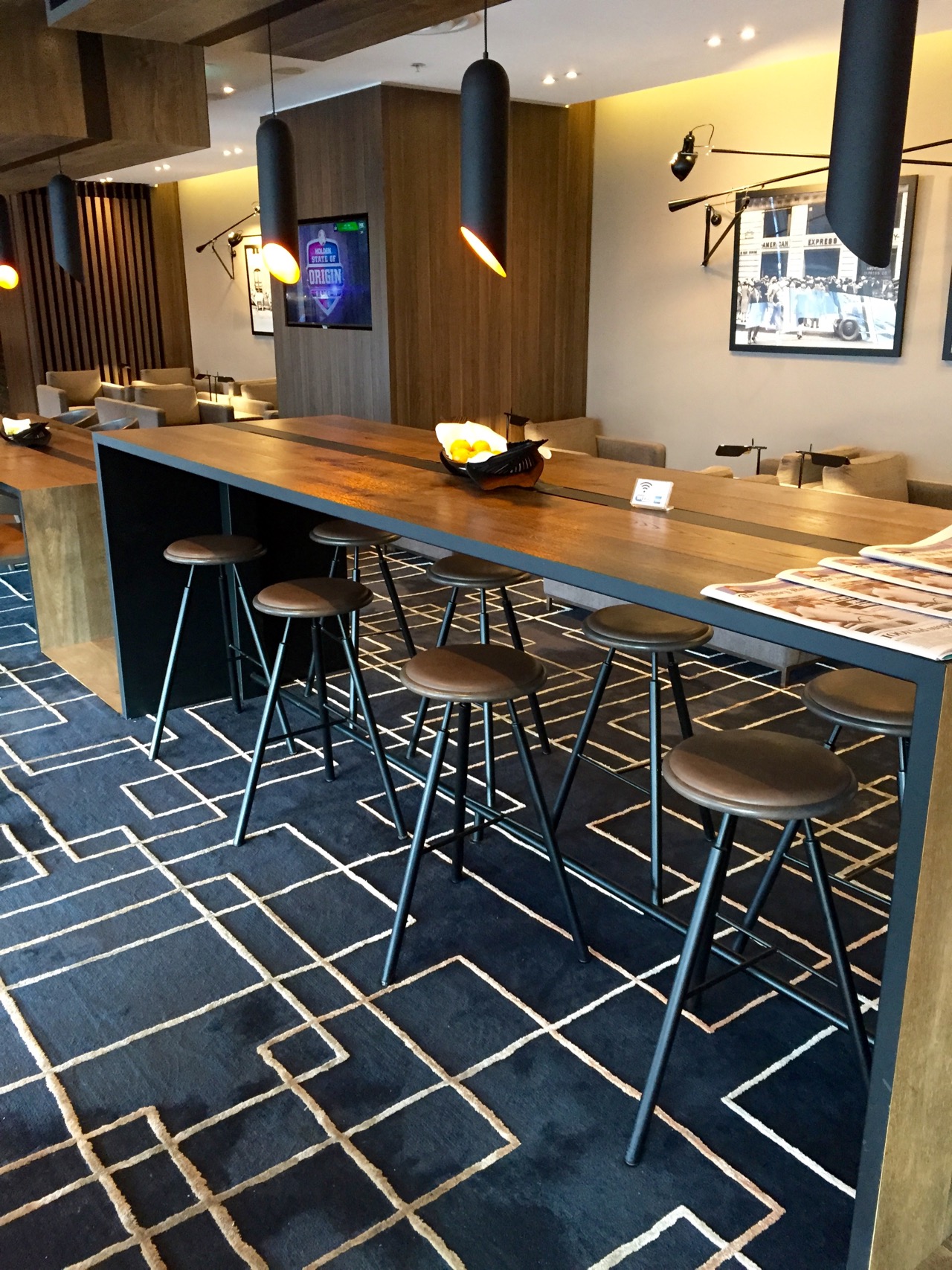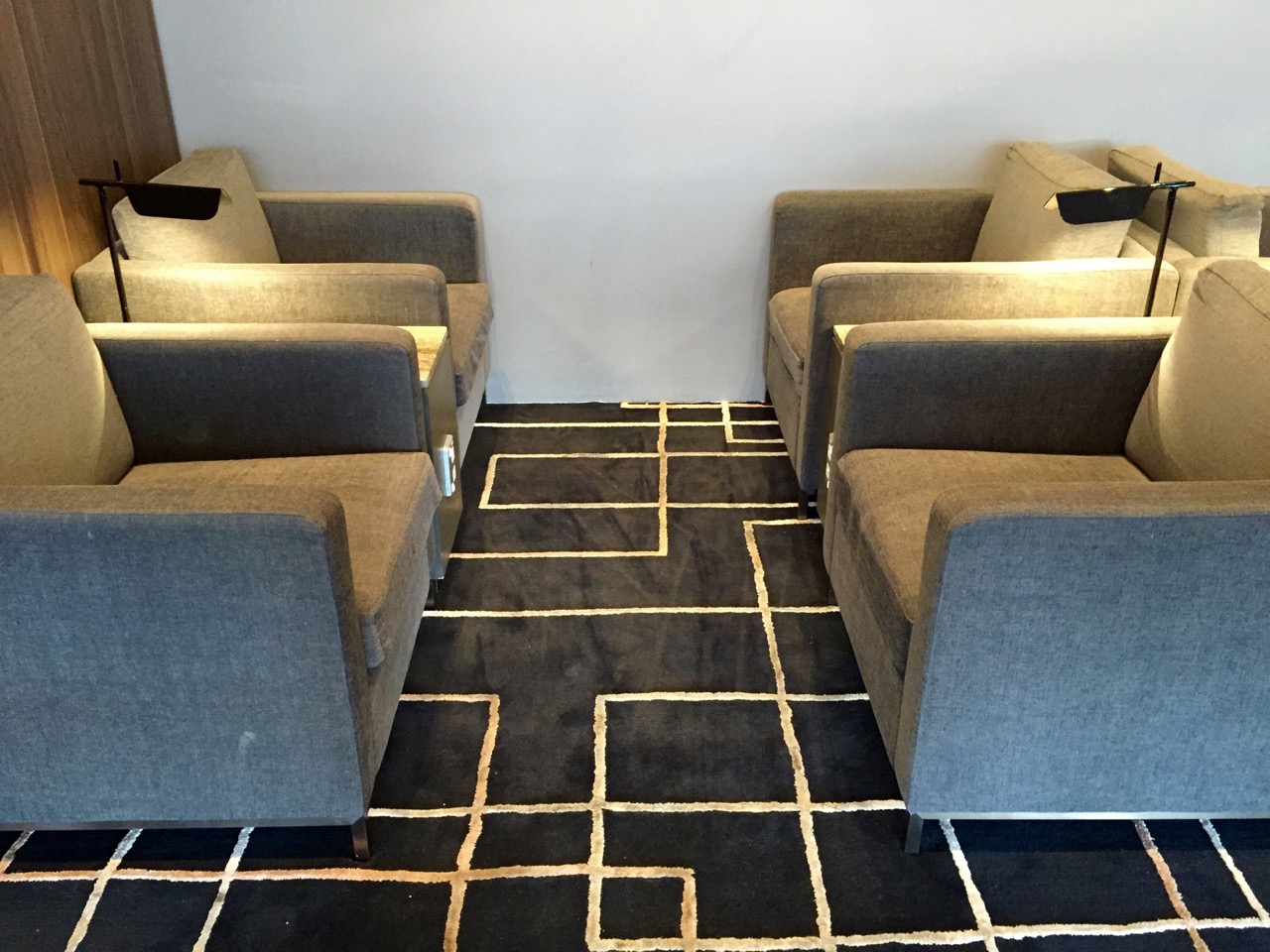 Otherwise, there's some low, comfortable seating against the far wall—if you can snag a chair.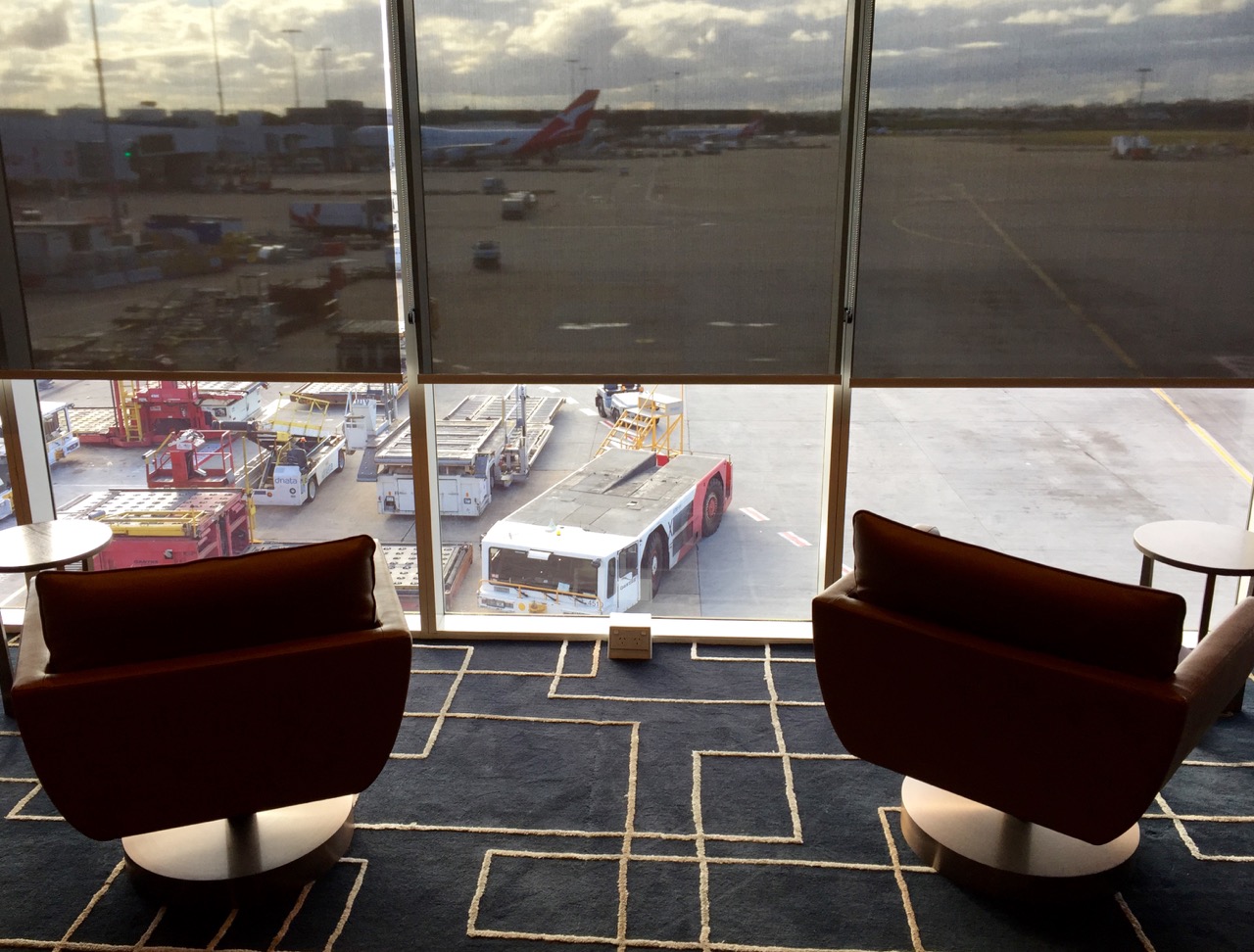 Along with outward-facing window seats for those who want to soak up the view of the tarmac.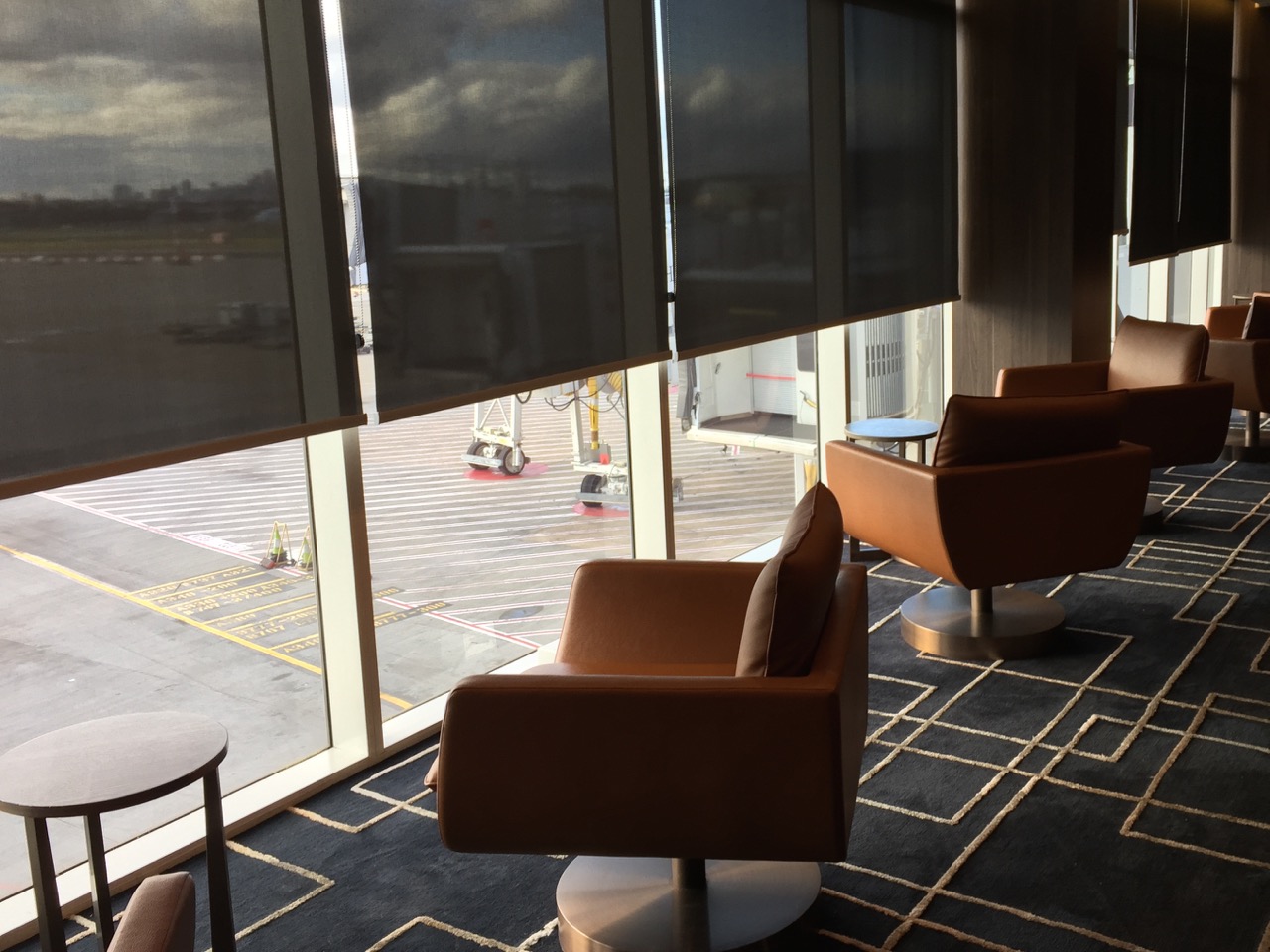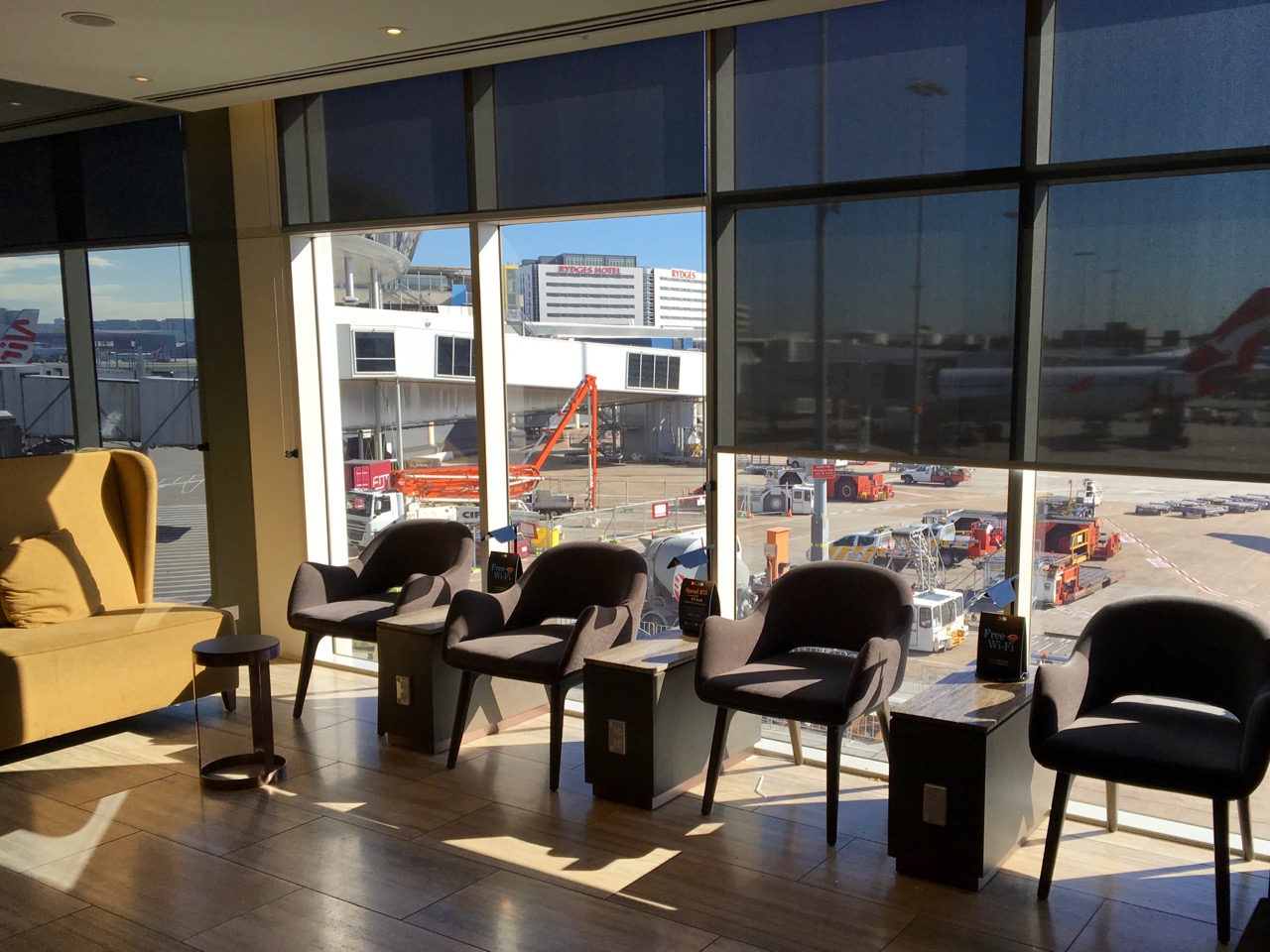 There are also window-side seats that are inward-facing.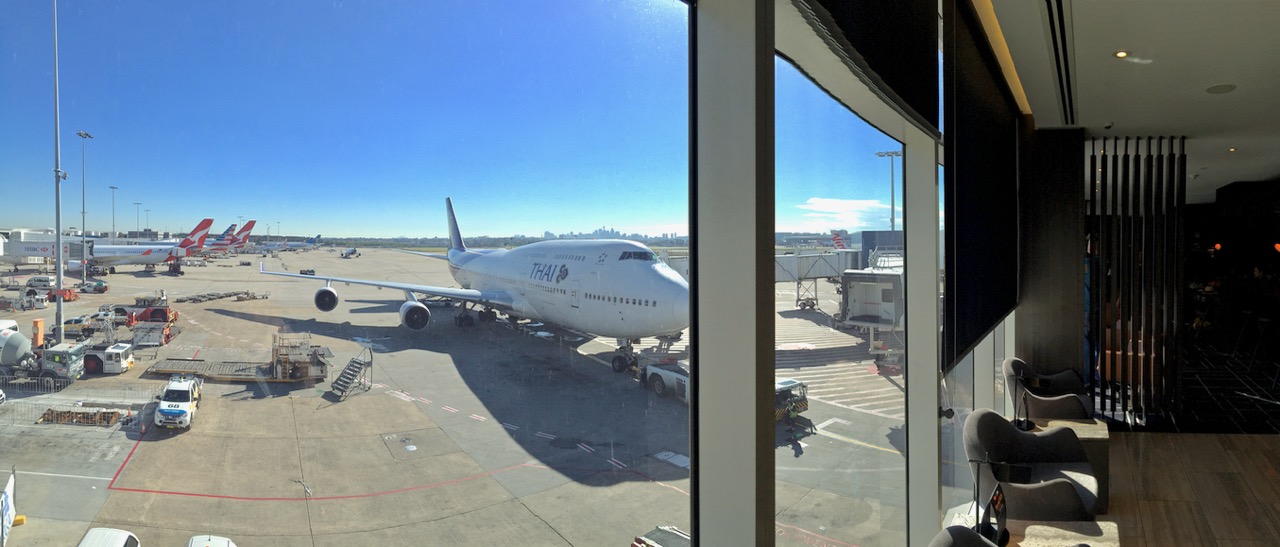 American Express Lounge Sydney food & drink
There are a barista service, well-stocked bar and range of food options throughout the day.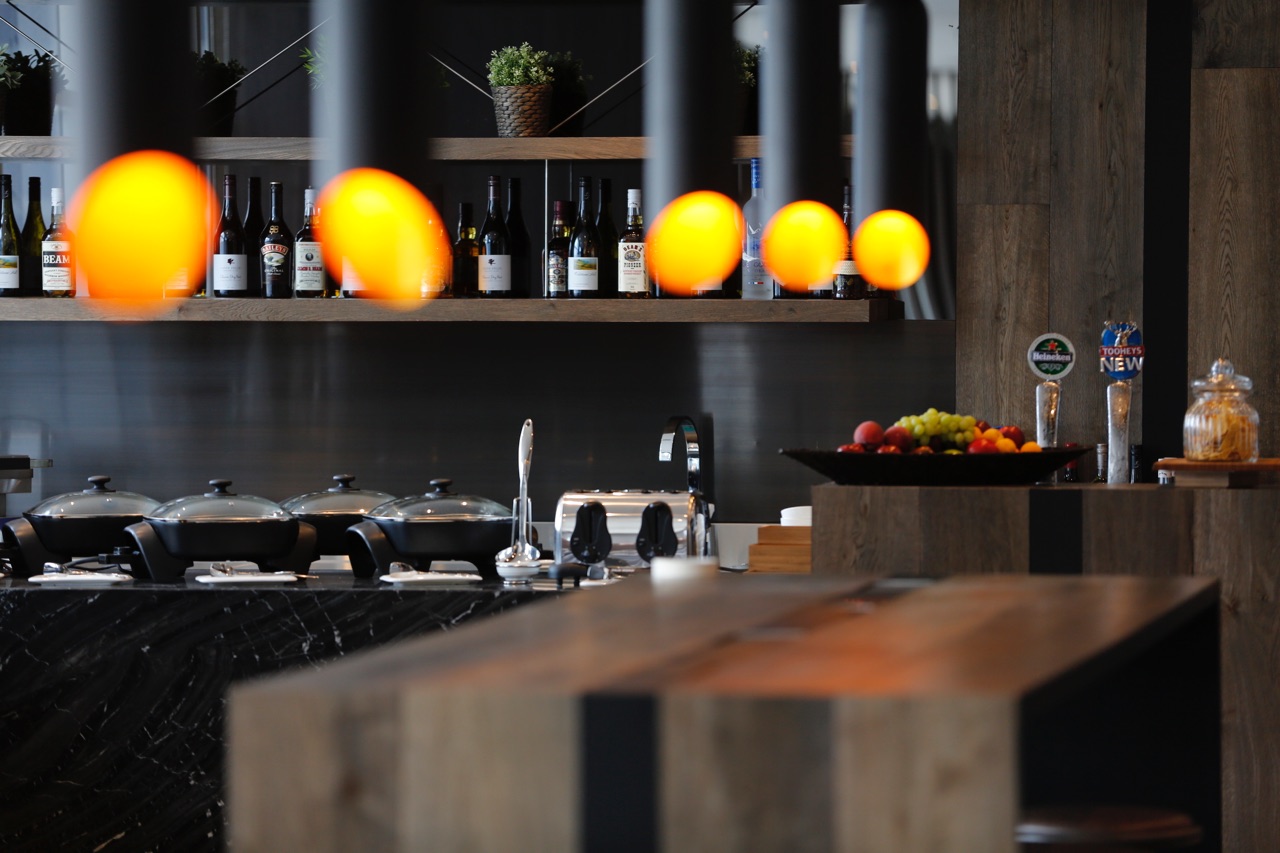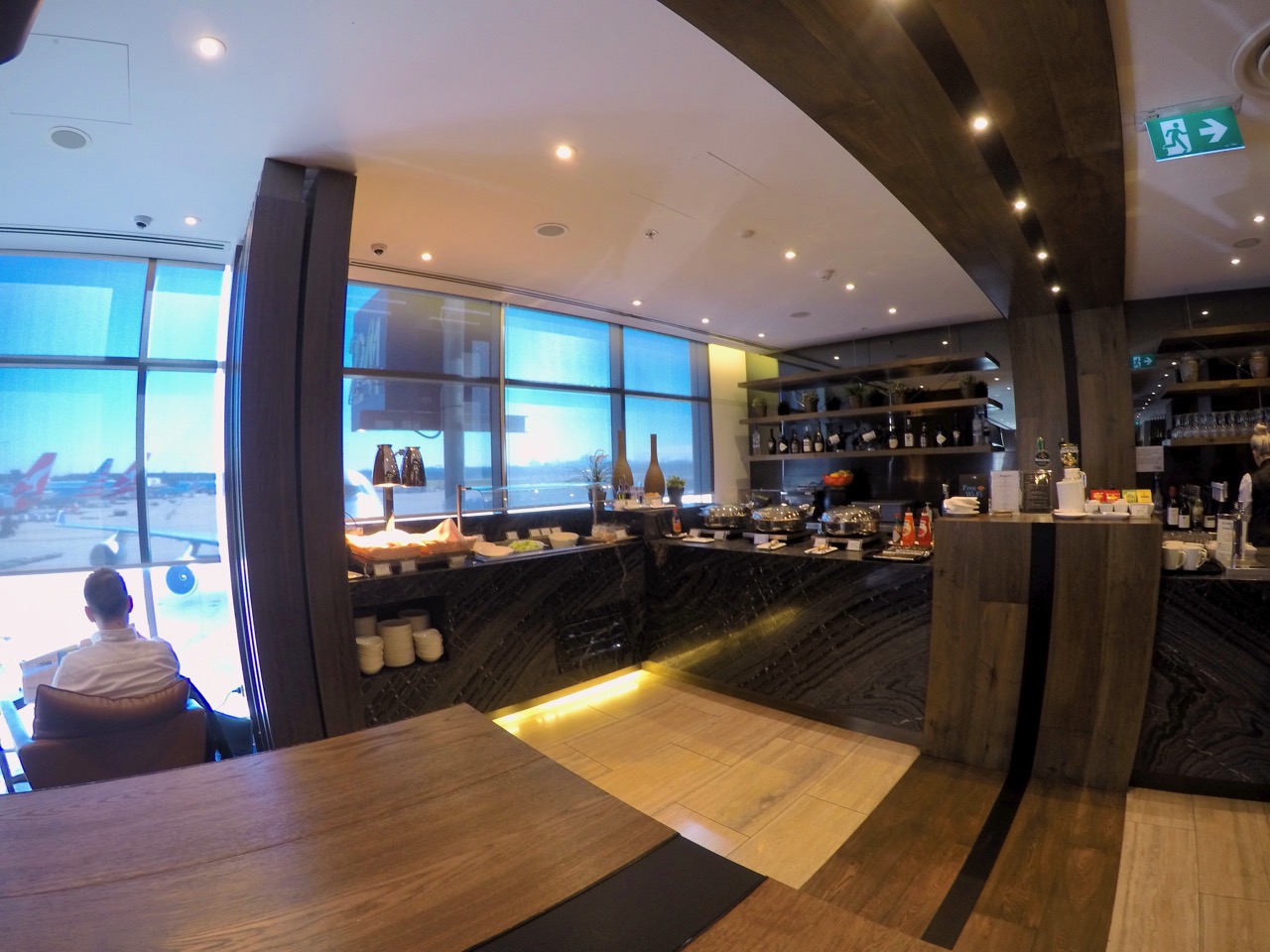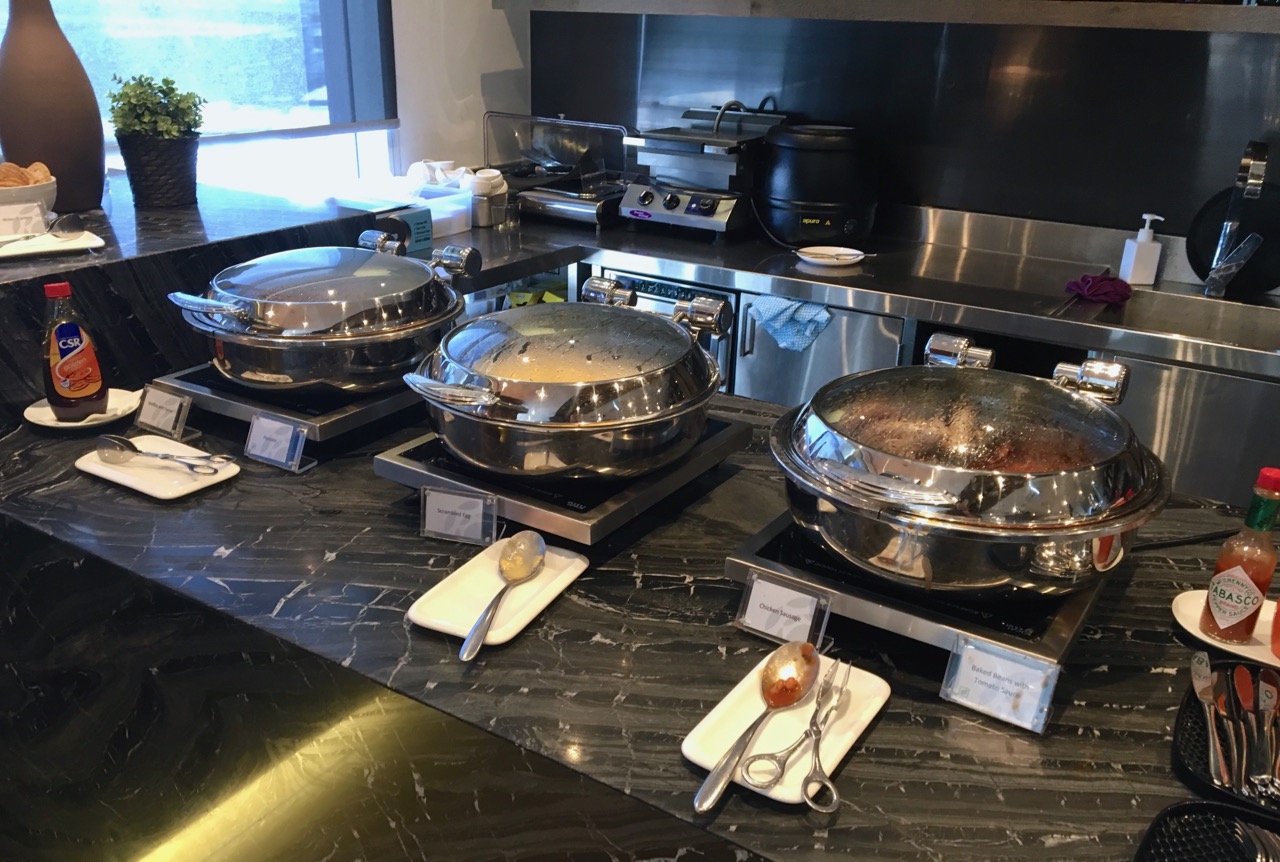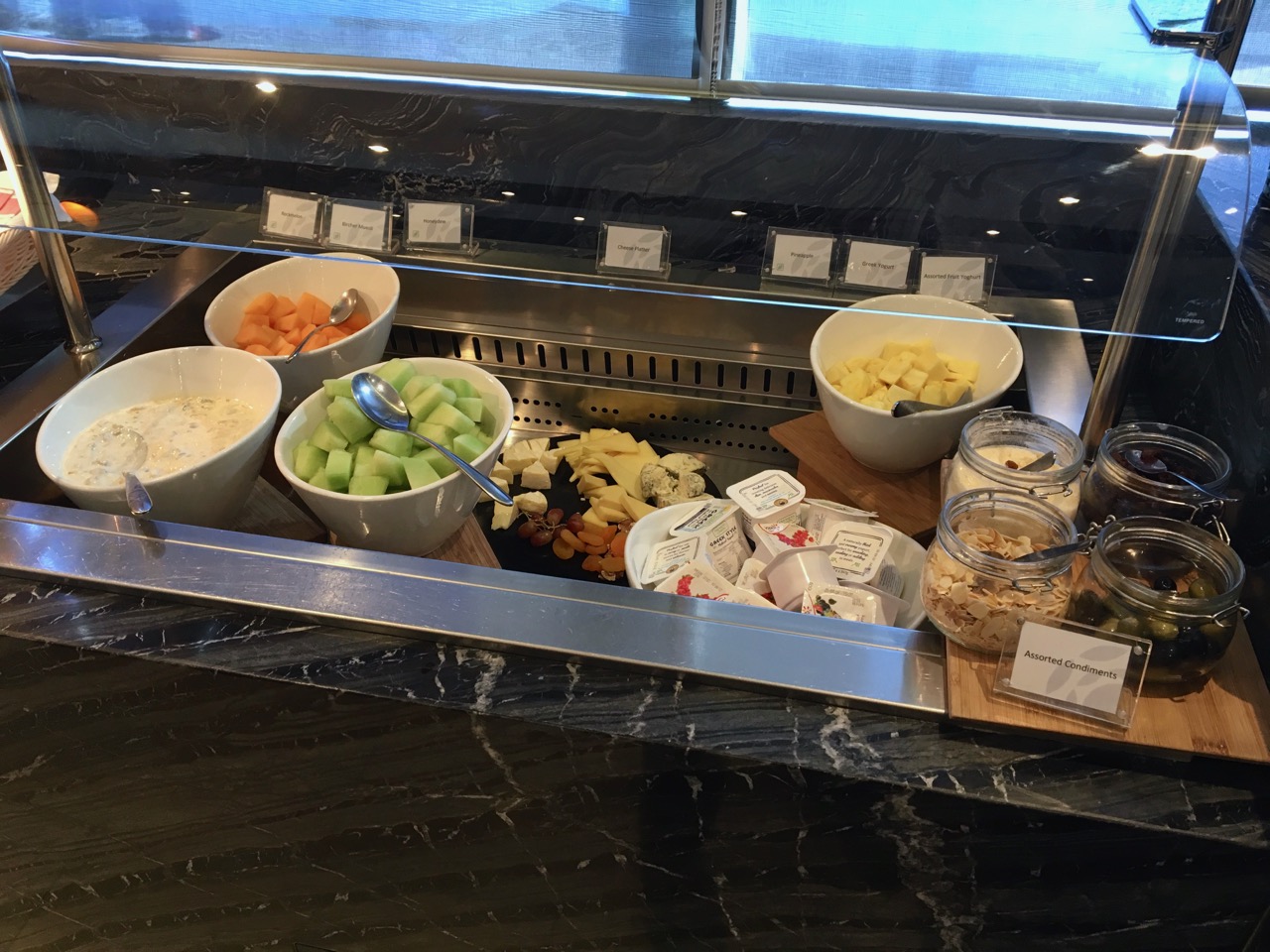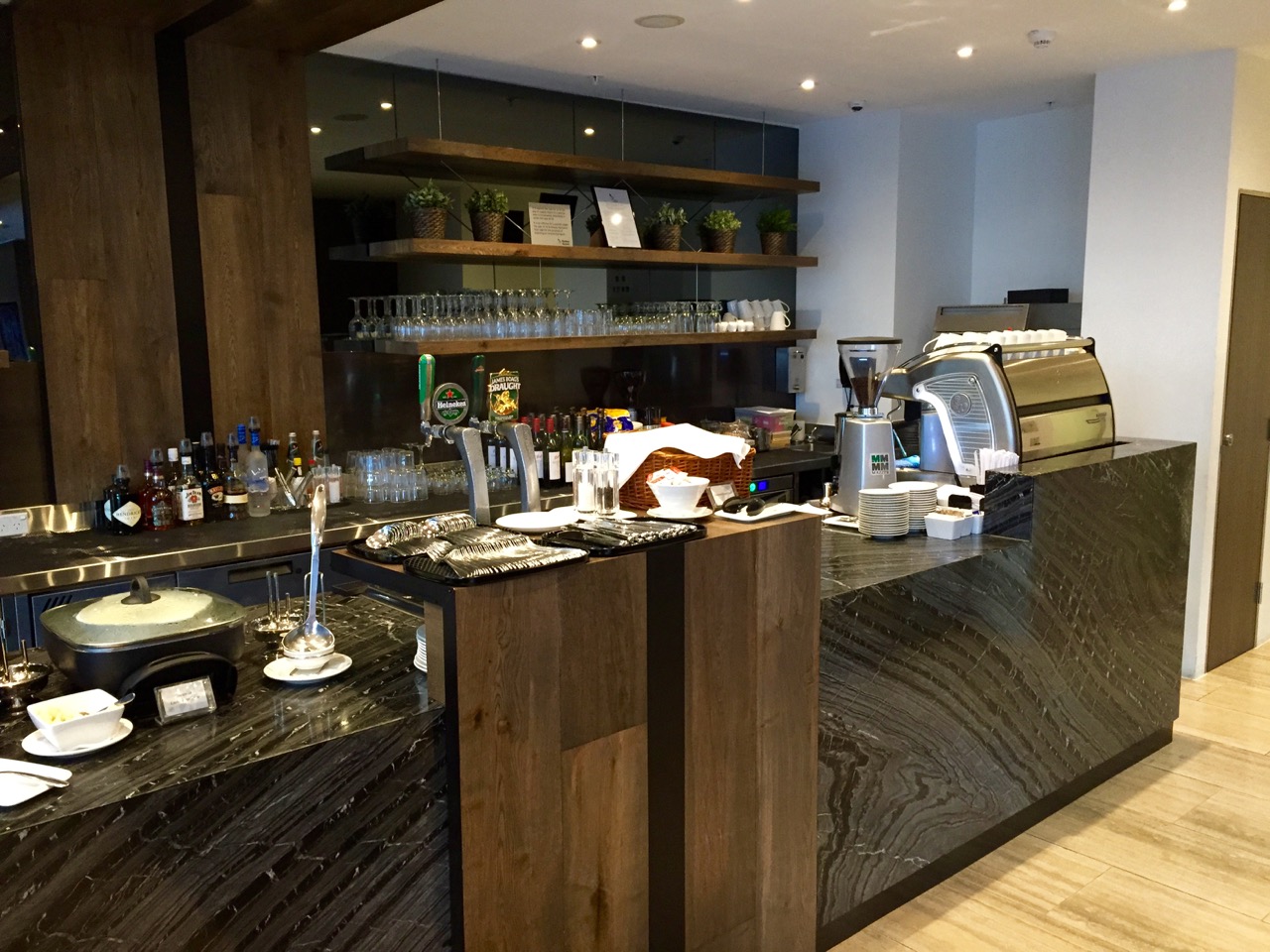 The food and coffee are probably the highlight of this lounge.
American Express Lounge Sydney customer service
Conversely, the customer service given has seriously deteriorated since this lounge was opened in 2015. You can expect the staff to be unfriendly and rushed.
American Express Lounge Sydney other amenities
There are no shower facilities within this lounge, but you can ask the staff to use the showers in the neighbouring SkyTeam lounge.
There is often a wait for the bathroom, so try to go to one outside in the terminal before or after your visit to the lounge.
Both the download and upload speeds using the wifi connection are excellent, at 34/38 Mbps, respectively.
American Express Lounge Sydney access options
Access to American Express lounges is available to those holding an eligible American Express card.
If you're flying Economy or Premium Economy frequently and value lounge access, using the American Express lounge instead frees you from the likes of paid membership programs like Qantas Club. You can access the American Express lounge with any ticket, on any airline, as long as you are an eligible Card Member.
Even if you travel in Business Class, with accompanying lounge access elsewhere with your ticket, this lounge could be worth seeking out. That's because in the evening at least, it can be a quieter lounge than some of the major Business Class lounges at Sydney International.
As for guests, children under 18 enter free; for anyone else, you must use one of your complimentary passes. The only exception is for Platinum and Centurion Card Members, who can bring two guests for free.
Frequently asked questions
Who can gain entry to the American Express Lounge Sydney?
Access to American Express lounges in Australia is available to those holding an eligible American Express card. These include cards such as the American Express Explorer, American Express Velocity Platinum and the Qantas American Express Ultimate. See the full range of cards in this guide.
Can I access the American Express Lounge Sydney on arrival?
No, you cannot. Given that this lounge is located airside in the international terminal, you will need to first pass through immigration and customs on arrival. You would then need to be departing on another international flight to access this lounge.
Other American Express Lounge reviews
Other Sydney Airport international lounge reviews
Summing up: our take
The seating and workspaces are all comfortable and relatively informal, and the views out over the tarmac are definitely more interesting than the Qantas Business Lounge upstairs.
The food and drink offerings are about the average you'd expect from an international lounge in Australia.
The big misses the Amex lounge makes are a lack of a family room/kids' area and a space to fit all travellers.
If you have two complimentary visits per year, as many cards do, they are ideal for family holidays where you'll be able to get you and the kids in without issue.
I would happily spend up to an hour catching up on work or having a drink and something to eat before a flight. However, I wouldn't get to the airport early for this lounge.
What is great
Free entry for eligible American Express Card Members
Modern and stylish aesthetics
Great tarmac views
Tasty food
Barista coffee
Fast wifi
What is not great
Crowded space
Often a waitlist of 30-45 minutes to enter, especially in the morning
Wait for bathrooms
No children's play area
Have you visited this lounge before? What's your take on it?
American Express Lounge Sydney overview
was last modified:
October 18th, 2019
by