At Point Hacks, we're usually all about the fun you can have in Business and First Class. Flying in Economy doesn't usually get you the same exceptional value, but regional flights turn this equation on its head. With cash fares often very expensive on these short legs, using your points for a reward seat can be an excellent choice.
Here's how to best utilise your frequent flyer points when flying with Qantaslink or Virgin Australia.
Regional reward seats can be excellent value
It's simple economics really. Regional flights tend to be more expensive to run, due to decreased seating capacity. Conversely, the points needed can be quite minimal because these flights are usually short. This pushes the potential value of your points sky-high.
One of the most extreme examples within Australia is Lord Howe Island – we even have a dedicated guide on this. But in short, you can expect up to 7.3 cents per point worth of value when you use 8,000 points + $88 to book a fare worth over $600 one-way. That's a level unreached by even many Business and First Class reward flights!
Many QantasLink routes are just 8,000 points
Throughout 2021 and 2022, QantasLink has steadily been increasing its destinations to compete against Rex. This means there are now plenty of regional routes on which you can use Qantas Points. Take one example – Sydney to Broken Hill.

The cheapest fare is $287, or you can book an Economy Classic Reward for 8,000 points and $28. After taking into account the taxes, you'll get a value of 3.24 cents per point. That's really good value, given we estimate each Qantas Point is worth about 1.80 cents.
It's even better when Qantas discounts the Economy points needed by 30%, such as during the August 2022 Points Plane promotion.
Fly regionally from just 7,800 Velocity Points
Virgin Australia's route map isn't as intricate as Qantas'. Plus, the carrier has reset all of its prices so lead-in fares are often less than Qantas (which has the knock-on effect of reducing the value of reward seats). But you can enjoy decent value with your Velocity Points to the destinations that they do fly to.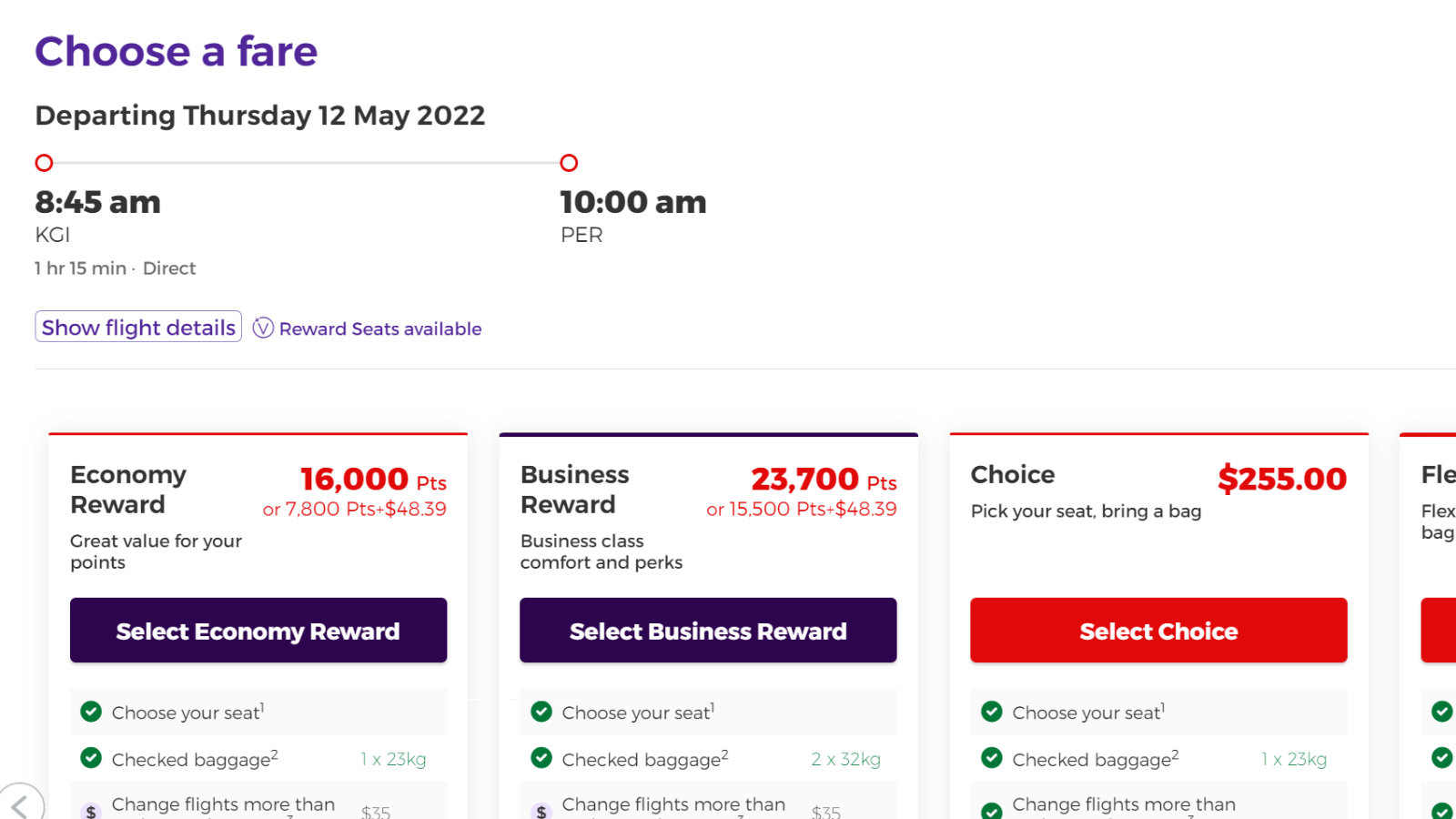 This Kalgoorlie to Perth fare is $255 for a Choice fare. But you can also part with 7,800 Velocity Points and $48.39, which brings you a value of 2.65 cents per point.
Ad – Scroll down to continue reading.Minimum spend, terms & conditions apply.
Why are regional flights so expensive?
This is a question we often see asked by frustrated travellers. Without turning this guide into an Economics 101 lesson, there are a number of variables that determine the pricing of flights, which include:
the competitive landscape
lower costs that can be obtained through cost synergies in high demand routes
the capacity of the planes
fuel prices
labour costs
taxes and charges levied by airports and governments
And there are many others. When an airline effectively has a monopoly on a specific route, expect prices to go up, and in many cases go up significantly. This usually occurs when the demand for the route is enough to strip supply, but not necessarily enough to make other entrants into that route a viable option.
Need help working out the value of your points for a flight?
We have a simple points calculator to help you out. At the top, simply enter the price of the cheapest comparable fare (or what you're willing to pay) – minus the cost of any taxes with the reward seat. In the second field, just put in the number of points needed for that redemption.
The number that comes out is what your points could be worth for that particular flight reward.
Summary: using points for regional flights
While it is true that long-haul redemptions generally offer better value than their short-haul counterparts, if you find yourself collecting frequent flyer points without any long-haul flight plans in the foreseeable future, then you can still extract great value from your points if you are looking to fly domestically to regional areas.
Remember that travel in premium classes, for both long and short-haul routes, will provide great value on a cents per point basis, so if you don't fall into the long-haul or regional destinations bucket, redeeming for Business and First class flights will likely be a good bet.
Previous reporting by Daniel Scibberas.
Why your points can unlock excellent value with regional flights
was last modified:
May 9th, 2022
by