---
Note: Point Hacks is a commercial partner of American Express.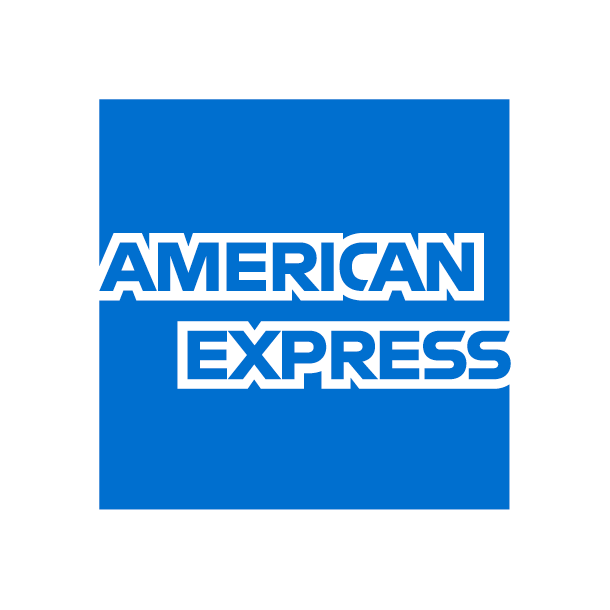 ---
American Express is offering a huge haul of bonus Qantas Points for new Card Members who apply for the Qantas Business Rewards card. This is a great opportunity to make the most of your business spending and turn it into a First Class flight. How rewarding! Or perhaps, you could cleverly put the points towards the cost of travel for your business.
As international travel resumes in 2022, it's more important than ever to have a stash of Qantas Points. More airlines are coming back to Australia, bringing a dazzling range of First and Business Class experiences.
---
American Express Qantas Business Rewards Card benefits series
---
Features and benefits of the American Express Qantas Business Rewards Card
This card is targeted at smaller business owners. Looking for a Charge card? Want to earn Qantas Points, including a healthy bonus on top when you're flying with Qantas?
A Charge card is different to a standard credit card in that it has no pre-set spending limit, and allows you to get access to a significantly higher spending cap. You just have to pay your balance back in full each month.
With this card, the points your business earns go directly to a Qantas Business Rewards account, giving you the flexibility to transfer them onwards to any other Qantas Frequent Flyer member including yourself, your employees, family members and friends.
In addition, complimentary Travel Insurance is included as long as you pay for the return trip using the card, and you'll also be gifted two free domestic Qantas Club lounge passes each year after making an eligible purchase on the card.
The standard earn rate is 1.25 Qantas Points per dollar spent, though that ramps up to 2 Qantas Points for Qantas products and services. You will also earn points on Government and Utilities spend, albeit at a reduced rate of 0.5 Qantas Points per $1.
Employees can also earn triple Qantas Points on eligible Qantas flights when they're booked with the American Express Qantas Business Rewards card.
Read more in our guide to the American Express Qantas Business Rewards card.
Best uses of 180,000 Qantas Points
The bonus 180,000 Qantas Point bonus from this card will be awarded to your Qantas Business Rewards account once the eligibility and minimum spend criteria are met.
From there, you can then bide your time and transfer the points out to an individual's Qantas Frequent Flyer account when the time is right. At Point Hacks, we always recommend using points for flight rewards and upgrades rather than merchandise or gift cards.
Once the points have landed in that individual's account, it's time to start booking! Here are some of our top picks for using Qantas Points.
1. Fly Qantas Business Class to Europe (one-way)
Let's start big! With 180,000 Qantas Points, you can easily fly Qantas Business Class to Europe from 108,400 points to 144,600 points per person. You'll still have plenty of points left over for a smaller trip later on.
The Red Roo's upcoming Perth-Rome flight costs just 108,400 points in Business Class. From Perth, the non-stop flight to London is 126,500 points. Both flights are on the Boeing 787 Dreamliner, featuring Qantas' modern Business Suite. If you start your trip from the eastern states, then it's a flat 144,600 points in Business.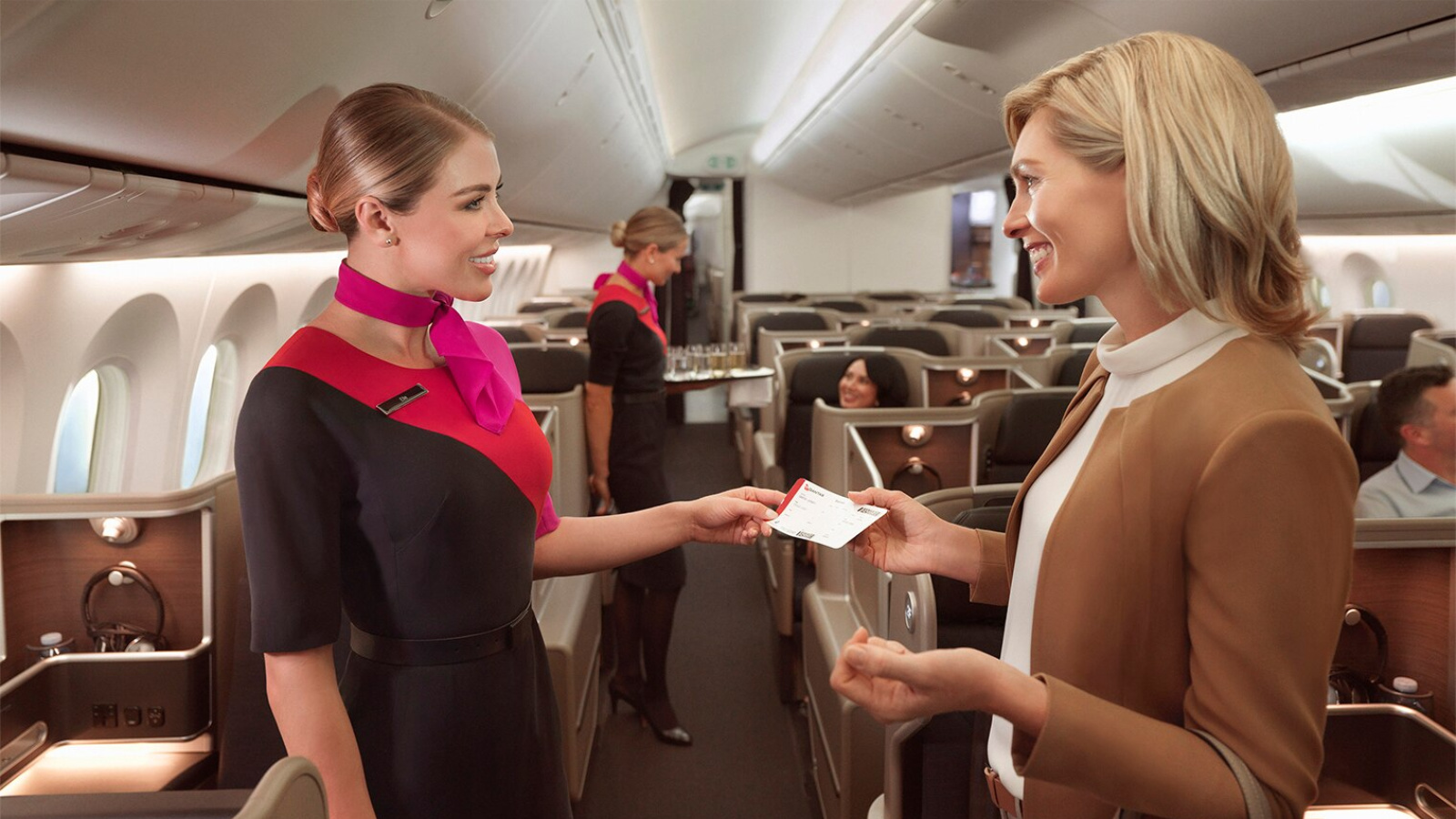 This price is the maximum cap, so you can tack on additional Qantas connecting flights (such as from a regional city to Sydney/Melbourne/Brisbane) at no extra points cost. Later in 2022, fly on the flagship QF1/2 service via Singapore to experience the new Qantas Airbus A380 Business Class for the same price.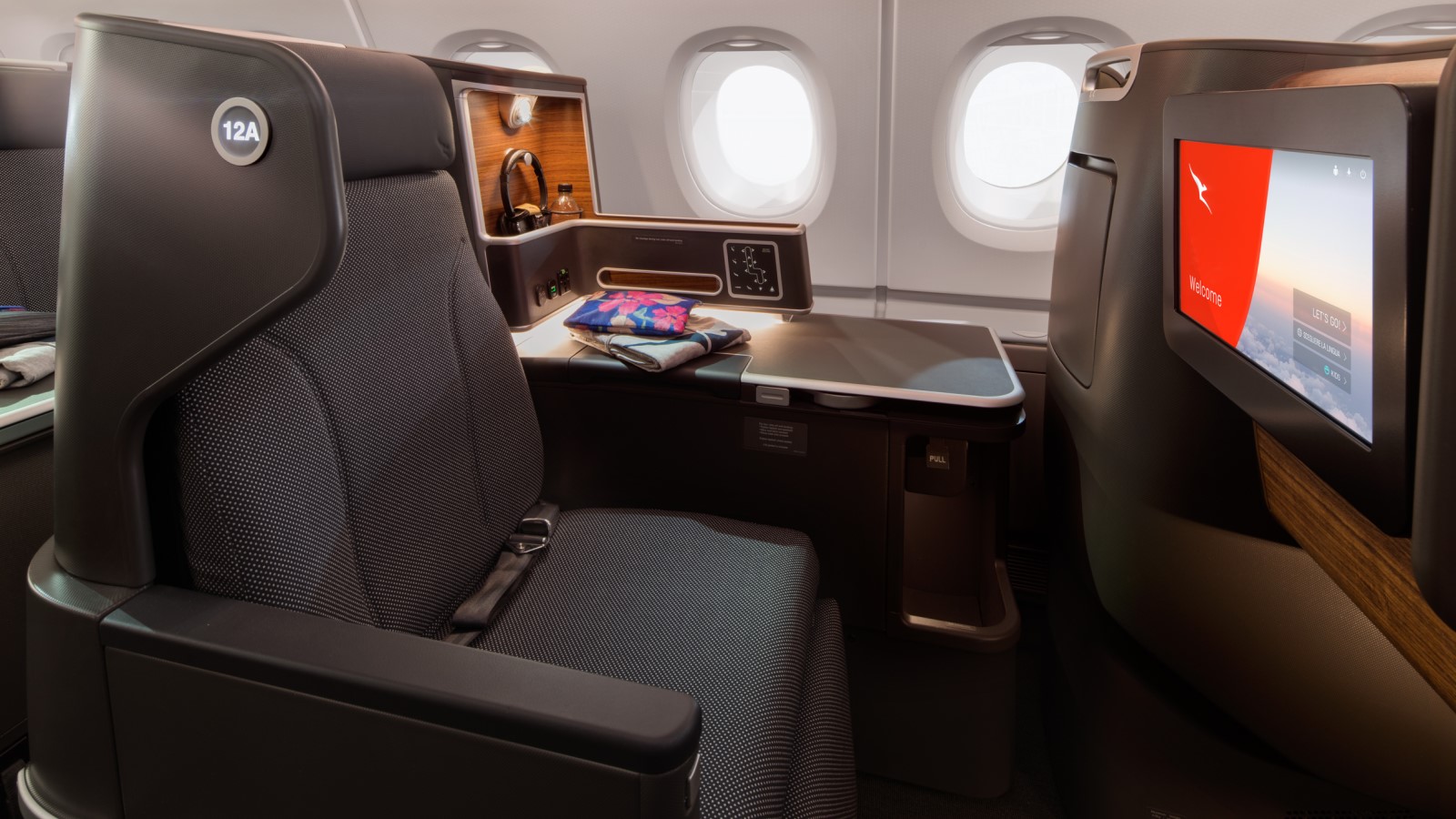 2. Fly Emirates or Qatar Airways Business Class to Europe (one-way)
If you want to travel to Europe with a partner airline instead, that's possible too! Fly the fabulous Qatar Airways Qsuites from Australia to Europe for a maximum 159,000 points one-way. Emirates Business Class costs the same in points – if you snag an Airbus A380, you can enjoy a beverage at the onboard bar.
If you start from Perth, then you can fly the same products to destinations such as Rome, Venice or Vienna for only 119,200 Qantas Points per person. What a steal.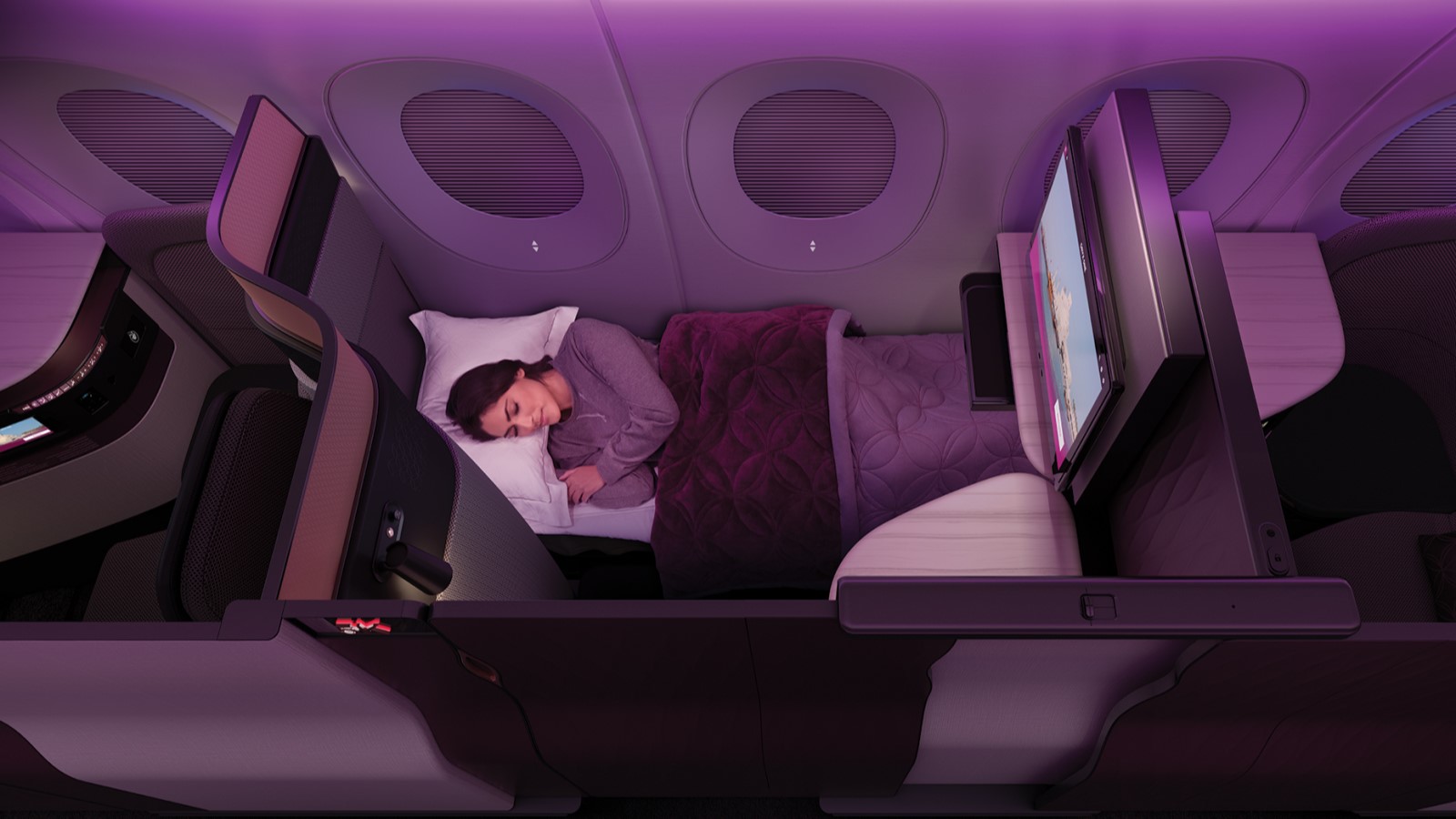 Note that both airlines have relatively high carrier charges (surcharges) on top of the points needed. Recently, Emirates raised its charges to cover the rising price of oil. But we've run the sums, and you can still get good value out of your Qantas Points.
3. Fly Emirates First Class from Perth to Rome
Emirates First Class flights are one of the best ways to redeem your Qantas Points. Qantas Frequent Flyer is one of the only remaining partners that have access to Emirates First Class reward seats.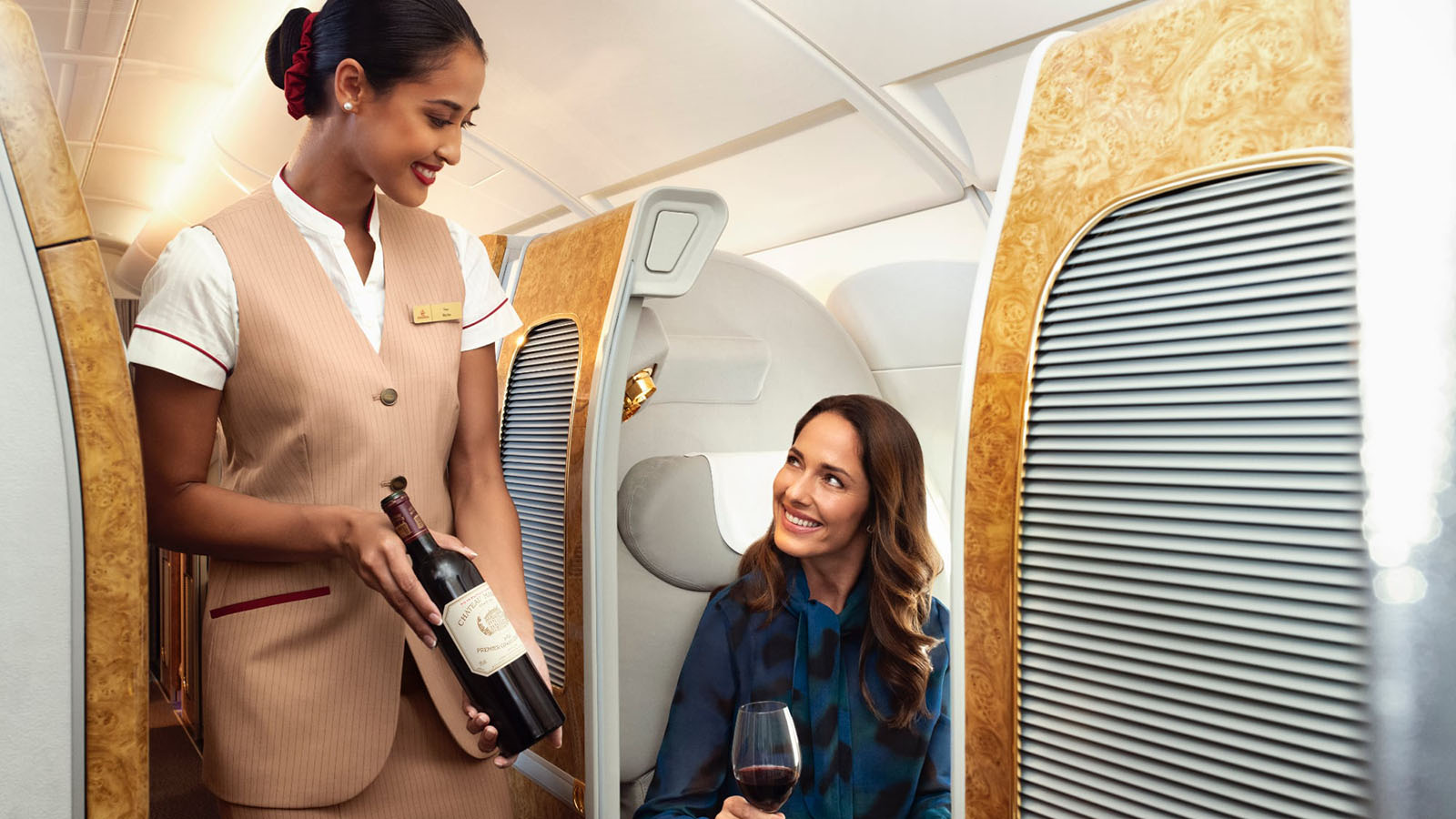 You can enjoy the luxuries of First Class on Emirates' Sydney-Christchurch flights from 64,500 Qantas Points one-way, or 129,000 points return.
Prefer a longer uninterrupted journey instead? For 170,800 Qantas Points, you could also fly Sydney-Dubai or Perth-Dubai-Vienna (or Rome or Venice) in First Class.
4. Soar to Asia in Business Class, return
180,000 Qantas Points can go a long way if you're looking at flights to Asia. Just 68,400 points are enough to enjoy Qantas Business Class from Sydney to Asia, including Manila, Singapore, Bangkok and Hong Kong. You can sneak in a return trip for 136,800 points, all-up.
On partner airlines, it's a bit pricier. Cathay Pacific Business Class to Hong Kong is 75,000 points one-way, so you can comfortably book a return trip. Japan Airlines Business Class to Tokyo is 90,000 points one-way due to increased travel distance, so your balance is just right to snag a return ticket.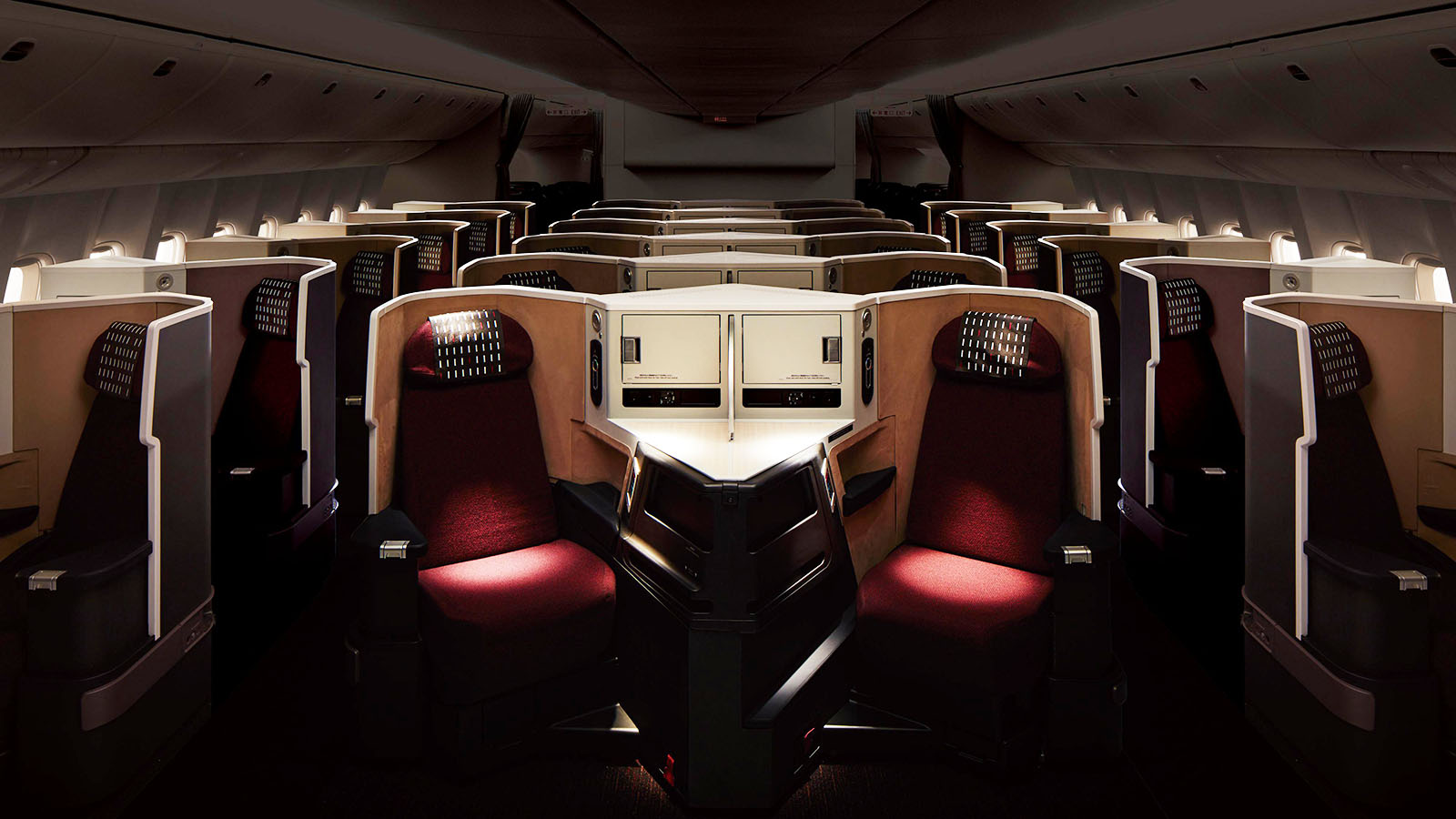 5. Fly American Airlines or Qantas Business Class to the US (one-way)
American Airlines has the distinct advantage of sitting on the Qantas reward table. You can fly Sydney to Los Angeles with either carrier for 108,400 Qantas Points one-way, or go all the way to New York for 144,600 points.
One of the best things about this redemption is that the taxes and surcharges on American Airlines are minimal.
But if an island getaway is more your style, how about Sydney or Melbourne to Hawaii for 82,000 Qantas Points? That's 164,000 points for a return, which is perfectly doable with your American Express Qantas Business Rewards card.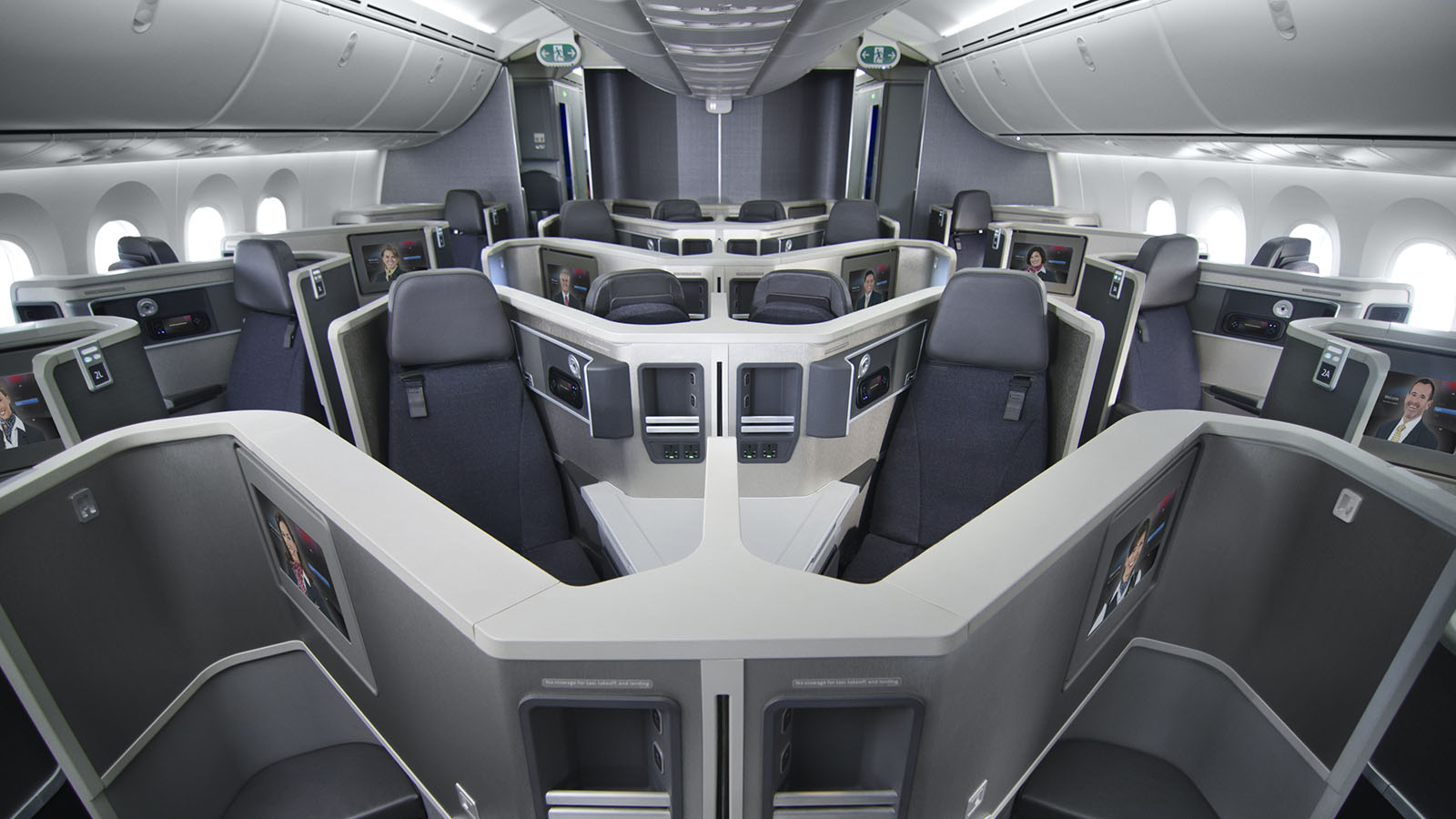 If you're already based in the states, you could also use your Qantas Points for flights within the US or onwards to Canada, South America, Europe and more. Example rates include:
41,500 Qantas Points: Los Angeles to Miami one-way.
57,000 Qantas Points: San Francisco to New York one-way.
57,000 Qantas Points: US East Coast to Western Europe, e.g. New York to London.
6. Take yourself and a loved one to NZ or Fiji, Business Class return
Fiji Airways is another key Qantas partner – and like American Airlines, has the added benefit of being on the same rewards table as Qantas. This means you can combine Qantas, Fiji Airways and American Airlines flights in one reward and pay the same rate.
Just 41,500 Qantas Points will see you sitting happily in a new-ish Airbus A350 on the Sydney-Nadi route. That's 83,000 points for one return trip in Business or 166,000 points for two people return. After all, the experience is better shared, right? Your sign-up bonus is all you need for a Fiji getaway.
These same rates also apply for Qantas flights from Sydney to New Zealand, Fiji, or Perth. Certain flights feature the Airbus A330 which has the carrier's first-gen Business Suites. It's still a comfy ride.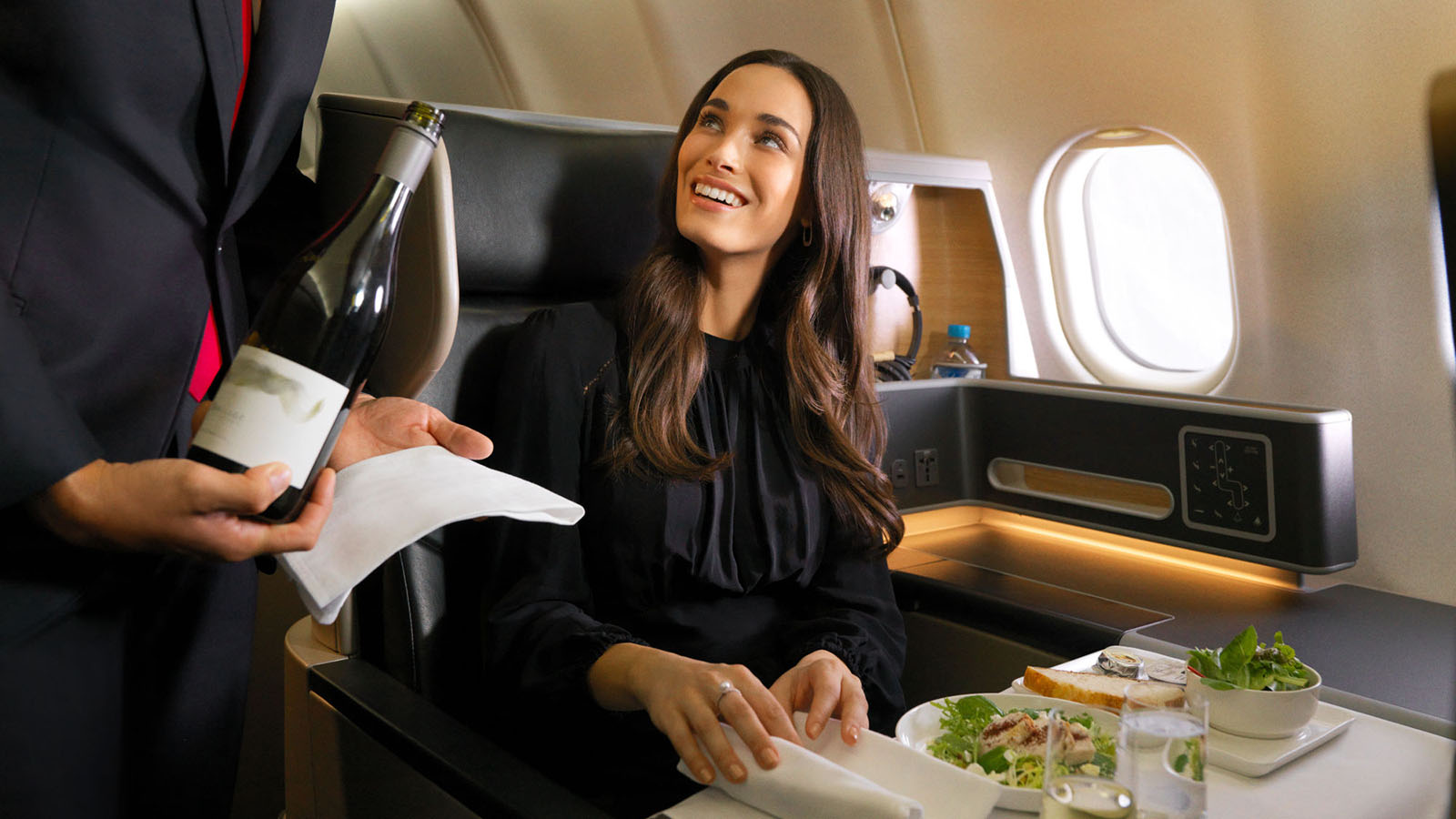 7. Explore the globe, fly around-the-world in Economy
Does a solo trip around the globe sound good? If you can part with 132,400 Qantas Points, you'll unlock a great-value reward that lets you travel up to 35,000 miles (56,327 km) with oneworld partner airlines. You can stop in up to six cities and fly in any direction of your choice.
Want to upgrade that journey to Business Class? It's more accessible than you think. Just save up 318,000 Qantas Points in total, which is another 138,000 Qantas Points on top of your sign-up bonus.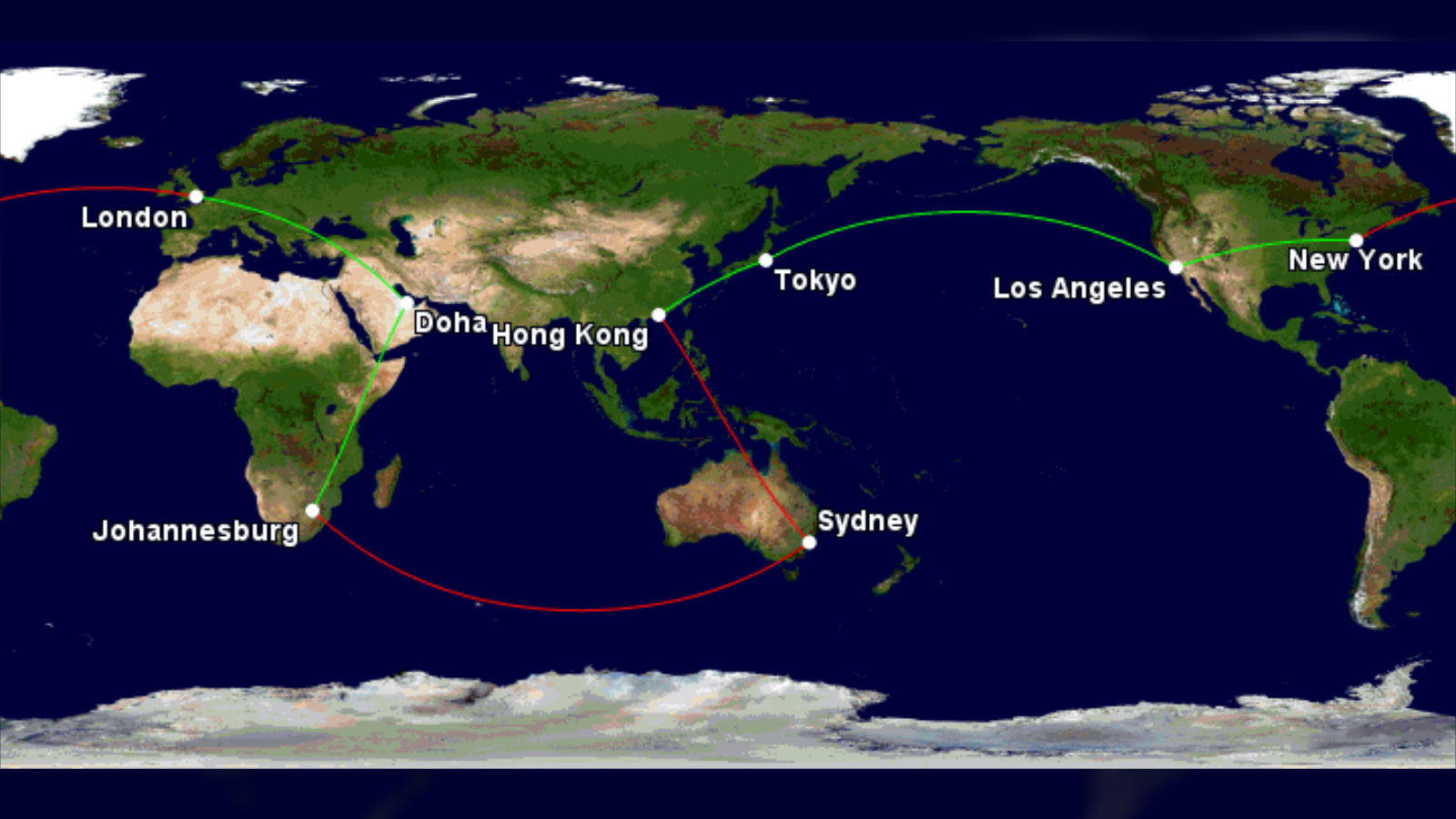 8. Save for up to 22 domestic flights
Is international travel not high on your list of priorities? That's fine – Qantas has plenty of domestic options to tickle your fancy. Reward flights in Economy start from 8,000 points, so you could book 22 of those between Sydney and Melbourne. On the longer side, Brisbane-Perth is 18,000 points, which is exactly five return trips from your balance.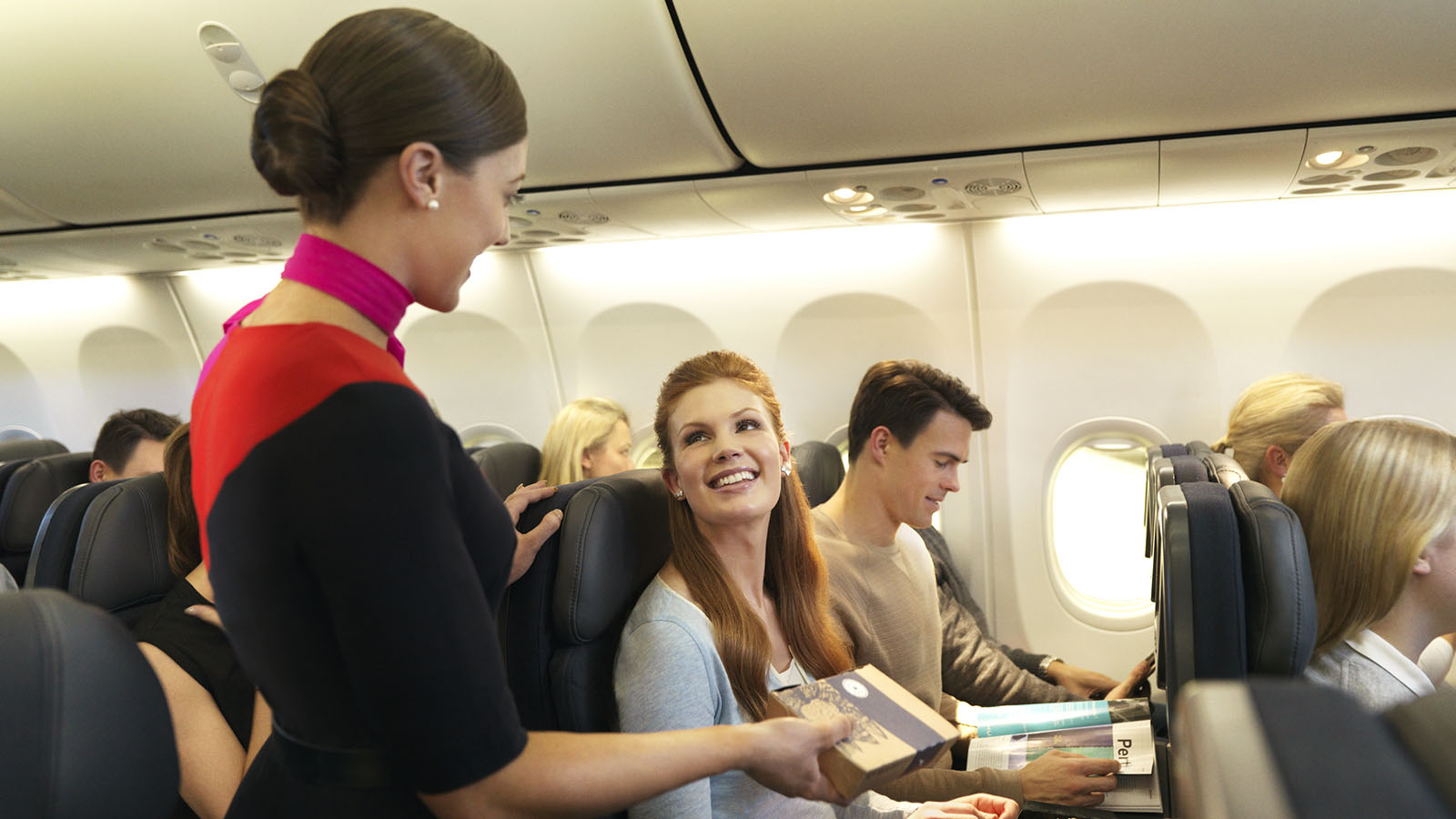 9. Splurge on up to 27 domestic upgrades to Business
Upgrades on domestic flights can be quite affordable if you (or your workplace) are booking Flexible Economy fares. You can upgrade to Business on a shorter Sydney-Melbourne length flight from 5,400 points (33 times). And on the longer transcontinental treks in Airbus A330 Business Class, 10,900 points will sort you out (16 times).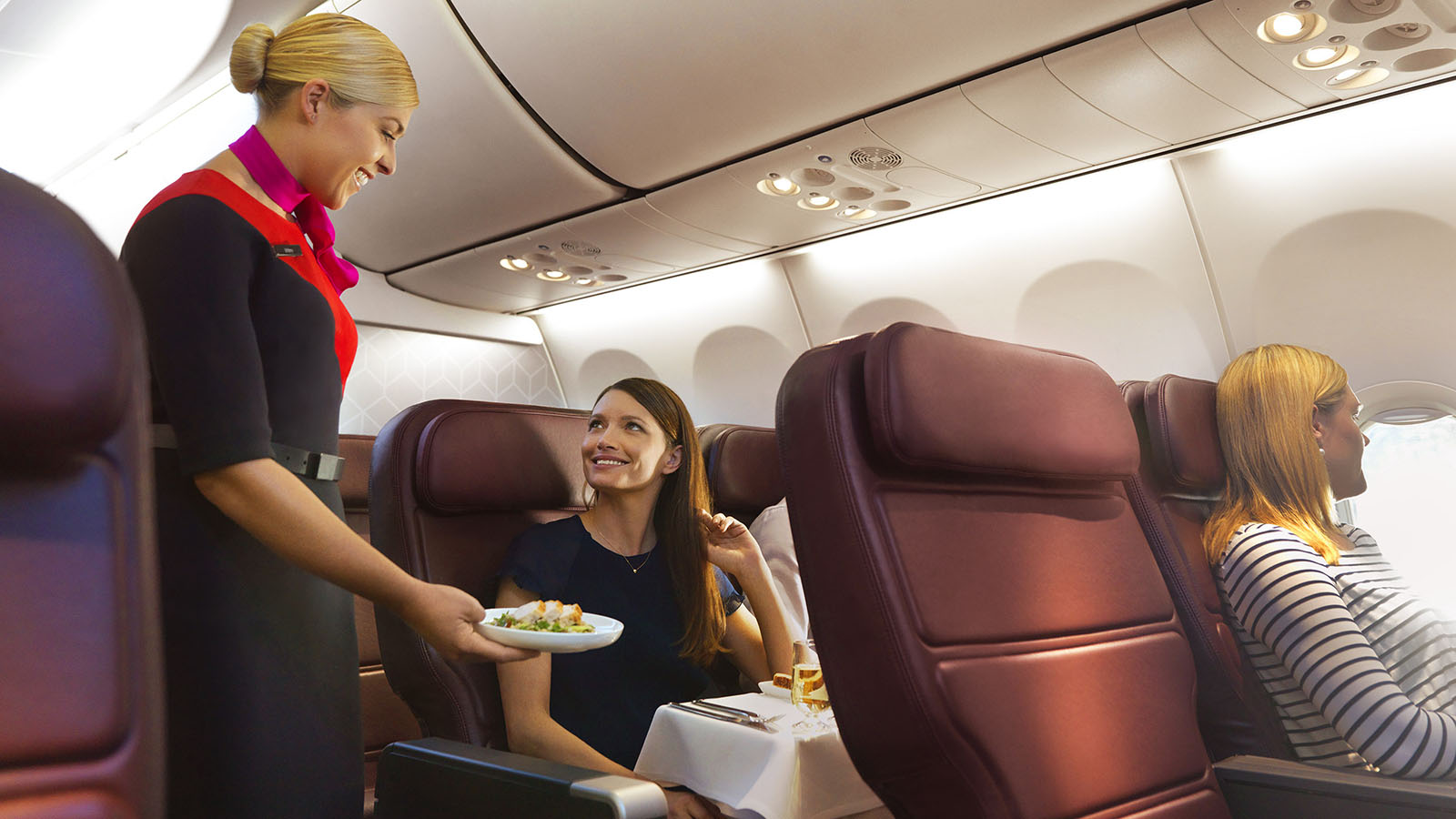 9. Book Qantas Business Class on domestic routes, up to 9 times
We spoke previously about upgrading Qantas domestic flights with points, from an existing ticket paid with cash. On the other hand, you can also use Qantas Points to redeem for Classic Reward seats in Business Class outright.

So how many points do you need for all these various routes? It all depends on the distance between the two destinations, but you can just use the Qantas Point Calculator instead.
The shortest routes in Business Class need 18,400 points while the longest domestic flights in Business Class need 41,500 points.

Summing up
Hopefully, this list will give some inspiration to use 180,000 Qantas Points if you take up the American Express Qantas Business Rewards Card.
At the time of writing, Qantas is waiving all change and cancellation fees for Classic Reward seat bookings, up until 31 December 2022. You just have to book by 30 June 2022. Enjoy peace of mind knowing you can get your points and taxes back if anything happens.
Best uses of 180,000 Qantas Points with the American Express Qantas Business Rewards Card
was last modified:
May 18th, 2022
by