American Express is usually offering bonus Qantas Points for new Card Members of the Qantas Business Rewards card. This is a great opportunity to make the most of your business spending and turn it into rewards or to help cover the cost of travelling for work.
Even though many of us are not able to travel at the moment, Qantas Points will be useful down the track when more countries loosen restrictions and flight schedules gradually return back to normal.
---
American Express Qantas Business Rewards Card benefits series
---
Note: This guide has been produced in partnership with American Express, a Point Hacks commercial partner.
---
Best uses of 150,000 Qantas Points with the American Express Qantas Business Rewards Card
was last modified:
March 29th, 2021
by
Features and benefits of the American Express Qantas Business Rewards Card
The card is targeted at smaller business owners, looking for a Charge card and with the ability to earn Qantas Points, and boost the Qantas Points they can earn from their business travel with Qantas.
A Charge card is different to a standard credit card in that it has no pre-set spending limit, and allows you to get access to a significantly higher spending cap as long as you pay your balance back in full each month.
With this card, the points your business earns goes directly to a Qantas Business Rewards account, giving you the flexibility to transfer it onwards to any other Qantas Frequent Flyer member including yourself, your employees, family members and friends.
In addition, complimentary travel insurance is included as long as you pay for the return trip using the card and you'll also be gifted two free domestic Qantas Club lounge passes each year after making an eligible purchase on the card.
The standard earn rate is 1.25 Qantas Points per $1 spent, though that ramps up to 2 Qantas Points for Qantas products and services. You will also earn points on Government and Utilities spend albeit at a reduced rate of 0.5 Qantas Point per $1.
Employees can also earn triple Qantas Points on eligible Qantas flights when it's booked with the American Express Qantas Business Rewards
Read more in our guide to the American Express Qantas Business Rewards card.
Best uses of 150,000 Qantas Points
Remember that the bonus 150,000 Qantas Point bonus from this card will be awarded to your Qantas Business Rewards account once the eligibility and minimum spend criteria are met.
From there, you can then bide your time and only transfer the points out to an individual's Qantas Frequent Flyer account when the time is right. At Point Hacks, we always recommend using points for flight rewards and upgrades rather than merchandise or gift cards.
Once the points have landed in that individual's account, it's time to start booking! Here are some of our top picks for using Qantas Points during the COVID-19 era.
1. Get up to 27 Business Class upgrades on short domestic flights
Yes, your 150,000 Qantas Points could get you anywhere from five to 27 Business Class upgrades on Qantas domestic routes, depending on the fare and distance travelled.
It takes just 5,400 Qantas Points to upgrade from Economy to Business Class on flights under 600 miles (965km) from a regular flexible ticket.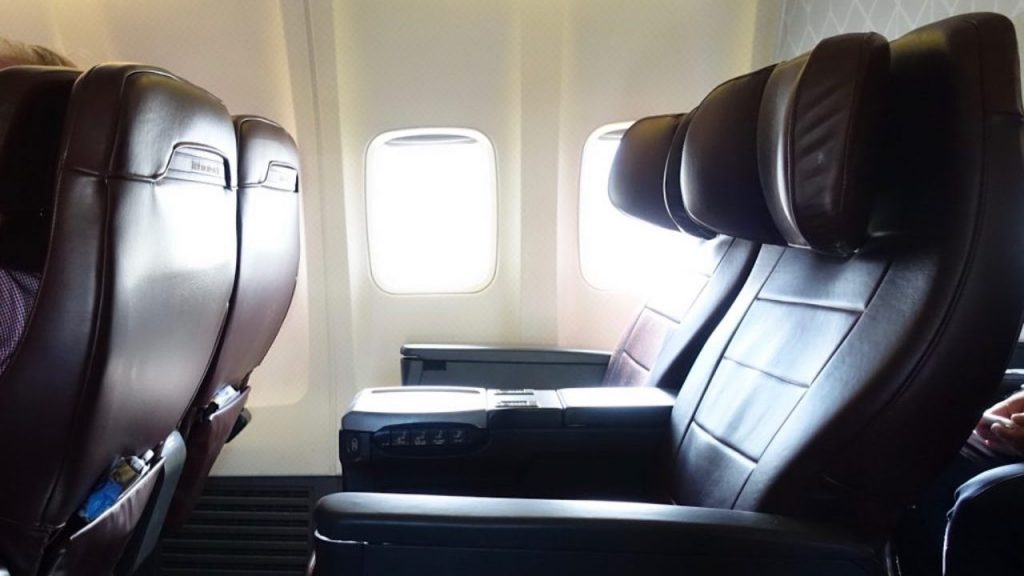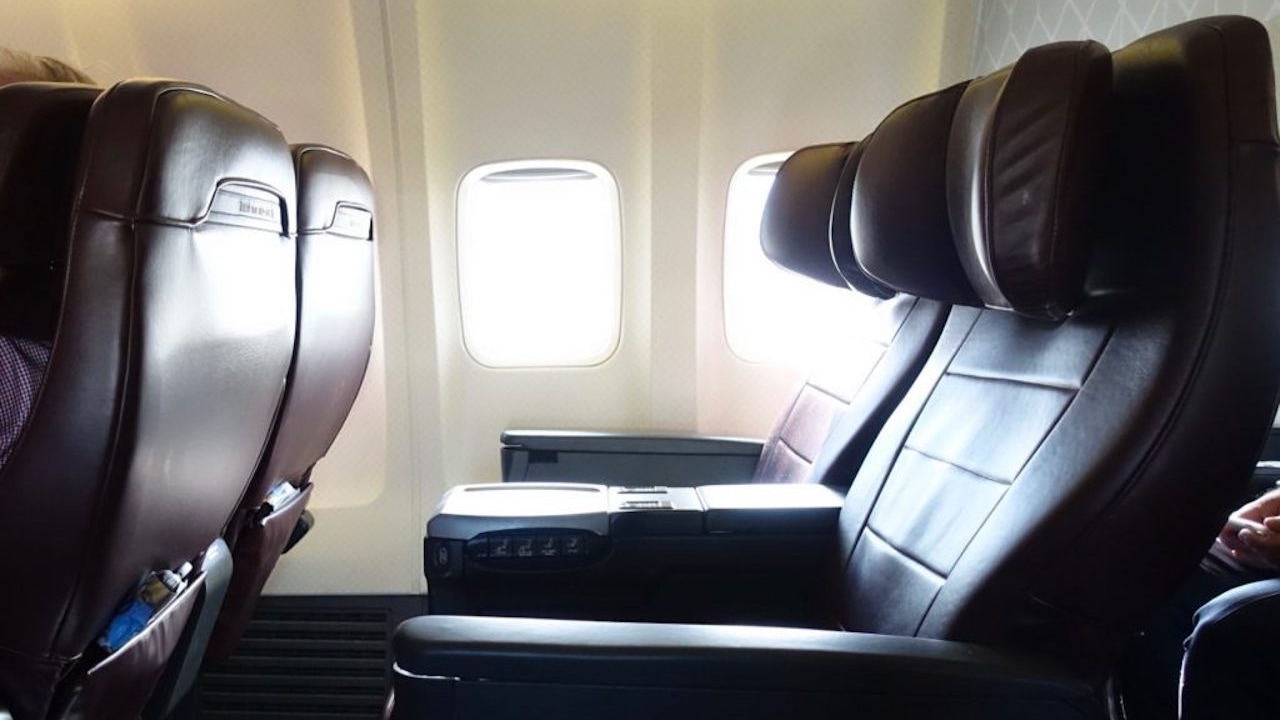 This could be a great way to reward yourself or your employees if they are frequently shuttling between two cities such as Sydney or Melbourne, and you can do this 27 times from a starting balance of 150,000 Qantas Points.
From the cheaper Red e-Deal tickets, upgrades cost 10,900 points so you would have 13 potential upgrades to Business Class in the bank.
These rates all apply for all 'Zone 1' flights on the Qantas upgrade charts.
2. Get up to 13 Business Class upgrades on longer domestic and New Zealand flights
If your company travels usually involve longer 4-5 hour journeys such as Perth to Brisbane or Melbourne to Auckland, then upgrades make more sense as you'll have more comfort to rest and work, often in the Qantas Business Suite with flat beds.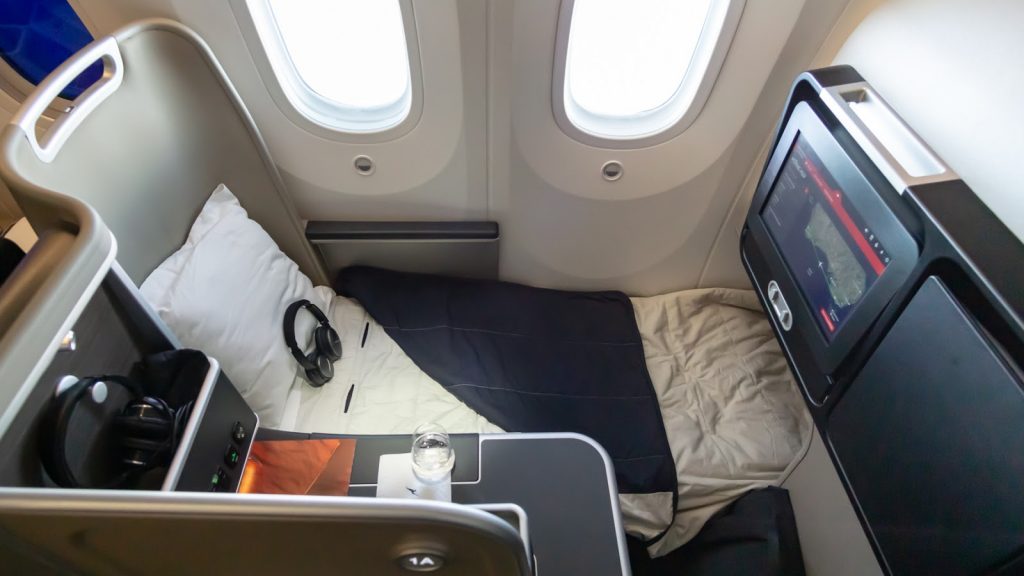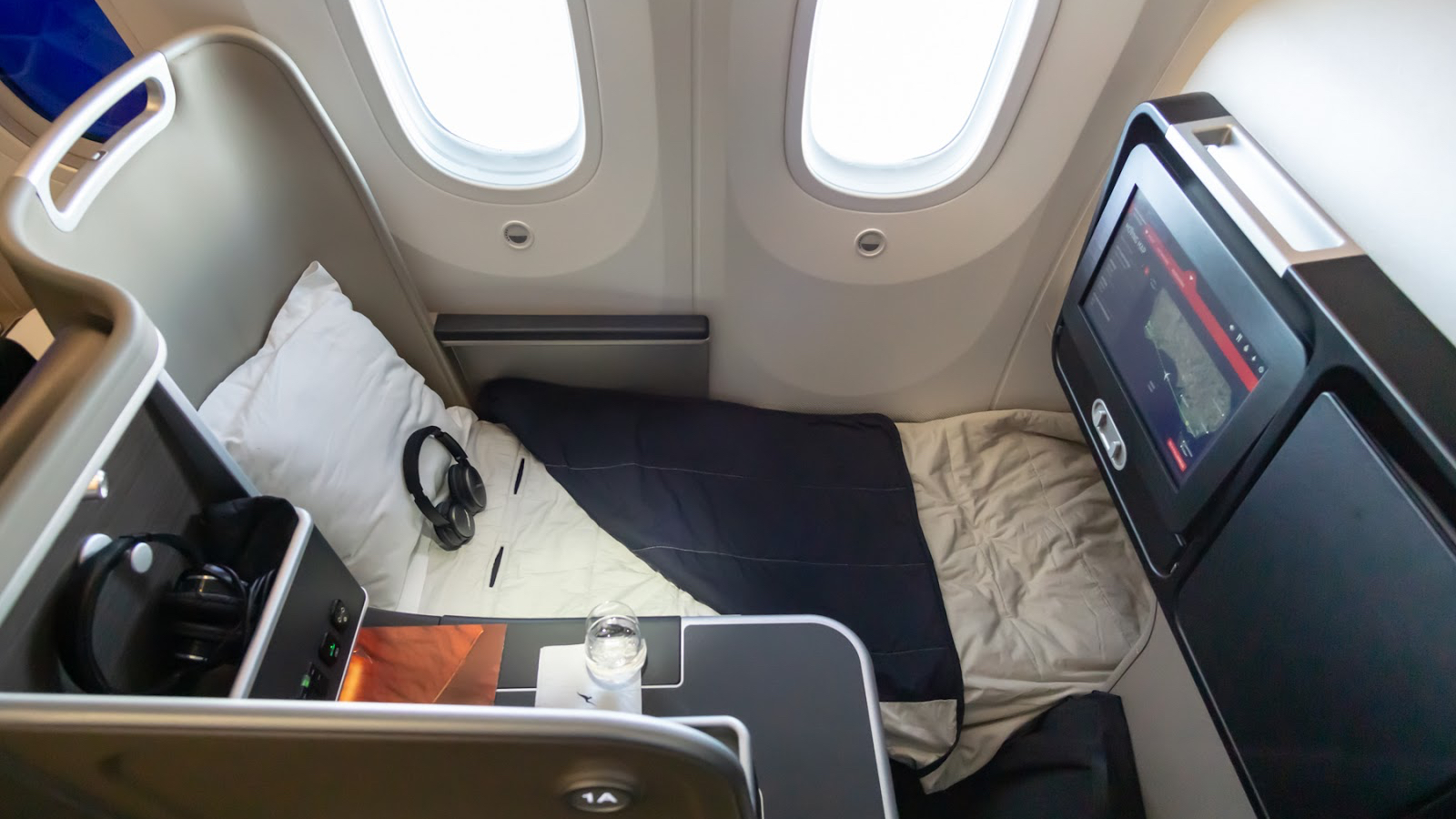 On Economy Flex tickets, upgrades for domestic flights start from 10,900 points (up to 13 upgrades), while it's 11,900 points for international Qantas flights (up to 12 upgrades).
From cheaper domestic Red e-Deal or international Economy Saver fares, you'll need a steep 27,200 points for domestic (up to 5 upgrades) and 21,800 points for international (up to 6 upgrades).
These rates all apply for all 'Zone 3' flights on the Qantas upgrade charts.
3. Book Emirates First Class from Sydney to Christchurch, return
This (and many of the other international flight examples that follow) is more of a theoretical option for now because it's dependent on Australia and the other countries relaxing borders soon. In this particular case, it also relies on Emirates to continue flying its Airbus A380 on the Trans-Tasman route..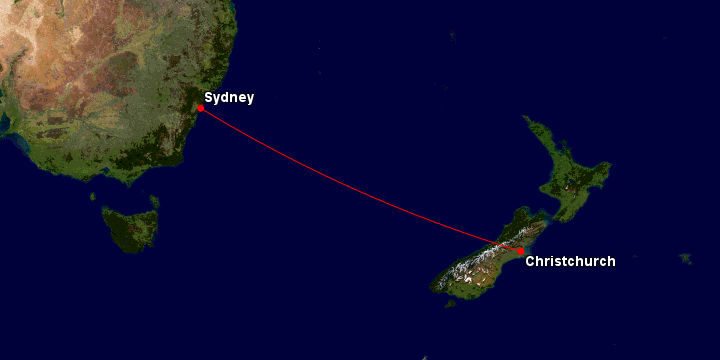 But if you're planning to travel in a number of months for now or in 2021, you can nab a First Class seat from Sydney to Christchurch (or vice versa) for 62,200 Qantas Points plus taxes.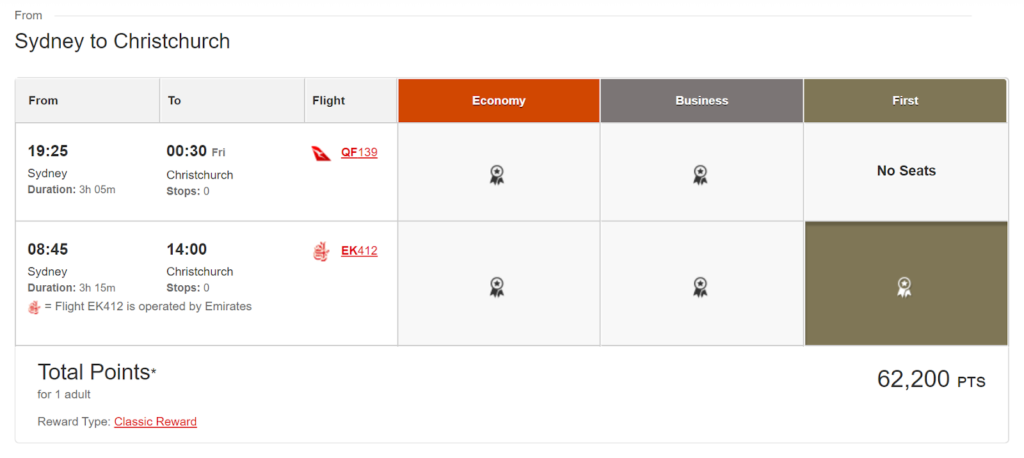 That experience starts with breakfast at the Qantas International First Lounge or the Emirates Lounge at Sydney International Airport.
Onboard, you'll get a taste of the high life with three hours in an enclosed suite, with top-shelf Champagnes and beverages freely flowing.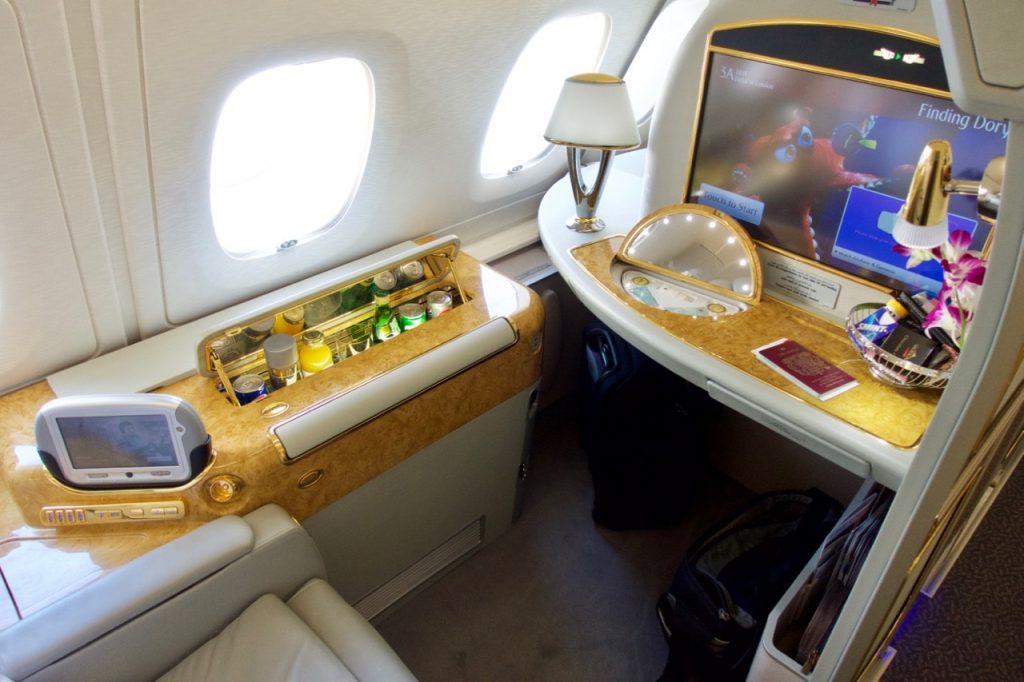 4. Book Japan Airlines Business Class to Tokyo
Japan Airlines has a great Business Class experience that is often overlooked when compared to other carriers. Of course, it helps if you love Japanese food too, as you can have a rather enjoyable and unique meal in the sky (but there are Western options too).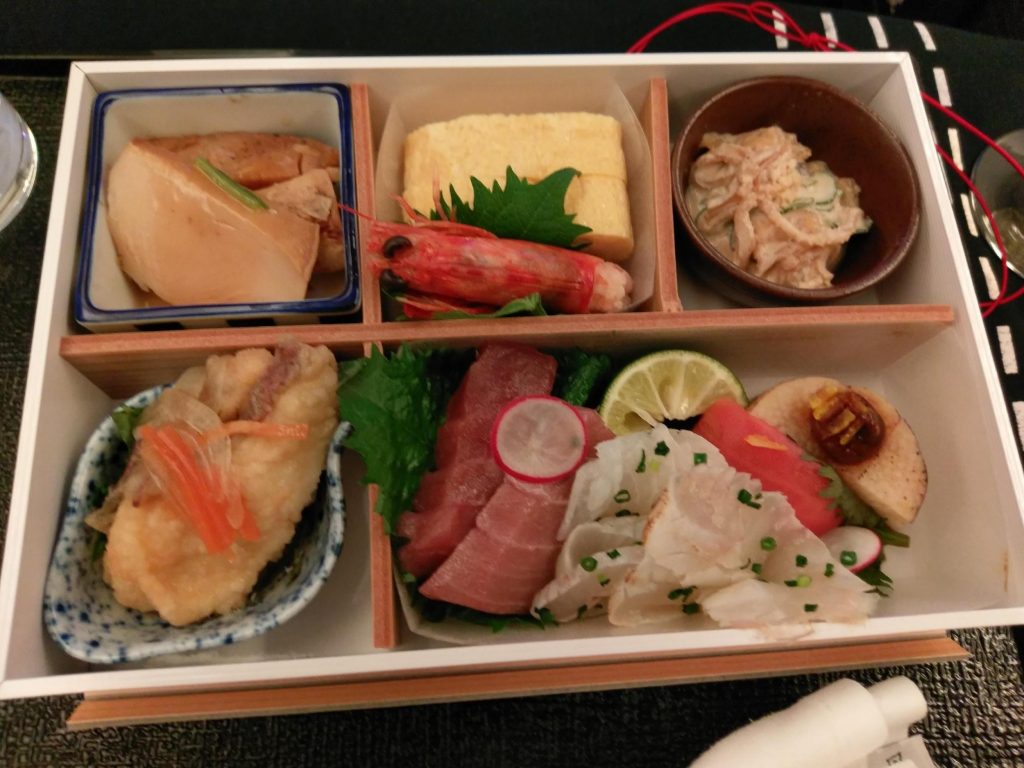 It takes 90,000 Qantas Points to fly JAL Business Class between Sydney and Tokyo Haneda, so you'll have enough points for one, but would need to earn another 30,000 Qantas Points on top of the sign-up bonus to have enough points for two.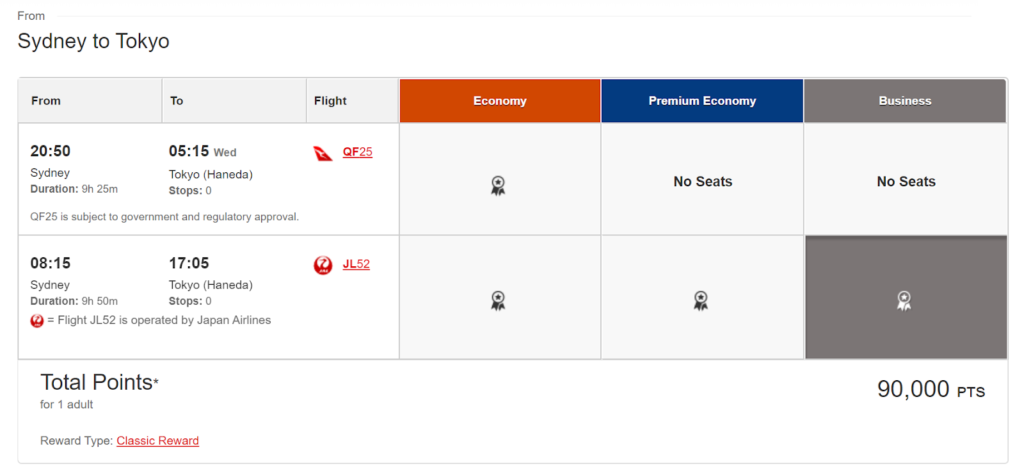 Most flights have Japan Airlines' Sky Suites which is generally regarded as a very good Business Class product. Even though there are two seats by the windows, everyone still has direct aisle access due to the staggered arrangement.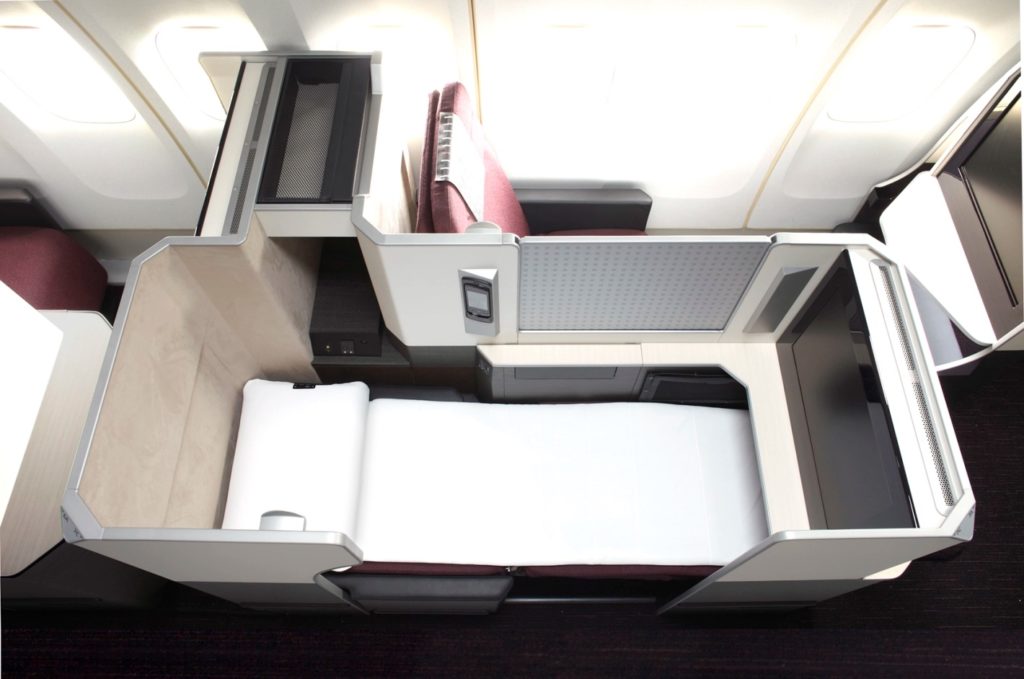 Longer journeys to Europe or the USA through Tokyo will max out at 159,000 Qantas Points per person in Business Class.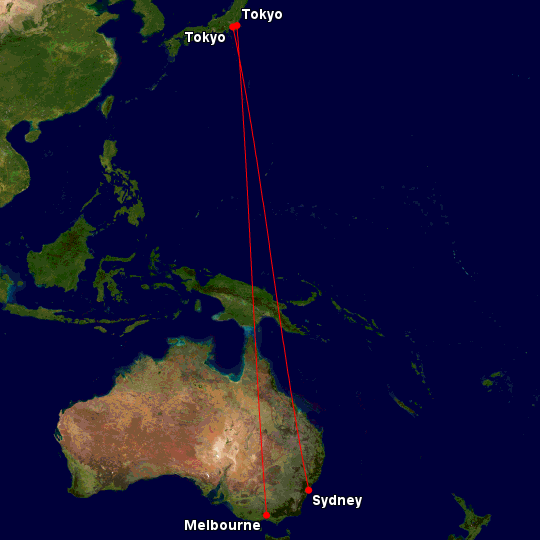 5. Book Cathay Pacific Business Class to Hong Kong, return
Hong Kong is a bit closer to Australia than Tokyo is, so 75,000 Qantas Points will get you a Business Class ticket on Cathay Pacific ⁠— your 150,000 points bonus from the American Express Qantas Business Rewards card is perfect to cover a return journey for one or two one-way tickets!

Cathay Pacific flights need more points than the corresponding Qantas flights, but the overall taxes are lower, so it's a pretty good deal for your hip pocket.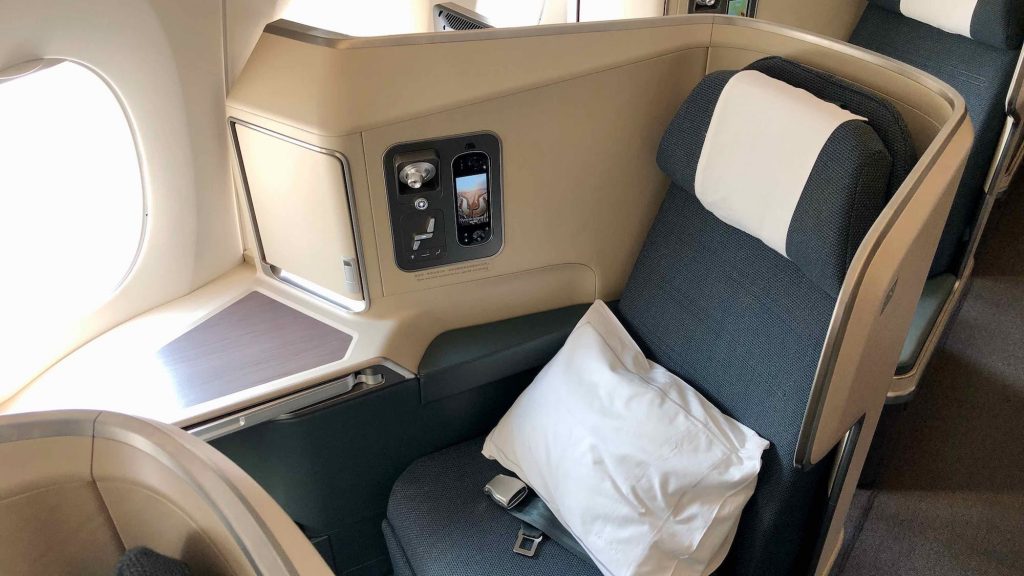 Like Japan Airlines, longer journeys to Europe or the USA through Hong Kong will max out at 159,000 Qantas Points per person in Business Class.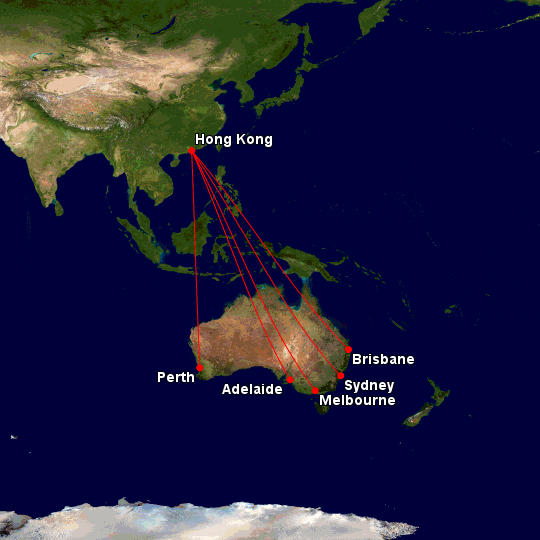 6. Book Fiji Airways Business Class to Nadi (Fiji), up to 3 times
Fancy an island getaway? Once Australia's borders are opened, a trip to Fiji might just be the thing you need. Fiji Airways is one of few airlines that are on the cheaper Qantas Classic Rewards Table. Taxes are reasonably low too, such as $88 from Melbourne to Nadi.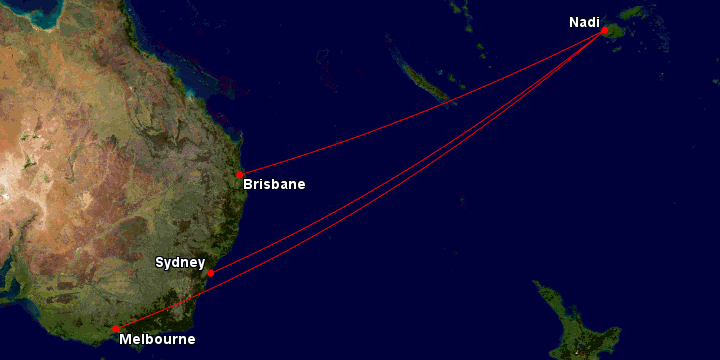 While Melbourne to Nadi is 57,000 Qantas Points in Business Class, it's only 41,500 points from Sydney or Brisbane, so you could potentially do the one-way flight three times.

Fiji Airways has Boeing 737s on the Australian routes with standard reclining seats.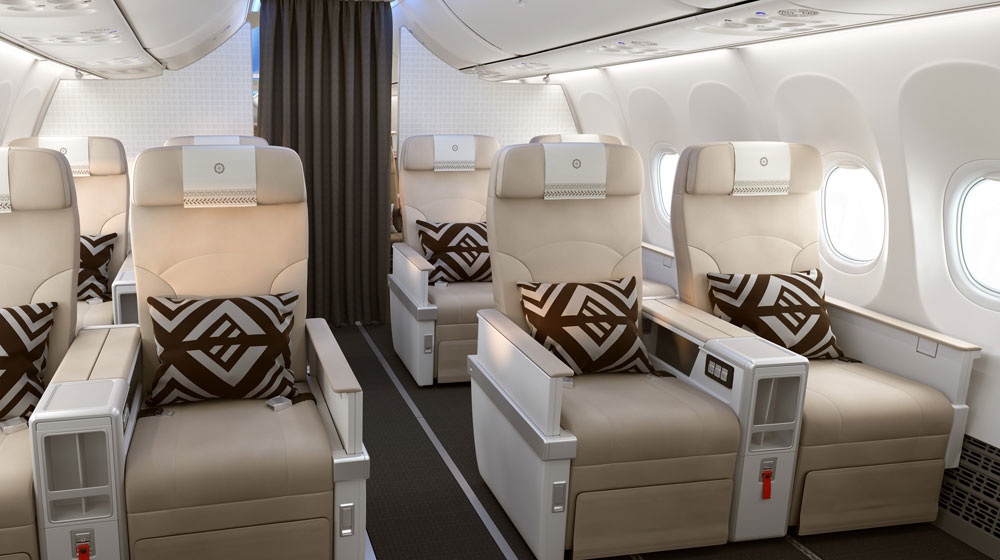 7. Fly to New Zealand in Business Class, up to 3 times
Trips across the Tasman from Australia's eastern states are relatively short, and 41,500 Qantas Points will cover a one-way Business Class ticket.
Most flights will be on the Boeing 737s for now, but if demand picks up, you might see Airbus A330s with flatbed Business Suites on some flights to Auckland.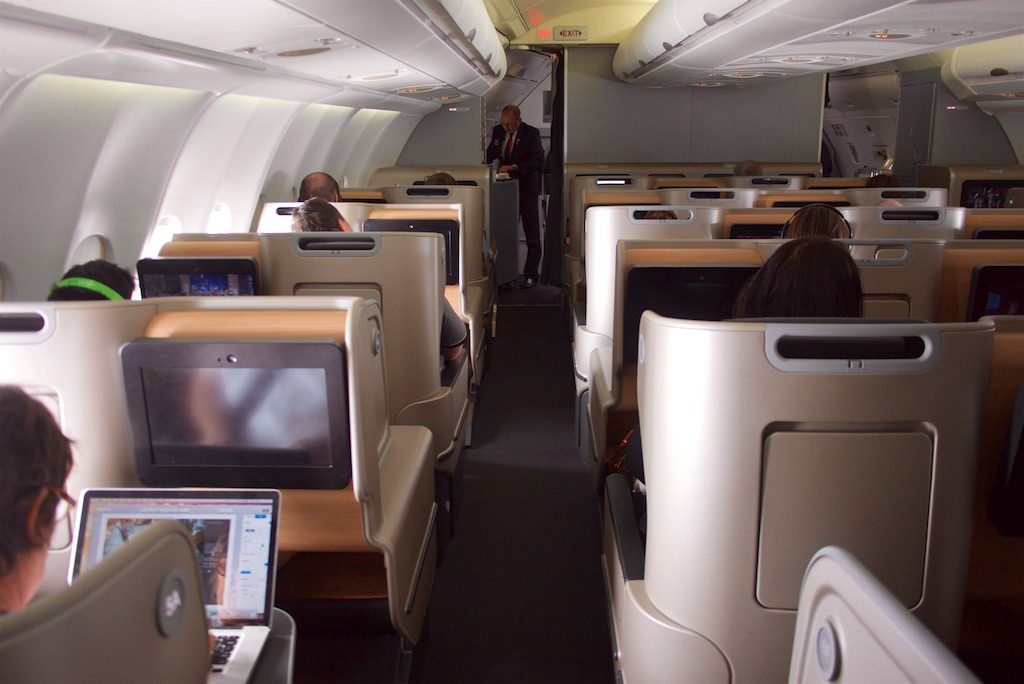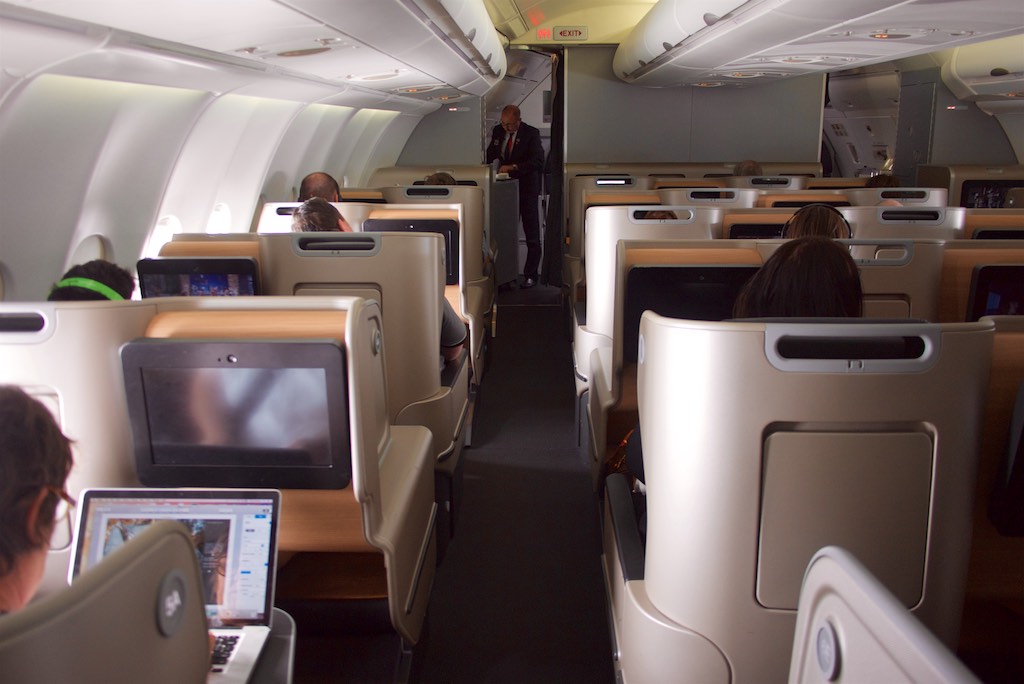 8. Fly regionally in Economy Class, up to 18 times (!)
This example highlights how useful having a stash of Qantas Points is — you could use your Qantas Points for short-distance regional flights that tend to be expensive, particularly useful if you do business in those regions.
For example, domestic flights to Lord Howe Island are quite limited and cash fares are usually quite expensive (i.e. $720 one-way as above). However, since the distance is quite short, you only need 8,000 Qantas Points and $92 in taxes for the same ticket.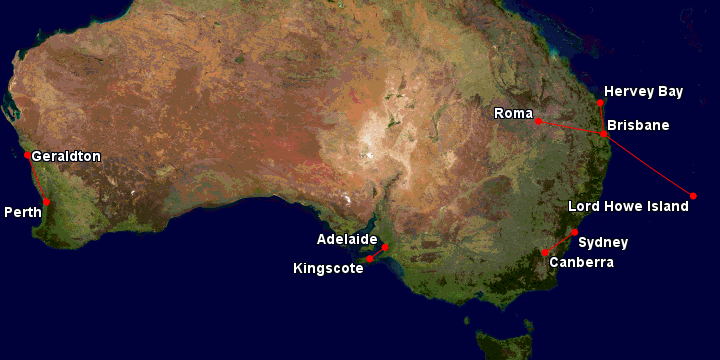 That's some awesome cents-per-point value (~7.85 cents per point) that simply can't be matched, even with most international Business Class and First Class reward seats.
Here's our review of Qantas' Rockhampton-Brisbane Economy Class flight which only costs 8,000 Qantas Points to redeem.
9. Book Qantas Business Class on domestic routes, up to 8 times
We spoke previously about upgrading Qantas domestic flights with points, from an existing ticket paid with cash. On the other hand, you can also use Qantas Points to redeem for Classic Reward seats in Business Class outright.
This is listed last because we feel it's worth a mention, but Qantas has really pumped up the number of points needed for premium cabins in recent times, so the value isn't as great.
Domestic flights have the best availability right now, but the same concept applies to international flights as Qantas broadens its upcoming schedule.

So how many points do you need for all these various routes? It all depends on the distance between the two destinations, but you can just use the Qantas Point Calculator instead.
The shortest routes in Business Class need 18,400 points while the longest domestic flights in Business Class need 41,500 points.

Summing up
Hopefully, this list will give some inspiration to use 150,000 Qantas Points if you take up the American Express Qantas Business Rewards Card.
We've steered away from the usual 'go to Europe or the USA' suggestions that might involve the likes of Emirates, Qatar Airways and Qantas, and focus more on closer destinations.
For more traditional suggestions on ways to use your Qantas Points (e.g. Qatar Airways Qsuites, Cathay Pacific or Qantas First Class), see our older guide on the best uses of 100,000 Qantas Points.
At the time of writing, Qantas is waiving all change and cancellation fees for Classic Reward seat bookings, up until 31 October 2020.
That means feel free to make any speculative reward seat bookings with your Qantas Points now, and have the assurance that you can change or cancel it for a full refund before 31 October 2020, giving you plenty of time to assess the situation and see if the borders will open up soon.
Best uses of 150,000 Qantas Points with the American Express Qantas Business Rewards Card
was last modified:
March 29th, 2021
by