Qantas' excellent oneworld Classic Flight Reward redemption option allows you to travel up to 35,000 miles on one ticket. Many readers (and contributors) on our site aspire to the 280,000 Qantas Points (318,000 Qantas points from 18 September 2019) Business Class option, receiving excellent value for their points with a ticket that often retails for $11,000+.
The first part of this guide discusses one key benefit of starting a booking from overseas, which is the potential for multiple 'holidays' in one redemption. In Part 2, I'll investigate the potential savings in fees and taxes that can be achieved by starting your journey overseas.
---
Why you should start your Qantas oneworld Classic Reward from overseas
Part 1: Saving points
Part 2: Reducing taxes and fees
---
Our in-depth guide to Qantas oneworld awards covers the rules for these bookings, which I'll quickly recap:
Itineraries must include at least two non-Qantas oneworld airlines, and cannot include non-oneworld carriers such as Emirates and Jetstar
The maximum permitted mileage is 35,000 miles
Bookings may have up to 16 segments, including surface segments
You may stop once in up to 5 cities, and also transit a city twice
Two other important points for this guide include:
A ticket finishes if you return to the city or country of origin; and
If you end your itinerary in a port other than the port of origin, the distance between your final destination and your port of origin is added to the itinerary
In this guide, I'll read between the lines of these last two points and apply some creativity to get extra value out of a sample award booking.
Two holidays, one (main) ticket
If, like me, you have more frequent flyer points than annual leave in which to redeem them, visiting three continents over five weeks can be difficult. Let's say you have your heart set on touring Europe but would also really like to spend a little while in Japan.
Redeeming a four-segment flight between Melbourne and London (via Doha) in Business Class costs 278,000 Qantas Points (318,000 Qantas points from 18 September 2019) and clocks in at just over 21,000 miles—extremely close to the 280,000 points (exactly on 318,000 points from 18 September 2019) for a oneworld award, awarding you 14,000 (more) potential miles of lie-flat travel!
Note that for this example, I've selected an airline (Qatar Airways) and two airports (Doha and London Heathrow) with moderate-to-high surcharges. When planning your itinerary, check out our guide to minimising airport surcharges and fees, which I'll draw on in Part 2 of this guide.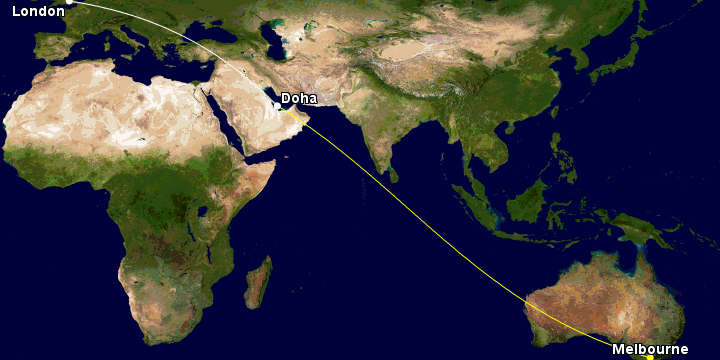 Now, if a flight is booked from Melbourne, on returning to Melbourne (or to Australia at all for that matter) the ticket will end. So let's look at starting the journey nearby, say, in Bali.
A six-hour positioning flight from the East Coast to Bali on Jetstar or another low-cost carrier can generally be found for under $200.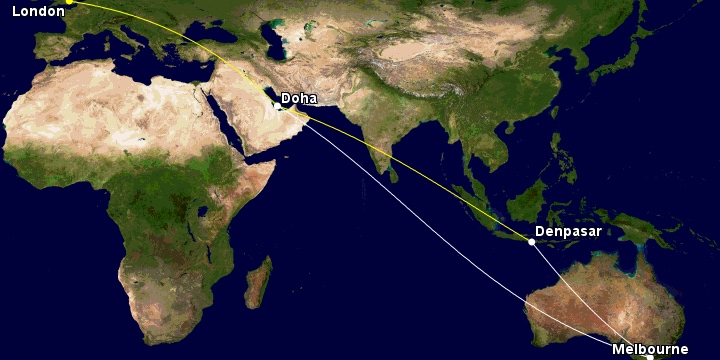 The same itinerary as before now leaves you in Melbourne with 21,539 miles used, enough to add on a one-way trip to Japan via Hong Kong.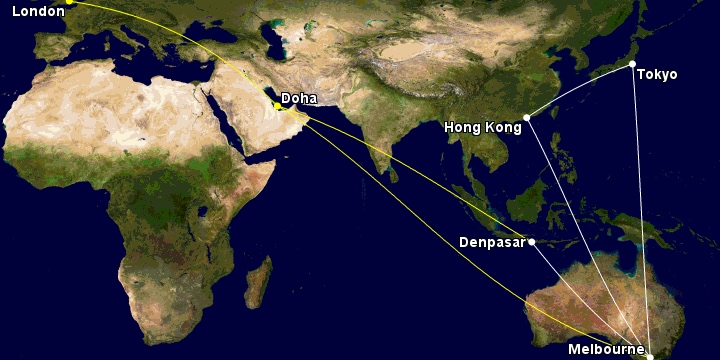 Now, there is a minor exception to the one-stop-per-city rule, which allows you to end your itinerary in a city you've already visited (although the mileage back to your origin from where your flights end will still count towards your 35,000-mile total). Therefore, we can end the itinerary in Melbourne, despite having already stopped there earlier.
Breaking our itinerary into stopovers, we would therefore have (excluding our paid flight to Bali):
Bali to London via Doha for our first 'holiday'
London to Melbourne via Doha for some time at home (for any number of weeks or months)
Melbourne to Tokyo for a second holiday in Japan
Tokyo to Hong Kong for another stop on the way home
Hong Kong to Melbourne to end the journey
If you added the flight from Melbourne back to Bali, your final stop in Melbourne would have to be less than 24 hours as you have already 'visited' Melbourne in your journey.
But there are still 2,000 unused miles!
There are indeed. If you're willing to add in some more (cheap) positioning flights, you could potentially turn those unused miles into another holiday—but we have to be careful not to go back to Melbourne, where we have already stopped.
If you are trying to squeeze the most number of stops out of your itinerary, it does limit flexibility, which is usually very important when booking award flights.
But if the seats are available, then how about a week in New Zealand? Taking out our stop in Hong Kong, and adding Sydney as a destination, we can cross the ditch and still end up under the 35,000-mile limit.
Keen to visit the land of the long white cloud? Read our three-part New Zealand destination guide for inspiration.
Returning from Tokyo to stop in Sydney, we'd then add flights from Sydney to Auckland and back to Melbourne, bringing our itinerary to 34,433 miles (allowing to return to Denpasar). Note that you'd need to fly Japan Airlines on at least one of the legs to Japan for it to be an eligible oneworld itinerary.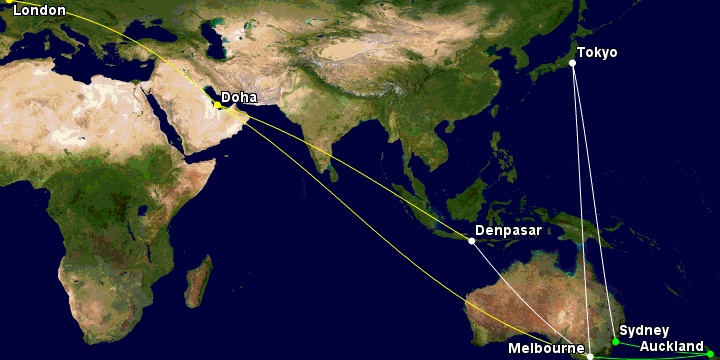 In this scenario, your stops would be in London, Melbourne, Tokyo, Sydney, and Auckland. Thus, you'd need to arrange three positioning flights—to Bali to start, and then from Sydney and back to Sydney in between your Japan and New Zealand legs. In Economy Class, these flights are cheap and short, leaving your valuable time in Business Class for the long-haul flights where it is most needed.
There is no time limit to these individual stops, so your holiday could include two weeks (or months for that matter) in the UK, one in Japan and one later in New Zealand, for example.
So what is the catch?
There are a few important things to consider when aiming for this redemption.
Booking window and changes
You are only able to book flights with award availability, which is typically about a year in advance. Your entire itinerary must be booked before you depart and, on top of that, a booking can only span over the course of one year.
In the above example, if you wanted a two-month stop in Melbourne and three months in Sydney in between your holidays, your holiday would need to start no later than six months from when you booked it (if you want to book it all at once).
An alternative method could be to book the legs as they become available (Qatar Airways at 360 days or so before departure) and then make changes to your booking as the second leg to Tokyo and third leg to Auckland become available. However, unless your first leg includes two oneworld airlines (which Melbourne – Doha – London does not), your itinerary will not convert into a oneworld ticket until your second trip to Japan is added on.
Bear in mind that for every change to your itinerary, you will be subject to a change fee (of 5,000 points per passenger). Service fees also apply if making changes over the phone for Economy Class bookings.
A final note is that once your journey has commenced, you can only change the date, time and flight number of flights, i.e. destinations and carriers are locked in. If for some reason you miss a flight, the remainder of the itinerary is generally forfeited.
Positioning flights
Positioning flights do add to the cost of the journey. If you live in an isolated city, the further away your award ticket starts can make positioning expensive (and add to dead miles at the end of a trip). It is, therefore, best to pick a destination close to home, ideally with cheap one-way fares available on a low-cost carrier to use as positioning flights.
Don't forget about Jetstar's Price Beat Guarantee when booking your positioning flights.
Insurance implications
Many travel insurance policies require you to have a 'return overseas ticket' at the time of departure, so be sure to check your booking is eligible with your insurance provider.
Taxes, fees and charges
We will dive into this more in Part 2, however, award bookings from overseas ports attract different fees and charges. As discussed in our guide to minimising airport charges, these may be more (or less) than departing from Australia.
Also, by adding more stops to your itinerary, you typically pay extra fees but, in my opinion, it is generally almost always worth it to get more value out of your points!
Summing up
We hope this guide has helped inspire you to get more value out of your next oneworld journey. Now onto Part 2, outlining the money—not points—savings in starting your redemption overseas.
And if you have not already, be sure to sign up to our free 30-day course to earn more points to make sure you are earning every point possible toward your next trip!
Have you successfully undertaken a Qantas oneworld Classic Flight Reward trip starting overseas? Share your experience in the comments below!
Why you should start your Qantas oneworld Classic Reward from overseas: saving points (Part 1)
was last modified:
May 5th, 2021
by